Retreat East: flavour, flair, and sustainability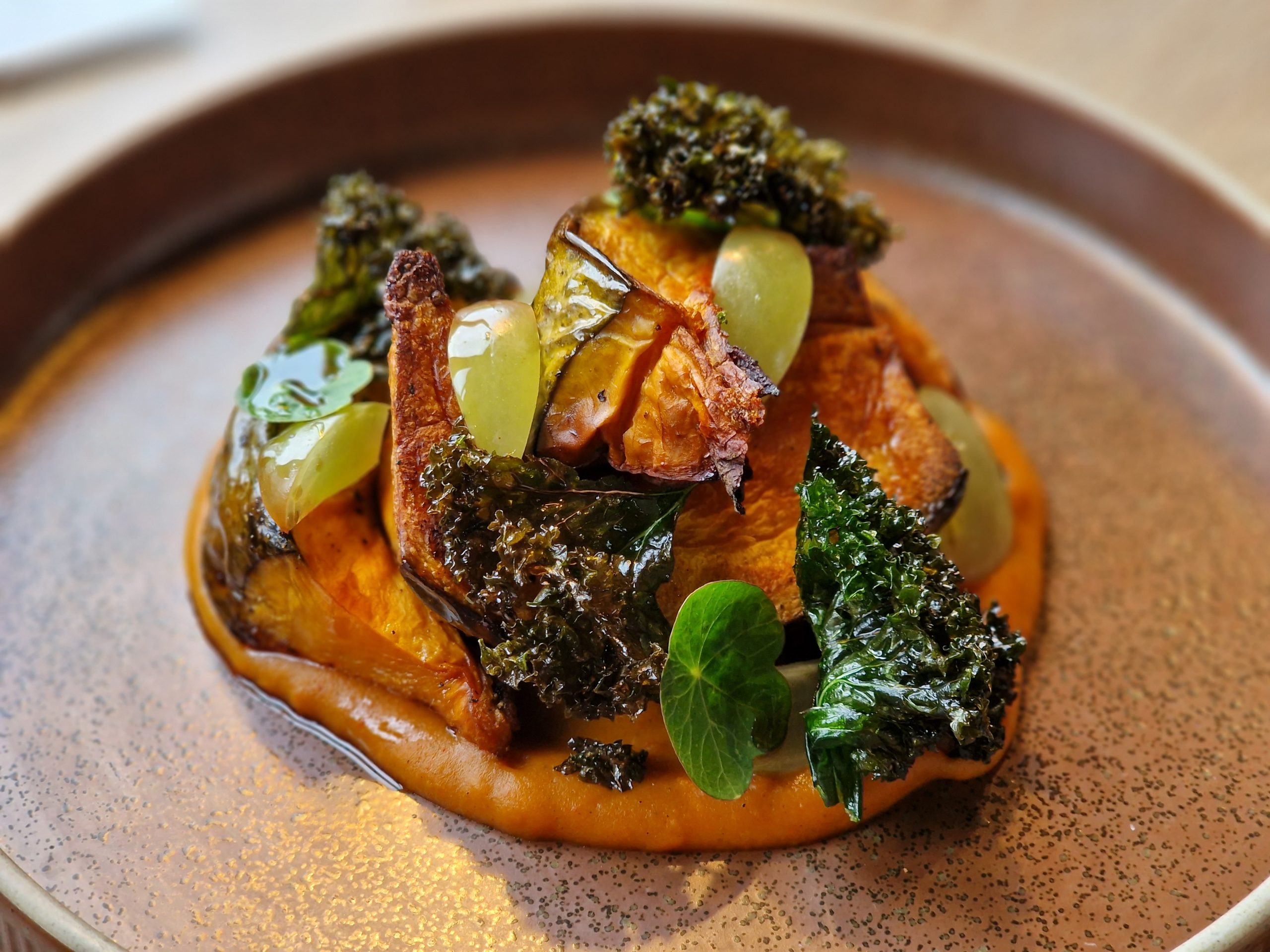 As written by Samantha Mattocks, The Delicate Diner, for nourish magazine issue 06. For more interviews by Samantha, click here. All photography unless stated by Samantha Mattocks
Found just off the A140 in Suffolk, Retreat East is all about sustainability. Offering rooms, a spa, and also a beautiful wedding venue, the star of Retreat East is the Great Barn, a stunning space at the heart of Retreat East and making the most of the kitchen garden. Headed up by Chef Adam Spicer and his brigade, the menus here change weekly to reflect availability and the seasons. Samantha Mattocks headed over to enjoy a taste of the good life.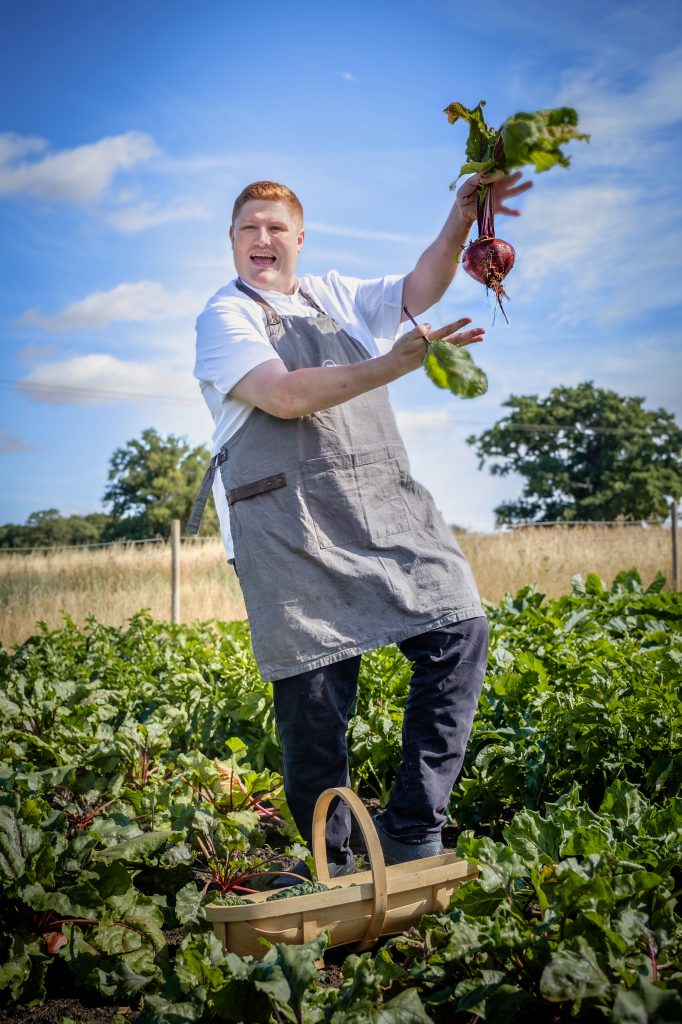 You know you are about to enjoy some amazing food when the chef greets you with the phrase: "Shall I just hit you with food?" This is what Adam asks as he comes to say hello to me and my dad after we settle into our seats at the Great Barn – an impressive space and one that has that rare thing of not being acoustically challenged.
Agreeing with Adam's suggestion, we sit back and enjoy the space. While it is raining outside, the inside is warm and welcoming, with the spa entrance off through one door, and a buzzing bar the other. With Adam and his team in charge of the food, the only decision we have to make is about what to drink, and the wine list is wide and varied, rather than full of the usual suspects. We opt for Carminucci Naumakos Falerio DOC from Italy, described as 'a crisp and vibrant wine with notes of fresh lime zest and a mouth-watering mineral and flinty finish.' Restaurant Manager Tom Sparkes says we have made a good choice, comparing it to a Pinot Grigio but with more flavour. He is right; the wine is delicious, and the perfect foil for the food to follow.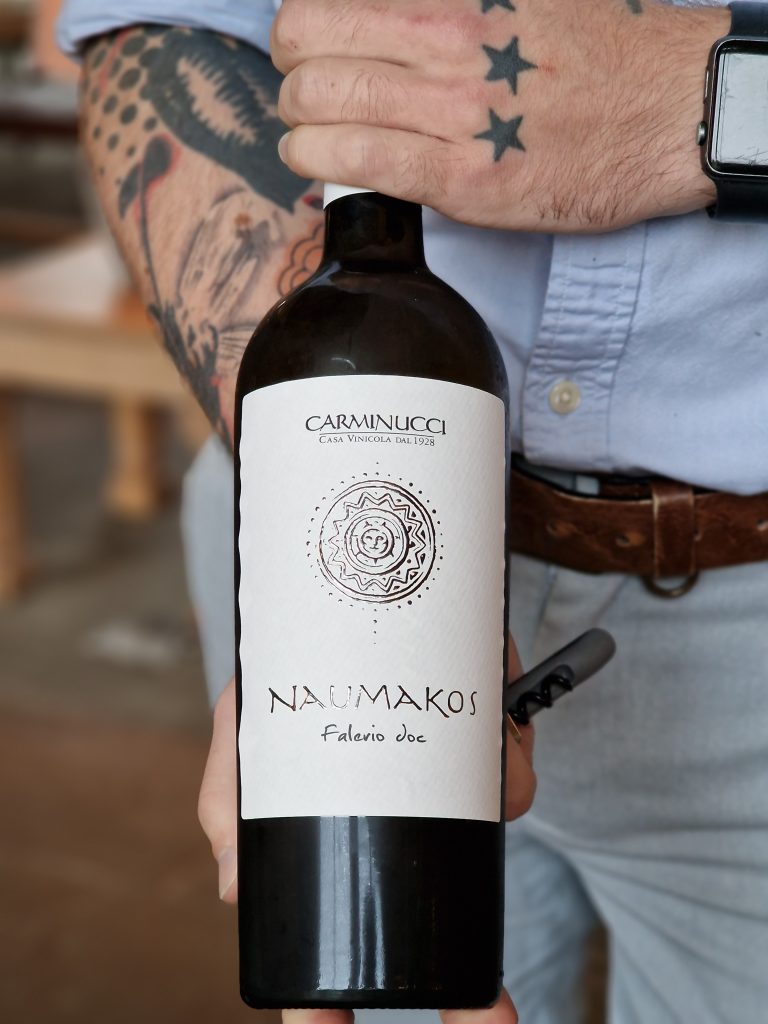 The Great Barn offers a menu du jour, that changes according to what is available and is priced at £25 for two courses and £30 for three, but Adam has chosen to cook for us from the à la carte menu. And first up, are snacks…
Adam sends five plates to share between us, and the first thing we try is the hot skewer of pork belly and octopus with soy and hoisin, a dish that had the ability to be succulent and crispy at the same time. It was delicious and immediately set our mouths zinging with flavour. From that first bite, you knew you were in the hands of a master chef who truly knows how to cook. Speaking of which, now is probably a good time to mention that Adam was on MasterChef: The Professionals, making it all the way to the final in 2019.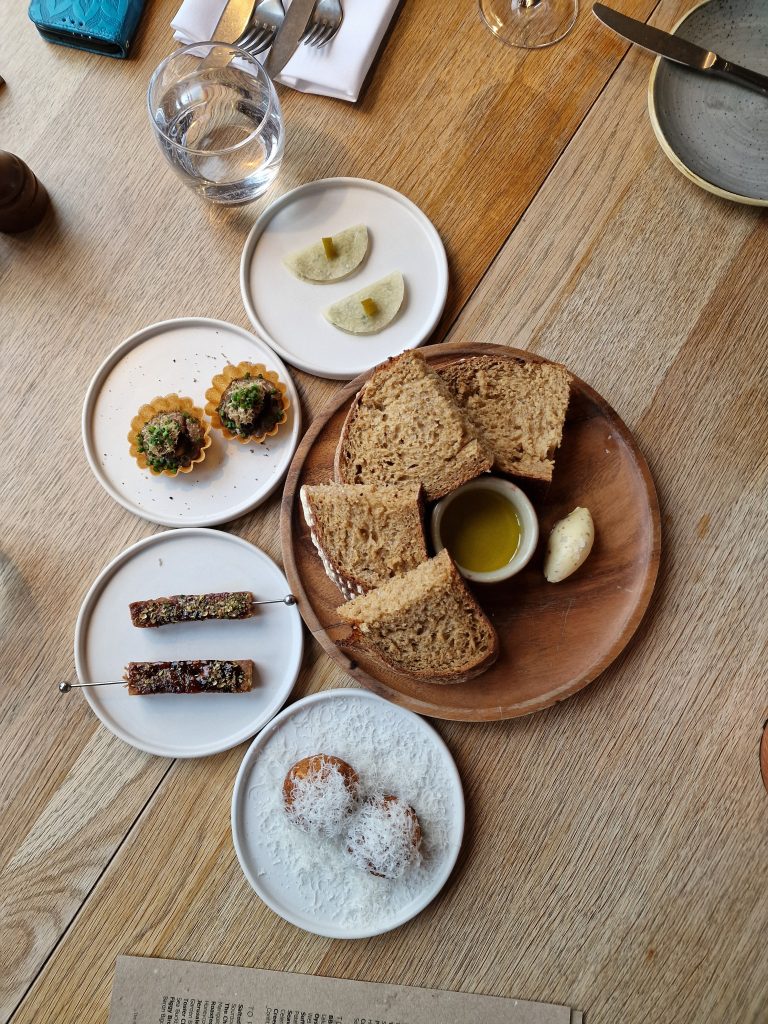 The other sharing plates are just as noteworthy: a porcini mushroom tart with pickled mushrooms and truffle, that was wonderfully earthy and appropriate for the season; parmesan gougères filled to bursting with whipped cod roe and topped with craquelin for contrasting flavour as well as the biggest shower of parmesan; and an incredibly fresh and delicate kohlrabi taco filled with sunflower seed ricotta and with jalapeño, giving a gentle eat. All in all, just delicious.
The fifth snack was Adam's black treacle bread that was, hands down, the best bread I have had anywhere this year. A rye sourdough, it had a terrific crunch on the outside and yet was soft and yielding inside. Served with black garlic butter and English rapeseed oil, this was a plate that kept us going back, and back, for more.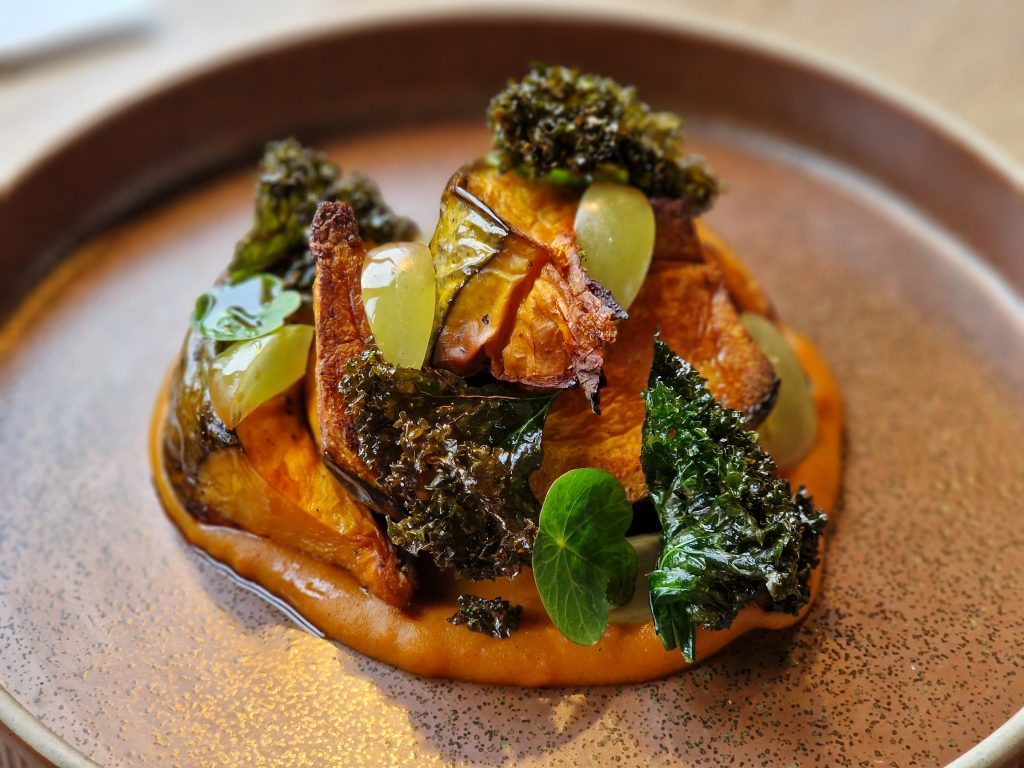 With our appetites well and truly whetted, it was time for the starters, one of which caused me to have a 'Grace Dent moment'; those who watch MasterChef will know what I mean… The dish in question was crown prince pumpkin with crispy kale, smoked almonds, pickled grapes, nasturtium leaves, and rapeseed oil. It was everything I love in a dish – rich, earthy, pops of acid from the grapes, and just so much flavour! This was the last of their homegrown crown prince pumpkins, but you just know they will replace it with something equally rich and earthy. Our second starter was pastrami salmon with horseradish crème fraiche, dill oil, and fermented cucumbers. The smell of the pastrami spices was tantalising, and the taste didn't disappoint, with the thickly-cut salmon adding an oily richness to the pickles. This was an incredibly balanced plate of food and, again, generous and indulgent. Both dishes showed real complexity of flavour, something you are perhaps more used to in a Michelin-starred restaurant; Adam is a chef who clearly knows how to maximise flavour.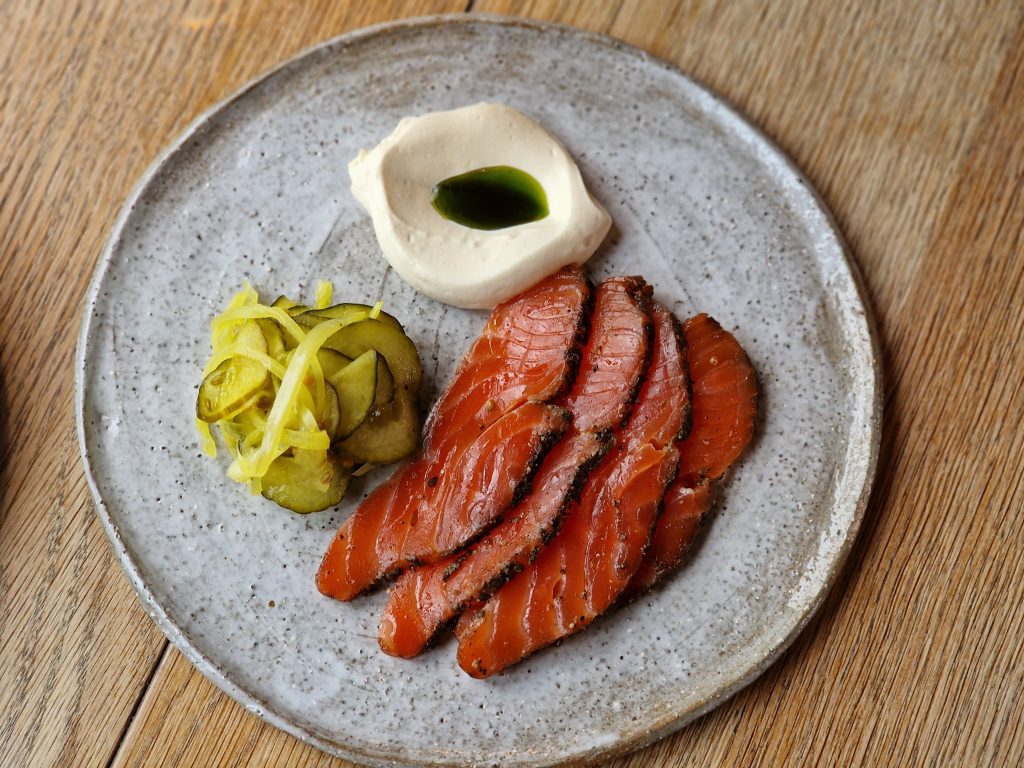 The mains were next, starting with seaweed butter plaice with celeriac, oyster leaf, trout caviar, dill, samphire, and light shellfish sauce with English sparkling wine. This was such a harmonious dish and very balanced. The fish was cooked perfectly, with the seaweed adding a salty note while the caviar, in the sauce, again added that luxury. Delicious! However, the star of the show was our second main dish, Creedy Carver duck with confit duck and offal spring, roll, cherry hot sauce, cavolo nero, and lightly spiced sesame carrot complete with a lip-smackingly good 'duck sauce'. Oh, my days! This was an incredible dish, the chef equivalent of a hug, and it supplied another Grace Dent moment, when you want to just eat your food with a 'do not disturb' sign clearly visible so you can just enjoy the food and flavours.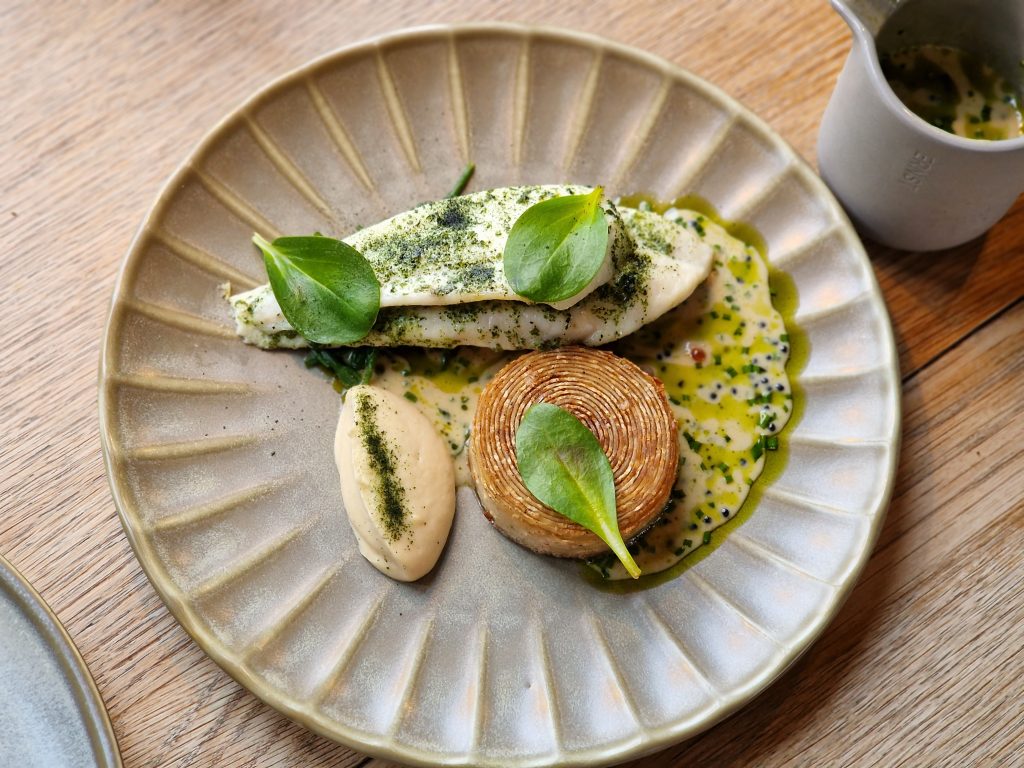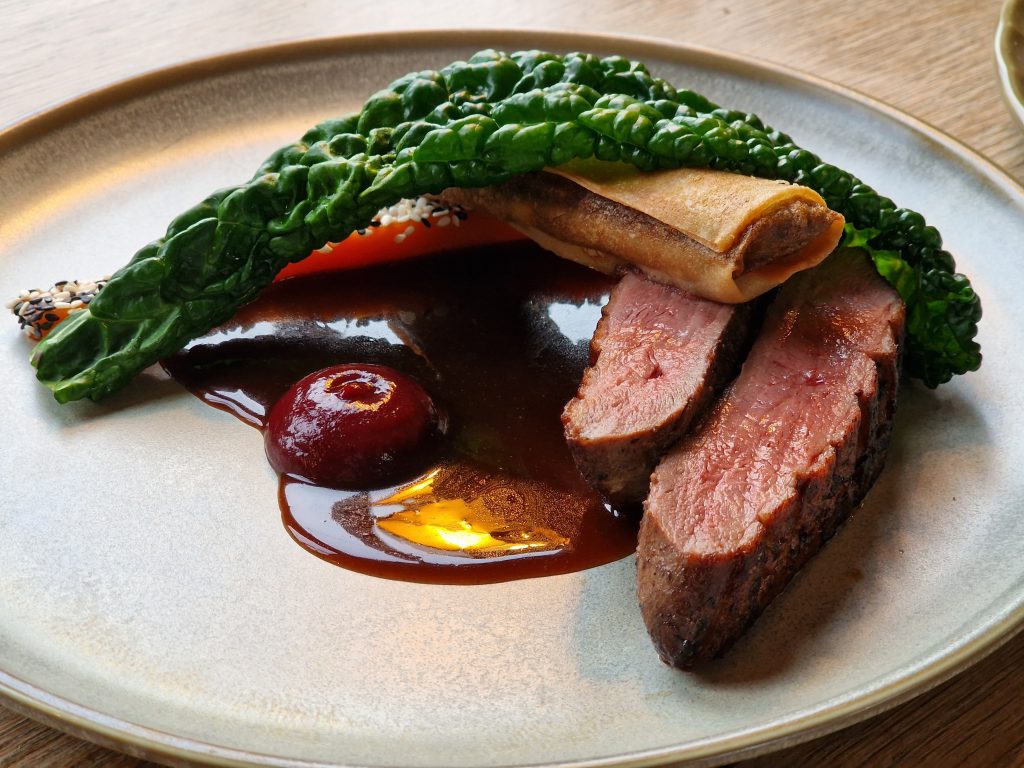 A brief pause and then our desserts arrived, the first being a Jerusalem artichoke crème brûlée with garden blackberries and caramelised white chocolate. This was surprisingly light, given the earthy notes of the artichoke, and the zero-waste continued through this dish with the Jerusalem artichoke peelings being turned into crisps. The other dessert was also zero-waste, a salted caramel tart with a sourdough macaron – made using leftover bread instead of ground almonds – carrot jam, and milk and whey sorbet. This was a dish that made you smile, and it was fun and, yes, indulgent. The sorbet was presented on a crumb, melting into breakfast cereal-like flavours, bringing a childlike light-heartedness to the dish. Great fun.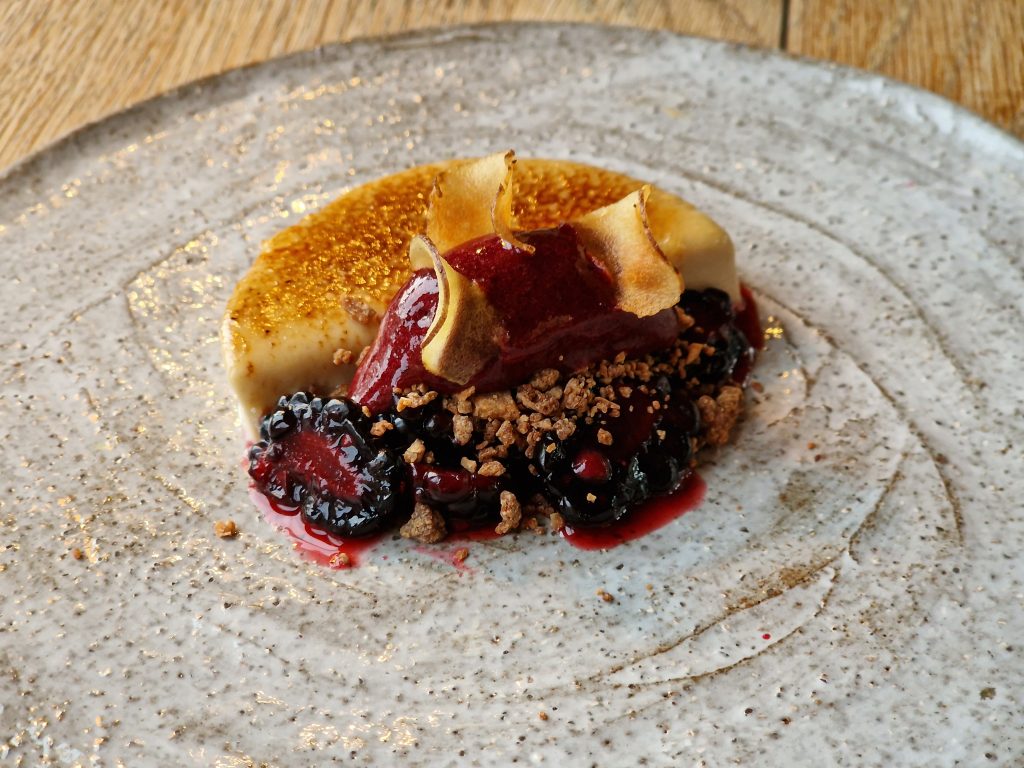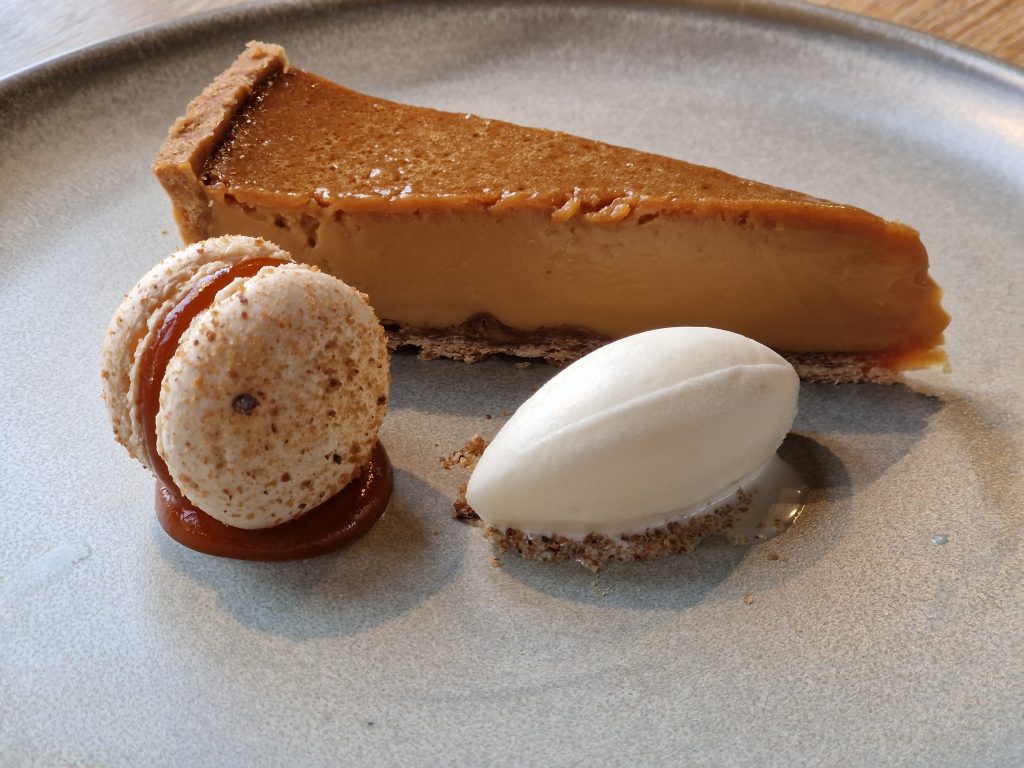 The meal finished with petit fours – a negroni pâte de fruit, as negroni is Adam's favourite cocktail, pumpkin fudge, and a dark chocolate and passion fruit truffle, all of which showed balance and flavour.
Adam has been at Retreat East for just six months, but it is clear that he has made a huge impression on the food served there. Speaking to him afterwards, he tells me that minimising food waste is one of his key missions and is something that fits in with the Retreat East ethos. While not Michelin trained, Adam says that he has worked under some very talented chefs, and he has just always wanted to be a chef.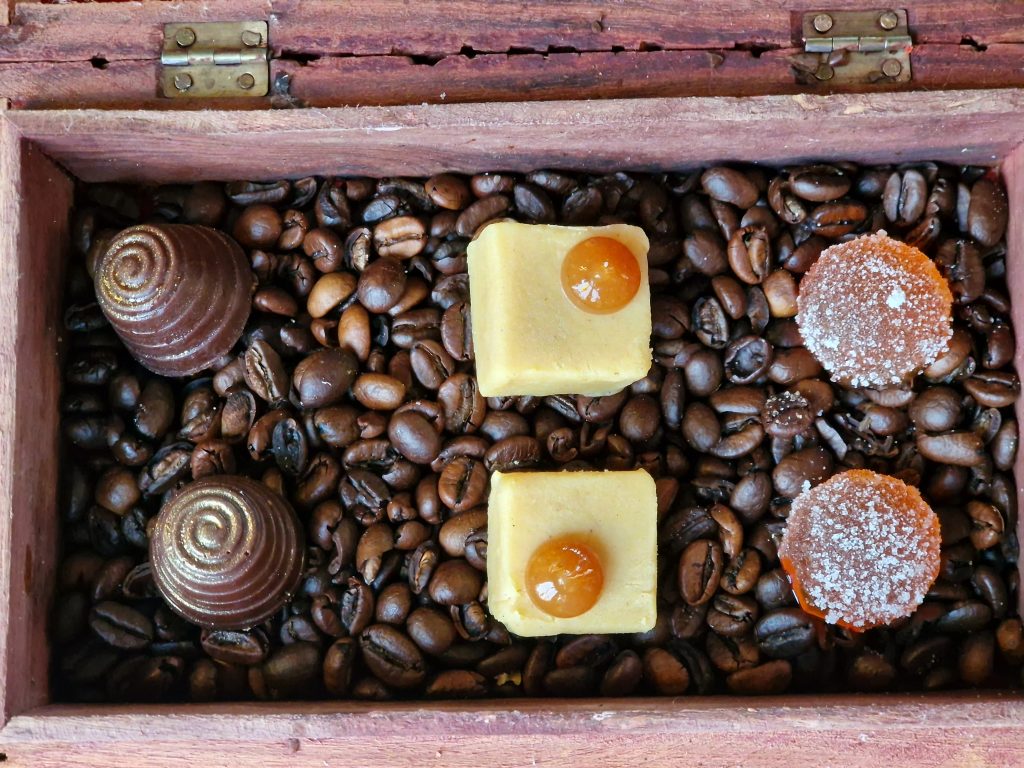 His influence comes from classic French techniques, flavours from Asia, and a Scandinavian style of plating, "draping food organically on the plate rather than fussy plating".
Adam continues: "I don't want to offer standard food that you can find anywhere. I want to focus on the garden and what we grow here, on reducing our carbon footprint, and on sustainability. We now use washable piping bags, for example, rather than single-use plastic ones. By focusing on using as much of the food as possible – such as taking the carrot tops from the duck and using them to make carrot jam to go with the tart – it has changed the way we approach a menu."
Having tasted just some of the food Adam and his team are creating, I think it is fair to say that this approach is one that works. I have enjoyed some amazing food this year, but this meal was right up there with the very best. Retreat East may be an undiscovered place for many, but this is a place that has so much going for it. I am keen to see what happens next.
Food is served seven days a week, including breakfast, afternoon tea (booked in advance) and Sunday lunch. Check their website for festive events including spa packages and breaks.