Sausage and butterbean casserole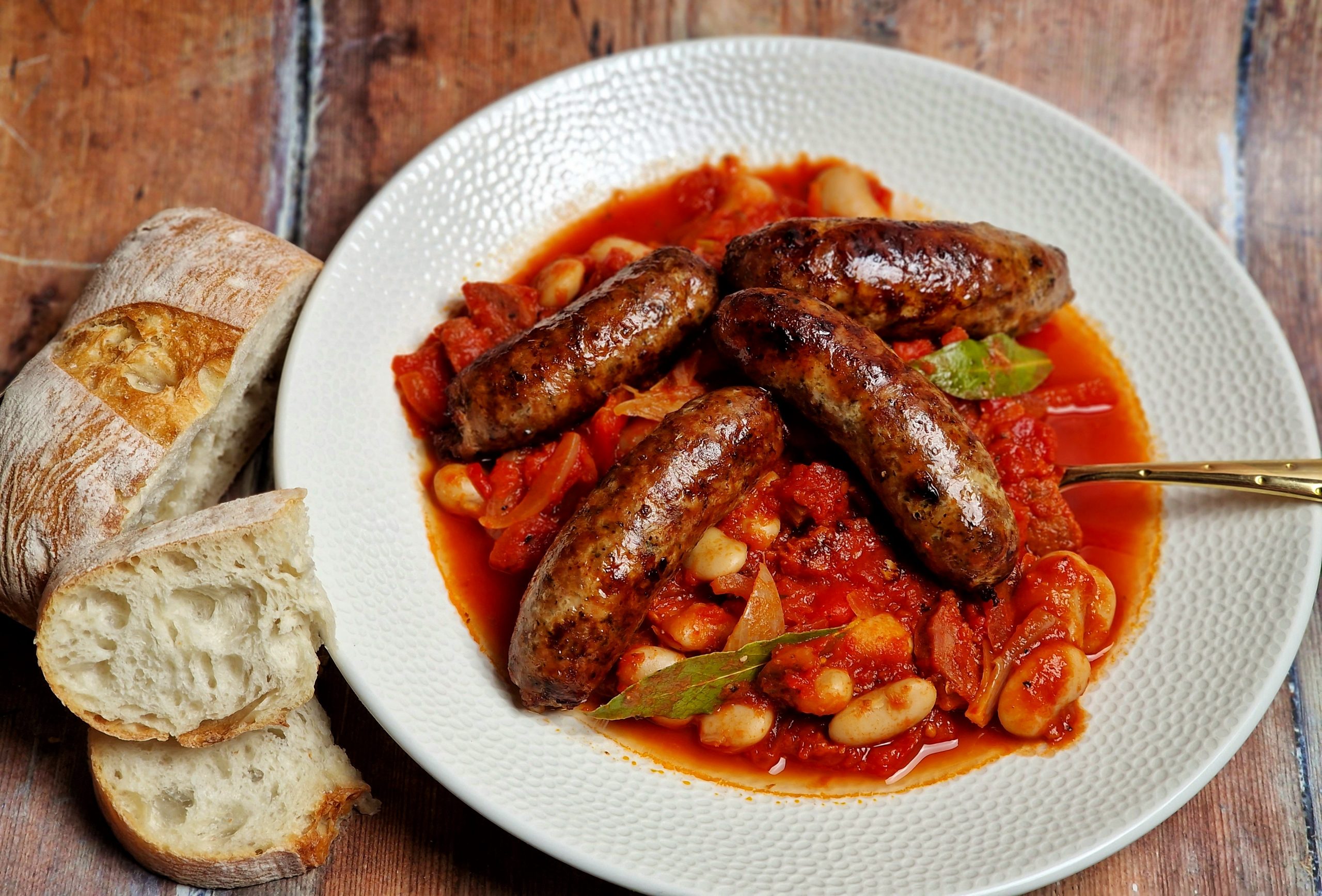 This sausage and butterbean casserole is an economical one-pot dish perfect for this time of year, as well as being a great warmer for Bonfire Night. I made this warming casserole with butterbeans but with you can use any legume you like. I added chorizo for extra depth of paprika flavour, but you can leave this out if you prefer. I love the warming rich flavours of this dish – just serve with crusty bread for dunking and enjoy! I made this dish for the Local Flavours Cooking Stage at the 2022 Bungay Food and Drink Market, using sausages from Old Hall Farm and served alongsidebuttermilk sourdough from Hempnall Village Bakery. It was delicious and there were no leftovers!
INGREDIENTS Serves 4
8 Old Hall Farm sausages – for this recipe, I used their no carb sausages
1 red onion, finely sliced
1 stalk celery, finely sliced
2 bay leaves
1 tbsp tomato purée
1 tsp dried oregano
½ Marsh Pig Oak Smoked Chorizo, skinned and cut into 0.5cm pieces
3 chargrilled red peppers from a jar, sliced
2 tins tomatoes
½-1 tsp smoked sweet paprika
1 jar giant butterbeans (Gigantes), drained and rinsed
Yare Valley rapeseed oil
Black pepper & salt to taste
Put a casserole dish on the hob over a medium heat and add a tablespoon of rapeseed oil. Brown the sausages all over and set aside.
In the same pan, add the onion, celery and bay leaves along with a pinch of salt and cook until softened. Add the tomato purée and stir to cook out. Then add the oregano and some black pepper and stir well.
Add half of the chorizo to the pan and cook until it is just starting to catch to help release the oils. At this point, you can add a splash of water, or wine, to deglaze the pan as wished.
Add the peppers, tomatoes and paprika and stir well. Simmer gently for five minutes, then add the butterbeans. Stir again, then return the sausages to the pan until cooked through.
Serve while piping hot with crusty bread on the side.
For more recipes, click here.