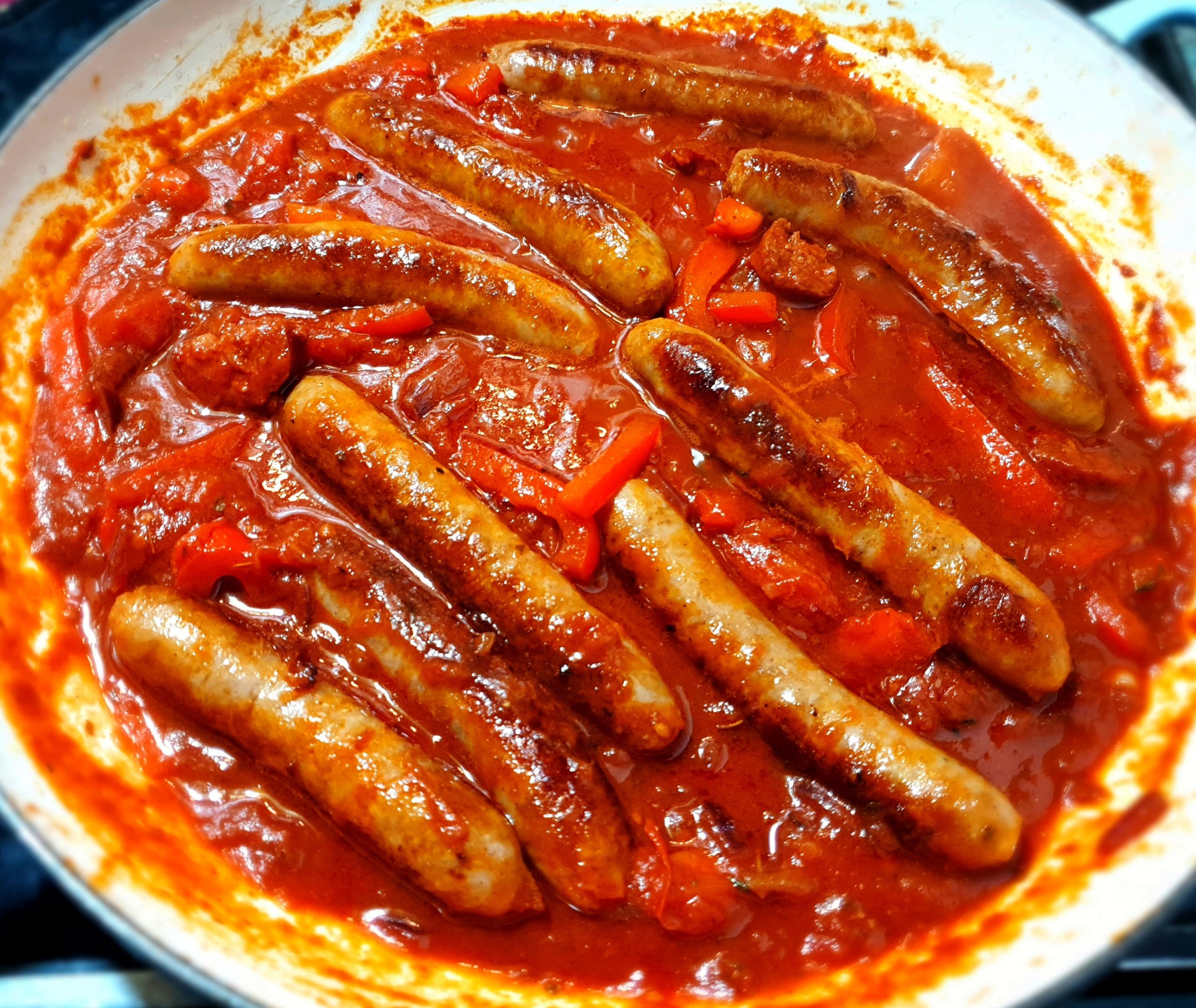 The Butcher's House smoky sausage, chorizo & pepper stew
A dish that is perfect for Hallowe'en and Bonfire Night alike, this warming sausage stew is enhanced with chorizo and sweet smoked paprika. I love the warming rich flavours, and this stew delights both children and adults. Perfect served with a jacket potato and greens, although you can add a tin of butterbeans/chickpeas towards the end of the cook to make an easy one-pot dish.
INGREDIENTS
8 sausages – I used The Butcher's House hog roast giant chipolatas
1 red onion, sliced
1 cooking chorizo sausage, skinned, halved & diced into 0.5cm pieces
1 red pepper, sliced and halved
1 generous tsp tomato purée
1 tin whole tomatoes
3 stalks fresh thyme – you just want the leaves ½
tsp smoked sweet paprika
Yare Valley rapeseed oil
Black pepper & salt to taste
First, put a casserole dish on the hob over a medium heat and add a tablespoon of rapeseed oil. Brown the sausages all over and set aside.
In the same pan, add the onion with a pinch of salt and cook until softened. Add the chorizo and cook until the chorizo is just starting to catch. At this point, you can add a splash of water to deglaze the pan – or red wine, as I used!
Then add the peppers and cook for a minute or two before adding the purée. Cook that out for a moment and then add the tinned tomatoes. Whole tomatoes have a much better flavour, and you can easily chop them in the tin with a pair of scissors or just break them down in the pan with a spoon. Add the thyme and black pepper and bubble away.
After five minutes, return the sausages to the pan and gently simmer, stirring occasionally, until cooked through.
Serve while piping hot and enjoy!
Recipe by The Delicate Diner for The Butcher's House
www.thedelicatediner.com
www.facebook.com/thebutchershouseltd