The many edible delights of Bungay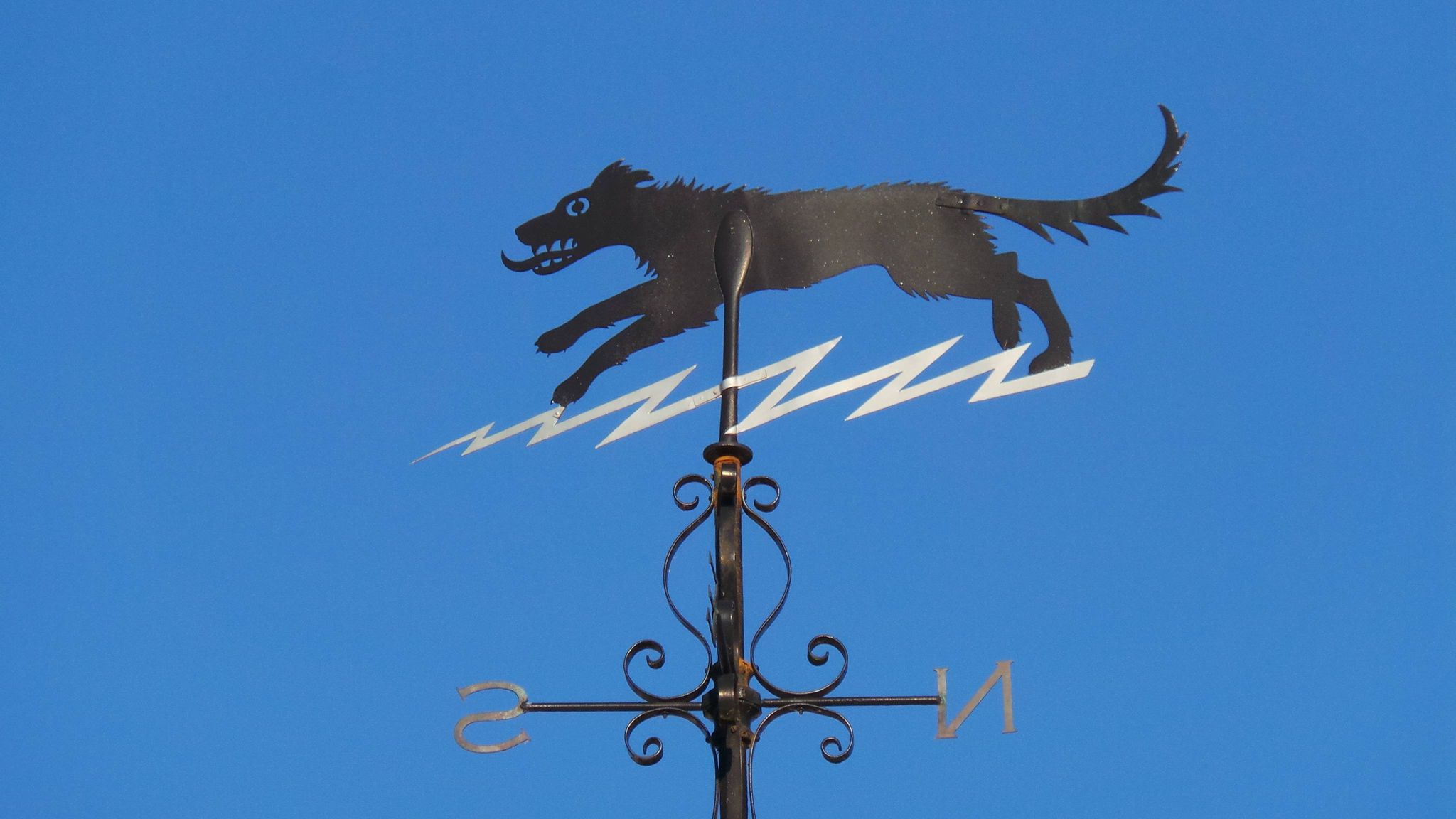 As written by Samantha Mattocks, The Delicate Diner, for nourish magazine issue 01. For more interviews by Samantha, click here. 
The medieval town of Bungay, just on the Norfolk/Suffolk border, has a rich history. From the famed Black Dog sightings, where the huge dog with red eyes tore through the church of St Mary's on a stormy night, to the castle of the iconic Baron Bigod, Earl of Norfolk in the 12th century, Bungay is a place full of folklore and tales. 
Today, however, the town is more known for its wonderful array of unique shops and great customer service – and not just down the popular Earsham Street either. The Buttercross Marketplace is beginning to buzz once more, something that continues up St Mary's Street where you will find unique pizzerias celebrating local produce and the best Indian takeaway you will find this side of Delhi. Indeed, Bungay is fast becoming something of a foodie hub for the borders and so, with an empty shopping bag – and tummy – Samantha Mattocks headed out to explore the wonderful market town of Bungay and all that it has to offer.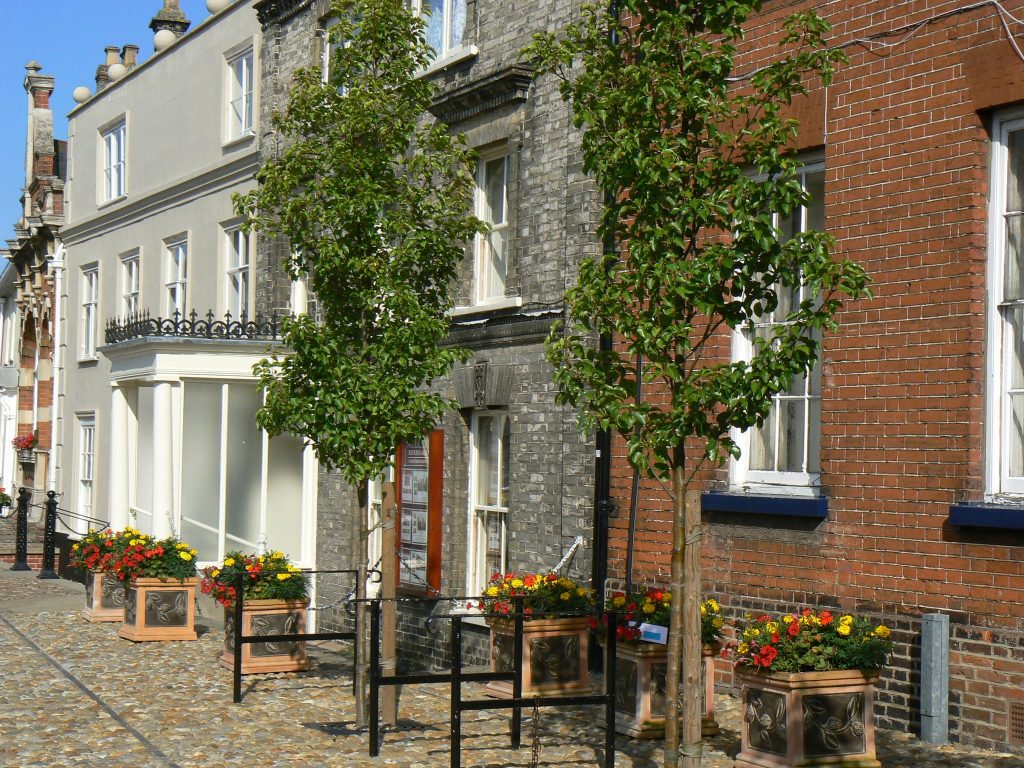 Credit Andrew Atterwill
Earsham Street
Parking on Chaucer Street, you will find Earsham Street just 50 yards away. Recent years have seen this street have a big revival and it is easy to see why. There truly is something for everyone on Earsham Street, and we stroll down to the end and the old post office before beginning our trail in earnest.
Opposite the post office is The Art Trading Company, full of amazing art materials that can tempt even the worst artist in the world to pick up a brush; handily enough, they offer art classes, and that may be something to consider for the future.
Next to The Art Trading Company is an incredible deli. If ever there was a shop you could spend hours in, it is Earsham Street Deli. This wonderful emporium is home to some amazing produce, and owner Michelle Steele spends hours researching to ensure that she offers the very best of the best of local and beyond. As well as breads, cheeses, and cakes, the deli sells intricate artisan delights from Italy and Spain – think chorizo and oils to festive limoncello panettone – and beautiful chocolates including the iconic Rococo, Pump Street and B Chocolates Honey Sea Salt Caramels. The deli always celebrates Friday with 'tart day', their made to order takeaway sandwiches are bursting with tasty flavours, and they make bespoke hampers – perfect for sending to family and friends, or even for treating yourself! Very much Suffolk's answer to Fortnum & Mason's, Earsham Street Deli even has stunning window displays that change seasonally.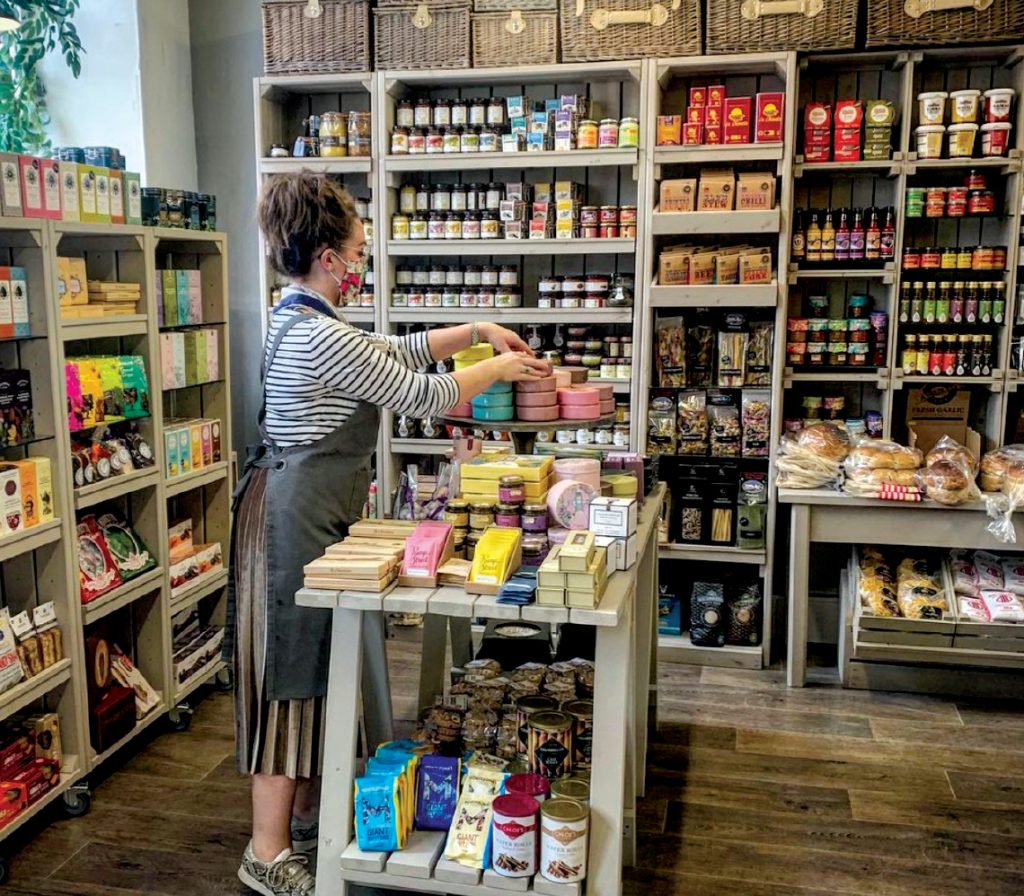 Directly across the road from the deli, you find Bell's of Suffolk, a tardis-like shop that goes back through three rooms showcasing everything you could need for your kitchen table, conservatory, bedroom, and more. From beautiful linen textiles to hand-thrown ceramics sourced from talented potters, there is so much in Bells to inspire. Set in a beautifully restored Georgian building, Bells has been owned by Jackie and Allan Bell for 17 years and they stock ethically sourced items that they would choose for their own home. This shop is a delight for interiors, from cushions and throws to beautiful tealights, candles, and vases, Bells of Suffolk has something for everyone. The shop becomes particularly magical at Christmas with stunning decorations, gifts, cards, and wrap sourced from all over the world, making Bells truly inspiring and a definite 'must visit' place.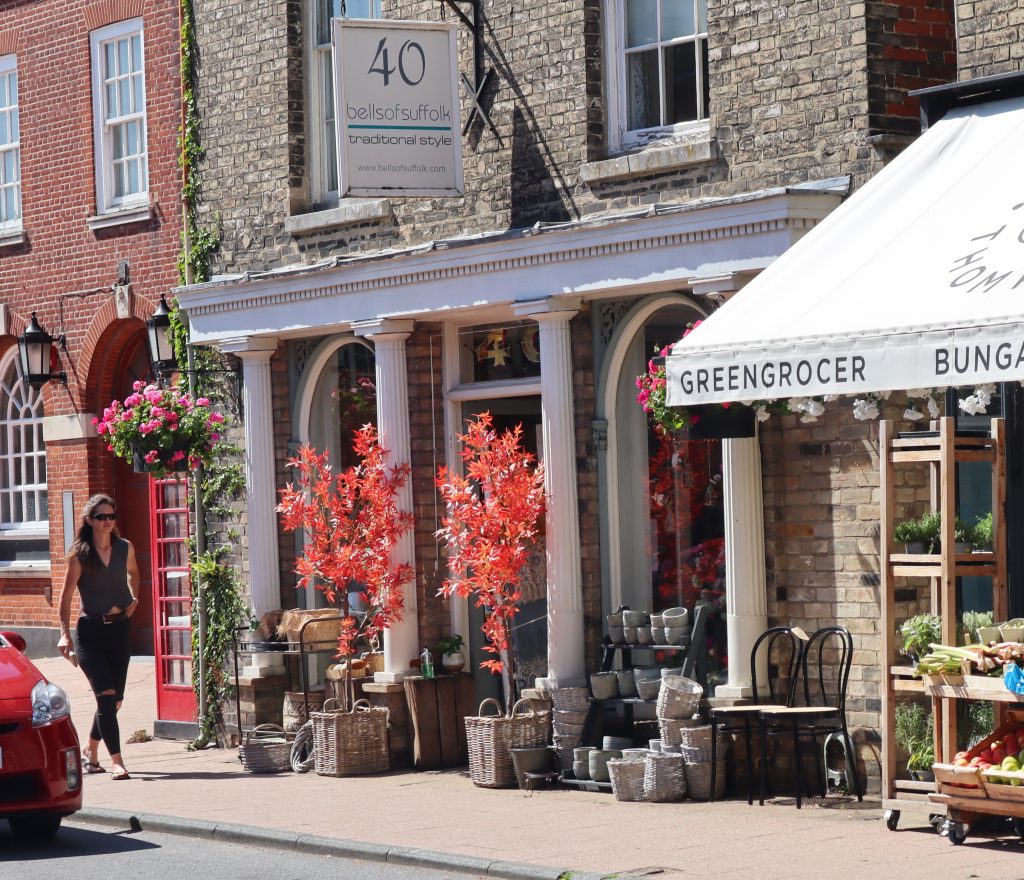 Next to Bell's is a doorway that takes you to two shops. The first is Giddens & Thompson Greengrocers, founded by Simon Thompson and his partner Christopher Giddens just over six years ago. At the time of going to press, Giddens & Thompson is in the process of being sold but it will remain a greengrocers.
Next to Giddens & Thompson is another wonderful shop, one you could lose yourself in for hours. Everyone loves high quality pre-loved pieces, and Little Black Dog Wardrobe offers an incredible range of classic dresses, handbags, shoes, coats, jewellery, and more besides. Run by Liz Wilkinson – whose twin sister runs The Lawnes in Loddon , the Little Black Dog Wardrobe is like a fabulous grown-up dressing-up box where hidden treasures can be found, all at great prices. You can find designer one offs and special pieces that stand out for their versatility and uniqueness, not to mention sustainability. Liz has a keen eye on what looks good on people and how to make the most of their colouring and style, and her recommendations never disappoint. With something for every size and every budget, this shop is an essential stop on Earsham Street – plus you can shop as you drop off your own special items for sale.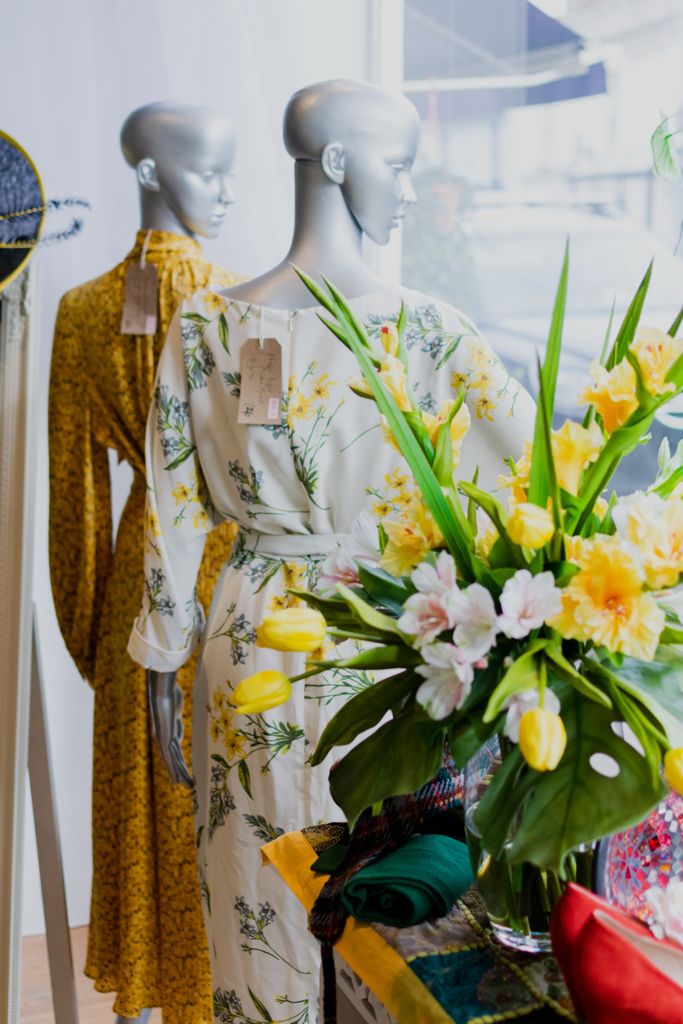 Past New Beginnings Florists and back over the road and you find Earsham Street Fish Company, run by Cliff Harris and Lucy Denny. The main feature of this shop is the long counter that showcases the huge array of fish on offer. They always have a wide and varied array of fresh fish and typically, you go in to buy one thing and end up with something else in your bag as well! From fresh shellfish to amazing smoked fish – if they ever have the gravadlax, get it, it is sublime, as is their smoked salmon fillet – there is something for every fish lover to enjoy. Cliff is very much the man in the know – what is in season, what is best for eating now and what can be frozen for another day, and he can also arrange bespoke orders, handy if you have friends coming around and have a particular dish in mind!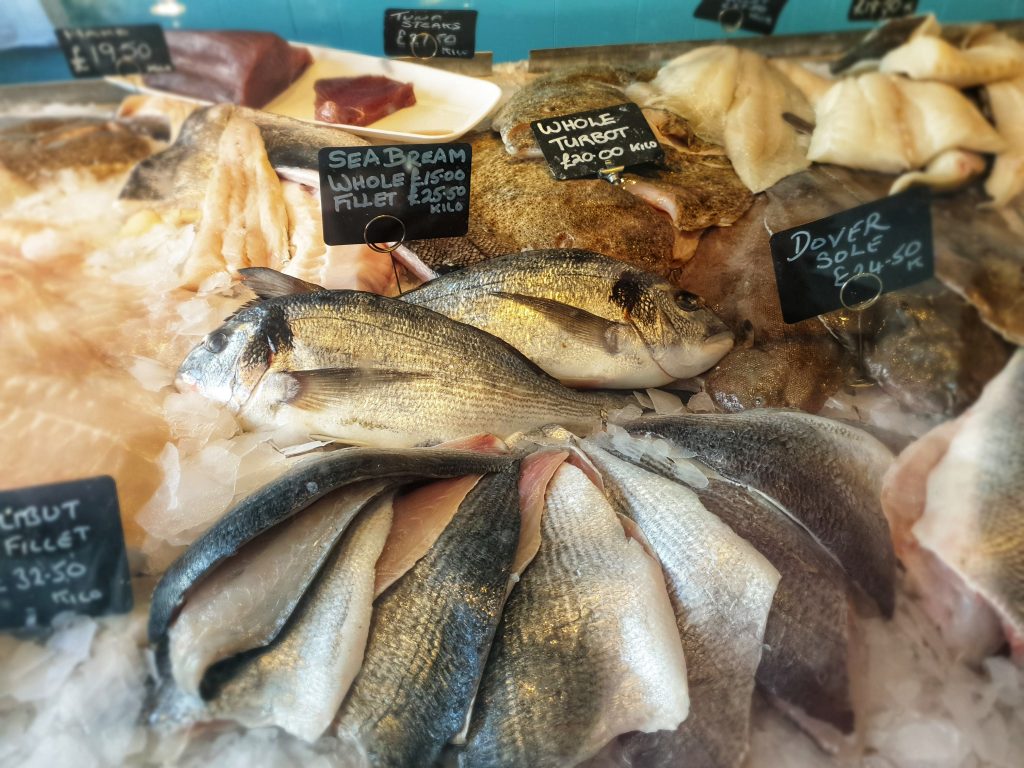 Credit Samantha Mattocks
Carry on down Earsham Street towards the main town and you come to one of the newest additions to Earsham Street, Palfrey & Hall, a fantastic butchers with a focus on provenance. Founded in 2013 by Shaun Palfrey and Deaglan Hall, this is Palfrey & Hall's second shop with the other being in Debenham, Suffolk, notable as it has its own milk dispensing machine with the milk coming from Suffolk Farmhouse Cheeses' herd of Guernsey and Jersey cows. Much of the meat Palfrey & Hall sell is sourced directly from the farmer, and they dry age their beef – which is excellent – and also smoke and cure their meats. Their shop also sells accompaniments such as stuffings and stocks as well as a few tasty meaty snacks. As we go into autumn, you can expect to buy all the best and most flavoursome cuts for your Sunday roasts and midweek casseroles from this brilliant butchers.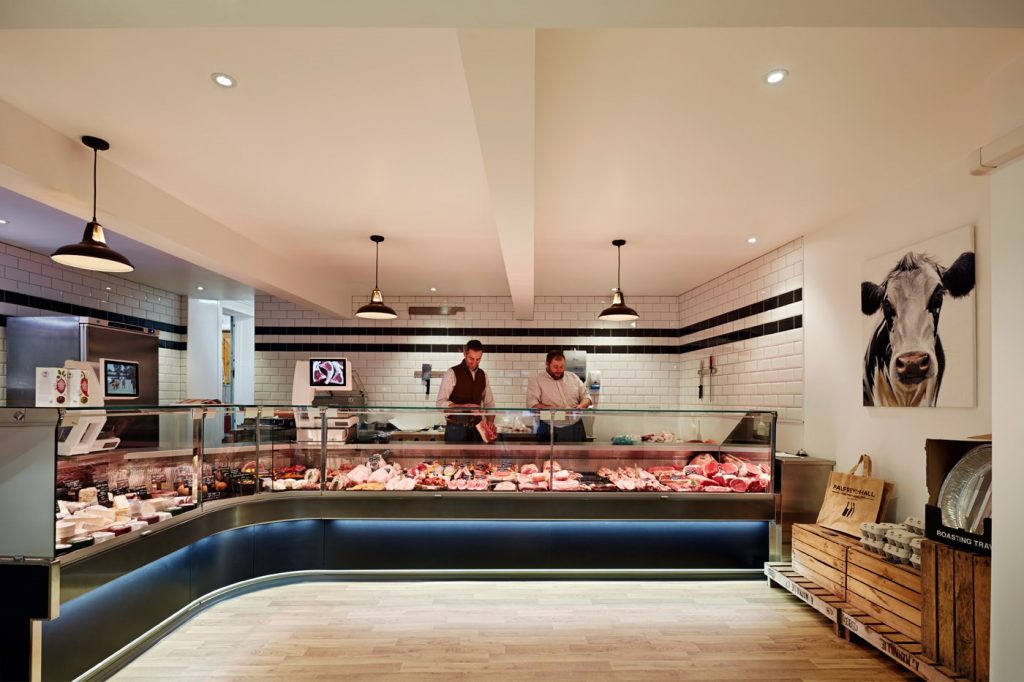 Heading just a little bit further down Earsham Street and you arrive at the perfect pitstop after a busy morning's shopping – the delicious and very popular Earsham Street Café. Run by Gemma Parker and Mike Hennessey, this café has a covered outdoor eating area at the back, perfect for enjoying al fresco while also staying dry! This café specialises in flavour with everything made on the premises, from the scrummy cakes and scones to the special dinners they put on at the end of each month. Gemma's knowledge and instinct in cooking delicious food comes across so well, not only on these nights but through the specials on offer daily in the café. Their sharing platter is highly recommended, their vegetarian dishes are particularly inventive and delicious, and there is a good wine list available. With vegan, dairy-free and gluten-free all catered for, everyone can enjoy something to eat and drink in this lovely spot.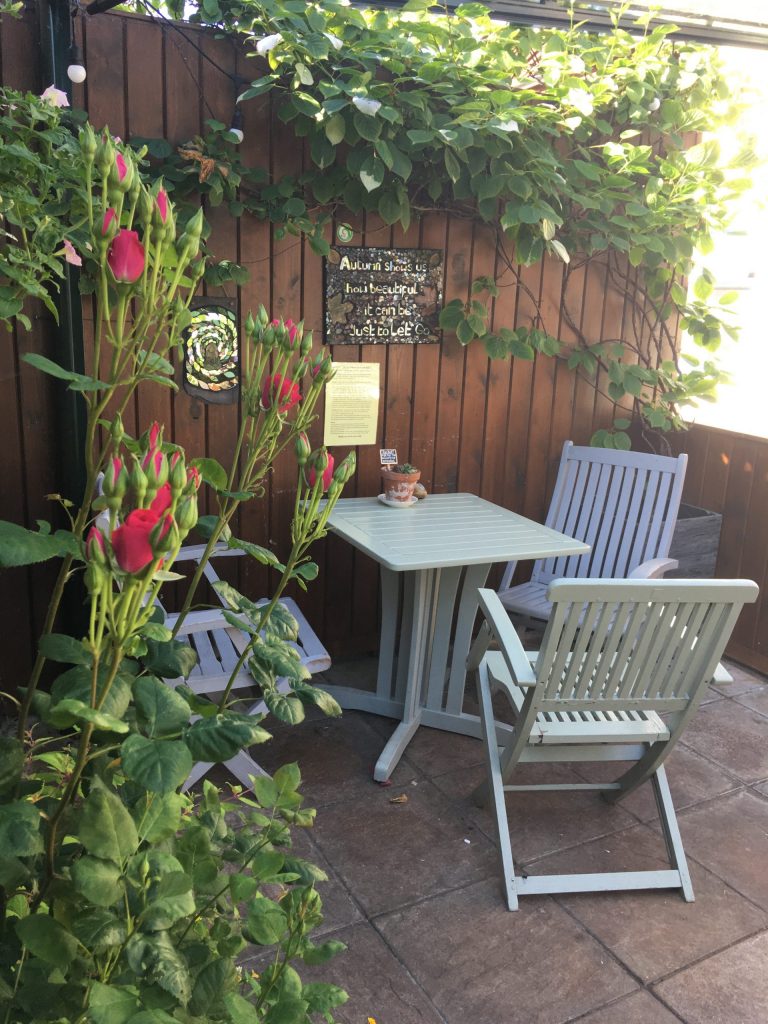 Now refreshed, the journey continues to the centre of Bungay where you will find the iconic Market Cross and the Butter Cross. A market is held here every Thursday, having been first established in the 13th century when the Bigod family still occupied the Castle. In 1382, Richard II granted permission for the weekly market to be held on Thursdays, a tradition that continues to this day.
Cross the roundabout and go down past the wonderful Wightmans of Bungay, a home furniture store who sell everything from sewing materials to beautiful oilcloths and carpets, curtains and more, and you come to Trinity Street.
For us, no trip to Bungay would be complete without stopping at the Imperial Wine Company, a wonderful independent wine store tucked away on Trinity Street. Founded in 1995, the Imperial Wine Company was born out of a desire to create a down-to-earth, friendly specialist wine merchant offering a range of interesting wines, mostly from small producers, and this vision remains today. I love going to this shop as it has a wealth of wines that you do not find anywhere else, many sourced from small vineyards by the owners themselves. As well as wines, there is a tempting selection of ports, sherries, whiskies, gins, vodkas, cognacs, liqueurs and much more on offer. The staff are able to help you find the right wine for your palette and budget as well as introducing you to new wines you may not have yet discovered.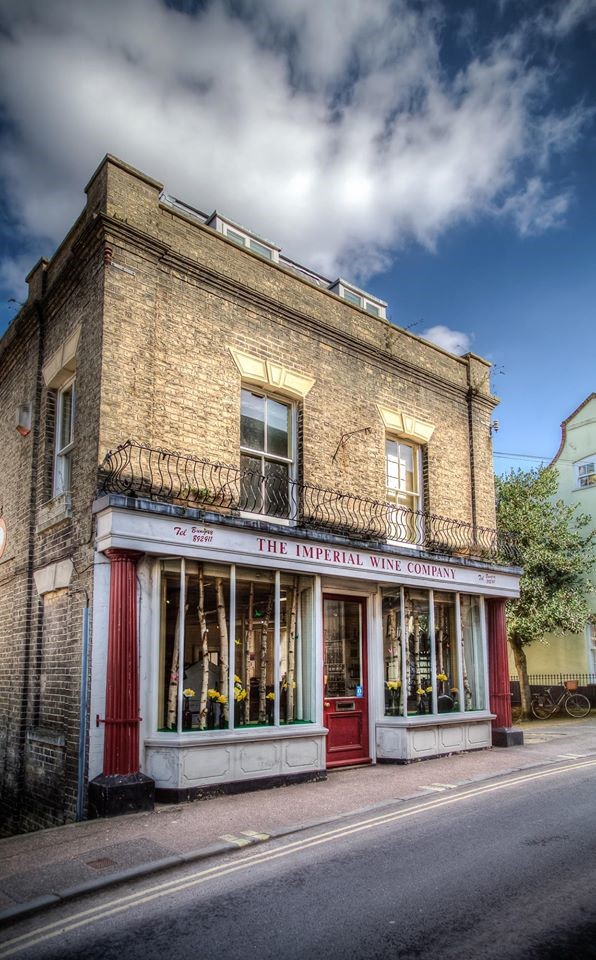 Leaving the Imperial Wine Company, return to the roundabout and head up towards St Mary's Street, with St Mary's Church on the corner, scene of the infamous night when legend has it that on 4 August 1577, a large black dog burst in through the doors of the church to a clap of thunder. It ran up the nave, past a large congregation, killing a man and boy, and causing the church steeple to collapse through the roof, before moving on to Blythburgh Church where it mauled and killed more people. This is the legend of The Black Dog (cover image), and you will find references to it not just in Bungay, but throughout the area. More or less opposite St Mary's is a path that leads to Castle Orchard, leading you to Bigod's Castle and its Norman ruins; well worth a detour.
On with the tour, and leaving St Mary's Church on your left, you come to The Fleece Inn on your right. This pub is an iconic part of Bungay life, having first opened in the 15th century, and it remains as popular today as it undoubtably was then. With real cask ales on tap, 99% of which are local, a super wine list, and a tantalising menu using local produce to delicious effect, it is easy to see why The Fleece is a draw for locals and visitors alike. Part of its charm are the original features, being a Grade II listed building with exposed timbers, low ceilings, an open fireplace that is still used – heaven in winter – and a suntrap outdoor courtyard for al fresco drinking and dining. With dietary requirements catered for, as well as a children's menu, The Fleece is perfect for every occasion. And whether you stop by for a drink, a light lunch, or their famed Sunday roast, you can be assured of a warm welcome.

Credit Andrew Atterwill
Leaving The Fleece, and just a bit further down on the right, and you come to your next stop. If you love pizza, then the Suffolk Stonehouse is the place for you. Whether you stay to enjoy your pizza in the bar or garden, this independent pizzeria makes the most delicious stone-baked pizzas for miles. Run by a small passionate team, their pizzas are named after local landmarks and places – Chicken Roundabout, anyone? – and they make great use of regional produce to make a one-of-a-kind delight. You can personalise everything from the sauce to the base, including cauliflower, and my personal favourite is the Starston – BBQ sauce topped with Suffolk fried chicken, and more; utterly scrummy! Best of all, Suffolk Stonehouse also delivers – just download their app and order! The bar is well stocked with spirits and locally brewed beer and whether you order to go or enjoy there, add-on wine deals are often available to make your taste of Italy in Suffolk even more memorable.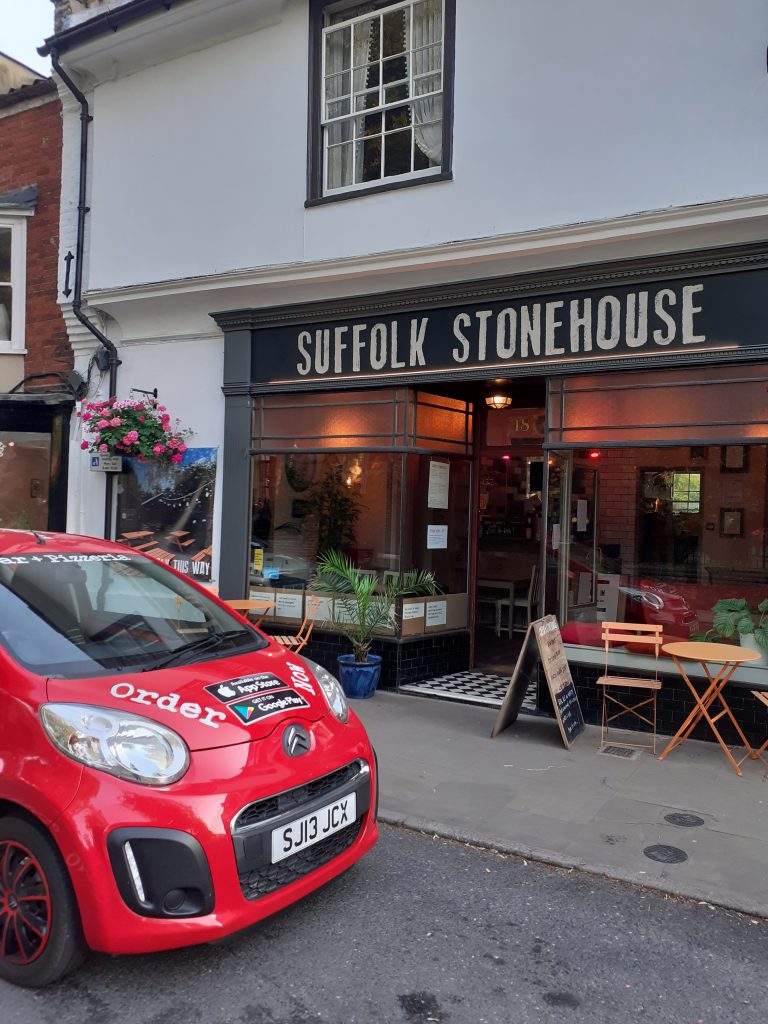 No look at the delights of Bungay would be complete without mention of The Pink Tiffin. Born in Nairobi, Kenya, Sandip Bhogal moved to the UK as a child. Staying true to his Punjabi roots, at the end of last year he started making curries to sell locally. Such was the success of The Pink Tiffin that it soon spread, and Sandip now delivers a limited number of intensely aromatic and delicious curries on a Friday and Saturday to the surrounding area. He has two set menus that change weekly – one carnivore, one vegetarian – as well as delicious add-ons, including the best naan I've ever tasted. Not only does Sandip do what he does with love, he puts some of the profits to charities including the WWF, helping preserve lions and their natural habitat in Kenya. If ever there was a good reason to order a curry tonight, then there it is.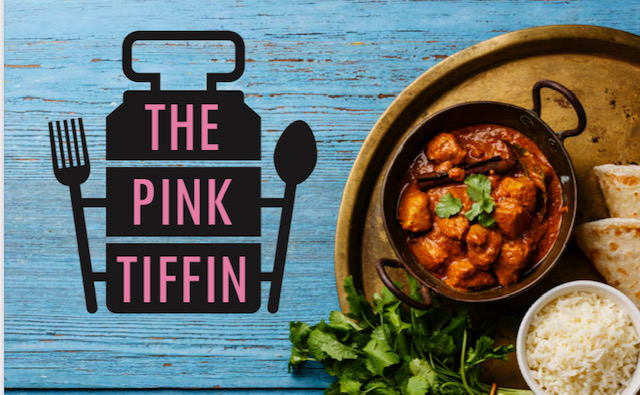 Your Bungay trail does not end there, however. Once you have collected your car, dropped off all your goodies, and picked up your wine from the Imperial Wine Company, there are two routes out of Bungay that will take you to further delights.
The first is if you leave through Flixton and here, you come to Fen Farm Dairy, run by Jonny Crickmore and his wife Dulcie, the third-generation of the Crickmores to farm this land. Home to a herd of Montbeliarde cows, Fen Farm has become renowned for its Baron Bigod cheese that has not only graced the menus of restaurants the UK over, but also the tables of royalty. Their milk vending and coffee machine is a popular draw as people come to get their fix of raw milk. Their Bungay butter and Skyr-style yoghurt are all worth trying, as is their special truffled Baron Bigod. One thing that is important for the whole family is for the farm to become carbon negative and it is well worth visiting their website to find out more. And, as if all that wasn't enough, they even have a cheese club, the perfect present for a friend – or yourself!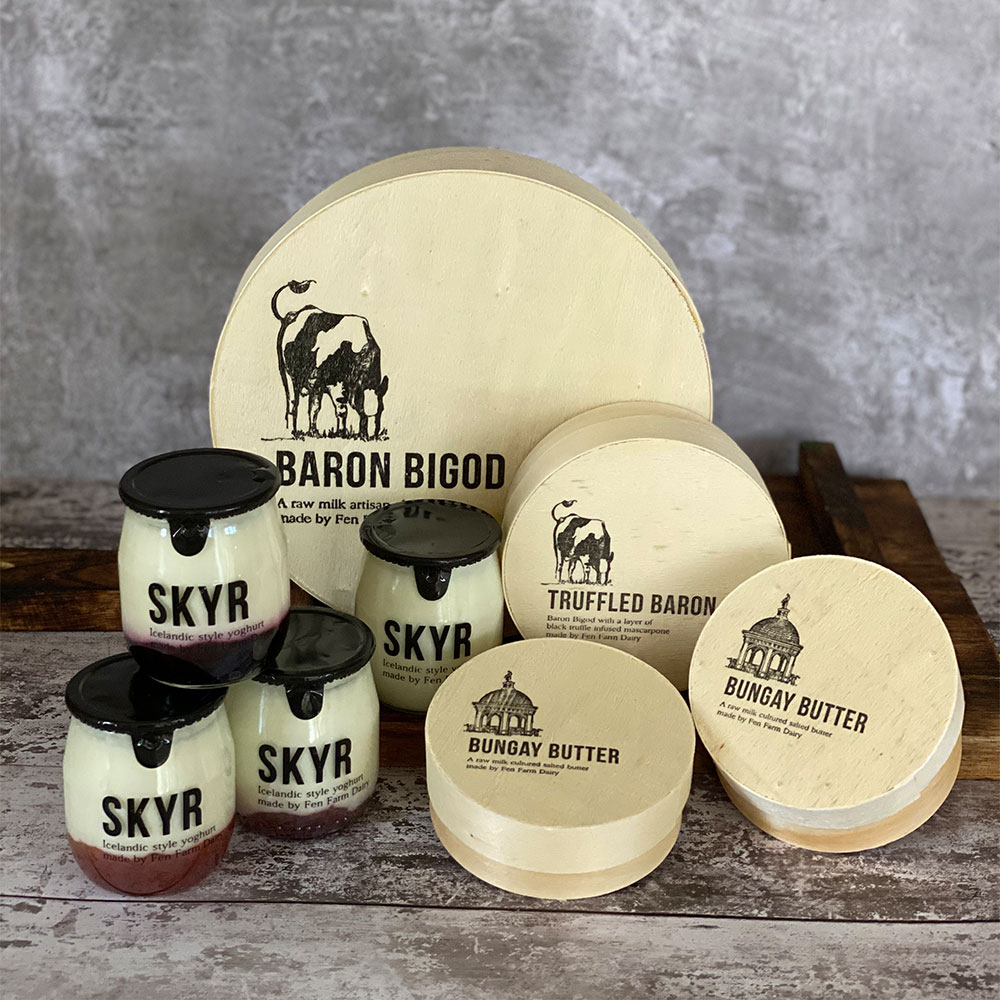 However, if you choose to head back through Bungay and out through Earsham before turning left on to the A143, you come to a place that is well worth the detour – Flint Vineyard, owned by Hannah and Ben Witchell. Their wines have made national news since they were launched five years ago; indeed, their award-winning Pinot Noir Précoce regularly sells out well before the summer season has ended. Set on slopes overlooking the Waveney Valley, Flint Vineyard is the perfect place for a wine tour and their famed 15-mile lunch, before hitting their shop and stocking up. As well as the Pinot Noir Précoce, their award-winning wines include Bacchus, Silex Blanc, and their stunning Charmat Rosé, with Flint being the first UK producer to start fermenting a sparkling wine using the Charmat method, that is, with a second fermentation in a tank rather than bottle. Their Venn Club gives members access to exclusive wines created by Ben as well as options to join in the harvest. All in all, great fun!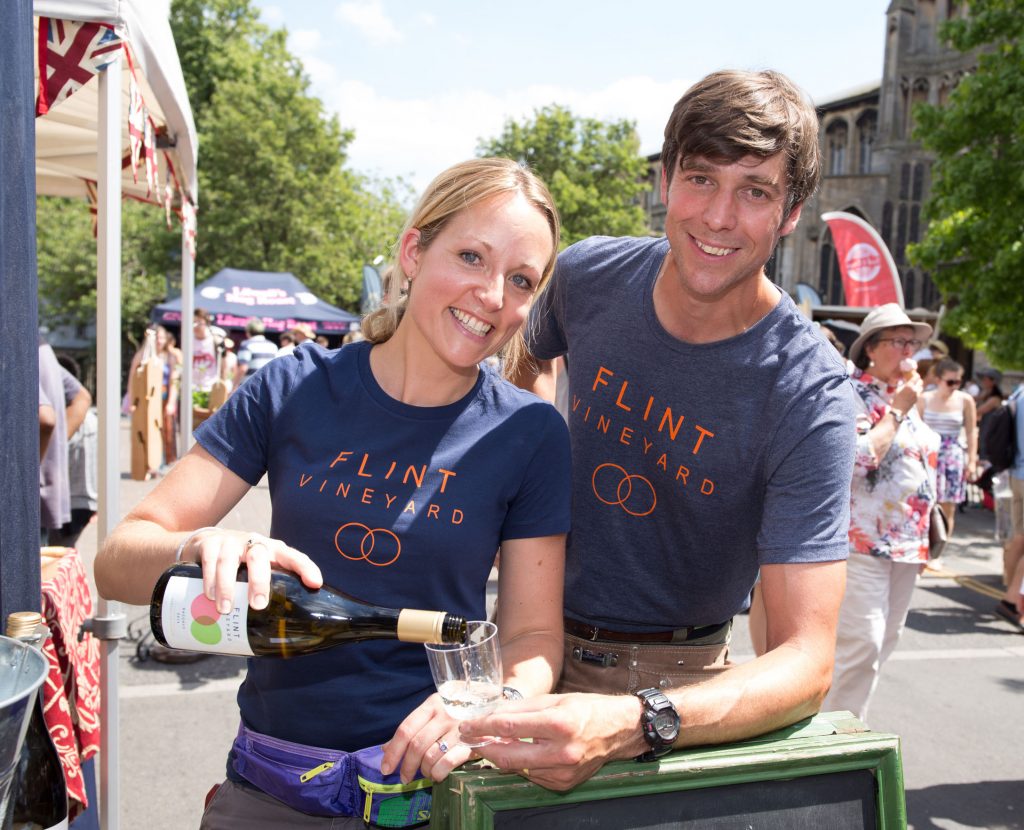 Whether you leave Bungay via Fen Farm or Flint Vineyard, you will come to The Dove Restaurant on the A143. Now back to its original name having had a complete makeover. The Dove now offers not only a restaurant and coffee shop/bar, but also two rooms for those wanting to stay and explore the area. The menu heavily features local produce and is open for breakfast, lunch, and dinner. Highlights include the Fen Farm buttermilk pancakes, the pan-fried cod, and the sweet potato, spinach, and chickpea curry. A brilliant wine list, also covering beers and other spirits, complement the menu, with the bar area offering somewhere to relax for a pick me up before heading home. Run by the Markham family, with father Dean out front and son Tom in the kitchen, you can expect more to come from The Dove as it returns to its former glory. Watch out for their dinner specials, which will be coming soon.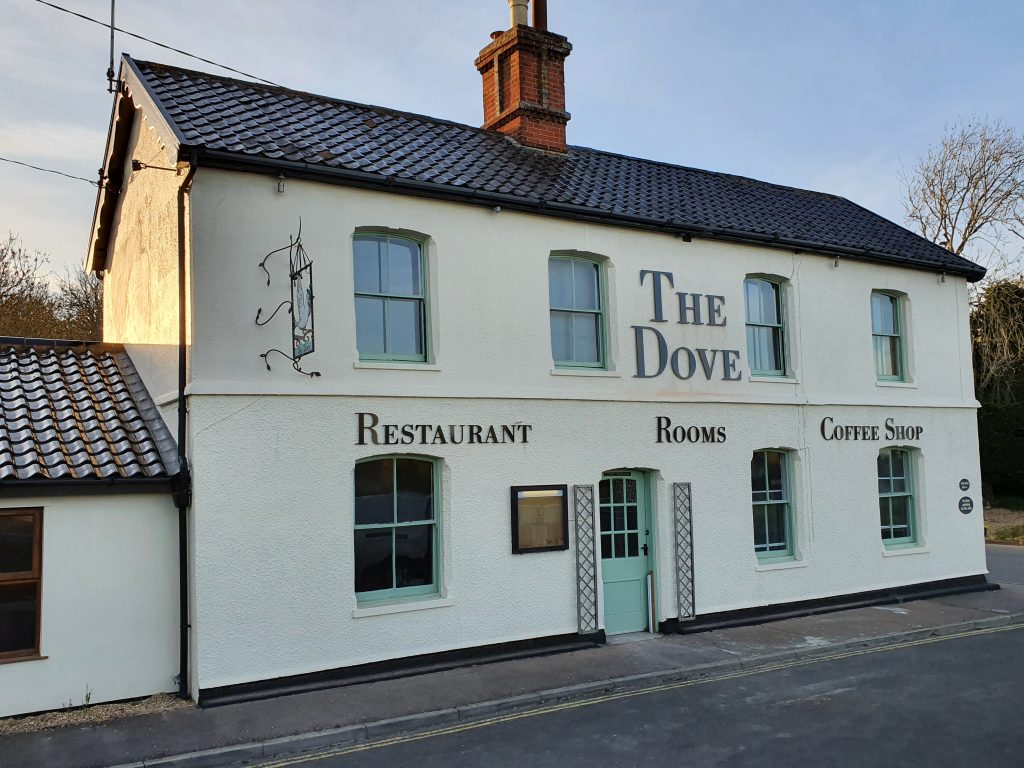 All in all, Bungay is a wonderful market town with so much to offer whether you want to dash in and get a sandwich, curry, wine, or pizza to go, or whether you want to spend a day with a friend, enjoying a relaxed stroll around the area. Bungay has a rich history, and it is well worth spending time exploring. Indeed, when I have international visitors, I always bring them here – the legend of The Black Dog captivates, and I love to see others react to the beautiful array of shops and eateries that we have here.
November traditionally sees Ladies Night in Earsham Street – whether that will happen this year, we will have to wait and see, but check the nourish social pages and we will share with you when the time comes. For now, give the lovely people of Bungay a follow through the channels below, and support your local high street, not really as Bungay truly does offer everything that any good foodie needs!
Find out more on the Bungay Suffolk website.
First published in nourish issue 01, September 2021. All information correct at that time.