Pear and ginger cake with vanilla mascarpone
I have long wanted to reinvent my ginger and pear pudding, which I presented on MasterChef to previous guests. I love the original dish, but I wanted to switch it up and when Old Hall Farm in Woodton launched mascarpone made from their raw Jersey milk, I knew that now was the time to go for something seriously scrummy! And here it is, my pear and ginger cake with vanilla mascarpone. This is a firm cake – it is based on a pudding, after all – but it is full of flavour. I am happy with the result; my only problem is trying to resist eating it all at once!
INGREDIENTS Serves 8-10
80g unsalted butter, softened
160g golden caster sugar
2 large eggs
185g plain flour
1tsp baking powder
3.5 tsp ground ginger
8 balls stem ginger, plus some of the syrup
2 Conference pears, peeled
A splash of milk
1 jar Old Hall Farm mascarpone (approx 200g)
1tsp vanilla bean paste
Pre-heat the oven to 180˚C / 355˚F / gas mark 4.
Line two 18 x 4.5cm springform cake tins with baking paper. Thinly slice one of the pears and layer both the bottom of both tins with the fruit. Set aside.
Chop the stem ginger into 0.5cm cubes. Chop the second pear into 1cm pieces.
Put the butter and sugar in a mixing bowl and cream together with an electric mixer until blended. Add the eggs one by one and mix them in. Then add the flour, baking powder and ground ginger. Again, mix well.
Add the stem ginger, a drizzle of the ginger syrup, and the pear. Use a spatula to stir the fruit in well. Add a splash of milk to loosen the mixture as desired.
Spoon the mixture into the two cake tins, on top of the slice pear, and smooth the top down.
Bake for 30-40 minutes until cooked and a skewer comes out clean. Put the tins on a wire cooling rack and after 10 minutes, turn the cakes out to cool.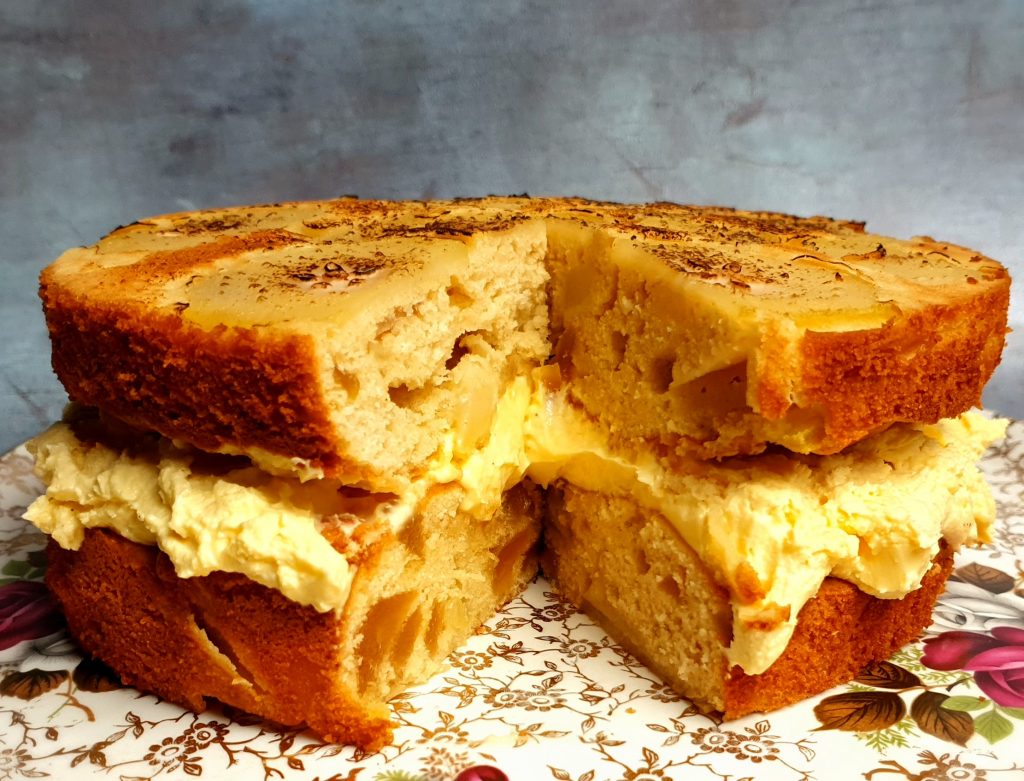 Meanwhile, mix together the mascarpone and vanilla bean paste. You can add a teaspoon of icing sugar if you prefer a sweeter filling.
Once the cakes have cooled, put one of the cakes a plate and cover with the mascarpone mixture. Put the other cake on top – with the pears facing up – and serve.
With the fresh raw mascarpone, this pear and ginger cake is best eaten on the day it is made. You can put it in the fridge but that will dry the cake out, so it is best to assemble and enjoy on the day.
For more recipes from The Delicate Diner, click here.