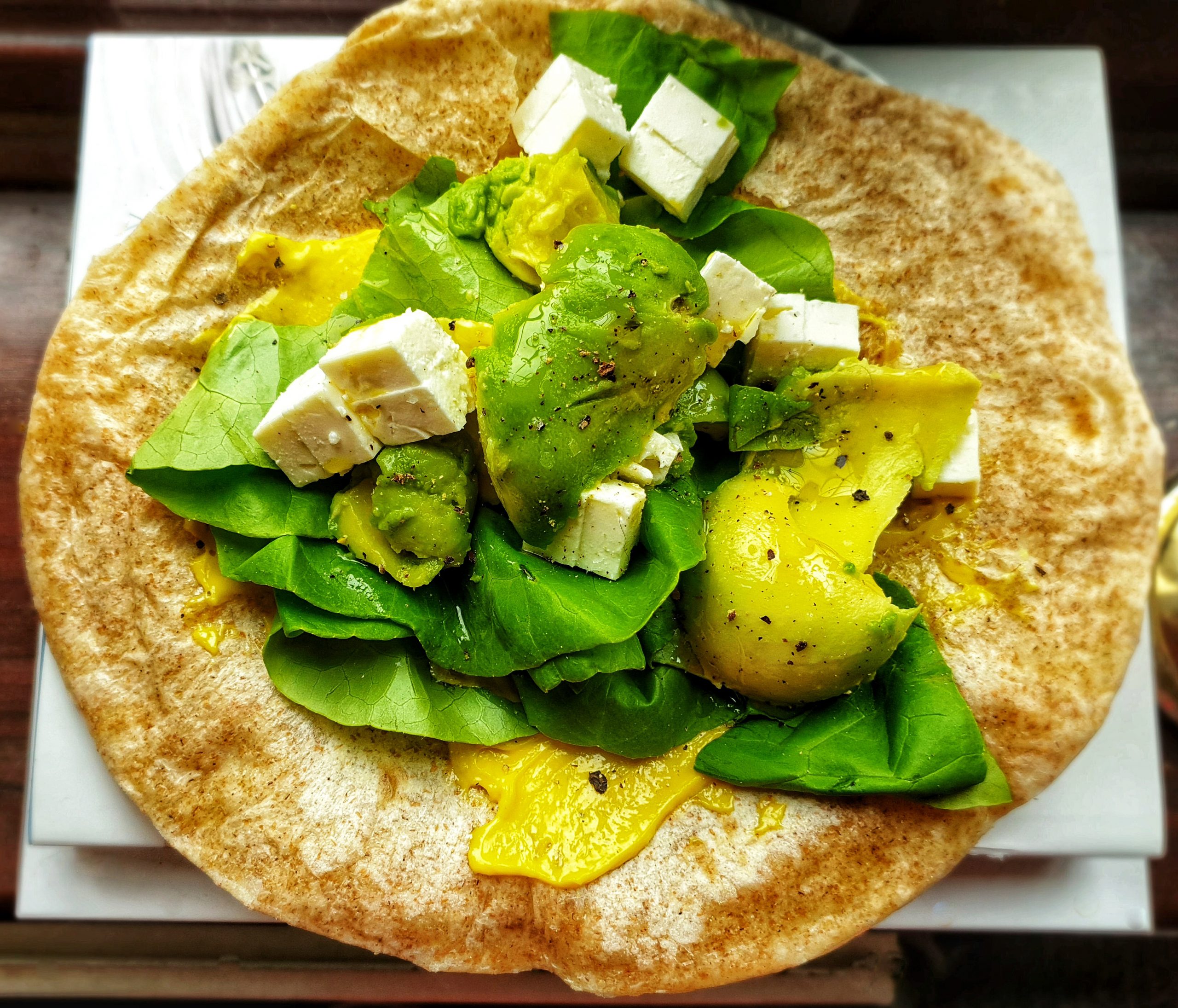 Wraps four ways
Who doesn't love a wrap? The most versatile of ingredients, it can be eaten on the move, sat on the sofa in front of a film (okay, cooking programme!), or even at your desk if you need to work through lunch.
You can also use anything to be the 'wrap'. I love chicken with a homemade Caesar dressing wrapped in a cos lettuce leaf – the ultimate version of a chicken Caesar salad and without the guilt of croutons.
The more traditional among us will go for a tortilla wrap. I prefer wholemeal tortilla, lightly warmed in either a pan or the microwave, and then loaded to the point that you know it will burst open when you bite into it! A napkin – and maybe a fork – is essential!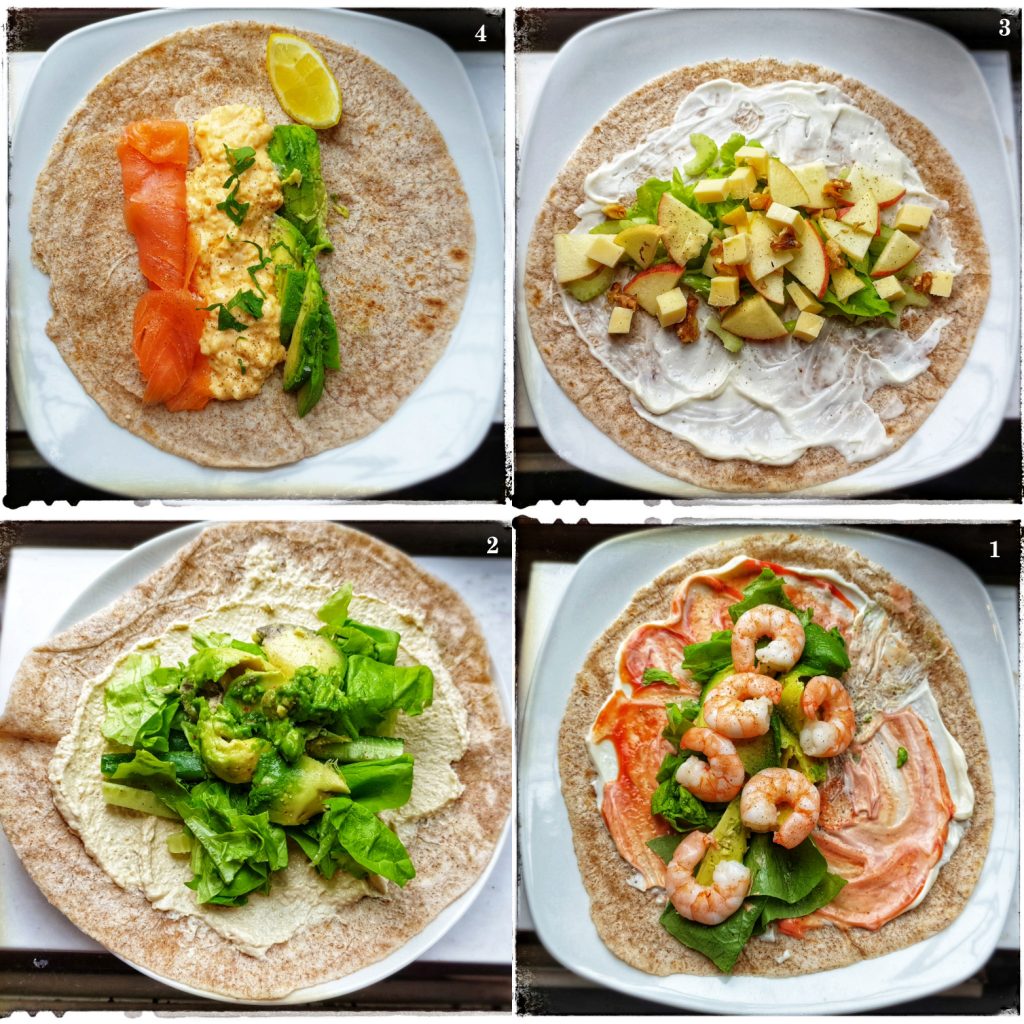 1 – Prawn cocktail
Put a splodge of mayo on the wrap, and then a splodge of ketchup, and swirl in together. Pile on roughly torn butter lettuce, avocado, prawns, sea salt and pink pepper. Grab and enjoy…
I do try to avoid avocado these days as it doesn't grow on our doorstep. It goes against my grain… And while I love my local so much, British shrimp often ends up abroad and unless you go to the coast and buy direct from the fisherman they, too, can be difficult to source.

All that said, prawn and avocado are a marriage made in heaven. And my cat knew that there was something fishy for lunch before I even opened the packet! This lunch was comforting on many levels – although not particularly warming on this wintry day. I suggest following with a latte made with frothy milk from the local dairy to redress all balance.
2 – Hummus salad
Or, houmous if you prefer… Both are technically correct, but I went with the Ottolenghi spelling.
This is the simplest wrap going – hummus, served with leftover avocado, cucumber and butter lettuce. Lovely, light and delicious!
3 – Wardolf salad
I love a Wardolf salad – so forgotten and neglected. And, of course, there is that great Fawlty Towers sketch which makes me laugh every time I watch it.
For this deconstructed version – don't you just hate that word? – I celebrated the flavours of a Wardolf salad. A good spread of mayo, chopped celery and apple (I used a cox apple as they do tend to be my favourite), cheddar cheese, and broken walnuts.
This made for a delicious and crunchy lunch – I'd like to have one today but I have no wraps at home, sadly!
4 – Scrambled egg & smoked salmon (the breakfast/brunch wrap)
I always have brunch on a Sunday. We eat around 10.30/11am, and then have nothing else until dinner that night. There is no particular reason behind this, it just seems to have always been that way.
I toasted the wrap in a pan before adding the filling: smoked salmon, scrambled egg from local happy and very free range chickens, and the second avocado from the packed.
Add some flat-leaf parsley, black pepper, sea salt, and lemon to finish the dish perfectly.

I will confess that I ate this as an open wrap – the thought of scrambled egg going everywhere did not appeal, although I think the cat – who had already clocked the smoked salmon – would have been happy! Washed down with peppermint tea, this was the perfect way to start the day.
I do prefer to use Crosta & Mollica wraps but any will do. Again, it is all down to personal flavour and personal preference. Enjoy – and let me know your favourite way to wrap.
Header photo – wholemeal wrap with homemade mayo, butter lettuce, avocado and feta. A drizzle of olive oil across the top. Sea salt and black pepper. Perfect for summer days.