Best of British – Swaledale Butchers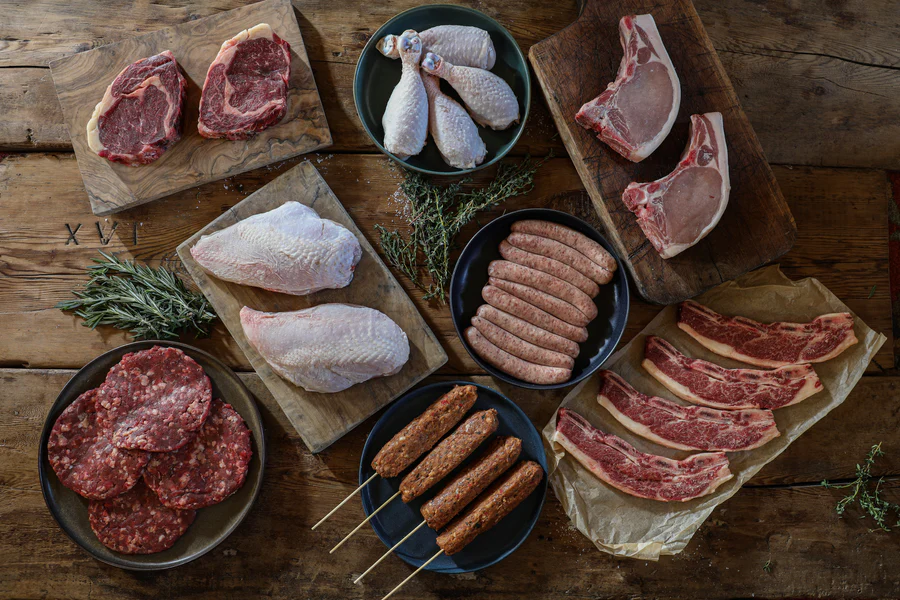 Swaledale Butchers is a family-run butchery in Yorkshire, focusing on nose-to-tail butchery using the best produce farmed on The Dales. Dedicated to supporting the preservation of native breeds, Swaledale Butchers offer national delivery, and their monthly specials make their meat an ideal option to order for your summer barbeque.
 The number of high quality butchers specialising in nose-to-tail seems to be on the rise, and that is a good thing. More than ever, it is the quality of the meat that we eat rather than the quantity of it that matters. Making sure that the meat you buy is the best you can afford also makes sense in these economic times. By buying slow-maturing, grass-fed native breeds, you are actually getting more value for your money – what you see is what you get in terms of weight and size, plus the meat is full of flavour.

Brothers-in-law Jorge Thomas and Charlie Cowling founded Swaledale Butchers in 2009, and they work with a network of around 30 smallholdings and family-run farms in the Yorkshire Dales. Those farmers are exclusive to rearing native livestock, such as the Belted Galloway, who love Dale life, plus Dexters and Highlands. Add in Tamworth and Middle White pigs, Swaledale, Lonk, Dalesbred, and Herdwick lamb, plus free range, slow grown chickens from small poultry farms, and Swaledale Butchers truly offer the very best of British.
One extra point worth knowing about Swaledale Butchers is that all their produce is fresh, never frozen, meaning you can order in confidence and plan ahead for those special occasions you are cooking for.
Swaledale Butchers kindly sent me some samples to try – their two Great Taste star-winning lamb Merguez sausages, and a dry-aged bone-in Belted Galloway sirloin roast joint. They arrived in a fully insulated box, with recyclable packaging, and then it was time to plan a couple of meals and enjoy them!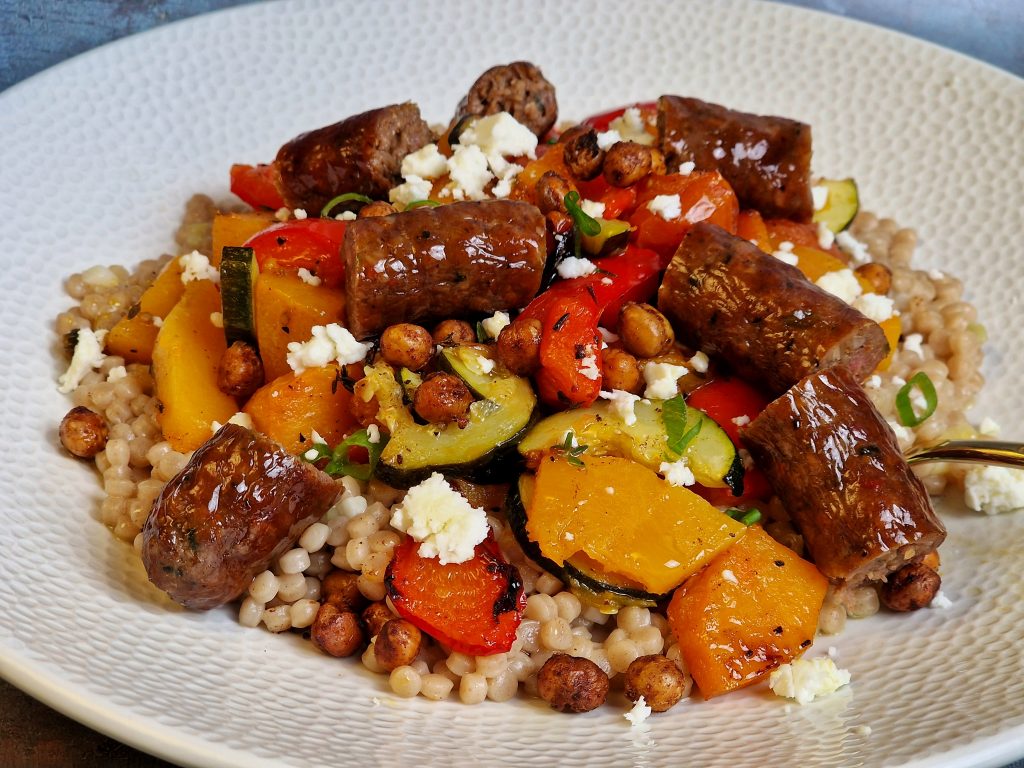 We enjoyed the lamb Merguez sausages first, served alongside giant Israeli couscous with roasted vegetables. These sausages are a bestseller for Swaledale, and it is easy to see why. Hand down, they were the best examples of this sausage I have had. The coarsely ground heritage breed lamb mince is seasoned with Swaledale Butchers' own blend of seasoning, including fresh spices, chillies, garlic, and coriander. The sausages cooked beautifully, and they were bursting with flavour. Very moist, it is little wonder that these Merguez received two gold stars from the Great Taste Awards. I'd definitely order these again, and as I love Middle Eastern flavours, these would be great for an alfresco meal, done on the barbeque with homemade flatbread and pomegranate salad.
As for the sirloin roast joint, I kept it simple, searing in a pan with a mix of local rapeseed oil and butter, then finishing in the oven before resting. All I added were some fresh herbs during the cooking process, and then some sea salt once the joint was resting. The sirloin was incredibly flavoursome, and the joint was generous enough to serve a family of four with leftovers. Cut from the wing rib end of the sirloin, and chinned for easy carving, this was a great piece of meat and a wonderful alternative to the more traditional bone-in rib.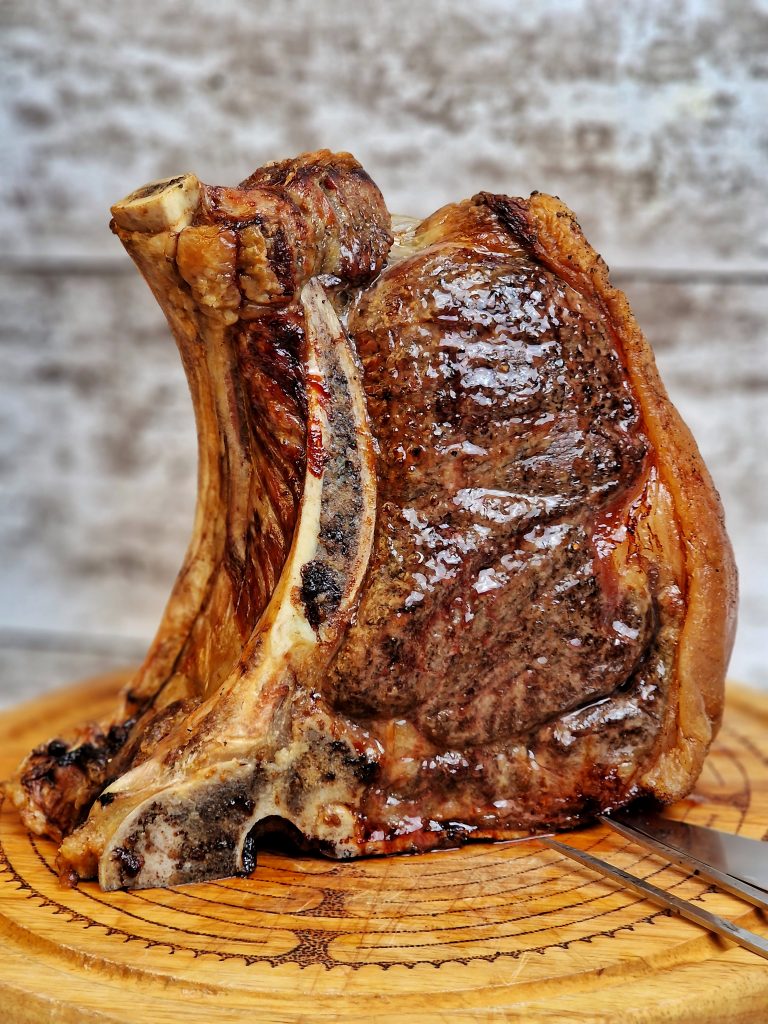 Swaledale Butchers offers monthly specials, chosen by season and availability, plus meat boxes including their BBQ Meat Box offering two x 250g ribeye steaks, 650g chicken breasts, 600g Korean-style beef short ribs, 600g rindless pork loin chops, four steak burgers, four chicken drumsticks, nine Yorkshire breakfast chipolatas, and four North African-style koftas, all for £78. Their Essentials Meat Box is also good value – 800g topside beef joint, six lamb Merguez sausages, six Yorkshire breakfast sausages, 2 x 180g bavette steaks, 2 x 200g pork rump steaks, 500g diced beef, 540g mince beef, four chicken drumsticks, 250g dry-cured back bacon and 250g dry-cured smoked streaky bacon, all for £60. This would easily do eight meals for a family of four, with leftovers.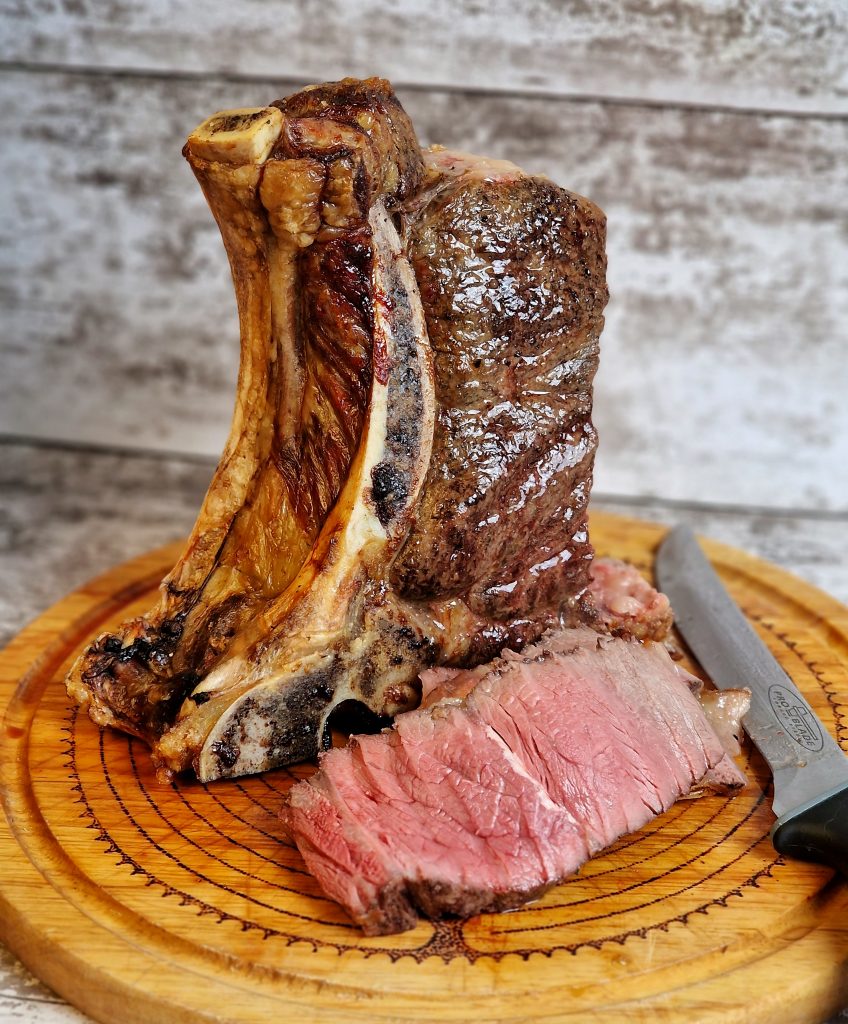 Swaledale Butchers also has a dedicated website offering recipes and how to guides – currently focused on barbeques – giving extra inspiration ahead of your weekend cooking.
With Father's Day this weekend, and the long hot summer – hopefully – ahead, why not order a true taste of Yorkshire from Swaledale Butchers and fill up your freezer with their monthly specials at the same time. Just make sure you order some of those lamb Merguez sausages while you are at it!