Salmon Salad Tacos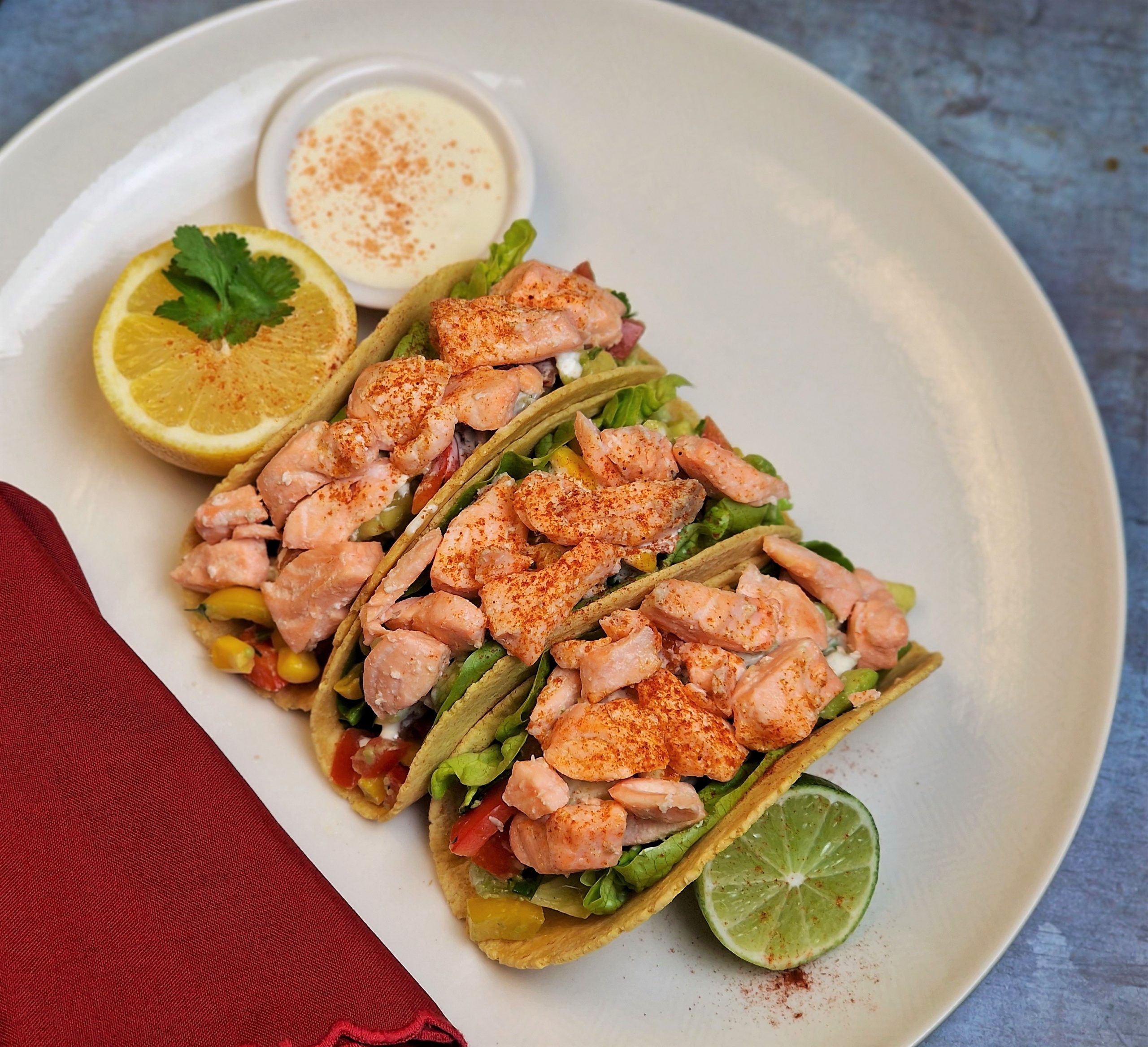 I spent two weeks working on a foodie project in California and I felt so inspired by the fresh flavours there that I just had to make these delicious salmon tacos. The detail is all in the dicing for the salad – try to get everything as of a similar size as possible. This is a really easy dish to prepare, and the filling would be perfect as a standalone salad to have with a summer barbeque. I used corn tortillas in this dish to make it gluten-free, but you can use wheat if preferred. You can also add red chilli, sliced or diced, to up the heat levels as you wish!
INGREDIENTS – Serves 4
¾ red pepper, diced
¾ yellow pepper, diced
2 tomatoes, seeds removed, diced
1 small tin sweetcorn, drained
2 small avocados, peel, de-stoned, and diced
1 lime, zested and juiced
Small bunch of coriander, chopped, plus extra for decorating
1tsp chilli powder
Black pepper
Pinch of sea salt
1 small tub sour cream
1lb salmon, skinned and diced – I get mine from the fabulous Cliff at Earsham Street Fish
1 tbsp local rapeseed oil
4 corn tacos
4 leaves of little gem lettuce
1 lime, quartered
Smoked paprika for dusting
Red chilli, sliced – optional
Begin by dicing the peppers and tomatoes, then put in a medium-sized bowl.
Add the sweetcorn, then prepare the avocados and add to the bowl.
Immediately add the zest and juice of the half a lime, and stir well to stop the avocado from discolouring.
Add the coriander, chilli powder, pepper, and salt. Stir well and set aside. If you are preparing this to serve later, put a layer of clingfilm directly onto the mixture to keep it fresh and stop the avocado discolouring.
Put the sour cream in a separate bowl and add the remaining lime juice. If it thins out too much, add a small spoonful of mayonnaise. Set aside.
In a medium frying pan, add a splash of rapeseed oil and heat. Once the pan is hot, add the salmon and cook lightly – you don't want it overcooked as the salmon will become hard. If you prefer a char on your salmon, you can sear it quickly in a griddle pan or on a barbeque. Once the salmon is just done, remove from the heat and set aside.
Pre-heat a small frying pan, then add the tortillas one by one and cook for around 30 seconds on each side until just starting to brown. Remove from the heat and gently fold in half for the traditional taco shape. Wrap in a tea towel to keep warm.
When all the tortillas are prepared, add a lettuce leaf to the bottom of each taco shell, then top with the salad mixture. Drizzle over some of the sour cream and lime dressing, then add the salmon. Dust with smoked paprika and red chilli as wished.
Serve with extra sour cream dressing and coriander on the side. Grab the salmon tacos with both hands and dig in!
For more recipes from The Delicate Diner, click here.