Beef and vegetable casserole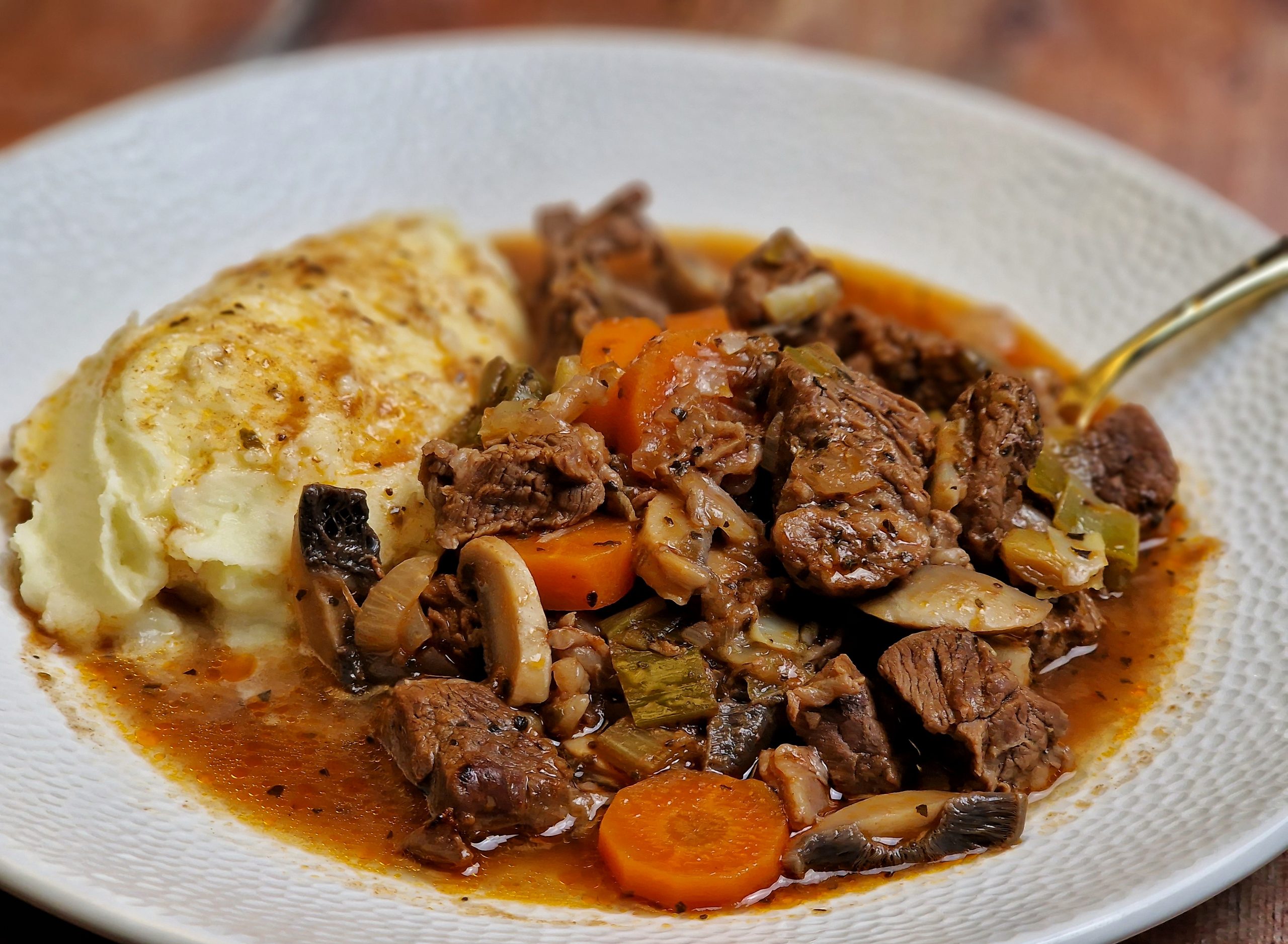 As part of British Food Fortnight, I am sharing a couple of recipes made with produce from Old Hall Farm and other local producers. With the change in season, now is the perfect time to make this light, yet warming beef and vegetable casserole. Using white wine with beef may sound strange, but it makes for a lighter gravy. A one-pot feast, it uses Old Hall Farm's own Jersey/Angus cross beef. Serve with buttery mash, greens, and horseradish sauce for a delicious dinner.
INGREDIENTS Serves 4 + leftovers
850g Old Hall Farm braising beef
1 onion, sliced
2 carrots, peeled and sliced
2 leeks, sliced
1 generous tsp dried basil
1tbsp tomato purée
1 jar Norfolk Sauce Co beef stock or 500ml beef stock
250ml white wine
150g small mushrooms, sliced
Salt & pepper
Yare Valley cold-pressed rapeseed oil
Pre-heat the oven to 180˚C/350˚F/Gas Mark 4.
Put a large casserole dish over a medium-high heat on the hob and drizzle in some rapeseed oil. Add the onion with a pinch of salt and cook until just caramelised. Then add the beef and cook until the beef begins to brown.
Add the carrots and leeks to the dish and stir well, then add the dried basil and tomato purée. Stir well for a minute, then add the beef stock and white wine. Season with black pepper, and then bring to a simmer. Cover and put into the oven for 1 hour 30 minutes.
Remove from the oven, stir, and add the sliced mushrooms. Cook for another 30 minutes while you prepare the mash and vegetables.
If preferred, you can cook this in a slow-cooker on low for 6 hours.
Recipe © The Delicate Diner for Old Hall Farm. For more recipes, click here.