Plain food…
I have just arrived in the Middle East and decided, en route, to do a blog entry. For, my dear Delicate Diners, plane food – or plain food – is something that we have to approach with trepidation…
My first happy result was that my ordered gluten-free meal was there. In spite of flying with British Airways for many years, they do sometimes like to forget my dietary requirements and leave my gluten-free meal behind. While I am on the subject, I do find it odd, or should that be wryly amusing, that passengers are only allowed to select one dietary option. For example, a vegetarian can be gluten-free too – but you can only pick one. A vegan can also be gluten-free, just as this gluten-free Delicate Diner (shall we just say 'DD'?) is lactose and gluten-free. I have been told if I pick Asian as a menu option, I might fare better. But it's only a might…
So, my meal arrived. Starter – chopped green apple in a packet. Main – tilapia fish with potatoes and veg. Dessert – fruit salad. A gluten-free bread roll and – relief  – butter (a side note… When I was allergy tested, butter got through. I think it's because the buttermilk is removed – have I got that right? – but either way, I'm taking it and am happy for it!).
My fellow passengers had a potato salad with smoked salmon for starter, a choice of pasta or lamb, and then – the insult! – a Pots&Co Little Pot of Chocolate…. I had fruit. Double fruit.
The stewardess got me the packaging of the Little Pot of Chocolate (Heaven…) for me to look at. Yes, packed full of dairy but I hadn't ordered a dairy-free/vegan meal. I'd ordered gluten-free. And the packaging clearly states that this Little Pot of Tantalising Chocolate is… Gluten-free. Yes, clear letters… Gluten. Free.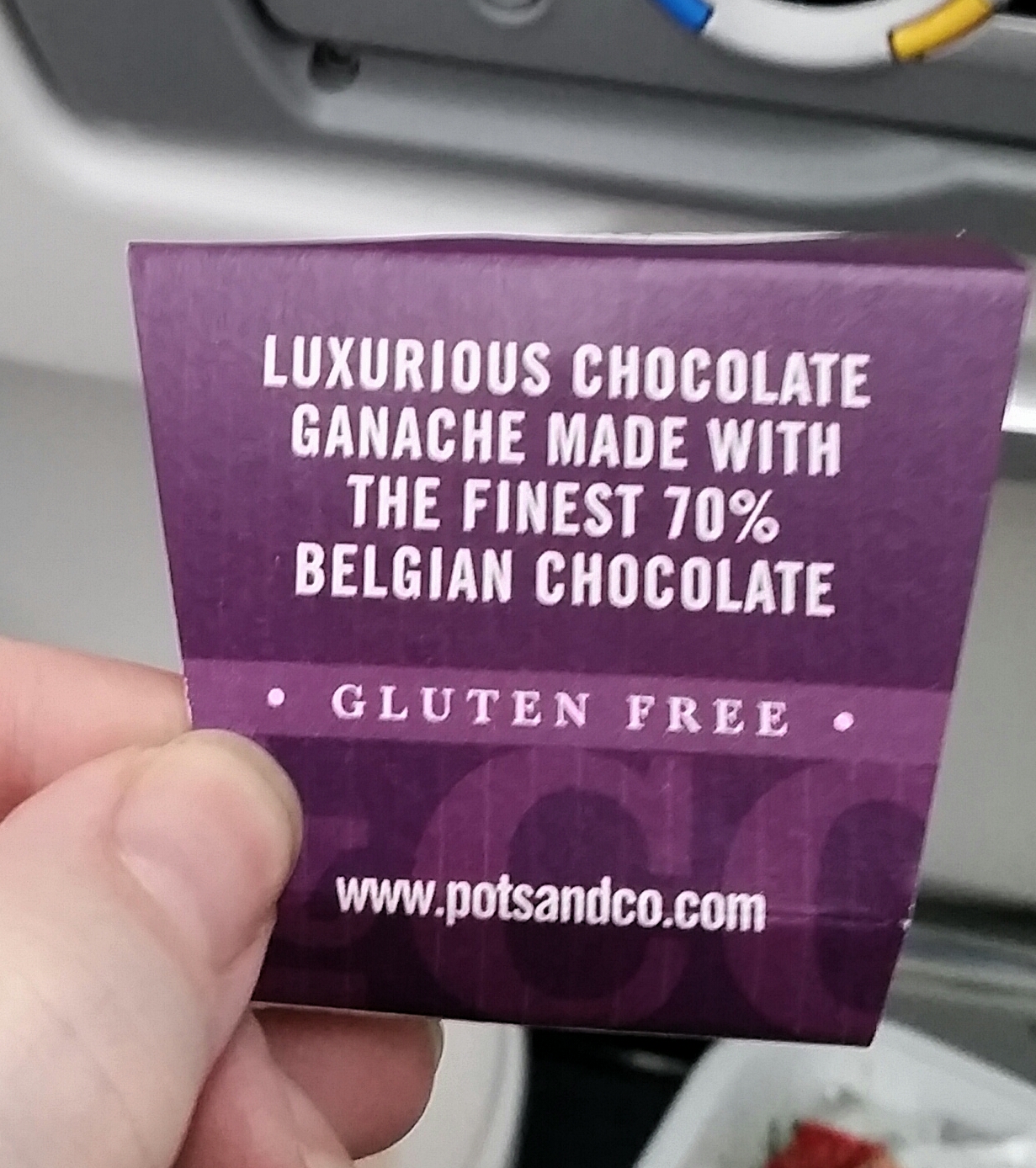 So, somewhere alone the way, I wonder if any request for a special meal is translated by the powers that be as meaning "I'd like some bland food please! No, no, don't treat me the same as everyone else bar a couple of details. Why would I want chocolate when I can have green apple (a pet hate of mine…)? Please, let everyone else enjoy while I give my apple to the vegan stewardess, who was wondering just what SHE could eat!"
So, my lovely DDs, I did it. I had that Little Pot of Chocolate and as I write, another had just been put beside me. Now, I know that lactose is not my friend – but it is a better friend than wheat. But I do know that, should I eat that second pot, I'd be running for the bathroom quicker than you can say 'plain food please!'. So it shall be squirreled away for later as that's what we DDs do. Always come prepared, and if you do come across a good meal, save bits for later as you never know what is going to greet you next.
Being a Delicate Diner does not mean that we don't appreciate flavour. That we don't appreciate taste. Nor does that mean that we want to be treated differently to anyone else. We just want good food, that isn't dumbed down to the lowest denominator, and that has just a little bit of thought and appreciate in it.
I do believe in always being prepared and for that reason, I have a gluten-free Warburtons thin in my carry on case, spread with marmite. Thankfully, my fish was good, the fruit salad wonderfully rehydrating, and the Little Pot of Chocolate a decadent and one-off delicious. And that means that, once I finally get to my hotel later (and therefore be able to post this), my supper is ready – marmite on gluten-free bread.
I look forward to the ridiculousness to come – the British Airways pre-landing snack… I get a scrape of filling inside some dubious bread and more fruit. Everyone else gets elegant and well filled finger sandwiches and a Kit-Kat. I might just have to take a photograph of this one…!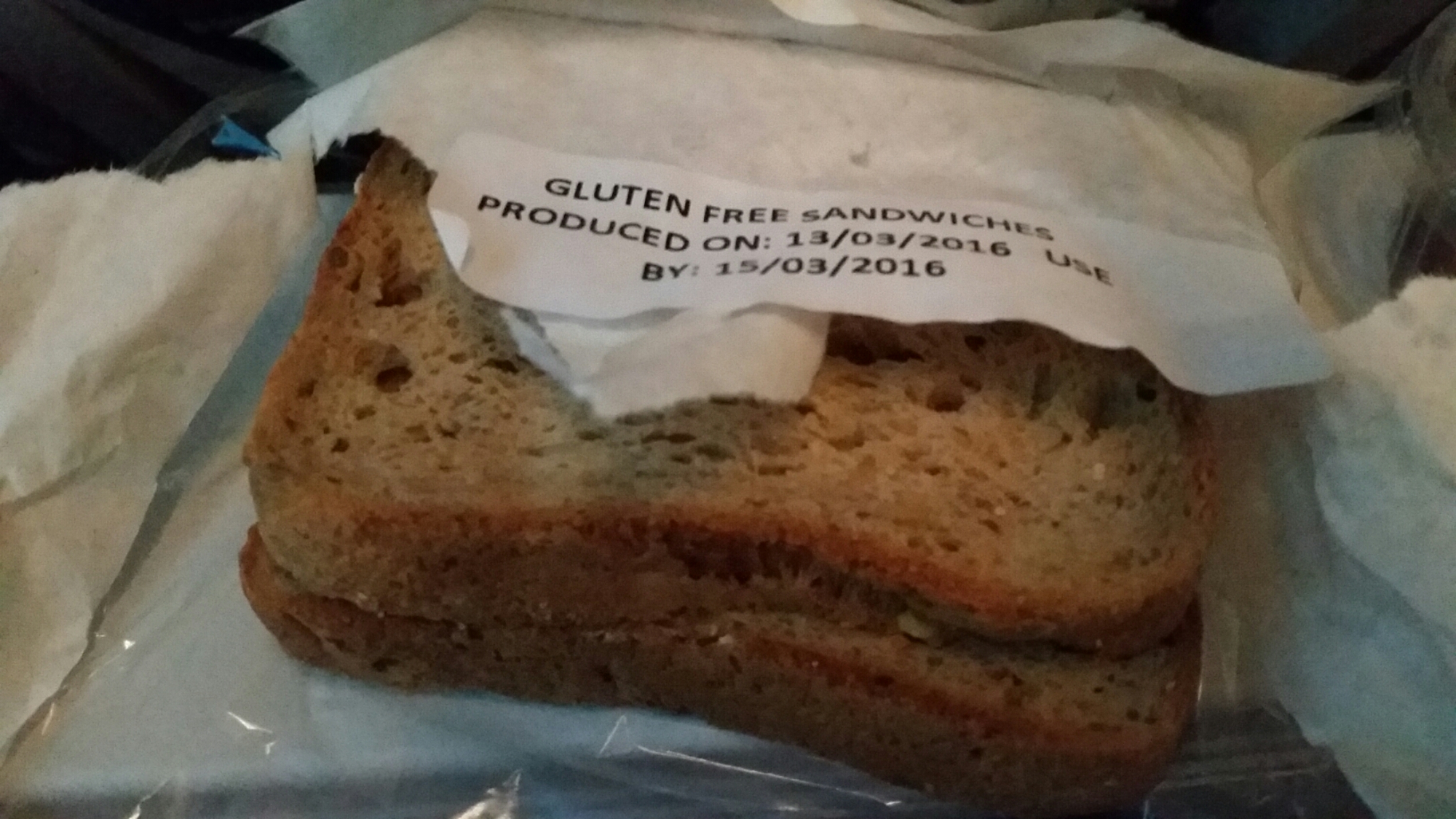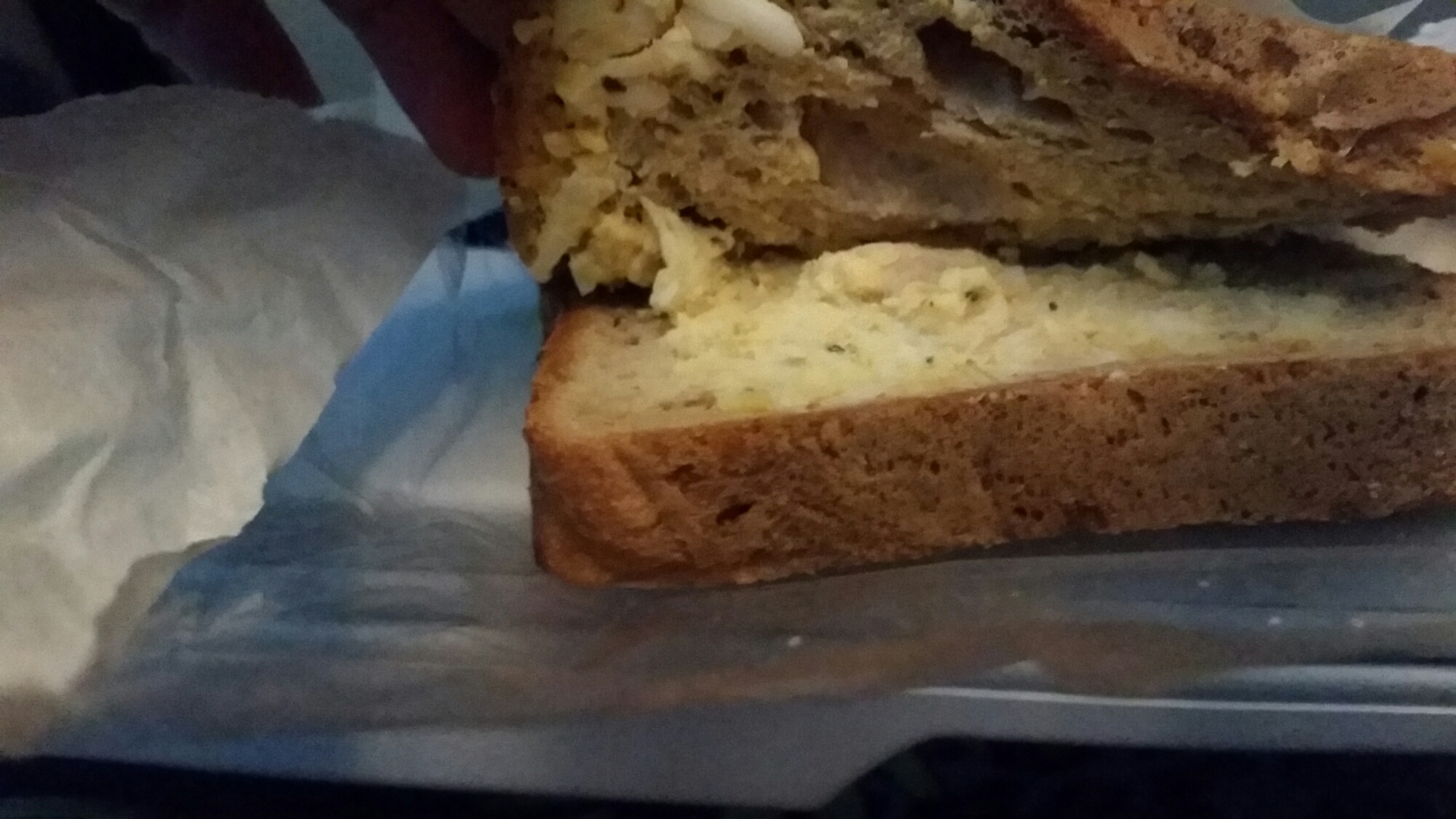 I am not grumbling – I know that I am in a far better situation than many around the world, and that any food is something that we should never take for granted. Ever.
I will blog next on why wheat is a definite enemy, and bid you good night. Until next time…
Samantha xx