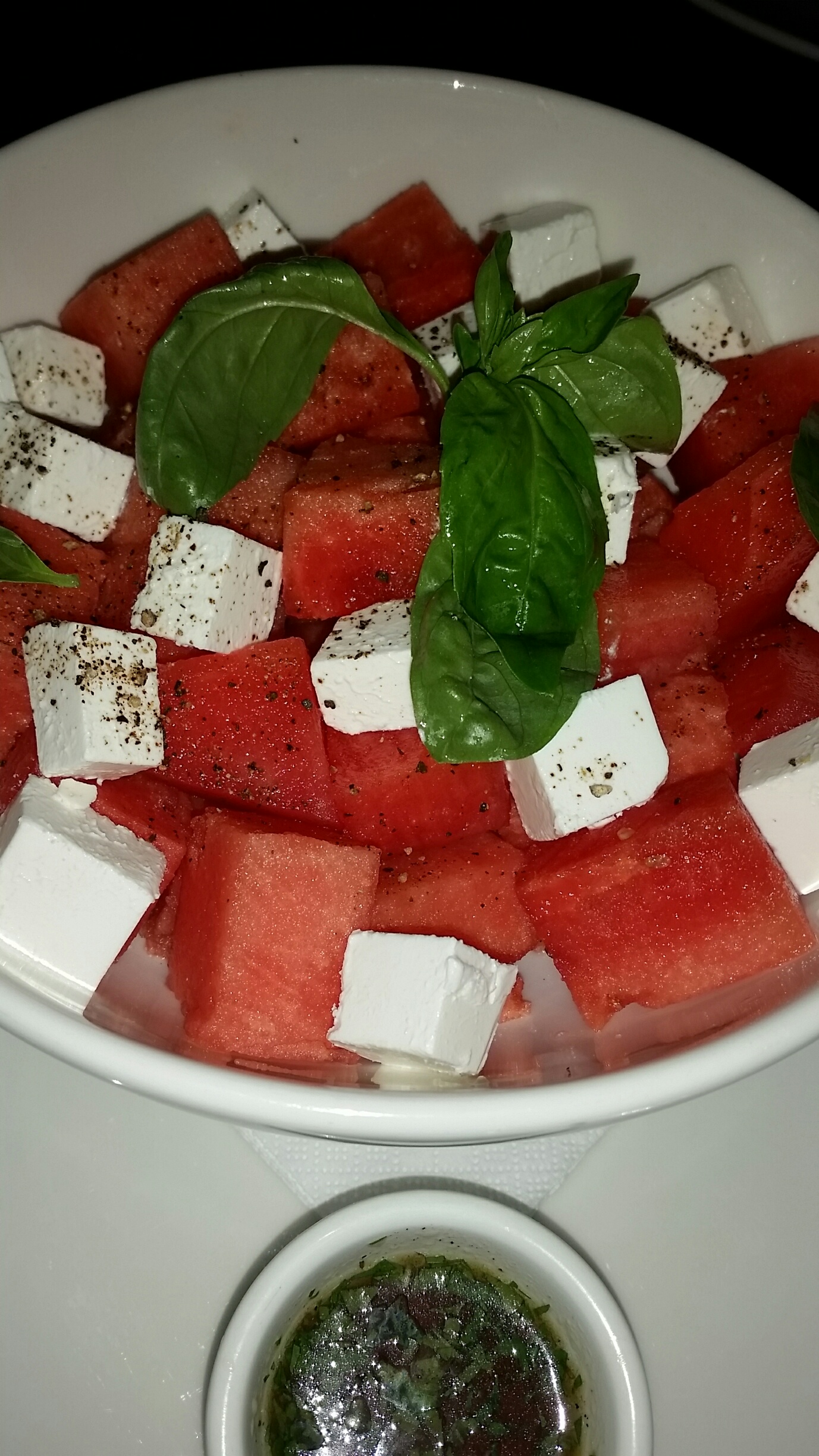 Jim's Kitchen Table – a gluten-free delight in Abu Dhabi
Abu Dhabi was good to me tonight! My friend, Marion, suggested that we go out for dinner, so I had a little look on Doctor Google to see if I could find any hidden treasures that would go down with a Delicate Diner like me. Marion is also trying to eat gluten-free, so I knew that whatever I found would work for her, too.
Time Out Abu Dhabi turned up three restaurants worth a look, and one in particular grabbed my attention. This was Jim's Kitchen Table, located in Masdar City – close to Marion's home and my hotel – and it offered a gluten and dairy-free cheesecake! Having not had one in many, many years as I hated the regular version (with good reason), we decided to go.
Located in the ground floor of the Siemens building, Jim's Kitchen Table is both a bakery and a restaurant, and you could smell delicious aromas coming from the building as you approached it. Inside, it was airy and a funky version of industrial – colanders and big cooking pots as lightshades, and a mix of bricks and pipe work. You could clearly see into the open kitchen, something that is always reassuring, and we opted for a seat upstairs so that we could enjoy the full experience.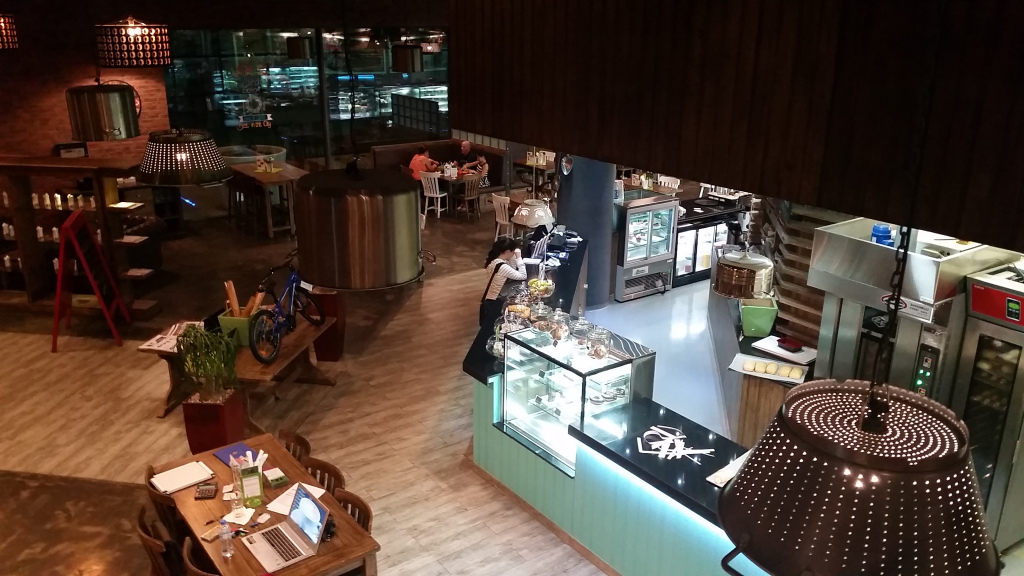 The menu presented three full pages of gluten-free options (four if you counted the children's menu, too) and I was truly spoiled for choice!
I decided on the Wagu beef burger and Marion opted for the chicken breast with cauliflower rice. My burger was with spiralised cucumber and carrot, and Marion had sweet potato fries included. We also decided to go for some kale crisps with lemon, and a watermelon & feta salad – so fresh!
To drink, I enjoyed my Middle Eastern favourite, lemon with mint, and, to my delight, it came with a jug of sugar syrup so that I could sweeten the drink according to my own tastes.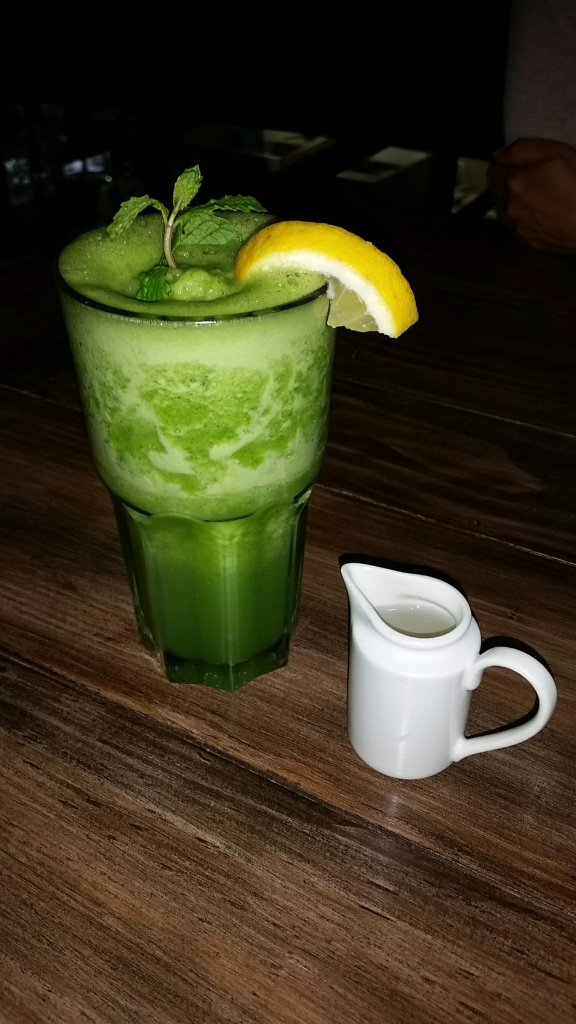 The kale crisps arrived and they were divine! I am sure that many of you living the gluten-free lifestyle will agree that the one thing you miss the most is a decent 'crunch' to your food. This peppery crisps certainly provided that and we both loved them.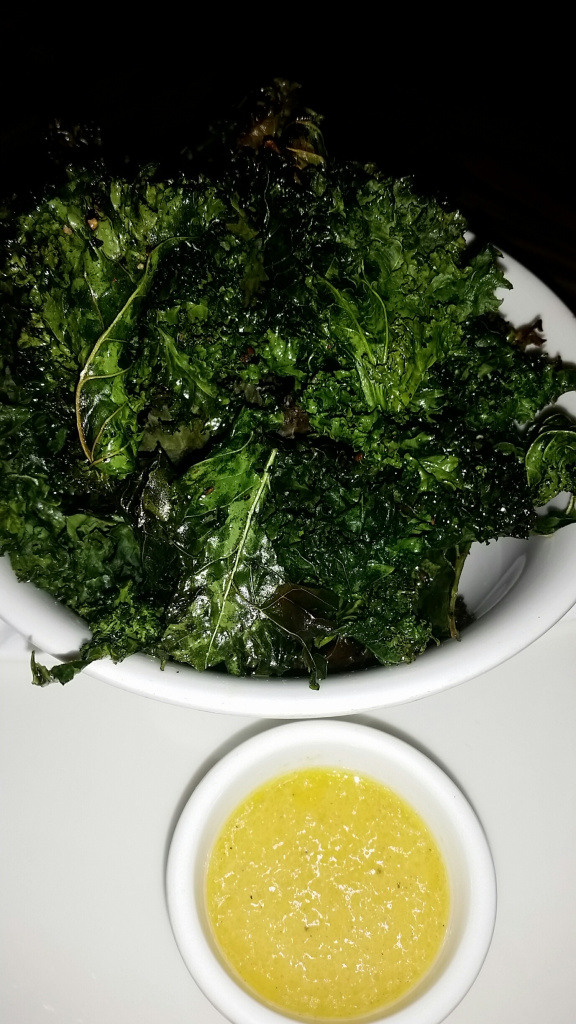 While we were enjoying the crisps, the watermelon & feta salad arrived, served with basil and a herb vinaigrette. Again, this was delicious and so refreshing. I think that we could quite easily have stopped there, with the crisps and the salad – which would have easily fed four people as a starter – but our mains were being cooked in the kitchens!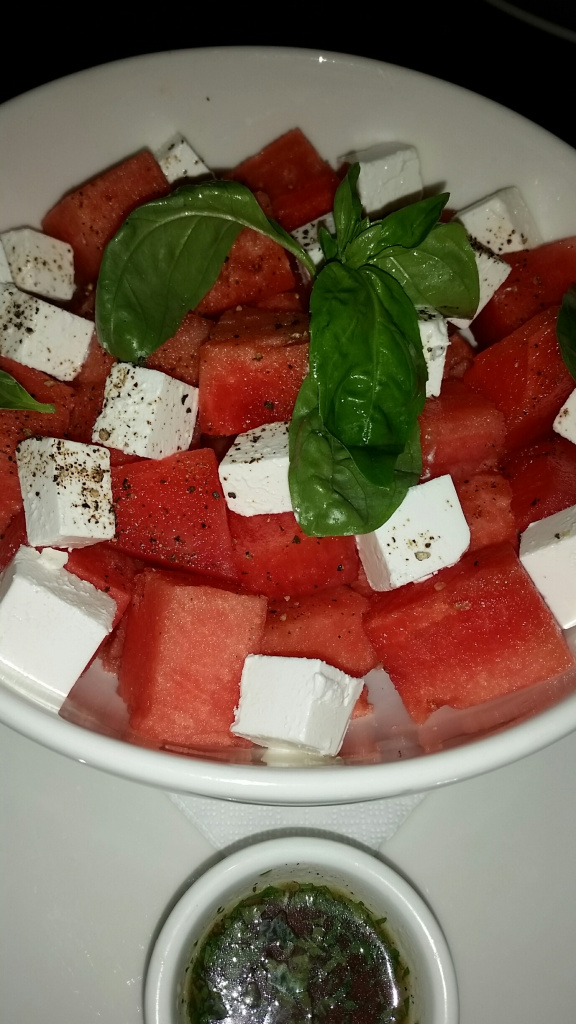 With a decent pause, the mains arrived. Marion's was huge and I am not sure that you need cauliflower rice AND sweet potato fries! She said that it tasted delicious and did her best to manage most of it.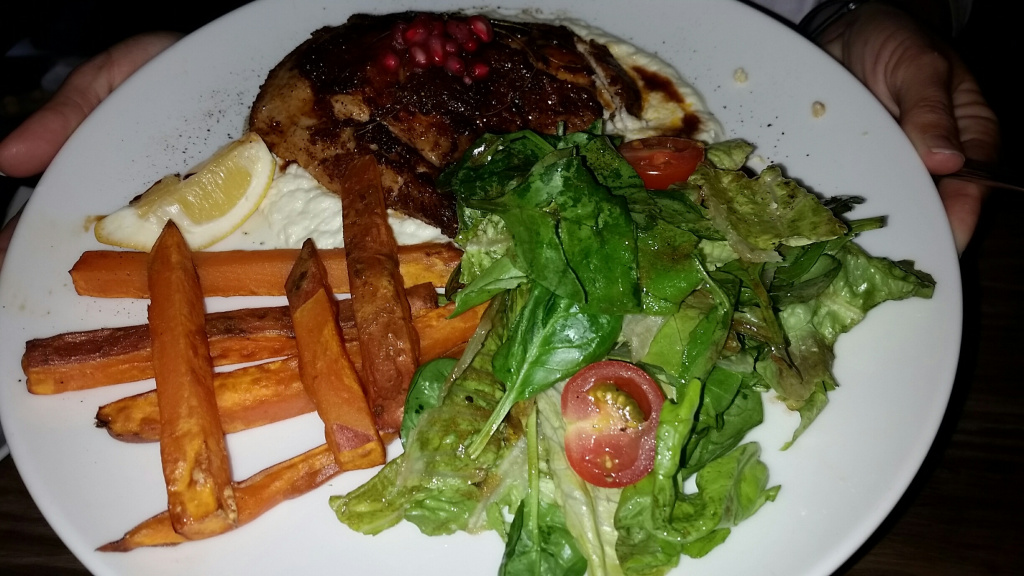 My burger arrived at the same time and it smelt amazing! I tend not to be a burger kind of girl but I had a hunch that this would be a good one, and I was right! You could tell that this burger was homemade, and the bread around it came from the onsite bakery.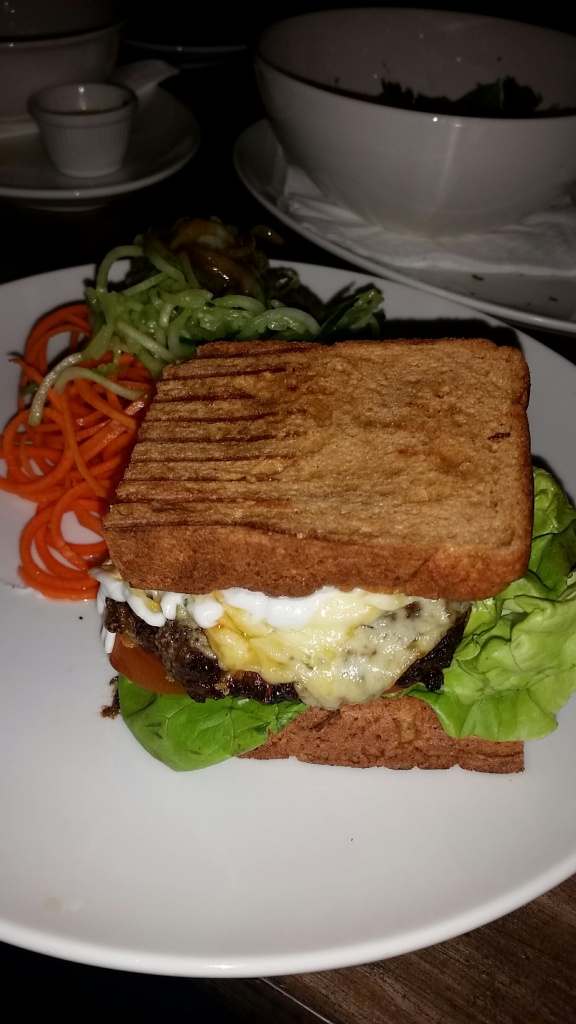 I loved the burger – slightly sizzled around the edges and served with a great array of salad inside the 'bun'. The spiralised salad was a little awkward to eat politely, so I gave up and had some more watermelon instead.
The whole meal came to 211 AED Dirhams – around £43 – for two generous mains, a huge starter, a bowl of nibbles, and two fresh drinks (Marion had freshly squeezed watermelon juice). Full to the brim, we headed downstairs to explore the offerings in their small shop and also their cakes.
Talking to the manager in charge tonight, he said that Jim's Kitchen Table has been open for just over a year and they are very happy with the way that it is growing. I asked about the cheesecake – they didn't have any, but he did point out their HUGE slices of gluten-free chocolate cake!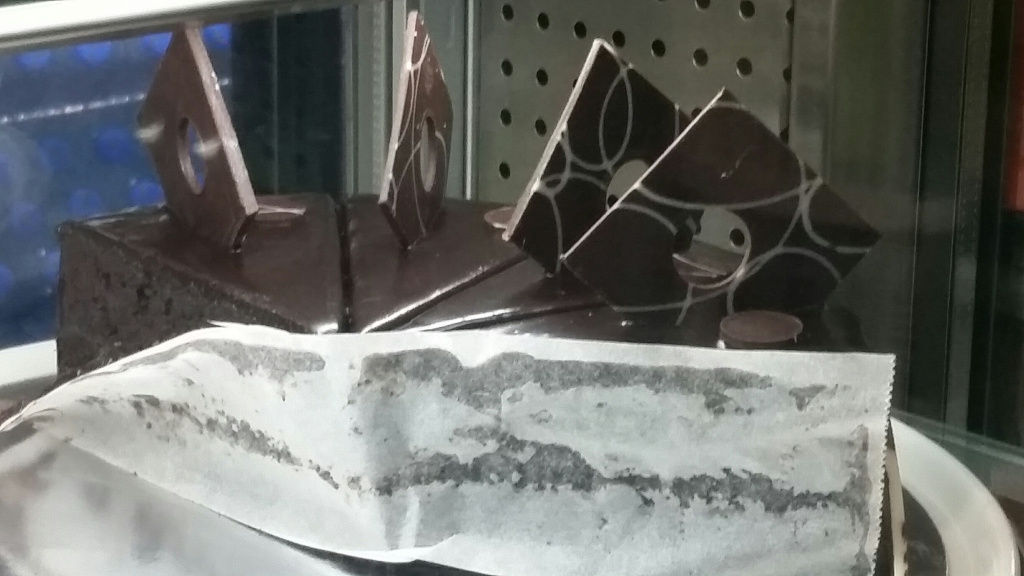 I am not sure whether it was a genuine offer or because Marion and I were so interested, but he said that we receive a complimentary dessert as we both had a main. I went for the chocolate monster above, Marion for their regular homemade carrot cake. My chocolate cake – untouched – is safely sat in the fridge for me to enjoy (some of) before I leave to Dubai at lunchtime tomorrow.
In another nice touch, they offered three gluten-free cookies in a bag for children for 10 AED – just over £2 – and these shortbread style cookies are sure to appeal to young children.
All in all, it was a great evening. A true case of good, simple food done well – the watermelon & feta salad being a case in point. Watching the bakers in action was fascinating, and every time they opened the doors, you got a waft of a homemade baked delicacy drifting your way. It seems that Jim's Kitchen Table is all about taking good ingredients, treating them with respect, and making something delicious for everyone to enjoy.
They do stress on the menu that while they have and prepare gluten-free food, they cannot guarantee that there is no risk of cross-contamination and for that reason, they cannot guarantee that coeliacs can safely dine there. A great level of awareness and in a country where gluten-free and allergy advice is not as standard, one to be applauded.
I know that Marion will be back – it's just a shame that I have to wait until the next time that I am in Abu Dhabi. At least I have my chocolate cake to look forward to in the morning – and my Jim's Kitchen Table experience can linger for just that little bit more…