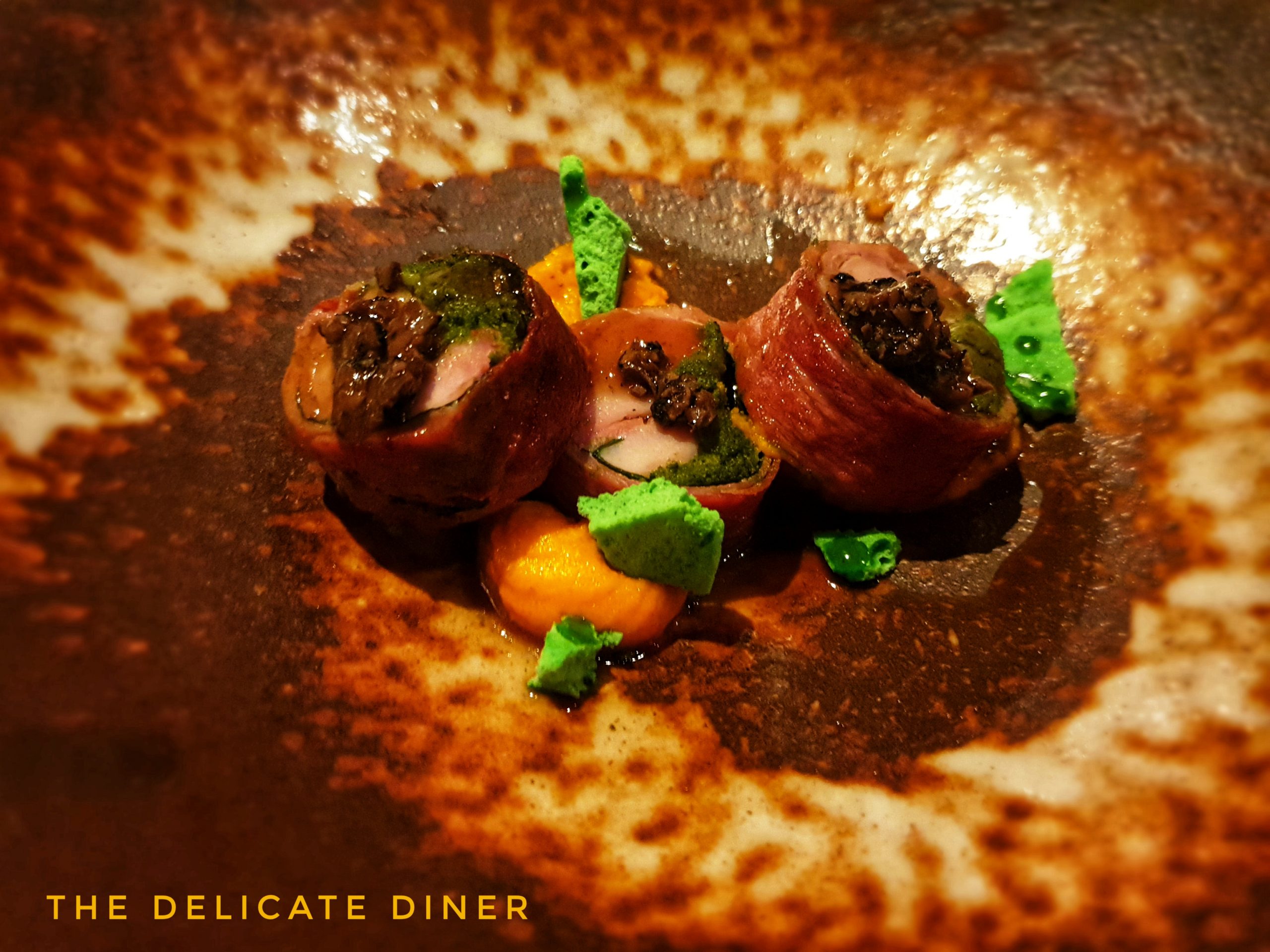 The Brasted's Experience
I have seen, and got to know, the Brasted's team over several years – namely at the Royal Norfolk Show, where they do an incredible job catering for the Vice Presidents and guests. We have also met at numerous foodie events across the county, with Managing Director Nick Mills becoming one of the more familiar faces. Nick is a true example of how to grow in a role, joining Brasted's as a part-time waiter and then coming up through the ranks. Chef, Chris 'Buzz' Busby is also well known, and he is often seen doing his legendary cooking demos.
Younger Team Brasted's include General Manager Sian de Waal, Senior Event Rebecca Smith, and Restaurant Manager Ashley Bush. All three are very familiar to anyone going out and about across Norfolk, and the energy and drive that they have is amazing!
Brasted's has evolved over the years and it now includes boutique accommodation as well as events, weddings – a Langley Abbey or Somerleyton Hall wedding anyone? – and the team continue to drive with as much passion, belief and energy as they were renowned for all those years ago.
Every time I think about dining at Brasted's itself, I always find the restaurant is fully booked. So, when the team invited me to come and have 'The Brasted's Experience', it would have been foolish to refuse.
Brasted's – the venue
It is 20 years this year that Brasted's moved to Framingham Pigot and going down the long drive to arrive at the venue, you cannot help but have a sense of gravitas. It was a grey, October day, with a splash of rain and a dash of sun, yet Brasted's looked welcoming and inviting. As you turn directly into the drive, their EAT Norfolk EDP Food & Drink Awards Outstanding Front of House banner is proudly displayed. Parking my car, I was keen to enjoy this legendary hospitality first-hand.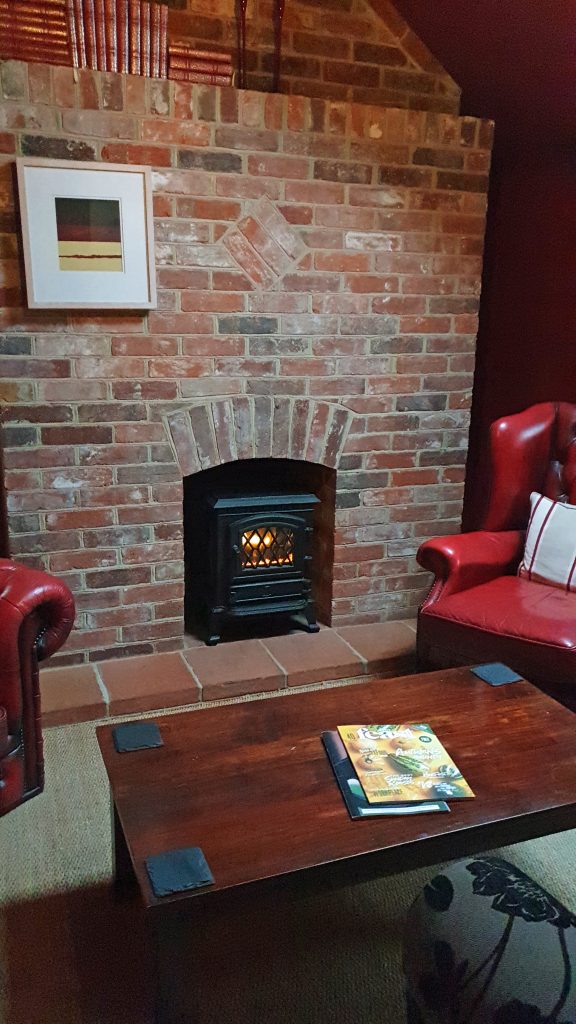 Ashley is there, with a warm welcome, to check me in. A quick tour of the downstairs of the hotel – a welcoming snug with a fire and a mountain of cookery books to read for inspiration, an honesty bar, complete with freshly sliced lemon and lime, and a help yourself Nespresso and tea bar – and then it was upstairs to see where I would be staying for the night.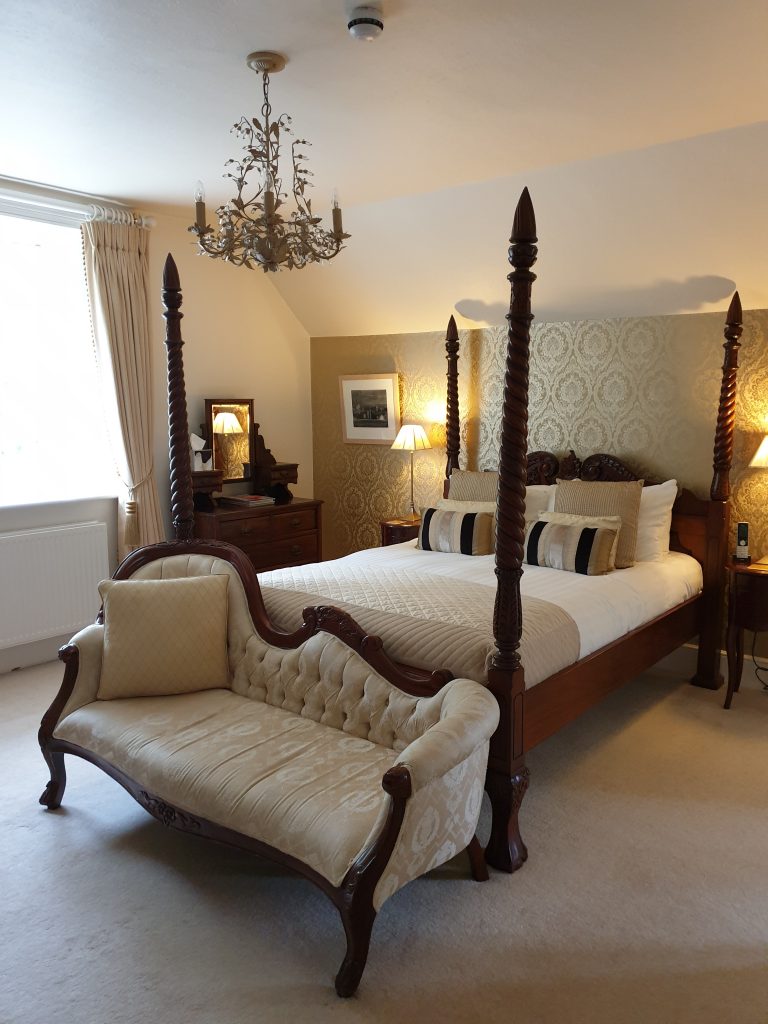 Room 1. The Squire's Retreat. A truly beautiful room, with a four-poster bed (no canopy) and a chaise lounge for lounging. The bathroom – complete with Jack and Jill sinks and a roll-top bath – was equally impressive. The views from the bedroom were down the main drive – thick curtains would block out the noise of any light and traffic – and from the bathroom, through time-warped glass, out across the fields. An idyllic setting, and a place where, for a few hours, I could relax before dinner. The room is named in honour of Ben J du Brow, landlord and owner of Framingham Pigot.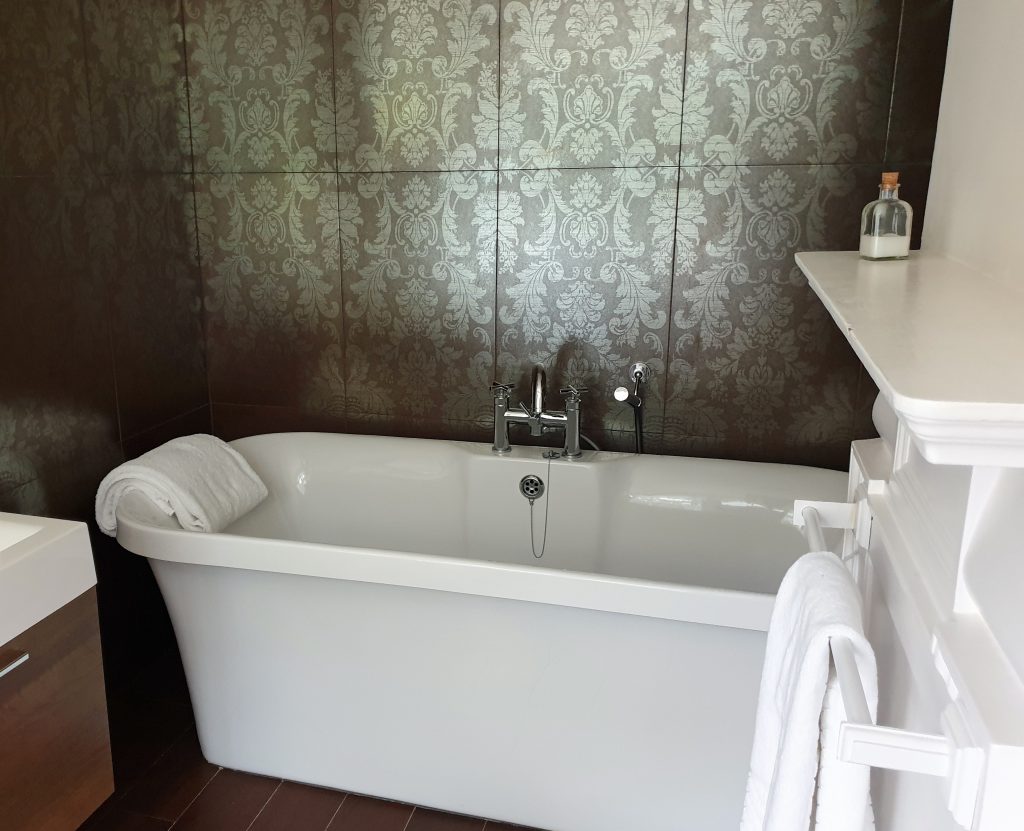 After a couple of hours working on my own projects, I nipped down to the honesty bar for a G&T, and then relaxed before my friend, Louise, joined me for dinner. A short walk from the hotel to the restaurant, and it was time to enjoy the food.
Brasted's – the experience
The first small touch – that attention to detail that has earned Brasted's its reputation – presenting me with a citrus-free menu. As I was given it, Ashley told me that the Brasted's ethos is to give people with allergies and intolerances a menu showing all that they can have, rather than highlighting what they can't. As someone with those allergies, this is the kind of thing that rates highly, and it was a nice touch. Also noteworthy is that I have only eaten with them at the Royal Norfolk Show and they remember my orange allergy from there.
The menu – their new seasonal menu – had much to tempt. Louise and I lingered over our choices while enjoying a cocktail each – the Brasted's Bramble for me and an alcohol-free mojito for Louise. Both delicious, and it gave us a chance to study the menu to make our choices.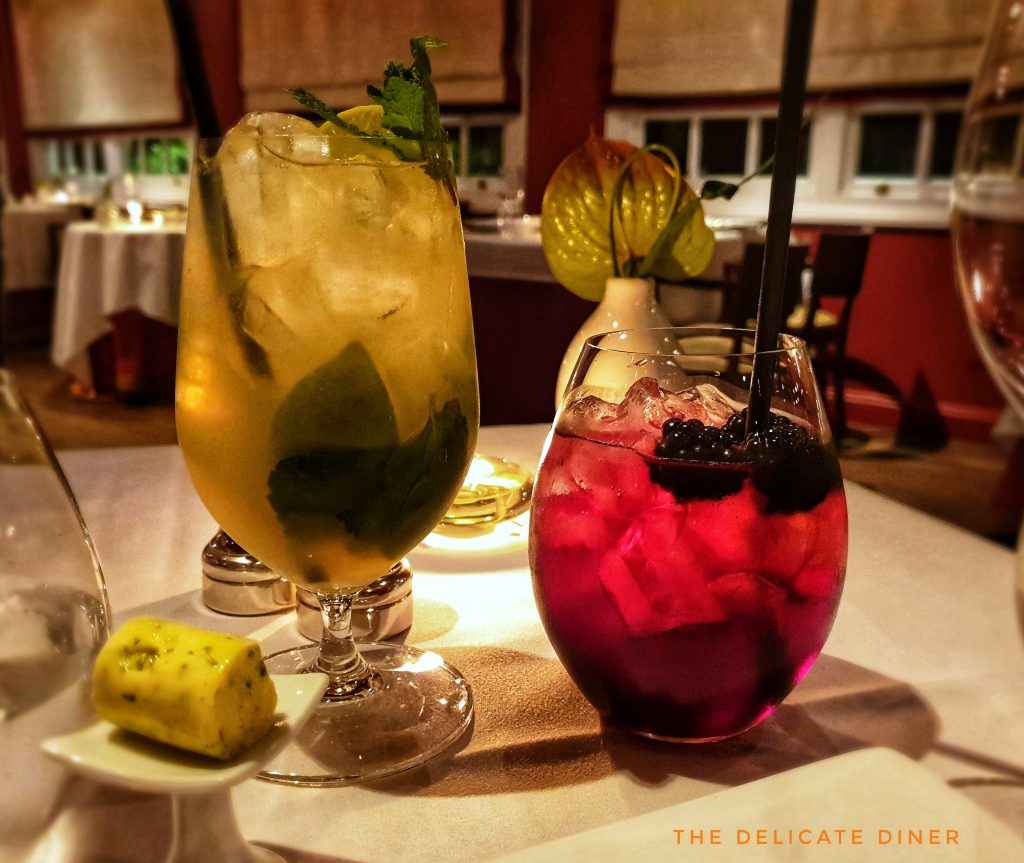 At Brasted's, you are offered a choice of a three- or four-course menu – but then add the canapés, the amuse bouche and the pre-dessert and you are on a six- or seven-course meal – easily comparable with the best tasting menus out there, but with more choice. The four-course menu includes the addition of a fish course, but Louise and I both felt that three courses would be more than enough.
Orders placed, we were brought our canapés – a salmon beignet with lemon and saffron aioli and a chicken and chorizo arancini with garlic mayo. Both lovely, but I am partial to arancini so that just had the edge for me.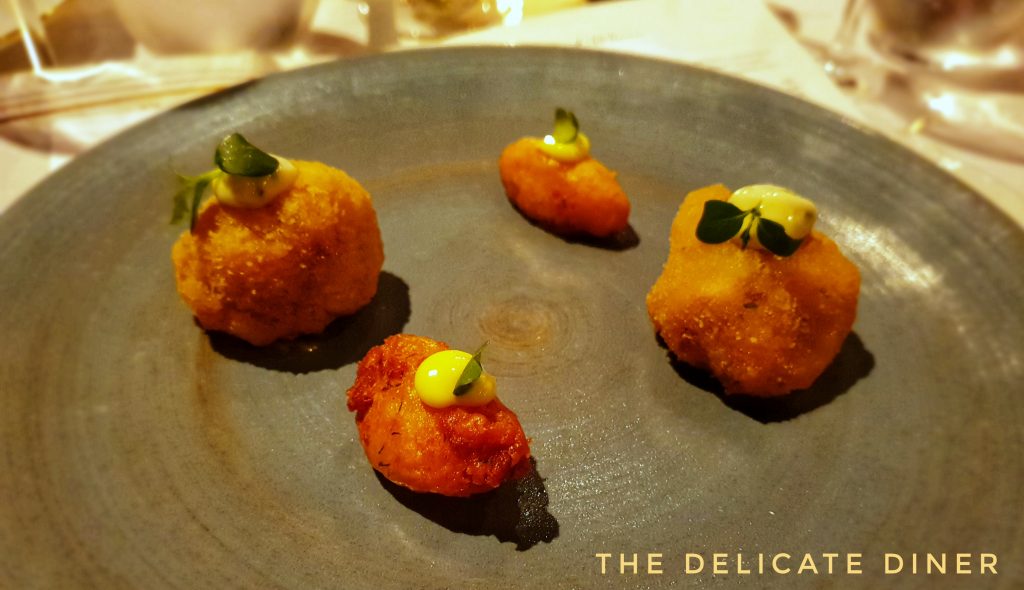 The amuse bouche came next, a delicious and warming spiced pumpkin velouté. One taste and any thought of the inclement weather outside was banished. The croutons on top added an extra crunch, and if I'd had to leave that point, I would have already been happy!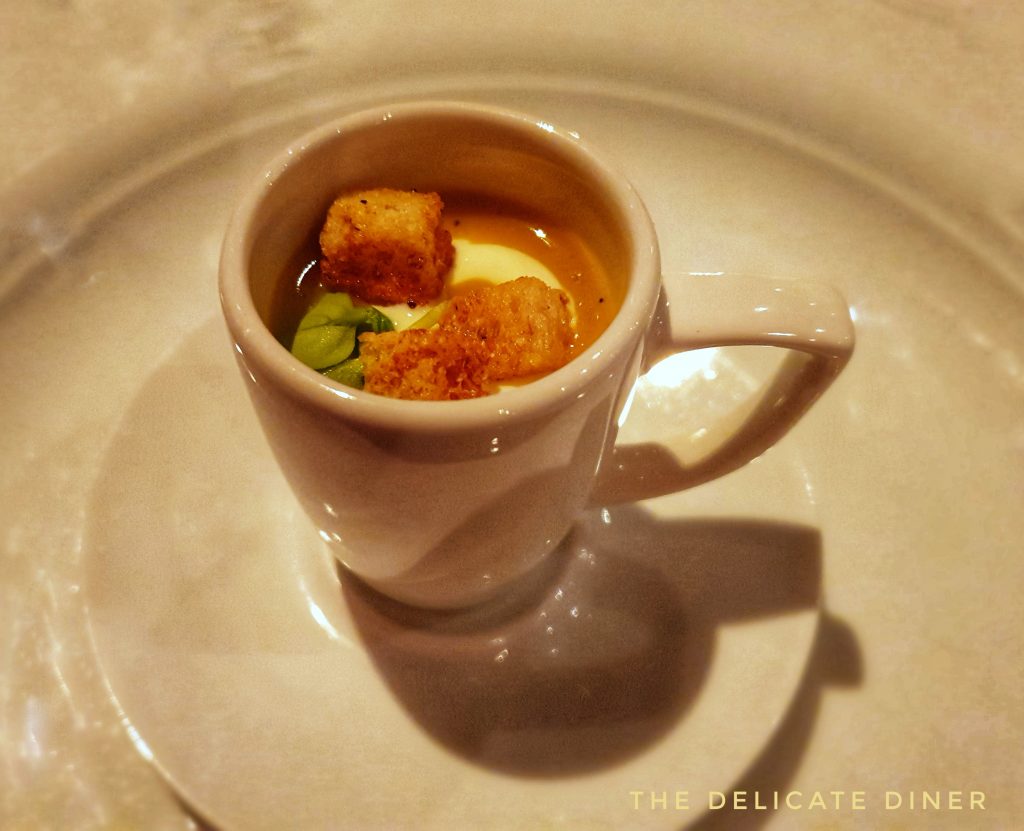 On to the starters. Louise opted for pan-seared cod cheeks, which came with avocado ice cream, shaved potato crisps, Norfolk sea grass, chorizo jam and a fish reduction. The words to note here are cod cheeks and potato crisps – essentially, fish and chips on a plate with a fine-dining twist. The cod cheeks were succulent and the chorizo jam zingy. The avocado ice cream was delicious, and I love the idea of this in a starter.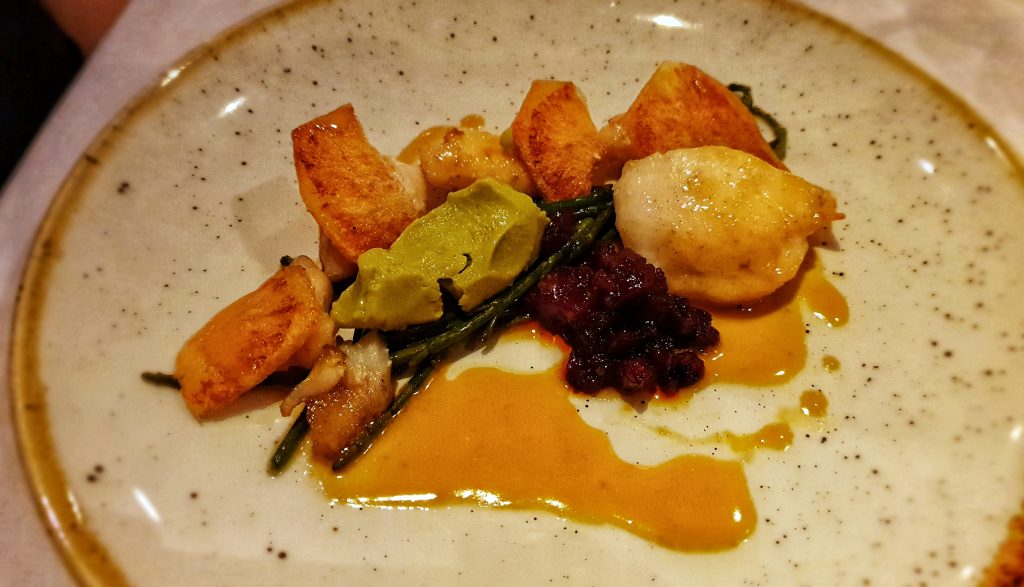 I opted for the pistachio rabbit ballantine with roasted carrot purée, spinach meringue, and shave autumn truffle. This was an elegant dish that was packed full of flavour. The carrot purée was intense, the meringue vibrant, and the truffle delicate. Altogether, the flavours danced on your palette and it was a joy to eat.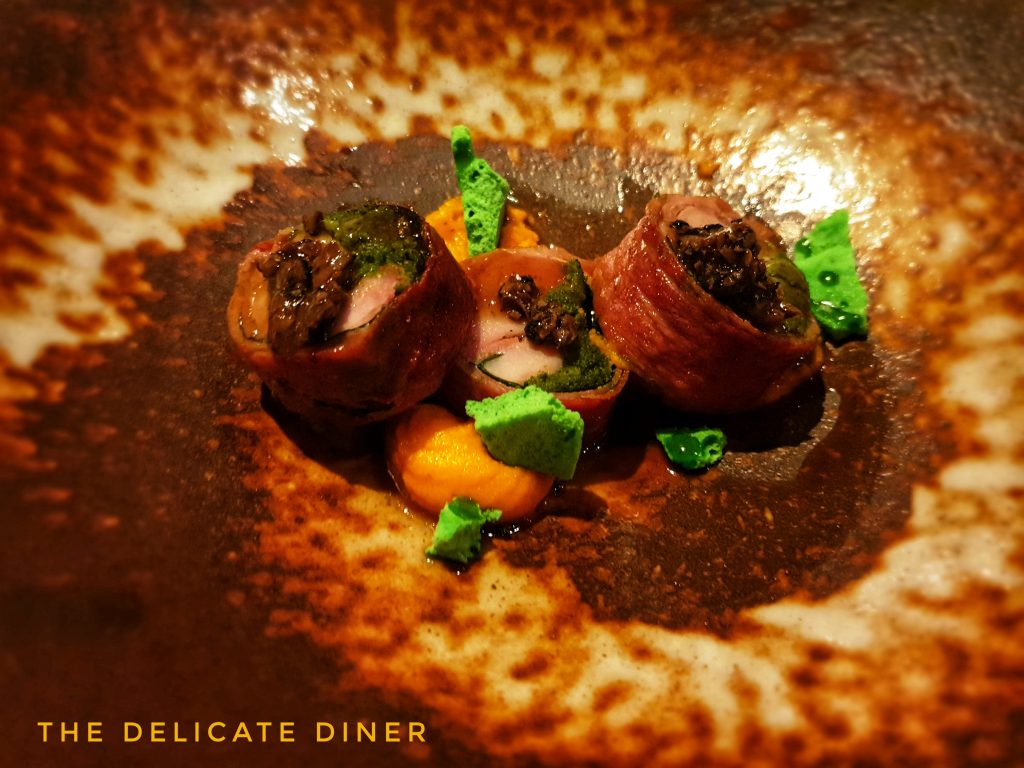 On to the mains, which were served with a side of vegetables each, and Louise opted for the beef fillet, which came with a £3 supplement. Louise asked for it rare and upon cutting it, she declared it "cooked to perfection!" It came with a garlic potato fondant, roasted parsnip purée, spinach gel, oyster mushrooms and a beef jus. Louise especially loved the flavours of the parsnip purée and the spinach gel, and she loved the whole dish.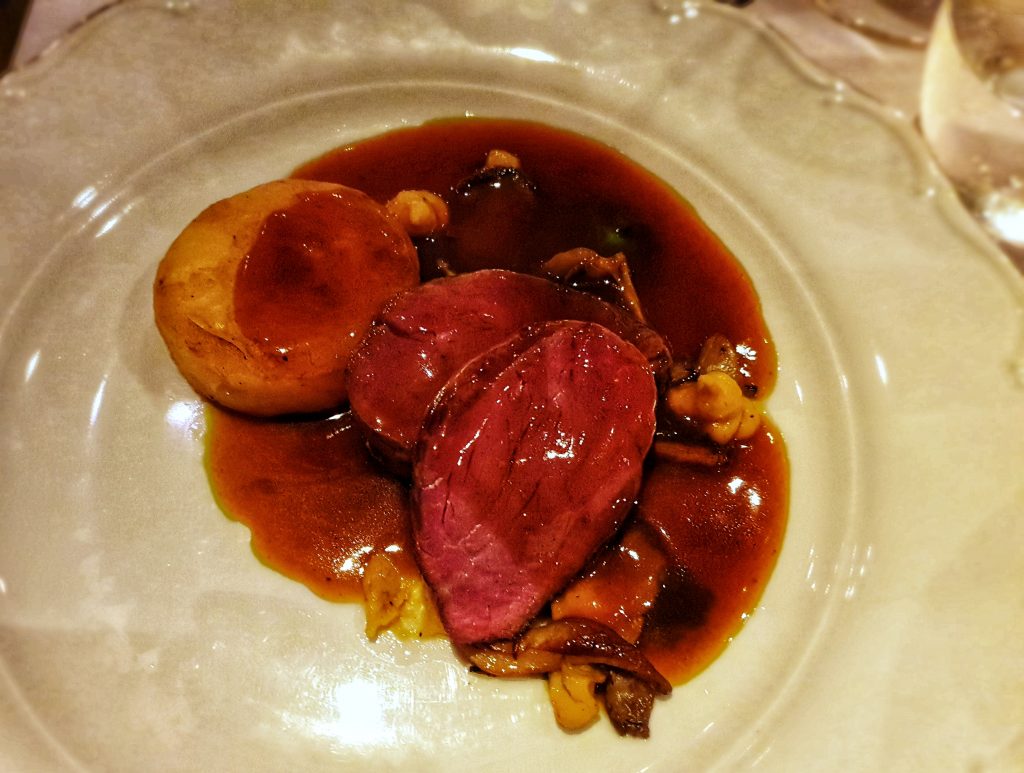 However, poor Louise did end up with food envy! I opted for the wild duck and my word… I thought that I could cook duck well but I was very wrong! It was incredibly tender and just melted in the mouth. The duck came with a foie gras and smoked chicken paté, Swiss chard, boulangere potatoe, and a stock reduction; not redcurrant gel for me as it has orange added. I have never tasted anything quite like this dish, it was truly sublime. The paté was amazing and the wild duck amazing. Put the two together and it was, quite frankly, x-rated! Louise tasted both and agreed that it was extraordinary. Quite the dish!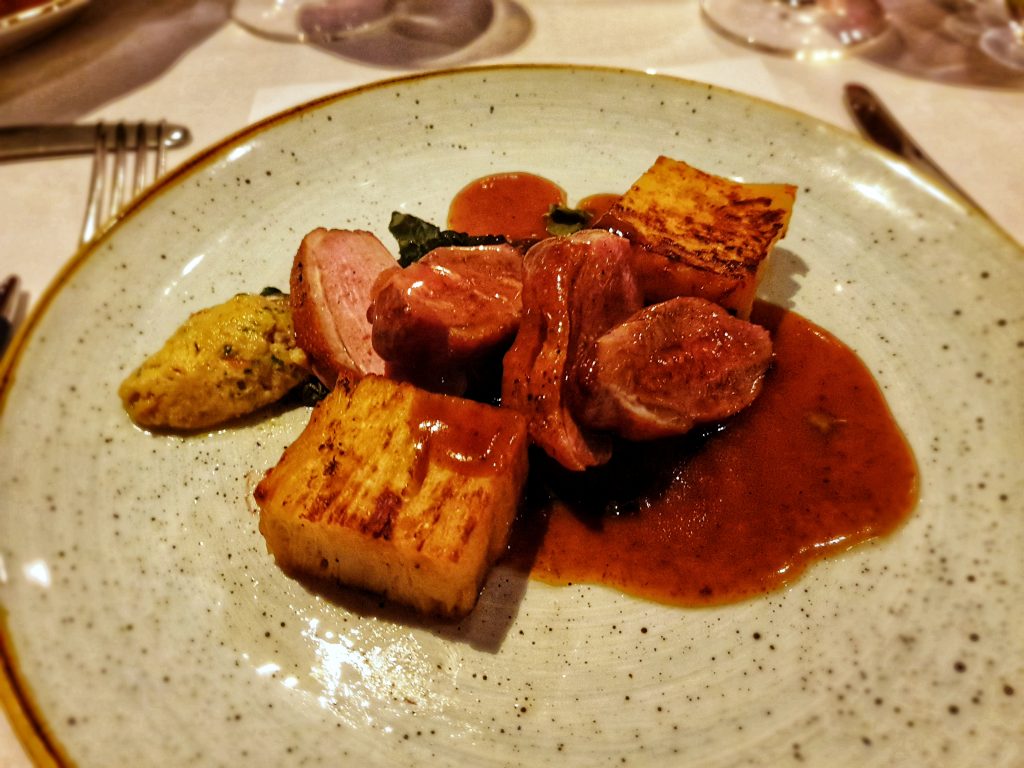 All of this was washed down with a Marlborough Pinot Noir. It is no secret that I love Pinot Noir and that it is my favourite grape. However, this Pinot was a wine with a difference, and it was from the Framingham vineyard. Nick explained that there was a connection between this vineyard in New Zealand's South Island and the village we were in: "A blood connection between Ben du Brow and the owners of The Conders Bend Vineyard, Rex and PJ, was discovered unexpectedly when they visited Framingham Pigot on holiday. They called upon Ben and Jane to see the family seat. The reason for naming their Marlborough wines 'Framingham' was that, knowing of his ancestry, Rex wanted to immortalise its memory on the other side of the world." Beautifully spiced, this wine went well with the rabbit and both mains, and both Louise and I enjoyed it.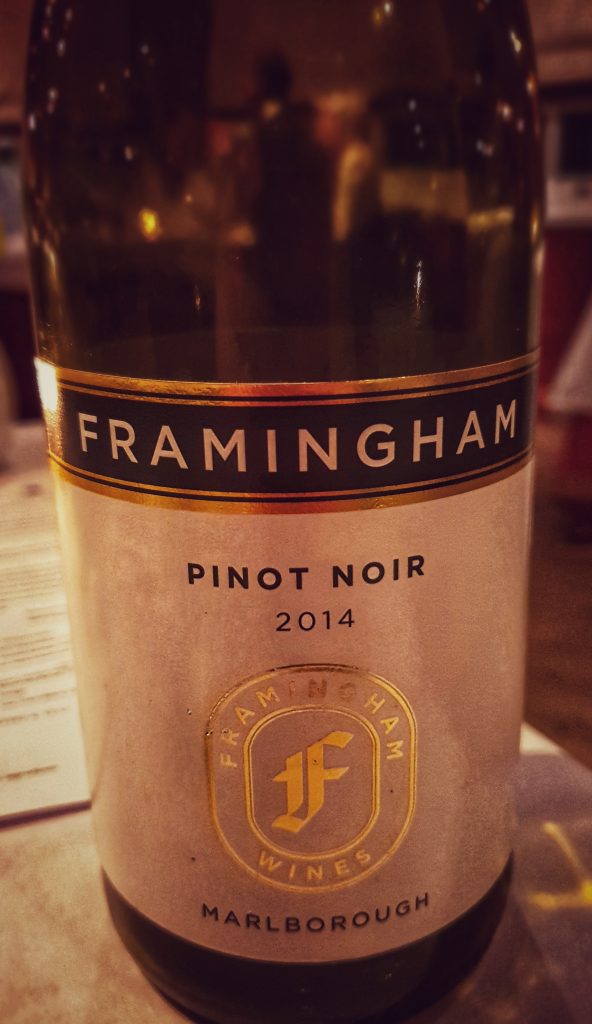 After a pause, it was time to look at the dessert menu. Buzz and Brasted's are famed for their desserts, and there was a small but lovely selection to choose from. These included savouries – everything from cheese and biscuits to Welsh rarebit, pheasant livers on brioche, or their own black pudding with a fried quail egg. Louise went for cheese and biscuits while I opted for the espresso and chocolate parfait.
First out, however, was the pre-dessert, a millionaires cheesecake, adorned with an edible flower. I am not a cheesecake fan – I think I am the only person in the world who does not go mad for cheesecake – but this was very nice. All the flavours of a millionaires shortbread, and suitably sticky to boot.
The cheese looked lovely – a good selection and served with pickled celery, quince jelly, nuts, homemade crackers and JB's chutney. I love plates such as this – with the goat cheese accompanied by honey and rosemary syrup, the cheddar with bacon jam, and the brie with pickled walnuts. Louise loved all of the pairings, with the quince a particular winner.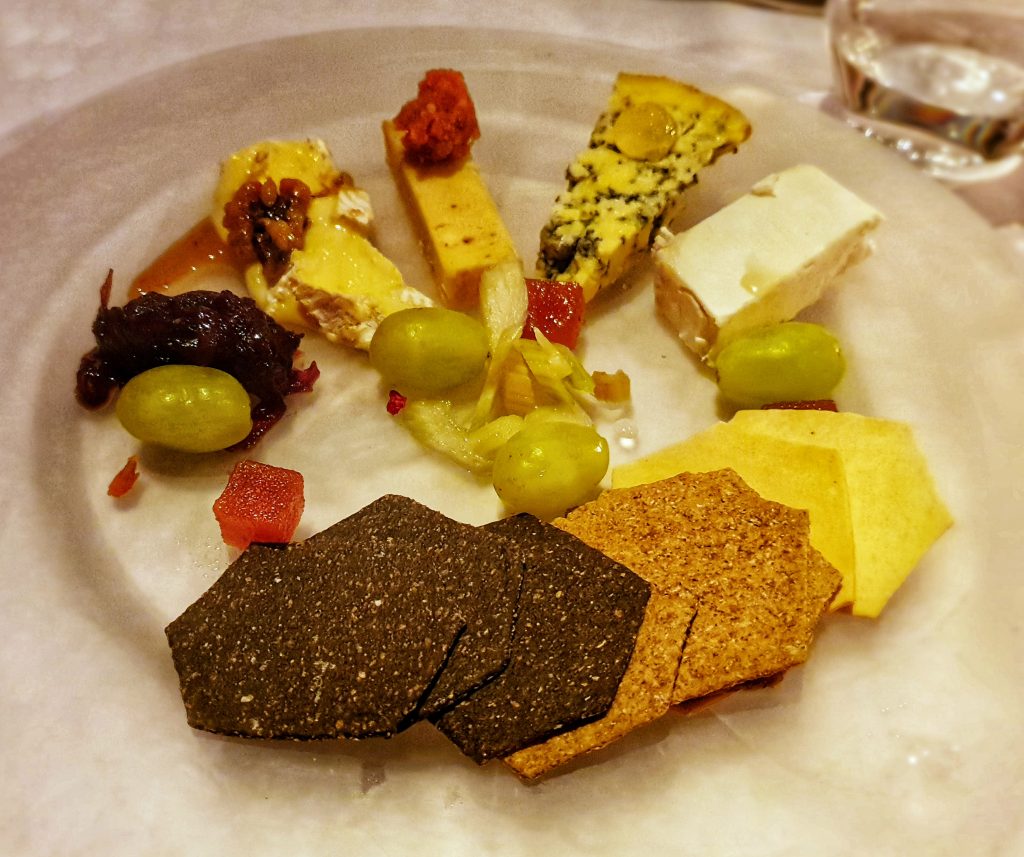 My espresso parfait – served with pistachio ice cream, cherry gel and a gingerbread tuile – was also delicious, even though I could not finish it. The cherry gel, thick and generous and full with cherries, and the pistachios on the plate all added to the unctuousness of this dish.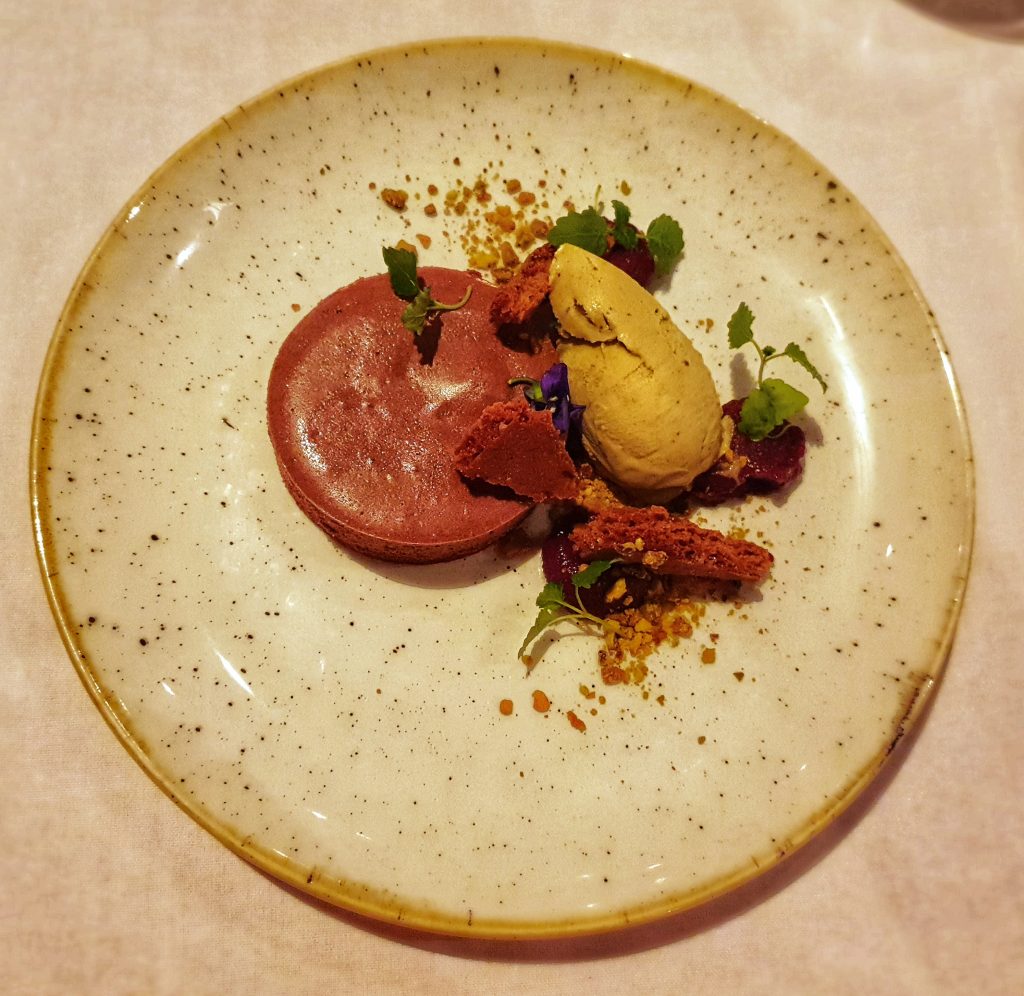 We finished with coffee and a sharing plate of petit fours, not that we had much room for them! I did manage to squeeze in some nougat, and it was very good.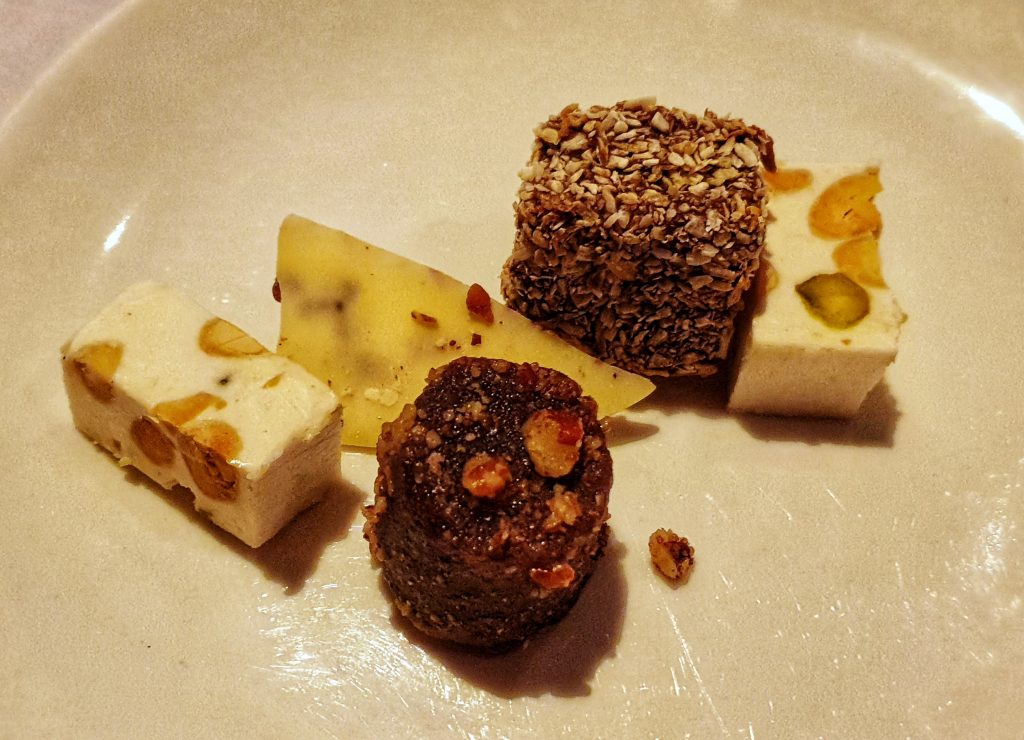 All in all, this was a meal fit for a king – and for any occasion. Each plate that was presented was so well thought out, with all the flavours blending perfectly together. Each looked like a delicious plate of food and taste separately, they were lovely. However, put them altogether and my goodness! This is what chefs strive for – that perfect marriage of flavour and taste, but also so understated as well.
Brasted's – the stay
Having left the restaurant, it was a short walk back to the accommodation. Nick insisted on us having an umbrella to protect the elements, and a hug goodnight to Louise and it was up to the Squire's Retreat for me!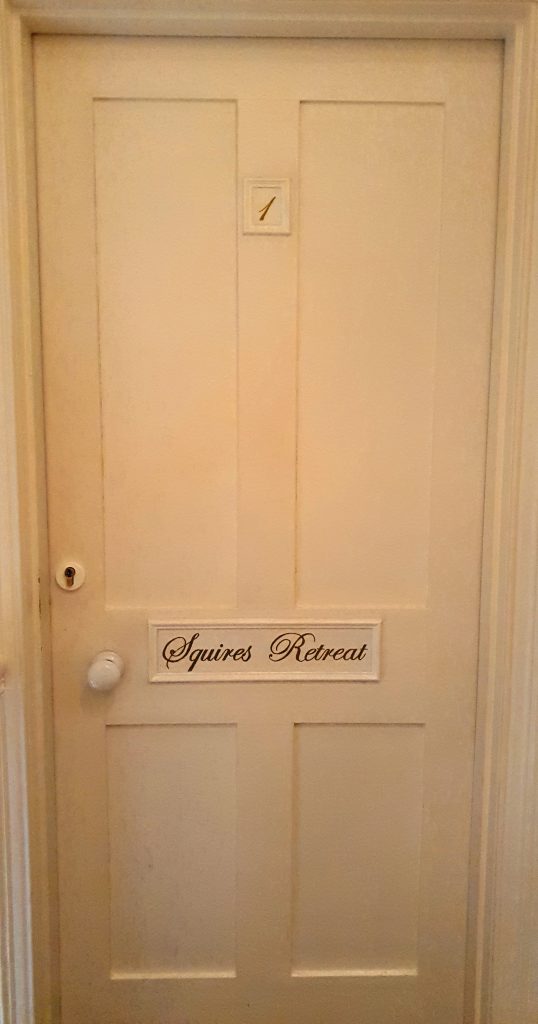 The bed? So comfortable. I slept like a log, and it was with great reluctance that I had to leave the sleepy bower for breakfast; this truly is a room for rest and relaxation, and I understand the whole concept of 'staycation' a lot more now after staying here the night.
Breakfast was a relaxed affair, as you would expect from a place such as this. It is worth noting that the barn where you dine in the evening is not packed full of tables; rather, everyone has their own space and you are not crowded in or rushed through your meal. Discretion is key for the Brasted's team, and they ensure that privacy, space, and attention are given in equal measures as needed.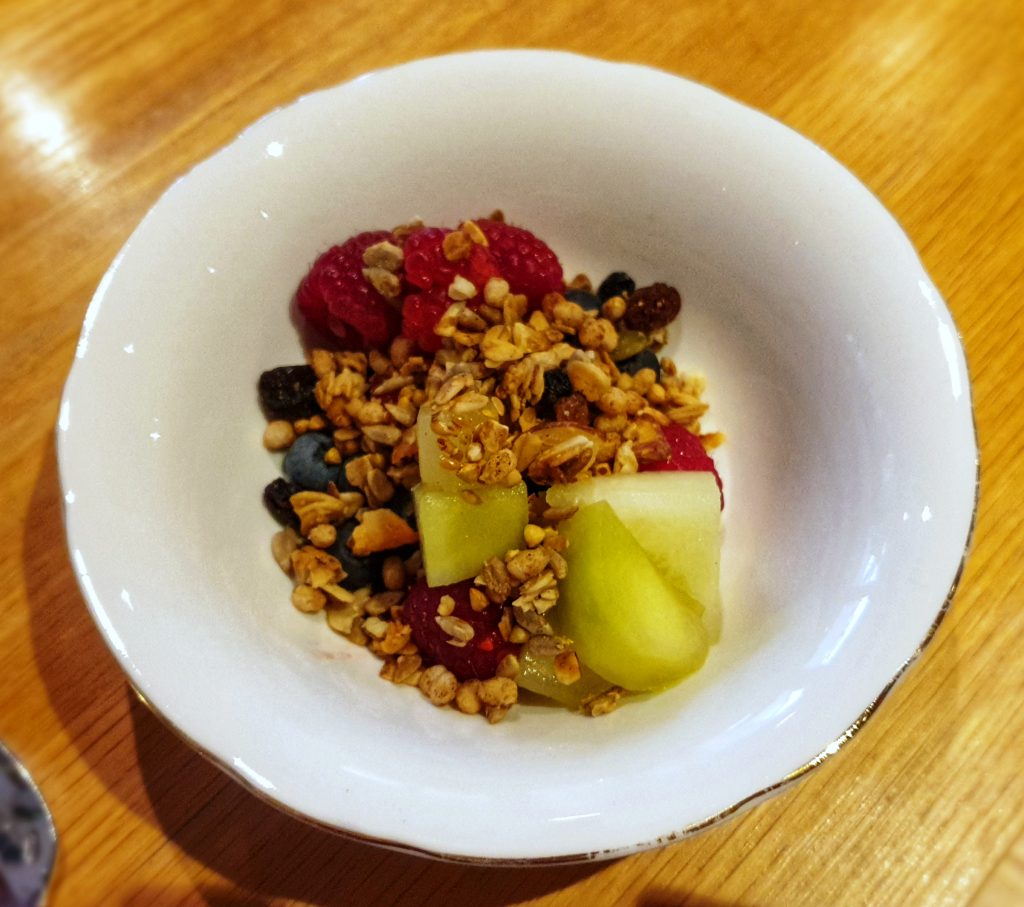 Having helped myself to some fruit and granola, I orded the Cley smoked haddock kedgeree for breakfast – something that I love and is rarely seen on menus these days! Other options included eggs Benedict, with ham or smoked salmon, mushrooms on toast, or a bowl of comforting creamy porridge. Apple juice appeared in place of the standard orange, and a generous pot of mint tea was brought to me.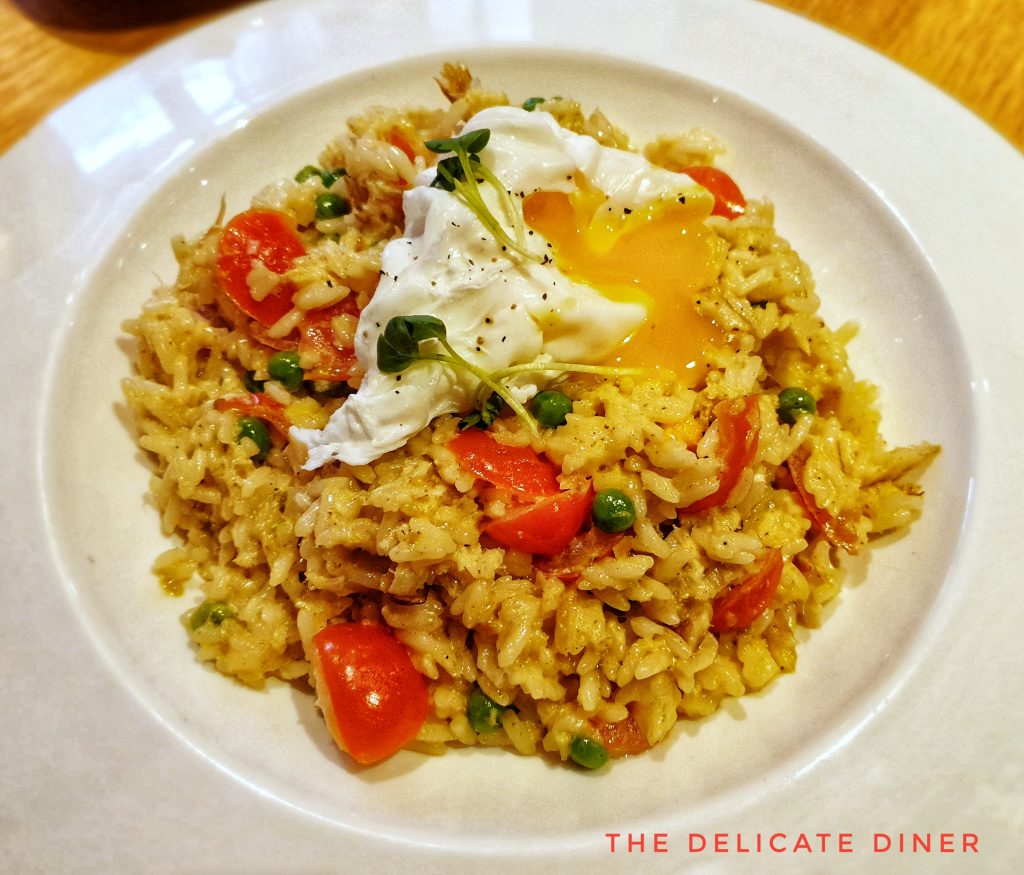 The kedgeree – fantastic! It was a huge portion though, and still full from the night before, I cannot feel that I barely did the plate justice. The haddock had a beautiful smokey flavour to it, coming as it does from the smokehouses of north Norfolk, and the whole dish was – as one would expect – delicious and fresh. A perfectly poached egg atop, as well as some fresh tomatoes, complemented everything perfectly.
I had a family appointment arranged, so the opportunity to linger awhile longer at Brasted's was not an option for me, sadly.
Whether you are going there for a special occasion, a quiet night out, or a romantic meal, the restaurant and rooms combined more than live up to expectations. The boutique rooms are all unique and beautiful. The attention to detail is second to none, and this is the perfect place to have a celebration and then stay the night – a birthday, a wedding, a reunion; the list is endless.
Add in the Brasted's hospitality, which is second to none, and you really do have the complete package. From corporate hospitality to weddings, nothing is too much trouble, and the whole team are a shining example of how to do things right in the hospitality business; they shared an Instagram story recently where the happy couple's wedding cake was battered during delivery, so the chefs calmly and quickly made a replacement. The bride and groom were none the wiser, even after tasting it, and did not know that this was a replacement until the next day. This is Brasted's – that extra mile, making your wedding or event take place without a hitch and with none of the worry.
Brasted's truly is Norfolk's hidden gem – to the uninitiated, that is! If you haven't been, then now is the time to book. And if you have, then perhaps it it is time to book a return visit. Like myself, you won't be disappointed.
Brasted's, Framingham Pigot, Norfolk
Resturant open Thursday and Friday lunchtime, Thursday to Saturday evening.
www.brasteds.co.uk
Complete & Utter Brasted's Event Design & Catering
www.completeandutter.co.uk