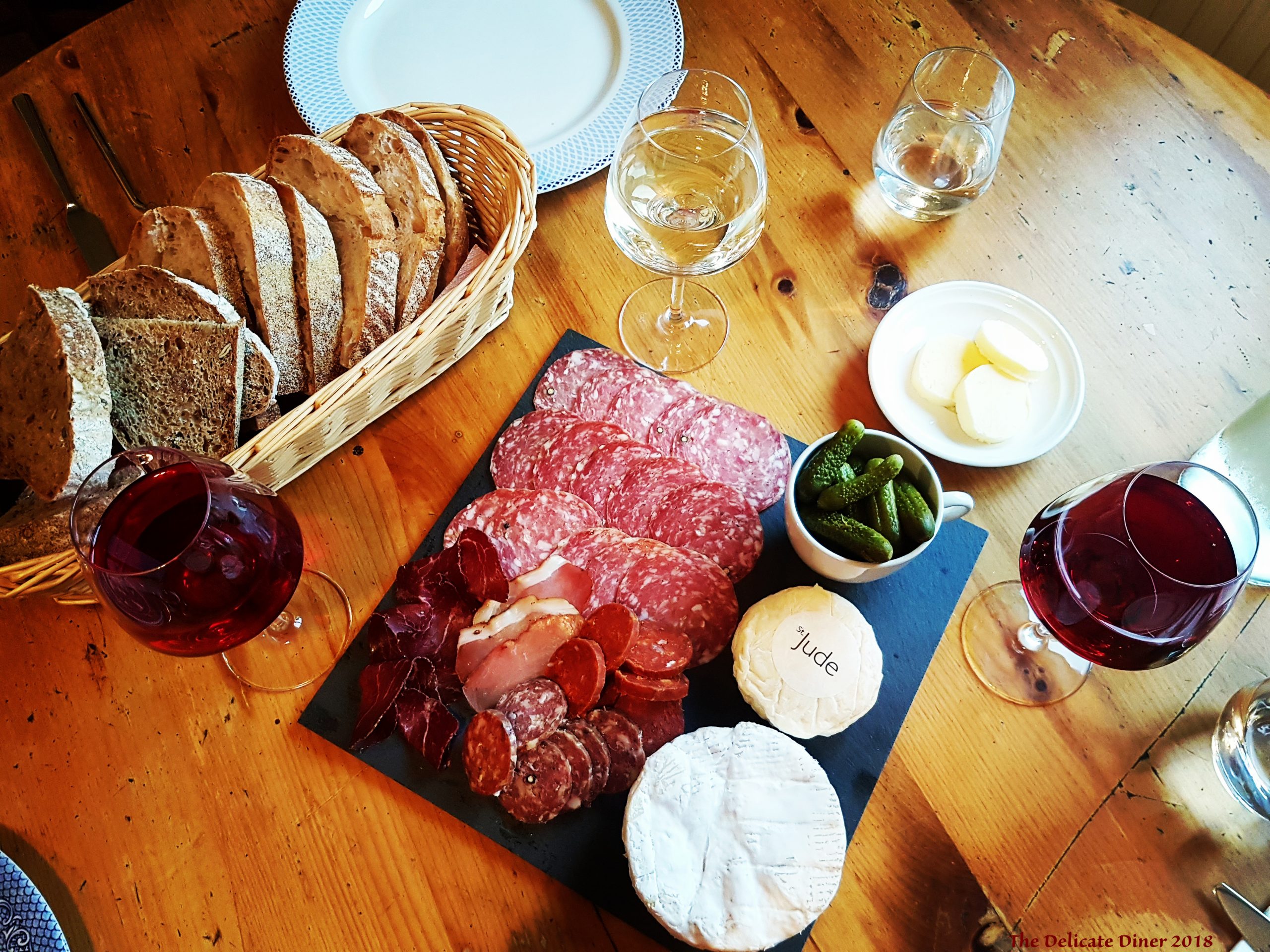 My Top Ten Norfolk Foodie Christmas Gifts
It is that time of year when the tills are ringing, the plastic is flexing, and big conglomerates are rubbing their hands in glee. Which is exactly why I spurn them and stick to local, buying from my favourite producers; supporting them means a lot more financially – it puts money back into the local economy, you are supporting their dream, and you receive a much, much better service. So, what is on my Christmas Foodie wish list this year?
Number One – Flint Vineyard Bacchus 2018
I love our local wines. Norfolk has such a rich variety of English wine available, but for me there is nothing I'd rather have with my Christmas turkey than Flint Vineyard's Bacchus 2018.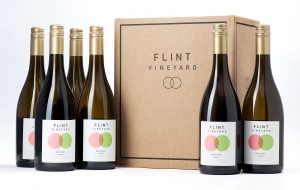 For me, this is the quintessential Bacchus, delicate in flavour, yet vibrant enough to stand on its own. That wonderful minerality we associate with the Bacchus – read, Sauvignon – grape is there in abundance and really, I have enjoyed this wine perhaps a bit too much this year. I served it to my Antipodean friends when they visited this summer and they absolutely loved it; not for the first time has a Flint Bacchus confounded the taste buds of Australian and New Zealand friends, a huge compliment I think!
Buy your Bacchus from the Flint Vineyard website or call into their cellar door at Earsham to collect. Price £16.49 per bottle or special offer of six bottles for £93.
Number Two – Honey & Sea Salt Caramels, B Chocolates
Okay, so technically these are from Suffolk, but I buy them at Earsham Street Deli, so that's close enough for me! If you are after some chocolates for family and friends and want that something a little bit extra special, then these are the ones for you!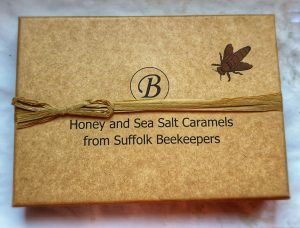 These chocolates are just delicious – perfect to enjoy when you watch The Sound of Music with family for the hundredth time, and equally as good at the end of a delicious meal with your coffee. Chewy and pleasantly sweet, these caramels are covered with 70% dark chocolate and sea salt crystals. Utterly delicious, and I'd recommend you buy a box for you too, as you may decide that you don't want so share!
Buy in store at Earsham Street Deli or order the B Chocolates website. Price £10.50.
Number Three – Earsham Street Deli Hampers
Speaking of Earsham Street Deli in Bungay, you need to pay a visit if you haven't already. A true emporium, there is something in there to tantalise even the most jaded of taste buds.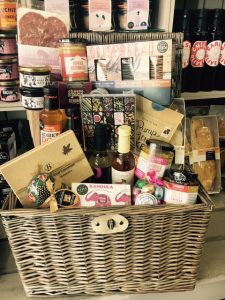 Run by Michelle with her amazing team, Earsham Street Deli has all you could want, and more, in way of meats (Marsh Pig), cheeses (Fen Farm, St Judes, Fielding Cottage, Mrs Temple), local producers (Candi's Chutney, Yare Valley, Crush, Kandula, East Gate – the list is endless), and, of course, sumptuous chocolates and panettones. Visit this lovely shop to put together your own hamper for family and friends, or let the experienced Deli team do it for you. Don't forget to get a sandwich to go while you are there!
Prices start from £10, visit the shop in Bungay or the Earsham Street Deli website.
Number Four – Pecan and Dark Chocolate Babka, Hempnall Village Bakery
Ah, babka! I came across this for the first time last December and immediately made a note to add this to my Christmas list every year. Made by the brilliant Hannah at Hempnall Village Bakery, babka is a traditional Eastern European/Jewish celebratory loaf with rich fillings folded through the dough.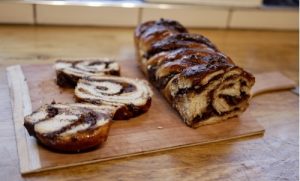 Hannah does three different flavours but for me, it has to be the pecan and dark chocolate – dark chocolate ganache, dark chocolate pieces, and lots of chopped pecan nuts. Moreish and rich, a slice of this is perfect with a cup of coffee – or as an indulgent festive breakfast, and it really is quite amazing. I have never tasted anything quite like it before – chocolate brioche fades in comparison – and I cannot wait to sink my teeth into this in the next couple of weeks.
Babkas, and other festive items, are baked to order so head on over to the Hempnall Village Bakery website to place your order. Price £7.
Number Five – Yare Valley The Tasty Twosome
I am a huge fan of Yare Valley Oils and frankly, if you are not using local rapeseed oil in your cooking, then you should be. It is our indigenous oil and has a huge number of health benefits, as discussed in a previous blog.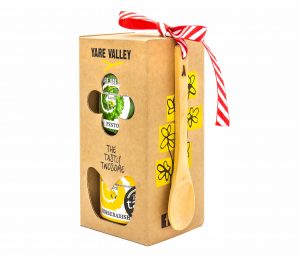 Their latest gift is The Tasty Twosome, consisting of their own pesto and horseradish, all packaged up in a box with a branded Yare Valley wooden spoon and a festive ribbon. Both products contain the famed Yare Valley Oil, but they have also sourced British cheese, basil, honey and horseradish to ensure that there are as many ingredients from these shores as possible.
This tasty twosome makes the perfect gift for the foodie who has everything – mix the pesto with some creme fraiche to make a tasty dip, or use the horseradish in your Boxing Day mash. Available from all good delis and farm shops as well as the Yare Valley website or Yare Valley Farm Shop in Surlingham. Price £7.95.
Number Six – Old Hall Farm Giant Sausage Roll
And speaking of farm shops, I now come to Old Hall Farm in my list! Found just down the road from me in Woodton – close enough to do a dash at anytime of the day – this family-run farm are fast building a name for themselves with their Jersey goddesses, raw milk and dairy products, and their rare-breed pork.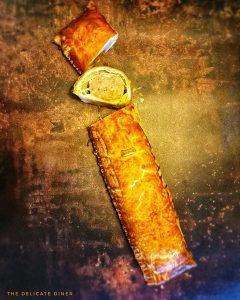 Plum among their many products that are perfect for your foodie friend is the giant sausage roll. Packed full of meat and with a delicious pastry case – that can be eaten cold without being greasy as well as enjoyed hot – I can assure you that if you turn up to a friend's house over Christmas and bring this beauty, you will have a friend for life! Add in some of their Jersey fudge, caramel gelato, raw milk and homemade salami, and you will have an invite for dinner every month! Handily, Old Hall Farm also do hampers to order – including many of the products in this list – so they can make everything look pretty as well.
The Giant Sausage Roll is a bargain at £10 – best to order one, just to be sure that you are not disappointed. Visit the Old Hall Farm website to find out more.
Number Seven – Candi's Chutney Beetroot and Juniper Chutney
Of course, you cannot have a sausage roll without a pickle or chutney of some kind and who better to fill this slot than Norfolk's own Chutney Queen, Candi's Chutney.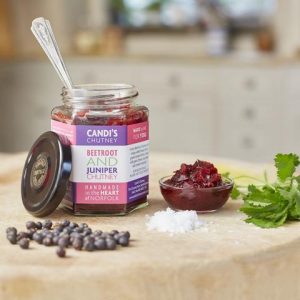 There are so many delectable flavours to choose from – the non-mango mango tastes of, well, mango, the spiced carrot is a firm family favourite, and the seasonal specials are all brilliant in their own right. However, if I had to pick just one for this time of year, it would have to be the beetroot and juniper chutney – pair it with smoked fish, meats, cheeses, or just swirl into yoghurt as a different kind of accompaniment to a curry. The list of possibilities is endless!
You can buy the full range of chutneys at all good stockists (Earsham Street Deli, Old Hall Farm & Yare Valley Farm Shop being a case in point) or see Candi herself at the remaining Christmas markets. Prices from £3.50.
Number Eight – The Tea Lady Strawberry & Champagne Jam
Everyone needs a jam at Christmas and I always feel that this is the time of year when you can legitimately have a boozy jam for breakfast and not have to worry; normally, I save such delights for a Sunday!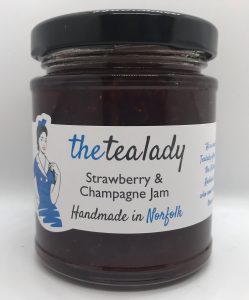 The Tea Lady has certainly made her mark on the Norfolk foodie scene this year and I am a huge fan of her flavours – be it jams, jellys, chutneys, or marmalades. She has something for everyone, and every palate, and I definitely recommend her creations as easy fillings for tartlets, as well as spread generously on your Sunday morning toast.
You can buy The Tea Lady jams directly from her website, at Christmas fairs, as well as from selected stockists across Norfolk. Prices start from £3.50.
Number Nine – East Gate Larder Medlar Jelly
To complete the condiments, I have listed the East Gate Larder Medlar Jelly as my penultimate entry. Jane Steward cultivates the medlar fruit at her farm in north Norfolk and she makes both medlar jelly and cheese.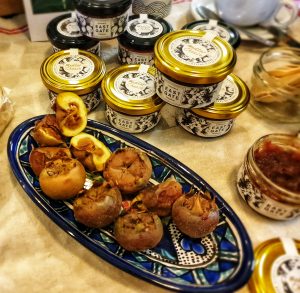 I love the jelly the most – sweet and flavoursome, it goes so well with cheeses – especially those with a nuttier flavour – but also shines when you add a dash to gravy or serve alongside pheasant or partridge. It is packed with flavour and, of all the items listed here, is perhaps the most perfect stocking filler of them all.
Again, all good delis and farm shops stock East Gate, and prices start from £4.50. Find out more about the medlar fruit on the East Gate Larder website.
Number Ten – Baking for Bacon Charity Book
Okay, so the last item isn't strictly a foodie item but it is full of foodie inspiration and all the money raised from sales of this book go directly to the Priscilla Bacon Hospice Appeal.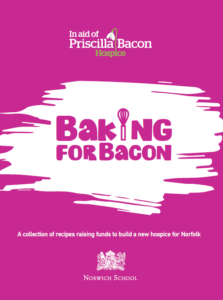 Baking for Bacon was created by a small group of 6th form students at Norwich School. Thanks to amazing support from local businesses, all the money raised from the sales of this book will go directly to the charity – and it is hoped that a total of £20,000 will be raised. The book contains recipes from award-winning restaurants and cafés in Norfolk and Suffolk, as well students at Norwich School and those involved with the charity. There is even a recipe from yours truly within the pages!
Each book costs £10 and the whole tenner goes straight to the charity. What are you waiting for, order your copy now from the Priscilla Bacon Hospice website or find in Old Hall Farm.
An added extra – Blue Bear Coffee
Christmas is a time for giving, and it should also be a time for giving back. Blue Bear Coffee is an ethical coffee company committed to maintaining a slavery free supply chain, specifically sourcing its coffee from independent farmers across the developing world. Blue Bear Coffee Co was founded by Norfolk local Bryn two years ago when he was working for a charity investigating human trafficking in the Dominican Republic. 100% of the profits from this coffee go to help agencies investigating human trafficking and caring for it's survivors.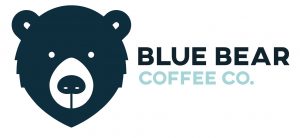 Not only is this coffee with a conscience, it tastes good too, making it the perfect Christmas gift for the coffee lover in your life. Order at the Blue Bear Coffee Co website. Prices from £6.
So, there you have it – my Top Ten Foodie Christmas gifts (plus one) for 2019! Yes, the coffee may not be from Norfolk but the charity and intention is. No, you cannot eat the book but you can make recipes from it, and support a great local cause in the process. And yes, the chocolates are from just over the border, but when they taste that good, a few miles is not worth arguing about.
Above all, if you do one thing after reading this post, it would be to get to your local high street and shop there. It is time to spurn the supermarkets and support our local shops and producers instead. It really make a huge difference. Thank you.