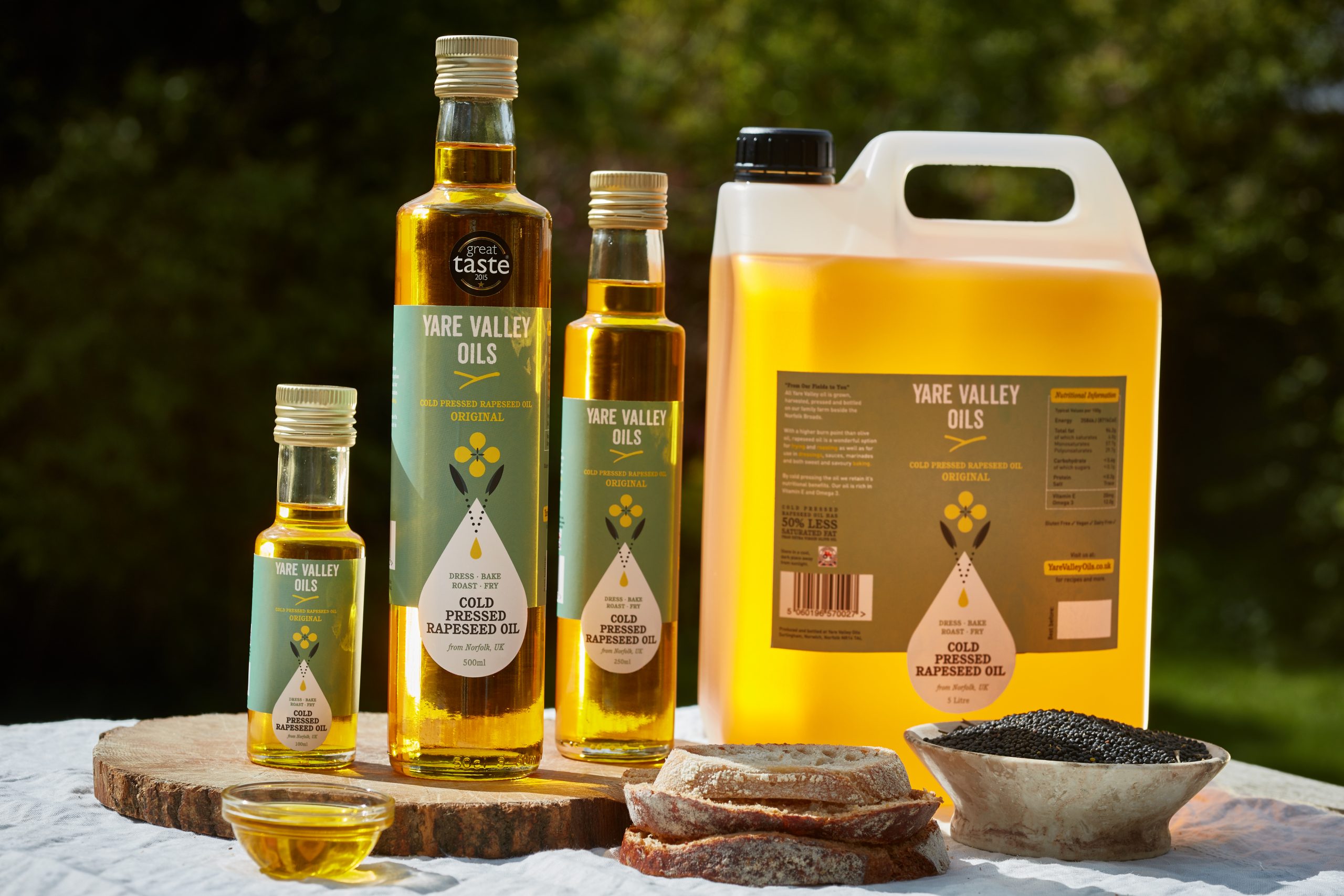 Yare Valley Oils & Norfolk's Fields of Gold
In spring, you cannot have failed to notice that Norfolk's fields were gold. Driving through the beautiful countryside found in this wonderful part of the world, at every turn, you can see field after field of golden flowers, gently swaying on the breeze. It is these flowers that produce one of our native oils – rapeseed oil.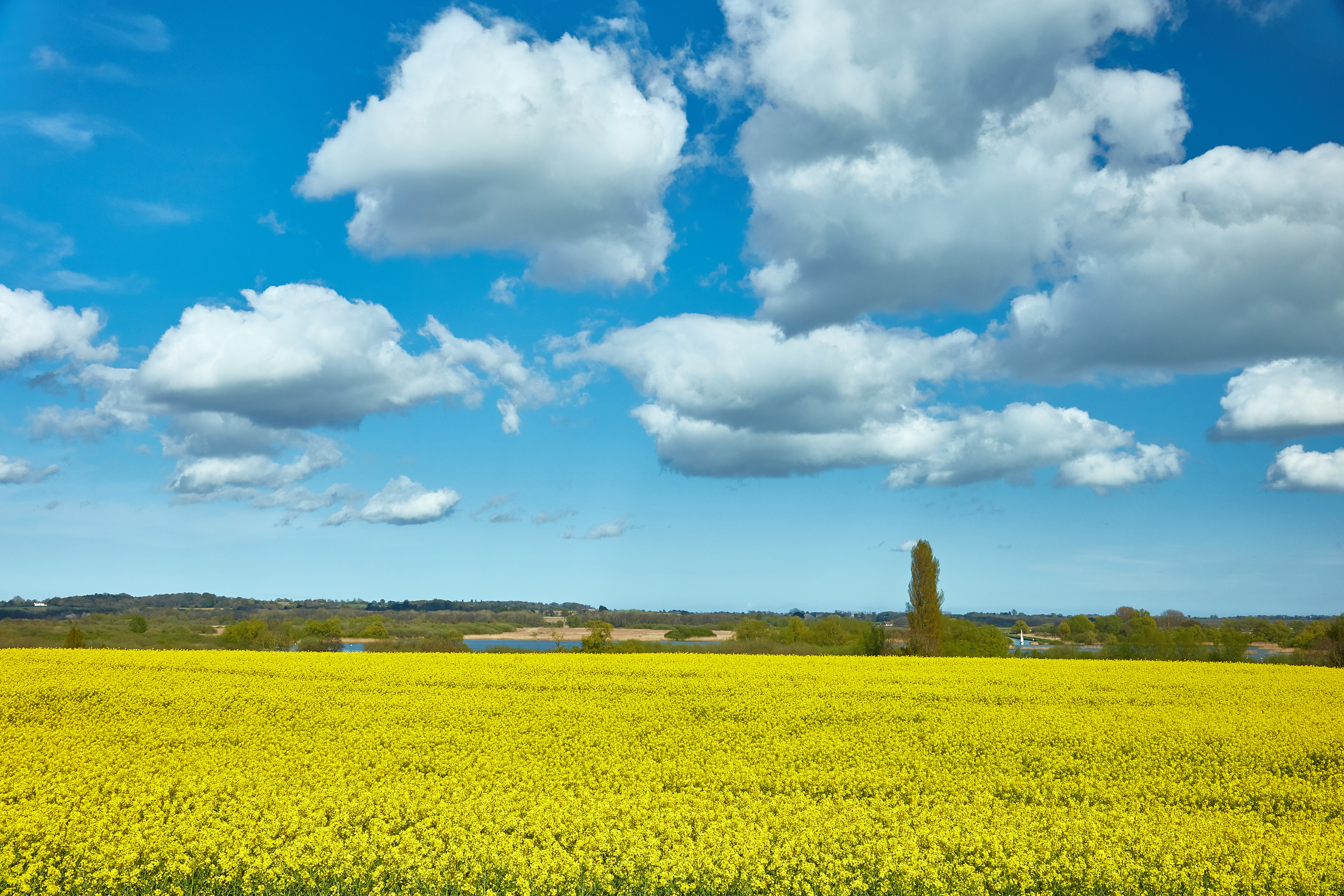 As someone who is a big fan of using local produce wherever possible, what can be better than rapeseed oil? Grown here in Norfolk, harvested and pressed here, it is straight from field to shelf with none of the miles. Compared to olive oil, the much promoted friend of rapeseed oil, there are also more benefits that 'just' being local to recommend this beautiful yellow flower. Of all oils, rapeseed oil contains the least amount of saturated fat, including less monounsaturated fat than olive oil and a higher proportion of polyunsaturated fat, which helps to lower LDL cholesterol. To add to these fabulous benefits, rapeseed oil contains considerably more of the powerful antioxidant vitamin E than olive oil. Finally, as a homecook, rapeseed oil also has a higher smoke point, thus preserving its nutritional content.
Enough of the science, however – for me, the fact that it has come from Norfolk is more than good enough for me. Why would I want to use oils that have flown hundreds of miles when, quite frankly, our native oil offers so much? And fortunately for us, there are two local producers of rapeseed oil: Crush, who were the focus of a recent blog, and Yare Valley Oils, who I will be celebrating here.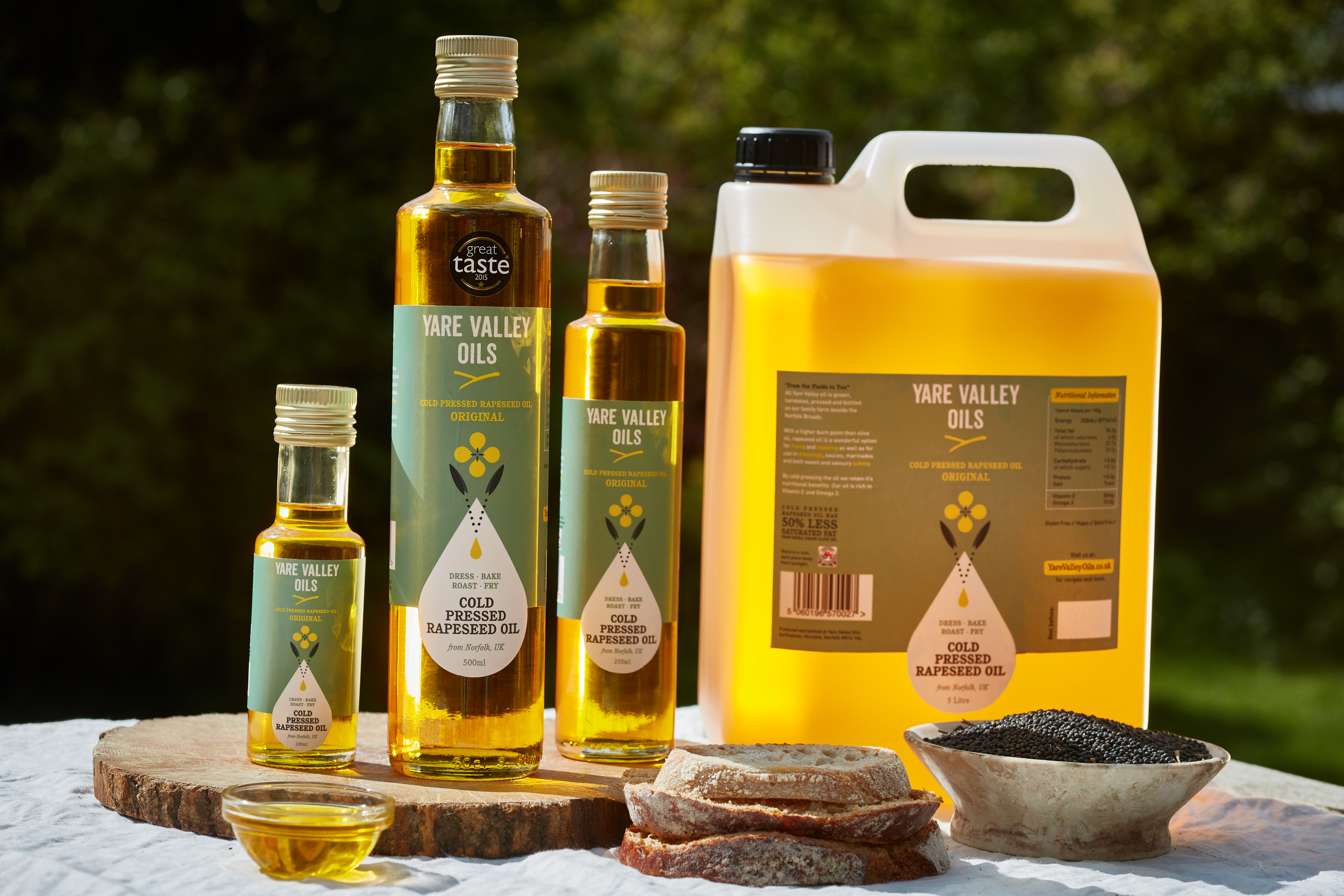 Yare Valley Oils is, as the name suggests, located in Norfolk's picturesque Yare Valley, near Wheatfen Broad, home of the Ted Ellis Nature Reserve, and also Wherryman's Way,. Found on the outskirts of Surlingham, Yare Valley Farm has been owned by the Mack family since the early 1900s. Today, still very much a working farm, it is Tim Mack – who went to Young Farmers with my mum! – and his son, William, who run things. They are supported by Glenn Sealey, who so many of you will have seen at food festivals across the region over the years.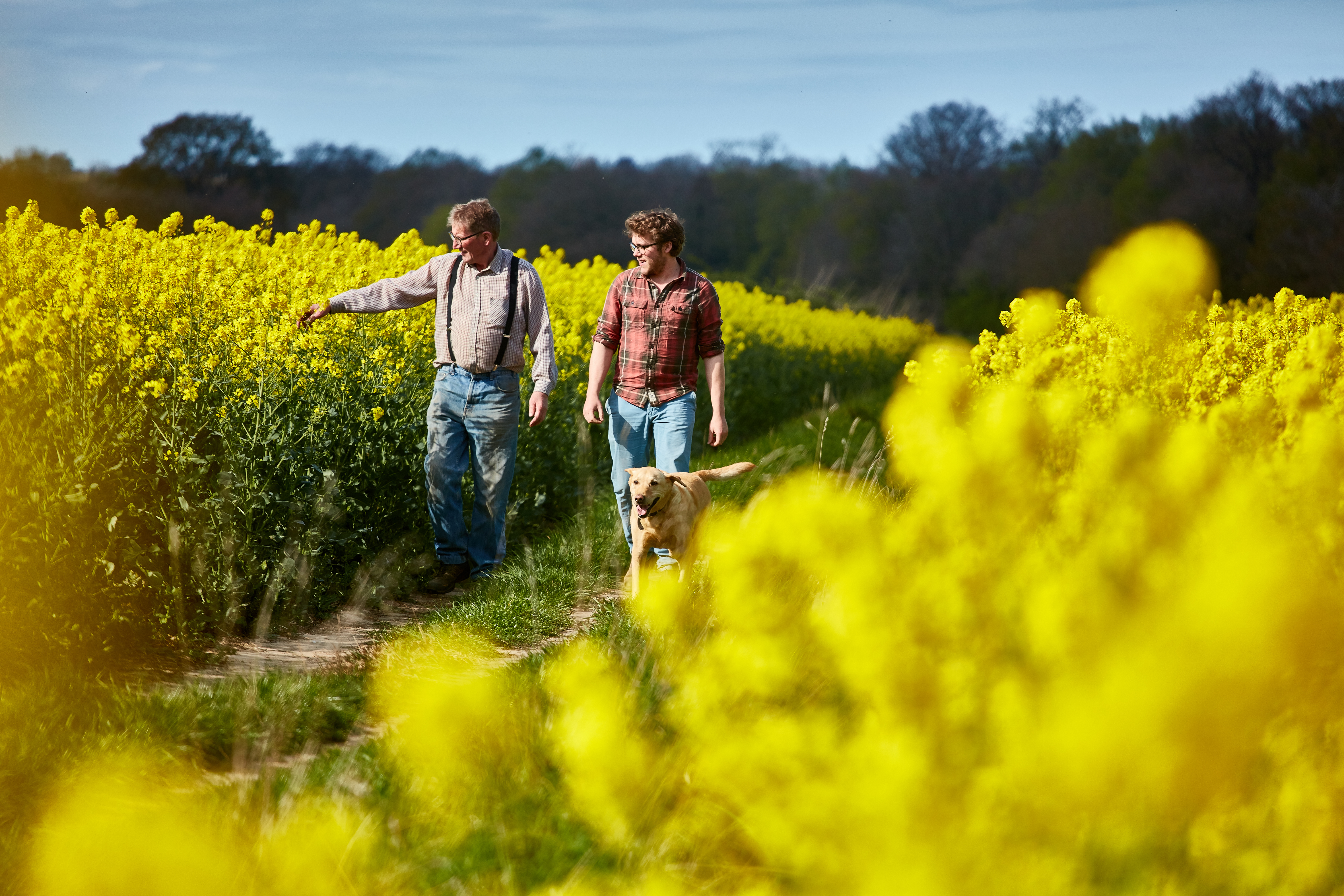 Since they began producing rapeseed oil, Yare Valley have won a range of Great Taste awards. And for me, this is not surprising. I have long been a fan of Yare Valley's rapeseed oil and I love its flavour. The Macks harvest and press the oil themselves – with the most important factor being that this oil is cold-pressed; no heat is added, ensuring that this oil retains all its nutrients and flavour. Glenn explains that the seeds are pressed by a mechanical screw before being filtered twice. "This results in an incredibly pure and wholesome oil that we then also use as the foundation to create a range of infusions, dressings and marinades."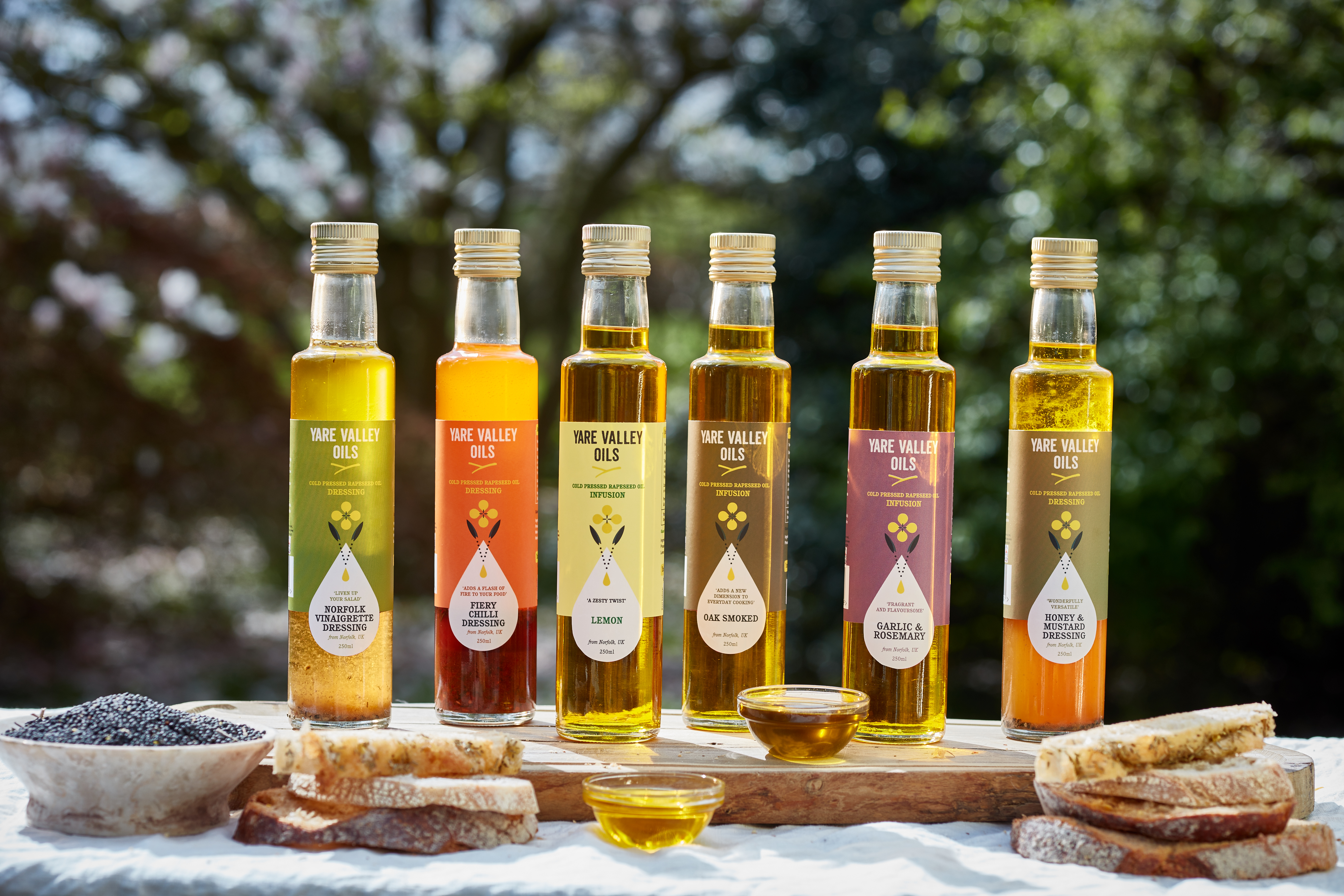 Having undergone a rebrand earlier on in the year, Yare Valley Oils have added to their range and now there truly is something to whet everyone's appetite. To celebrate their launch, I tried as many oils – including their award-winning cold pressed extra virgin oil – vinaigrettes and dressings as I could. And they are definite winners!
Their lemon oil, I simply love. For many years now, I have been to an Arabian horse show held in Menton, on the south of France and on the Italian border. I would always come home with a bottle or two of lemon oil from Menton, as the area is famed for growing this beautiful fruit. I would eke out the Menton lemon oil for as long as possible before, sadly, pouring the last over my summer salad. Now, I need worry no more! The Yare Valley lemon infused rapeseed oil does not use artificial flavours and instead, brings that magical zest and vibrancy to Norfolk. I find that I am using the Yare Valley lemon oil on everything from salads to a dressing over roasted vegetables, and even a splash over freshly roasted chicken. You have to try it!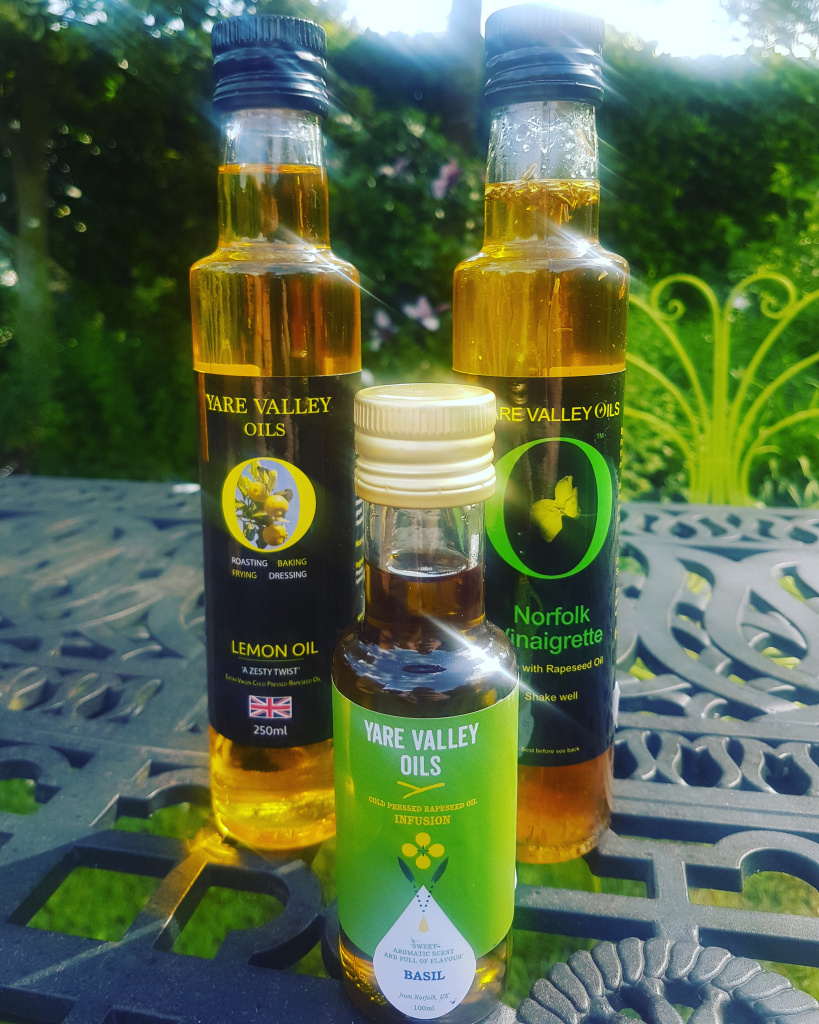 Their mint infused rapeseed oil is another favourite of mine, although I suspect an acquired taste for those less menthol-obsessed than I! I always start my day with a peppermint tea, and the stronger the mint, the better. This oil is great drizzled over new potatoes – cooked with mint, of course – and I love the tang. Wonderful!
I wasn't too sure about the Norfolk vinaigrette looking at the bottle – I am not always a fan of dressings with lots of 'bits' in – but I need not have worried. The Yare Valley Oil Norfolk vinaigrette dressing, the recipe coming from a family friend, has become my new favourite dressing. Sweet, sour, rich, sharp, mellow, and flavoursome, I found that this bottle vanished rather quickly in my kitchen as we were throwing it on every food we could find! Equally, the basil infused oil is a delight, especially when drizzled over a tomato salad or fresh pasta.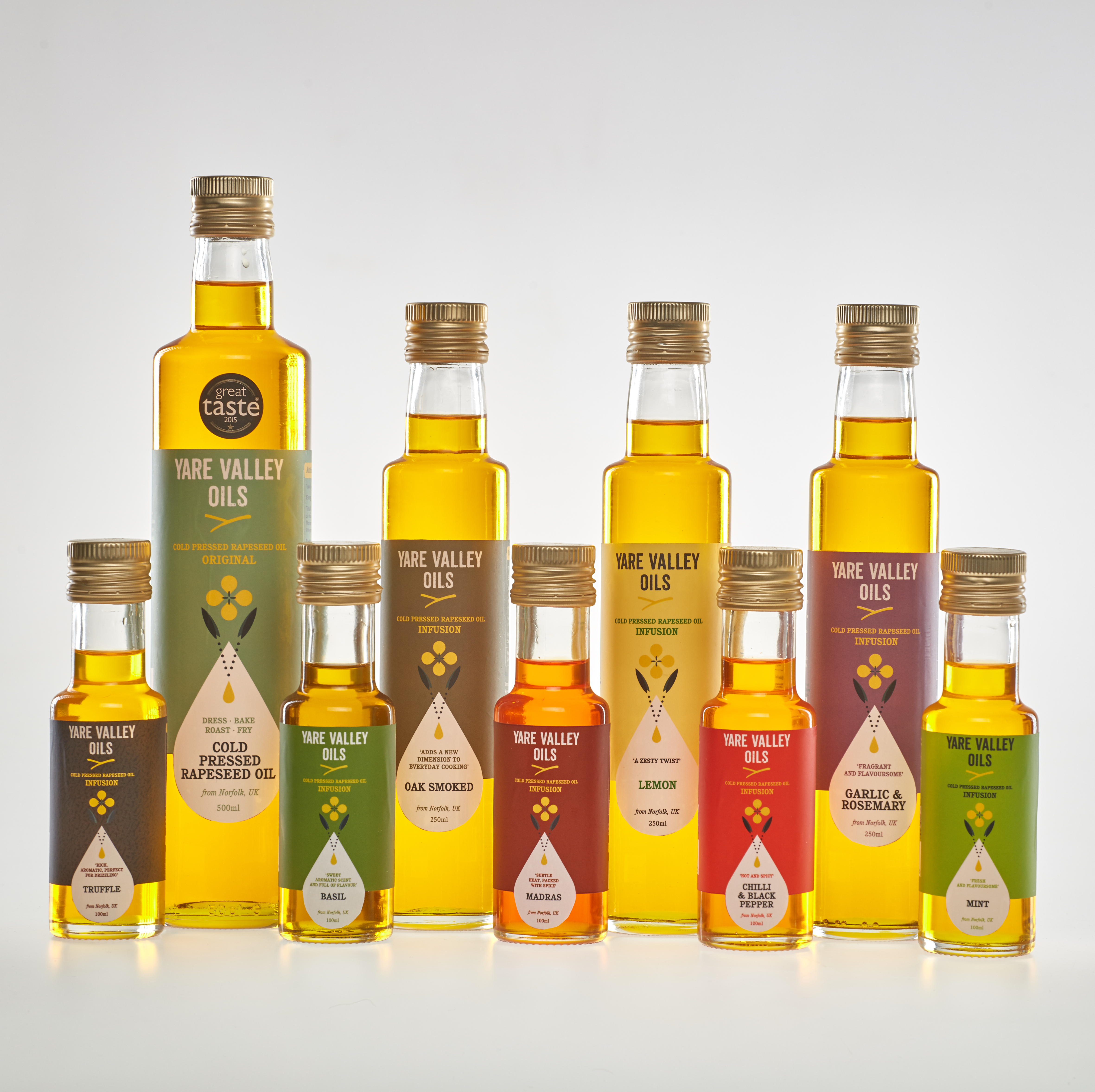 As you can see, there truly is something for everyone and every taste in the Yare Valley range, and you need to be stocking your cupboards as soon as you possibly can! I am a wimp so I won't try anything too spicy after a bad bout of bronchitis a few years back, but I am told that the chilli/madras oils are amazing.
So where can you find Yare Valley Oils? Many of the local delis across Norfolk and Suffolk stock it, and Glenn is seen at many of the food festivals held across the region. But the best place to ensure that you get your fix is to visit their new shop, located on their farm at Surlingham. For not only does the farm produce oils, it also has its own beef, pork and potatoes among other items.

Opened earlier this year, their self-service farm shop offers a fantastic range of local produce from some of our favourite suppliers – everything from Candi's Chutney to Brays Cottage pork pies. But the Mack family also sell their farm reared beef, hung for 24 days; potatoes from their own farm; and the all important oils, available on tap or pre-bottled. They even sell their own paraben-free soaps and lip balm, the latter of which is always with me whenever I travel. There is even a time-share swimming pool available at the farm, as well as the option to have a cup of coffee and slice of cake at the shop; what more could you want!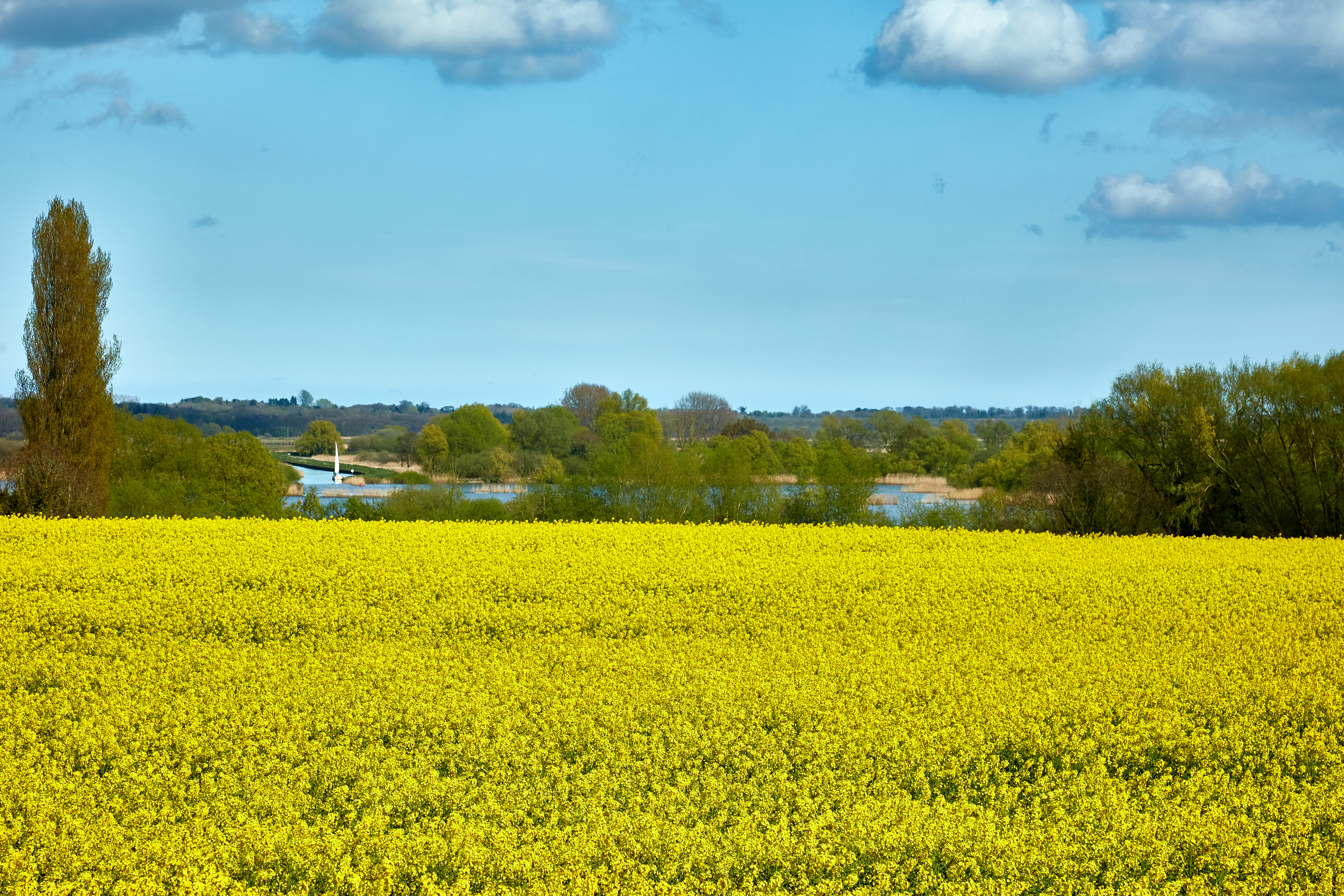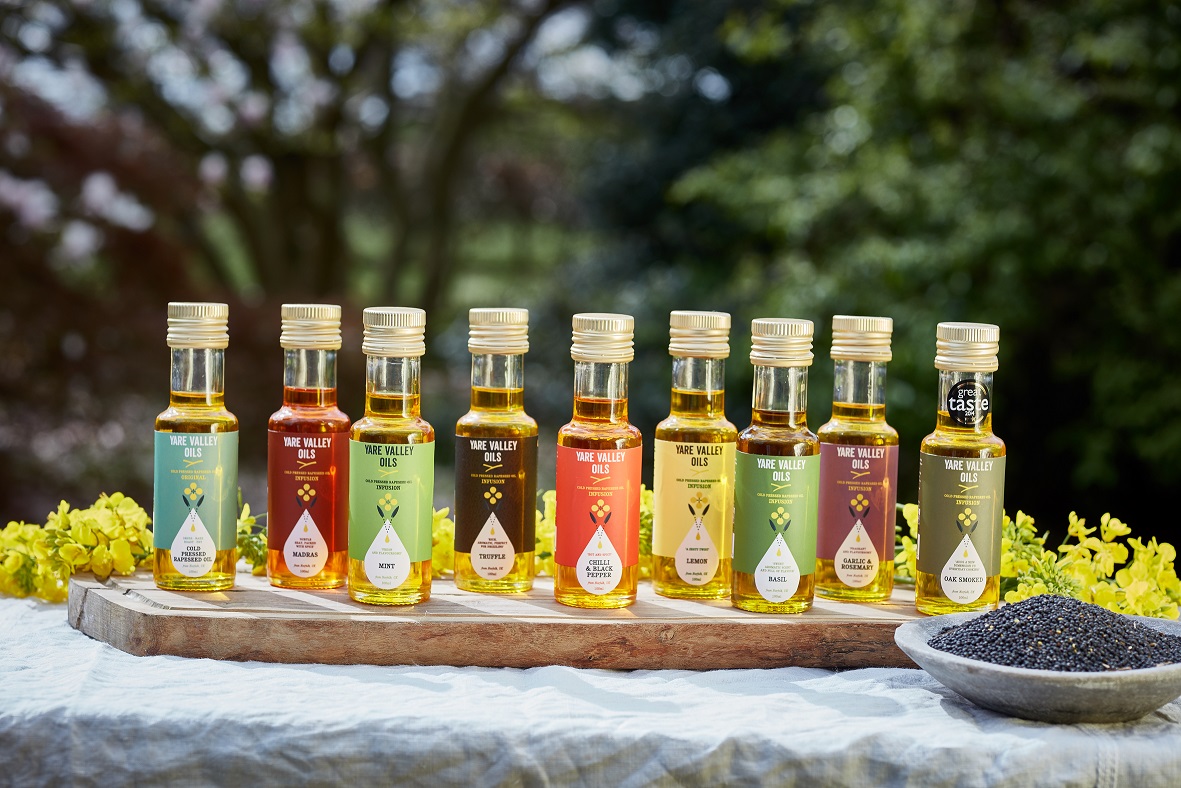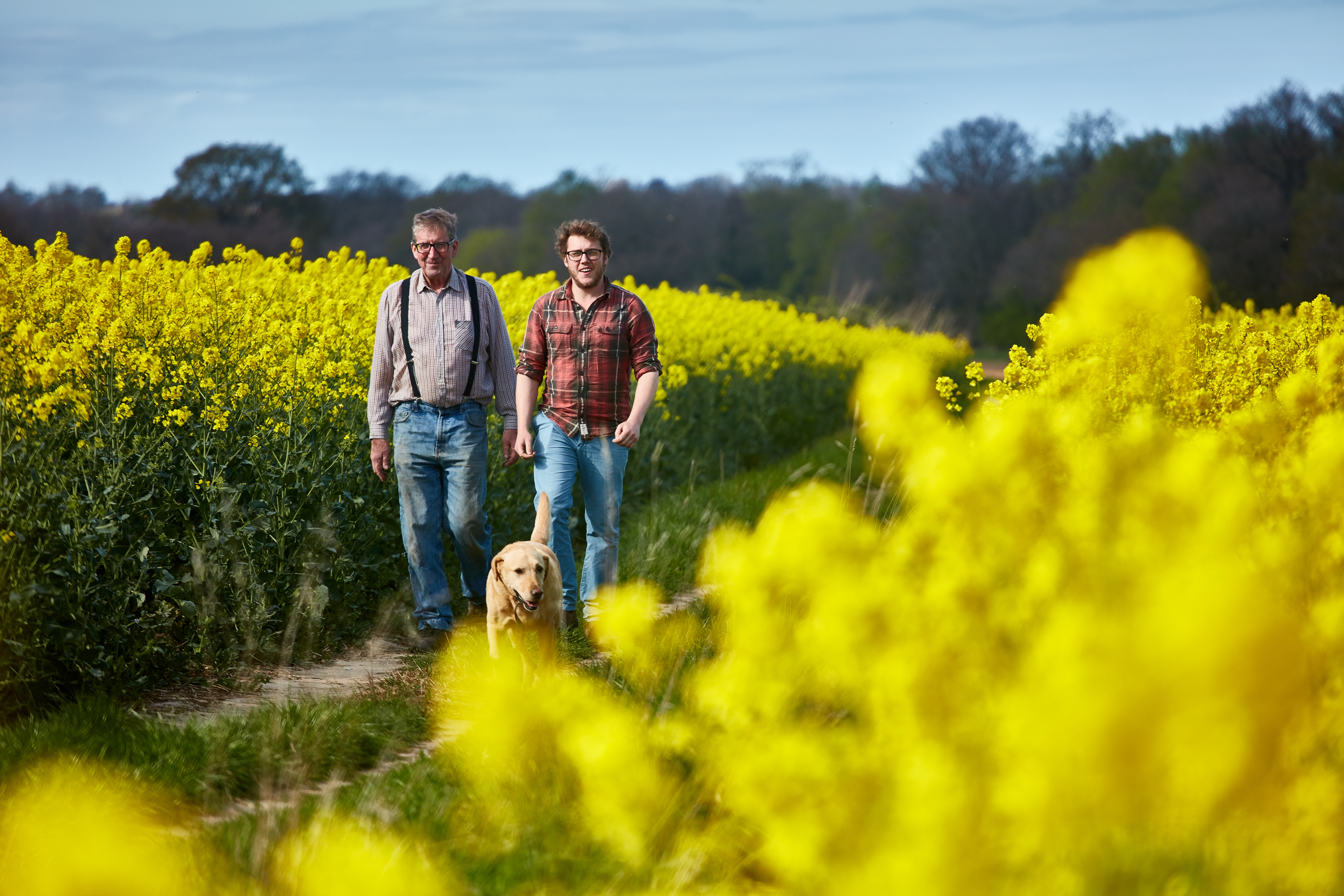 This month, Yare Valley Oil's social media account announced that they were the winners of the Best Specialist Food or Drink Producer in the Norfolk Hero Food and Drink Awards. And they are already Proudly Norfolk Members, part of a initiative by Norfolk Food and Drink that highlights local businesses' commitment to Norfolk's thriving food and drink community.
While the fields of Norfolk may no longer be gold, you can be sure that the Mack family from Yare Valley will continue to shine as they go about their business, turning Norfolk's fields of yellow into one of many Norfolk chef's must-haves in their kitchen.
Oh, and in case you were wondering, it was the roasting of potatoes one Christmas that made me such a staunch Yare Valley convert. I found that their rapeseed oil ensures the crispiest roast potatoes ever, while still being perfectly fluffy on the inside! Forget your duck fat – this is the stuff you need!