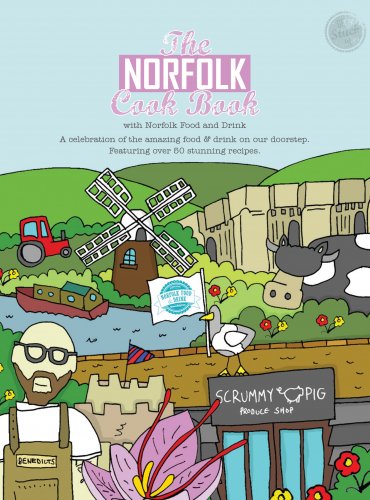 Proudly Norfolk – launch of The Norfolk Cook Book
Monday 8 May saw many of Norfolk's top restaurateurs, producers, butchers, coffee shops, pubs and other foodie establishments gather together at The Forum Library in Norwich for the launch of The Norfolk Cook Book. Printed and produced by Meze Publishing, who are producing a series of regional cookbooks, The Norfolk Cook Book launch truly celebrates the very best of our wonderful region.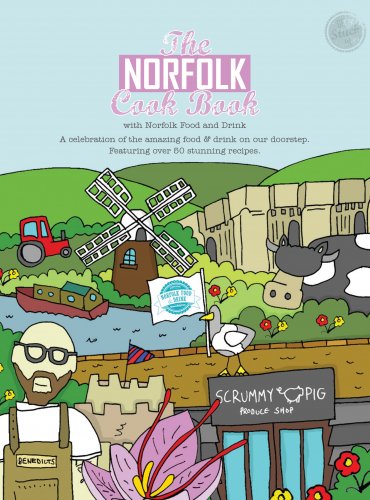 Those of us that live in – and love – Norfolk have been very vocal about our county for many years. Now, it seems that the rest of the UK is starting to notice the great produce that comes from our pastures and shorelines. From features in the national press to local food hero Charlie Hodson winning the Great Sausage Roll Off and championing Norfolk produce during his appearance on Sunday Brunch, the UK is slowly becoming aware of the great produce of Norfolk.
Meze Publishing have taken this awareness to another level; Twitter is full of images of their fantastic Norfolk-themed cartoon cover that features local chef Richard Bainbridge in all his comic strip glory as well as Norfolk Saffron, the Scrummy Pig Produce Shop – the first members of Proudly Norfolk – and other highlights of the region. With almost 60 recipes, including two cocktails, the cover and contents of this new book are sure to bring a whole new wave of fans across the border into Norfolk. And surely they, too, will then fall in love with all that our county has to offer.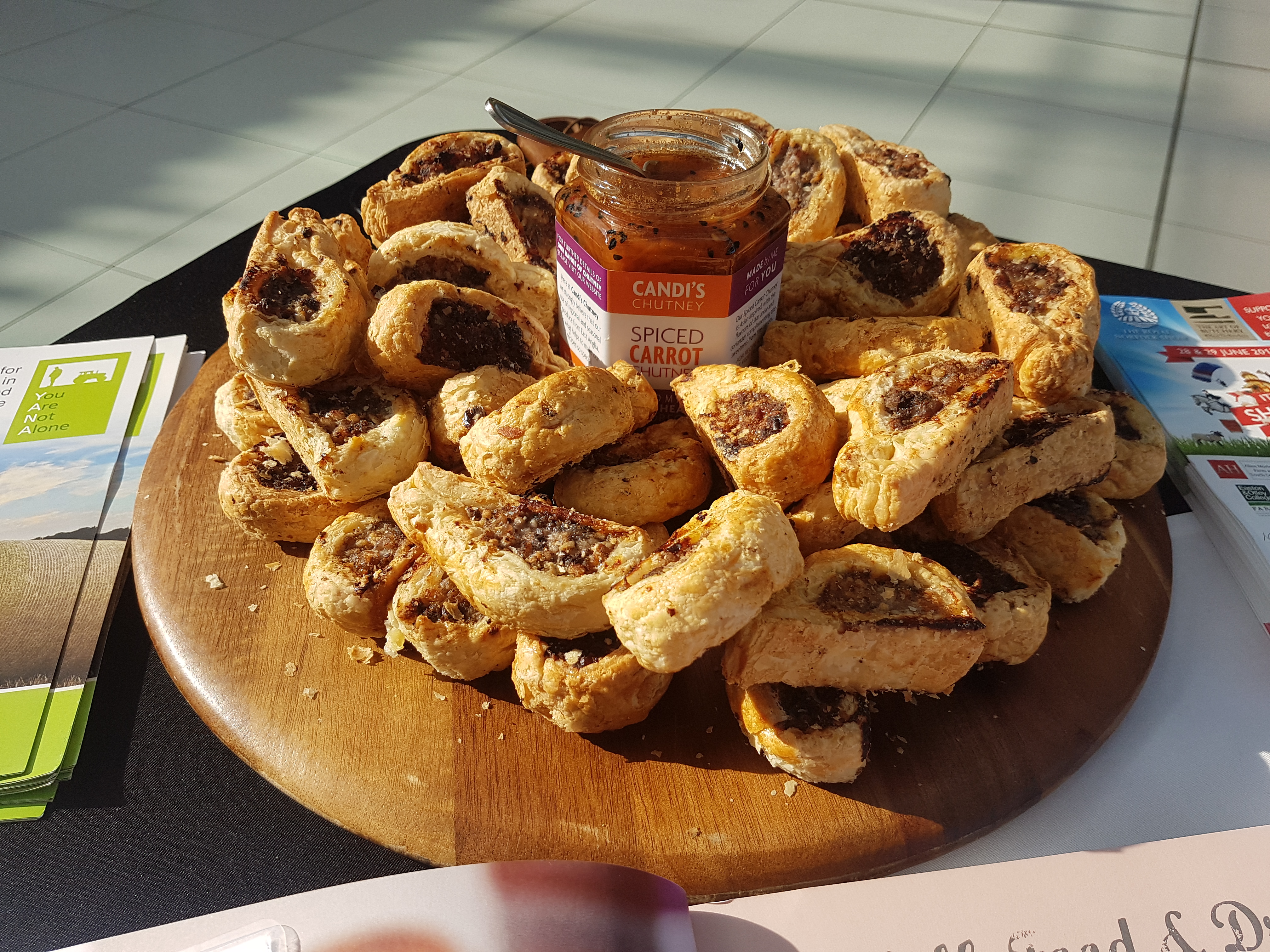 The evening was opened by Phil Turner, Managing Director of Meze Publishing, welcoming us all to the event. He said is how everyone recommends and promotes everyone else both through their recipes and when they talk in person, something he feels that is unique to this county. I feel that this truly sums up the Norfolk food scene, something so often referred to as the 'Norfolk foodie family', and it is wonderful that this is something so obvious to all.
Sarah de Chair, Chair of Norfolk Food and Drink, also welcomed everyone to the event, reinforcing Phil's words about how special this part of the world is in its attitude towards both its local produce and each other. Finally, Norwich food hero Richard Bainbridge of Benedicts Restaurant, also said a few words. His dedication and passion to all that Norfolk has to offer is clear, and his energy was infectious as he talked about the "bounty from the county".
Both Richard and other local food hero Galton Blackiston of Morston Hall contributed a foreward to this book, as well as a recipe. I am delighted that Richard has shared his Great British Menu winning dish of Betty in the Hen House, and I shall be attempting to make it at some point this year!
With the speeches done, the launch party then got underway. Around 15 different suppliers brought foodie offerings for everyone to enjoy, and the brilliant Bonnie and team from Adnams in Norwich were there once more, offering their fizz to all. This was kindly donated by Adnams, who are very strong supporters of Norfolk Food and Drink.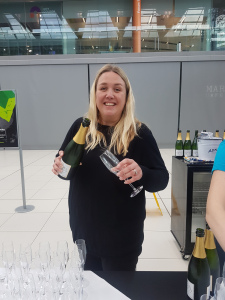 Highlights of the offerings were, for me, the Scotch eggs from Back to the Garden, based in Letheringsett. Their two offerings – Cumberland and vegetarian – went down a storm and I was lucky enough to have a few *ahem* to take home with me! The outside was so incredibly crisp while the inside was full of flavour. The vegetarian ones, with their lovely nut roast and fresh vegetable interior, proved to be especially popular.
Also of note were Ollands Farm Foods with their Gold award winning marmalades – the lime and chilli was my favourite, and I was told that some of their clients enjoy it on ice cream. With its real citrus tang, and the gentle heat of the chilli, I can well believe that it would taste wonderful swirled into an ice cream.
Also of note were the delicious, light doughnut balls from The Loddon Swan, they of the great food map of provenance as showcased in my recent blog. These balls were filled with rhubarb and custard – the rhubarb wonderfully tangy and, of course, so seasonal. If there is something that these people all have in common other than a passion for Norfolk produce, it is using seasonal ingredients. The Loddon Swan's chef Jason Wright was there to share his knowledge of local ingredients, and I think another visit to this lovely pub is definitely on the 'to do' list.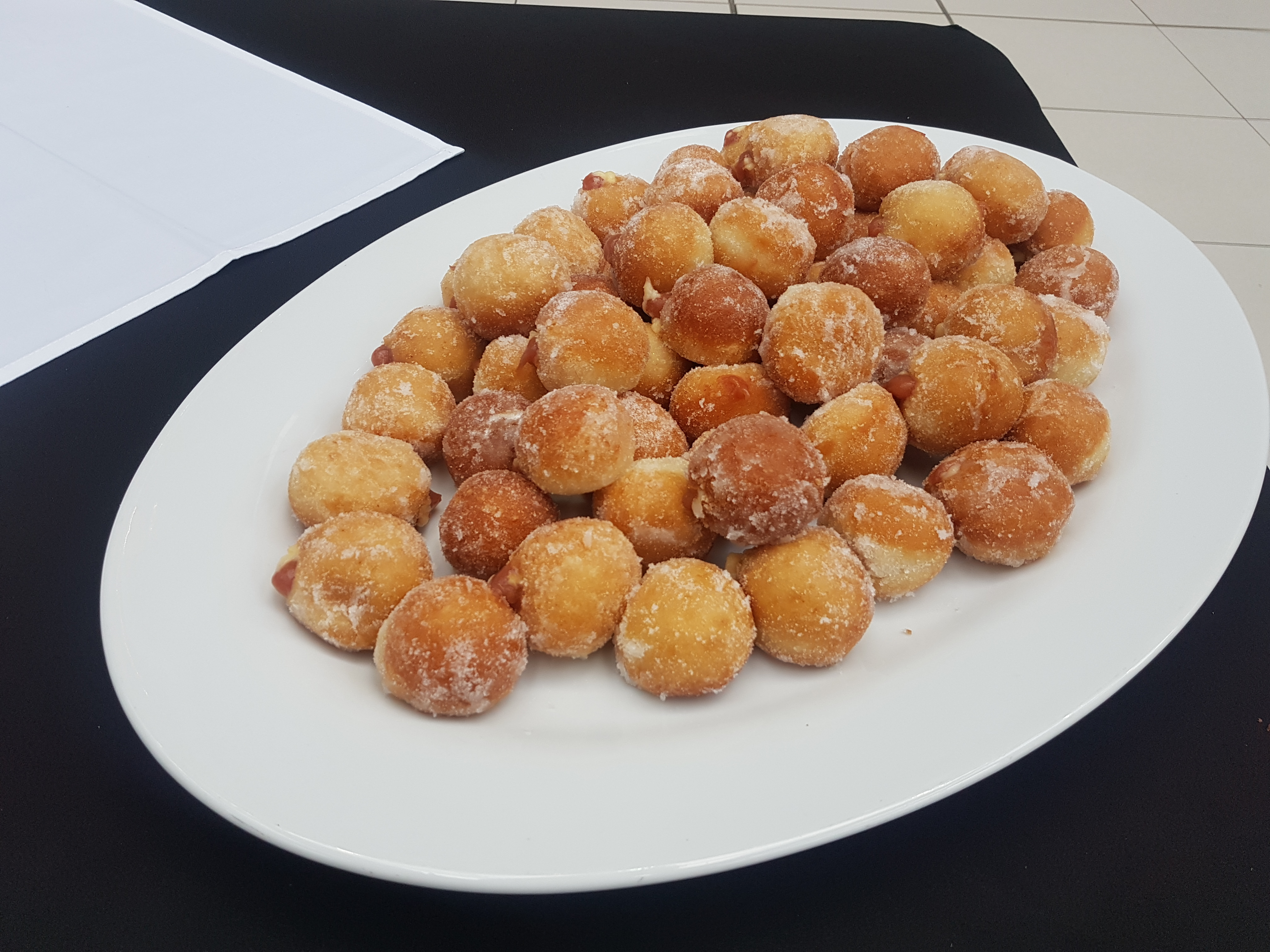 A mention must also go to The Boars at Spooner Row, whose chef Mark Elvin was also in attendance. Their porky offerings looked amazing – sadly I missed out on the sausage rolls, but the elegant boar-shaped Norfolk crunch cake was delicious! I have recommended that they bring these to Porkstock so there may be plenty more opportunity to enjoy their wares yet!
Alongside The Boars was Bullards Spirits, offering both gin cocktails, made from their Norwich Gin, recently named as the World's Best London Dry Gin at the World Drink Awards. There was also Bullards No 3 Amber Ale on offer, which many enjoyed with their sausage roll from The Boars!!
There were also offerings from Norfolk Saffron, Green Pastures Nursery, The Wells Crab House, Figbar, Briarfields Hotel, Seasons Bounty, Rooftop Gardens, Walsingham Farm Shop, Moorish, Eastgate Larder, Mustard Coffee Shop and Lakenham Creamery. I apologise if I have missed anyone out! I didn't get to taste everything, either, so I have only commented on the produce I did try.
The recipes for many of these dishes can be found in The Norfolk Cook Book. The variety on offer last night certainly summed up the great variety of Norfolk's offerings, from fish to beer, saffron to sweet delights, the all important sausagemeat, and also the salad products that are grown locally. More importantly, the evening highlighted the wonderful diversity that is found in this county and I know that I will be making sure I visit as many of the local restaurants, cafes, farm shops, butchers, and markets as I can to support these stalwarts of our Norfolk foodie family.
Above all, I will be in the kitchen, endeavouring to recreate the wonderful dishes found in this book and I have already highlighted Kate Barmby's raspberry , rose and chocolate meringue pie as something to rustle up soon. Kate was present last night and it was lovely to have a chat with her – and a crossover to my day job, as it turns out her mother had a horse sired by a friend's Arabian stallion! It certainly is a small world indeed! Also tempting the tastebuds is curried monkfish tail, cauliflower couscous, charred little gem and apricot purée from The Boars; roasted loin of Holkham venison from Brasteds; mango bavarois with mango salsa and mango sorbet from the brilliant City College Norwich Hotel School; the quick-cook cottage pie from Coxfords Butchers; and the Norfolk Paella from Creake Abbey to name just a few. I could go on, and seriously do need this book in your kitchen.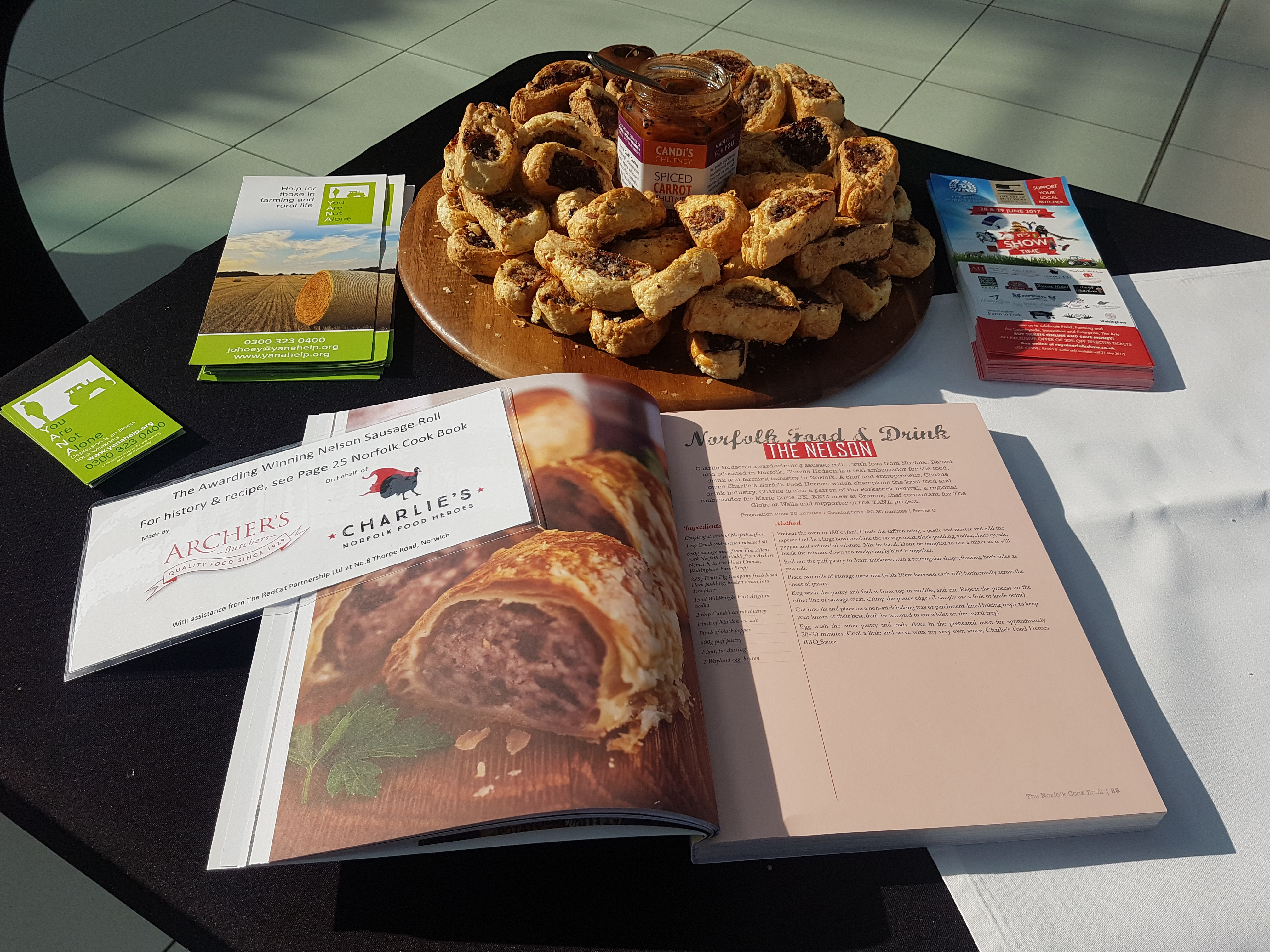 Norfolk Food and Drink supported the whole endeavour as well as the evening, and Coordinator Anna Stevenson said: "Norfolk Food & Drink is absolutely thrilled to be involved with The Norfolk Cook Book. We think it is a fantastic and diverse collection of some of Norfolk's finest producers, coffee shops and restaurants and a real testament to the incredible talent which we are proud to celebrate here in Norfolk. A big thanks to Meze publishing and all those whose hard work has brought this wonderful publication to fruition."
You can order your copy of The Norfolk Cook Book directly from Norfolk Food and Drink, as well as purchasing one at the featured places in the book itself.
All in all, it was a wonderful evening. There was a terrific energy in the room as so many people came together to celebrate the very best that Norfolk has to offer. A thank you to all who came and enjoyed the evening, all who contributed to The Norfolk Cook Book, and to Meze Publishing.
For now, however, The Norfolk Cook Book is going to linger in my kitchen for a while as I go back and forth through the pages, looking for local, and divine, inspiration. I hope you have as much fun with your Norfolk Cook Book journey as I plan to!
Samantha xx