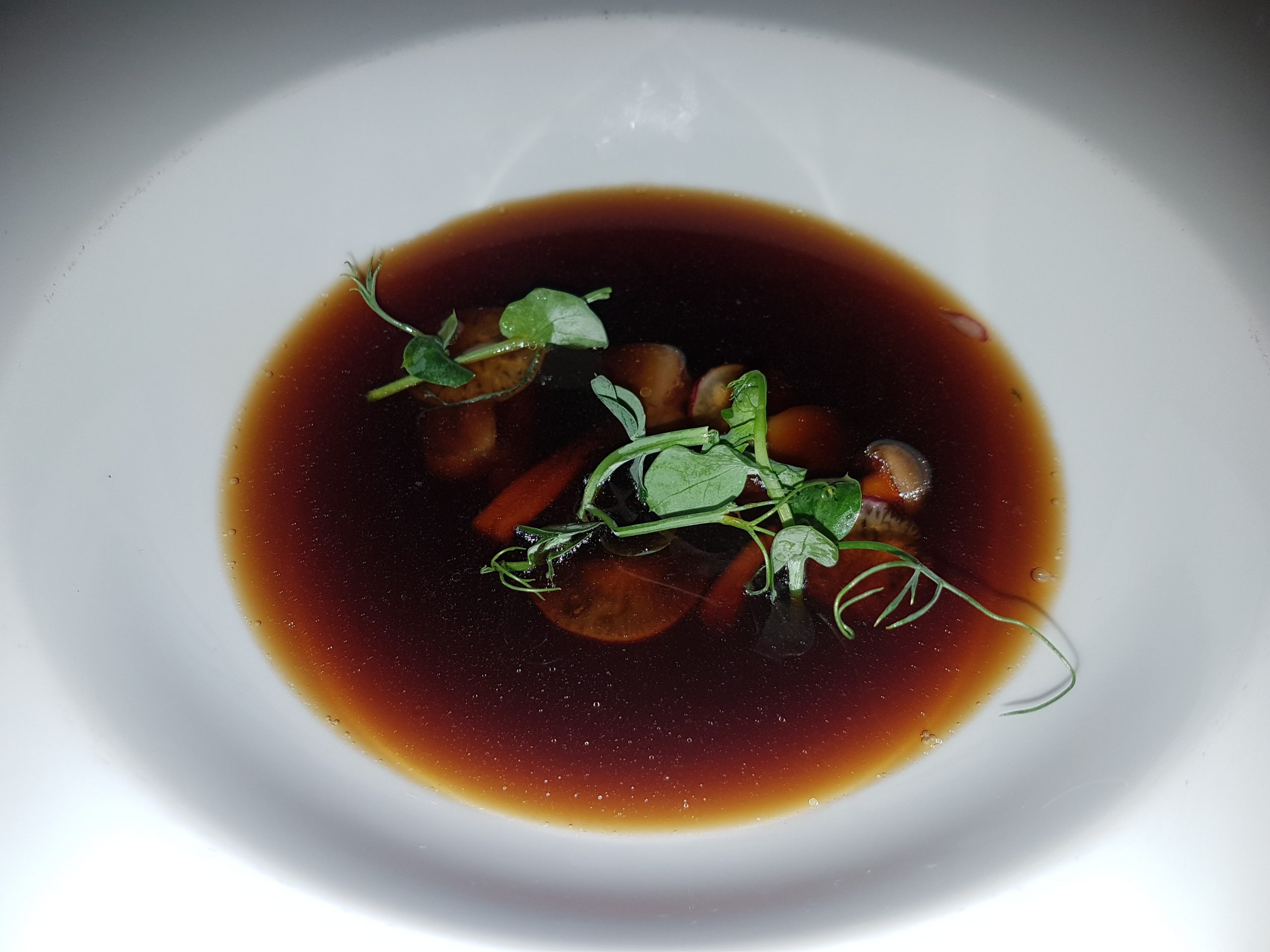 March – Morston Hall, Loddon Swan & the launch of Nelson's Gold…
Hello my wonderful Delicate Diners. I am sorry for my absence. I had a bad accident at the end of February and that, combined with a very intense deadline for my publication, The Arabian Breeders' Magazine, resulted in blogging being the last thing on my mind.
But there is so much to write about! March saw me enjoy an afternoon tea at The Assembly House, Norwich, all in aid of Marie Curie. Then there was dinner at Morston Hall, part of Galton Blackiston's 25th anniversary celebrations. Wild Knight vodka launched their new delicious drink, and I enjoyed lunch with my parents for Mothering Sunday at the Loddon Swan. Add to this lunch at The Wildebeest and Weavers, as well as two Adnams tasting nights, and it certainly has been a culinary month indeed!
The highlight…
There is no question that the highlight of the month was dinner at Morston Hall.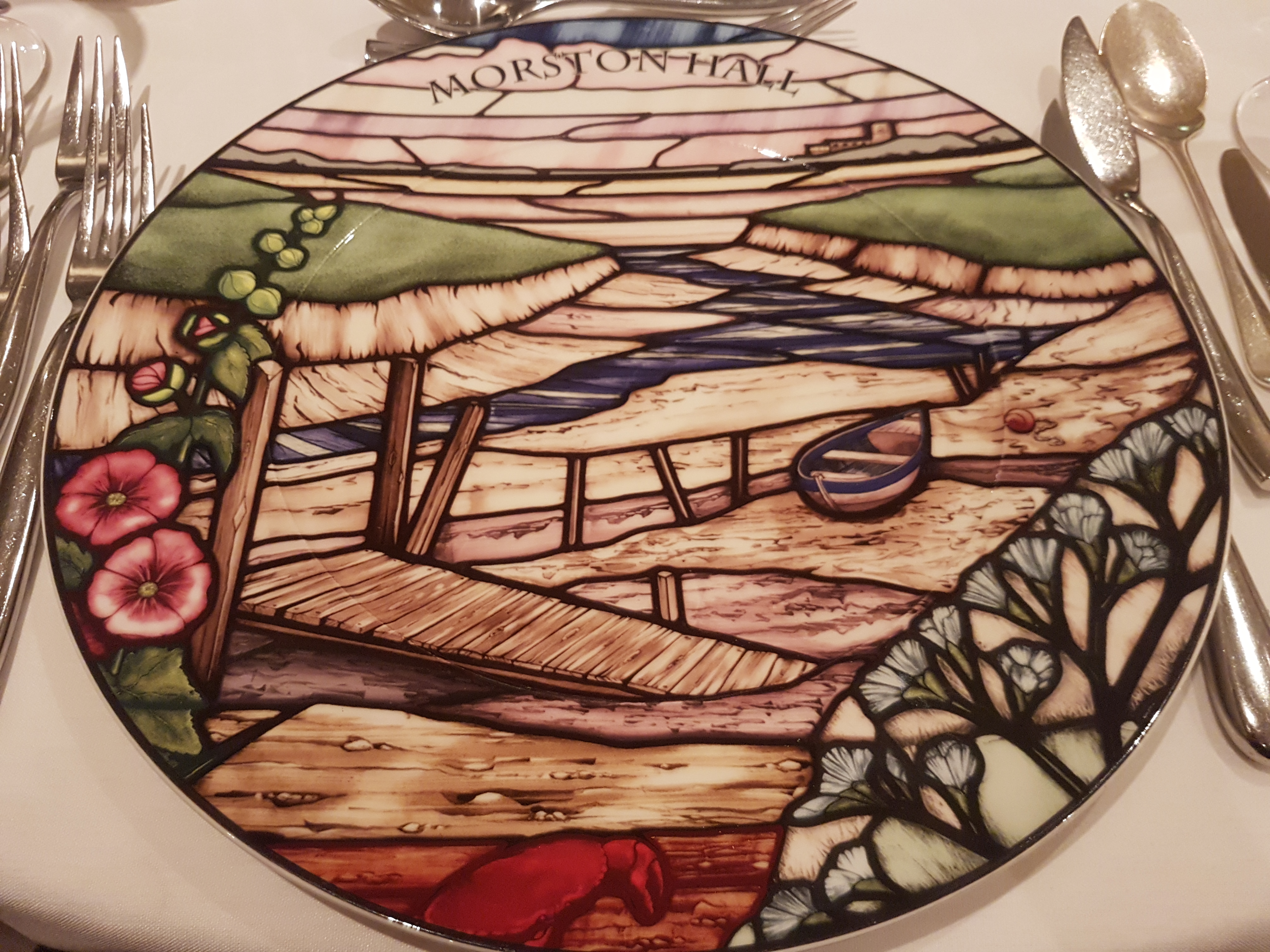 March saw Galton, owner and chef patron of the Michelin-starred Morston Hall, and his wife, Tracy, celebrate 25 years since the restaurant was founded. With this in mind, a number of special dinners to celebrate 25 years at Morston were held during March; the idea was to take the 1992 menu and bring it up to date for the discerning diners of 2017. The result – simply sublime food.
The seven courses – ten, if you include the snacks and amuse bouche while enjoying your pre-prandial drinks and then your coffee and (incredible) chocolates after dinner – began with a dish from 1992. Tomato, apple and celery soup. Sounds innocuous enough? It was incredible! A layer of tomato consomme on the bottom, a celery soup, and then on top, apple… All different densities, so that they sat beautifully, and this simple-sounding bowl of soup was just bursting with flavour. Galton – please may I have the recipe? This soup definitely is something to remember.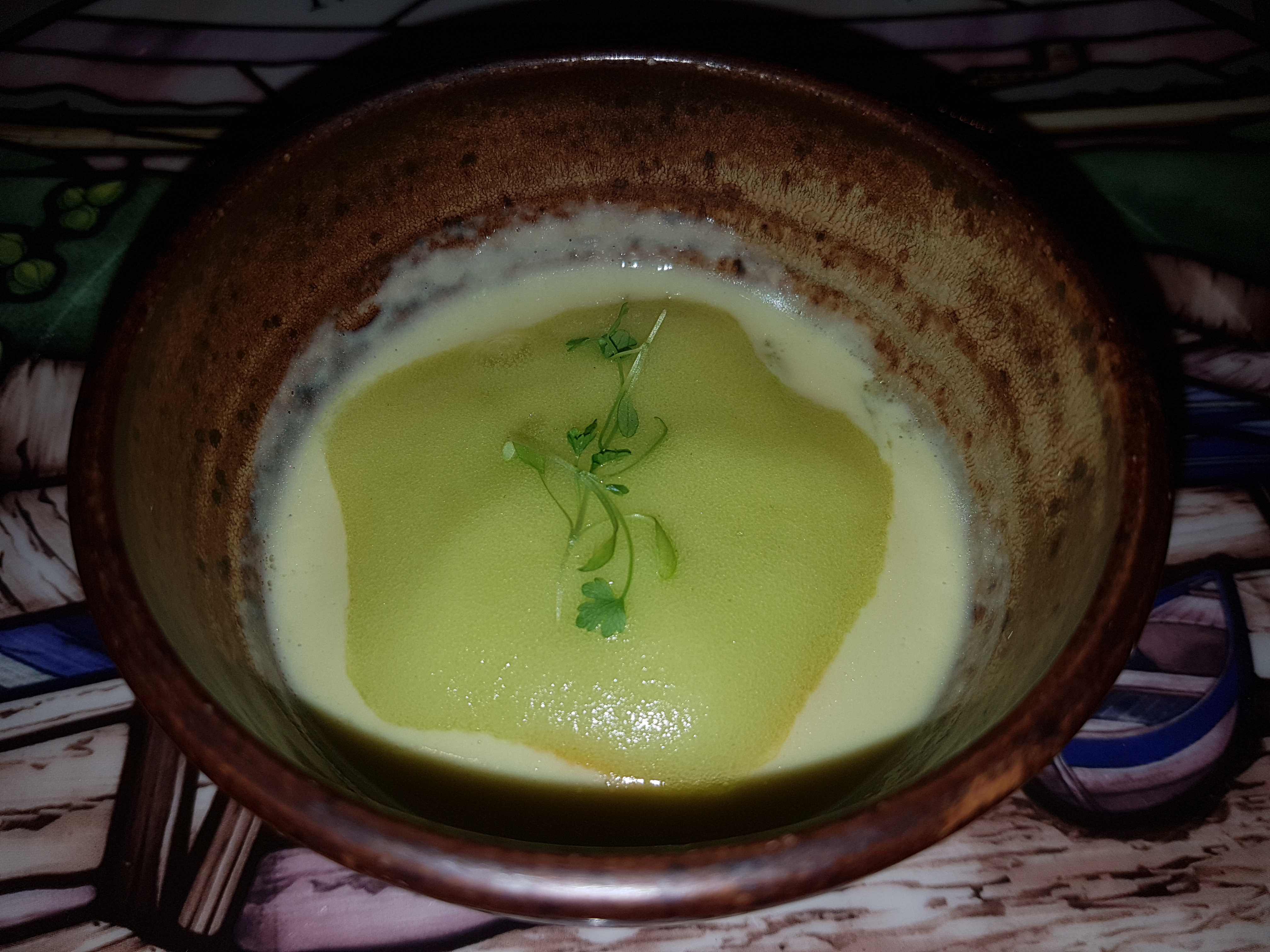 From there, it was another dish from 1992, the equally amazing confit Goosnargh guinea fowl terrine – mine served with fig chutney while others enjoyed Cumberland sauce. Last year's menu choice of Brancaster mussels with lovage was replaced with wild halibut with curry jus for me; my allergies, as always, taken care of. My fish was wonderful, with tiny little pomme souffles and a coriander oil to complement all the flavours. Bravo!
Salt-baked wild sea bass with champagne sauce followed, a dish first served in 2002. The bass was so fresh, so full of flavour, and the leeks and chanterelles complemented the fish beautifully.
From 1999, we had Holkham Hall venison wellington, with celeriac, cavalo nero and a white pepper jus; yes, white pepper, the aromatic and overlooked spice that seems relegated to the back drawer these days made a very welcome appearance. The hero of the dish – sorry for saying that – was the venison but the roasted celeriac was incredible! Sweet, soft, earthy… That, with the sweet addition of berries, brought the whole dish together nicely, especially when contrasted with the peppery-iron of the cavalo nero. Another delightful plate of food.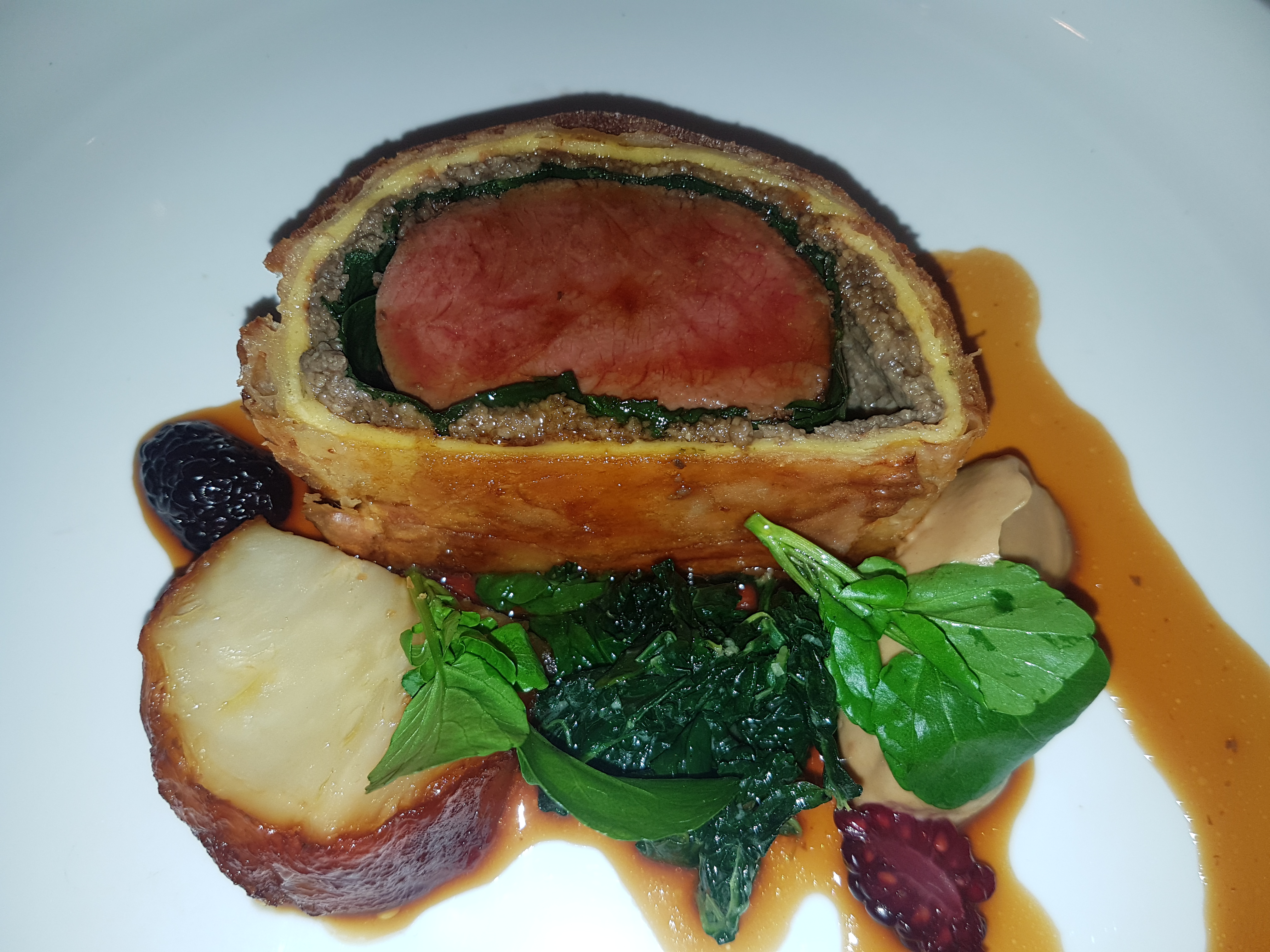 I loved the 'pre-dessert' – large enough to be a dessert in its own right! Listed on the menu as 'caramel parfait' from 1996, this delicate little caramel mushroom on a forest floor of chocolate, including a green white chocolate leaf, was sublime. I am not a huge fan of chocolate soil; it has been done to death, and all too often, it is over-sweet, lacking in texture, and rather spoils the rest of the dish. This. however, being 21 years in the making, had all the finesse one would expect from a Michelin-starred establishment. The whole combination was fantastic and, to be honest, I could happily have ended my evening there.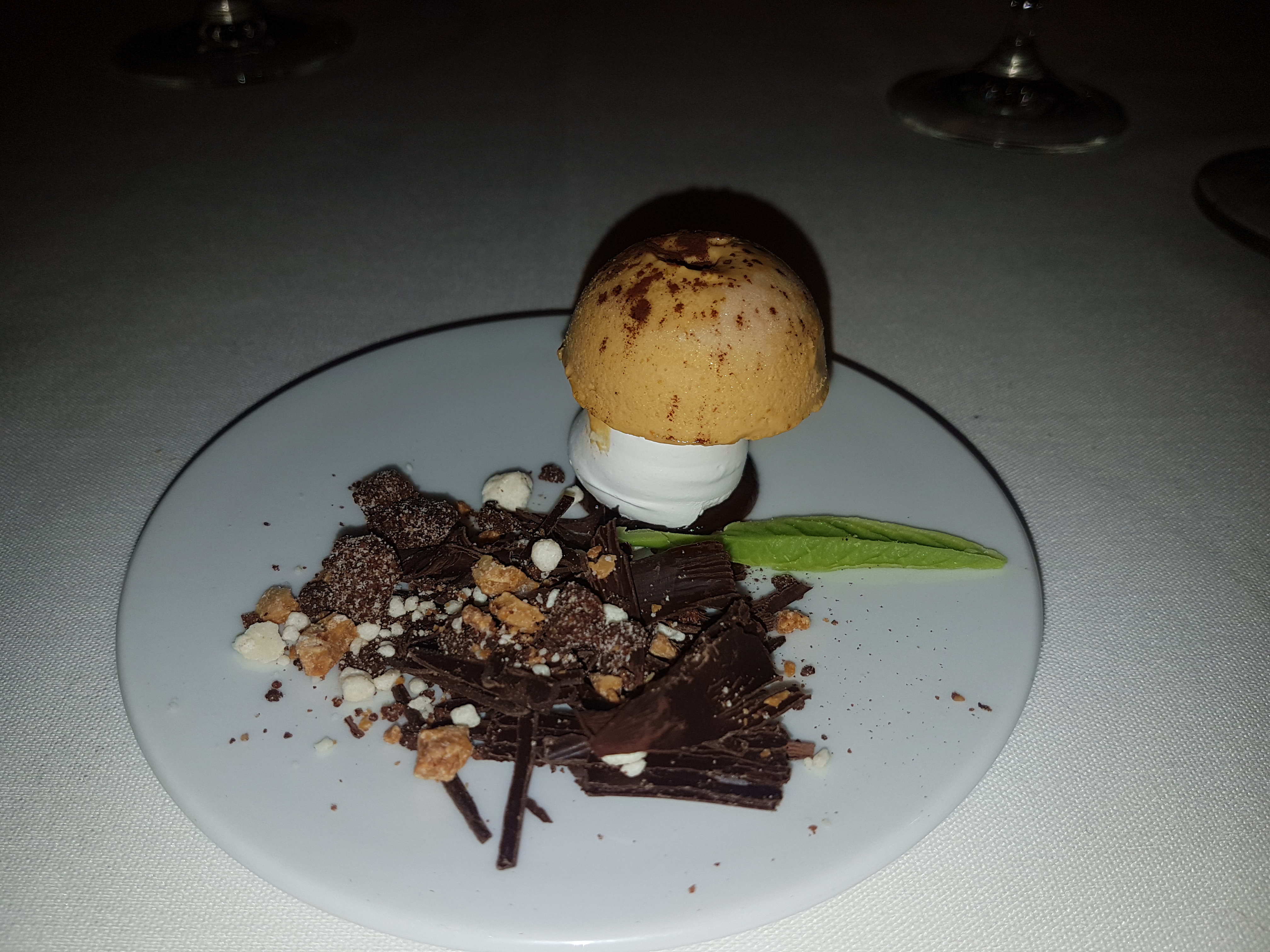 However, from 1998, we had a rhubarb and egg custard tart. I am not a fan of egg custard – I never have been, and likely never will be – but this did have good flavour, and I loved the decent amount of nutmeg freshly grated on top. Dad did finish mine for me (sorry Galton!) but this is purely my own tastebuds talking, not the quality of the food.
A word on the pre- and post-foodie delights: all were exceptional, as one would expect, but mention must be made to the chocolates especially. Presented in a tray on a bed of chocolate soil, they looked incredible and it was hard to decide which two you wanted; I was spoiled, and had three, with bursts of salted caramel and passion fruit exploding in my mouth as I bit through the delicate chocolate shell. Galton's pastry chef has been developing this range and, rightly, they are something to be excited about.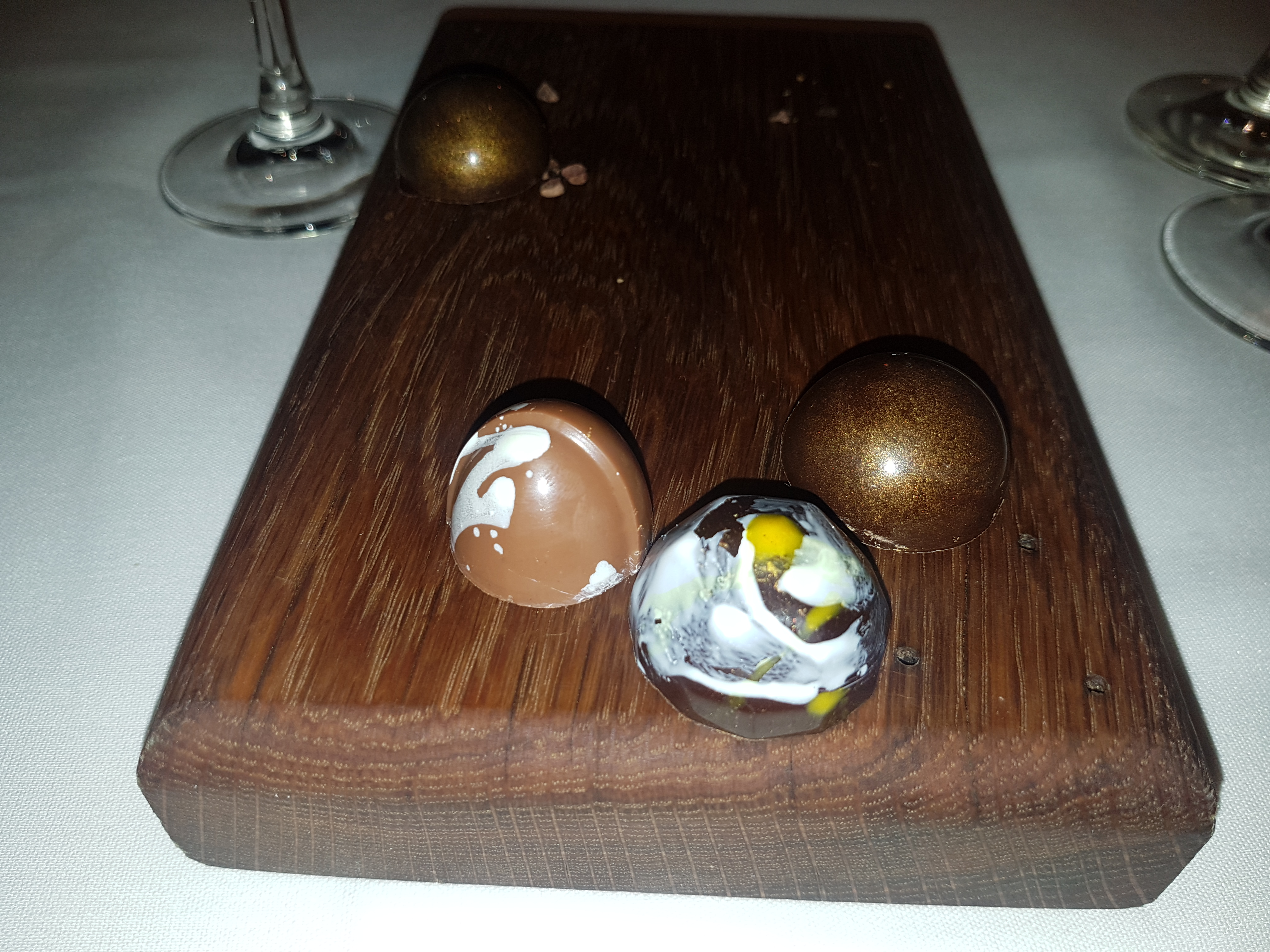 I must also mention the wine. While we enjoyed a very lovely bottle of red, a pinot noir to accompany most of the majority of the dishes, we did have one wine from the wine flight – the Château Ste Michelle Cabernet Sauvignon from Indian Wells, America. A 2013 vintage, this red was incredible and complemented the venison perfectly. The sommelier matched the wines to each course perfectly, and I look forward to returning again and perhaps enjoying the wine flight as well as the meal. And again, Galton, if there's a spare bottle of this lying around, I think I could find it a good home!
All in all, an incredible experience. Galton is the original Norfolk Food Hero, and he has been championing food from this region for many years now, especially through his regular slots on Saturday Kitchen.  He also showcases the great range of fish that we can enjoy from this coastline well, and has a new cookbook out next month to celebrate just that.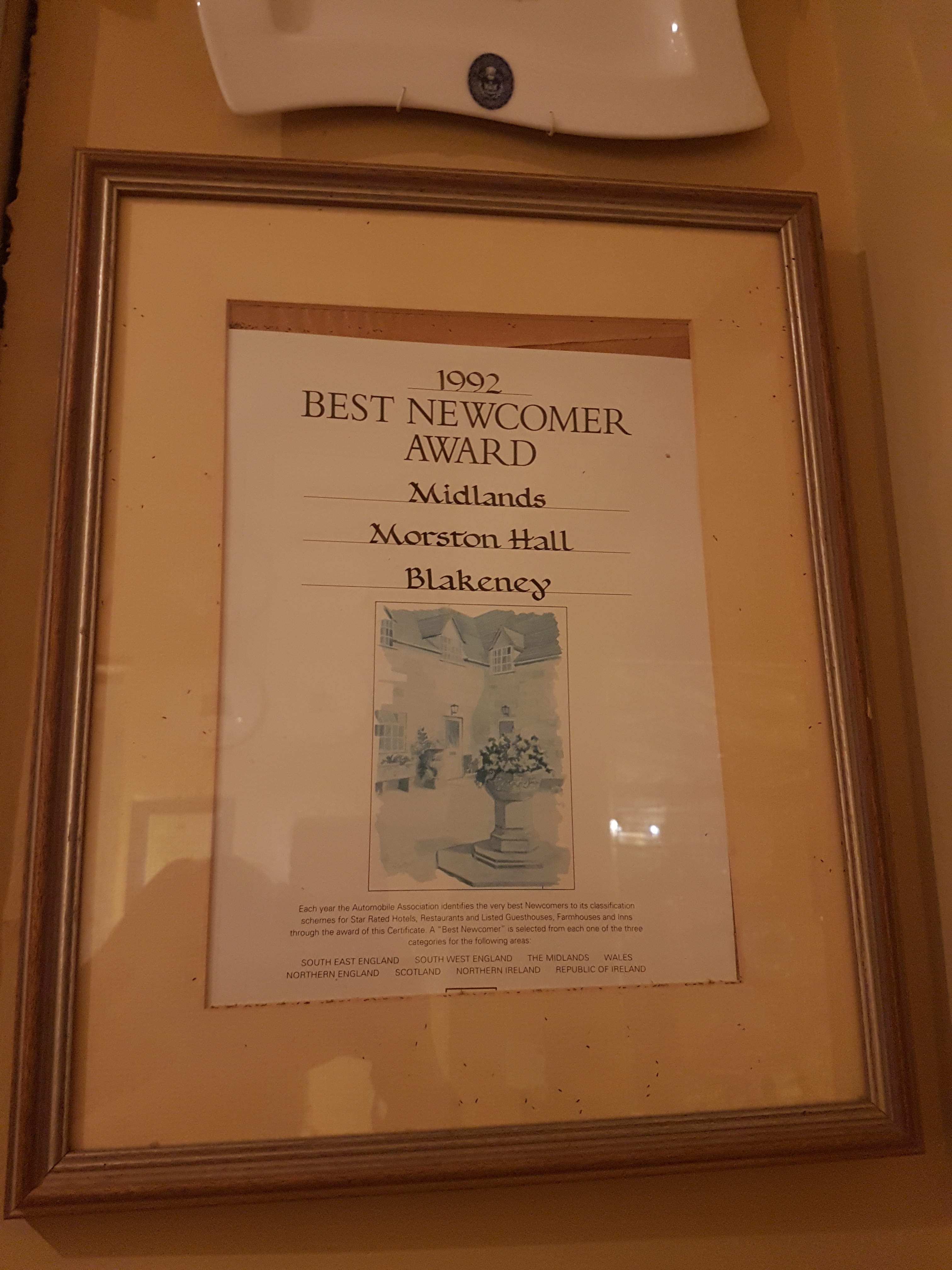 It really was a spectacular night, and just what the doctor ordered. Thank you to Galton and the whole Morston team for another unforgettable evening.
The delightful find…
Mothering Sunday saw us visit The Loddon Swan. Mum has wanted to visit here for a while but it is not on our doorstep, so we have just never made it. With Relish Restaurant no more – something that we still lament – we have been casting our foodie net further and so we crossed over the A146 to Loddon. And what we found was an unexpected delight.
Being Mothering Sunday, we pre-booked our lunch. Three courses cost £27.95 and we were incredibly surprised with the plates of food presented to us; the quality was fantastic, the value for money great, and the food flavoursome.
One thing that immediately struck me was how aware the team at Loddon Swan are on the provenance of their food. Rather than place mats, we had fantastic sheets showcasing where all their food comes from. This brilliant idea really underlines what Norfolk dining is all about – taking the very best of our region, and celebrating it.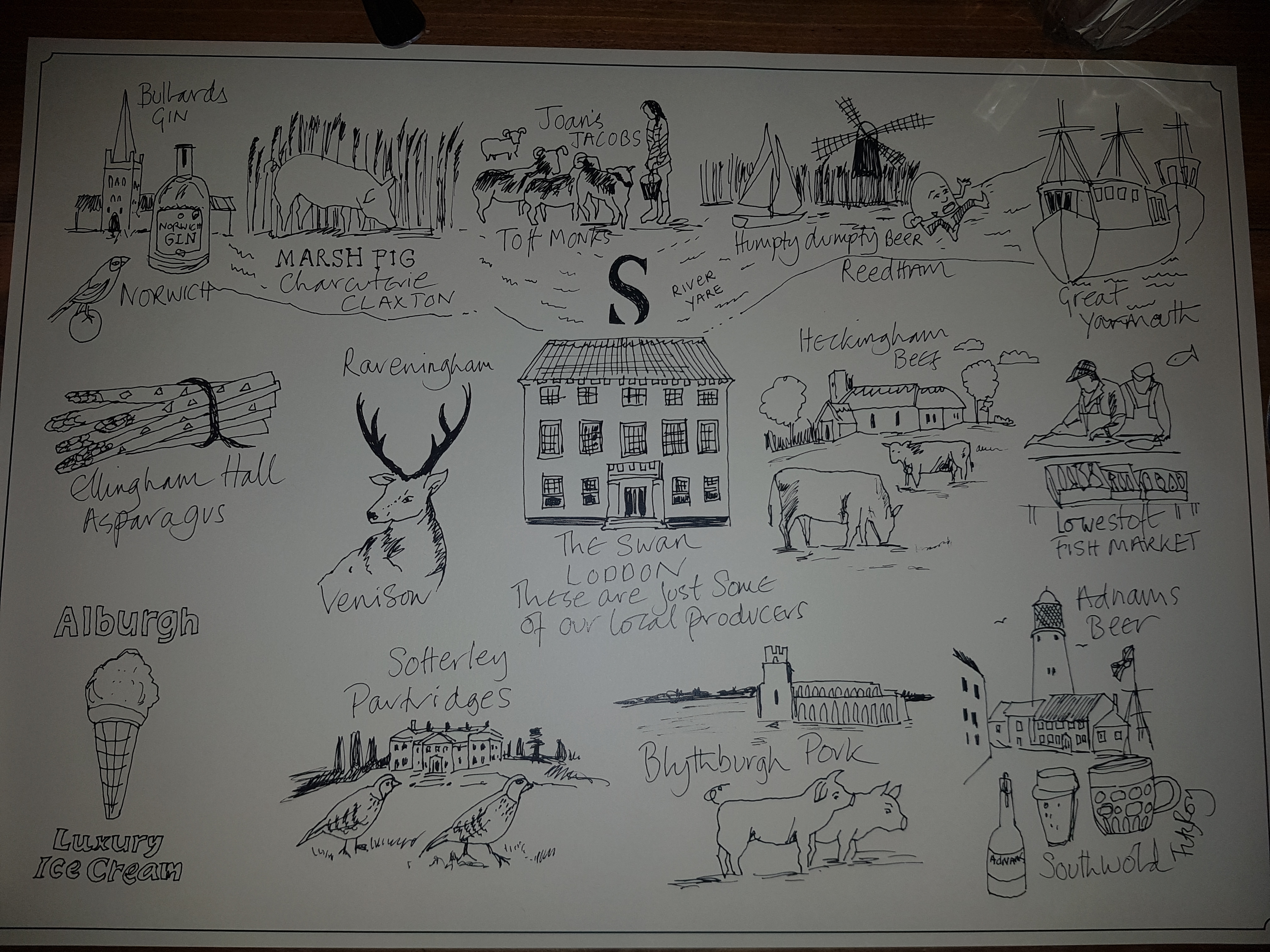 My starter was wild mushroom consomme with chestnut and radish. When I ordered, I hoped for a true consomme – thin and packing a powerful punch of flavour – and that was just what I received. I loved the chestnut element to the dish as well as the thin crunch and freshness of the radish. Just like my soup experience at Morston Hall, my bowl was sent back to the kitchen clean.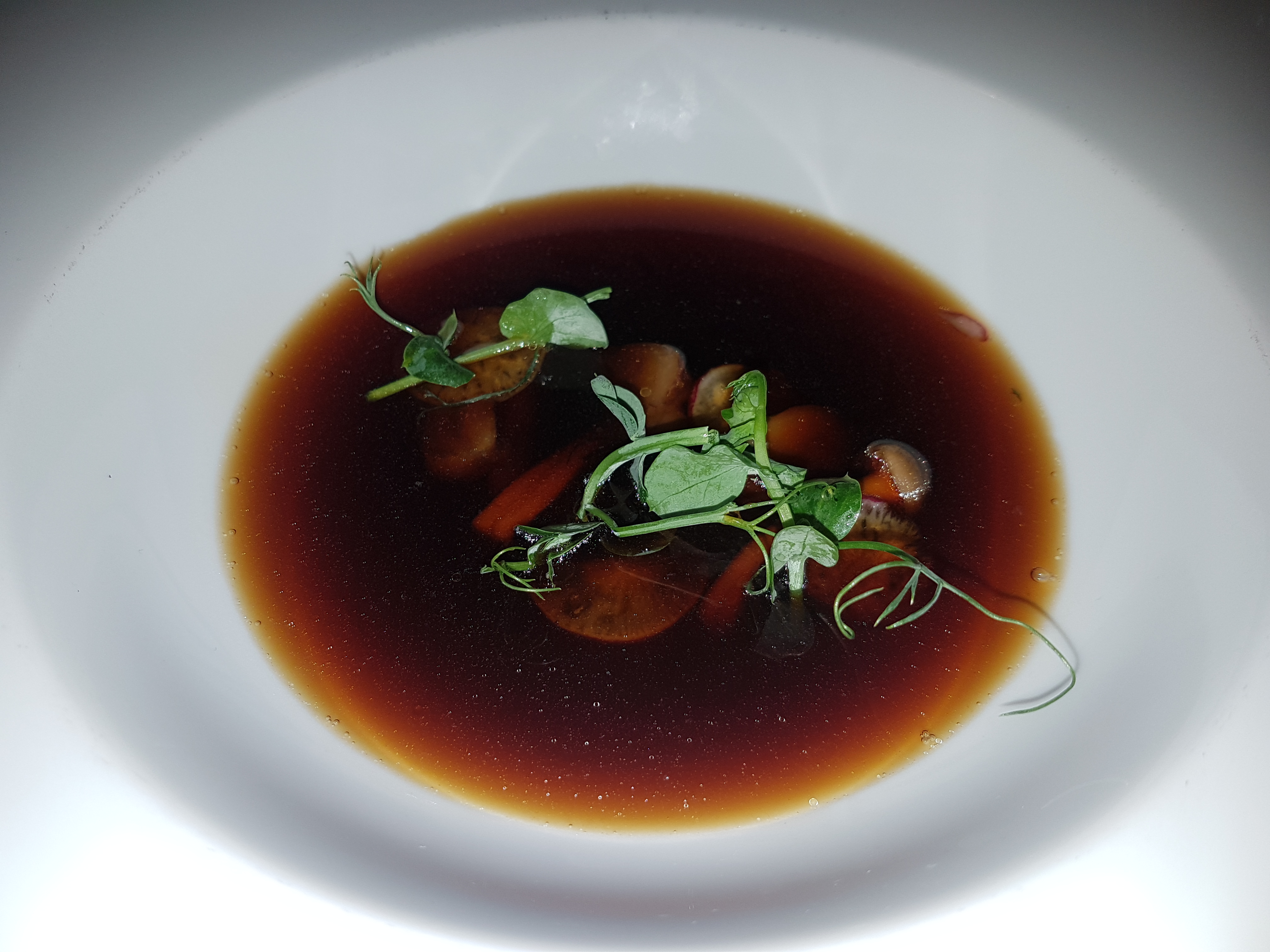 My mum opted for chicken liver and port parfait with bacon and walnut crumb, and she enjoyed every mouthful. Dad went for the charred carrot, smoked goats cheese, pickled walnut and herb crumb and again, he enjoyed.
For the mains, we all went for the roast option – topside of Heckingham beef in my parents' case, and loin of pork for me. Over the years, I have found that the roast is what lets so many restaurants down – bland, underdone potatoes, mushy veg, and insipid gravy. Not this time! My congratulations to head chef Jason Wright and his team on serving the best roast I have enjoyed outside of my own home! Generous portions, crispy crackling, absolutely perfect potatoes, a great variety of perfectly-cooked veg, still holding its bite, and decent gravy served in jugs. I will be going back there for the roast alone!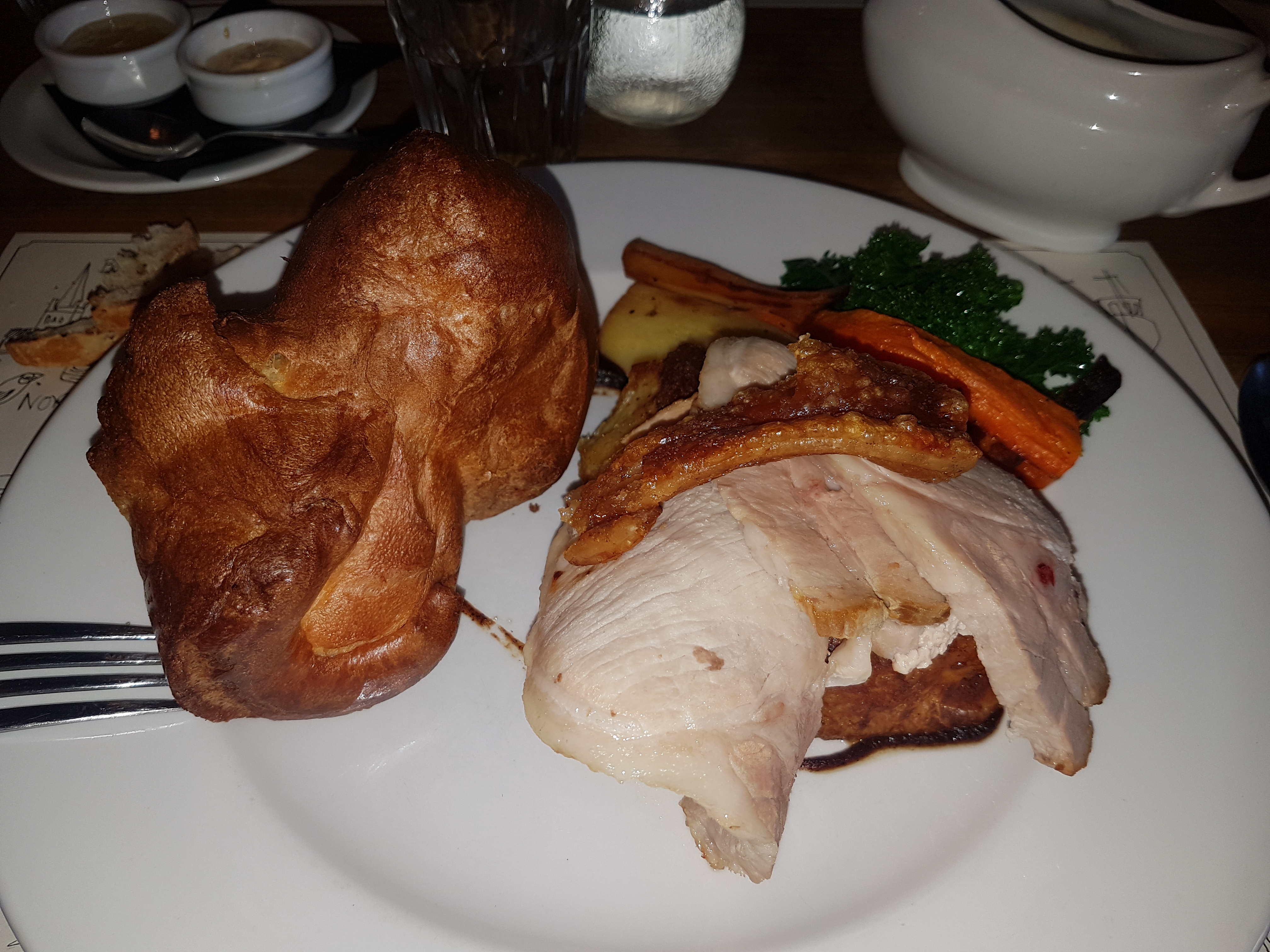 Dessert was dark chocolate torte with salted popcorn – mum's with the addition of orange, while dad plumped for the sticky toffee pudding with vanilla ice cream and glazed apple. This pudding sat in a dark, sticky pool of sauce, and I did have pudding envy. For me, the chocolate was too brownie like and, after my years of gluten-free intolerance – so very thankfully gone – brownies are still on my 'no, not again' list, having eaten so many of them in those wilderness years. Again, personal taste, and I should have plumped for that amazing sticky toffee pudding.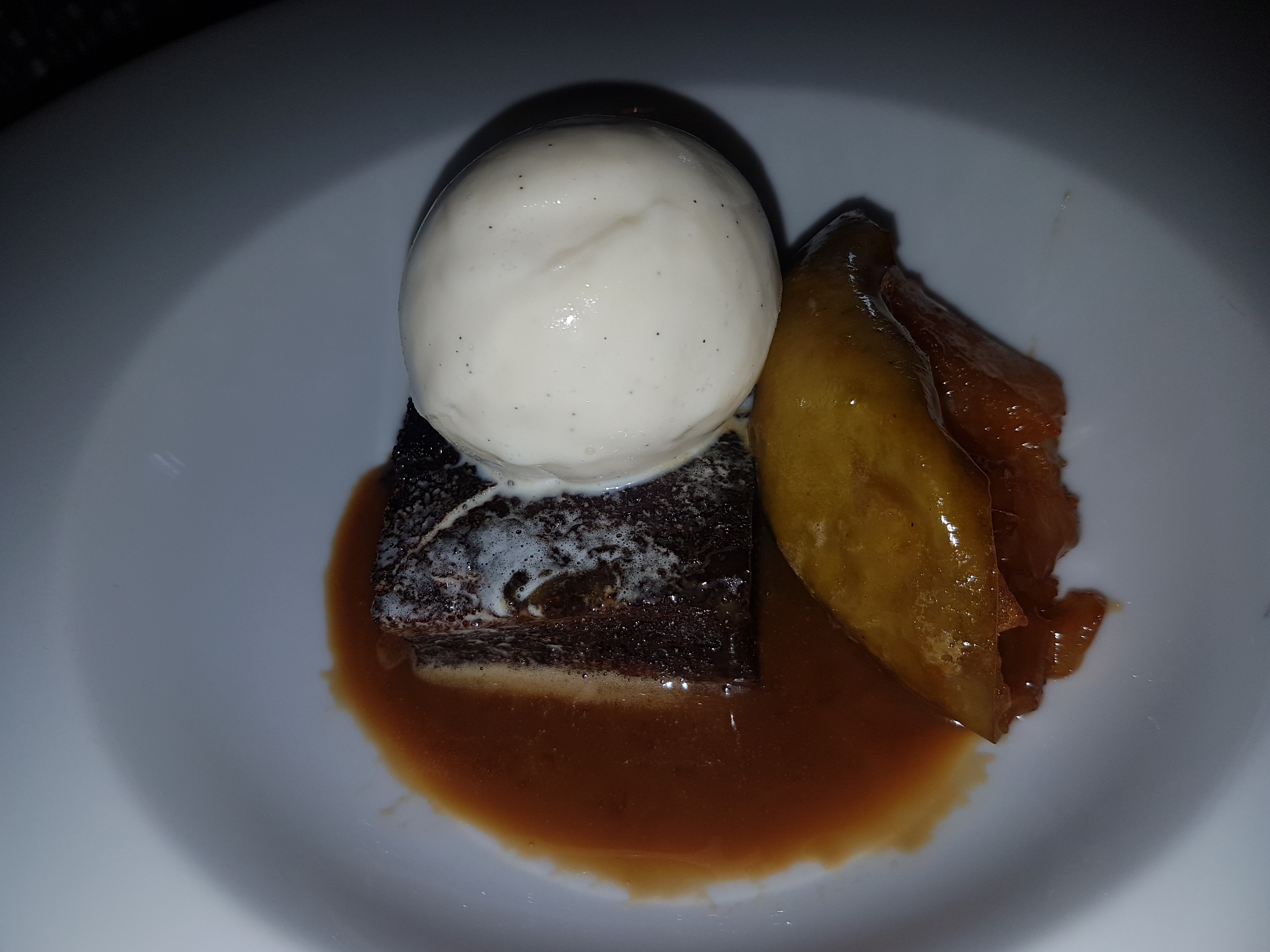 I thoroughly recommend The Loddon Swan, and we will be back!
Pudd'Eng
Speaking of puddings, a quick word about the fabulous Kate Lyons and her Pudd'Engs. I kept seeing these in my favourite local deli, the Earsham Street Deli. I finally purchased one, treacle and walnut, and rejoiced to find a proper, old-fashioned pudding. Wrapped in wax paper, two minutes in the microwave, and empty the pot out on to a plate for a proper steamed pudding, surrounded by a moat of sauce. The perfect indulgence – not least because unlike so many puddings of this ilk, Kate's Pudd'Engs are light; rather dangerous, really!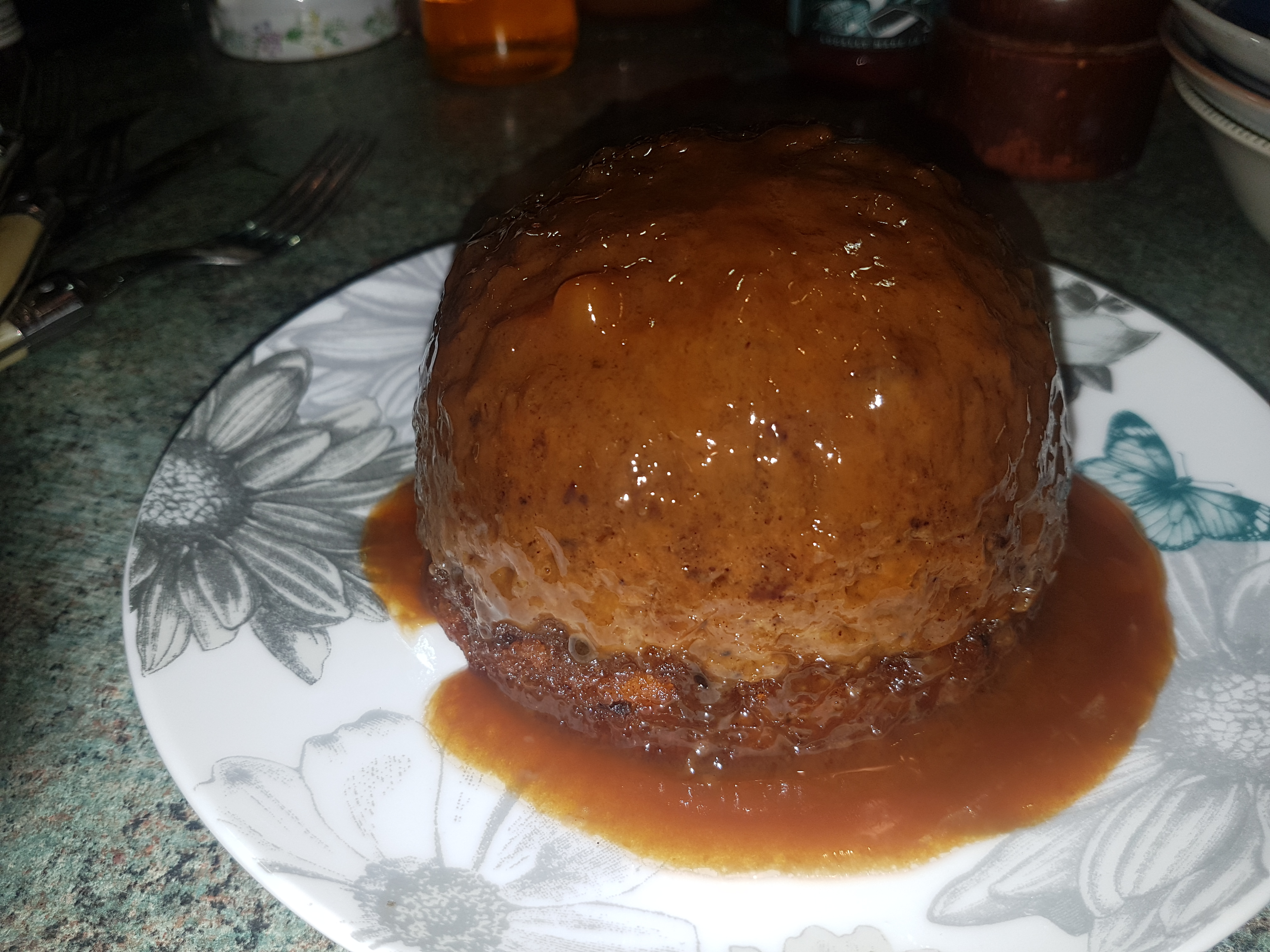 In March, Kate was in store at the Earsham Street Deli to do a tasting. I hobbled in – post accident – and went straight for her award-winning chocolate and ale pud. Oh my…! If you ever are in need of comfort food, then this is it. Rich, yet light, indulgent and incredibly satisfying, this has to be chocolate pudding heaven.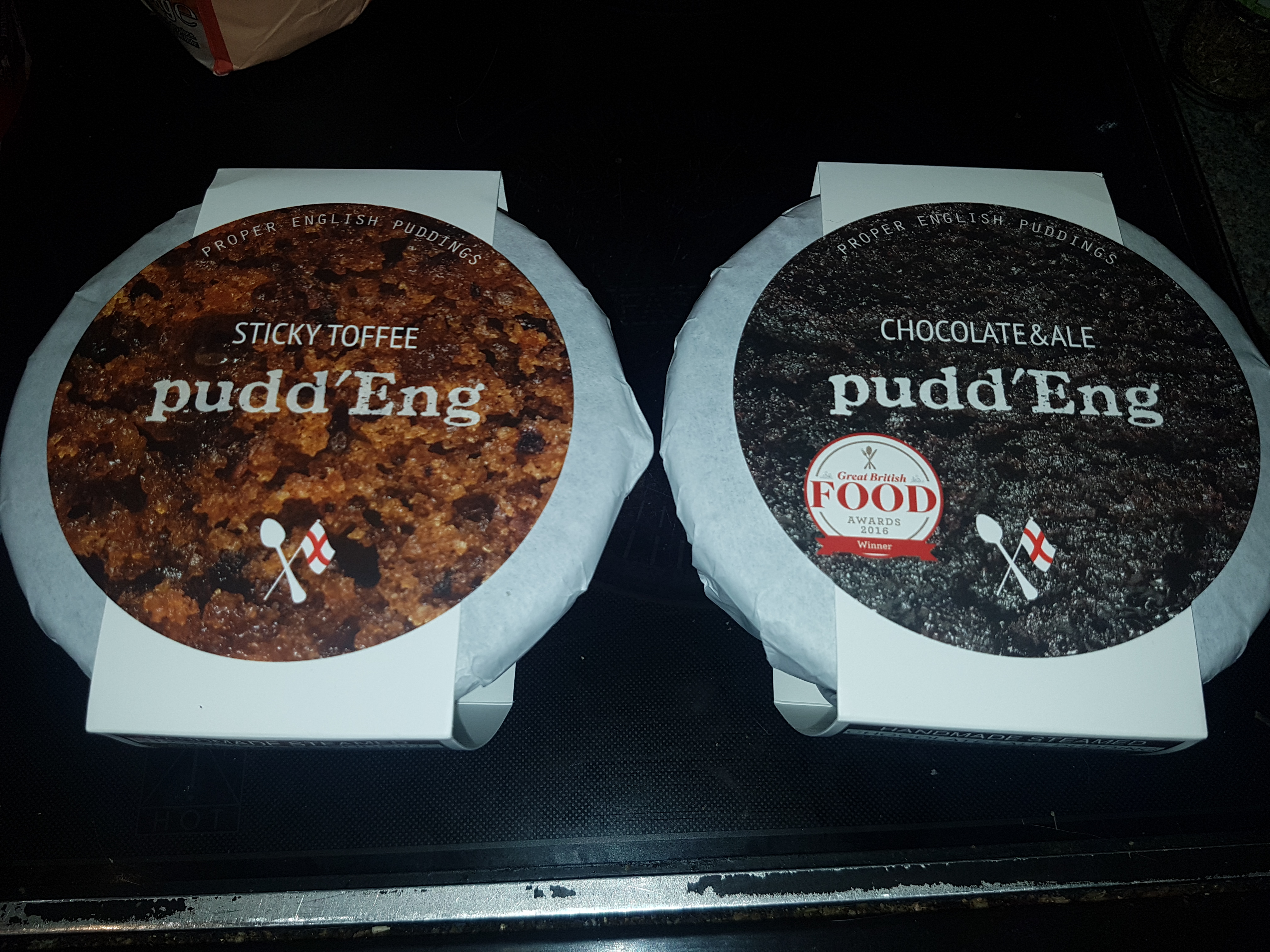 With her range of flavours to suit every palette – the sticky toffee was freshly cooked and definitely hit the spot – these puddings are sure to become store-cupboard essentials for many.
Nelson's Gold
To continue with the 'sweet' theme, Monday 20 March saw my mum and myself arrive at the Maid's Head Hotel in Norwich for a very special launch. Matt and Steph Brown, creators of Wild Knight vodka, made from Norfolk barley, celebrated its first birthday in February this year, and just a month later, they launched their second product – Nelson's Gold.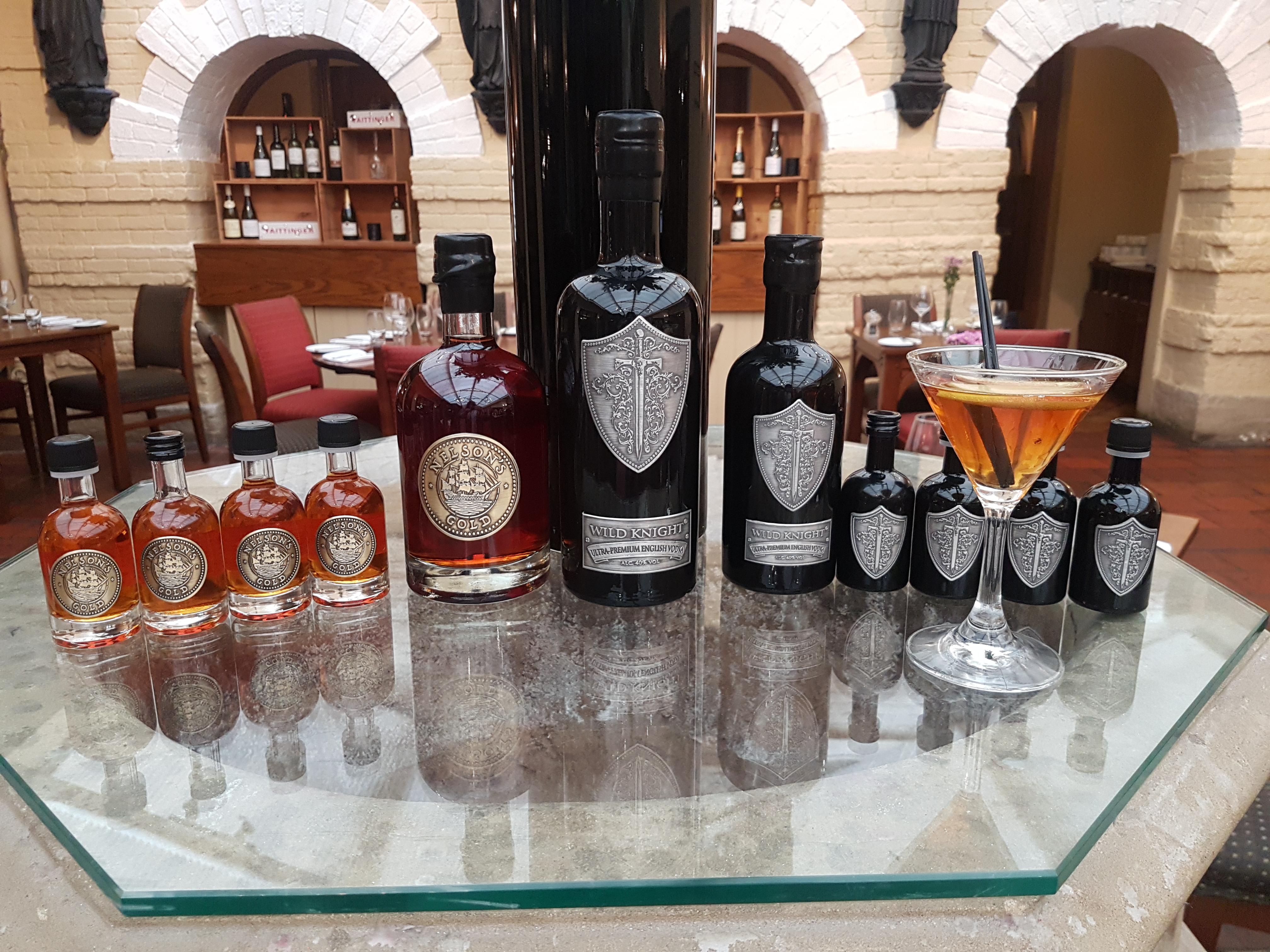 To make this, they took their Wild Knight vodka and added caramel made from local sugar beet. The result – an incredibly smooth caramelised vodka, named in honour of Norfolk's best-known hero. Unlike so many caramelised drinks out there, the Nelson's Gold is not overly-sweet, and it tastes fantastic.
The launch saw several of Norfolk's premier foodie greats come together to celebrate Steph and Matt's achievement, and these included their greatest champion, Charlie Hodson. Fresh from his success with the Great British Sausage Roll off, Charlie is a huge fan of Wild Knight vodka and even included it in his award-winning sausage roll. His welcome speech underlined how strong the Norfolk foodie family is, and I think that we all feel honoured to be part of it.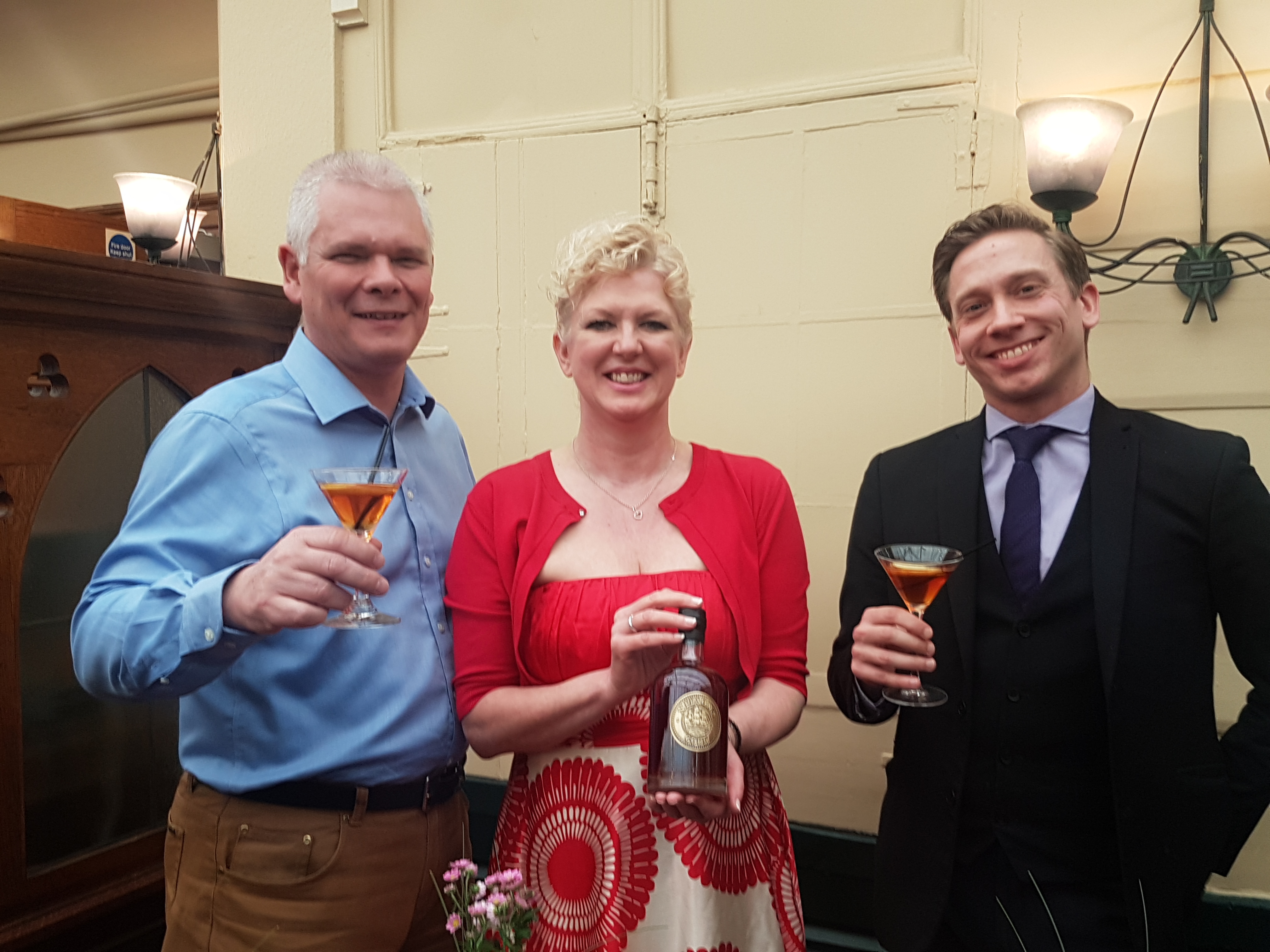 The Maid's Head team created several special canapes to complement the Nelson's Gold. This included a banana pannacotta that no one could quite get enough of! They also created a fantastic cocktail, using apple juice and cinnamon, and it was quite delicious. I was lucky enough to be chief taster, and I think I managed to snaffle more than most of this lovely, refreshing drink.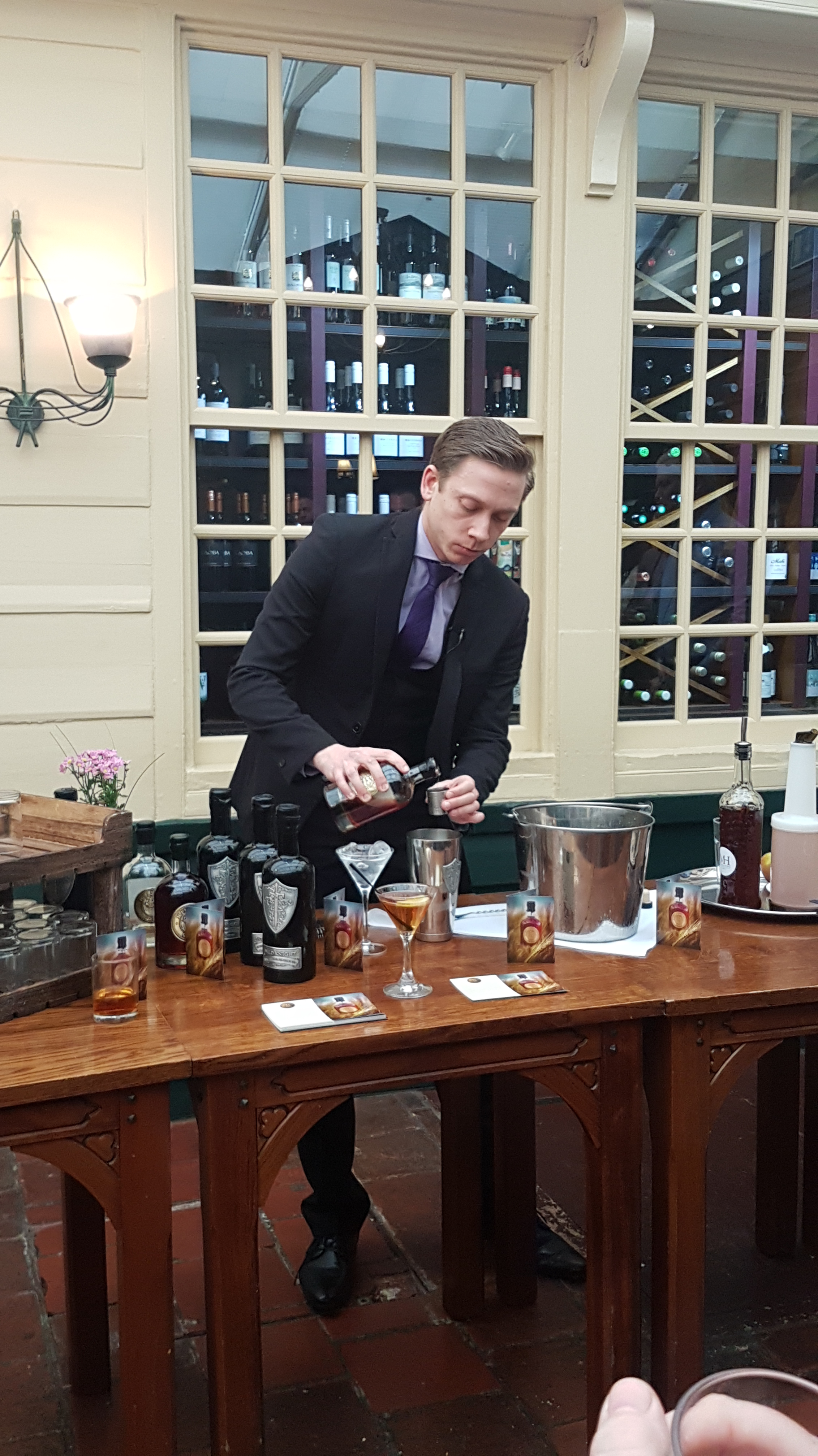 Matt and Steph tell me that they are planning to launch two Norfolk runs for later in the year – one dark, one light – called Ensign. I think that we can all look forward to this, and with its planned pre-Christmas launch date, I think that's this year's present list sorted!
Adnams
Drinks play such an important part to food, and they naturally go hand in hand. Humans are, for the most part, a very social species and whether it is going to the pub for a drink after work or enjoying a dinner and drinks with friends, drinks are central to the enjoyment of food.
I have long supported Adnams – the Suffolk producer of some of the finest beers in the world, in my opinion, and their range of spirits is also making waves. In March, I was lucky enough to attend two Adnams evenings, and learn more about both their spirits and their in-store offerings.
The first was a private event for Sarah Daniel's birthday celebrations. Held at the Norwich branch, we learned more about Adnams award-winning gins, enjoyed a First Rate Summer cocktail, and then tasted Sarah's own signature Redcat Martini, made that night. Bliss!
The following evening, it was the turn of my local Adnams in Harleston. Tom, Rachael and Sam presented a 'sparkling night', taking us through some of the range of sparkling wines that Adnams sell in store. The Crémant de Loire, Cuvée Ambrosa' Brut, produced by Ackerman, was my firm favourite. Rachael's delicious canapes to accompany each drink were well thought out, and definitely complemented the flavours of each different grape. Another wonderful evening!
Marie Curie & The Assembly House
It seems right to finish with Marie Curie Norfolk. On 2 March, they hosted an afternoon tea party at The Assembly House, sponsored by Cozens Hardy, with another local food hero, Richard Hughes, doing two live cooking demos, Adnams doing a gin tasting, and a super raffle that helped raise £1,923.92.
Afternoon tea at The Assembly House, raising money for Marie Curie Norfolk.
Hugo Stevenson is the main man behind Marie Curie Norfolk's fundraising efforts, and once again, he ensured that a magical afternoon was enjoyed by all who attended. The afternoon tea was stunning, the Adnams fizz the perfect welcome to the afternoon, and Richard's demos and natural energy was great. All in all, a perfect afternoon and I really do recommend that you go along to the next Marie Curie Afternoon Tea party; this is the third one I have been on, and I love them. What better way to spend your time than supporting your local community and this incredibly worthy cause, while also enjoying the company of friends.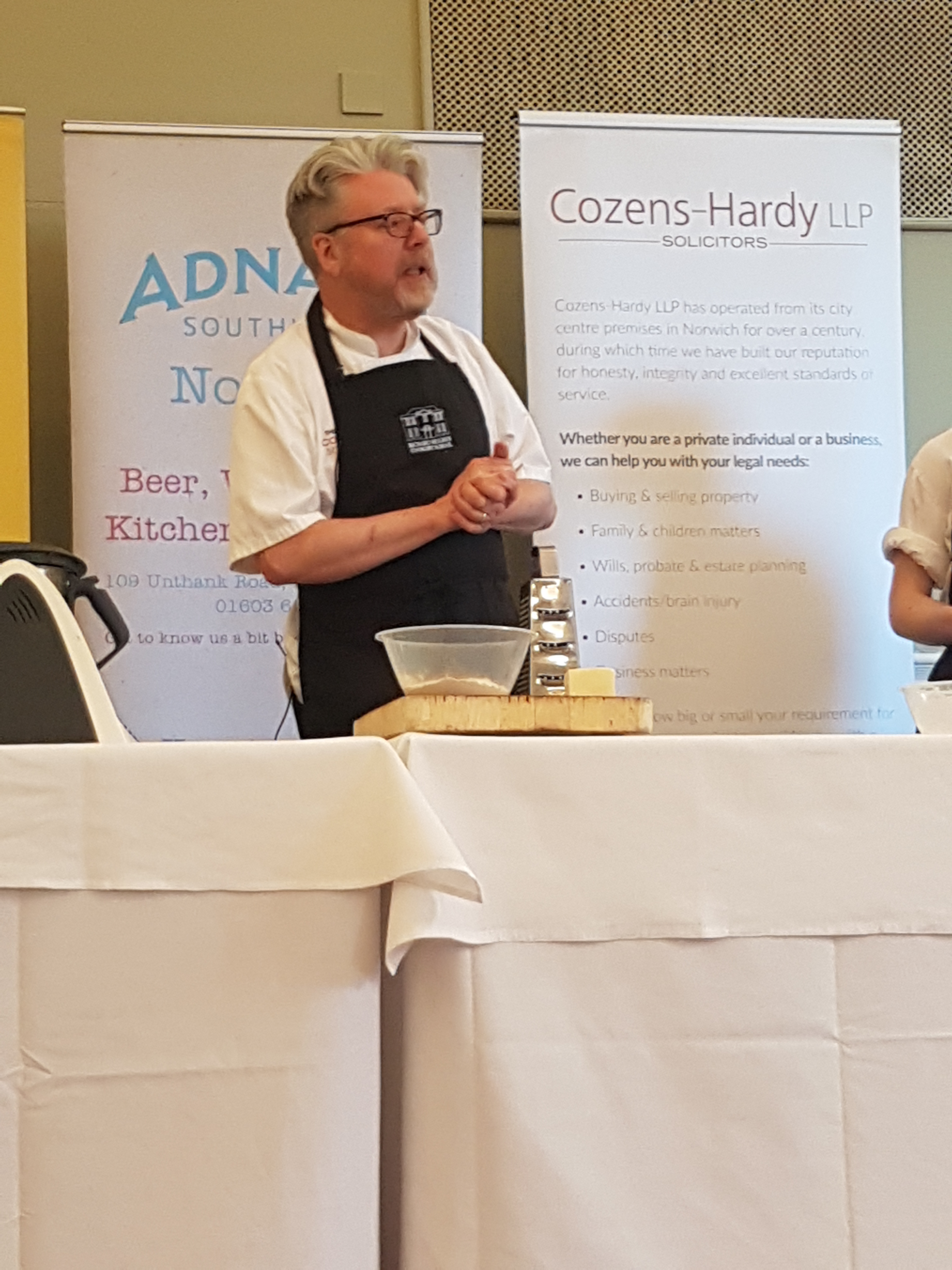 And so, here endeth my mammoth blog on March! I have not even covered lunch at Weavers in Diss – they celebrated 30 years in the business yesterday, huge congratulations to them, and they do deserve a blog in their own right. I love it there, and William and Katrina Bavin have created something very special. Also celebrating an anniversary yesterday was Earsham Street Deli – 10 years! In this modern times, it is wonderful to see local businesses flourishing. Well done guys.
Now, it is time for me to add photos to this piece, go and watch the Boat Race – naturally, cheering for Cambridge – and then make my wild garlic butter to rub into my Aberdeen Angus silverside joint for tonight. Slow roast that, while enjoying a Norfolk gin & tonic, and grate my horseradish. Dad is in charge of Yorkshire puddings tonight – Galton Blackiston recipe – and then it is time for me to enjoy my week in England before I fly again. There is just time to enjoy some early season asparagus before I go; I love this time of year for food, so fresh and vibrant, and packed full of flavour, hope and promise of the year to still come.
Have a wonderful Sunday, and don't forget to share your foodie highlights with me.
Samantha xx