Celebrating Crush Foods & their egg-free mayo
I have long been a fan of Crush Foods. It was, curiously enough for a company who specialises in rapeseed oil, their granolas that first caught my attention. Naturally sweetened, instead of full of added sugars, their granolas include honey from Norfolk and apple juice from Suffolk. For me, their delicious cereals have been the morning choice for those that care about what they put in their breakfast bowls first thing. And, in case you are wondering, the honey, apple and cranberry is my favourite.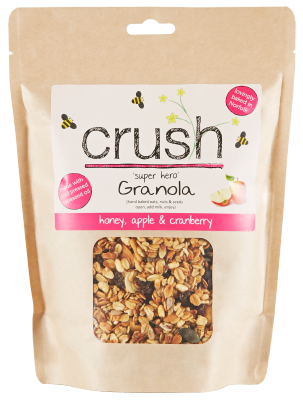 I then became familiar with their oils. Rapeseed oil is certainly one of Norfolk's greatest products and every spring, the fields of this much-loved county are vibrant with colour as rape is grown. It was a few years ago now that I made the switch from olive oil to rapeseed oil in my cooking, and I certainly would never go back. Apart from the health benefits, such as containing less than half the saturated fat of olive oil and 10 times more Omega 3 than olive oil, it helps to produce the best roast potatoes ever! This is to do with its higher smoke/burn point, and the moment we first used rapeseed oil to make chips/roasties, we were sold!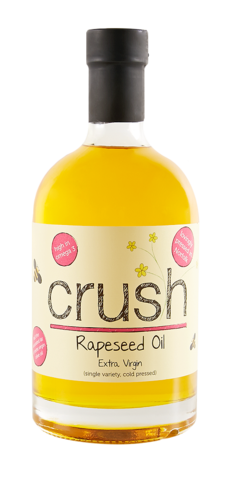 The Crush Rapeseed Oils come in bottles and tins, and it was a 5l tin that I grabbed one day in a local butcher's. It happened to be Christmas and it was that last-minute addition to my shopping bag that converted us to rapeseed oil. Like many of our local producers of rapeseed oil, Crush Oils are cold pressed – so there is no heat used during the extraction of the oil from the seed. This is important as it means that none of the goodness is lost and the finished product is as pure as you can possibly get. So, Crush literally crushes the rapeseed that they grow themselves on the fertile Norfolk land, with the end product being the vibrant yellow oil that so many of us in this region know and love so well.
Since then, Crush have continued to expand – into infused oils, as well as dressings and sauces. I love the honey and balsamic, and many of my friends won't serve up a salad unless it has Crush Oil's zingy lemon dressing on it!
In January this year, Crush launched their latest product – egg-free mayo. They come in two flavours – garlic and chipotle. And they are delicious!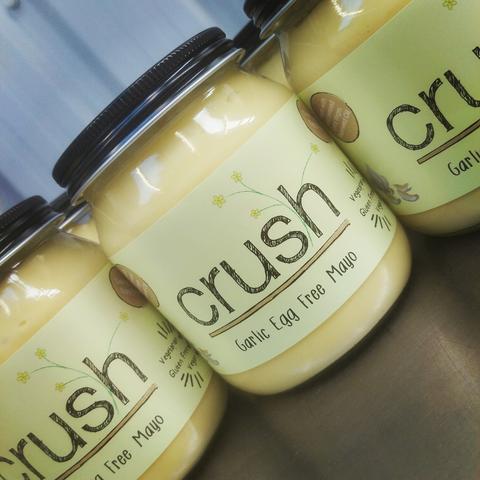 I opened the garlic mayo first and instantly fell in love. The taste reminds me of a really good homemade Caesar dressing – but as it has no egg, there isn't the worry of needing to eat it all immediately for fear of the raw egg element. For me, this makes it an instant winner already, and I can't wait for some spring-like days so I can make the ultimate Caesar salad with minimal fuss.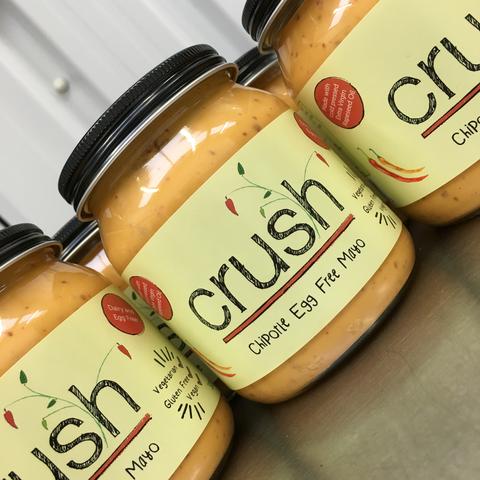 Their chipotle mayo has, as you would expect, a subtle tang to it, and I found it went really well with homemade sumac-drenched chips! Is there anything better in life than chips and mayonnaise? Yes, chips and chipotle!
I asked Stephen Newham of Crush why they had developed an egg-free mayo, and he told me: "We aim to make food fun. There is nothing fun about not being allowed to eat certain foods! So we developed this Mayo to be accessible to all." For my many vegan friends, this mayo has opened a whole new world of flavour and taste to them, something that can only be celebrated
Crush are now working closely with two of my favourite Norfolk foodie friends. Firstly, they are stocking the fabulous Candi's Chutneys through their online store, and then they are working with local food hero Charlie Hodson on his Smokey & Sticky Barbeque Sauce, part of a brand new Charlie's Food Heroes Sauce range and the perfect accompaniment to his award-winning sausage roll. I believe it will be on sale in April and frankly, I can't wait!
You can find Crush in many shops and delis throughout Norfolk, Suffolk and beyond, including my favourites Adnams Harleston, Earsham Street Deli, and most branches of Co-op. To order online, including Candi's Chutneys, visit their website. They are based in Salle in North Norfolk – a hotbed of great producers for the Norfolk area!
Do let me know what your favourite Crush products are, and also your favourite way to enjoy their new mayo. Happy dipping!