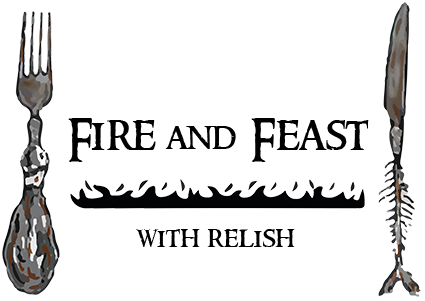 The Countdown to Fire & Feast with Relish…
Those of you that know me well know that my favourite restaurant is Relish. Located at Newton Flotman and run by husband and wife team, Jeremy and Rachael Parke, Relish has been the scene of many a milestone for me over the years. From dodgy first dates to the 'I'll just stop for a glass of wine' moment – and you roll out four hours later – Relish has been the backdrop to my life over recent years. I even hired out the whole venue for my 40th birthday, back in January, and we all enjoyed what Relish does best – a tasting menu that showcased the best in local produce and cooking techniques, as well as the Relish flare.
As of next Wednesday, 1 June, that is all about to change.
Relish Restaurant is undergoing a transformation – and it will emerge as Fire and Feast with Relish.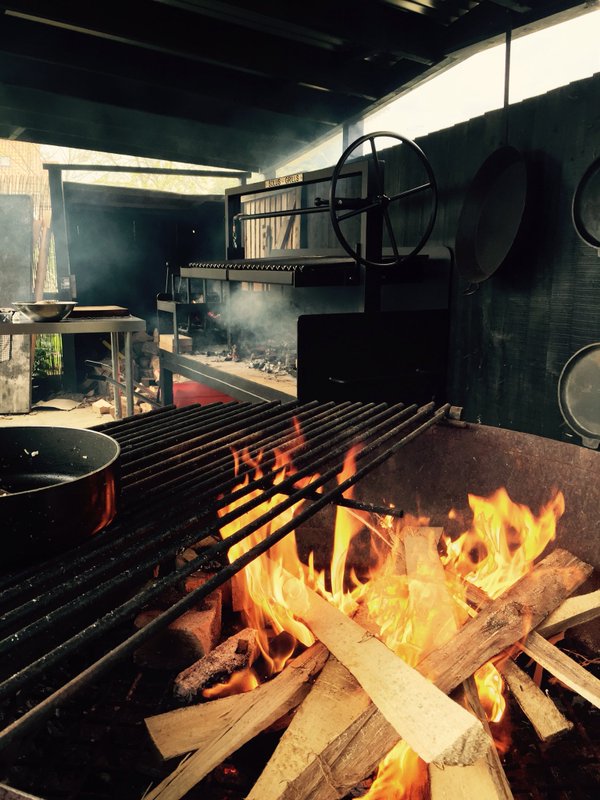 Jeremy and Rachael have, in my mind, always been about doing good local food well, and over the years I have known them, they have certainly championed local producers. They have also more than catered for my dietary needs and I love that pretty much every time I went there, I was never given a dessert menu. Instead, a beautiful concoction that was the envy of the table would appear from the kitchen, as if by magic, and I always felt thoroughly spoiled.
Relish has been going since 2005 and, as with all things, life goes in cycles. It was during a barge holiday earlier this year that the Parkes decided that a less frenetic pace of life was what was needed – they have a young family – and combined with Jeremy's passion for cooking on fire, Fire & Feast was born.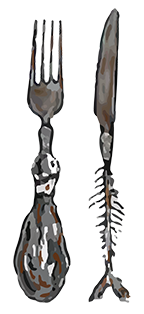 For those that have travelled to South America and some parts of southern Europe, restaurants cooking on fire is something familiar. But here in the UK, it is certainly more unusual and, I would venture, a rare thing indeed for a restaurant to plan a whole menu around fire. But this is also the key to the whole concept, as Rachael explains: "Going out for dinner should be more of an experience, I believe. We are all used to tasting menus now and people enjoying their one plate of food. This is more of a family feast, where you can all share the dishes and pass them around while you chat and interact with each other. And the feast just happens to be cooked on fire!
"It is also about the senses – sight, sound, taste, smell and touch. Fire & Feast is about recreating something that, perhaps, society has lost – the family sitting down for dinner together and chatting away. Combined with our constant passion for sourcing, and providing, great food in relaxed surroundings, and we can't wait to launch next week!"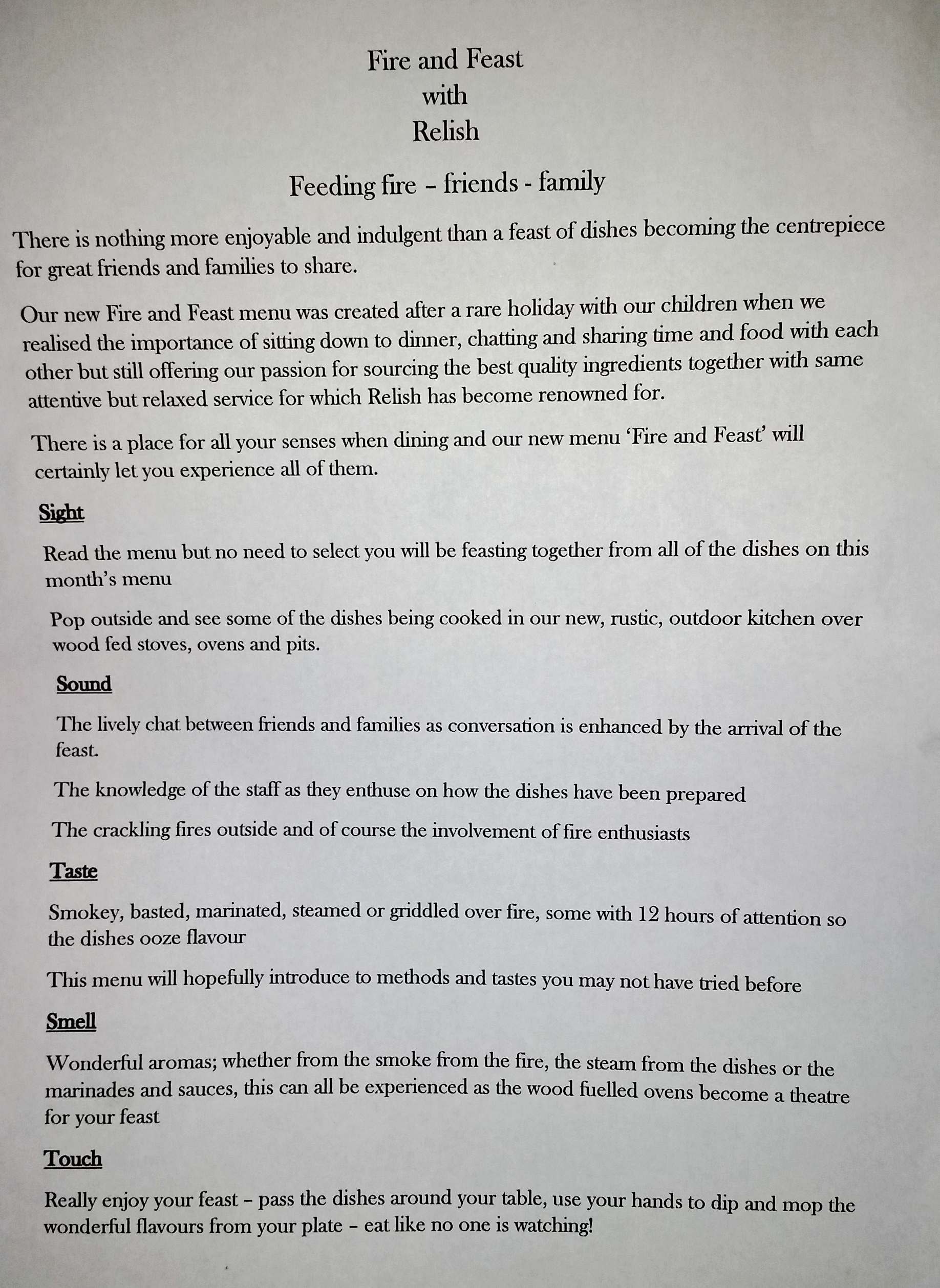 It is worth noting that Relish has had its own outdoor pizza oven for many years now, and they have always been pioneers. If you go there on a Sunday afternoon between Easter and October, the patio area at the back is packed full of people enjoying a pizza or two, freshly made to order in the oven that Jeremy built himself. And yes – they do cater for gluten-free pizzas!
Fire & Feast takes this pioneering attitude one step further, and a Sunday afternoon saw me pop in for a glass – okay, a bottle – of Sancerre, determined to find out more about the new planes. Especially when it came down to allergies.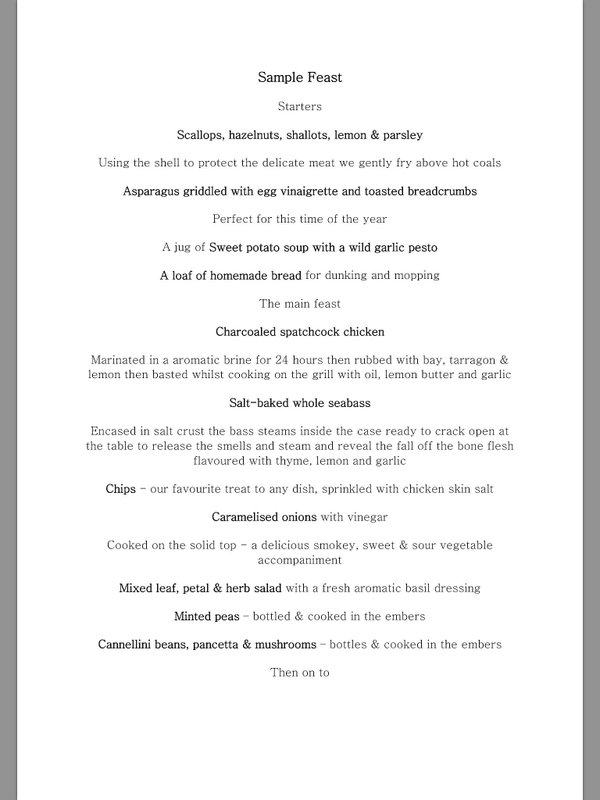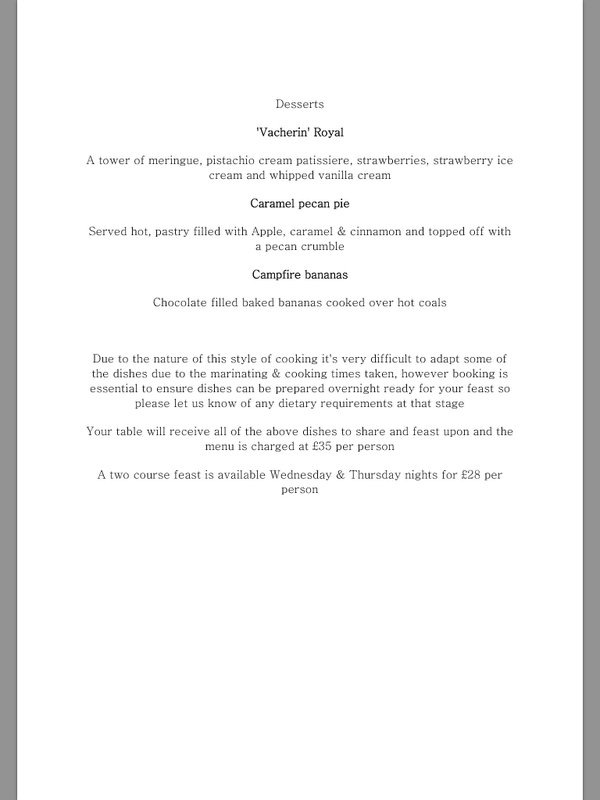 While the menu states that 24 hours notice is required for dietary requirements, a chat with Rachael set me at ease. "All the food is as carefully prepared as ever. If anything, this menu is even easier for catering for gluten-free, for example, as we make all the marinades and sauces here ourselves. There is nothing hidden in what we do. And, because in many ways, we are going back to delicious basics, there is no need to add flour to thicken, for example. Instead, it will be all about fresh herbs, local vegetables and natural seasoning, such as lemon or Jeremy's homemade chicken skin salt. This is real food – it is presented in the best possible way to enhance its natural flavours, with the smokiness of the fire complementing, not detracting."
Having enjoyed chicken salt in Australia, I am intrigued and excited by Jeremy's version and, having spoken to Rachael, I promptly booked us in for the opening night next week.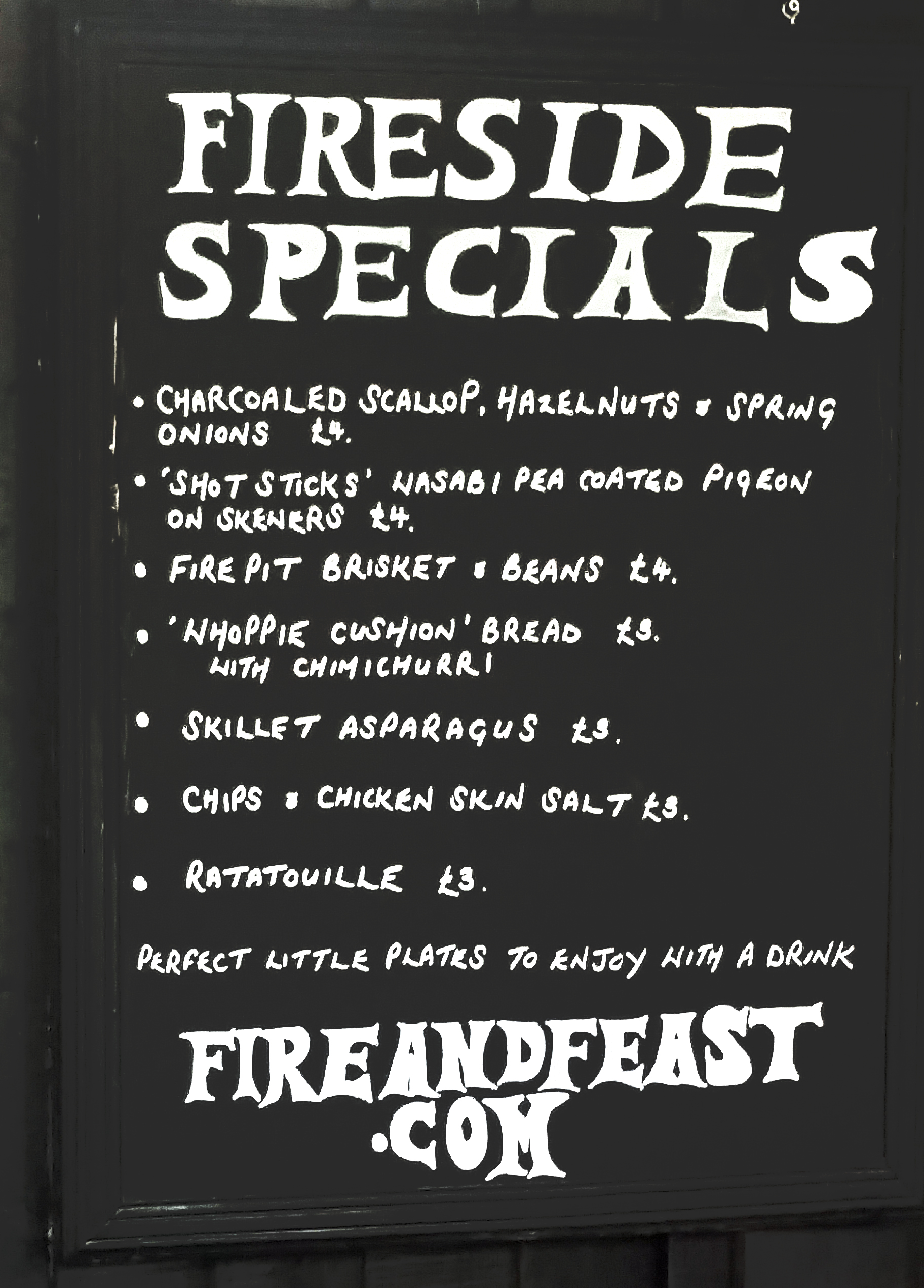 As if the main menu wasn't enough, there is also a Fireside Specials board, where you can sit at the bar outside and watch Jeremy cook small plates to enjoy with a drink at the end of a busy day.
Some of the small plates at Fire & Feast – photography courtesy of Rachael Parke.
The new menu and experience launches next Wednesday, 1 June. I can't wait to be there and I am very excited to be reporting back to you on the Fire & Feast offerings. Having known and enjoyed the amazing quality of Relish Restaurant over the years, I have no doubt that Fire & Feast will be just as good – if not more so. This way of cooking truly is Jeremy's passion and, as with all things in life, passion equates success.
My only problem now is trying to find time to experience the old Relish Restaurant menu just one more time, before I become converted to the delights of Fire & Feast.
I wish Jeremy, Rachael and the team much luck for their launch and beyond – I will see you next week!
Samantha xx