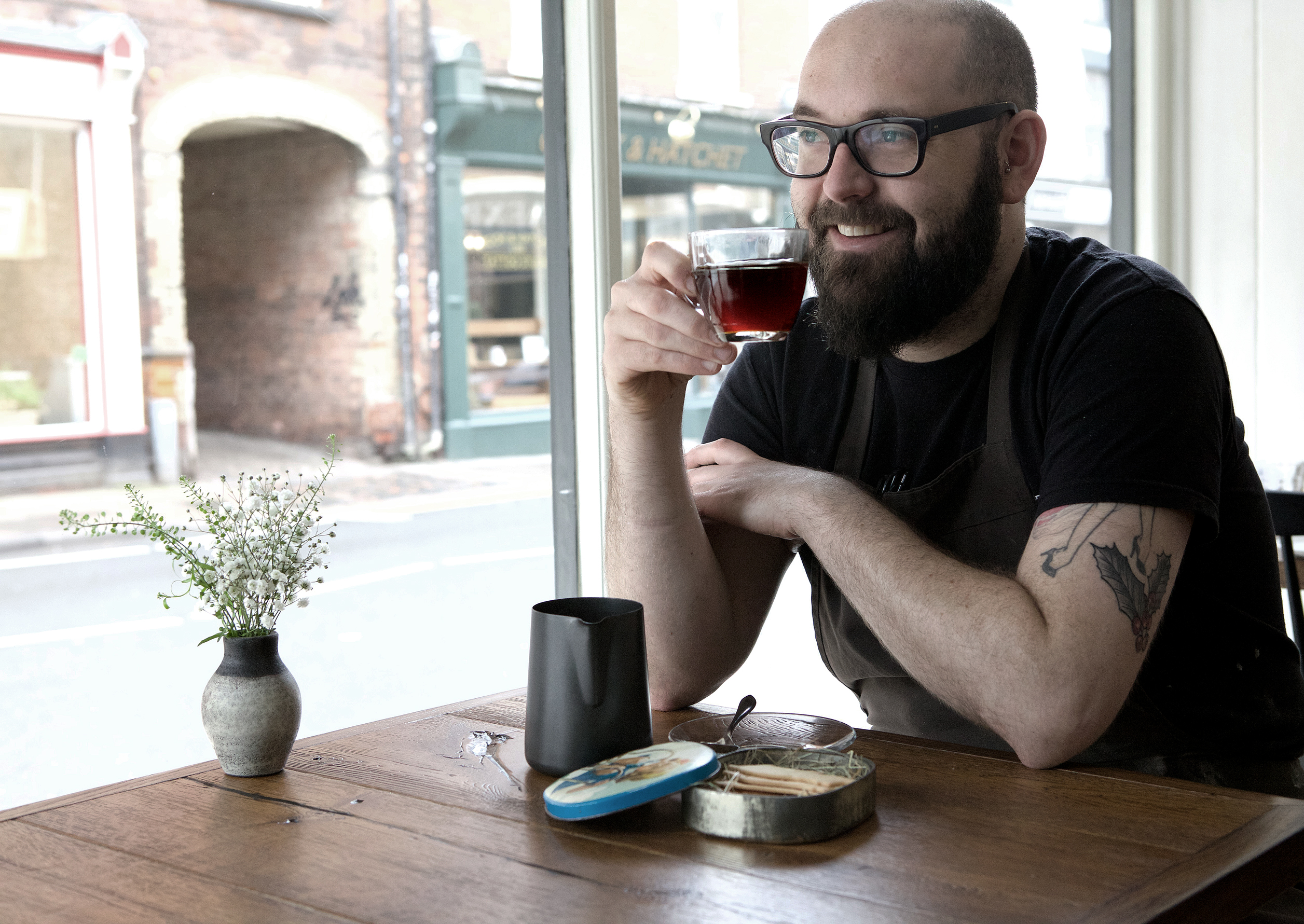 Richard Bainbridge Interview: The Norfolk Foodie Series
Passionate, honest, down to earth – and a Norfolk boy through and through – are all ways to describe one of the county's most endearing chefs, Richard Bainbridge. Famed for his days behind the stove at Morston Hall, as well as winning our hearts on Great British Menu, Richard achieved his ultimate goal as he opened the doors to his own restaurant, Benedicts, five years ago. I spoke with Richard about his culinary life, the power of following your dreams, and how he and his wife, Katja, have pressed the reset button in the wake of the pandemic.
"I kid you not. 20 years to the day that I first walked into a kitchen, I got the keys to my own restaurant," grins Richard as we talk all things Bainbridge at the end of July. "It was virtually to the minute. I first walked into a kitchen the day after my 13th birthday, and 20 years later, I had my own restaurant. The timing was a wonderful coincidence, but the moment itself was the result of a long-held dream.
"How the world has changed this year though… I felt anxious when we opened Benedicts – now I feel sick, and my stomach is in knots. There is no rule book for where we are now with this pandemic. We know how to cook and how to make people happy, but there are so many uncertainties at the moment. So, Katja and I have used these last few months as an opportunity to revolutionise Benedicts, and we are looking forward to re-opening and sharing our plans with everyone."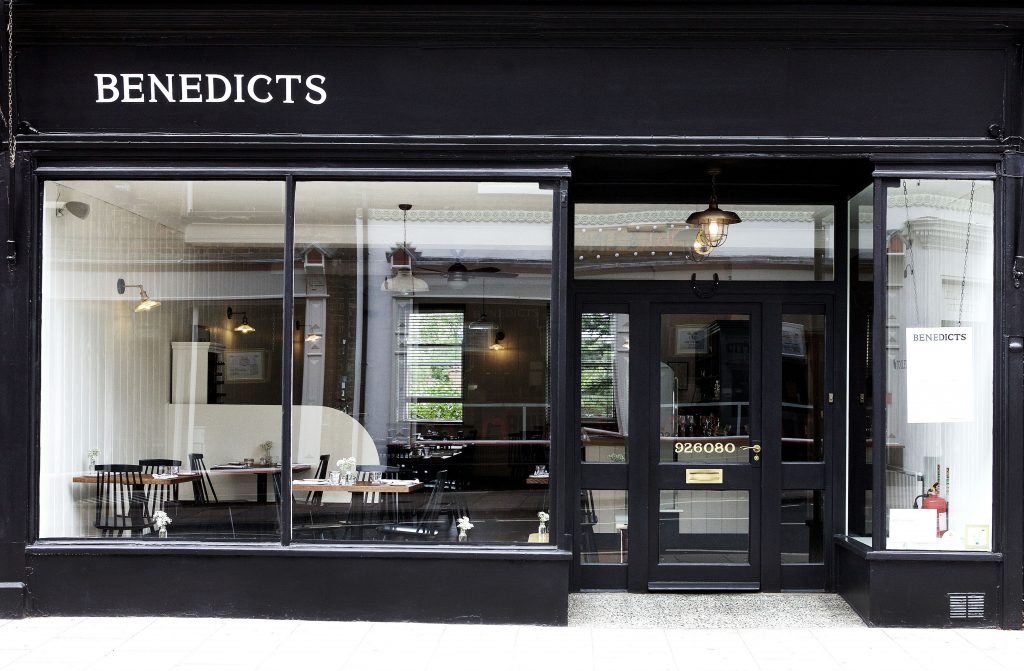 Together, Richard and Katja are the driving force behind one of Norfolk's most popular restaurants, found on St Benedict's Street in Norwich, in an area affectionately known by locals as 'The Lanes'. But the story really begins back in the 1980s, just three miles away in Hellesdon.
"I was brought up as part of a single parent family," begins Richard. "My dad left when I was six days old, so there was my mum Jill, my sister Gemma, who is six years older than me, and there was me. I loved growing up in Hellesdon – it was rural and urban at the same time. This was the days before Thorpe Marriott was built, so within a minute of our house, we could be off on the fields having adventures. From when I was five or six years old, my mates and I would disappear in the morning and come back before dusk. It was great!
"Our lives could have been small, but Norwich was just 20 minutes away by bus. We didn't have a car until I was 13, so we took the bus everywhere. I have a deep love of history, and I loved going to Norwich and going around the cathedral and the castle. The city also had a village feel to it – from when I was 10, I was going up the city with just my friends and there was never anything to be worried about. That village feel has not gone, and I still love Norwich. People tend to want to leave Norwich as soon as they can as it is so isolated from the rest of the country, but in a charmed way. I left at 17, and I always had in my mind that I wanted to come back. Now that I am, I truly appreciate just how special it is even more than when I was a child."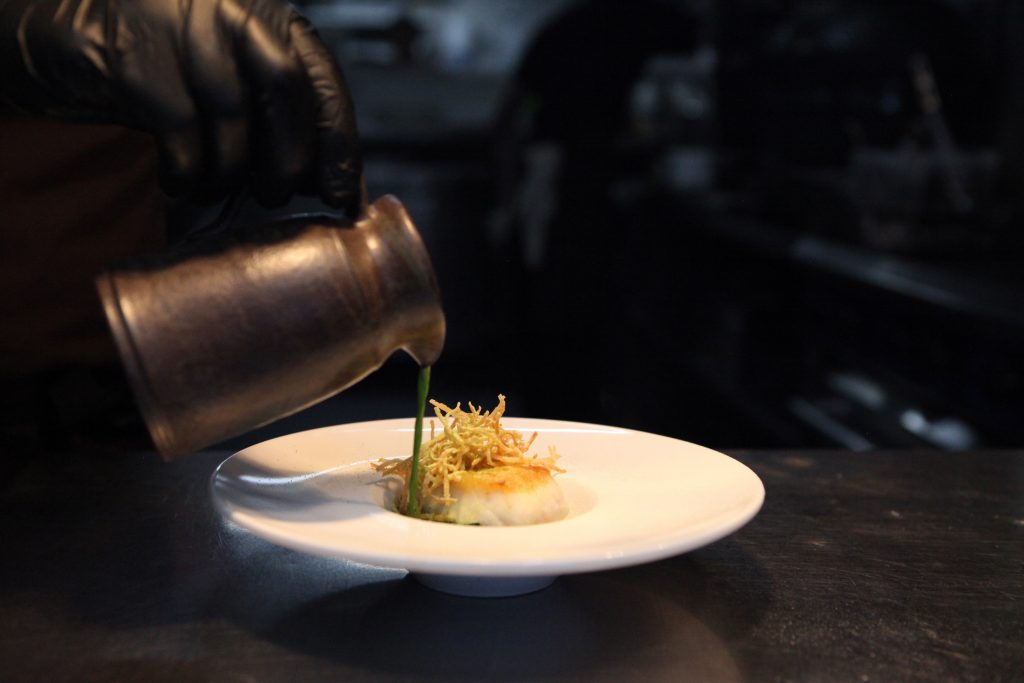 Unknown to Richard at the time, that path out of Norfolk began the day after his 13th birthday. "I got a paper round when I was 11 as I knew that I needed to work if I wanted anything," he recalls. "When I was 12, I worked in a vets, holding animals as they were put to sleep… Can you imagine doing that at that age? It was terrible! My mum was the book-keeper at The Bull Pub, now the Chestnut Tree, and Gemma worked behind the bar. I couldn't work there until I was 13, and the day after my birthday was my first shift, doing the washing up.
"I earned £1.30 an hour, and from the moment I walked in, I knew that this was the place for me. I am dyslexic and struggled with reading and writing, so I never did well at school. When I first went into that kitchen – with the heat, the smell, the camaraderie, the music playing on the radio, the steam from the dishwasher, and the sound of the pots banging – I knew that this was where I wanted to be. It was on that first shift that I vowed I would give myself 10 years and if I hadn't made it in hospitality by then, I would try something else.
"I am a very visual person and I learn by watching. I watched them plating up the desserts – and then tried it for myself. I loved it! I have based my whole life on a philosophy of small achievable goals, and this was how it all began. I would get the washing up done and then do the desserts. Then I would move on to making the starters. The goals kept getting bigger, and by the time I was 16, I had promised myself that I would have my own restaurant."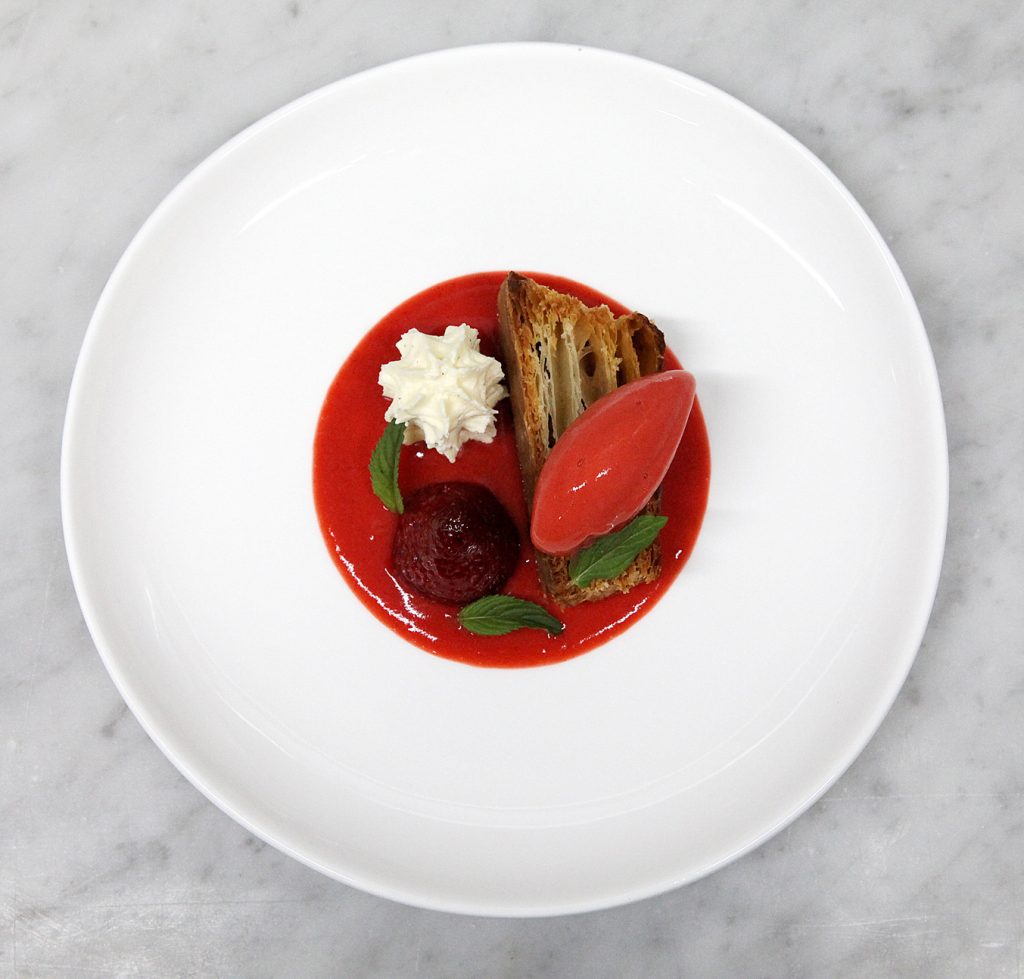 Richard's determination saw him earn enough qualifications at school to get into catering college – he needed two Ds but actually got BBC – and he duly went to City College under the tutelage of one Steve Thorpe, who has taught so many of the country's best chefs including Tom Aikens, who grew up in Norfolk.
"I knew that this was the path I wanted to be on," recalls Richard of that time. "At the end of my first year, I went to the Royal Norfolk Show and at that time, the food tent was small, dark, and dingy, not at all like it is now. I helped out there with the college and that was where I first met Galton Blackiston of Morston Hall fame. I remember that I had recently cut my finger off and had to have it sewn back on – even now, Galton jokes that was the first thing that I ever said to him!"
Galton was asking if there were any students who wanted to work at Morston Hall for the summer and Richard gave him his number and then thought nothing more about it. "I went back to college and as I was getting ready to leave for the year, one of the lecturers suggested that I should reassess what I wanted to do with my life," exclaims Richard. "Basically, he was telling me not to come back the next year! I wasn't so sure about that, so I rang Galton and the next day, I moved into staff quarters and spent four months at Morston. Those four months changed my life."
Richard recalls that, at the time, there was just himself, Galton, and Sam Wegg in the kitchen. "Galton was the first of three influential chefs in my career," Richard states. "I went on an incredible journey with him, learning what seasonality and freshness was. The menu changed daily with what was available in Norfolk at that moment. It was an incredible path to be on at such a young age – 17 years old and working in a Michelin-starred restaurant. I learned more in four months with Galton than I did the whole year in college."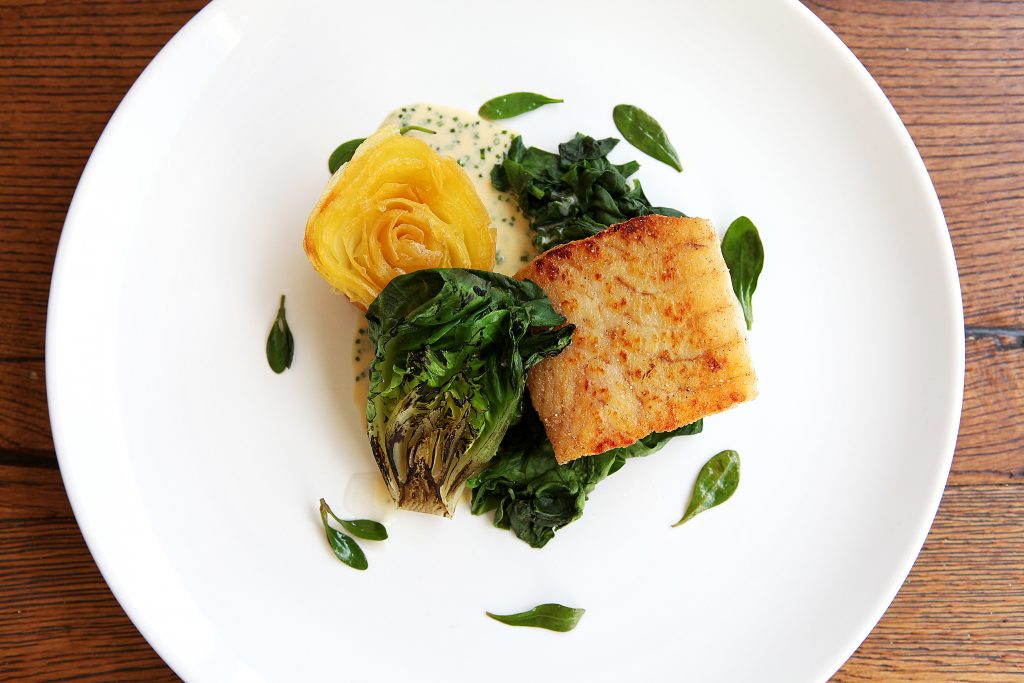 After the summer was over, a more serious and focused Richard headed back to City College. By Christmas, he was studying part-time at college and spending the rest of his week back at his training ground, Morston Hall.
"My mum was amazing in that time," smiles Richard. "We had a Fiat Panda and she would come and pick me up from Morston on a Tuesday evening, and then take me back the Friday morning before work. She was so supportive, and still is, and we did this until I was 18 or 19. Then, things all changed again."
Richard had the realisation that being a chef was essentially a passport around the world, and that there was an opportunity to travel and learn. At that time, the college was sending level three students to restaurants to expand their knowledge, so they asked Richard if he would like to go to the Red Lion Inn in Stockbridge, Massachusetts, in the United States for 18 months to see whether it was good enough. For a 19-year old Richard, this was a dream come true.
"Working at the Red Lion was the polar opposite of what I had been doing at Morston," recalls Richard. "As part of my small achievable goals philosophy, I worked in every part of the industry in order to understand it. I worked the breakfast, the fine dining room, and the bar. On my day off, I would wait. I saw every single aspect of hospitality in my time there. We did 1,000 covers at dinner and there were hundreds of bedrooms. In the kitchen, people worked 20 hour days and it was all very Kitchen Confidential."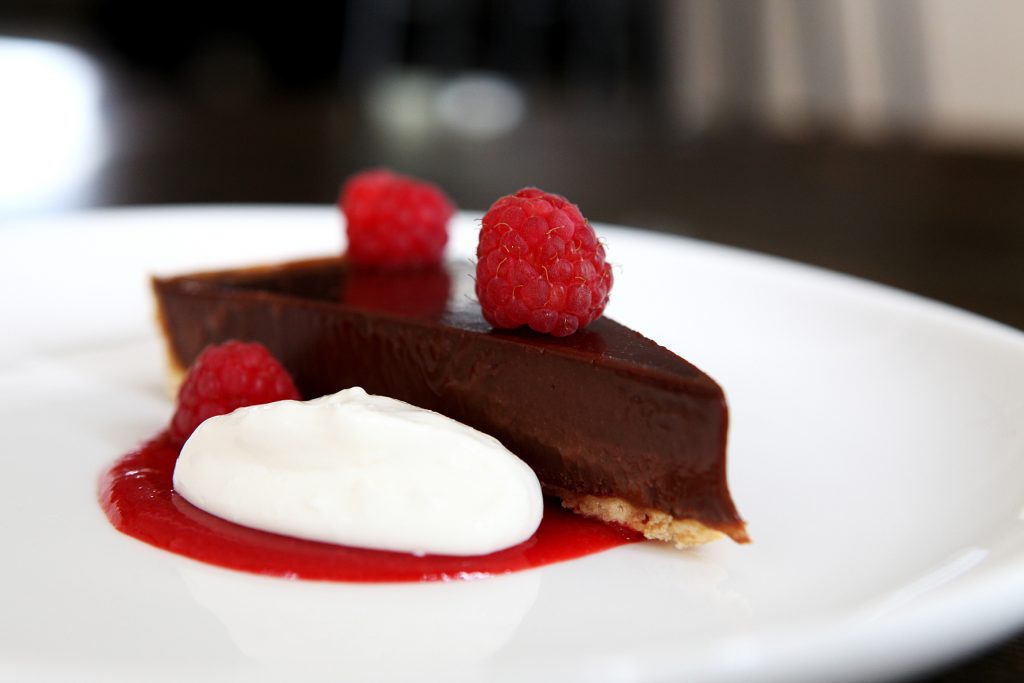 Richard had been at the Red Lion Inn for 15 months when 9/11 happened. "It was scary and terrifying," says Richard. "My mum rang me to see if I was okay. Then my dad called – we have remained very estranged my whole life – and bizarrely told me to go to Canada. And then Galton rang… He was my father figured and he told me to stop messing about and to come back to Morston as there was a job waiting for me. So that's what I did."
Richard spent a year at Morston Hall before realising that he didn't want the journey to end. "I love Morston Hall and I always will," he explains. "But I was 21 and I still wanted more. In January, we used to have to stay at Morston even though it was closed, and I went through the Good Food Guide and AA Restaurant Guide and sent my CV off to around 13 restaurants.
"Two replied. La Gavroche, under Michel Roux Jr, and The Waterside at Bray under Michel Roux Snr and his son, Alain. What a choice, deciding between a two and a three star restaurant. I decided to go straight to the top and went to The Waterside, arriving in March 2003 as a junior commis chef.
"It blew my mind! At Morston, there were, by now, four chefs and we offered a set menu of five courses a day. Everyone sat down for dinner at the same time, and we worked for eight hours a day. At The Waterside, there were 25 chefs in the kitchen all speaking French, with just three of us being English, including Johnny Spillings, now of the Penny Bun Bakery. This restaurant was my university, that is where I learned my trade. I basically went from messing about to having a career. I was there for four years and it remains one of the happiest times of my life."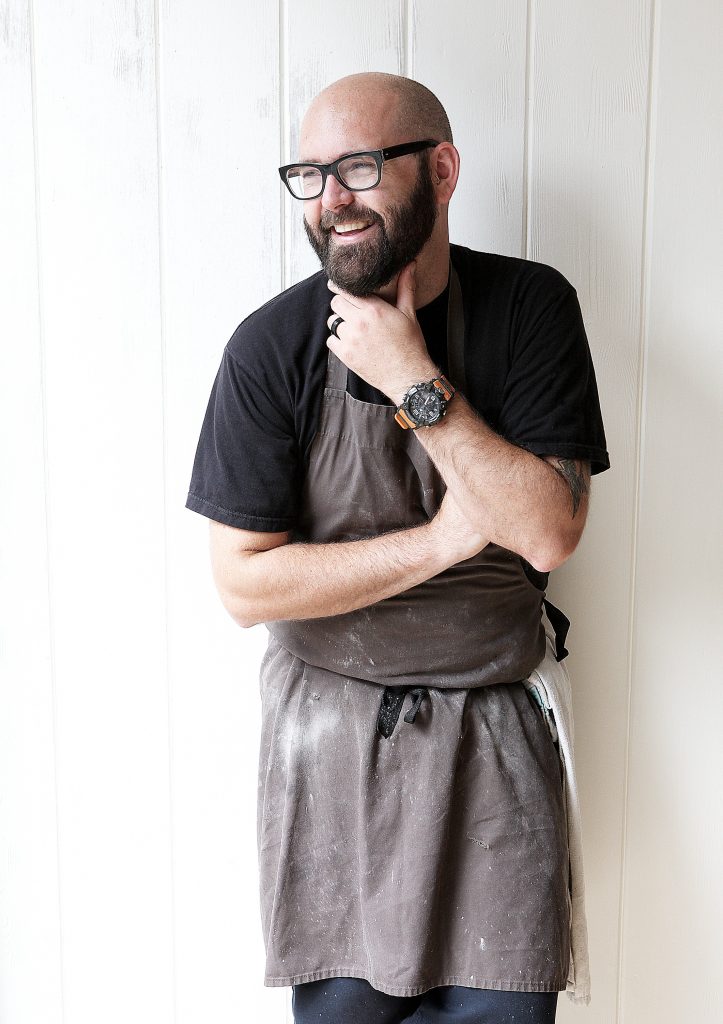 Richard adds that this stage of his career taught him about the fundamentals of hospitality. "To be a good chef, you have got to be the whole package," he expands. "You have to be more than a great plate of food, otherwise you can get lost. The basis of Benedicts comes from my time at The Waterside, and the Roux family were so supportive when we opened. Once you work for the family, you join the family. That kind of dynasty doesn't exist anymore, and it really was very special. I always remember Alain saying, 'good morning Richard' to me – he never learned anyone's names so if he knew yours, you were in!"
In the early 2000s, when Richard worked there, The Waterside was known as one of the hardest kitchens of that time. "I never worked so much in my life as I did there," says Richard. "And I also never cried so much! But I left there as a sous chef, having worked my way up to become the restaurant's youngest sous chef. To this day, I am still the youngest sous chef at the Waterside, and that is pretty special."
The intense hours took their toll, however, with Richard down to nine stone and on the verge of burning out. Having loved his time in the US, and feeling that the experience had been cut short, he applied for a job with Gunther Seegar when he was based in Atlanta the first time around. "The food was modern and progressive, yet Gunther also had traditional values, and that appealed to me," recalls Richard. "It was all lined up – and then I got there, with my life in my packed bags beside me, to be told that I couldn't get a green card. They got me a couple of weeks work, but I soon realised that this particular dream wasn't going to happen."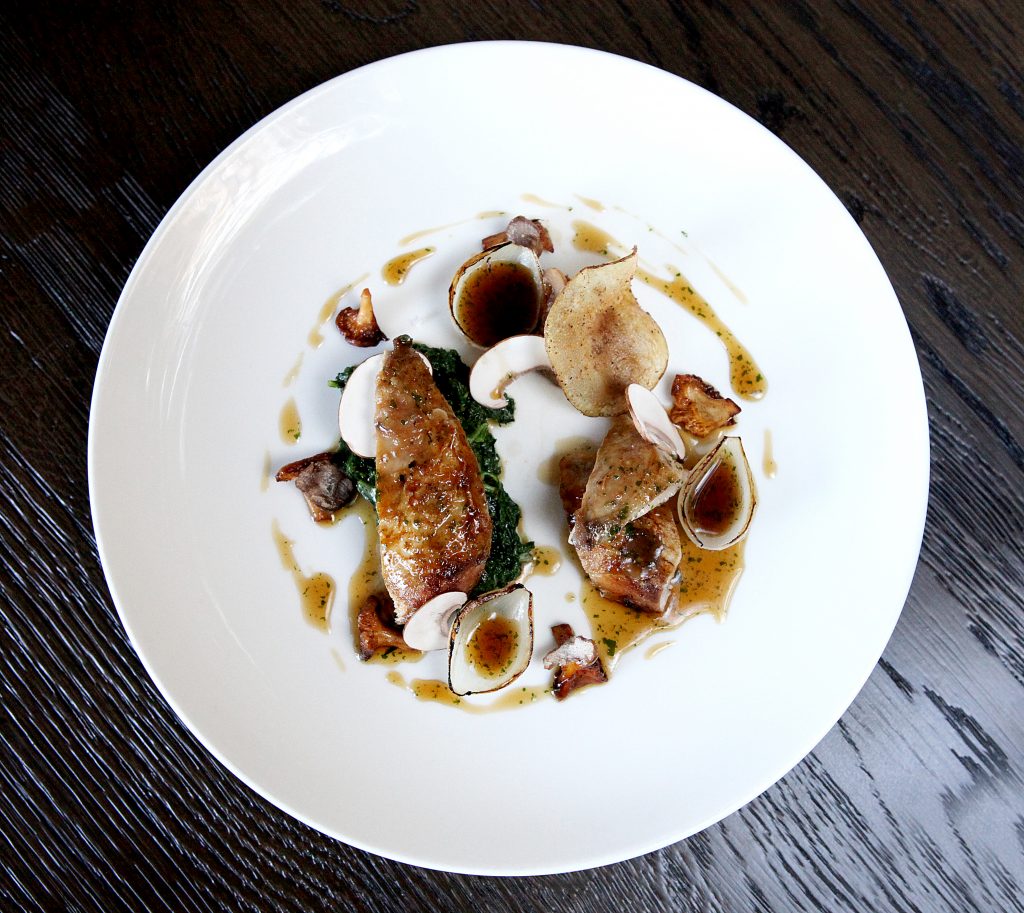 Instead, Richard decided that with his plans up in smoke, he would take a year out to recharge his batteries. By now, Gemma was living in Napier on New Zealand's North Island with her husband so Richard made his way there, living with them for a while before taking a job at The County Hotel.
"That remains one of my strangest interviews ever," laughs Richard. "The hotel was run by an eccentric Englishman and at my interview at 10am, he was drinking Red Bull with a triple shot of vodka. I went with it as I wasn't too sure what was happening, and I ended up walking out as Operations Manager. I have said before that I wanted to learn all parts of the hospitality industry, and so I worked there in Napier in that role for around seven months."
Richard also did wine tours, driving people around in a 1958 Silver Wraith Rolls-Royce, used by HM The Queen when she visited Oceania. "I loved it!" he grins. "It was a great chance to do something different in hospitality, but I reached the point where it was time to move on again."
With a friend, Amy, they bought an old car and they travelled the North and South Island of New Zealand, and it was on arrival at Greymouth, on the west coast of the South Island, that Richard's life changed forever.
"The most significant moment in my life happened in Greymouth," Richard begins. "It was a very industrial village by the coast, and we met this girl in the car park of the hostel we were staying in. We smiled at each other as we went in, and later met her again in the smoking room. I just thought how beautiful she was, and how amazing, and so I asked her out."
The girl in question was Katja, originally from Germany, and they were both meant to stay for one night before moving on. However, a group of them ended up having such a good night out that they were unable to leave the next day, and then the weather set in. "I remember I was in the kitchen making dinner, and Katja came back in," says Richard. "We got talking and decided that she, Amy, and these two Swiss guys we had met, would all travel around together. However, it wasn't long before Katja and I realised that we had a connection and we have been inseparable ever since."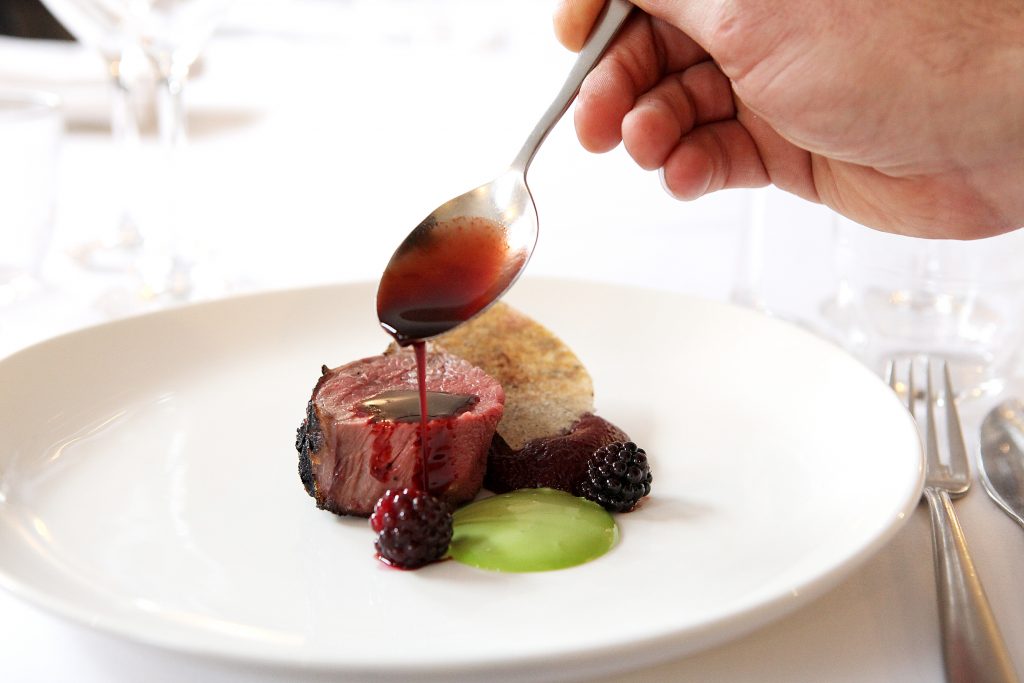 Three weeks after this, The Waterside rang Richard and asked him if he could come back for six months to help out. Katja, who worked as a nurse in Dublin, suggested that Richard look for a flat for two people rather than one and the couple moved to Maidenhead. "Katja hated it!" laughs Richard. "So, I left The Waterside and moved to Dublin to be with her."
Richard worked for Kevin Thornton at the Fitzpatrick Hotel, who was a visionary chef in Dublin and one of the most famous in Ireland at the time. "Kevin was the third great mentor of my career," explains Richard. "Galton taught me about seasonality, The Waterside taught me the basic fundamentals about hospitality, and Kevin taught me how to tell a story with a dish.
"This was a time when chefs didn't tell stories with food, and Kevin created a whole dish representing the history of Ireland. The dish had sautéed green beans, representing the beautiful green grass of the land; scallops, to represent the seashore and the fruits of the sea; and a squid ink sauce to show the dark, black history of relations between the English and the Irish! This was pretty much on my first day and while Kevin didn't like me much, he taught me a great deal during my time there."
The path to Norfolk always remained a pull for Richard though and, almost inevitably, Galton rang him again. "I was about 25 years old now and Galton rang me and asked me to come back as his Head Chef," says Richard. "It had always been my dream to go back and show him what I had learned on my journey, so that call was a dream come true. And I also knew that I was then on the path to owning my own restaurant."
Richard asked Katja to give them a year in Norfolk to see how it went, and she got a job working in the Norfolk and Norwich University Hospital in A&E, mostly working the nightshift. "At this time, Galton let me grow as an individual, trusting me to do what I wanted and knowing that it would be good. And so we went with it, and I was at Morston Hall as Head Chef for five amazing years."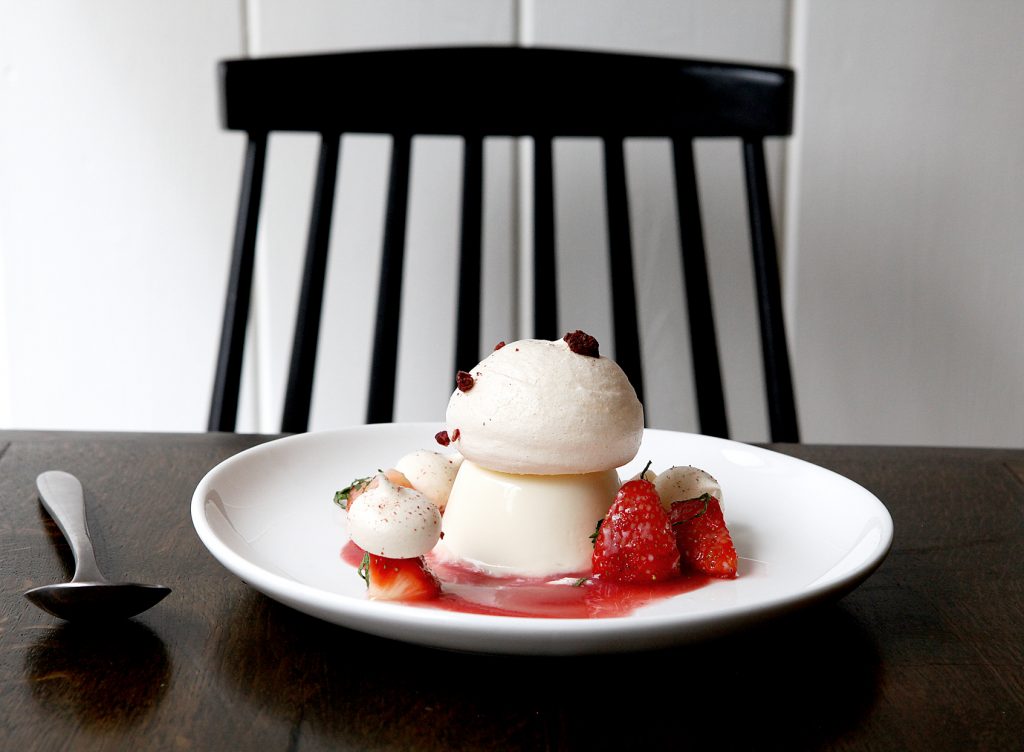 It was during this time that Great British Menu first came knocking, with Richard appearing on the show four times as a contestant, and latterly as a judge. "The first year I took part, in 2010, I was 28 years old and was straight in against chefs such as Daniel Clifford and Will Holland. At the time, Daniel was the most intimidating chef, although he has now seen the light, and Will was a formidable force.
"I was young, naïve, on television, and I messed up. I was sent home on the Thursday and I was devasted – I know you know how that feels. I was embarrassed and mortified, and Katja was waiting for me when I returned to the hotel and took me straight to Dublin for the weekend. But it had lit the fire in my belly – those small achievable goals – and I looked at Glynn Purnell who was judging me and thought 'one day, I will be standing where you are'. And eight years later, I did just that as Great British Menu invited me back as a judge, and I had done the full spectrum of experience there."
2011 saw Richard's second year as a contestant on the show and having made it through to final judging, with Sue Ellis going home early, he lost out to Aktar Islam who would get a dish through to the final banquet. In 2013, Richard made his third appearance on the show, memorably cooking with a pig's bladder for his main course dish What came first – the chicken or the egg? "At this time, everyone was using water baths for their cooking and I decided to go back to traditional methods – hence the pig bladder," explains Richard. "I was up against both Daniel and Will again and I couldn't believe it! I gave Daniel a good run for his money though!
"While I lost to Daniel in the final, the judges thought that my main course dish was good enough for the banquet, so they brought me back as a wild card. There was Daniel, Tom Kerridge, Tom Aikens, Aiden Byrne among the chefs – all these heavyweights – and then there was me with a pig bladder! I messed up and fell to the intimidation of the big guys."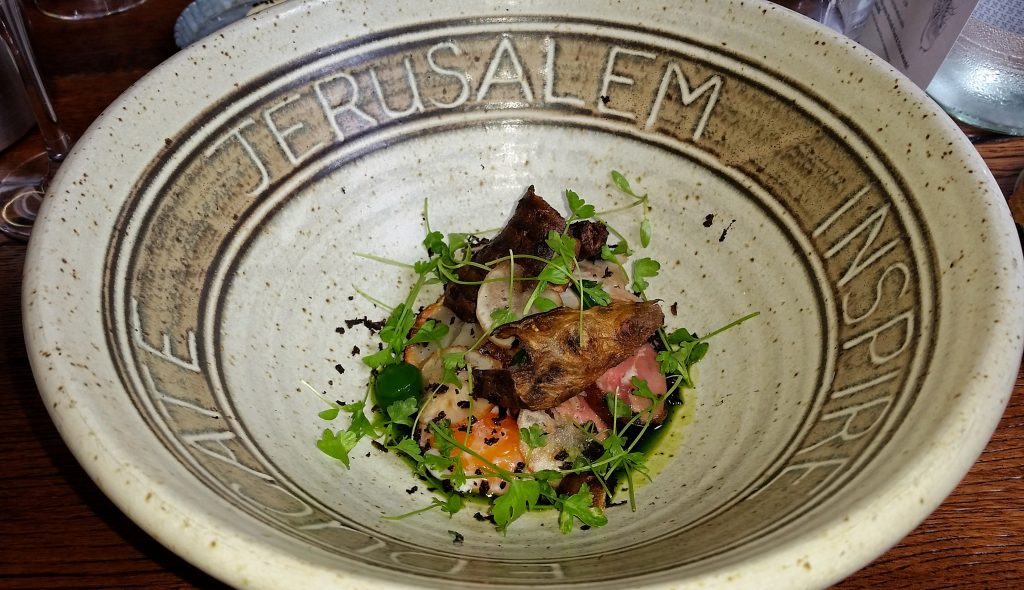 For the 2015 series, Richard was invited to go back again and he and Katja sat for a long time discussing whether he should or not. "Our oldest daughter, Holly Hilda, had just been born, but we decided to give it everything I had got," says Richard. "The brief that year was 100 Years of the Women's Institute, and Katja and I came up with my two winning dishes within five minutes of agreeing that I would do it, and with a glass of wine in hand.
"I will never forget leaving Norfolk for the drive down. The car was packed with all my props and Katja stood there with Holly in her arms. She asked me to promise her two things – not to cry, and not to mess it up. I rang after three hours of filming to say that I had done both!"
However, Richard had not messed up as much as he thought, and he would become the third chef in the show's history to have two dishes at the banquet, winning with his starter We all stand for Jersusa-lamb and dessert Inspiring Women – a dish that we all know and love as Nanny Bush's trifle. "The dishes I cooked in this series were very me," says Richard. "By this point, I was confident and I had learned who I was, and the dishes were also very personal – my way of thanking my mum, sister, and nanny Ivy for all they had done in raising me, as well as my beloved wife Katja and my young daughter Holly. Yes, I did cry, but the thought of these five amazing, inspiring women kept me going."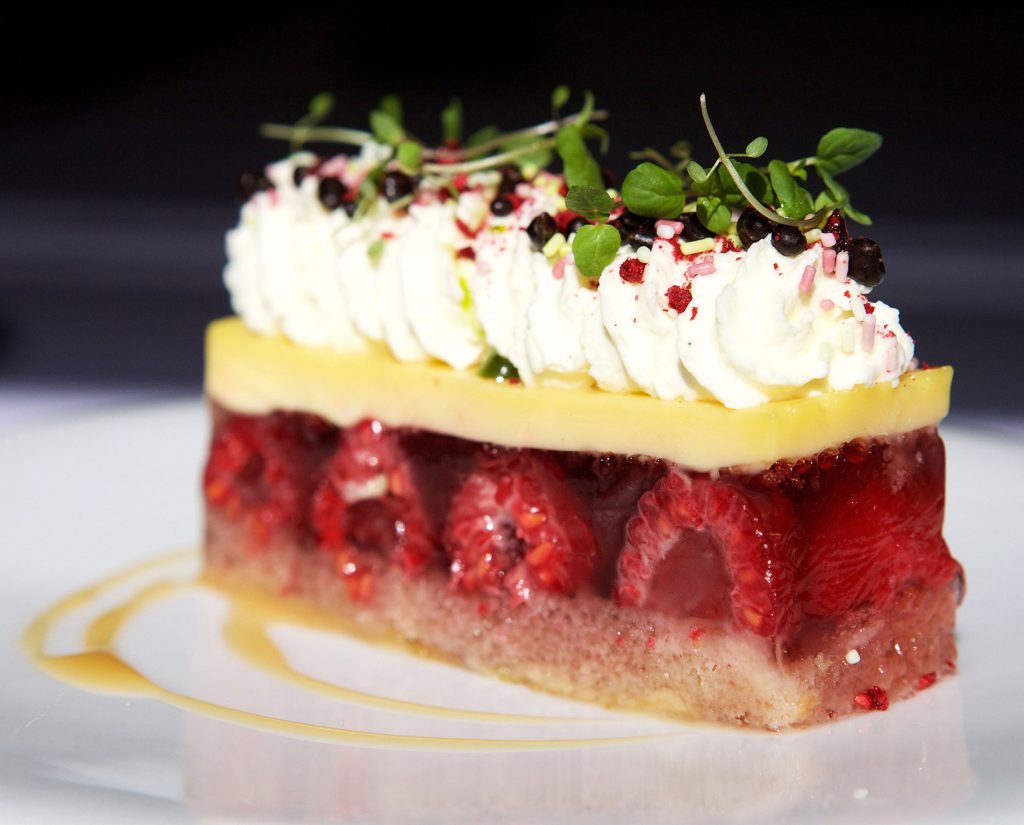 With success in the show, and Katja still on maternity leave, the couple made a momentous decision. "It was Katja who pushed me," laughs Richard. "She said that while she was on maternity leave, this was the time to do it and to set up our own restaurant. So we did!
"When we opened Benedicts, we knew that I had won Great British Menu but that the series wouldn't be aired until September. We had to do enough to keep Benedicts opening from that May day in 2015 until autumn, and then we would be okay. Those two dishes paid for the restaurant five times over, and it was an amazing experience to be on the show. I have since been on Saturday Kitchen and My Greatest Dishes off the back of Great British Menu, and I am so glad that I went back to compete that last time."
I ask Richard what the final push was when it came to leaving the security of Morston Hall and going alone. "I loved working with Galton and I have nothing but the utmost respect for him, but I thought that I cannot go through life thinking 'what if'," he explains "Katja and I took a gamble, re-mortgaged the house, borrowed some money from my mum and dad, and got the keys to Benedicts. At the beginning, there were four of us living in Benedicts, including my now Head Chef Ashley Williamson who also came with me from Morston, and Holly was in a travel cot, with the baby speaker on the pass with me as I cooked. And that was how Benedicts began!"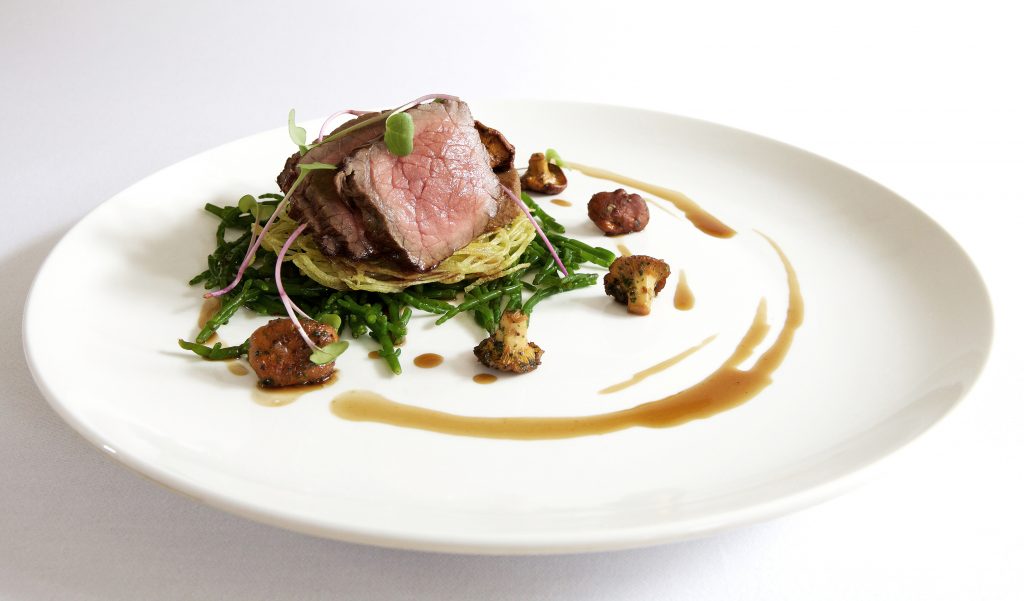 I ask Richard about his most iconic dishes over the years and naturally, Nanny Bush's trifle is there. He admits that he sometimes considers taking it off the menu, but then tries some and says that it has to stay! "Betty in the Hen House – that was a great dish, also done for Great British Menu. There is also a lovely Caesar salad that I do. I try to create dishes that I want to eat, never resting just because I created a 'good dish'. I want the customers to look forward to trying my food, and I find it phenomenal that I have created a dish that people still talk about years later. It blows my mind and fills me with joy!"
Richard has also had some of the best chefs in the country come to Benedicts for guest nights starting, of course, with Galton. "We have had Daniel Clifford and Tom Kerridge cook here – in fact, Tom and his wife, Beth, helped us out at the beginning, giving us crockery and other items to get us started. It has been amazing to share the journey with my peers, and to have giants in the industry such as them come and cook for the people of Norfolk."
I ask Richard how difficult it is, running the business and having a family – Holly is now six, and has been joined by Coco Heidi, who is two. "It is hard," he admits. "It is hugely difficult, and it does create a strain on the relationship. We both want to be amazing parents and I don't want them to grow up thinking that we were too busy to spend time with them. It is a constant struggle – I work a 16-hour day and I am then exhausted on my day off. We are our own worst enemies as we have such high standards. But that is what makes us who we are.
"It has been an amazing journey, but I have also wanted to jack it all in more than once. It is hard… I want people to know that we are living the dream – and we really are – but hospitality is a hard business to be in. 98% of restaurants close in the first 12 months and to get to five years, which is where we are, you are one of the 'old boys'.
"I have an amazing team around me, and I want them to feel proud of where they work. I want my children to feel proud of what I do. We have worked tirelessly to create the very best that we can – a great restaurant with great food and fantastic hospitality – and we have also grown a lot in the last five years.
"With all that said, the last few months have been invaluable in many ways. We have both seen lockdown as a massive opportunity to press the reset button, look at our lives, and evolve into something new. We started the 'Oven Ready Meals' and have been blown away by the support for that – 185 meals in one weekend – and we are definitely going to carry on with that into 2021. It is good for people to enjoy restaurant-quality food at home without having to worry about parking, taxis, babysitters and so on. We have a few more plans up our sleeve, too, but all will be revealed in time!"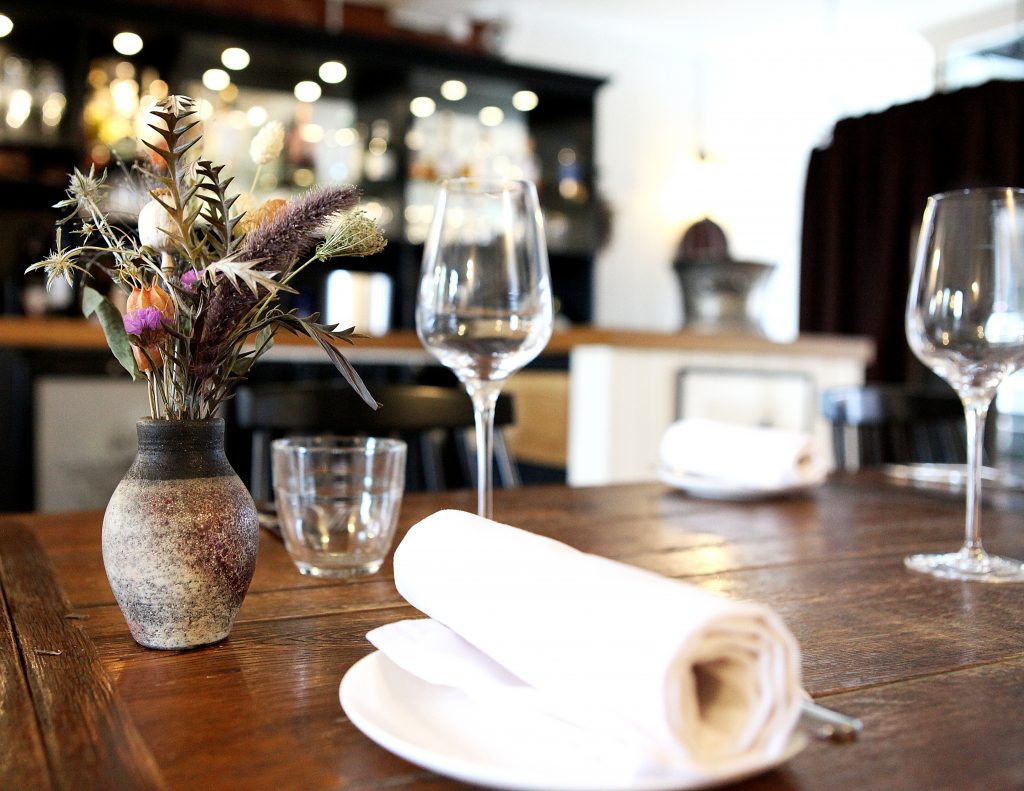 Asking Richard about his love of Norfolk produce, he says that what he loves the most are the people who produce it. "You can feed off their passion," he explains. "And I love the seasonality – the wild garlic, potatoes, and shellfish. I think that Norfolk is very niche in what we produce here. I am seeing Norfolk lamb on the menu more and more at a national level, and that is amazing. In the British Isles as a whole, we are very fortunate in our produce.
"We also have great advocates of Norfolk produce – Galton, myself, and you – and between us, we can share with the rest of the UK how amazing it is. I am so proud of what we have here in Norfolk, and there are so many people who are really passionate about getting the message out that we have the most amazing produce and producers within our county. We need to keep this momentum going."
Asking Richard about his favourite places in Norfolk however, he becomes somewhat coy. "I love a pub, and I love a pub near the beach where I can go with the kids," he says. "There are a couple around here, where we can sit in the beer garden, and it is great. Weybourne Beach is near to us, and we can be throwing stones in the sea within 10 minutes of picking Holly and Coco up from school and nursery. Oh – and Sheringham has the best ice cream! Norfolk is the perfect place to bring children up – it just needs a mountain or a big hill for it to be perfect! London is just 90 minutes away, but we remain happily isolated here. The sense of community within the county is something that is very special to me."
I ask Richard what his remaining ambitions are, and he says: "To survive the next six months, and still have a restaurant here in five years' time. Also, to make sure that our children are proud of me, and that our team feels proud to work at Benedicts. I also want to re-open with a business that we can continue with in the future. It is about having the diversity and confidence to recreate a new business from what is currently there.
"As for those wanting to become a chef… Be a sponge. Watch as much as you can. Cooking is a feeling, not just a recipe. Be an open book, watch everything, and don't worry about Instagram!"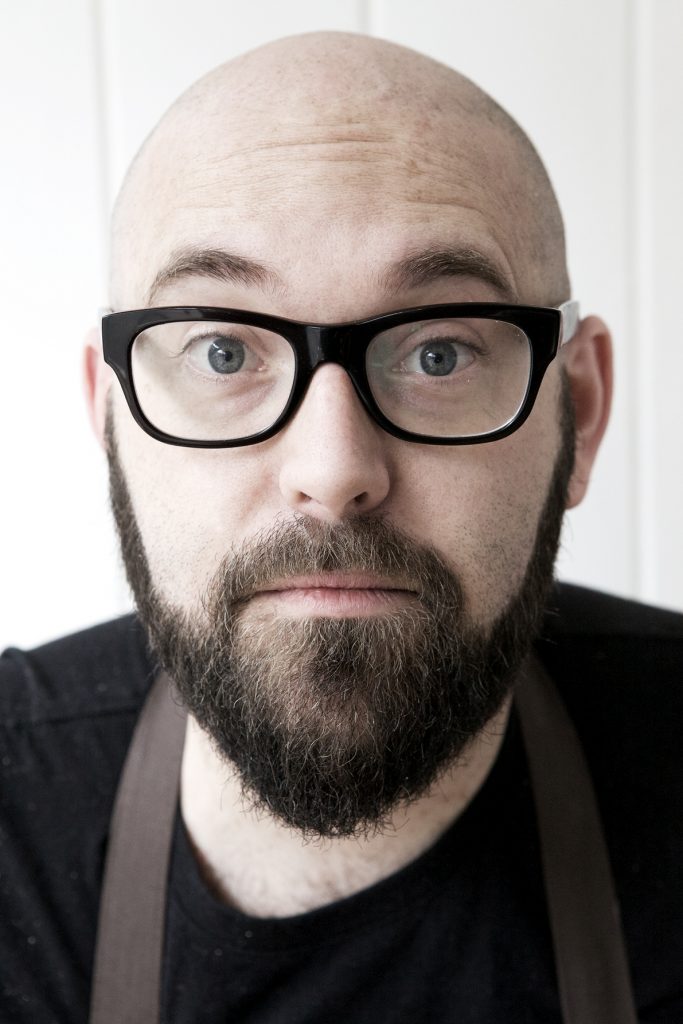 Finally, I ask Richard to sum up Benedicts in one sentence, and he says:
"We are an honest restaurant, trying to bring the classical values of hospitality into the modern world in a creative way."
Talking to Richard, it is clear that he has remained humble in spite of such success alongside so many years spent working in the top kitchens of the world. His dream, as a 13-year old boy, to own his own restaurant has been one that became reality through his own sheer determination and grit, coupled with the unwavering support of his wife, Katja. When you visit Benedicts, you know that you are experiencing something very special – something that comes from the heart of a true Norfolk boy, who believed enough in his dreams to follow them.
Further reading
Benedicts – Richard Bainbridge's award-winning restaurant in Norwich