Apple, fennel and raisin slaw with yoghurt dressing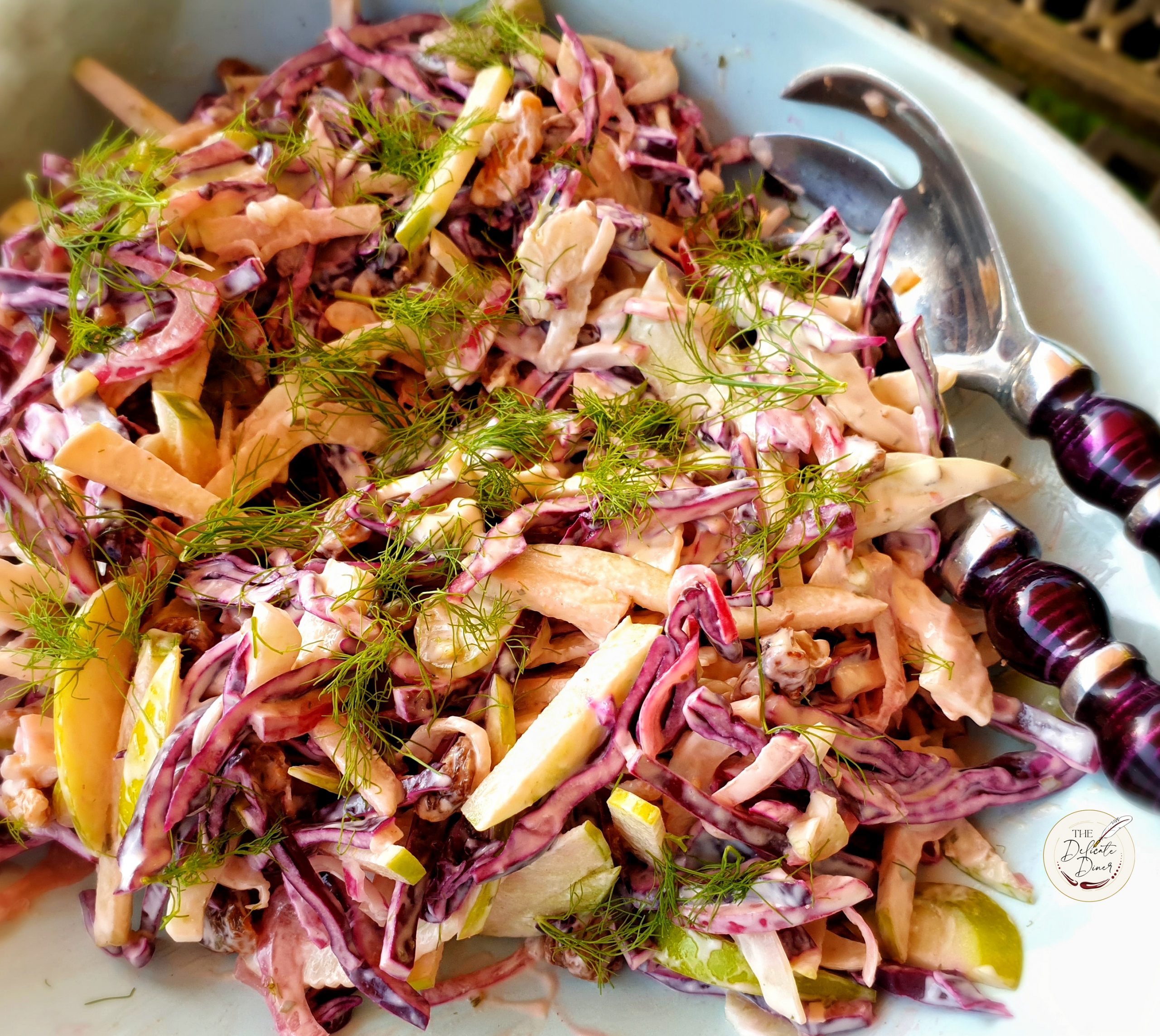 When the weather is this hot, you need your sides to be amazing and refreshing, and this coleslaw definitely ticks those boxes! This apple, fennel and raisin slaw is perfect for summer days, especially with its refreshing yoghurt-based dressing. Make it today!
INGREDIENTS
½ a red onion, finely sliced
2tbsp golden caster sugar
3tbsp red wine vinegar
¼ red cabbage, finely sliced
1 fennel bulb, finely sliced and fronds saved for dressing
1.5 green apples, I used granny smith, cored and finely sliced
A handful of raisins
A handful of broken walnuts
DRESSING
100ml skyr-style/Greek yoghurt – I used Old Hall Farm's luxurious skyr-style yoghurt
1 generous tbsp mayonnaise
1½ tbsp mustard – I used tarragon mustard, but use your favourite to make this slaw your own
Juice of ½ a lemon
A good pinch of ground pink and white pepper, to taste
Put the onion, sugar, and vinegar in a bowl. Stir well and set aside.
Mix all the remaining slaw ingredients in a large bowl – I don't cut the apple until I am ready to eat the slaw to prevent it from browning, but you can use lemon juice on the apple for the same effect.
In a separate bowl, mix all the dressing ingredients together, adjusting the seasoning to your own taste.
Once the rest of your food is ready, dress the slaw with the dressing – not forgetting the apple and onion – and enjoy!
If there are any leftovers of this tasty apple, raisin and fennel slaw, I do recommend including in a cheese sandwich – you won't be disappointed!
Click here for more recipe inspiration.