Cauliflower macaroni cheese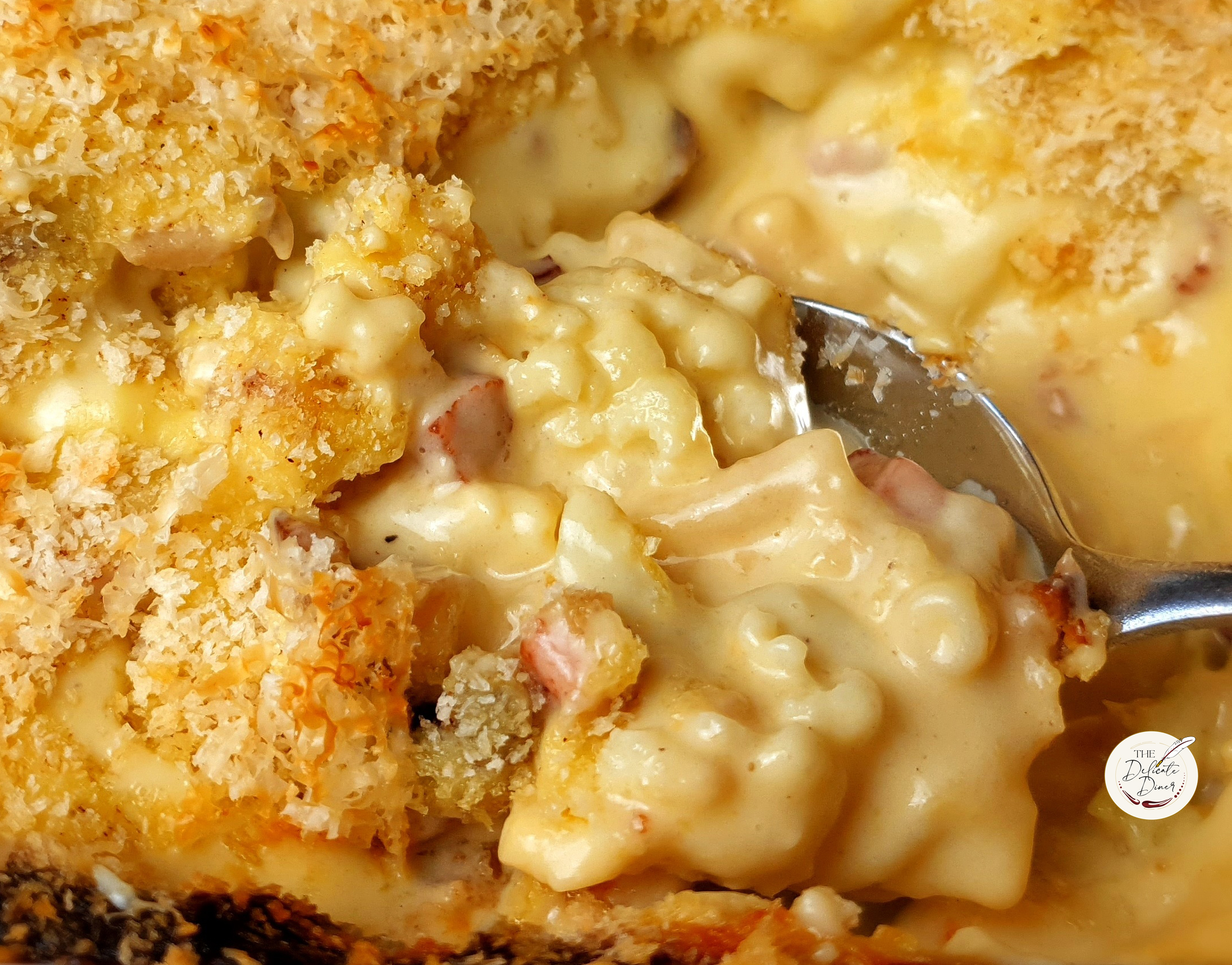 Is there anything better than cauliflower cheese? Yes, when you turn it into a cauliflower macaroni cheese! I added pancetta and mushrooms to add more depth to the dish. Panko breadcrumbs are a must, as is a good green salad on the side. I use Old Hall Farm raw A2 Jersey milk for my sauce, along with the strongest cheddar I can find. I make the bechamel in the 'all in' method I learned on an Italian cookery course. The mustard must be English, and you can easily prep this ahead of time and put in the oven once you are ready. The only 'must' – let the dish stand for five minutes when it comes out of the oven, if you can wait for that long, that is!

INGREDIENTS Serves 4 easily
1 cauliflower
1 litre whole milk
1 onion
1 bay leaf
Salt & black pepper
Freshly ground nutmeg
100g butter
70g plain flour
200g strong cheddar cheese
2 tsp strong English mustard
150g macaroni
100g pancetta
150g sliced mushrooms
Panko breadcrumbs to cover
Parmesan cheese to cover
Break the cauliflower into florets and bring to a boil in a pan of water. Simmer for 4 minutes until just done. Drain and leave in sieve to steam dry. Do the same with the macaroni, cooking it until just al dente. Leave both to cool while you prepare the sauce.
Pre-heat the oven to 180˚C / 355˚F / gas mark 4.
To make the sauce, put the milk, onion, bay leaf, nutmeg, salt and pepper into a medium saucepan over a medium heat and bring to a gentle boil. In a separate pan, make the roux by melting the butter over a medium head and then stir in the flour, stirring continuously.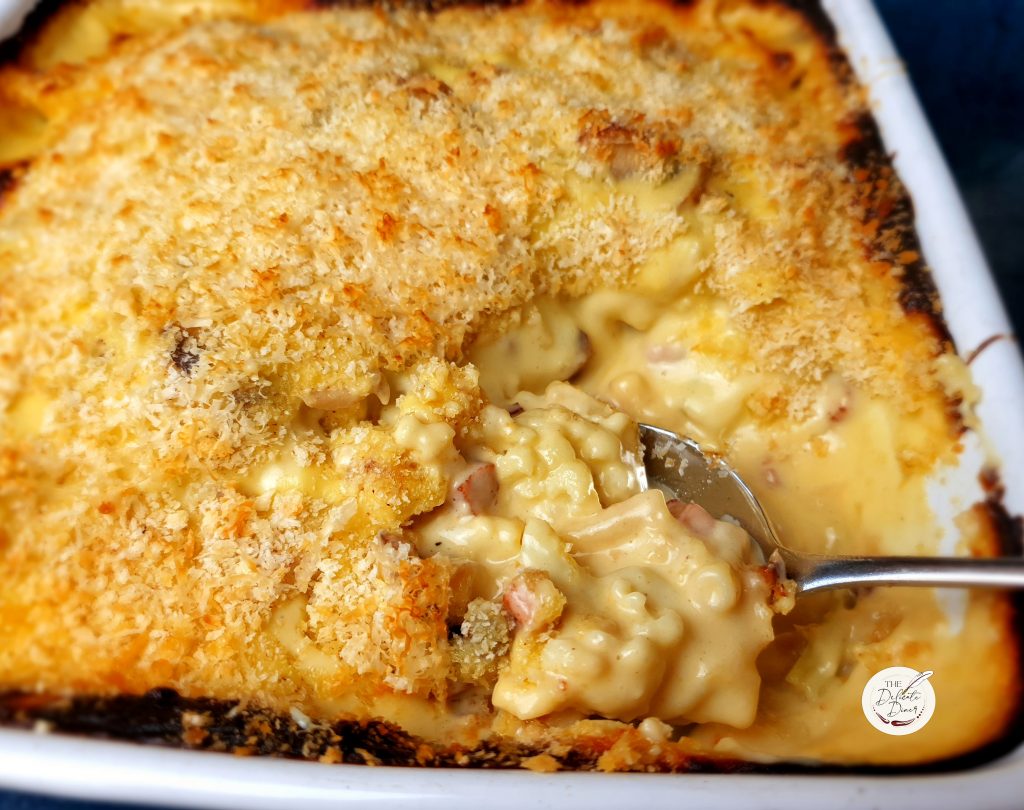 Remove the bay and onion from the milk, then add the roux to the milk, whisking furiously until it thickens. Add the cheese and mustard (which will also help thicken the sauce) and adjust seasoning. If not using immediately, cover the surface with clingfilm to stop a skin forming.
In a small frying pan, brown the pancetta and remove. Add the mushrooms and lightly brown; you still want them to be fairly hard so they hold their shape in the main dish.
When you are ready, assemble the cauliflower macaroni cheese: put the cauliflower in the bottom of an ovenproof dish and mix the macaroni through, breaking it up as needed. Scatter over the pancetta and mushrooms, then carefully pour the sauce over. Give the dish a shake to make sure that all the sauce goes into the dish and top up accordingly. Finally, grate some more nutmeg over the dish, then top with panko breadcrumb and, finally, fresh parmesan.
Put into the oven for 25 minutes or until golden. Remove and let it rest for a few minutes, then serve with a green salad on the side. Don't forget the delicious crispy golden bits around the edge – they are the best bits!
When I made this dish, I had enough bechamel left to make some croque monsieurs for lunch the next day, using this delicious Mary Berry recipe.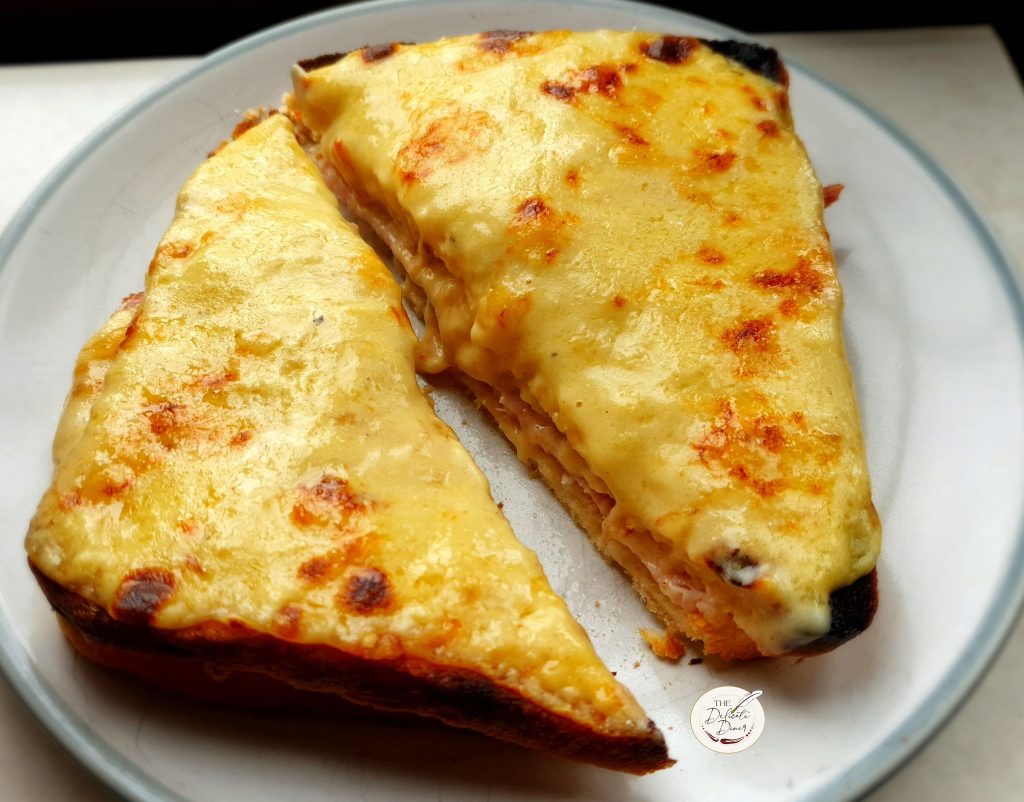 For more delicious recipes, click here.