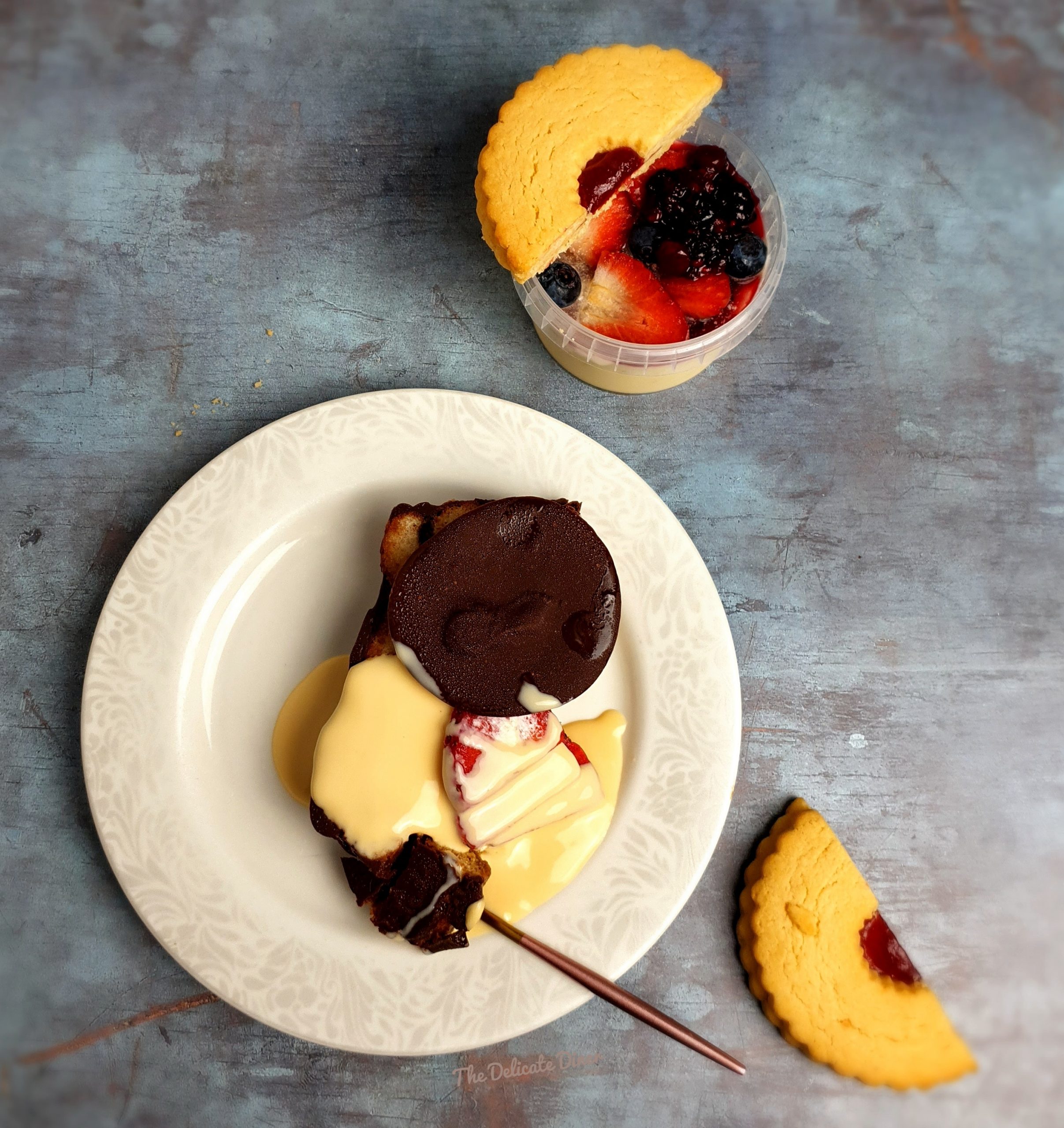 Goodies Food Hall takeaway review – time for Posh Nosh!
I keep seeing posh nosh menus from Goodies on social media and they are tempting. With the Six Nations matches on over the weekend, I decided that it was time to review this takeaway/dine at home treat, leaving me time to enjoy the rugby. And what a treat it was!
I have been visiting Goodies, found off the A140 just through Long Stratton and towards the Pulhams, since it was a strawberry stall. I actually hate to think just how long ago that was. Certainly decades rather than years. Goodies was founded by Stuart Gooderham, the son of a farmer. As time went on, sausages and asparagus were also offered, with the sausages coming from the farm. And Goodies was born, the name being a shortened version of the family surname as well as being suggestive of the delicious produce they offered. The stall was run by Stuart, and it was he who was the brains behind the business. Slowly it evolved from a strawberry and sausage stall through to a small trailer and then a small shop.
Since those early days, Goodies has grown substantially to a vast farm shop – one where social distancing is not an issue. The food hall contains a butchery, cheese counter, fresh bread, fresh fruit and vegetables, fresh cakes and bakes including sausage rolls, Scotch eggs and pork pies, and a wealth of other produce besides. Then there is a cookware section, a wide range of alcohol, a frozen section that includes meals to cook at home, all prepared on site, and much more. Plenty to review for another day, perhaps.
Alongside the food hall is a café, one that last year was beautifully refurbished but sadly it has been closed more than it has been open, thanks to the global pandemic. With that in mind, and with head chef Darren Reilly wanting to cook for people, Goodies developed posh nosh– food to collect at the shop and then enjoy at home.
It was suggested to me that I might like a night off from cooking, so we explored the menu. We decided to go for coq au vin as it's not something I often cook at home, and we placed our order. All food must be pre-ordered by the end of Wednesday, and you collect the food on either Thursday, Friday or Saturday – you select which day and time works best for you.
The menu
Looking at the menu first, I must say that it is great value for money. Each posh nosh meal serves two and not only does it come with a side dish, it also comes with your choice of dessert. The food menu changes every few weeks, so visit their social media pages for their latest offering.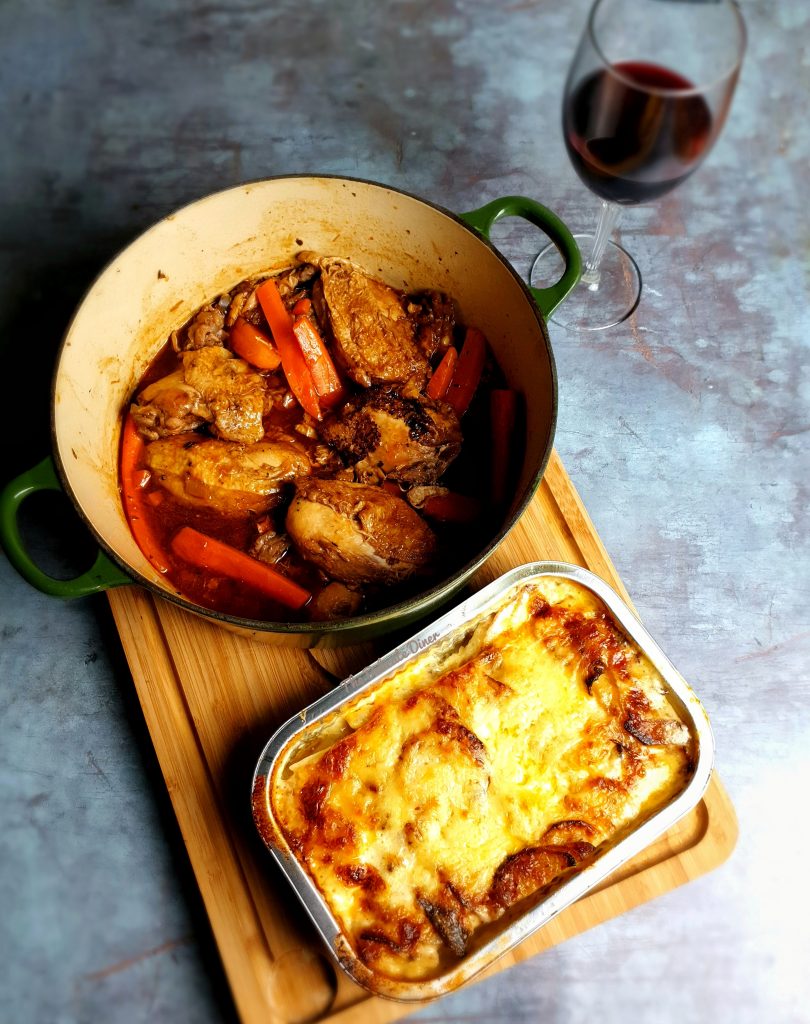 On the current menu are a choice of four meat dishes – beef bourguignon, coq au vin, aromatic slow-cooked pork belly, or rosemary and garlic braised lamb shank. Away from meat, there is fish pie, made with salmon, smoked haddock and prawns. There is also a vegetarian butternut squash and lentil cottage pie which comes with an Italian mozzarella and tomato ready-to-bake pizzetta – sounds delicious! The sides are matched to the dishes – boulangère potatoes, dauphinoise potatoes, wok-fired vegetables and noodles, spring onion mash, and steamed vegetables respectively. There is also an option to add a chef's medley of green vegetables for £5.50.
The posh nosh afters are indulgent. There is a choice of Toblerone cheesecake with a tangy raspberry coulis or a chocolate-covered tiramisu terrine with a Baileys cream. The final dessert is lemon posset served with fresh berries, a jammie dodger shortbread and a wild berry compote.
As mentioned, each meal serves two and offers two courses, and I think that the prices are very good. I have looked at a lot of dine at home menus, not just locally but across the UK, and Goodies offers incredible value. The beef bourguignon is £32, the coq-au-vin £28, the pork belly is £34, the lamb shank £38, the fish pie £35 and the vegetarian cottage pie comes in at £20. So, what does it all taste like?
The food
Firstly, I must say that the ordering and collection of the takeaway meal was relatively painless. There was a slight issue with my order, most likely down to the way I ordered it and I was also a late order which didn't help, but this was rectified very quickly and easily.
Everything arrived in a brown paper bag, clearly labelled and with reheating instructions as well as allergy advice. For those worrying that they may get small portions, fear not! These are proper farmers portions, with plenty to go around, meaning that you truly do get great value for money. Most of the food is locally sourced as well, something that is becoming more important for many. The pork is from Goodies own farm, and the pork belly dish must be a definite one to try in the future.
As advised, I transferred the coq au to a cooking pot and reheated it gently on the stove, while the dauphinoise was stripped of its protective top packaging and went into the oven. With a simple case of reheating rather than cooking, there is nothing much to worry about, but I did cook the potatoes for a little longer to ensure that they were golden on top. We also cooked some green beans to go on the side, partly as they needed eating up and partly as they go so well with this French dish.
The coq au vin was absolutely wonderful – each mouthful was bursting with different flavours, and it was a rich and warming dish. I love big flavours and this plate had it in spades. The chicken was well cooked and the thigh especially tender. The dauphinoise was light on the garlic – but that is down to personal taste – and also had a cheesy topping, adding to the creaminess of the dish. One course down, and it was truly lovely.
On to desserts, and my parents both went for lemon posset while I had the tiramisu. I must admit, I did look longingly at the jammie dodger shortbread – they are huge and the portion was half each. The posset was creamy and light, with the different fruits and compote giving a real zing to the pudding. My tiramisu was also flavoursome, with a nicely soaked sponge while a chocolate disc adding a touch of elegance to the plate. The lemon posset also had a chocolate disc atop to stop the berries melting into the posset before you came to eat it.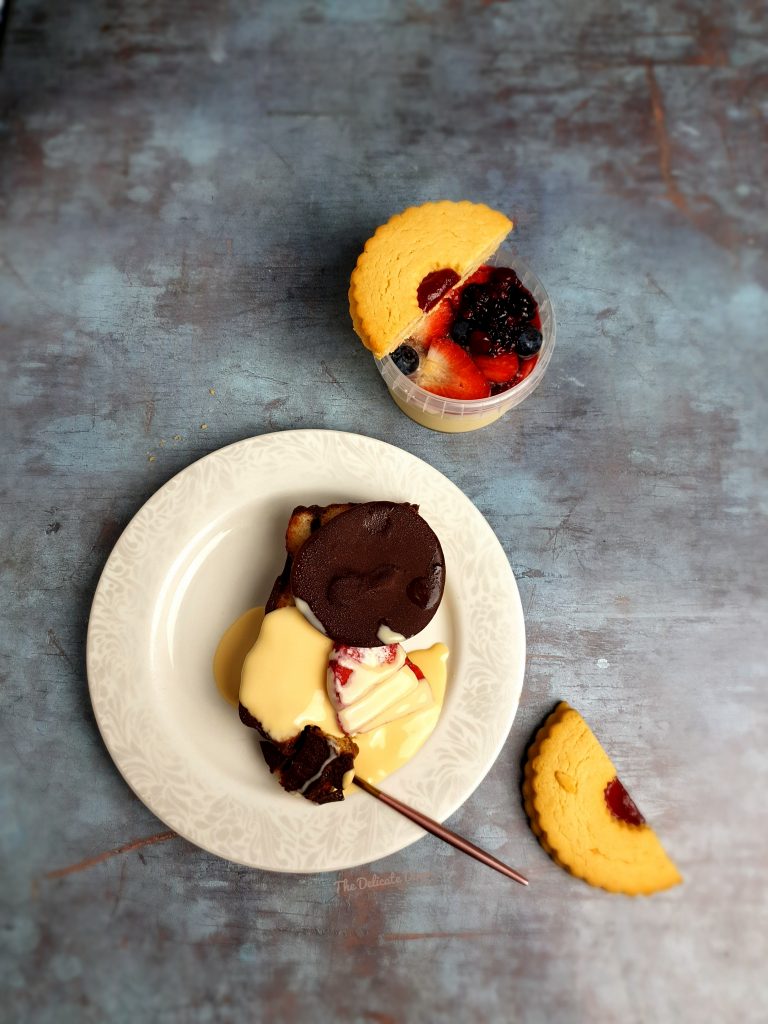 Bowls licked clean, and plenty of leftovers for lunch the next day, we all declared Goodies posh nosh a triumph. This glimpse of what they offer bodes well for when the café can reopen in the future. I know that I will be there, booking a table and sitting outside in the sun, enjoying great food and wonderful company – something that we all need to look forward to right now.
All food was paid for by myself, and none was gifted.
Read more from The Delicate Diner over on my p/reviews page