The Delicate Diner meets… Sytch Farm Studios
There are very few people in the world who have that lightbulb moment as a child, realising at a tender age the exact path that they need to be on. But for Gill Thompson, one half of Sytch Farm Studios, that moment came when she was just five years old. Playing with clay in a school class, Gill could see her future – designing and making beautiful ceramic plates and pots to be eaten from and enjoyed, and her path was set. Move on a few years with her talented husband Jon by her side, with his breath-taking woodwork skills, and products from Sytch Farm Studios are sought after by chefs across the country. With lockdown enforcing a step back, I speak to Gill about her creativity, her obsession with ceramics, and how taking time out has changed her.
"I never thought that I would have a career working solely in clay," Gill tells me as we talk over the phone – she, with clay in hand, never able to keep still, the sign of a true artist. "It has been such hard work to get to this point, but it has been incredibly rewarding. And at the heart of this is a sense of history, as I still use clay from the same clay pit that I used in school that day."
In a world that is constantly changing, this continuity brings a sense of stability and loyalty that is rarely seen in these modern times. That attention to detail shines through in the ceramics that Gill creates – each is clearly made with love and they have a wonderful organic, earthly feel to them. You want to drink out of her mugs, you want to eat from her bowls, and you want to share her unique and amazing style with friends.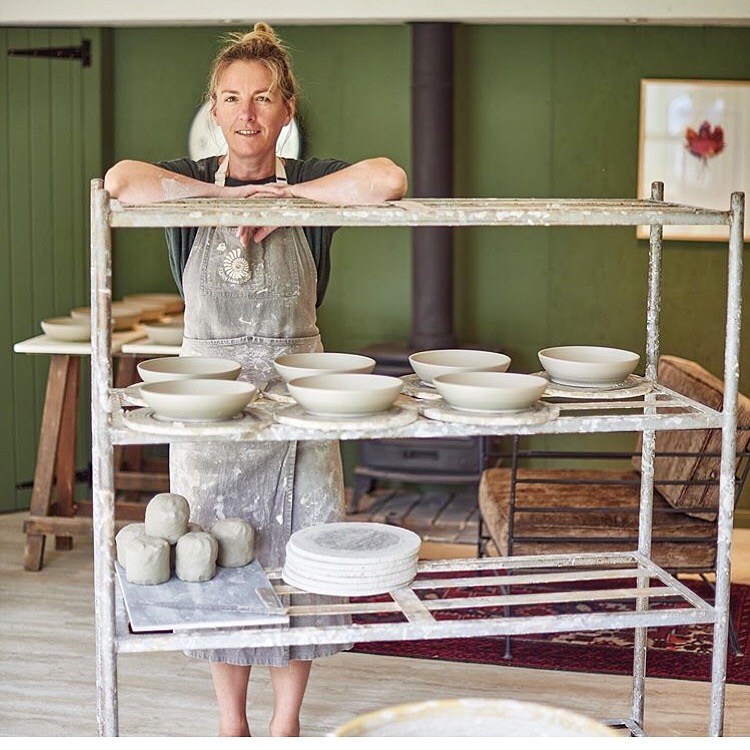 Having first met Gill at the BBC Good Food Show a few years ago, I am familiar with her products. They are tactile, and you want to hold them – the mugs fit perfectly into your hand, and the bowls, with their iridescent glaze, entice you to just 'try a bit more'. My bowl and jug set came with a perfectly shaped chopping board made by Jon – Sytch Farm Studios as we know it today. But the journey from making her first pots to being at an event such as this was a long one, and it all began in a Cornish classroom several years ago.
"I grew up in St Agnes on the north coast of Cornwall after my parents moved there when I was six months old," says Gill as we begin the interview. "My parents and sister still live there, so I have every reason and excuse to visit often. When I was a child, Cornwall felt so different to how it is now as the tourist shops were only open for five months a year. You used to be able to go out for the day and not see anyone.
"Being a school girl in St Agnes gave me my lightbulb moment. I was five years old, and it was in Mrs King's class. We made some pots and I thought that mine was the bees' knees! I wanted to eat out of it for the rest of my life but was told no, it was not being fired, but that there was a pottery up the road. It was a life-changing moment – it was real, and there was a science side to it. It really grabbed me as a kid."
From that moment on, Gill was obsessed with ceramics, but it wasn't until she went to secondary school in Newquay where they had a ceramics department, including leach wheels and two kilns, that things began to change. "It wasn't big enough for the whole class, but this was where I fired pottery for the first time," recalls Gill. "By the time I came to do my A levels, I asked the teacher if they could teach me to throw. It is not an easy thing to learn, so I was told that if I committed to four lunchtimes a week, then they would teach me.
"I learned about throwing on a kick wheel and it was like torture waiting for the kiln to cool down to see those first pieces! It still is, to be honest, even now. I don't know what is going to come out, and it takes a couple of days for the kiln to be cool enough to remove the pieces. But I still have three pots left from when I was 18, and they are very dear to me. It is interesting to look at how my style has changed over the years."
Having finished school, an already inspired Gill was hooked and her love of clay took her to art school in Falmouth where she began her proper training in ceramics. Having done a foundation art course, Gill went on to pick her specialist area – naturally, this was ceramics.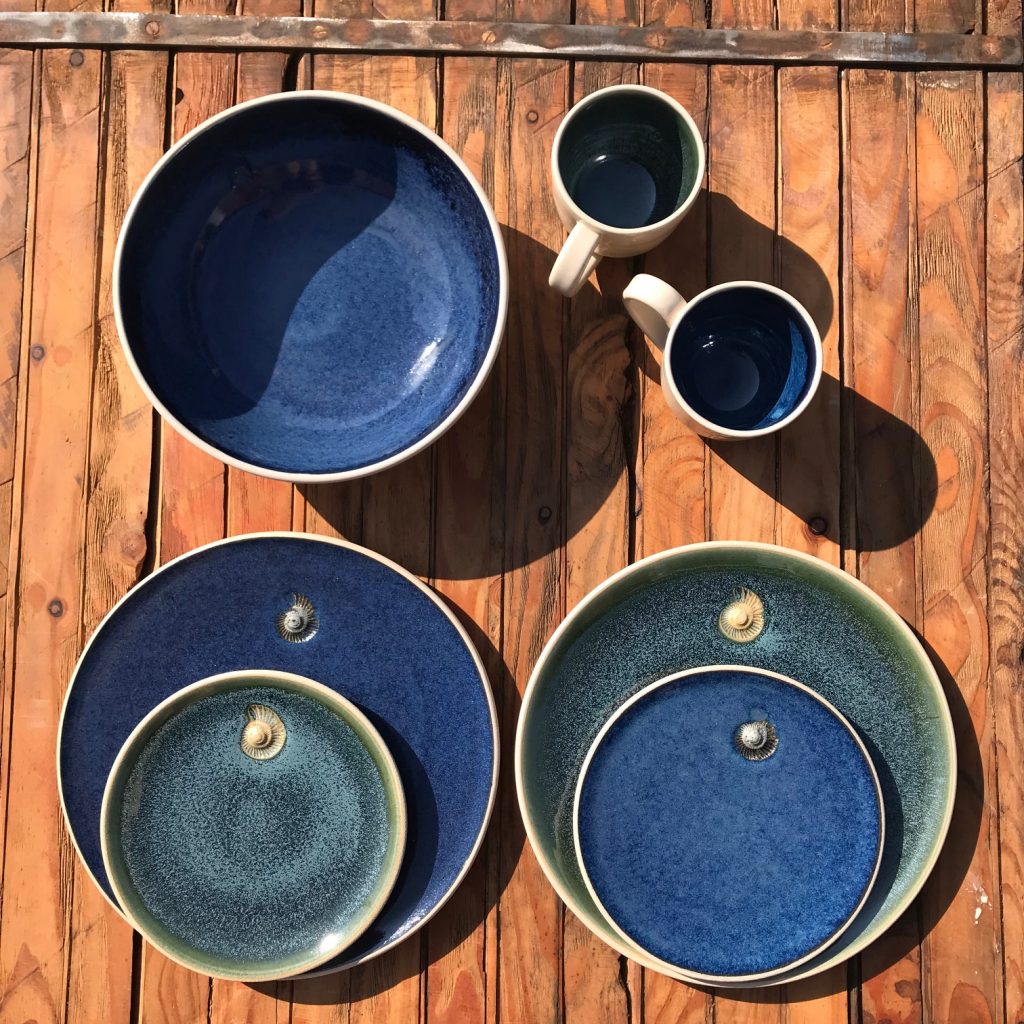 "I spoke to teachers about where the best place in the country was to study, thinking that it would be somewhere exciting, such as London," she laughs. "It was Wolverhampton! I moved there, the teachers thought I was nuts, but that is where I did my Bachelor of Arts (BA). It wasn't just about throwing, but also sculpture and conceptual ideas. I have actually started these again more recently during lockdown."
Having earned her degree, Gill then went to stay with friends in France where she found that there was a potter in the village. "I would badger him every day, asking him questions," she smiles. "When I returned from France, I knew that I hadn't finished learning, so I did a masters in ceramics at Wolverhampton. I was asked to teach the BA students in small photography workshops while doing my Masters. Once I had my second degree, I trained to be an art teacher; it was easy to go from studying to teaching."
Gill was an art teacher for 16 years. The schools she taught at had both wheels and kilns, so Gill used to go in at the weekends to make her own pottery. "I would make presents for Christmas and birthdays," she recalls. "If someone asked me to make them something, I would, and I would never charge them. I never had plans to be a full-time potter and never in my wildest dreams did I think I would be able to make a living from this. But slowly, as more people began to want my pots, mugs, and plates, I began to wonder if I could…"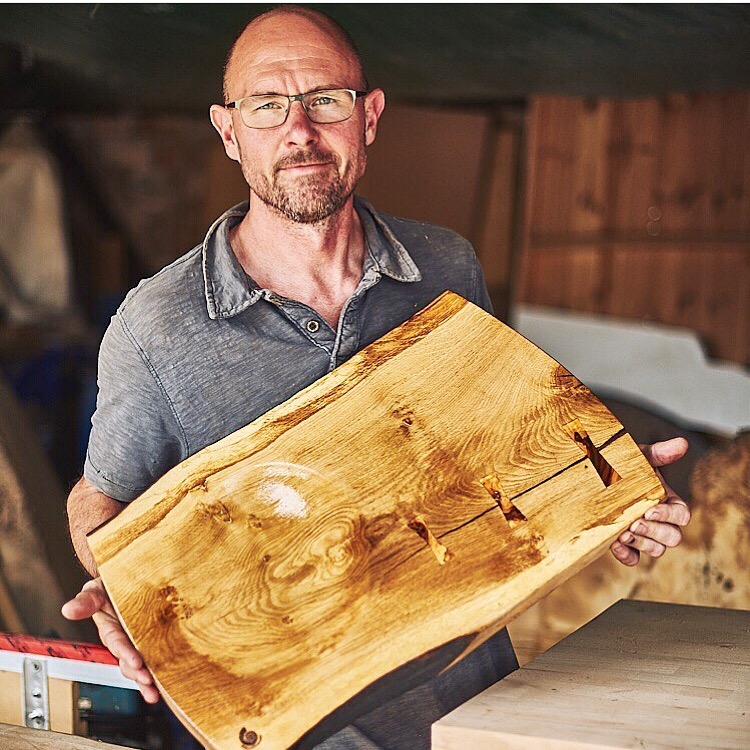 By this time, Gill had met Jon, and they celebrated their 13th wedding anniversary in July. Both keen runners, the couple first met at a fell race outside Ludlow 15 years ago. "It was the end of the race, and my friend knew him," recalls Gill. "I accused him of cheating! I had already overtaken him twice in the race – in fact, rather than pushing up a steep section, he crashed through the heather, so we had been on slightly different routes.
"Two weeks later, my friend invited Jon to come and meet her and her husband for beers – and invited me as well! I thought, 'I recognise that man…' We got chatting and talking and found that we had really similar interests. As you say – the rest is history!"
Jon has always been an artist – check out their website to see some of his amazing work – and while he had shows in London and Bath, there was nowhere local to showcase his talent. "In 2008, we approached the nicest man, Mike Matthews, who had opened up The Prince Rupert Hotel in Shrewsbury and explained that we would like to open a gallery but could not afford to sign up for a lease. He was happy for us to go ahead with the gallery, and so we went for it.
"When we opened, I was still teaching, and Jon was still painting. Quickly, the gallery became successful. As is so often the case, we ended up in the position where we were not able to do our own thing. You are a writer, so you understand how frustrating it is as a creative person not to be able to create! But we loved it and we ran it for five years before deciding it was time to do something else."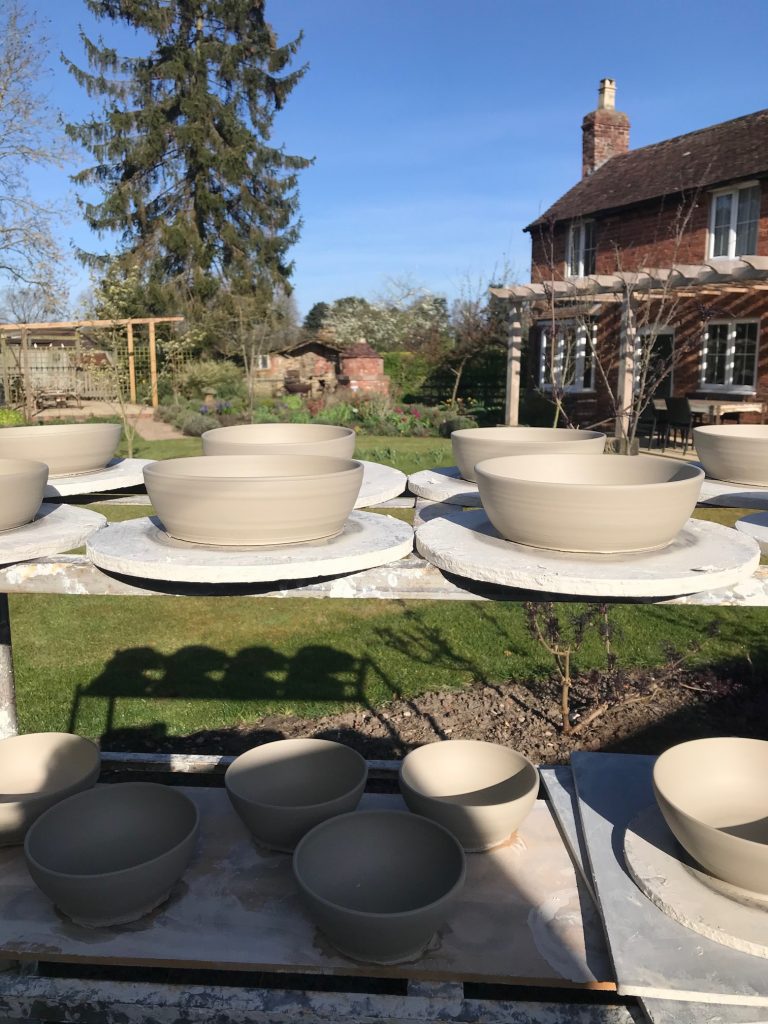 This is when the couple's lives changed forever as they moved to Sytch Farm, located behind the beautiful Shropshire Hills. "We suddenly had a lot of outside space," smiles Gill. "The first thing Jon did was convert a shed in the back garden to a pottery. I had the space to play with stuff, and I would come back from teaching and go straight into my shed for an hour or two. I was still giving my ceramics away as presents – and I began to wonder if I could make some money from it."
In 2012, Sytch Farm Studios went to a small local show and Gill took a load of pots to display and sell. "Within two hours, all the pots had gone!" she exclaims. "That was a big moment for us. We then went to The Frost Fair and did well there, and then we won the Table Top Living Competition for Country Living magazine and we went to London to meet other exhibitors for that, which was great. Karen Barnes included Sytch Farm Studios in her Meet the Market page in Delicious magazine. The network of people we met through these events was ever evolving."
With momentum gathering, Jon told Gill that he had booked Stych Farm Studios for a show – and it was that show that would prove to be pivotal for the couple. "The show Jon booked was the 2014 CarFest!" laughs Gill. "And a chef called Tom Kerridge walked past with his wife, Beth. Tom was only known at the time for Great British Menu, and we loved him. We got chatting – Beth's dad was a potter, and Tom had just cooked at the Shrewsbury Flower Show, so he was talking to Jon about that.
"While Tom was talking, his fingers kept running along the edges of the pots on the stand. I never dreamed of what he was about to say! We were still chatting, and he suddenly said – 'can I have that bowl in that glaze, and that size?' It was a bespoke order, and Tom asked if it was possible to have what he wanted as he couldn't find a bowl for a dish he was creating.
"On the spot, Tom ordered 30 of one style, and 20 of another. When we came to deliver them to the Hand and Flowers, it weirdly coincided with us having been booked in for a year as our birthday treat to ourselves. We had an 'oh my, did that happen' moment!"
Gill continues, telling me that Tom and Beth are such lovely people and also great supporters of Sytch Farm Studios. "We had our big birthday treat at the Hand and Flowers, and Tom kept bringing out a special something for us to try! At the end of the evening, we had a fully guided tour around the kitchen, and it was really special."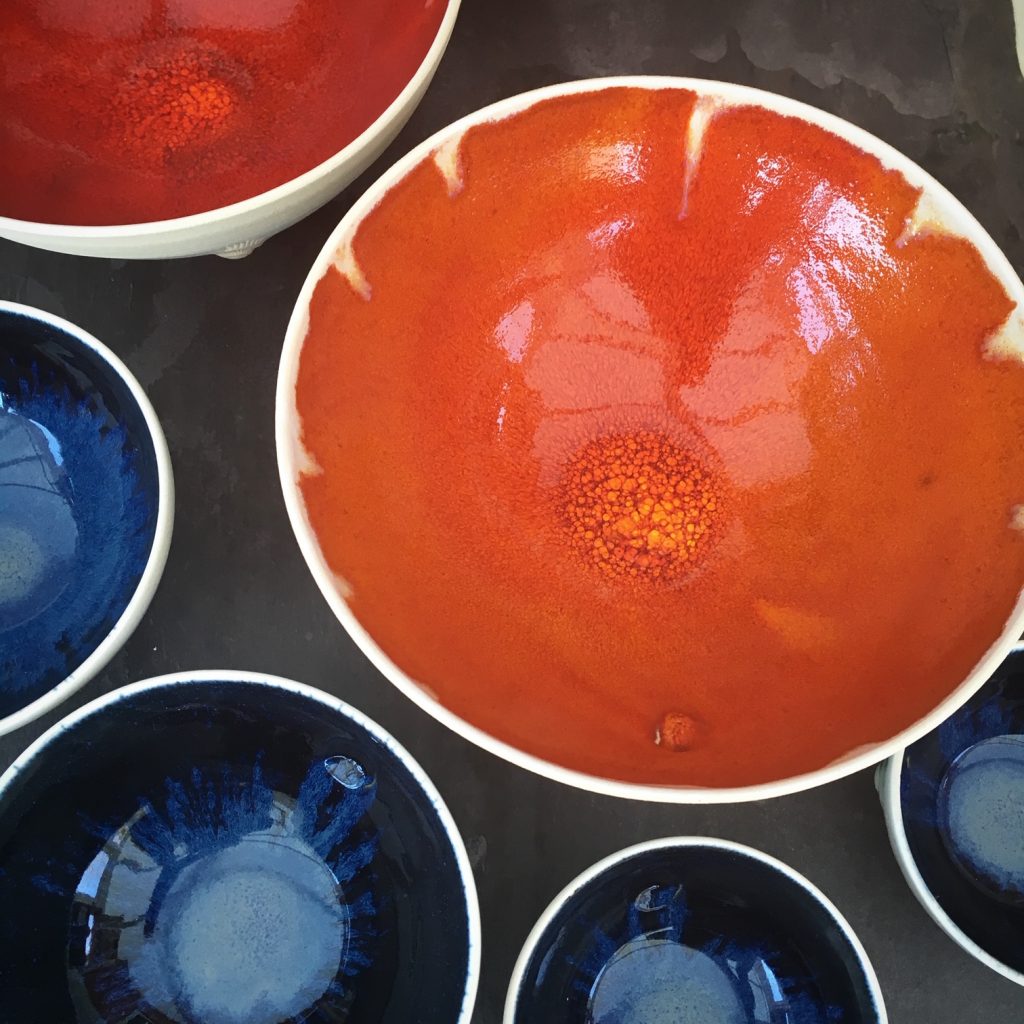 Gill continued to work full time as a teacher but began to cut back her hours in 2016. "Once Tom had his pots, used them and had put them through the machines, he said that he would let his mates know," she explains. "Things moved quite fast then! The chefs realised that they could have something in controlled size, colour, and shape.
"I began to pick up a few more clients. I initially dropped to teaching three days a week, and then down to two days a fortnight before stopping altogether. I was having to learn to make ceramics I had not made before, ones that were not necessarily my style."
While undoubtedly a very exciting time, it was also a difficult one as well. Anyone who has run their own business knows that they reach a point where they have, in effect, a tiger by the tail, and difficult decisions have to be made in order to grow. While Gill was able to move into her dream job, that of being a potter and making beautiful ceramics, it was also a very challenging time.
"It ended up being the perfect storm – starting to expand Sytch Farm Studios and leaving teaching," explains Gill. "I was very ill with terrible headaches and spells of blindness – it was awful. I had an MRI and then saw a consultant who suggested that I should take up another career. They said that my body was trying to tell me something and stop me from going into the classroom. Teaching is a hard job and there was a period when I was quite stressed – and this is how it manifested itself.
"I had been running the art department for 10 years, and I knew that I needed to try and do something for myself. I needed to, I had to, and I wanted to. It was not easy to begin with. Some days, you get up in the morning and it would all be wrong, and I would have to make everything again.
"Working for yourself, you have to be prepared to work a lot harder and to have less – and that pushes you forward. It also makes you determined to look after yourself as well. I wouldn't change it for the world, but there were some difficult moments along the way."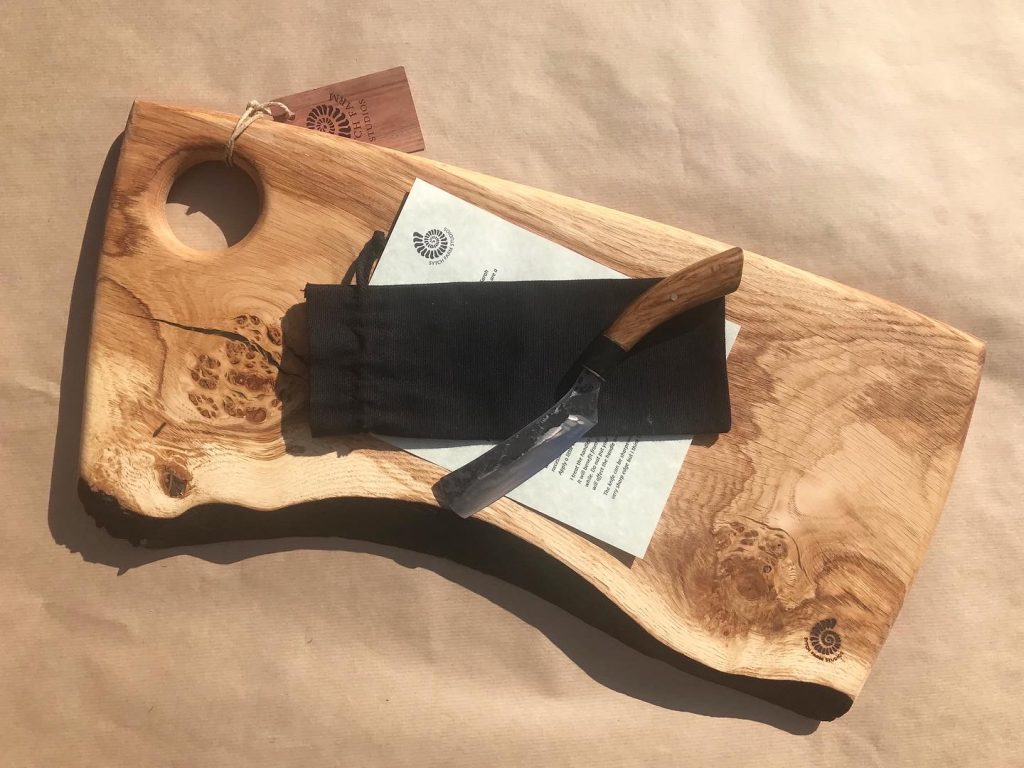 Gill remembers going into the pottery shed the days after Boxing Day and New Year's Day and crying. "I knew I had to work every day as this was now my sole income, and there are some days when you cannot see an end in sight," she recalls. "I didn't have more than one day off for a couple of years, and that does take its toll. It is easy to look at what I am doing now, and think that it has been a huge success, and there is no doubt that I love my work and have had so many special moments over the years. But there is a lot of hard graft involved. You cannot always get enough time to do all that you need to do."
The subject of time brings us nicely on to lockdown, which we have been on here in the UK for nearly 17 weeks at the time of writing. "As an art teacher, I saw pupils sat in classrooms, all focused on academia," says Gill. "Baking, gardening, and sewing were the most popular programmes on TV, but these were the areas where schools were cutting back. Lockdown has shown people the calmness that there is in the world through learning to craft. More people are knitting, baking, and gardening than ever before. It is a good change, and one I hope that people will continue with."
Lockdown has also been very instrumental in unexpected ways for Gill and Jon. "We have made a covered outside eating area," Gill explains. "We have two fires that we can cook on. Jon has also built a pond, which is quite amazing. The idea is that we want it to look as natural as possible without being staged, with cobbles and shell sculptures. I may make some clay birds to sit around there…" Just two days after speaking to Gill, she shares her first birds on social media; this is clearly a woman who puts her ideas into action, and quickly.
Gill has also allowed her creative side to come to the fore again, having been working more or less solely on commissions the past couple of years. "I have started to throw what I want to again, and to glaze the way I want to," she explains. "Creatively, it has been really good for me – to have some time and space, and not feel any pressure. Once I became less anxious about the world, I have definitely been having more fun with the clay."
Such pieces include Gill working on 'starburst' glaze effects, something that chefs prefer not to use as they want to showcase the food. "Customers love these pieces," Gill grins. "It has been fun to work on these and other ideas."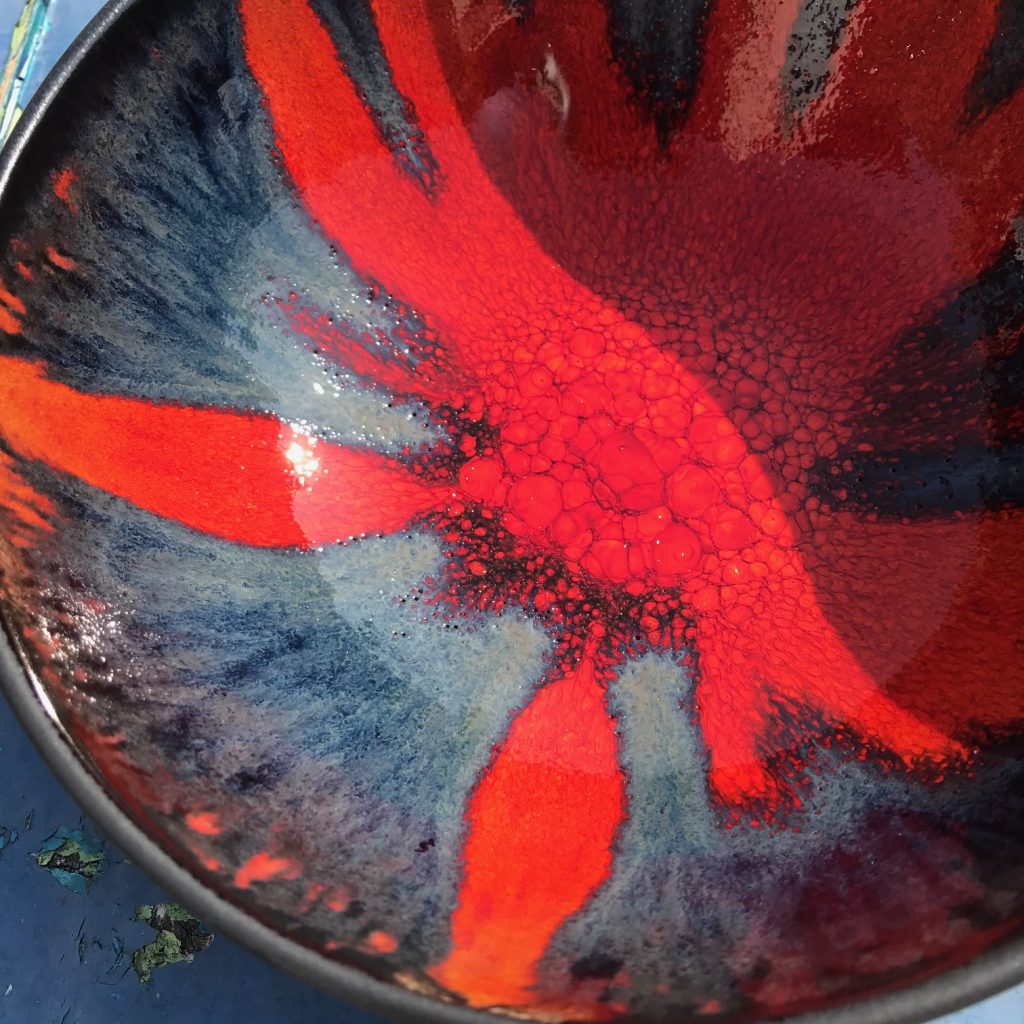 Most notable during lockdown have been the competitions and giveaways that Gill has run on social media. I ask her about them, and she laughs: "It is the teacher in me! Schools are shut and I thought, 'what are people going to do?' Jon and I were meant to spend the whole of June in France and enjoy our first proper holiday together in years. Instead, I was able to work from home and enjoy our garden. But I started thinking about people who lived in flats or had a house with no garden, and I wanted to do something to help them."
Gill came up with the idea of a competition and, in typical Gill-style, it has snowballed from that. "The idea of giving away a few seconds was obvious to me," she says. "I started seeing footage of NHS workers sleeping on the floor and with marks on their faces from wearing masks. I cannot give enough respect to people such as this so I did what I could – a tiny little giveaway.
"A philanthropist then got in touch with me and said he wanted to support me. He gave Jon and I a voucher for the Hand and Flowers – thus supporting Tom and his team – and I gave away the same value of ceramics in a giveaway. For that one, I asked people to share comments. The philanthropist cried when he read them. It was all very powerful and very special."
A second competition, again for NHS workers, came from the same philanthropist, this time supporting Paul Ainsworth. "Again, he picked the winners, a beautiful couple from South Wales. They are paramedics, and had worked all through COVID, cancelling their wedding and honeymoon."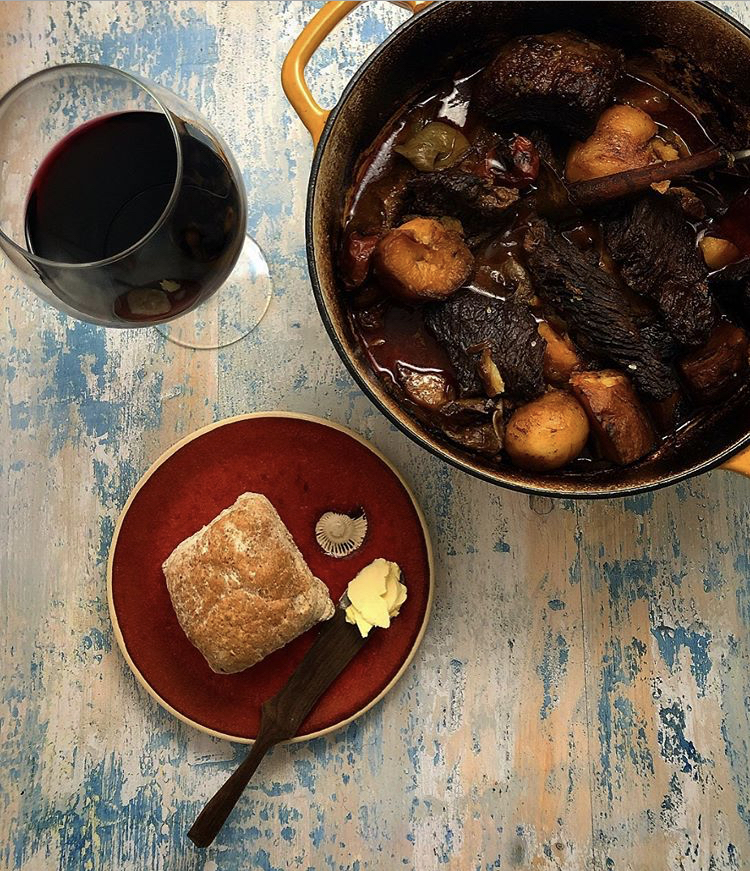 A third competition followed, this time for teachers as they were, as Gill says, under a lot of flack from the media. She is currently planning a fourth, again for NHS staff. "These competitions mean a lot to many families," she says. "The philanthropist is amazing – he has been looking at what chefs have been doing, such as Paul and Tom who have been feeding their communities, finding a way to support them and also give someone else a treat at the same time."
Another competition run as a bit of fun is with Hannah Mackley, Events Manager at the Ludlow Food Festival. Each week has a different theme, often based around how Gill is feeling at the time. "I have enjoyed seeing what people are doing," she says. "And one thing I really have learned during lockdown is that there are a lot of really lovely people out there!
"I have seen more care and love shown than normal, and people have been looking after each other more. This has been heartening to see, and I have been really touched. There has been so much warmth and love, and so many people willing to help."
On a more practical level, Gill says that she has finally learned how to manage her website! She has expanded her online shop and has set up a newsletter as an early warning to keen buyers. "The first time one went out, the website crashed," she explains. "A lot of people put one pot in their basket, but no one got it!"
I ask her if all the food festivals being cancelled this year have affected her business and while she says yes, she also acknowledges that as she was meant to be away in June, she only had a couple of big orders to complete in March and April this year. One set is sitting on the shelf and will be collected once needed, while the other will be glazed in a different way and sold as individual pieces.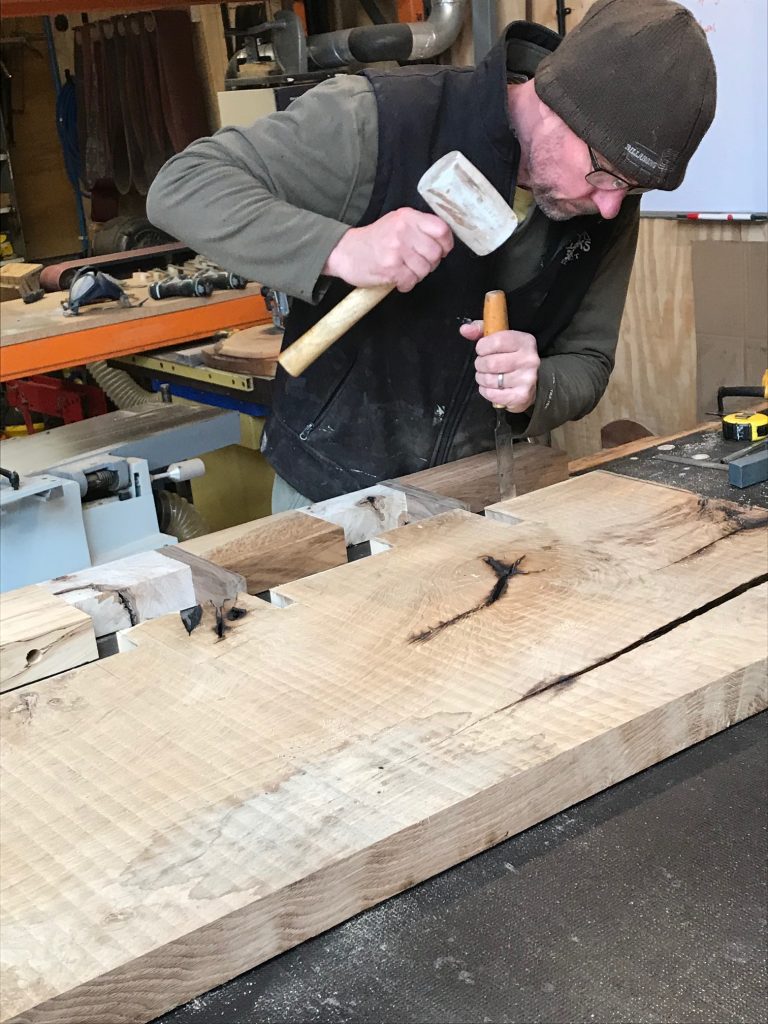 "Both Jon and I have received an order now that lockdown is easing," says Gill. "But the normal business has gone away, and I am not expecting it to come back in a hurry. Businesses need to look after every penny."
Gill has got around this by offering auctions of her stock, and she is clear to stress that these auctions contain used pieces and slight seconds. "One person won the auction and was so delighted with their seconds that they put a full order in! There have been so many lovely comments from people through all of this, and it has been great. I freely admit that social media has kept me entertained while I could not go out and see people, and that has been a nice connection to have."
One of Gill's strongest connections is with her local community, with the Ludlow Food Festival at the heart of that – an event that came about to celebrate the local producers in the area rather than opening a Tesco's in town. "Ludlow is totally different to the Good Food Show," she says. "People flock to the producers and talk to them about what they are doing. I always ask to be placed next to Sarah Appleby of Appleby's Abbey Farm. Her butter is to die for!"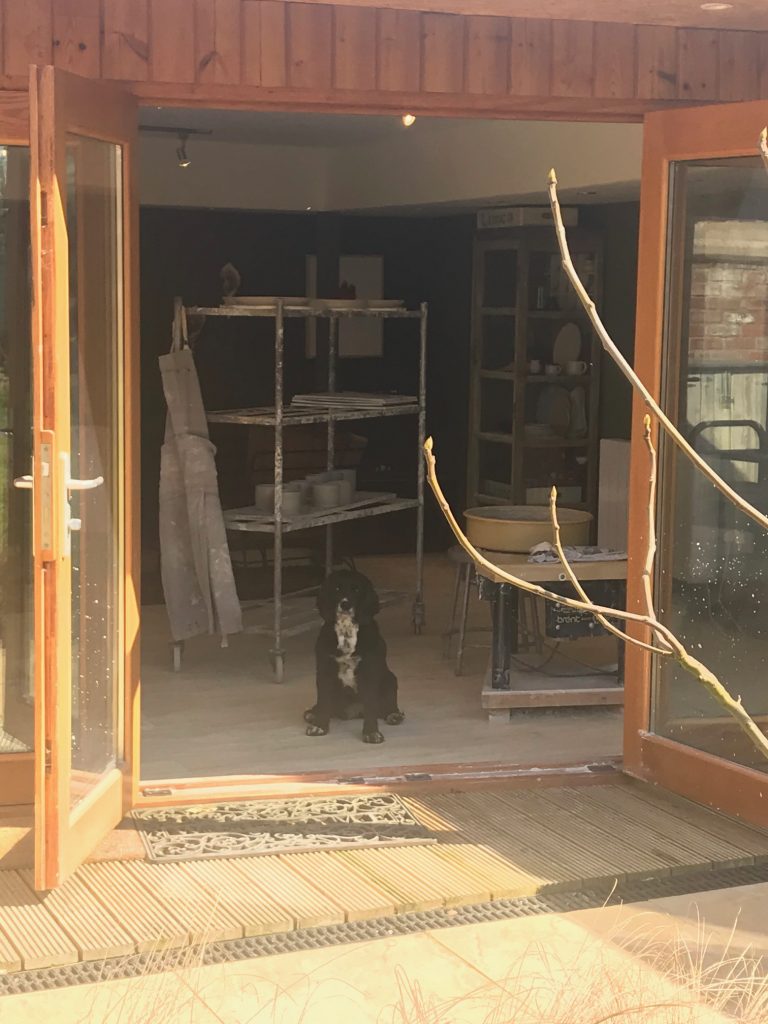 As touched upon previously, Gill's stands at shows were enhanced by the amazing woodwork that Jon has created. "I did my second small show and asked Jon to make some display boards to enhance my ceramics," she explains. "He went into his shed for two days and came out with some pieces – I just said 'wow' when I saw them! That was the moment that we really started working together as Sytch Farm Studios.
"Jon's reputation grew when people visited us and, on seeing something he had created, asked if they could buy it. One such example is the amazing tables he makes. We went to Seattle for 10 days to visit Jon's son, Sam, and saw all the handmade furniture there, including river tables – wood with resin through it.
"Jon couldn't work out how they did them, as resin is manmade and static while wood heats and contracts. He spoke to someone there and discovered that the resin is a natural product made from broad beans. Jon was fascinated and had just made his first river table in England when someone came over to order some ceramics. They wanted the table as well and ended up ordering two 5m tables. Having experimented with one thing, from one trip, it really took off.
"Lockdown has been good for Jon, too, in exploring his creative side. He has been making some amazing butcher's blocks, although sourcing big slabs of wood is not easy. His most recent table has resin and suspended resin in it – hopefully, I can have one soon!"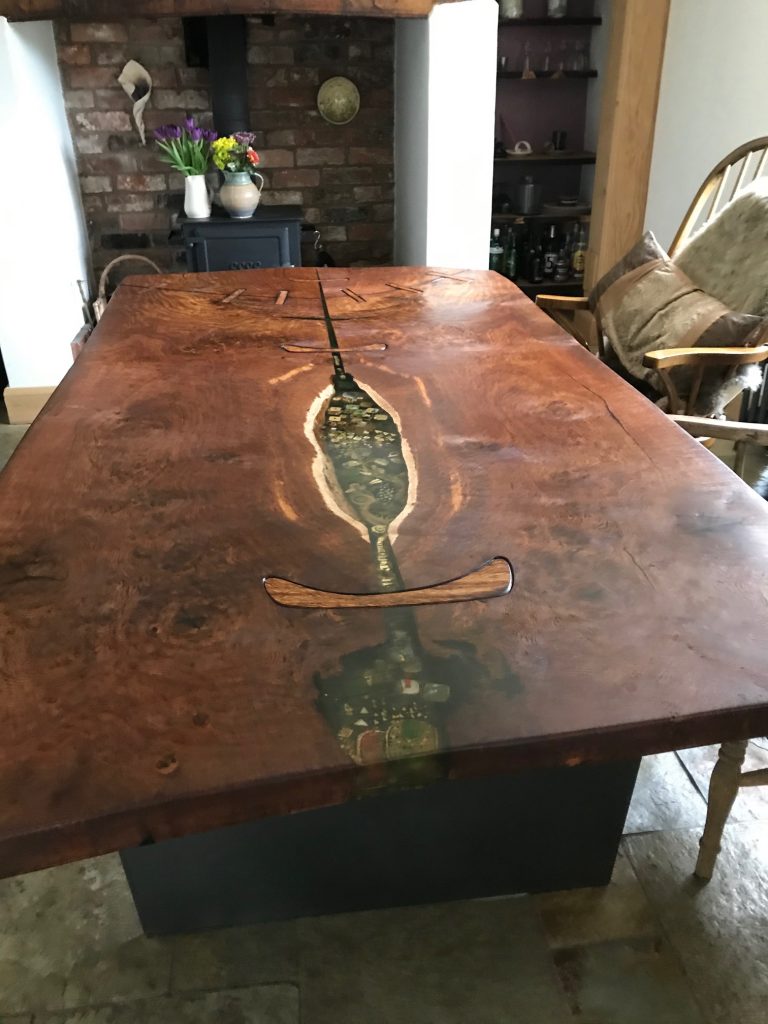 Gill continues, explaining how Jon looks at each piece of wood to see how he can enhance its faults, such as cracks and damage, to make a useable piece. "He looks at the wood and figures out what is best for it," she says. "He doesn't want to waste anything."
Lack of waste and care about the products is something that is key to both Gill and Jon, and what is amazing for many is that throughout this journey, Gill has continued to use the same clay that she first handled as a five-year old. "I have been using this clay forever," she explains. "It comes from a tiny little clay pit on a beacon outside of St Agnes. The land is owned by a farmer, and it is just beautiful clay.
"From the word go, I added the ammonite, the spiral-shaped fossil design that looks like a shell, to reflect where the clay and my love for pottery came from. People now associate that 'shell' with me.
"As for the clay, I know that clay pit, and I know the quality of the clay found there. It is along the same lines as knowing where your food has come from, or that your linen is Irish. Clay is a natural, organic, renewable material, and if you care about the environment, then to know that you have supported a farmer who manages his own clay pit, that is a wonderful thing.
"It is also beautiful clay! I 'biscuit fire' my clay, that is, I fire it before glazing, and this clay is white while others are shades of beige. I feel that this is part of what makes my glazes shine so nicely as they are sitting on a white base layer and not competing with another colour. Yes, it may make my life easier to use something more local, but I love this clay and I have no plans to change."
I ask Gill what her favourite pieces are, and she says that it is always the last best thing that came out of her kiln – and she then makes a load of them. Last year, it was hurricane lanterns and this year, she is playing with handles on candle sticks. As for regrets, Gill mentions some bird boxes that she made to take to the Malvern Show, just for display, but ended up selling both. "They were absolute crackers, and I have not had time to do them again," she muses. "Maybe for the pond…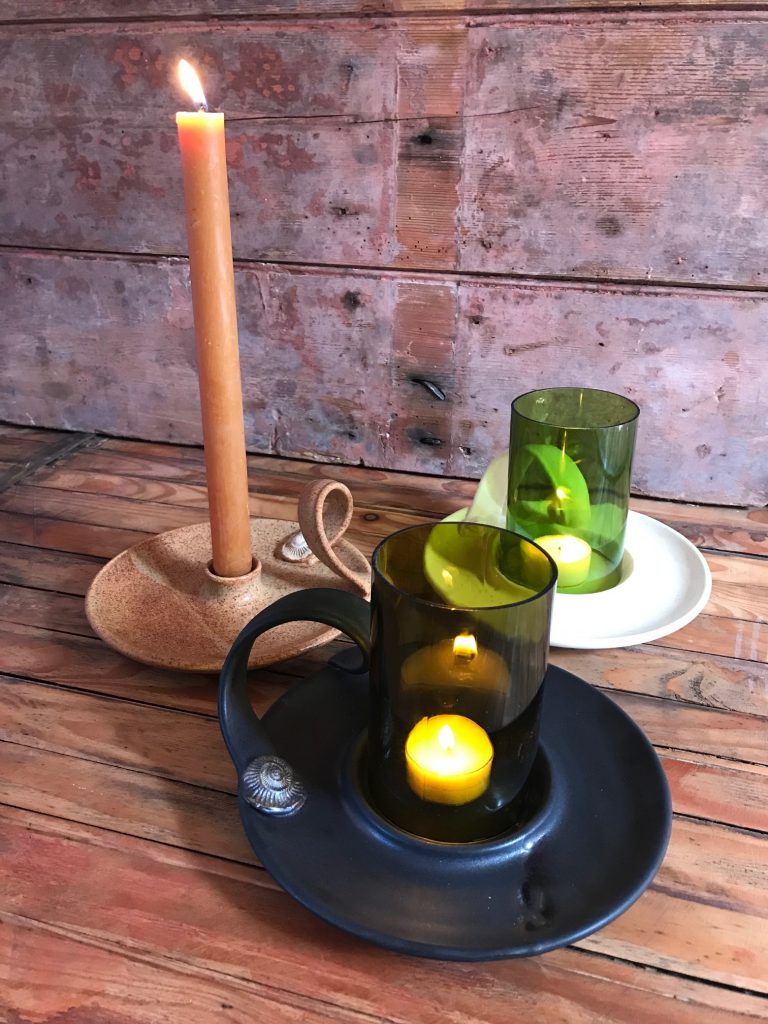 "I am always finding something new to make," she explains. "I have a sketch book full of random drawings – often shells – but every now and then, I will turn it into something to make. Being creative is in my DNA, and I always have a go to see how far I can take it."
As a foodie, I ask Gill what her fantasy meal would be, served on her ceramics and Jon's boards. "Definitely Sarah's butter!" she says without hesitation. "I know I am biased, but it is amazing. The wine would have to come from my friend, Tom Holt from Paso Primero, who makes his wine in Spain. My meat would have to come from Hill Top Farm in the Yorkshire Dales, as their produce is on another level. Also Shropshire Salami by Will Mackin, that is also amazing. The bread would be Jon's own beautiful sourdough."
Looking to the future, I hope that Gill and Jon will revisit a project they had planned pre-COVID, where they would convert the old pottery shed – Gill very quickly outgrew the original one and Jon built her another – into an en suite room. "The idea is that we would offer selected weekends to two people," she explains. "They would arrive on Friday and have dinner at home with us. On the Saturday, they would spend half a day with me learning about pottery and half a day with Jon learning how to fire a knife, for example, and then we would get a taxi into Shrewsbury and have a good meal somewhere. After breakfast on the Sunday, they would then leave. It would be both an experience and a weekend away.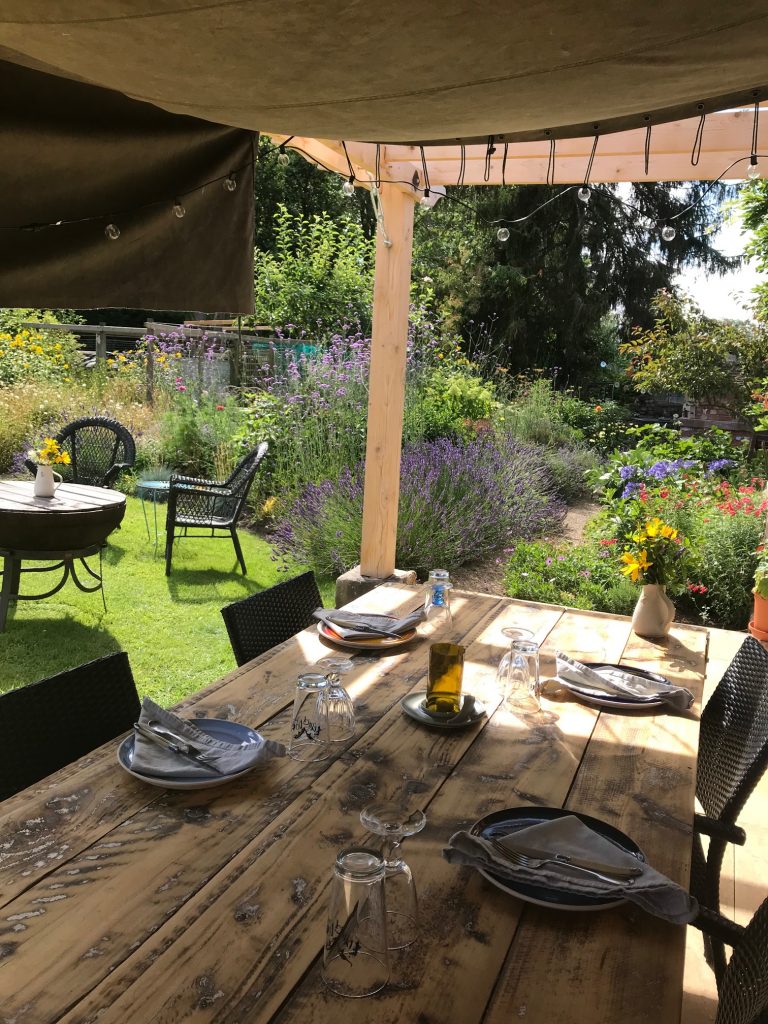 "Jon has also made a bicycle from scratch, something that took him two years, and the plan was to cycle to Barcelona and raise money for charity. Hopefully, he will be able to do this in the future."
"I also want to encourage people to get involved with a craft one way or another – it is so important and gives you so much head space. You don't have to be good at it – just allow it to take your brain off somewhere else and give it a rest."
As our conversation comes to a close, Gill pauses and says: "I was very young to have that moment to know what I wanted to do for the rest of my life. As a child, you live in a fantasy world, and I dreamed about making a plate and eating off it for the rest of my life. As they told me that the pottery was not going to be fired, they also told me that it could be real. I do have to pinch myself that all of this has happened, and I want to say that I appreciate everyone who appreciates my work. I just wish that I'd had the confidence to invest in myself earlier in my life.
There is no doubt that Gill and Jon have created something very special between them, and there is also so much more to come from this talented couple. When children have dreams, they really should be nurtured so that they can fly. And nowhere is this clearer than the dreams of Gill as a young girl, who wanted to take home her creation and cherish it for life. However, more than that, her dreams involved people using her pots in everyday life, living for the moment, and not that special occasion. And I think that we can all learn from that.
Further reading
Sytch Farm Studios