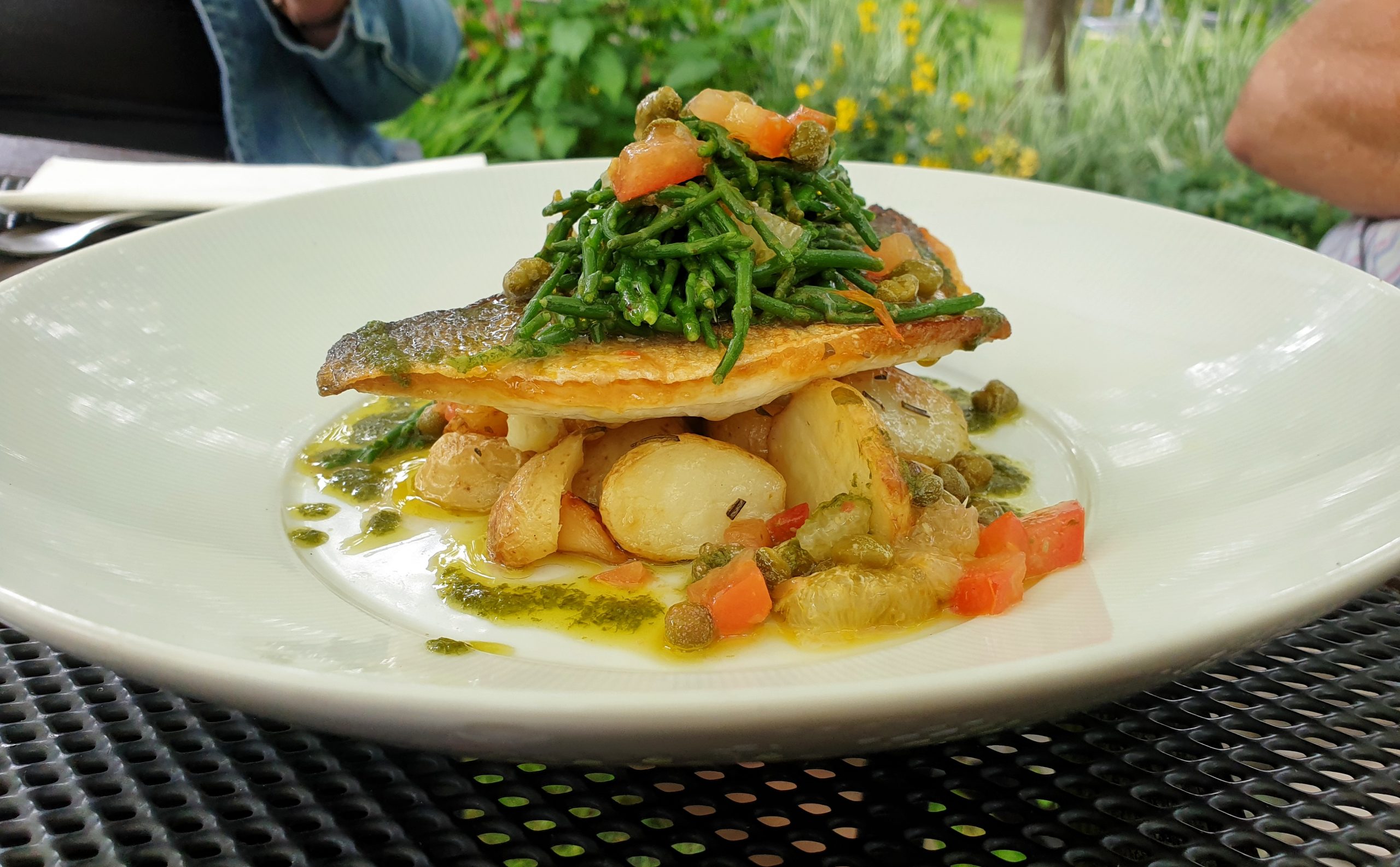 The Delicate Diner goes to… The Boars
The Boars in Spooner Row has a rich history within Norfolk, especially since Chef Patron Simon Turner and his partner Jenny Hay took over 18 months ago. With the lockdown rules easing, Simon invited me along to check out their food and I took my parents as well so that we could enjoy the full Boars experience. And we were not disappointed.
Simon Turner is perhaps best known in Norfolk for the Elm Hill Brasserie, a very popular eatery and where Simon honed his skills as a chef. Having spent time in France as a child, as well as living in Liege in Belgium with its classic French cooking, these cultural influences come through in his food. Self-taught, Simon's cooking style has developed since the Elm Hill days to include more of a Basque style, with an overall Mediterranean influence.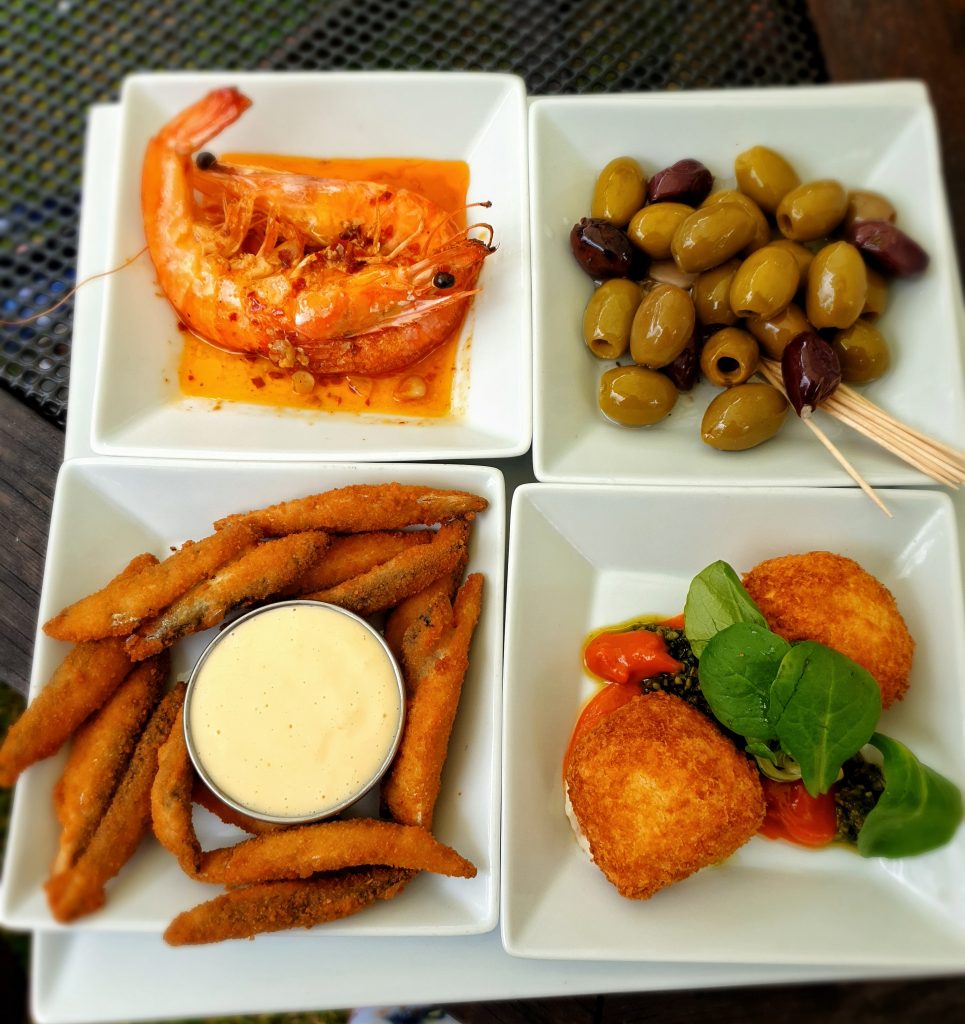 It was 18 months ago that Simon and Jenny became business owners of The Boars, having leased it from owner Russell Evans. With their daughter, Isabelle, who was four in May, the couple have re-energised the place, turning it into a real hub. During lockdown, they offered a Batter Down the Hatches takeaway – something they are continuing with for the time being. "It was great to be able to support the local community," says Simon. "Now we have reopened, they are visiting and supporting us, too, which is great to see." And with that community spirit in mind, we headed over to Spooner Row to meet Simon and sample his food.
There is no doubt that we were a little apprehensive – our first trip out since well before lockdown, but arriving at The Boars, any lingering concerns that we may have had evaporated. There was clear signage everywhere, with a one-way system into the pub and then out through the beer garden. On busy days, you will be met by someone to welcome you, but on a quiet and slightly damp Wednesday, there was just ourselves and a few other diners.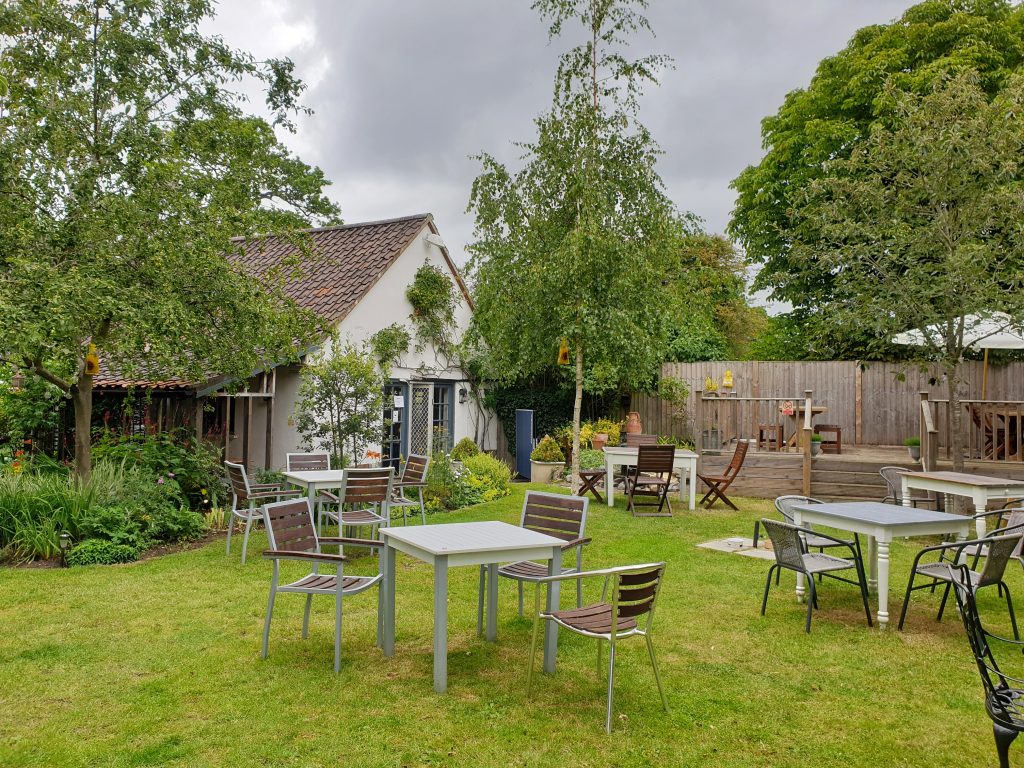 We chose to eat outside – a must for many at the moment – and we were lucky to take a table with an umbrella, which kept us dry when the rain came later! However, all the tables inside were well spaced and there was plenty of room. The moment we sat down, we were brought menus – laminated and sterilised after every customer – and asked if we wanted still or sparkling water, which comes in refillable The Boars-branded glass bottles.
To dad's delight, he was able to enjoy a pint of Tindalls local ale, and there was a good choice on tap. Mum and I both went for a gin & tonic – Hendricks for me, Bombay Sapphire for mum, and they came perfectly measured in those big globe glasses that always get broken at home, but are ideal for a decent G&T. They also had Flint Vineyard Charmat available by the glass, and I spotted an English wine from Kent on the wine list too.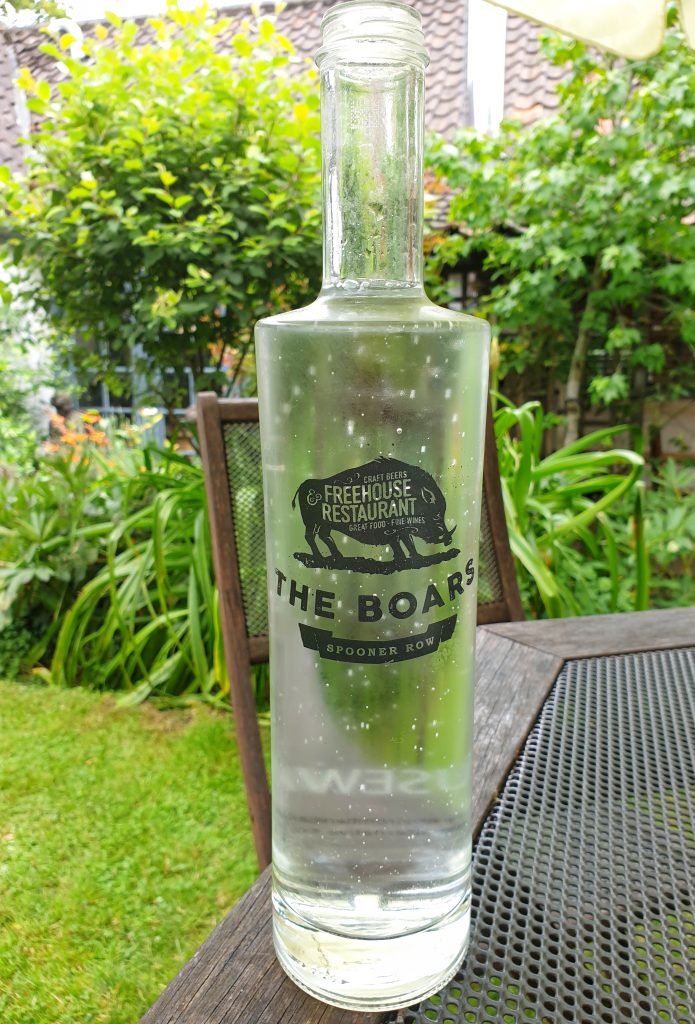 "We have a new way of doing things here," explained Simon as he came to see us. "We have the classic bar menu, which showcases what we do and has so many favourites on it. Then there are the nibbles, tapas-style, that really underline the social side of The Boars as people can share these plates. Finally, there is the main menu, which has gone back to the classic four starters, four mains, and four desserts that I used to do at Elm Hill.
"People can mix and match between menus – we just want people to come here and enjoy themselves. The main menu, especially, is an evolving, seasonal menu, and will change every six weeks. That way, it keeps it fresh not just in terms of what is available, but for the customers as well."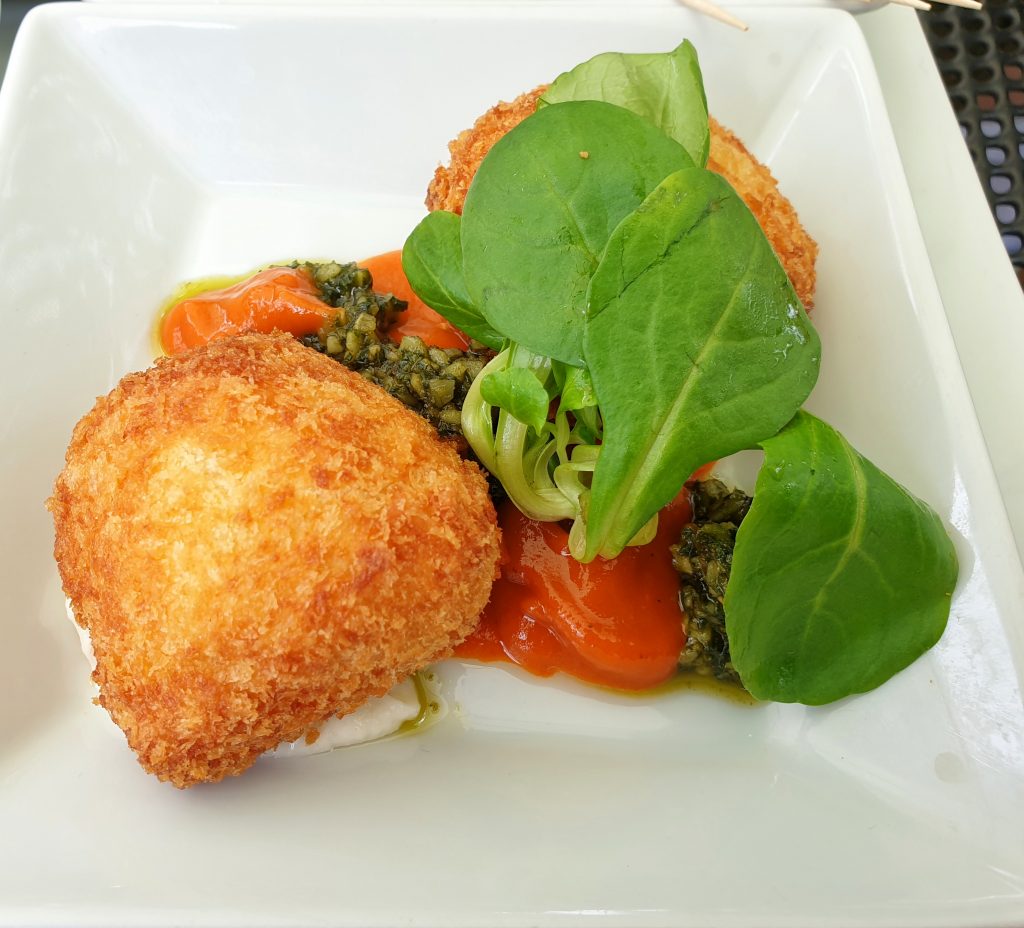 The menu itself is more than tempting. Garlic gambas and goat cheese croquettes catch my eye on the sharing plates, and I am then torn between classic mains and the main menu. When I go out to eat, I always try to order things that I either cannot cook well at home, or that I do not have often. While I really wanted to try something more elegant from the main menu, the Boars Burger kept catching my eye as this is something we have once in a blue moon. It was that, the sea bream, or the Basque-style chicken from the main menu for me, but the burger won – a hand-ground mix of bavette and rump steak. My mum also went for the burger, which came with twice cooked chips and smoky garlic mayo, while dad opted for the sea bream with new potatoes, samphire, caper, tomato and lemon.
After a bit of discussion, we decide on the gambas and croquettes for the starter along with dad's favourite, whitebait with lemon aioli, olive and rosemary focaccia, and mixed marinated olives. Had we gone for the main menu, I suspect that I may have ordered the gin-cured salmon with avocado and lime purée; next time.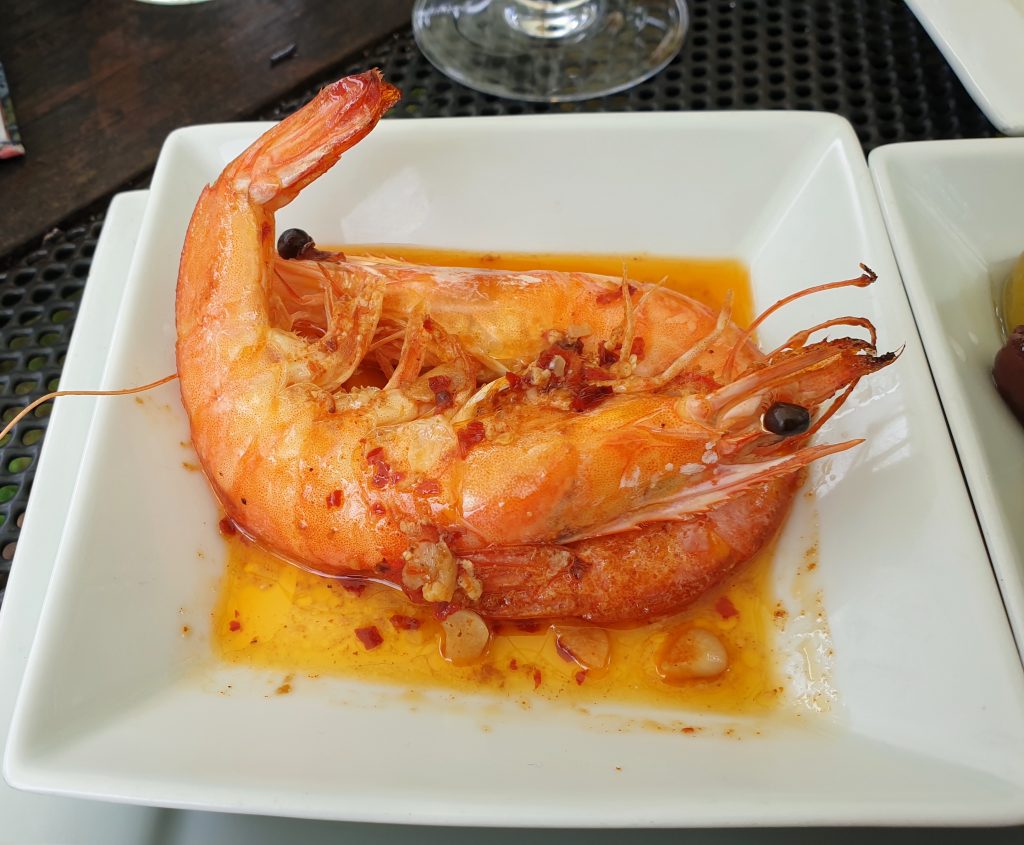 I order a bottle of Baby Brunello to go with our meal, but there had been a rush on this delicious wine over the weekend. Instead, we are offered the Fleurie, a slightly more expensive option but for the same price. Being a fan, we are more than happy with this substitution, and it is worth noting that the most expensive bottle of wine on their list is a treat-worthy £35, with a decent champagne costing £45 a bottle. I have been to too many restaurants where my favourite wines are then priced up out of reach, and this was a very varied and accessible list.
While we wait for our starters to arrive, we relax as we listen to the birdsong. The garden is beautiful – crab apple trees overhead, and lavender, thyme, rosemary, mint, bay, and lemon verbena all line the borders, giving it a real English country garden feel. Simon later tells me that he and Jenny spent a lot of time working on the pub and its garden during lockdown, and their hard work shows.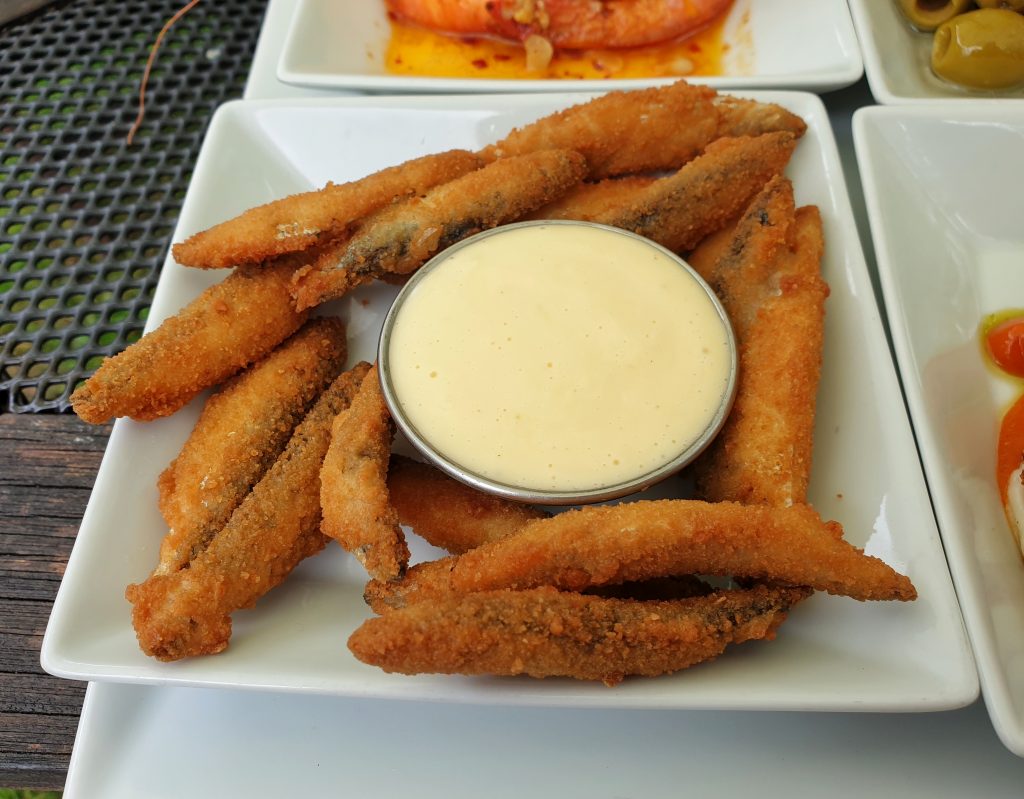 The starters arrive, and I stick with my original choices of gambas – all for me – and sharing the croquettes with my dad, with mum not being a goat cheese fan. The croquettes were made in the Spanish rather than Flemish way with a béchamel rather than potato filling, and their crisp crunch outside belied a melting interior. They came with a sweet and sour pepper purée, which was a great balance against the creaminess of the cheese, and a pesto. The gambas were cooked to perfection – proper giant, meaty shellfish and seriously good! I just loved them.
Dad loved his whitebait – I did swipe a few – declaring them "just the job" and the aioli delicious. Mum, meanwhile, loved the flavour of the olives, and both said that the focaccia was delicious, being soft in the middle and crisp on the outside. All in all, a selection of starters that was full of flavour.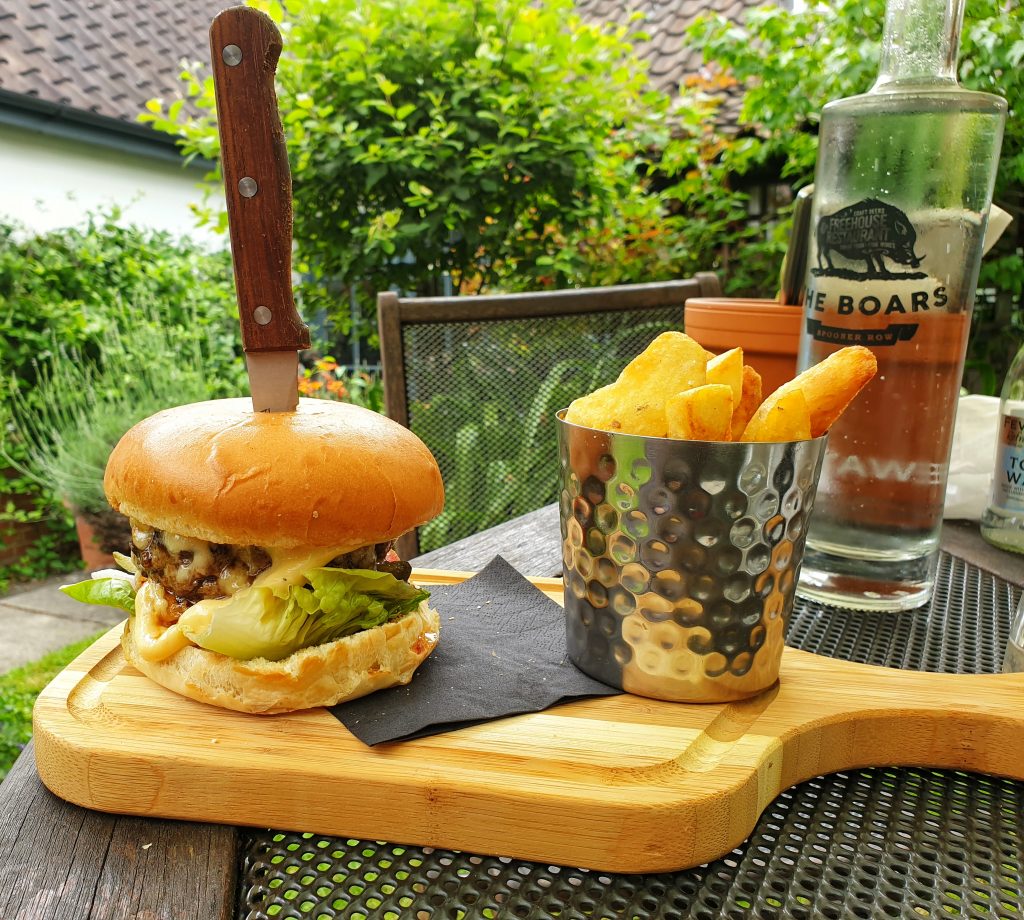 After a comfortable pause, it was on to the mains and the burger certainly had the wow factor from the moment it appeared, presented on individual wooden boards and with the chips in a metal pot that kept them piping hot in spite of the weather. Dad's bream also looked amazing, but I was keen to get stuck into The Boars signature burger.
This was proper – you know you have a good, meaty, juicy burger when the bun underneath melts away to nothing! I did manage to pick up my burger initially, but the combination of the tomato, juices from the burger, the smoked cheese, and the incredible tomato and chilli jam meant that I would get very messy indeed! The burger was, again, perfectly cooked and the flavour was there in spades. As for the jam… If Simon was to put it into jars, I am sure that he could sell it, it was just so good. The chips were that perfect blend of crunchy on the outside while fluffy within, and the mayo added that extra element. Overall, this was a dish that needed a finger bowl – lip-smackingly good! I would go as far to say that this is one of the best burgers I have had.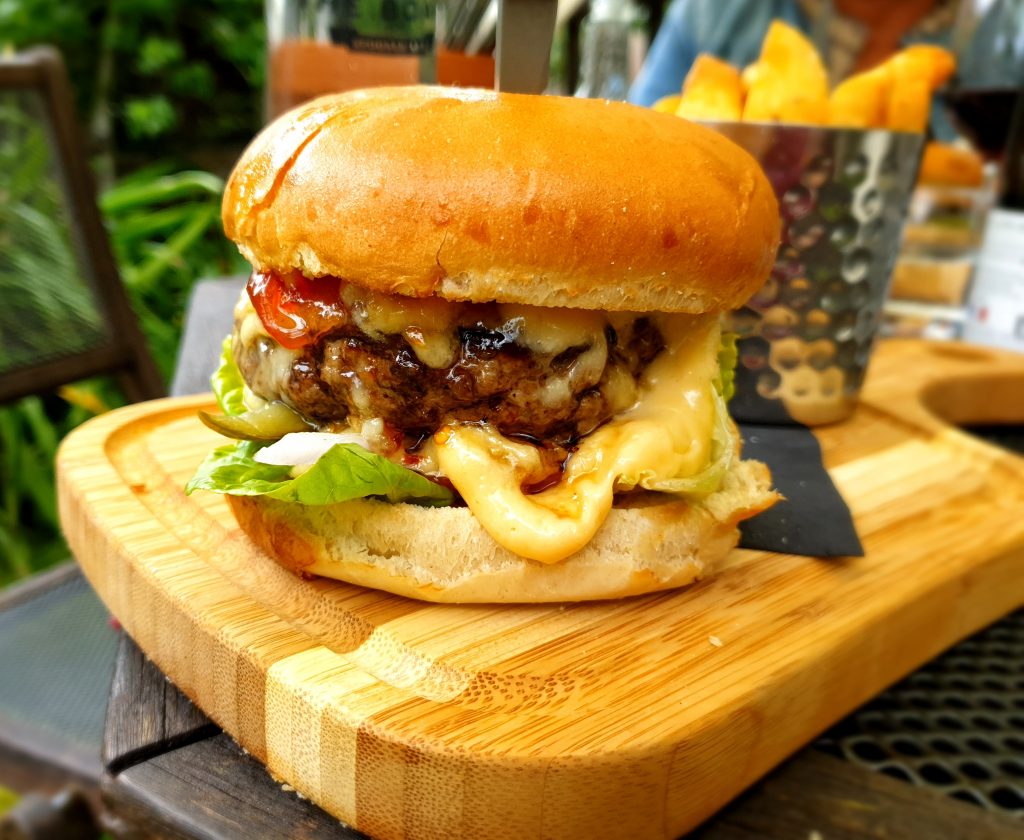 As for the easier to eat option, dad said that his bream was exquisite with the samphire, and that the combination of the caper and lemon sauce was superb. It certainly looked good, being beautifully presented and again, the fish was beautifully cooked. Bream is an underrated fish, and it was lovely to see it on the menu. Sadly, however, I was not able to snaffle anything from dad's plate before he finished it.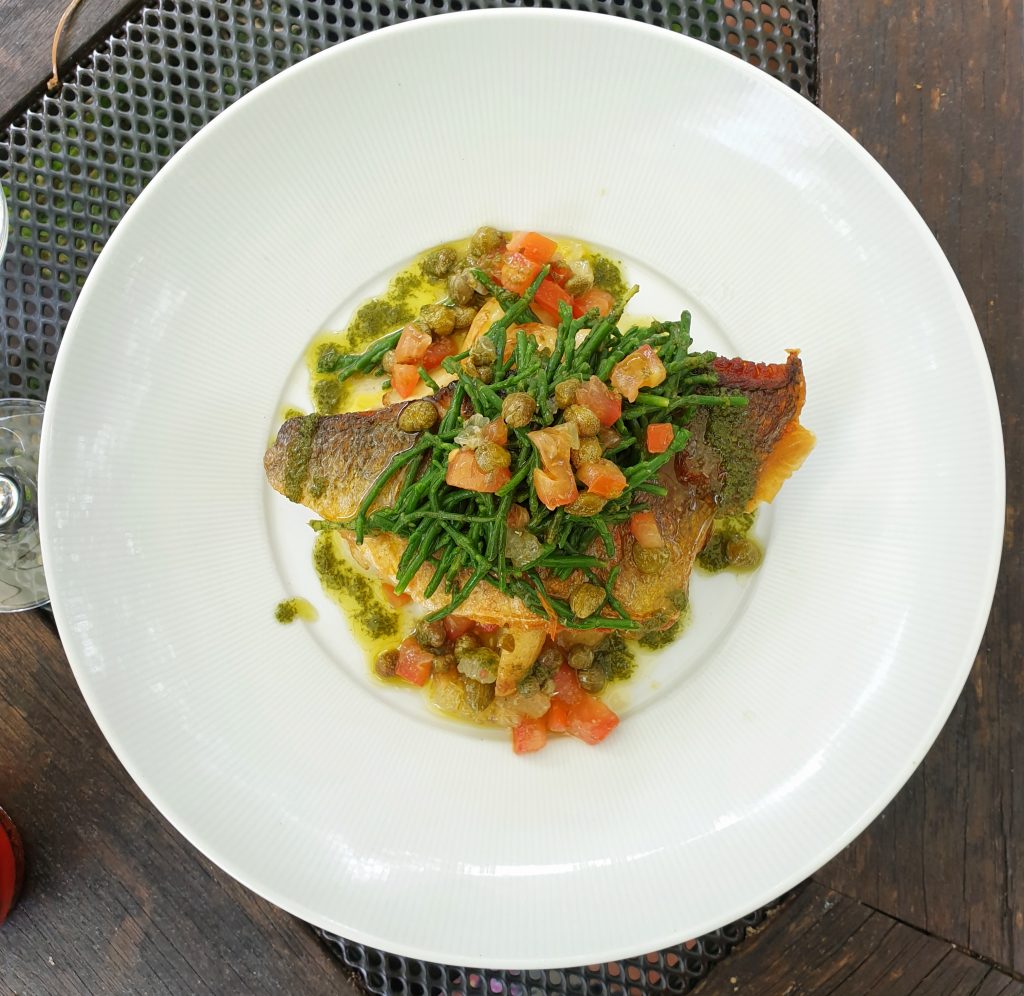 Sides bursting – we are really not used to eating this much – desserts were offered. The classic bar menu offered vanilla crème brulee, the ultimate French dessert, and Simon told us that he has not changed the recipe since day one. Mum went for that, being a brulee fan. Dad chose the elderflower pannacotta, while I opted for the chocolate fondant – the plan being that dad and I would share.
Desserts arrived and the brulee first… The crunch to get into it was amazing – a thick, perfect layer of brulee across the top that had to be more then gently tapped with a spoon to reach the crème within. The vanilla flavour came through perfectly, and mum – who is often disappointed with crème brulee when she orders it – said that it was the best she had ever tasted.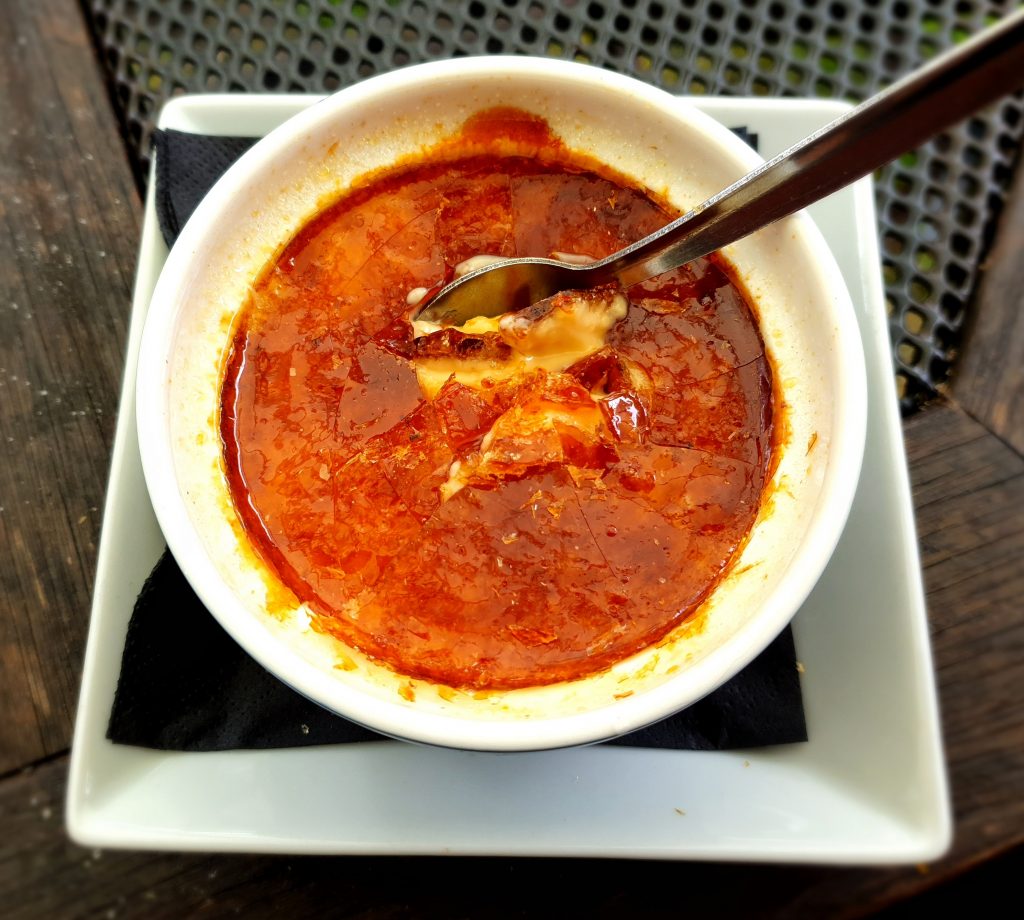 The pannacotta arrived with gin and pepper soaked strawberries and basil crisps – and by the time I had finished taking photographs of the desserts, it had all but gone! There wasn't even a basil crisp for me to try. With its perfect wobble, perfect creaminess, and subtle flavours, dad loved it, adding that the strawberries were rather tasty too! The basil leaves added not only a crunch, but an iciness to the dish, and I think dad rather enjoyed it…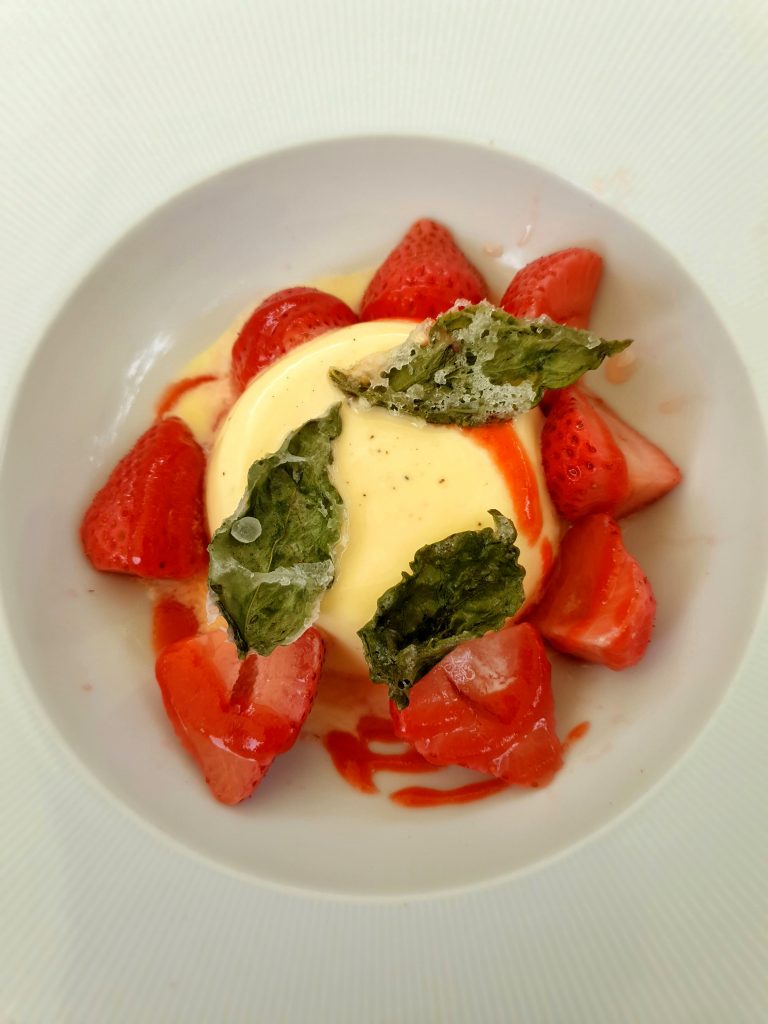 As for the chocolate fondant… I remember the very first time I had a chocolate fondant. It was in a previous life and I was on a training course in London around 20 years ago. This was just when they first began to be found in restaurants and to this day, my friend Neil says that nothing has ever shut me up in the same way as that fondant. I have never found a chocolate fondant as good as that one. Until now. It was light in texture, runny on the inside, not too sweet, and just really, really good. It came with Alburgh salted caramel ice cream – the perfect contrast – and it was delicious. I did share with my dad, and he thought that it was rather good too…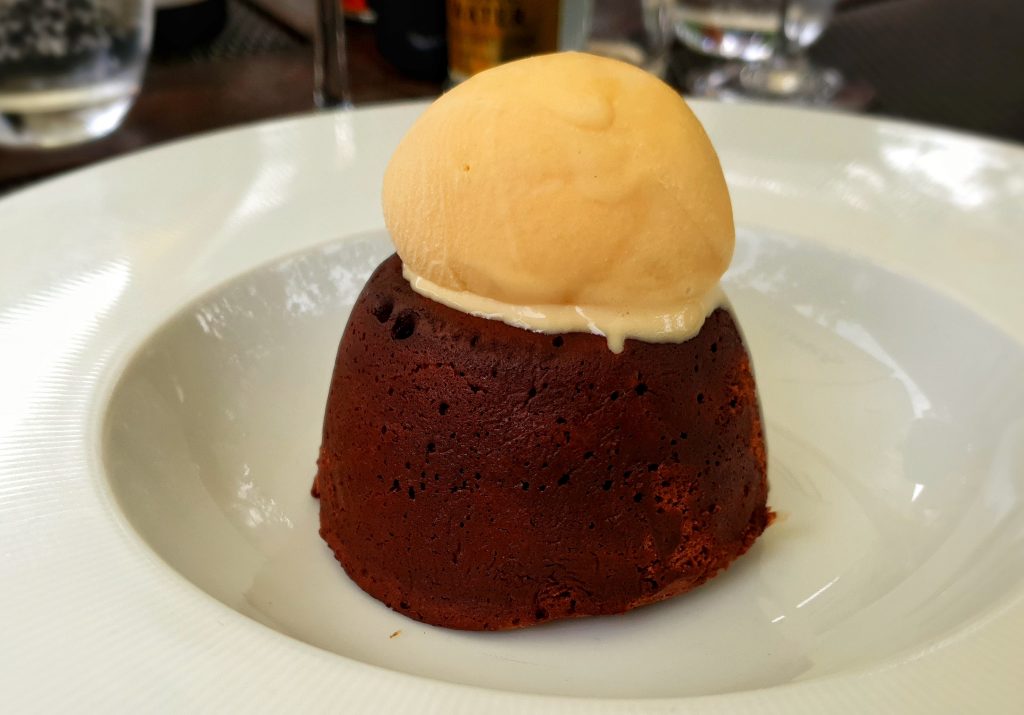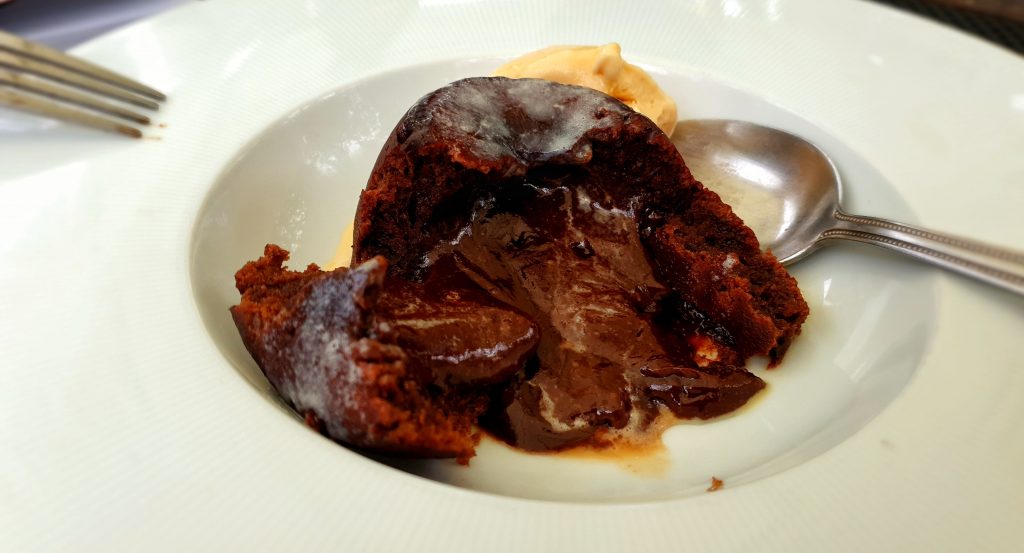 The final flourish was the coffee, which can make or break a place. I am sure that I am not alone in having a brilliant meal ruined by a lacklustre coffee at the end when it is truly offered as an afterthought as though not part of the meal itself. I need not have worried. Our double espressos were from Green Farm Coffee, being their Torino blend – incredibly smooth and balanced, it finished the meal in style.
When you go out to eat, especially at times such as this, you really want to go somewhere where you can relax and enjoy the experience. When you go somewhere where the chef is passionate about the produce and the items on the menu, that comes shining through with the food presented to you on the plate. Simon is incredibly passionate about food and drink, and it shows. The influences that he has taken from his travels translate well into locally-sourced dishes full of flavour, and the energy of Jenny and he during lockdown have kept a local community well cared for.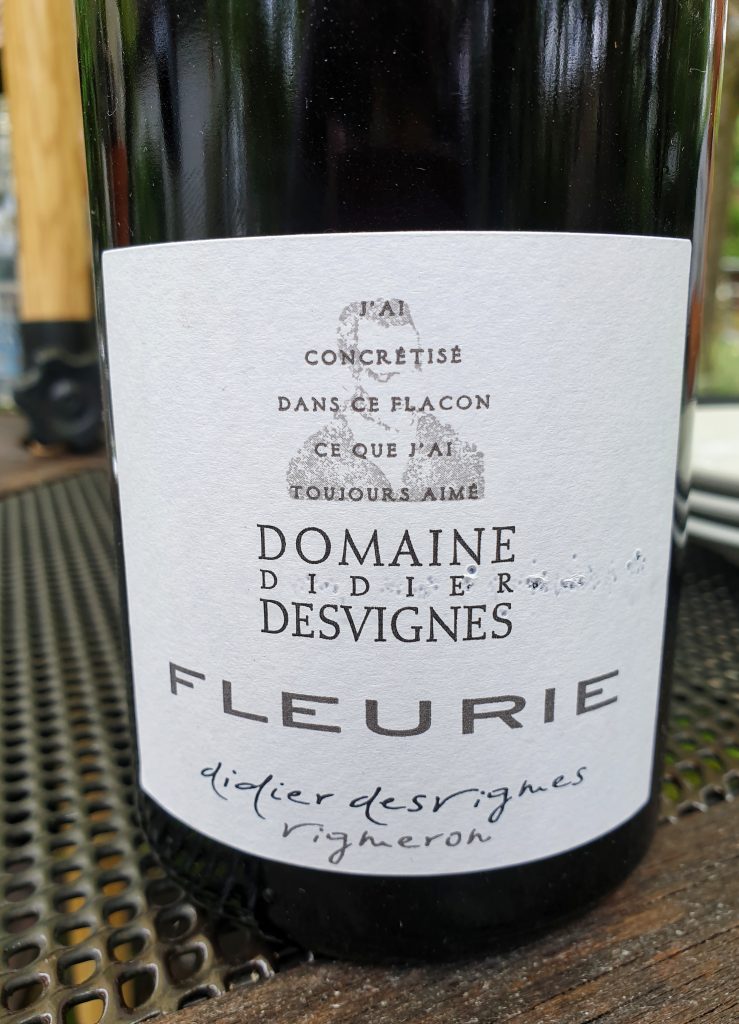 Simon is now supported in the kitchen by Tom Martins, who shone at City College last year. "Having Tom here is helping bring it all together," explains Simon as we chat at the end of our meal. "I have clear plans on what I want to achieve, and I think that the menus we are now offering reflect that."
With plenty of space outside and in, The Boars is well worth a visit, even in these difficult times. With my parents in their 70s, we were nervous, but the whole team made us feel safe. All drinks came on a tray, put on the edge of the table for us to help ourselves, and the food came in a similar fashion. Meanwhile, all the cutlery, napkins, and seasoning came in a plant pot – a brilliant idea!
You can book online with The Boars, and I would recommend getting there while they have the current menu. You won't be disappointed.
The main menu is £25 for two courses, or £30 for three, including their olive and rosemary foccacia. The sharing plates are four for £16 or individually priced between £4 and £5. Bar mains start at £10, with our burgers being £15. Puds are £6 a piece from the bar menu, with an amazing cheese selection also on offer, costing between £3 and £2.
Note: The Boars covered the cost of my meal only, not those of my parents, and all drinks were paid for by ourselves.