The Norfolk Foodie Series – Norfolk Gin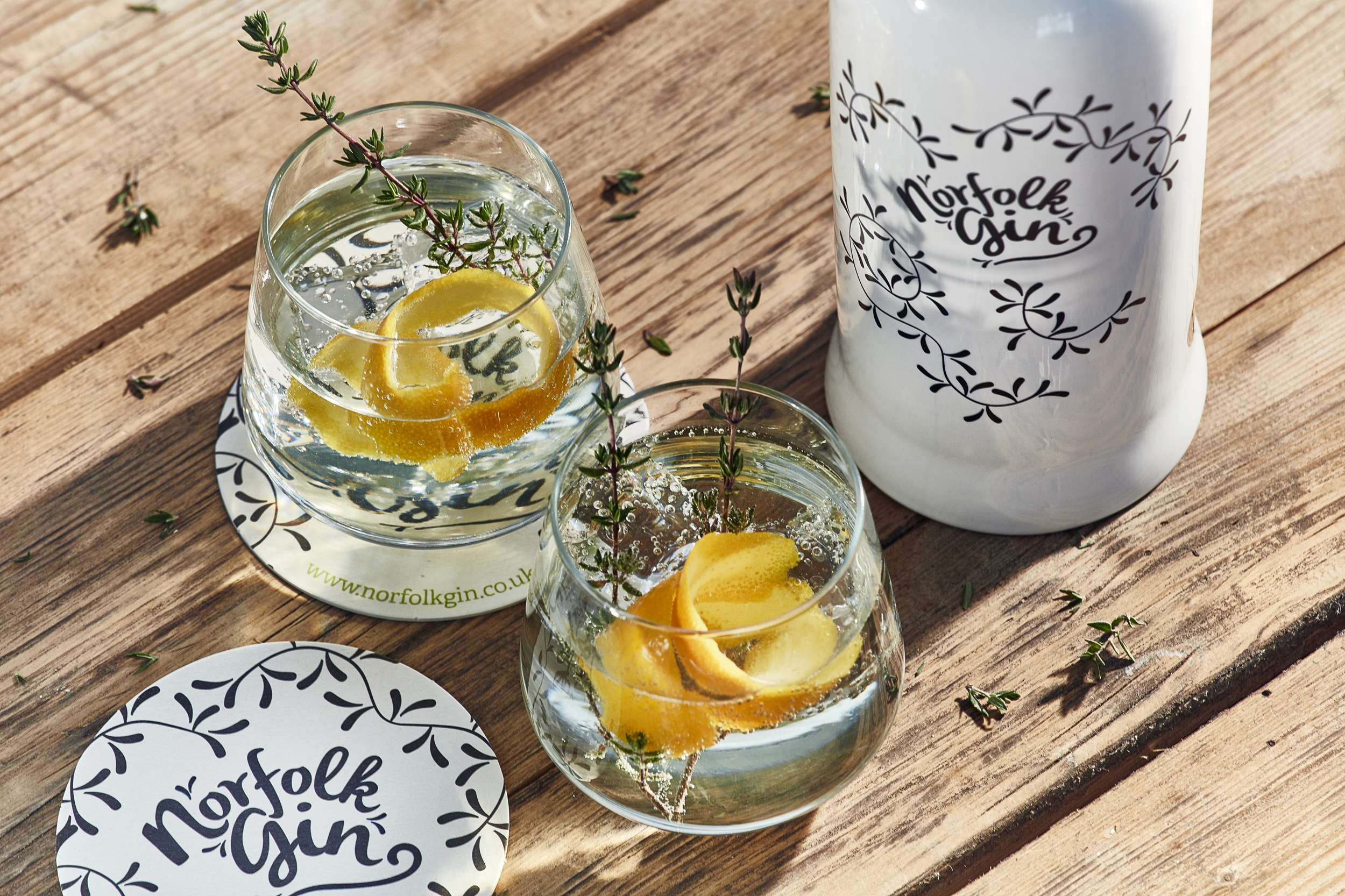 The Norfolk Foodie Series: Norfolk Gin
The height of June saw Norfolk's original gin, and my own personal favourite, celebrate its fifth birthday. With the first bottle sold in 2015, Norfolk Gin has gone on to sell almost 1,000,000 tots of their herbaceous and aromatic spirit. Founded by Alison and Jonathan Redding, Norfolk Gin is a firm favourite on the food and drink scene – with their delicious spirit found in everything from chocolates and chutneys to candles! I speak with this vibrant couple about their passion for Norfolk, why they chose gin, and the milestones that have meant so much to them along the way.
"One thing that we have learned from spending over 13 weeks in lockdown is that delayed gratification is overrated," say Jonathan and Alison as I chat with them over Zoom. "Don't wait for things – do them now. There is so much out there to enjoy – and Norfolk has so much to offer. Go for it and follow your dreams."
So say this lovely couple who, I discover, met over a Christmas pick'n'mix counter in Woolworths back in the late 1970s. "We are both imports to Norfolk," laughs Jonathan. "I was born in the Forest of Dean, although I grew up in the Wye Valley, which was truly beautiful." "I was born in Cardigan," adds Alison. "I grew up in Pembrokeshire with the coast all around me – which is why I think I love Norfolk so much as it has a rich and varied coastline, and lots of it!"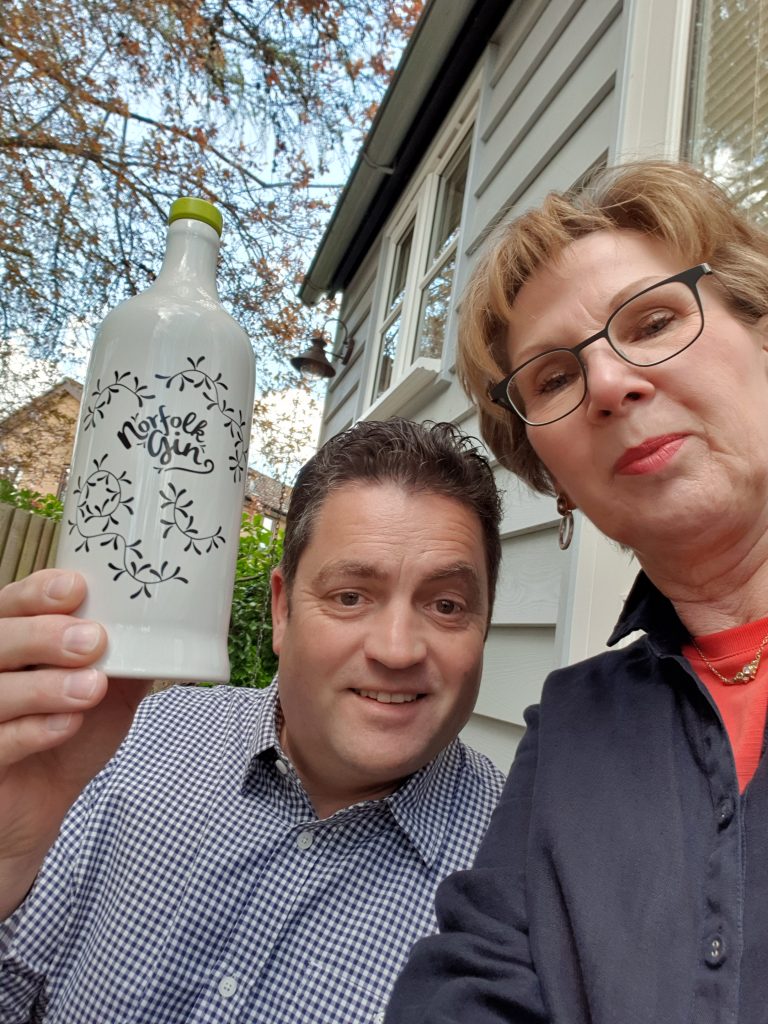 The couple met just before Christmas while both working in Saturday jobs, and the following year they started dating. At the time, Jonathan was at Welbeck Army College and would end up in Sandhurst. Alison, meanwhile, went to university. In 1981, the couple married. "We lived in various places," the couple recall. "Lots were great, such as Germany, but some were more – interesting! This is our 15th home together, and the longest that we have ever lived in any one place."
Jonathan and Alison moved to Norfolk 16 years ago with Jonathan, who left the Army in 2001 after 23 years, working for a REHAU subsidiary, Aspen Windows. "I was finally able to craft my own career once we settled in Norfolk," says Alison who worked in Learning and Development with the local authority. "I had a teaching background – and that definitely helped with all the travelling we did as it meant I could always find a job!
"It has been amazing to be in just one place. It can almost become quite superficial, constantly moving home with the Army every two years as you always get asked the same questions, and you tell the same stories. Just as you form a meaningful friendship – and we have made many lifelong friends – you get moved on to another place."
"Of course, that does have its benefits!" laughs Jonathan. "If you have a clash with someone, then you need only be with them for a few months, depending whereabouts you are in your posting. It has been nice to be here in Norfolk, in one place, without moving."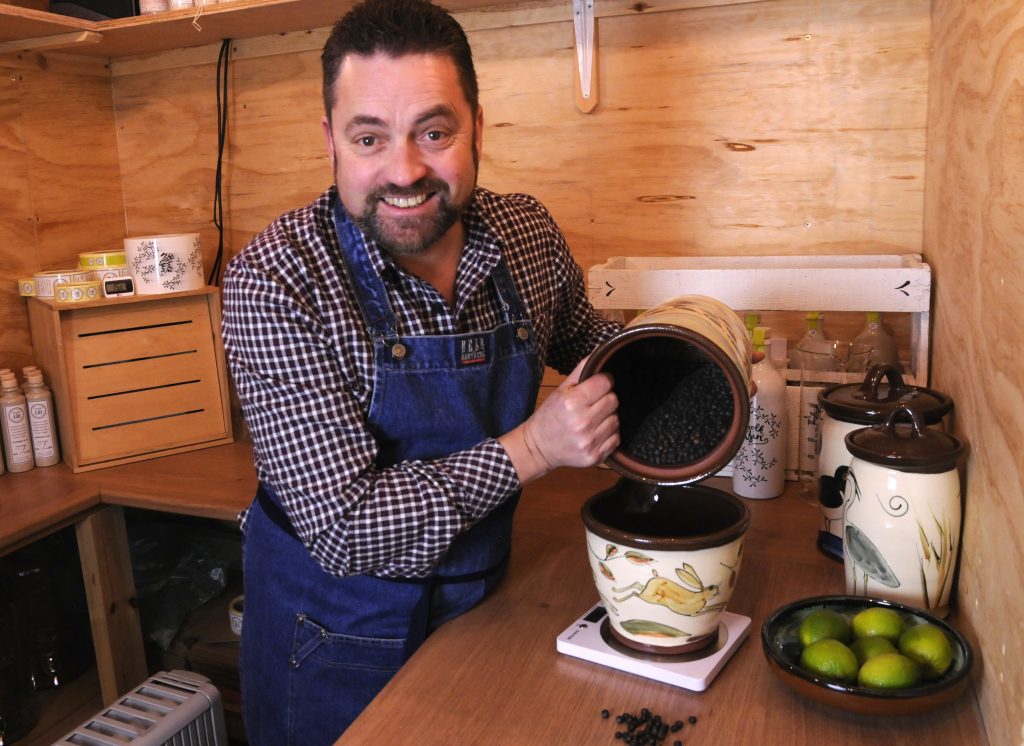 Another reason that the couple decided to stay in Norfolk was that their daughter, Lauren, finished her degree at Oxford and, having decided to become a doctor, went to the University of East Anglia. "It fixed us here," says Alison. "Which was not a problem at all!"
Having done three degrees while in the Army, Jonathan had many options open to him and after six years with REHAU, he left to work in local government – ironically at Mildenhall – and from there, he became involved with charity work. "I worked for the Benjamin Foundation and The Big C, and then was made redundant," he explains. "I thought, what am I going to do now? And that is when the gin idea came in, as well – why not!
"I had read a couple of articles where a husband and wife make gin in their kitchen and it seemed to be acceptable to consumers not to have generations of gin-makers behind them. I thought, how difficult can it be, let's give it a try.
"I was over 50 by this point and as far as jobs go, it is as though you are past your sell-by date and it is hard finding work. So I decided to see if we could do something completely different, and that is what we did. That was in 2014 and the following June, the first gin went on sale."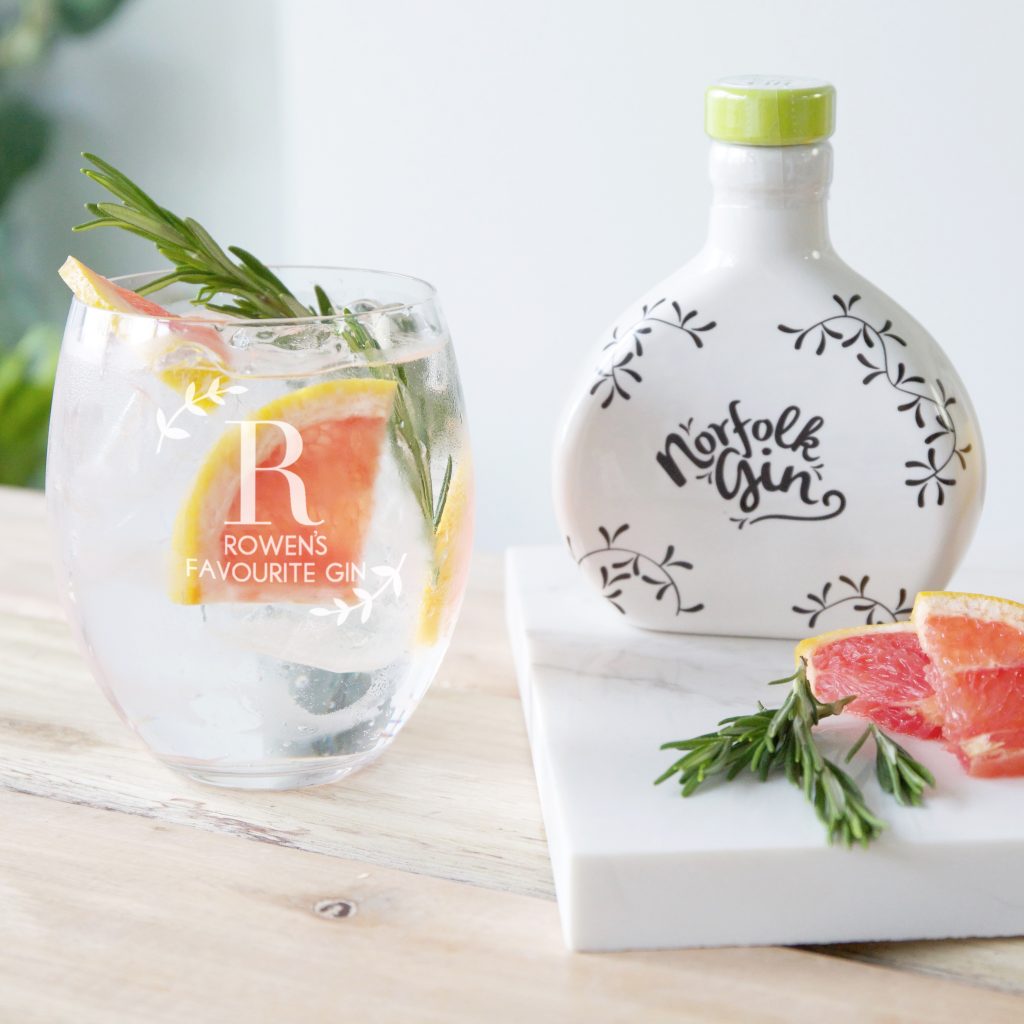 Alison laughs and admits that she had more than a little bit of scepticism. "Who will buy it, was one of my questions," she adds. "And can we do it? It needed courage – and I think that always makes you work that little bit harder."
Norfolk Gin began innocuously enough – half a litre of vodka and some botanicals. "It was all about trial and error to begin with," says Jonathan. "I wanted to create a traditional bathtub gin, and I did a lot of research before I began. One thing that I was clear about was that I wanted to use botanicals that are sensible, and we use juniper, cardamom, coriander, and lime as the main flavours.
"The gin took a lot of testing and a lot of honesty from friends, and a breakthrough came when I added some liquorice at the end to see what it did to the gin. It was a great addition, adding that little bit of sweetness and zipping all the botanicals together. In fact, I just opened a four-year old bottle, and it still tasted super! The botanicals hadn't gone flat or bitter, which was wonderful."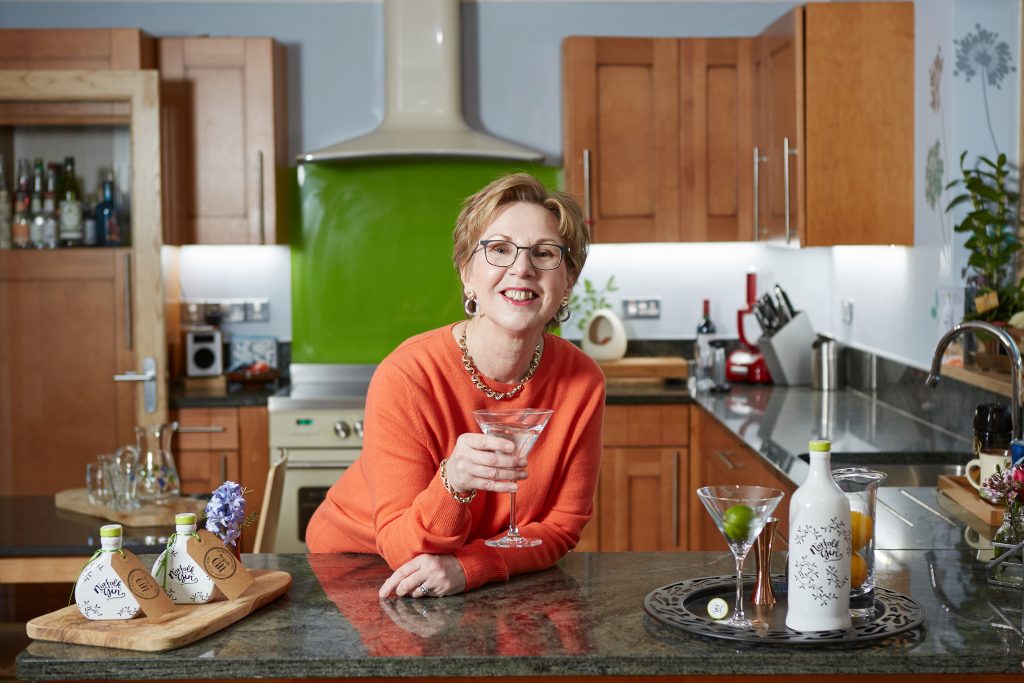 The turning point came when friends would visit their Norwich home and ask if they could have a Norfolk Gin, rather than an established brand. "Very soon, people began to order bottles and we had a feeling that we had nothing to lose," recalls Jonathan. "We knew that we didn't want to have premises, that we wanted to make the gin at home, and after getting such good feedback, we decided to really go for it. And we realised that we really did have something special when people started coming back for a second bottle. And thus, Norfolk Gin was born.
"The recipe has remained the same over the last five years, and we have no plans to change it. We like to add flavours to our Norfolk Gin cocktails, but that is as far as it goes. Since we began, the precision and methodology involved in making this gin does not change at all. In all, it took us 15 months to be happy with the flavour. During this time, I did all the background work – applying for licenses and speaking to a designer. That way, we were ready to go once we reached the point when we were happy with the gin."
While the recipe has not changed, Norfolk Gin has continued to evolve in other ways, noticeably with the bottles. The couple have always used a stoneware bottle – something that was always Jonathan's intention ever since he fell in love with a miniature stoneware decanter years ago, and which he has based his smaller 10cl Norfolk Gin bottle on.
"We used stock bottles to begin with," continues Alison. "However, after being let down several times, we went to Wade Ceramics and asked if they could create our own bottle."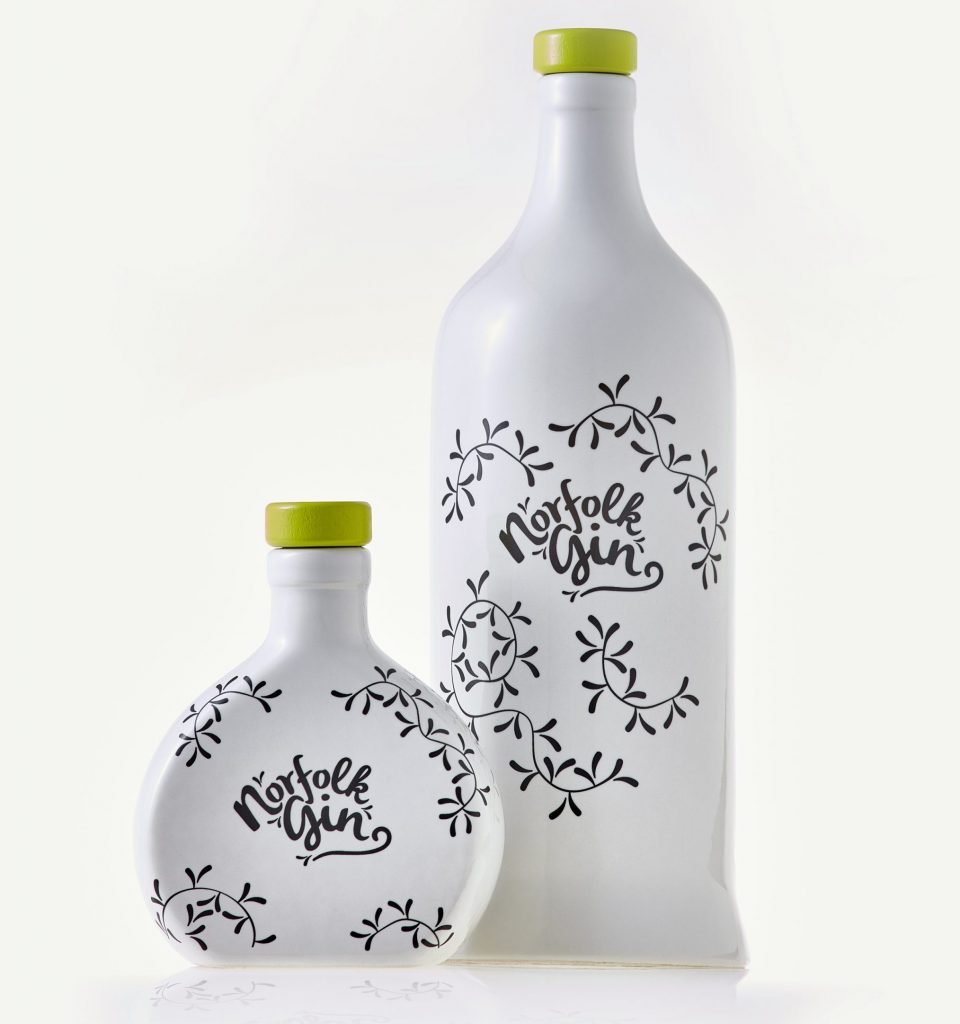 "The order had to be 10,000 bottles," laughs Jonathan. "My first thought was – where will I put them! Then they explained that you can then request x amount each month, which was a relief. Everyone at Wade has been so supportive and flexible, and it has been great to have that relationship with a supplier."
The environment and ethics are key to both Jonathan and Alison and 18 months ago, they evolved to a plastic-free cork for their bottles, made through Rankin Cork. They also have refill points for their gin across Norfolk and, somewhat bizarrely and brilliantly, in North Somerset! "All these little milestones mark us moving on to a bespoke product being specifically tailored for us," says Jonathan. "We like to think that when people buy our Norfolk Gin, they are buying something unique not just in terms of the flavour of the gin, but the product as a whole. Each bottle has a unique batch and bottle number, with just 24 bottles made in each batch. That alone makes it special.
"We have had a lot of pinprick moments on this gin journey. I had no idea how rapidly it would sell at the beginning. We launched Norfolk Gin just as the gin phenomenon hit the UK – something that has not yet left – so we definitely started at the right time. I remember that I took six bottles into Harper Wells, who were our first stockist. Nothing sold on the Tuesday, but by the Saturday we had a waiting list!
"We were gobsmacked and so excited. I remember thinking, my goodness – people want to buy something made in my kitchen!"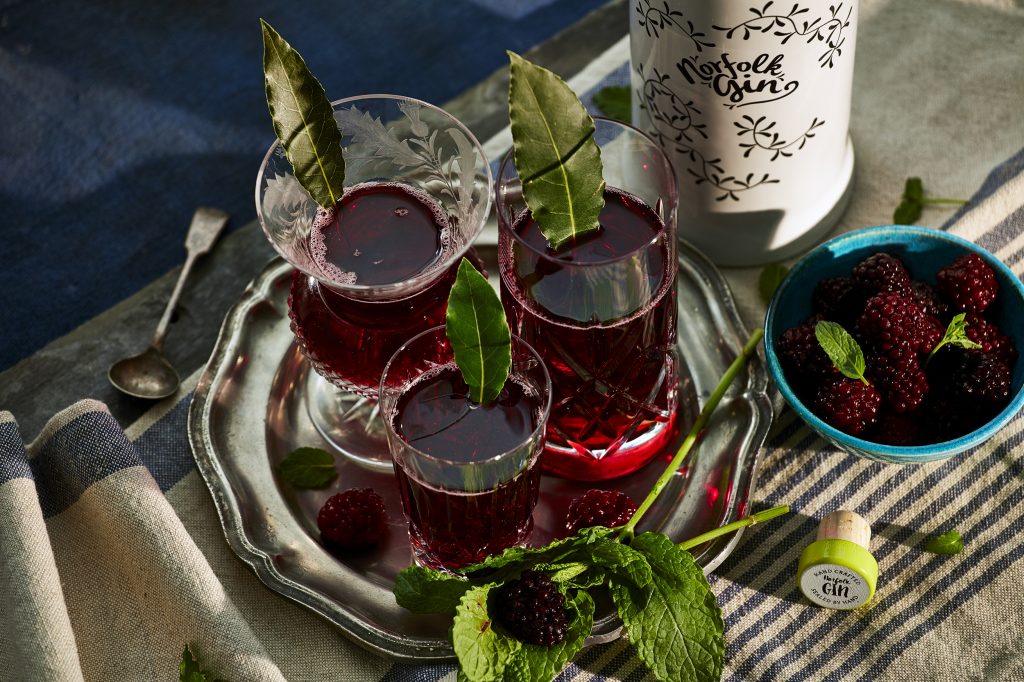 Jonathan admits that, before he approached businesses to stock Norfolk Gin, they did go to the English Whiskey Company and spoke to David Fitt, head distiller. "We knew by that stage we were happy with the flavour and the gin, but we wanted to speak to someone who professionally works in the spirit industry. David said that it was an 'excellent spirit', and it reinforced our belief in our product."
Following success in Harper Wells, Jonathan approached more independent businesses, pubs, and farm shops to see whether they would like to stock Norfolk Gin. A highlight came when, while at home one day, the telephone rang and the Head Buyer from Jarrold was on the other end of the line. "Jarrold rang us, it was just amazing," he recalls. "Norfolk Gin sold itself, which was remarkable when you think about it."
With such high demand, the couple quickly moved gin production out of the kitchen and into what would become the first of three sheds. Each has its own role and personality, with the first being The Gin Studio, the second a shepherd's hut called Matilda, and the third Jennifer, a play on the song Jennifer Juniper by Donovan and the first record that music-mad Jonathan ever bought. There is the ability to play music in all three, with Jennifer being home to a record player and a range of new and vintage LPs.
Very quickly, Norfolk Gin began to spread across the county in other ways. "We invited a select group of local producers to visit us and enjoy a picnic while sharing experiences," explains Jonathan. "We had Candi Robertson from Candi's Chutney, Grey Seal Coffee, Jackie and Sarah Kennedy from Marsh Pig, and Chris Taylor from Taylor's Smokery. When they left, Candi took away some used botanicals with her and then created her famed cuecumber and Norfolk Gin relish. The botanicals have so much flavour, and we love that they don't go to waste!"
Since then, Norfolk Gin botanicals have been in high demand, being used by the Bake Shack in their game pie. "The Norfolk Boys used Norfolk Gin botanicals for Norfolk Day last summer, and then we have a great relationship with Ali Barwick of Season's Bounty. She has just made a blueberry jam with Norfolk Gin and she won Gold at the World Marmalade Awards with her Norfolk Gin and blood orange marmalade.
"There is even a local candle maker, Christina Brand, who uses the botanicals in her candles and melts, making great use of a part of the gin-making process that is usually discarded. And at the end of last year, Dotti's Chocolates in Norwich started making a chocolate with Norfolk Gin in it. It is great to see our gin being used so far and wide."
This autumn, a new collaboration will begin between Jane Stewart of Eastgate Larder and Norfolk Gin. "We have been working on a single estate recipe for a Norfolk Medlar Gin," explains Jonathan. "It will be the same recipe, but with the addition of Jane's amazing medlar fruit. We plan to release this later in the year, and there has been a lot of trial and error in getting it right."
"We also have another special version of Norfolk Gin that we have created as we have small volumes of oak-aged Norfolk Gin, which Alison has declared delicious! We used malted spirit from the English Whiskey Company and then oak aged the gin for around a year. It is very smooth, and we are especially pleased with it. Plus, it is great to work with so many local producers."
"It is so special to participate in other people's stories," continues Alison. "Everyone feels like a champion for the produce that they come across here in Norfolk, in one way or another, and that is part of what makes this county so special. Everyone supports each other so much, and it is lovely to be part of that."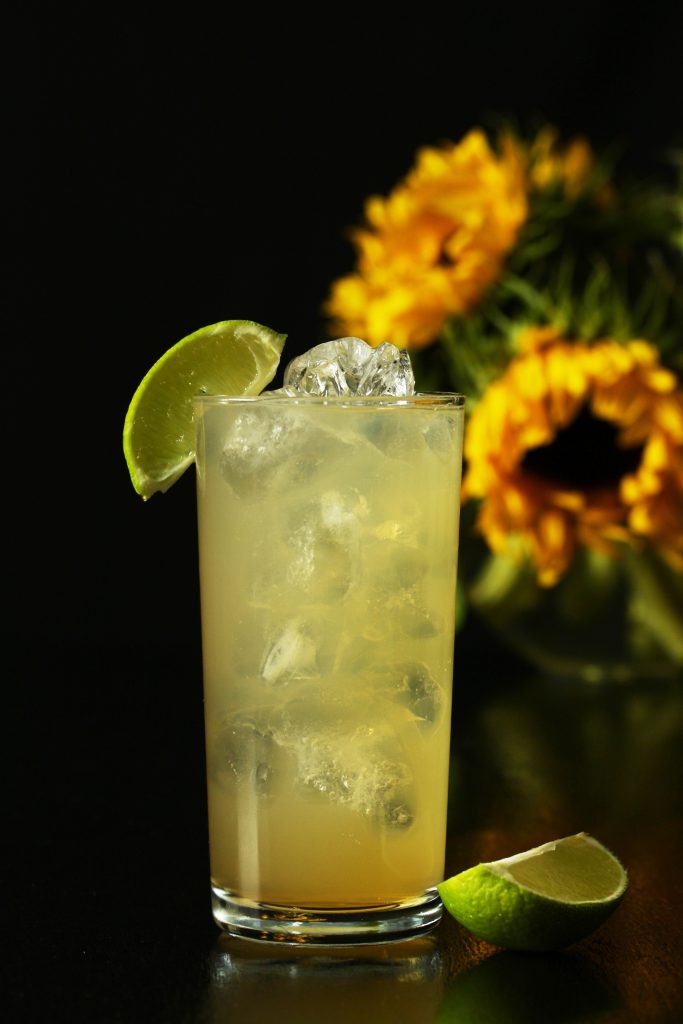 "Through all that we have done, the biggest highlight has been the amazing feedback that we have had from so many people," the couple agree. "So many followers on social media have now become friends as well, and we love that interaction with people."
Jonathan continues: "When you receive the positive feedback, it keeps you going on a weekly basis. To meet people who are enthusiastic about what we are making, those small interactions, they mean everything to us. We have people who have shelves of empty bottles of Norfolk Gin, which is lovely to see. And even some who push their bottle to the back of the cupboard and pretend that it is 'empty' if friends come over!
"Ever since we launched Norfolk Gin, we have met some amazing people. We had a couple from the United States contact us as they had tried the gin and we built up a relationship. They were over from the States and we went for supper at No Twenty9 and it was delightful. Then there are our 'gang of three'! We met at the Bury St Edmunds Gin Festival – the first and last gin festival that we will do, it was bedlam!
"However, we met these three ladies at the festival who were big fans of Norfolk Gin, and we have kept in touch. They came to a garden party at Norfolk Gin HQ last year, and we have just been involved in creating a special optic for one of their birthdays. It is people such as these, who have been there from the beginning and who hooked on to what we were doing, that mean so much. It is these special moments that help keep us so engaged with what we do."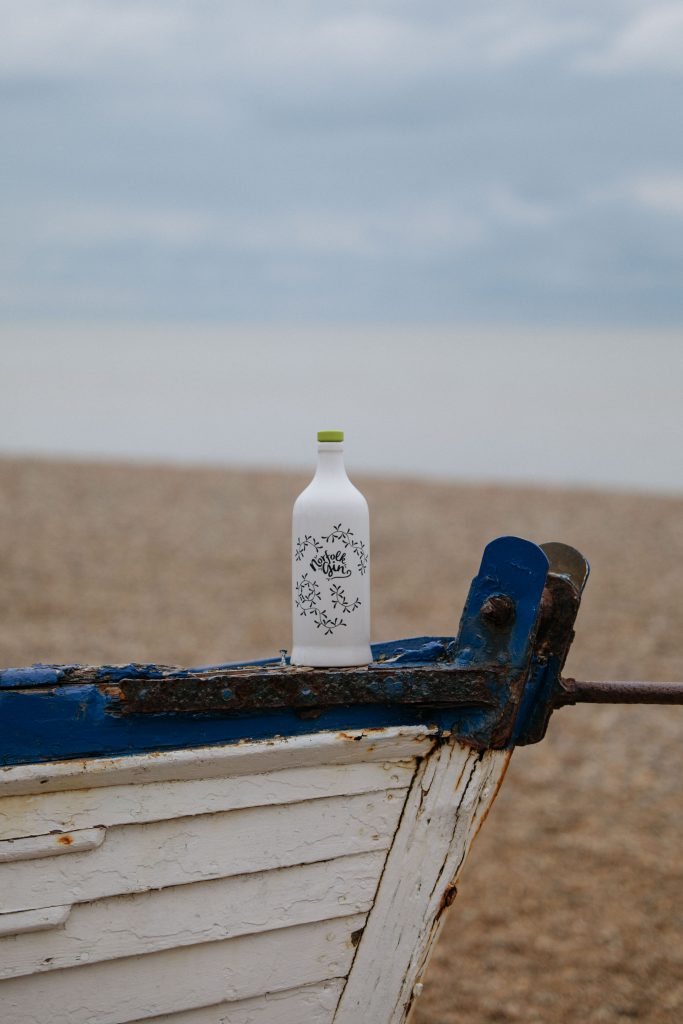 I mention to the couple about their meticulous approach to creating their gin – from the precision with the recipe to the beautiful bottles to the amazing attention to detail that can go unnoticed by many, such as making sure that the 'Norfolk Gin' wording on top of the cork faces forwards. "I am so glad that you said this," said Alison. "We both feel that when people pay a significant amount of money for a bottle of gin, they deserve that care and attention to detail. It is all part of what we do. Everything is done by hand – from making the gin to filling the bottles and sealing them."
That care and attention can also be seen through the fact that they deliver their gin themselves to pubs and shops across the county, ensuring that the personal touch that they value so much is consistent. The couple also show their fun side in the process, driving their instantly identifiable cars. First is Ginnevere, an electric Renault Twizy car, who does many of the daily runs with Alison. "I love taking Ginnevere out," she smiles. "I often stop and look at all the beautiful places that there are in Norfolk during my deliveries, and I am lucky to see so many amazing vistas on my travels." Alongside her is Morgin – Jonathan's pride and joy – a three-wheeler Morgan also in the Norfolk Gin livery, and who turns up at special events and occasions.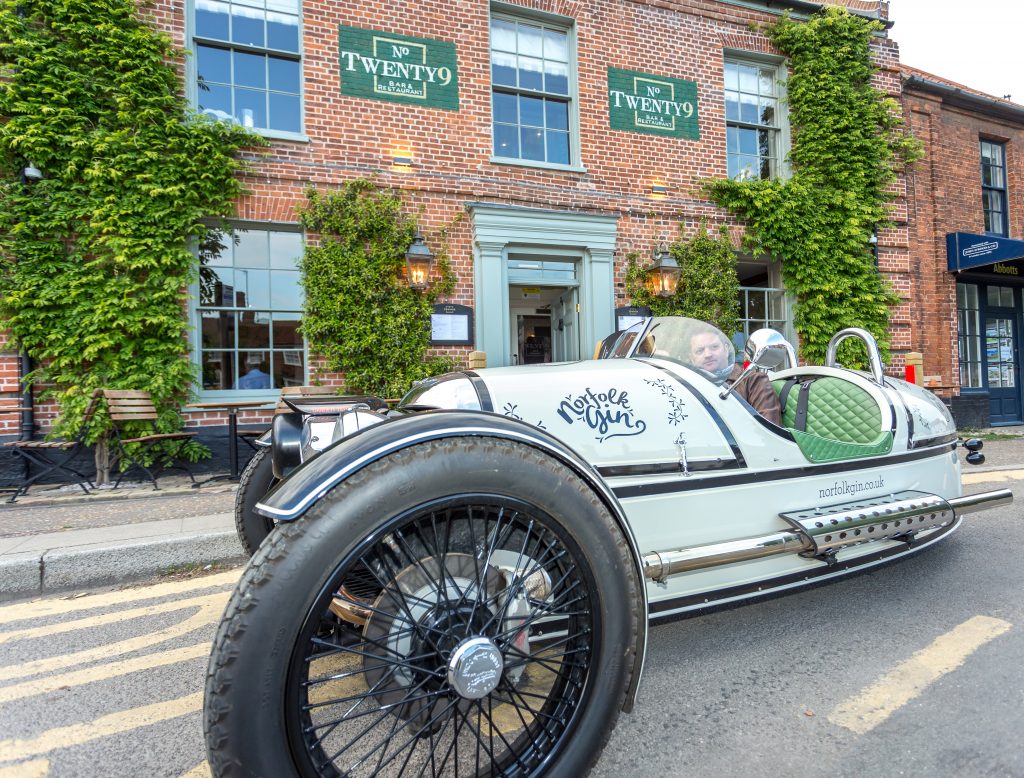 Another element of the fun side of Jonathan and Alison can be seen through their amazing poster art that promotes Norfolk Gin. Both have always had a love of the theatre – on their first date, they discovered a shared study of Macbeth and once travelling around Europe with the Army, they would always join the local theatre group on arrival because, as Alison says, "it is a great way to make new friends and everyone is always so welcoming." Jonathan, who has had a long-term interest in drama and storytelling, is also a trustee at the Sewell Barn Theatre.
It was once they had settled in Norwich that Jonathan received a call from the Maddermarket Theatre, who were staging Anthony and Cleopatra, and they needed a new Anthony – urgently! Jonathan got the part and it was then that he met artist Simon Pritchard, who did the artwork for the play as well as starring in it. "I loved Simon's style and the work he did," explains Jonathan. "Simon has always been passionate about film posters from the 50s and 60s, and his style is very reminiscent of that era. Plus, all his posters are hand-painted, giving that extra something to the finished style. Looking at Simon's work gave us the idea to create something unique for Norfolk Gin, so we commissioned a series of posters, which are now also drink coasters, showing different scenes of Norfolk – a party, springtime, and so on."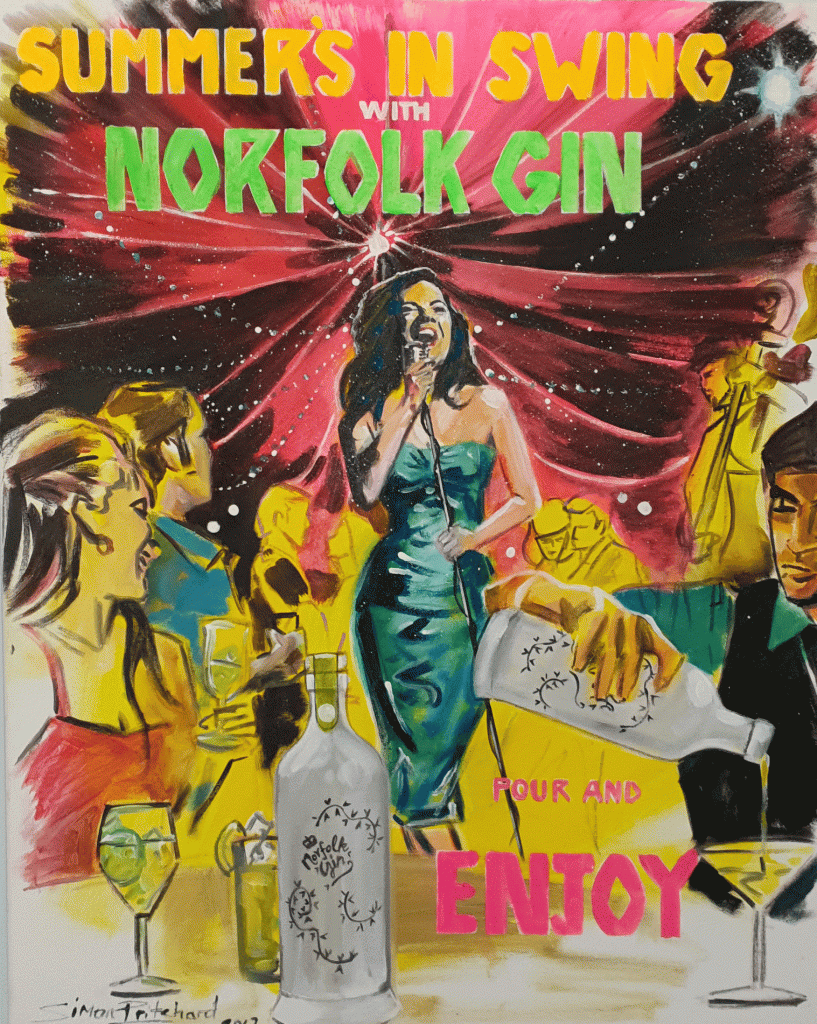 Alison continues: "We tried to capture some of the beautiful elements of Norfolk in this series, such as The Gunton Arms, Wells, Sheringham, and so on. We wanted lighthouses, piers, and cliffs as well as the cosy scenes that represent the county so well. And off the back of these, we started doing small watercolours of Norfolk Gin cocktails.
"We have invited some of our loyal followers to create a cocktail for us, and we had a lovely response. We wanted real people, who care about the product, to be involved with this – the ones who buy our gin and who always have a bottle in the cupboard. They are authentic and the cocktails that they have created have been fantastic."
Alison joined the business full time in 2018, having had already reduced her hours at the council as it became apparent that keeping up with demand for Norfolk Gin was more than a one-person job. I ask the couple what it is like working together. "Most of the time, it is great," says Alison. "It can be hard working out who has the final say on something, and it is always the little things that irritate. I am shorter than Jonathan, so invariably I put something on the wrong shelf as I cannot reach it!"
"I would say that 95% of the time, we do really well," smiles Jonathan. "We also have three sheds, so we can work in isolation and listen to our own music! We both just have different ways of doing things."
"It is nice to spend so much time together having spent so much time apart," continues Alison. "We do have a giggle, and we do enjoy being in a business together. Really, we are very lucky."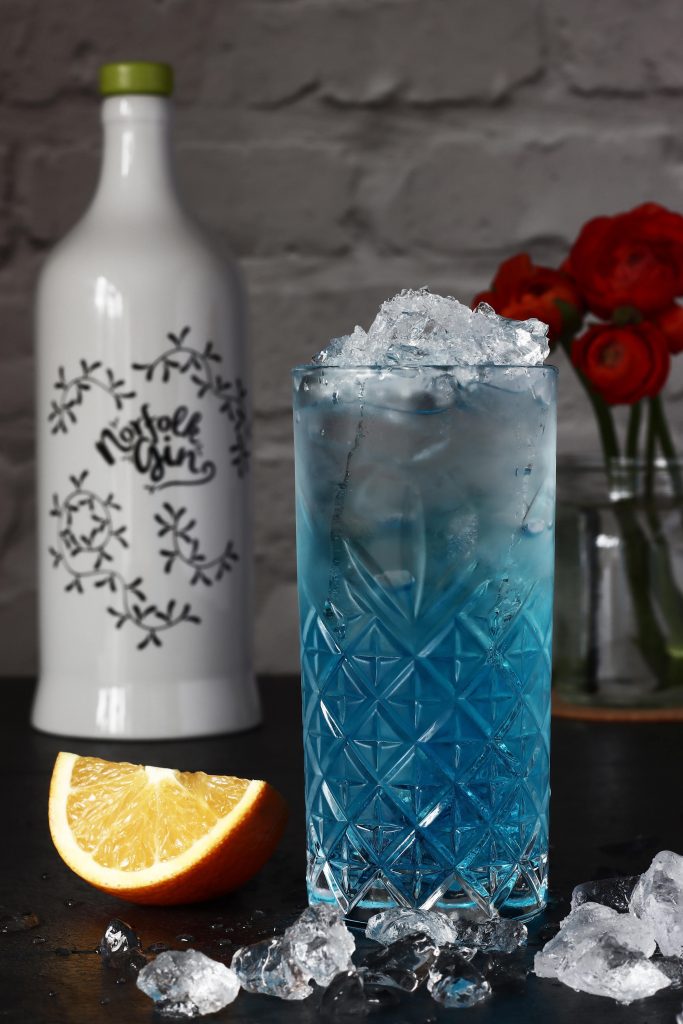 Alison adds that, every year, they discuss whether to continue, and the current lockdown has meant that they have had this conversation again. "We enjoy what we do, however," she says. "Each year, we keep doing a little bit more, something new and fresh, and we are enjoying it. Plus, if we didn't do this, then what would we do?"
At the time we speak, the lockdown restrictions are just being lifted for pubs and restaurants, and that means that the couple are now back out delivering their precious gin to customers. "That is what we have missed the most during lockdown, seeing people," they say. "We love to take our gin bottles to places in person and having a catch up with the different businesses. We deliver our gin in a basket, and we get their empties back. For every 12 back, they get a free bottle of gin, and businesses love that concept."
With the couple being able to get out and about a bit more, I ask them what they love so much about this part of the world. "Norfolk is just a beautiful county," sighs Alison. "Coming from Pembroke, which also has an amazing coastal landscape, I feel that beaches are in my DNA. I love the coastal areas in Norfolk so much, there is a lot of coast and it is all so different. You have the beaches at Winterton, the big cliffs and sandy beach at Hunstanton, the coastline at Caister… It is just lovely."
"As a county, Norfolk is very welcoming," says Jonathan. "It doesn't have the anonymity of huge places. There is an openness here, to new ideas and to new things. I also get the sense that there is a higher proportion of independent businesses here in Norfolk – and that is a definite benefit of being in this part of the world. While big hotel chains don't want to do business with you, small businesses want to help other small businesses – and that seems to be a common theme here.
"There are so many amazing businesses here who are producing delicious things for us to consume, from Flint Vineyard to Staithe Smokehouse to name just two. And I love to stop at Old Hall Farm on my deliveries, get my raw milk and butter, and look at their calf-at-foot herd. I like the ethos and ethics that producers have here, and that the produce is of great quality. You can get coffee, charcuterie, cheese, bread, fish, wine, beer… The list goes on. So while it may not be statistically true that we have more independents here in Norfolk, I certainly feel that there are compared to other parts of the UK."
"It feels like a privilege to be part of the local food and drink scene," continues Alison. "It is pretty solid, and there is some great food out there! So to be part of that is such a positive thing. All that said, we do want to be known outside of Norfolk as well – Norfolk Gin is not just for Norfolk! We love that we have some dedicated fans in Somerset – hence the refill point there!"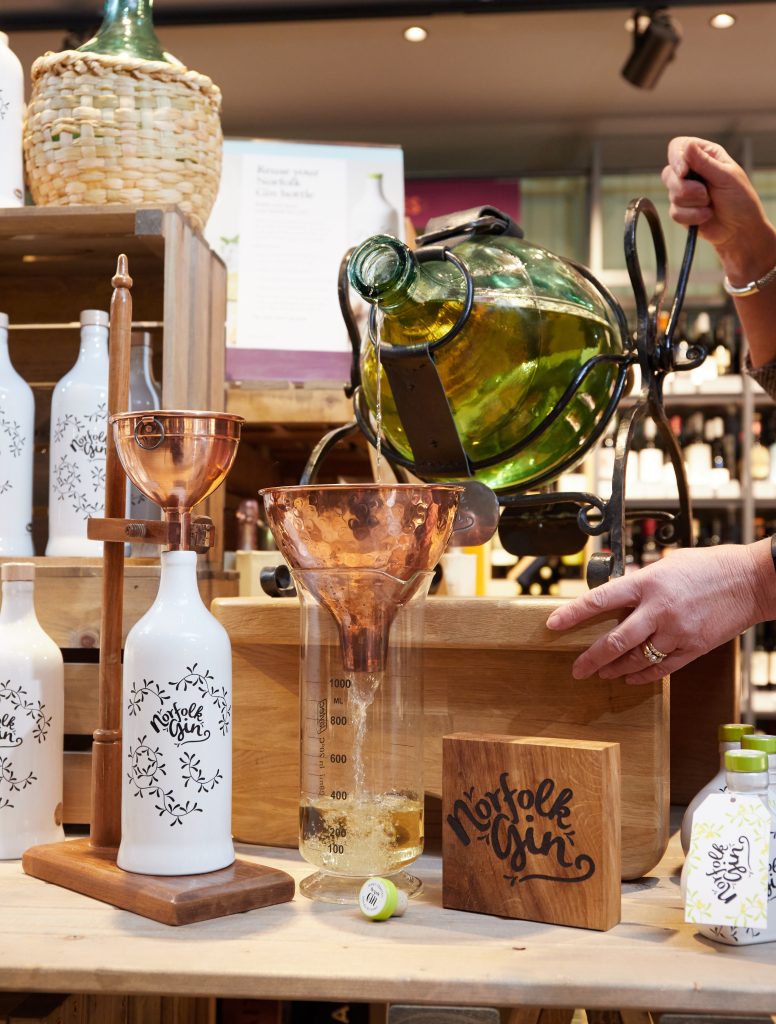 The couple both agree that Norwich is a pretty city, with Alison adding: "It is big enough to be interesting so that you can lose yourself in it, yet it is small enough that you can still participate in life. Until we came here, we had always lived in Army camps and here, you can walk into the city and go to the theatres and bars, and also enjoy live music."
Asked about their favourite haunts, the couple struggle to pick just one – and while given the option of one each, they both go for the same each time. "Pub has to be The Cellar House in Eaton," says Alison. "It is our local pub and is a great local place – they work hard there. It is now a Post Office as well and is a community hub. They have great food and a beer garden – and I can walk there! If I am going to a pub, I want to be able to walk there." Jonathan adds that: "Victoria [MacDonald] is a good supporter of Norfolk Gin, and she made a lot of effort to buy it 'off list'."
For restaurant, they pick NoTwenty9 in Burnham Market. "It is a nice place and we enjoyed one of our best meals there. It has substance and style – most places have one or the other. The artwork is great and, you won't have seen them Samantha, but the men's urinals are a chromed up beer keg!" Alison adds that: "I love the service at NoTwenty9, and I like seeing them cooking. There are lots of hidey holes, and there is a great mix of people there. It is intimate and family friendly rolled into one."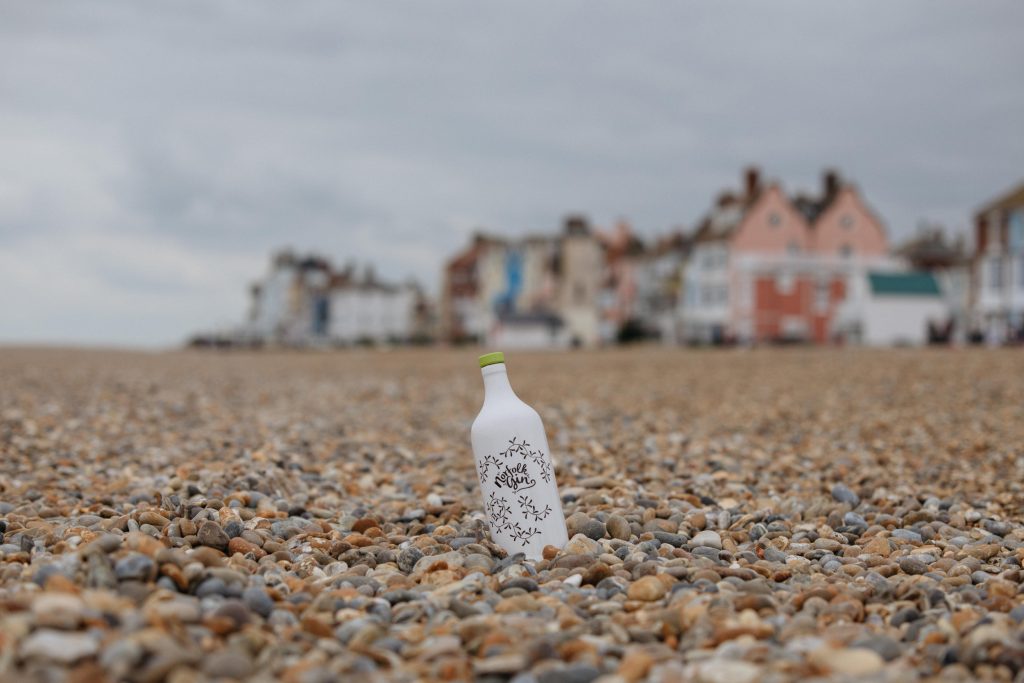 As for the beach, after much deliberation, Jonathan and Alison settle for Winterton, which reminds Alison of Tenby and is more like the Welsh beaches. "You can also get a very nice cup of tea and piece of cake at Poppy's Tea Rooms!" laughs Jonathan. And as for a place – they settle for "down the banks of the River Yare between the UEA and Cringleford."
Jonathan and Alison appreciate all that Norfolk has to offer, including its amazing peaceful quality. "There is a rhythm to life here," explains Alison. "We sell gin by the seasons – the promise of spring; the beautiful summer, with its buzz; the mellow and soft autumn; and then the tinsel and lights of Christmas."
Asked what their favourite way to enjoy their gin is, they have different ideas. "I have to have my favourite glass," says Alison. "Big chunks of ice and a double measure of Norfolk Gin topped up with a slimline tonic. No garnish, just as it is."
Jonathan, however, prefers a gimlet – gin with lime juice, and some ice. "If we have friends around, we push the boat out and have a White Lady, with Cointreau and lemon juice – or with St Germain if you are here! But I would always say that Norfolk Gin is best enjoyed with friends – it is as simple as that. It is a real gin with real botanicals to enjoy with real friends."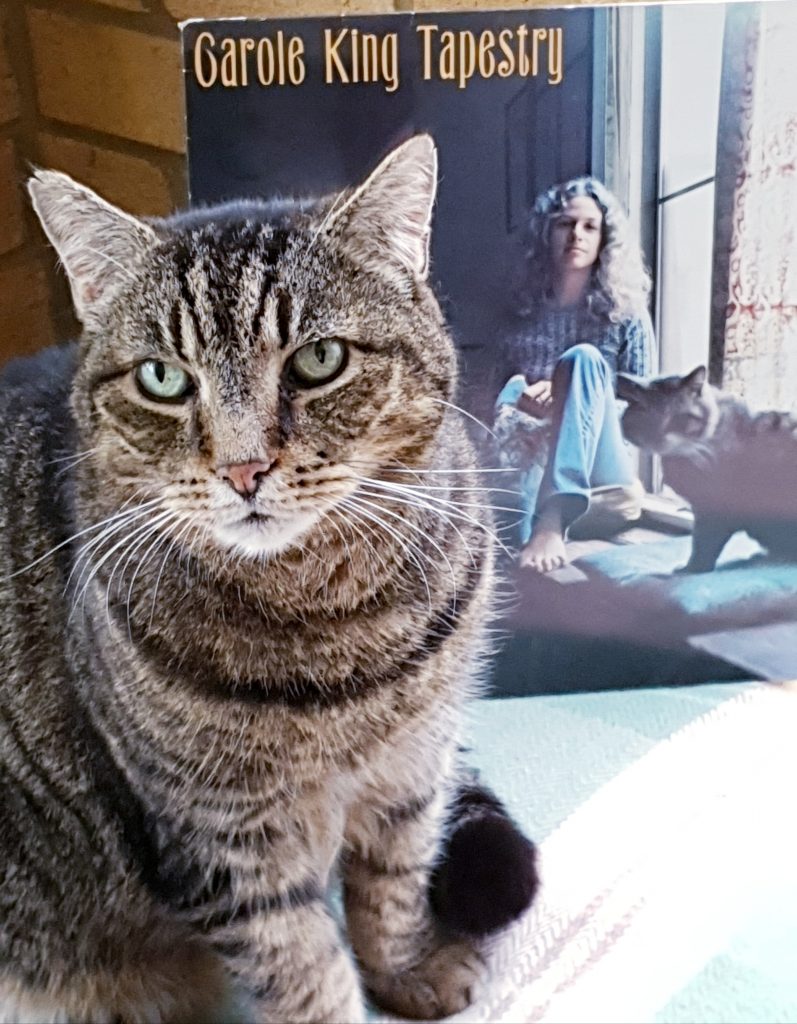 Looking to the future, Jonathan and Alison are launching an online shop to coincide with the publication of this feature. "It may not be a dream, as such, but it is the right thing to do businesswise. Lockdown has shown us that we do need to be more digital in our sales," they say. "But as for dreams? We are not waiting for them anymore – we go and get them!
"We produce around 10,000 bottles of Norfolk Gin a year and have just hit the 3,000 mark on the miniature bottles. We are working towards 1,000,000 tots of Norfolk Gin enjoyed by gin connoisseurs around the world. We are currently on 865,536 tots, and that is a milestone we look forward to reaching. We also missed our fifth birthday party due to lockdown, and we hope that we will be able to get together with our friends soon and celebrate."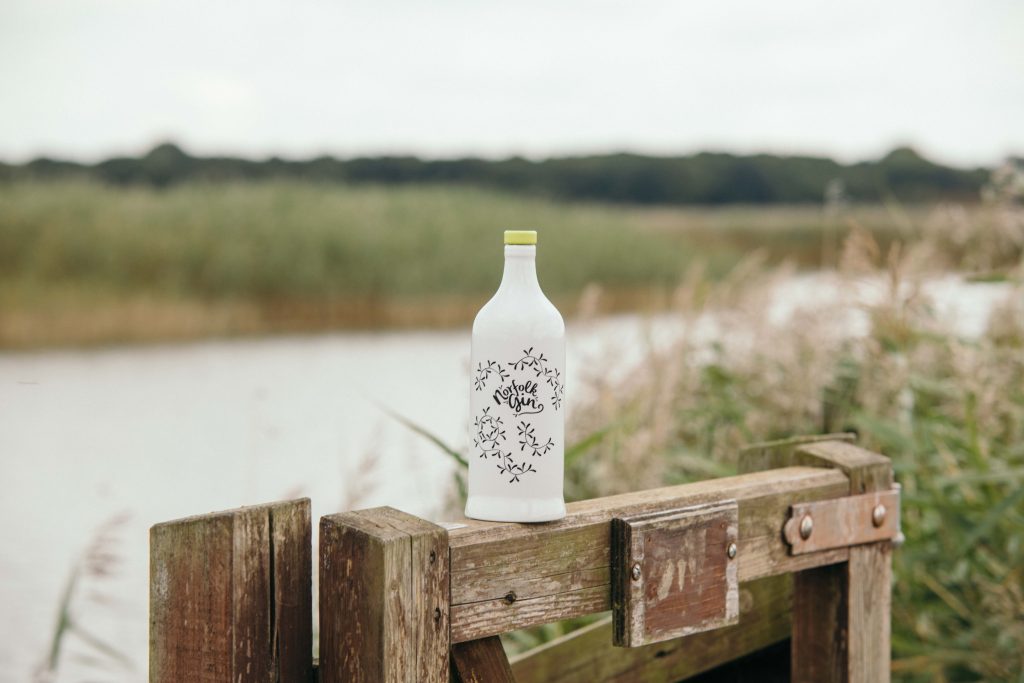 Finally, it is time to ask the couple to sum up Norfolk Gin in one sentence. After a lot of giggling, we agree on the risqué statement that captures so much that is at the heart of Norfolk Gin:
"Some gins give you an air kiss… Norfolk Gin gives you a good old snog!"
There is no doubt that Jonathan and Alison have created something very special with their Norfolk Gin. Many local gins have followed since this first appeared one sunny June day in 2015, but this remains the original. The couple may be quietly self-depreciating about their achievements, but there is little doubt that they have made a huge impact on the local food and drink scene. Five years of being a true cottage industry is no small achievement, and Jonathan and Alison have done this with aplomb. And I, for one, will look forward to raising a glass of Norfolk's finest to them once social distancing allows.
Further reading
Norfolk Gin