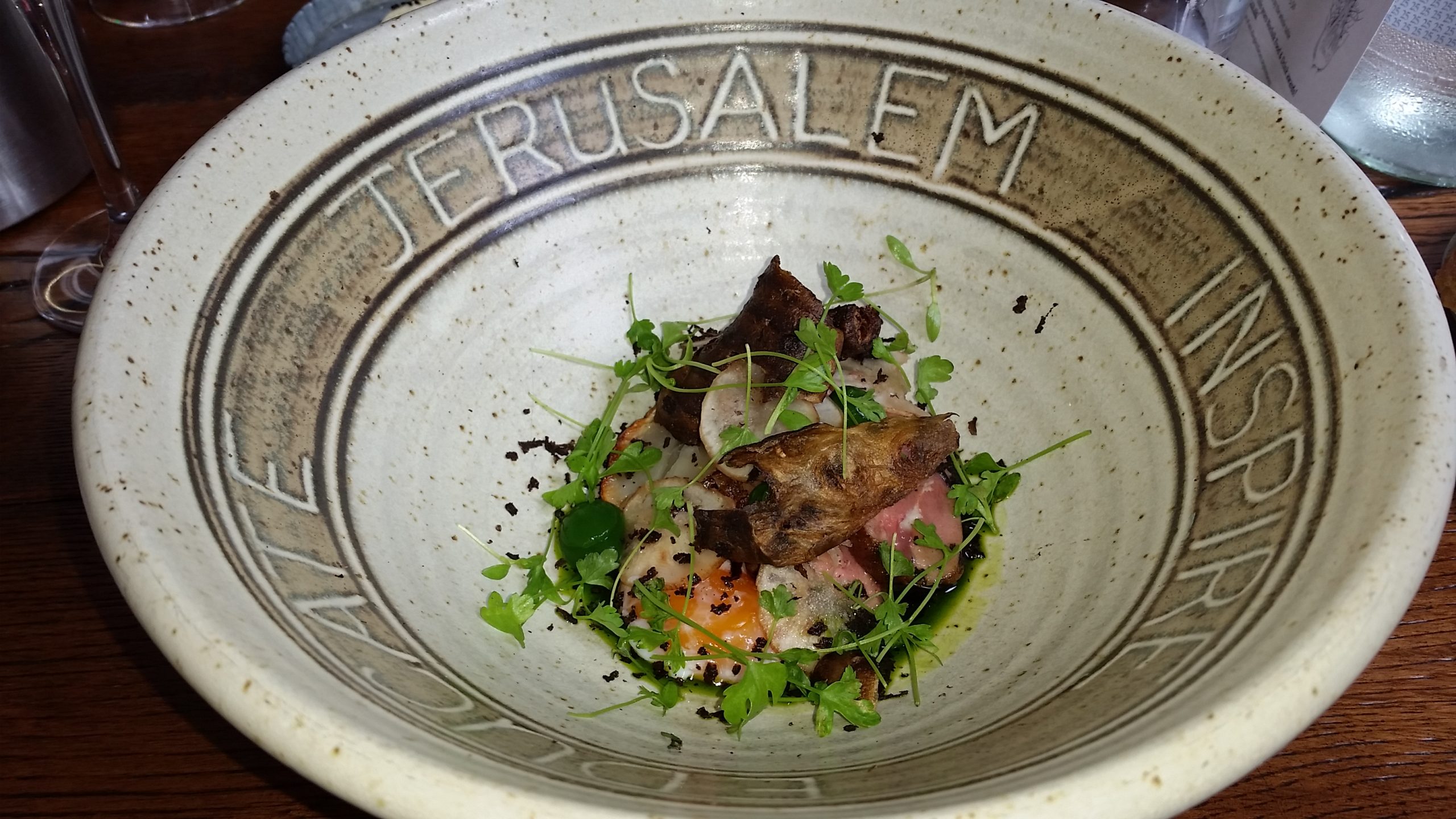 The ultimate Norfolk Experience – Bainbridge & Benedicts
Saturday afternoon, and it is stormy and wet. I have just conjured up a banana, walnut and chocolate gluten-free loaf cake, and that is now doing its thing in the oven. And while it cooks, and the delicious aromas begin to fill the house, it gives me time to think. Time to try and find the words to attempt to do my meal out yesterday the justice that it deserves.
I always like to write any blog, feature or article at least a day after the event. That way, things have had time to settle. Emotions have calmed. Memories have clarified. And a meal enjoyed has had time to weave into the fabric of those so admired before and, just maybe, found its own way into my 'top' list.
Yesterday, I dined – technically lunched, but I could not call what we had 'lunch' as that does not capture the depth and quality of what we had- at Benedicts Restaurant in Norwich. Located in a historic old building in Norwich Lanes, the first on St Benedicts Street as you walk down from the city, this restaurant is owned and run by Richard Bainbridge – famed for being on the BBC's Great British Menu but best known locally for being a true homegrown Norfolk lad and undeniably passionate about the amazing produce that is grown and made here.
When I left the restaurant yesterday, I posted just one word on The Delicate Diner Twitter account about my experience there – INCREDIBLE. So the afternoon after the day before, do I still feel the same way about my time spent at Benedicts? Absolutely, yes!
Yesterday was an important day. I was meeting my friend Paula for lunch. I have checked with her and she doesn't mind my sharing that it was her 55th birthday. More importantly, this week she also took early retirement from working at that big employer in Norwich where we have all been at one stage in our lives.
For so long, as friends we have been excitedly planning this year. I turned 40 in January and Paula had her retirement to look forward to. However, life loves to knock you and your best-laid plans and a month ago, Paula's mum was diagnosed with non-hodgkinsons lymphoma. So you can understand, lunch yesterday meant a lot to us – and we also had a lot to talk about.
Talking was one thing that we didn't really manage! The food was so sublime, delicate and considered that it was impossible to take your mind off the dining experience that we were revelling in and give serious consideration to the in-depth detail we needed to talk about in our own lives. We didn't mind a jot – it turned out that our afternoon provided comfort for the soul, restored balance and grounded us, once more, back to our Norfolk roots.
So, what did we eat that captured us so? And what made our time at Benedicts so memorable? Obviously, the food is extremely high on the list, but it was more than just that. The staff were all smiles, so welcoming and attentive. All around, you could clearly tell that everyone was enjoying their food and at one point, the table next to us asked what Paula was having as they were so intrigued. Then, there was the theatre with the presentation of each dish – that was very special and very much added to the whole event. Finally, the ambiance was relaxed and the decor sympathetic to the building, as well as not detracting from the focus – the food. As, while all the other parts make the experience complete, the reason that so many people cross the Benedicts' threshold is to enjoy a great plate – or more – of incredible food.
First, a word about Richard himself. I first saw him, as so many did, on the Great British Menu. Like so many, I remember him for his 'big red balloon', but it was last year that propelled him into the spotlight. The theme was to celebrate the Women's Institute and Richard's menu saw him sail into the final and at the celebration itself. Open and honest on screen, Richard talked at length about how he was inspired by the women in his family – the depth of love and respect that he has for them will stay with all that watched those programmes, myself included, and as such, the menu was created around them. Of particular note was Nanny Bush's Trifle and speaking to Richard later, he told me that this is one dish that will never leave the menu.
Benedicts restaurant has a wide range of choice, to suit every budget. There is a set lunch, an a la carte menu, a tasting menu and then, the Great British Menu, menu. Realising that we were getting nowhere fast, and that while the simple decision to order a beautiful glass of sparkling English rose wine was easy, selecting through the menus was not. So Paula and I decided 'why not', and went down the path of the Great British Menu – a path that I am very glad that we took!
I will be honest; I had not considered having this before I went. I thought that it would be too complicated to change it to gluten-free, and that it would spoil the essence of the experience. I am thrilled to say that Richard and his team were able to make all transitions smoothly, easily, seemlessly… I never once felt as if I was missing out, and in fact one of the replacements was one of my three favourite plates of the day.
So, if you are sitting comfortably, and that your glass/mug is topped up while I go through this, then let me begin.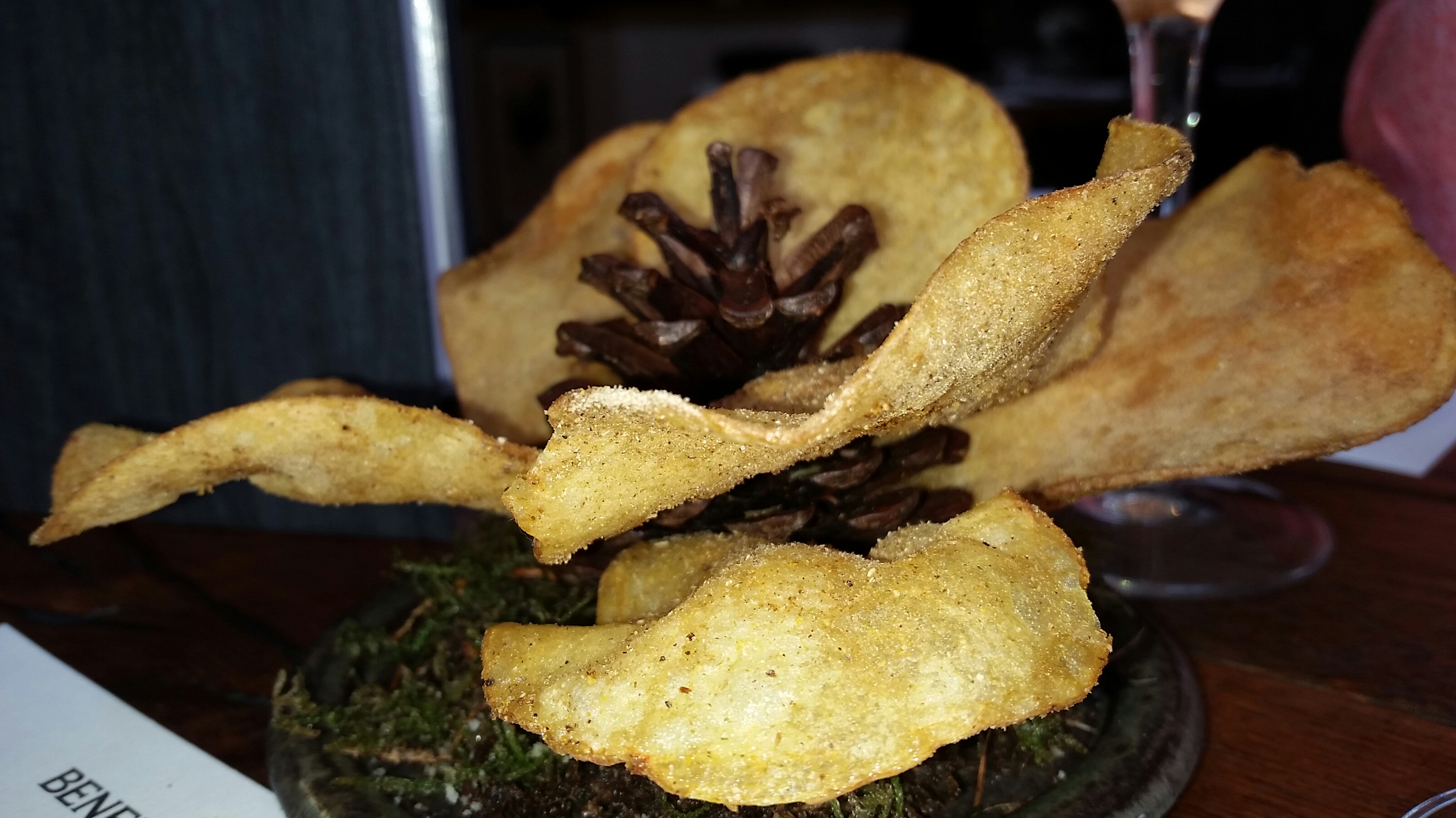 All in all, Paula and I had 10 courses. It should be nine, really, but Benedicts surprised us with a special plate at the end! I know that this sounds a lot, but each dish was so individually balanced, as well as thought out as a whole menu, that you did not feel heavy, lethargic or bloated at the end of it. Each dish was mouthwatering and amazing on its own – as a complete menu, it was exceptional.
First out was a very cute pine cone, nestled on a bed of moss. Inserted into the open cone were homemade potatoes crisps that had been sprinkled with cep powder, lemon and seaweed. They were so crunchy, not at all oily, and they had a great flavour. Paula and I were enjoying a glass of English rose fizz at the time and the crisps did not detract from the sparkling wine's delicate flavour. Every table received these, and they certainly set the theatrical standard for the rest of the meal.
Next, what was to be a favourite dish for both Paula and I, if for different reasons. Very elegantly presented, each side of the platter had one giant Sushi rice cracker adorned with cod roe, apple puree and onion powder. Served in the centre was an incredibly light sherry sabayon – an homage to Richard's mother and sister, who used to enjoy a glass of sherry before dinner, something that I have been known to do partake in myself! For me, the sushi cracker with its amazing toppings was the hero of the dish with its different elements that all worked together so very well. I loved the silky smooth sabayon as well, but for Paula that was her favourite of the day and she said she would love to have that with a bowl of "wonderful dippy things" whenever the mood took her!
On to the pre-starter, mine an elegant and perfect bite generously decorated with summer flowers. Paula's another perfect bite with a generous helping of parmigiano. By now, we were already enjoying all that was being brought to our table with – it has to be said – perfect timing. We never wondered when our plates would be cleared/when the next course was coming, it was all timed so very well.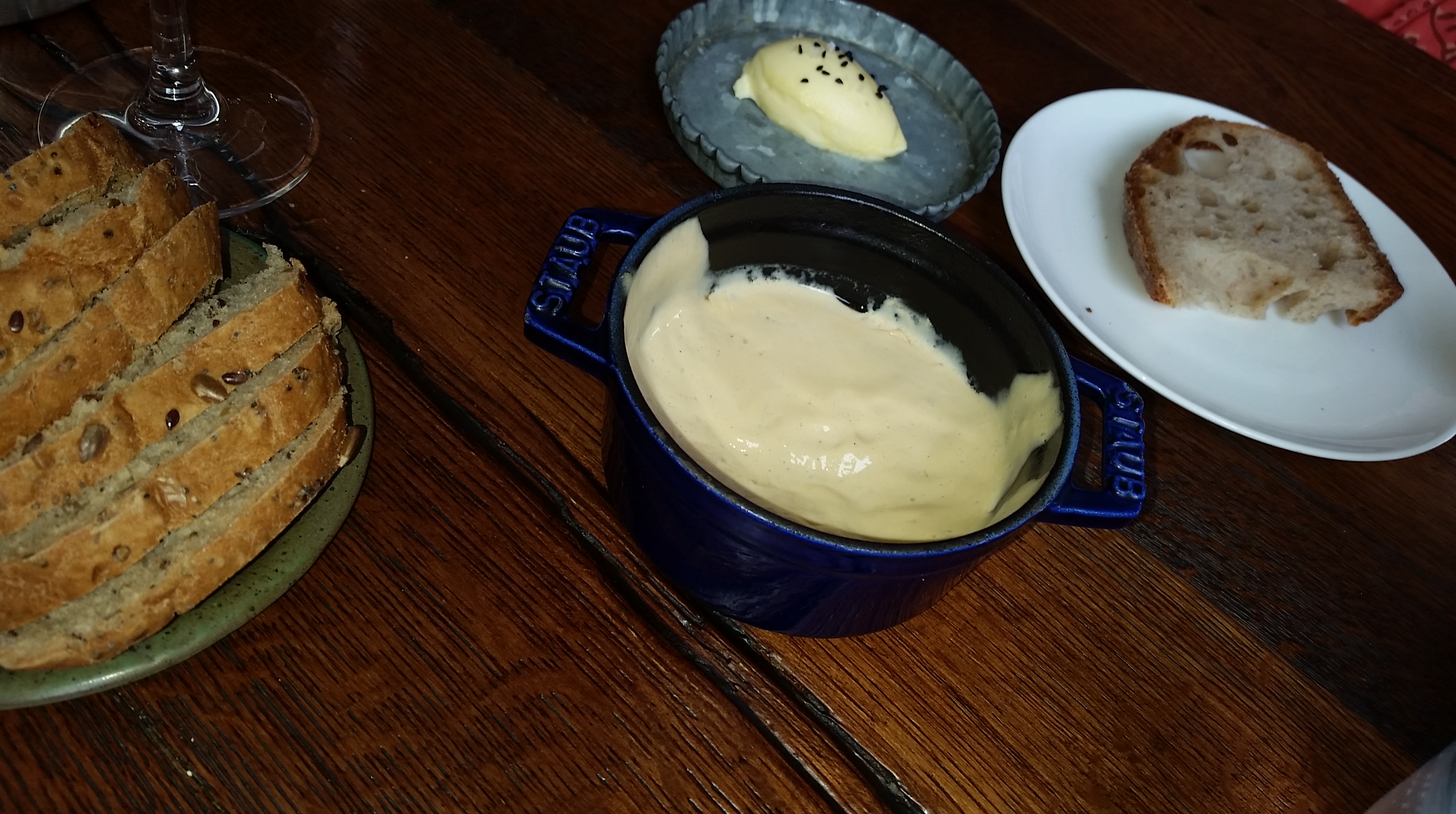 In a lovely touch, they bowl of sabayon was left, along with my mini-loaf of gluten-free bread, and Paula was offered bread at regular intervals. This meant that we could graze on the sabayon as the mood took us and, in my case, make good use of it with my alternative Great British Menu starter…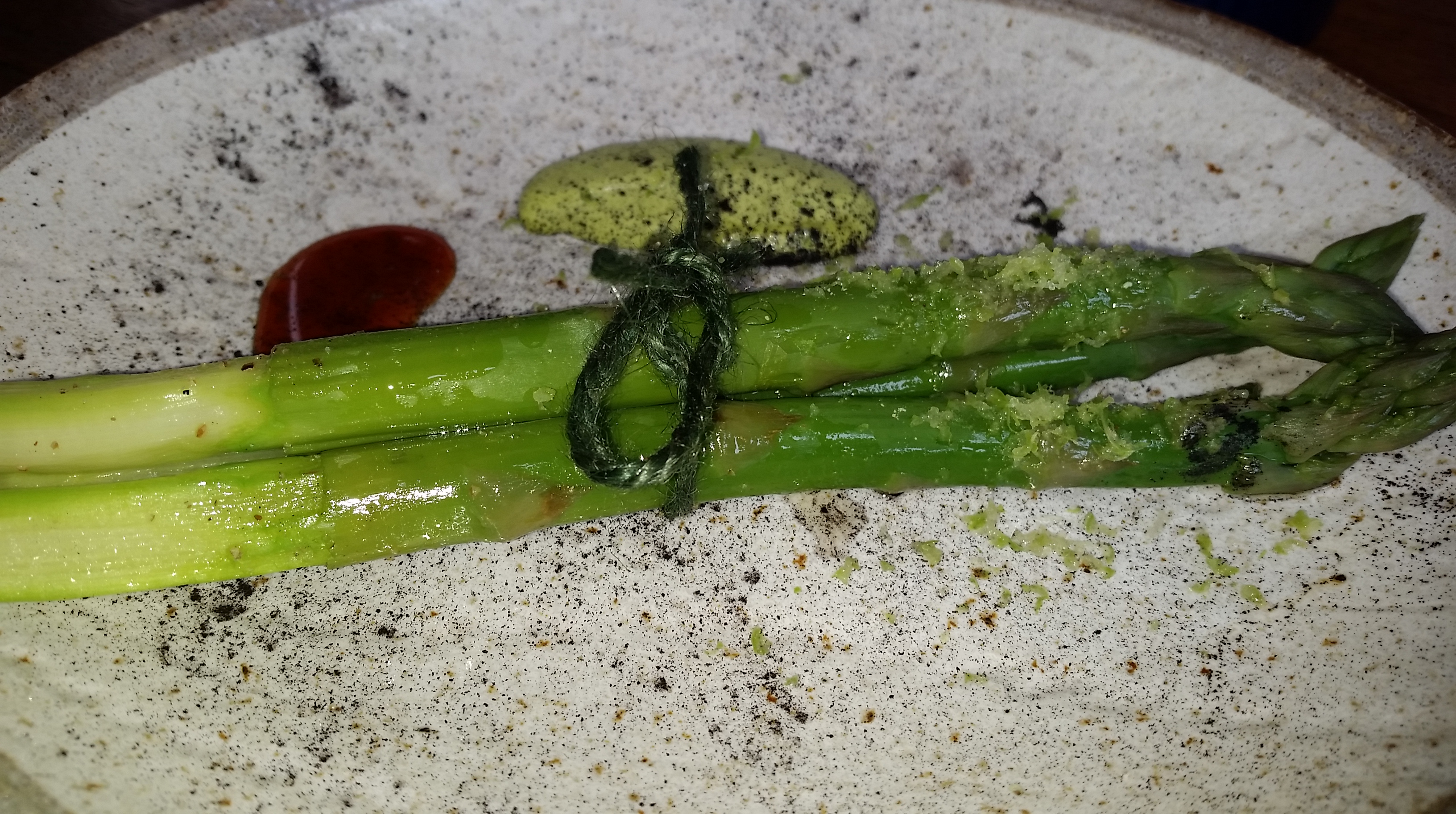 While Paula had strawberry gazpacho with crispy garlic, I was given Norfolk asparagus, wild garlic mayonnaise and an apple reduction, with a burnt onion powder over the top. As the plate was brought to the table, I was surprised to see our waiter wearing a thermal glove and carrying an apple! So surprised, I foolishly did not photograph it, but the apple was frozen and was then grated over the asparagus. The smell of the apple was amazing and it lifted an already light dish even more; incredible. The apple reduction was sticky and intense, the mayonnaise so light it was as if it had been whipped by the lightest hand, the asparagus – we are regrettably near the end of our glorious Norfolk asparagus season – perfect the whole way through. What an introduction!
Paula said that her strawberry dish was amazing – light and refreshing – and it certainly looked it.
Next – the true Women's Institute dish in many ways, inspired by their song – We All Stand for Jerusalem. Norfolk lamb, Jerusalem artichoke, truffle and parsley sponge – the latter replaced by chervil puree for me.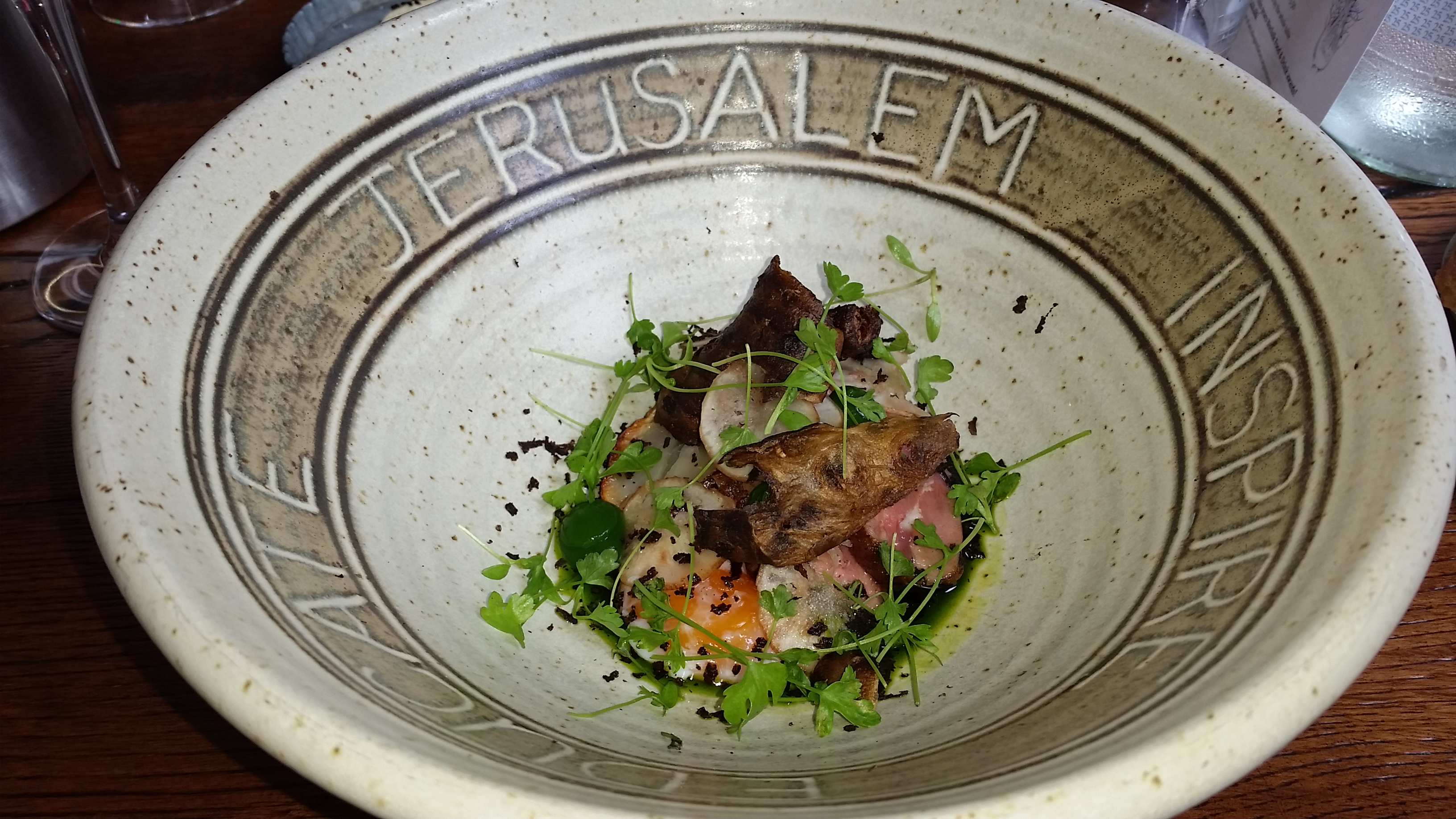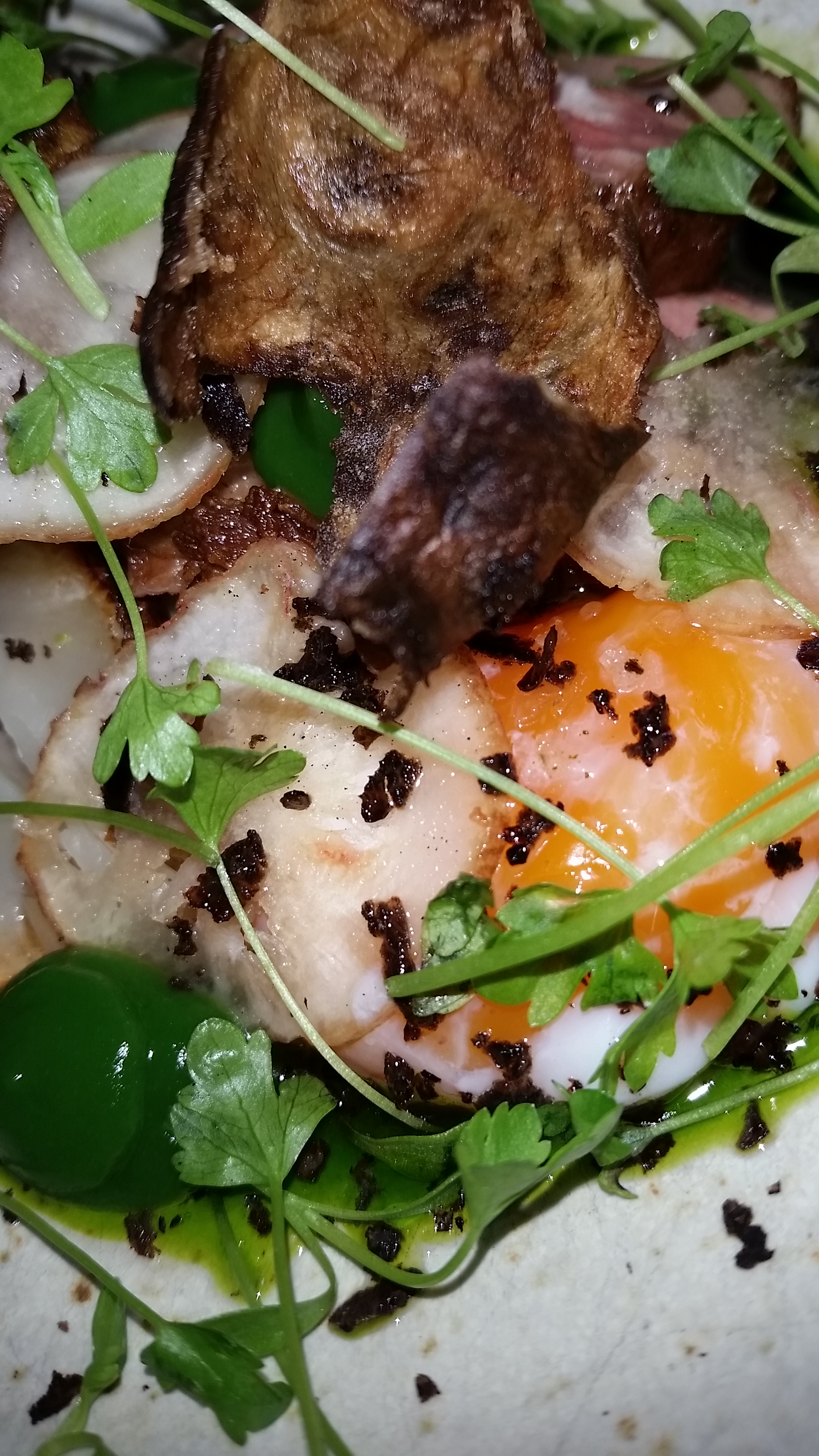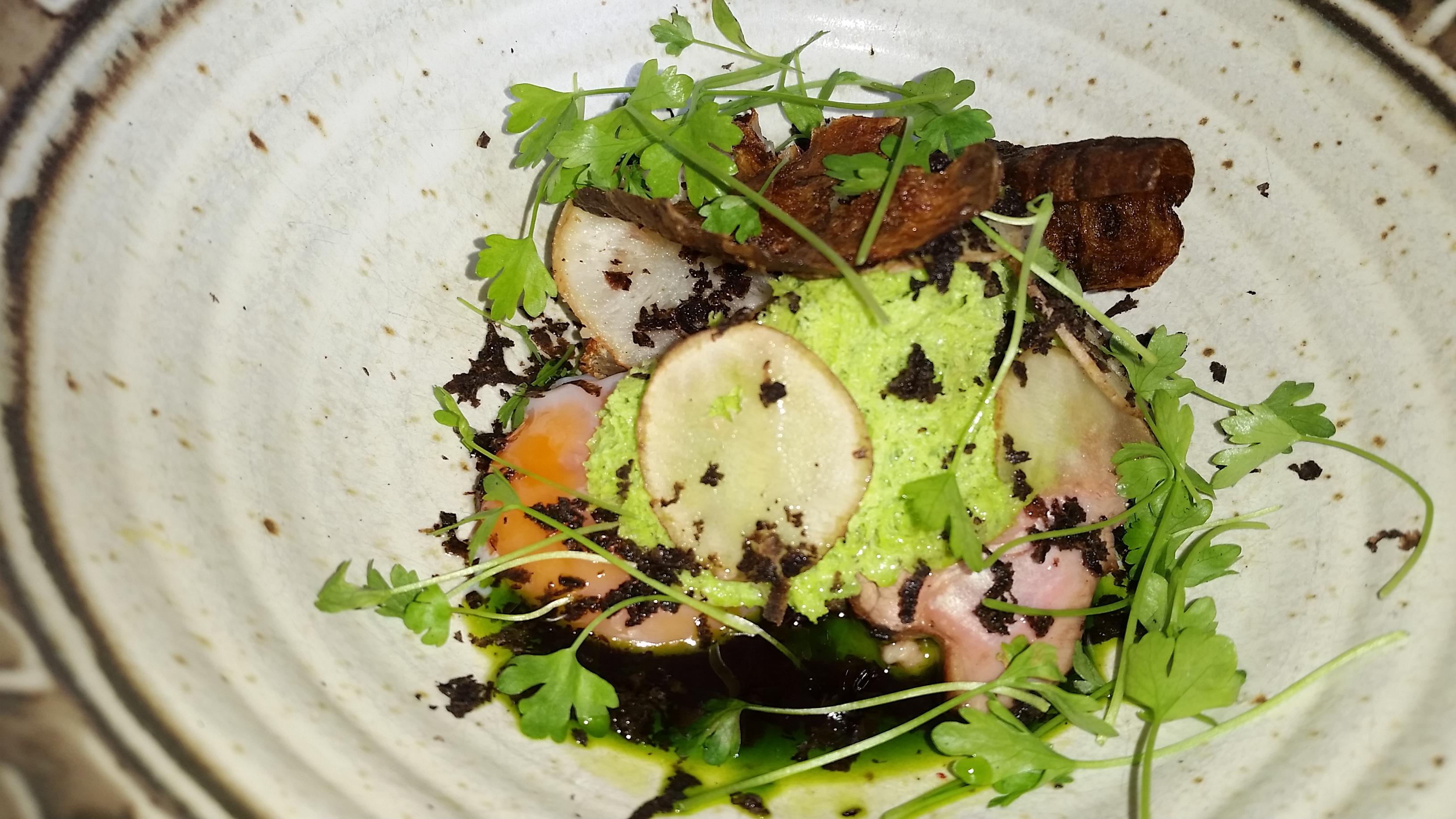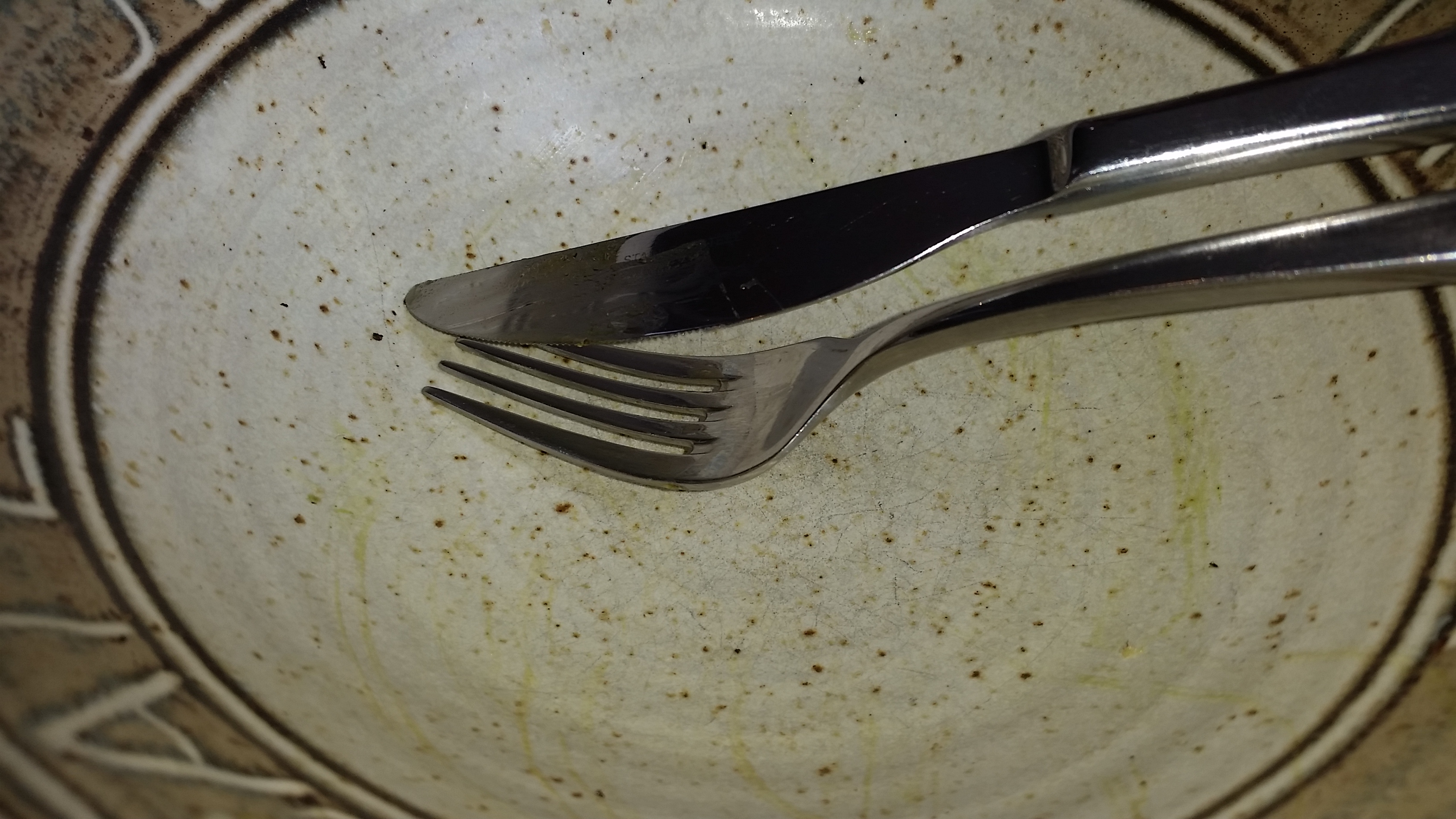 Without question, this was my favourite plate of the whole meal. The hen's egg, when cut into, made an incredibly rich sauce with the parsley. The artichoke – grown in Richard's own garden – was earthy and balanced beautifully with the truffle. As you can see, I made good use of my bread to mop up every last mouthful of this incredible dish. And a word on the plates – made especially for Richard in the Great British Menu and they are so tactile and perfect for the dish; and sadly, too big for my handbag!
We still weren't on to the main course yet as next, it was time for the fish. For Paula, the menu crab ravioli with sauce vierge and shellfish bisque. Her favourite dish of the day – and so beautiful to look at.
I had another swap – still involving crab. And also my second favourite plate of the day – fresh crab with avocado puree, almonds, and frozen pink grapefruit. The blend of the soft, fresh, fragrant crap with the smooth avocado and the gentle cool citrus of the grapefruit was just such an incredible taste sensation. I absolutely loved it – and I was not even a huge fan of crab! Somehow, I think that I am very much converted! I must also add that I loved the peppery addition of nasturtium leaves to the plate – edible flowers are something that I first encountered many years ago in the US and they only really seem to be becoming the norm in the UK over the past few years. All through the meal, the use of herbs, leaves and flowers added different elements and layers of flavour, from sour to peppery, sweet to fragrant. Loved it.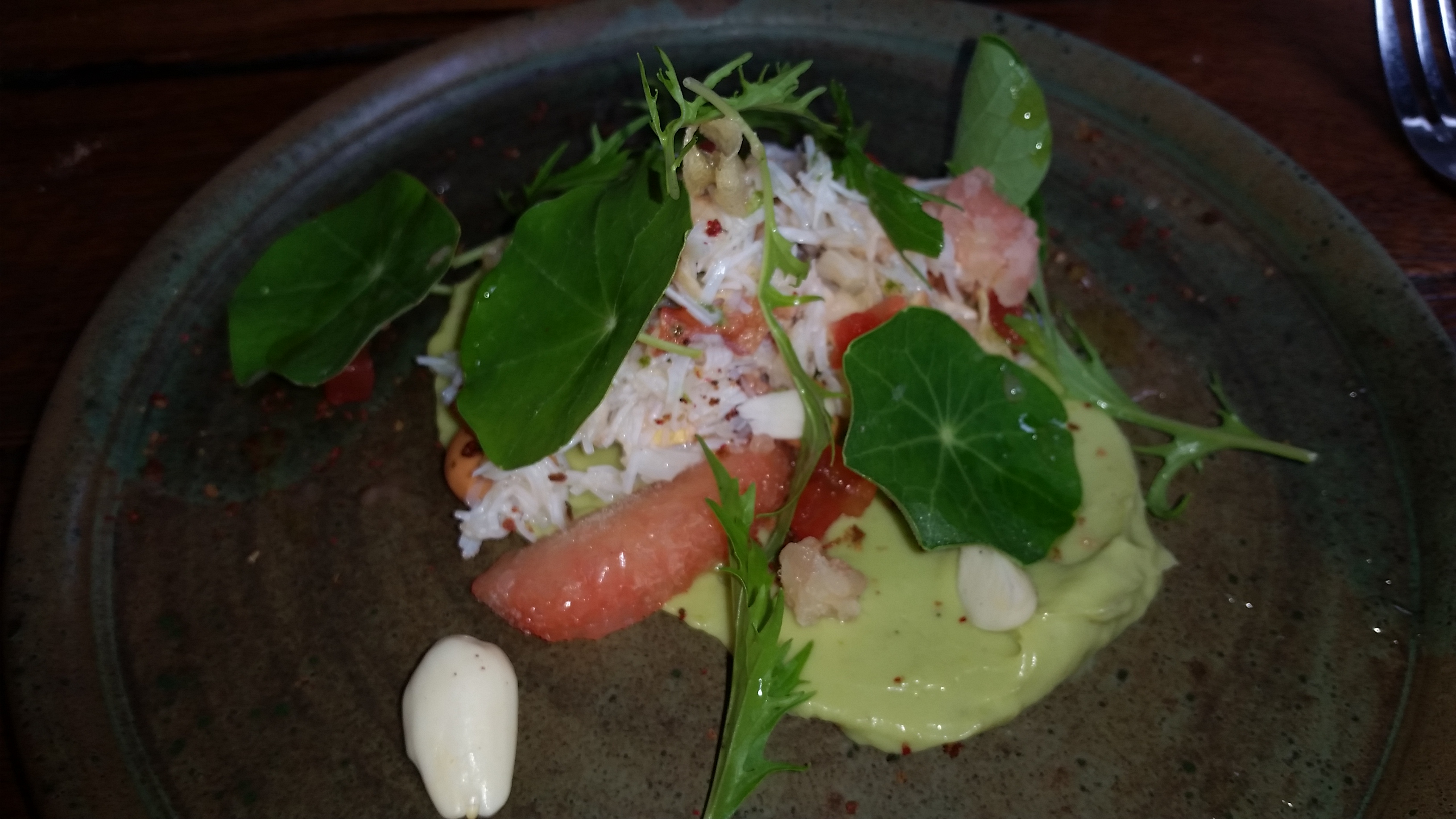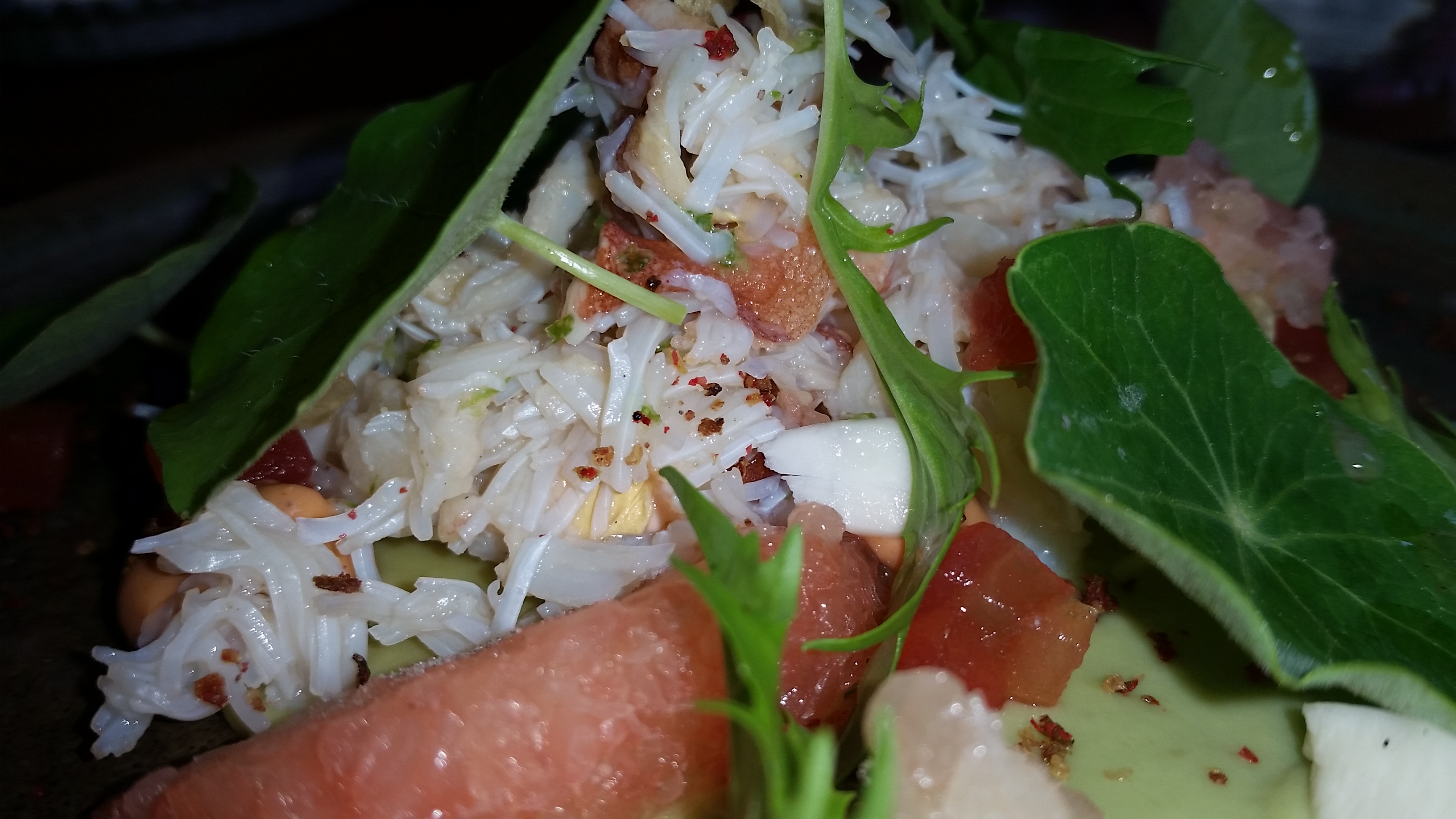 On to the main – 'Betty in the Hen House', inspired once more by the WI's efforts in the Second World War. This was a whole roasted Norfolk quail served with pearl barley – rice, for me – carrots and a garden herb jus. The menu did not say, however, how the quail was stuffed with sausagemeat, among the best that I have had, and after my last quail experience, I was very much looking forward to this dish.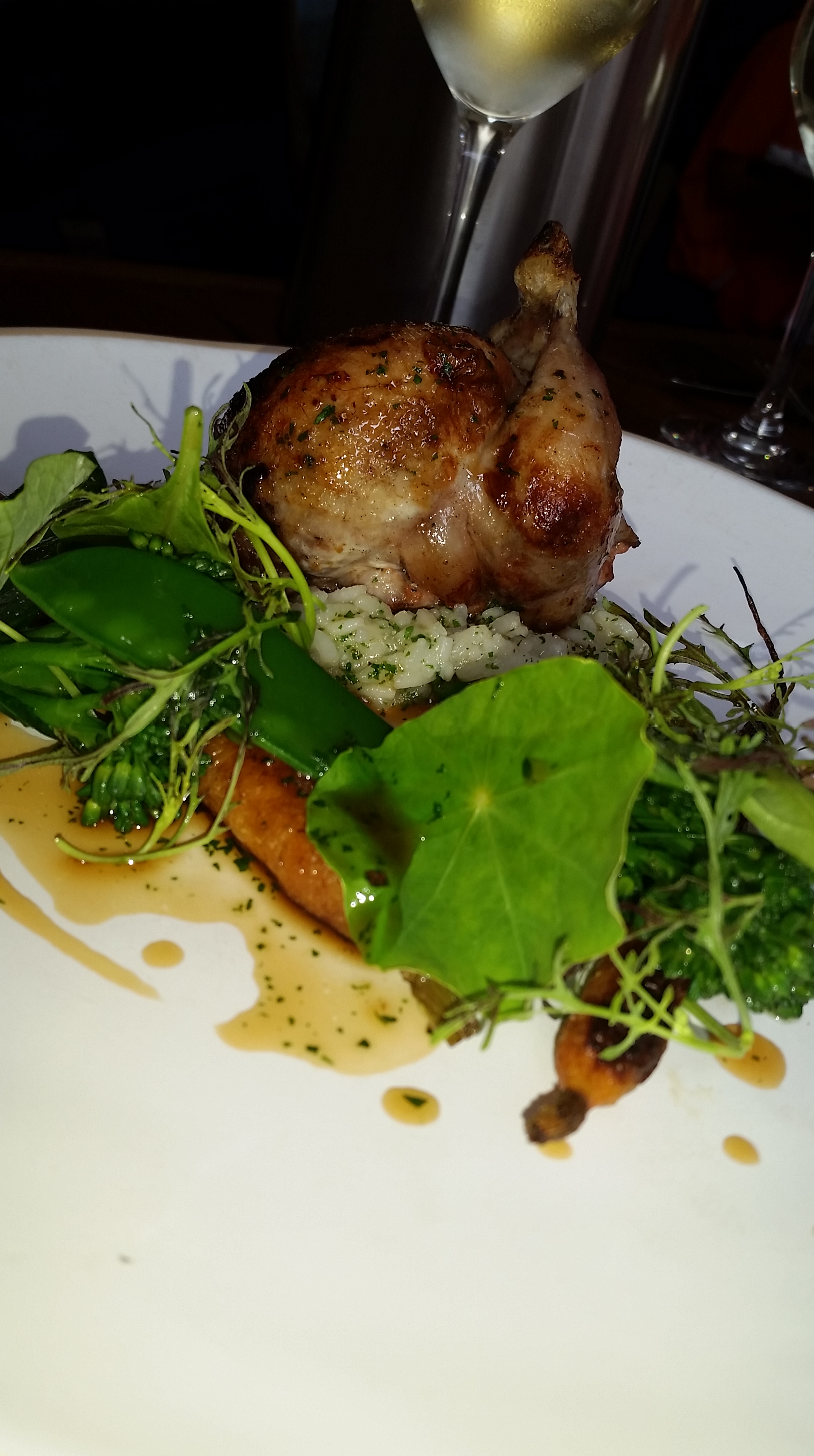 This dish was perfect – absolutely perfect – and the garden herbs both on the plate and in the jus elevated it to another level. We were told we could have more jus if we wished, and I said yes as I wanted to inspect this golden garnish closer. It really was wonderful – so aromatic and the clarity in the jus was second to none.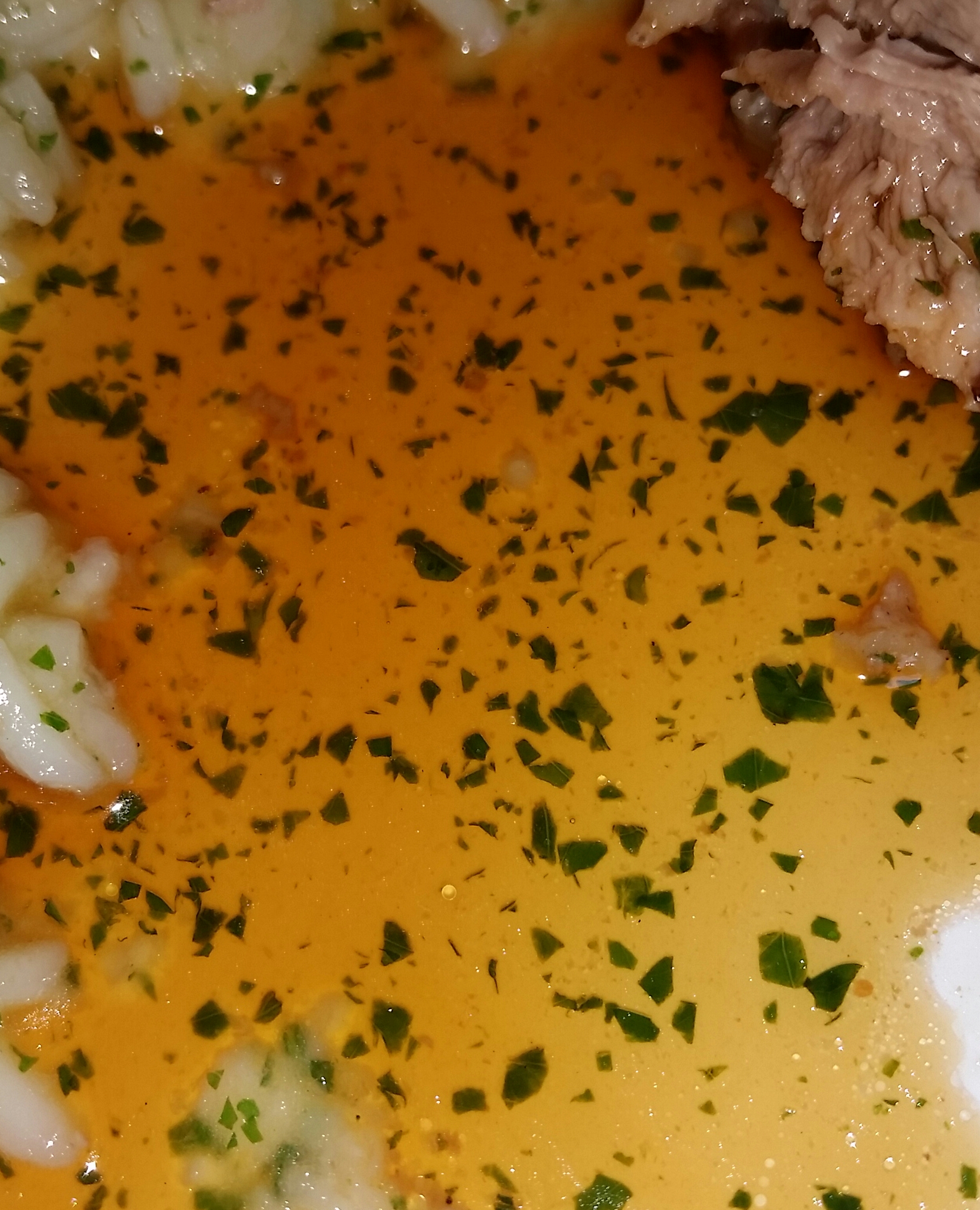 The quail was not too filling and it was so well cooked. Paula and I were worried about a whole quail after six courses but there really was no need to worry. And because the staff are so brilliant, other than checking that all was okay, they leave you alone to enjoy the food at your own pace; so important. So, we were able to take our time and enjoy this dish in all its complexities and lightness.
We were then offered a cheese course at a £5 supplement but we chose to carry on with the menu as planned. And so, it was on to pre-dessert. For Paula, Sister B's DIY Victoria Sponge Cocktail. For me, lemon verbena sorbet, diced cucumber and a cucumber soup. So rich, so tart, a magical blend of sweet and sour, and it was so palate cleansing. And again, so playful.
Not as playful, however, as Paula's! It really was a DIY cocktail, with a vodka shot, a strawberry sauce, a small pot of buttermilk cream, and a shaker pot of 'sponge' – think to a traditional fish'n'chip shop salt shaker and you get the idea!
Paula loved it, and the kick from the vodka was definitely apparent! I love playful dishes like this and I do wish more restaurants offered plates along these lines.
Finally, we were at the end – for Paula, Richard's Nanny Bush's Trifle with Milk Jam. For me, strawberry mousse, dill compressed strawberries, cocoa butter shell, sour meringue, snow – all you could want one one plate!
My dessert excited me! I took a mouthful and giggled, grabbing Paula's spoon and putting it into the meringue/snow mixture. Saying nothing, I passed her the spoon and she had the same reaction – as it was like sherbert! Lemon sherbert with beautiful strawberries and herbs. I loved the look of Paula's dessert – and when you add in Richard's history with this dish, no wonder if will never leave the menu.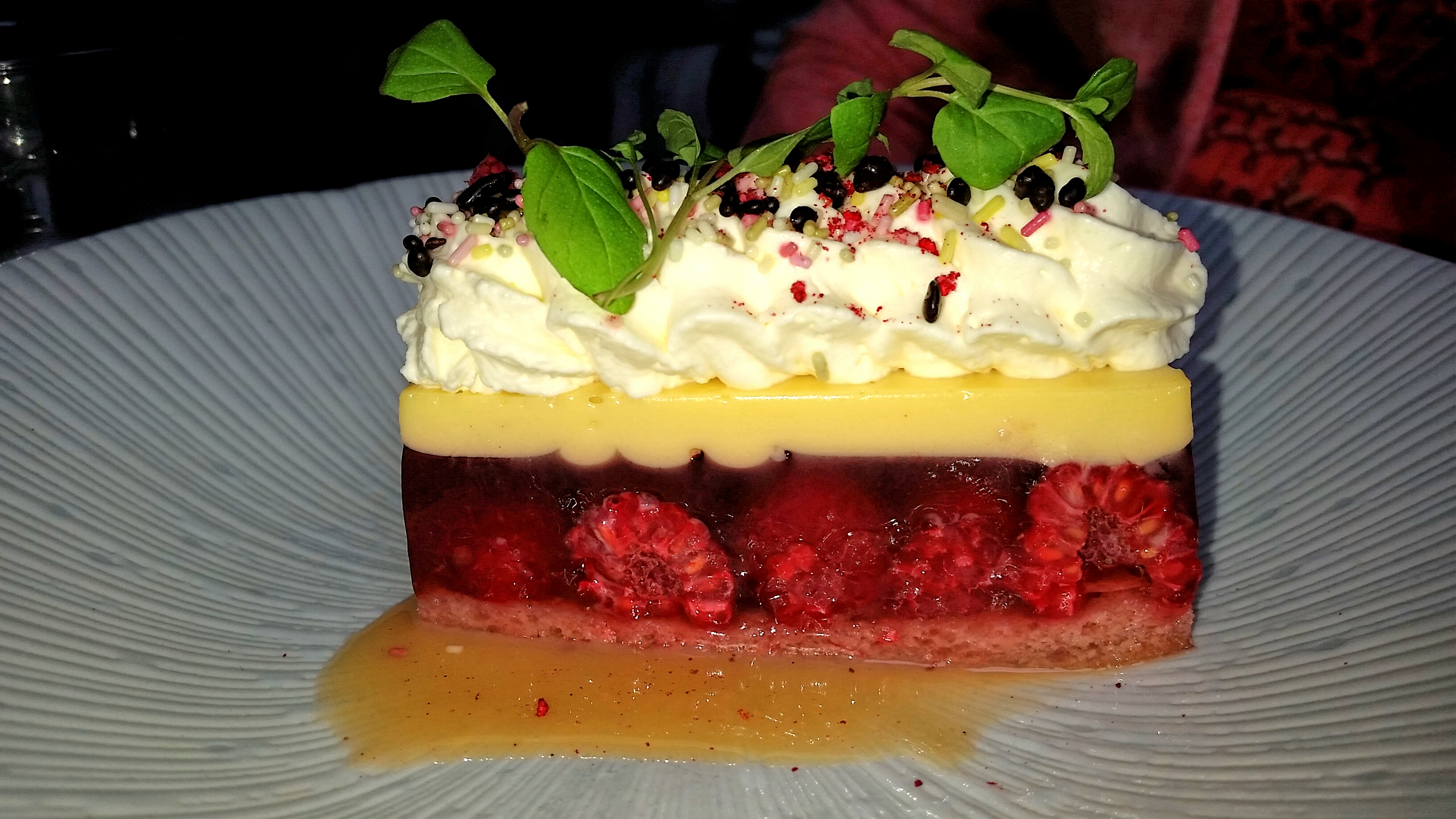 Throughout the meal, Paula and I had a bottle of English Pinot Blanc, very delicious, and the wine list was fantastic. Very different from the normal offerings, and just as at Relish last week, my glass went untouched for big courses of the meal as – honestly – all you could do was savour the food and the sensational flavour party that was going on in your mouth!
We ended with coffee – double espresso for me, regular flat white for Paula. I love that the coffee came with its own tasting notes, the history of the coffee provided, and a reason given why it was in the restaurant. My coffee was served with blackcurrant marshmallows with a chocolate dipping sauce. Paula's gluten-option reminded me of churros and again, had the chocolate sauce.
Just when we thought it was all over, having asked for the bill, Benedicts surprised us – and brought tears to my eyes – by bringing this lovely plate for Paula!
A minute piece of lemon tart – I tried the topping, so vibrant – with chocolate soil and freeze-dried rapsberries. The perfect end to an incredible meal.
When I thought that the experience could not get any better, Chef Bainbridge left the pass to come and say hello to us. There are not many chefs that would do this during a busy lunch hour, and it meant a lot to us. Kisses and good wishes for Paula, a 'face to the name' for me. He told me that Benedicts will be one year old later this month – and that he has never missed a service. This is no small feat in the world of the 'celebrity chef' and it really shows Richard's dedication to, and passion for, his restaurant. Talkng to him, tou can tell what this place means to him, and also how much he cares about good, locally produced, seasonal food and drink. Richard's energy was infectious and our brief conversation covered a host of topics; expect to see Nanny Bush's photo somewhere there soon!
Naturally, Paula and I left feeling as if we had enjoyed an amazing meal – which we had – but we weren't over-faced. The balance was spot on between the courses, and it built up to one spectacular. As Richard said, he wants people to come and eat this menu at lunchtime, and then later in the evening, enjoy a glass of wine and a small plate of cheese. It is not meant to fill you to the gills!
And then, there is the gluten-free side of things – so often the bane of many chefs around. Richard told me that he rarely uses flours, creams and the like as they can be heavy – and then, of course, the menu is easy to adapt. And adapt he did; I can't wait to see what he does for us next!
It would be easy to draw comparisons with our restaurants but I always believe that each place should stand alone. Benedicts – Bainbridge at Benedicts – certainly does. It's offering is fantastic and versatile, indulgent yet light, superior yet accessible. With Richard's wife, Kajta overseeing front of house, the family feel and focus is very much there. And at less than a year old, there is so, so much to come from this amazing venue in our beautiful city of Norwich. I can't wait.
Thank you to the whole Benedicts team for an incredible lunch – it really was so good, and I think I may have just run out of superlatives….!
Samantha xx