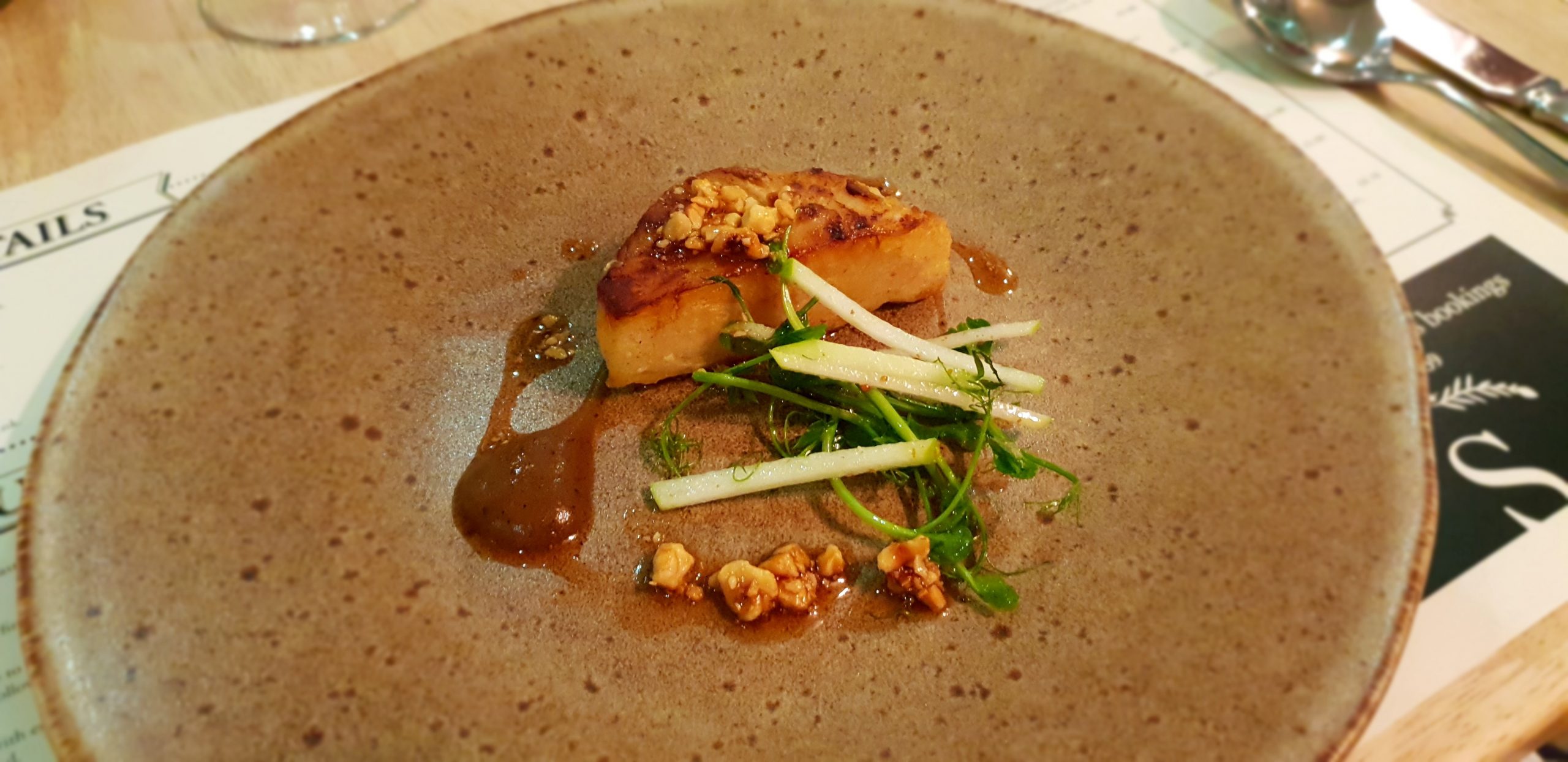 A Vegetarian Tasting Night at The Swan
I have long been a fan of The Swan in Loddon. Their mushroom consommé was my dish of 2017, and so when they invited me along to their vegetarian tasting night, I jumped at the chance.
Arriving early, we enjoyed drinks by the open fire before heading upstairs to their newly-owned private dining area. This new addition to The Swan will certainly be a great asset – it is calm, tranquil and beautiful, and offers the perfect place for people to get together and celebrate a private party or a special occasion.
The Swan is well known for holding its famed game nights. However, with the increased focus that many diners have on plant-based diets, as well as the dazzling Front of House Kelly, wife of The Swan's chef Jason Wright, being vegetarian, it was decided that this was a good time to hold such an evening.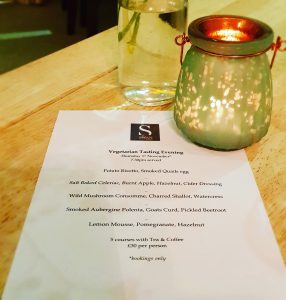 The menu celebrated both seasonal flavours and the variety that is on offer in vegetarian cooking – there was no heavy emphasis on cheese, pastry or nut roasts, and instead Jason focused on flavour, variety and intrigue. Smoked aubergine polenta? Yes please!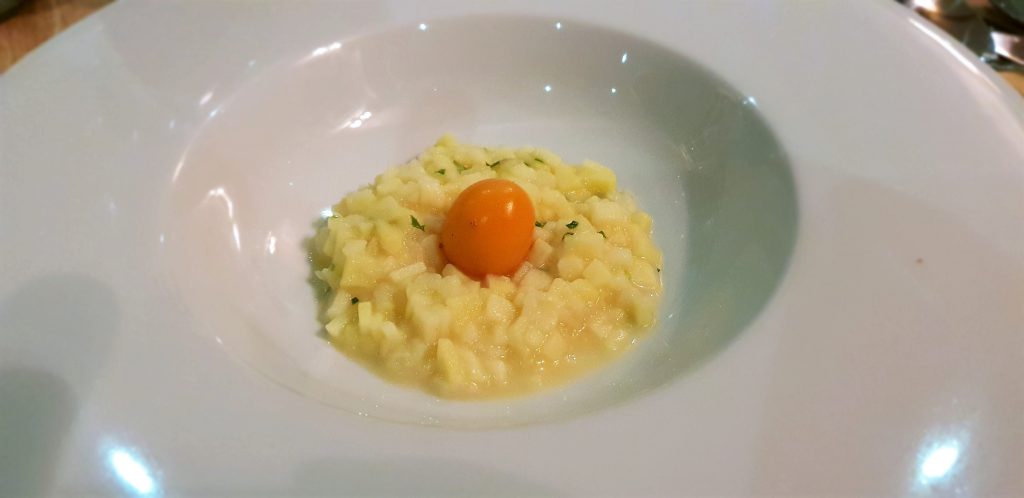 The first plate out of the five-course menu was a potato risotto with a smoked quail egg and, as all good starters do, it made you immediately hungry for more! The risotto was finely diced potato, cooked in vegetable stock and with vegetarian 'parmesan' added to it for richness. The quail egg was still runny inside, and the whole thing was one of those deliciously simple dishes that make you wonder why you have not eaten if before. It may have appeared simple, yet it was inspired, the kind of cooking that so many of us aspire to.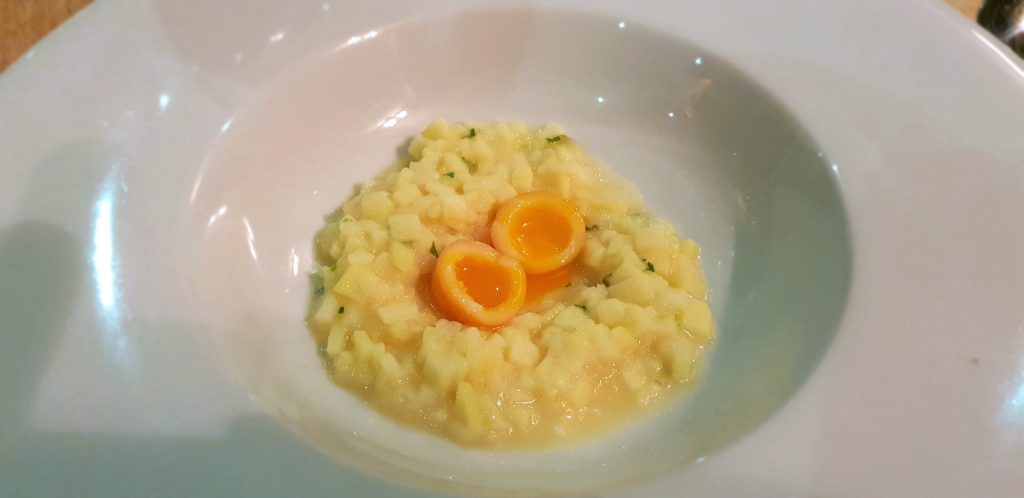 There was a good tang of garlic to the risotto, although I did add some black pepper, and every plate in the room was empty. As a pre-starter/starter, it certainly set the tone well!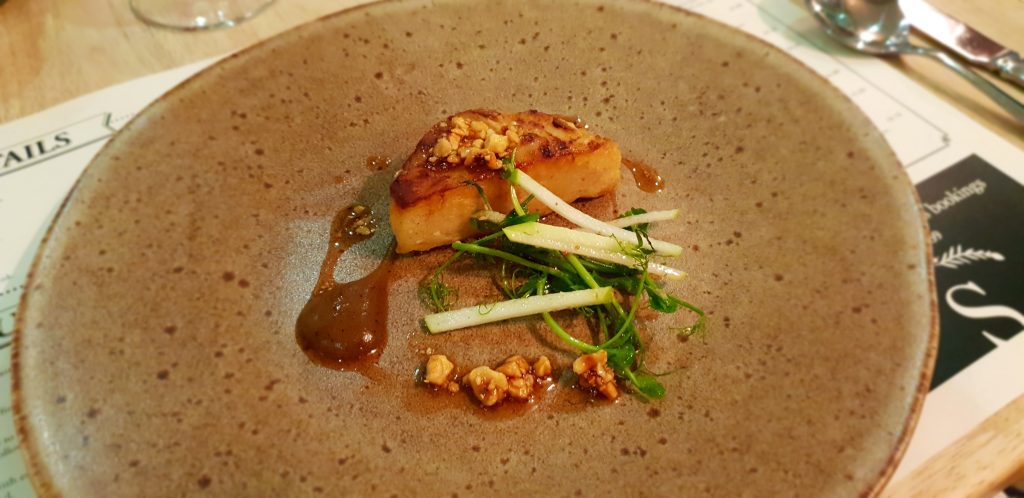 On to the next course, which was one of the stand-out plates for me. This was salt-baked celeriac, burnt apple, hazelnut and cider dressing. The rich and earth flavours of the treacle-scented celeriac married perfectly with the apple-burnt, caramel-sweetness of the cider dressing. The hazelnuts added a toasted crunch while the apple puree was tangy and fragrant. I always struggle with celeriac; the thought of cutting into it, with my slightly dodgy hand, always makes me put this popular root vegetable back on the shelf, while I also think that it needs to be packed with flavour to give it appeal. By salt-baking it, and serving it with the apple and hazelnut, Jason managed this in a mouth-watering way.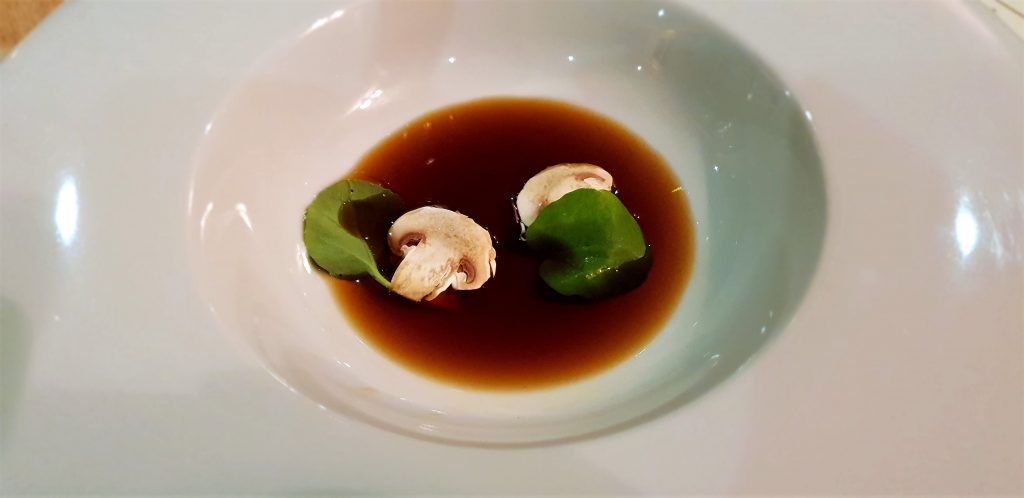 A consommé followed, wild mushroom with charred shallot and watercress. I love this consommé – the dish that I fell in love with when I first went to The Swan – and it didn't disappoint, the smoky depth of intense flavour adding a luscious depth to the richness of this seemingly simple soup. Every spoonful of this Bovril-brown soup is pure heaven. Utterly unctuous, this rich bowl of goodness was a delight. The shallot added an element of sweetness to the earthy flavours, although I did find the peppery fire of the watercress too much of a contrast for my taste.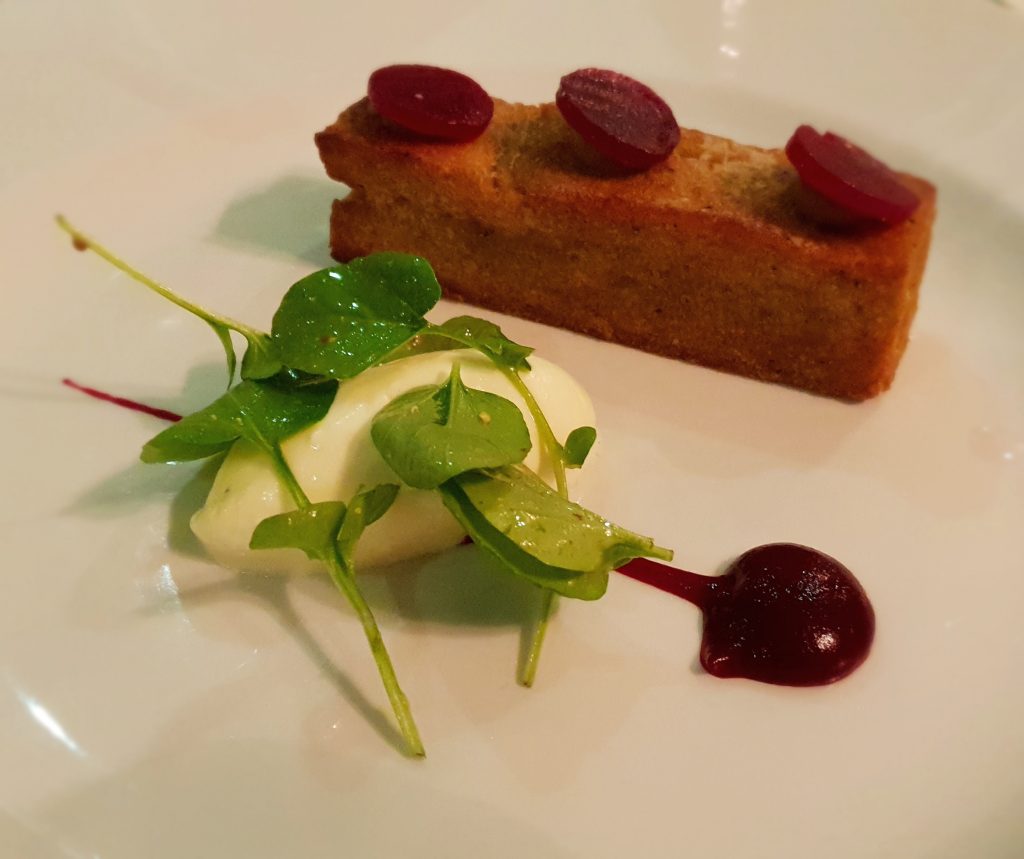 Polenta is severely underrated by those who either have not tried it before or who have had a bad experience. For those people, I suggest you head to The Swan as their smoked aubergine polenta was among the best I have ever had. The smokiness of the aubergine came through beautifully and it reminded me of the authentic baba ganoush that I have enjoyed so often in the Middle East. Served with the polenta was goat curd, pickled beetroot and a beetroot gel, as well as more watercress, each complementing the other elements on the plate. This was a beautifully balanced dish and definitely a highlight of the evening.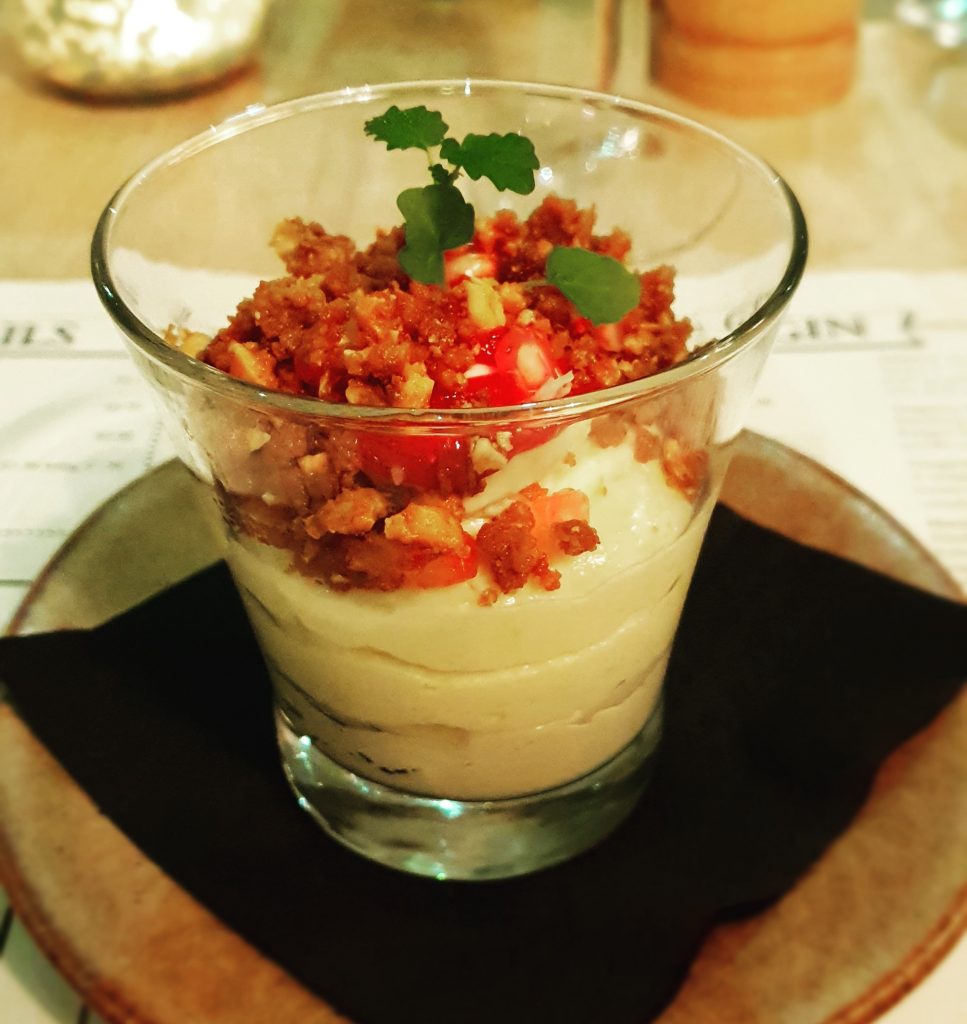 The evening ended in style, with a superbly tangy lemon mousse finished with pomegranate and hazelnut, the latter akin to a granola and providing the crunch – the perfect foil to the creamy, decadent pudding. It really ended the meal on a high note, and left us all wanting more. I am not always a dessert person but for this, I would happily make an exception. In fact, if Jason was to pop this mousse around right now, I am sure I could polish it off no problem!
Lingering over an (Irish) coffee gave a chance to reflect on the evening. The five-course menu was beautifully balanced, and what I particularly loved was, as mentioned, that there was not a heavy emphasis on cheese and dairy. Instead, Jason took the seasonal flavours that are so abundant at that time and transformed them into a fresh, aromatic menu. In addition, the whole menu cost just £30, including coffee, which I feel is excellent value for money.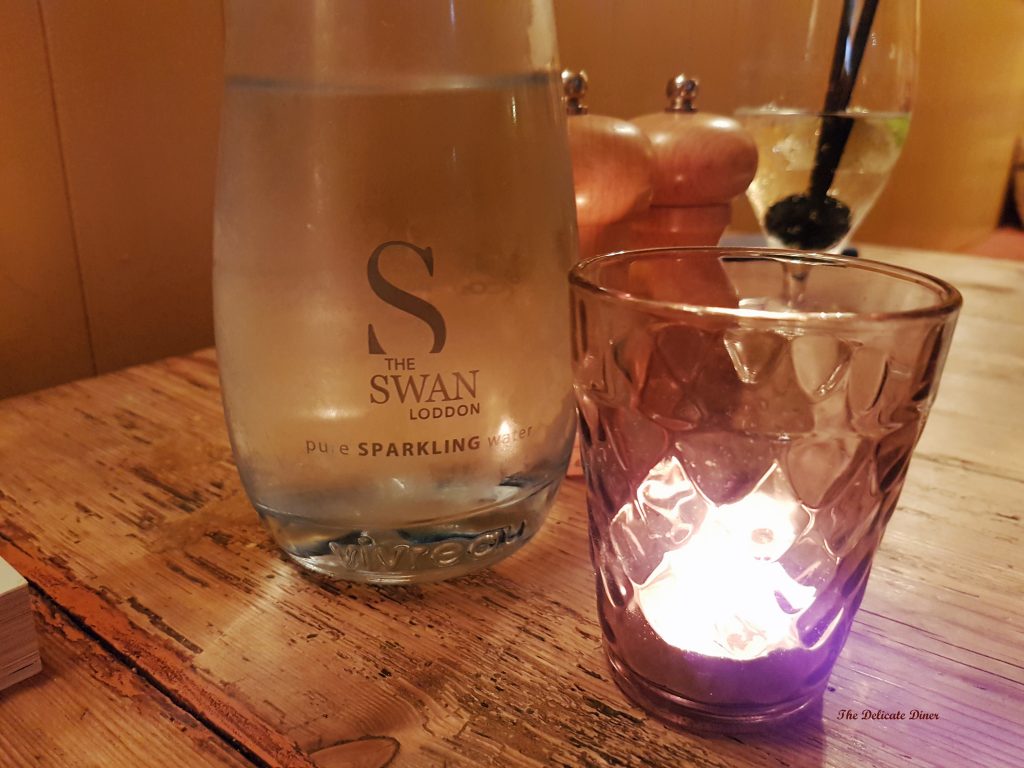 The Swan at Loddon really is a hidden gem. It is so centrally located, being just off the A146 outside Norwich. Their Sunday roast is truly spectacular – and, as this review shows, their vegetarian offering is more than adequate – and if you choose to have lunch there for a special occasion, it does not disappoint. They even have rooms, so you can make a weekend of it or enjoy a staycation. As if all that were not enough, The Swan also has an in-depth gin menu – including several of the brilliant local gins as well as an unique range from around the world – and that alone is worth stopping for.
Jason himself is a chef on the up; last year, he was a Finalist for the 2017 Norfolk Food and Drink Awards Norfolk Chef of the Year, and The Swan holds two AA Rosettes. With January being a difficult time for restaurants especially, support your local and pop into The Swan for a pint and a bite. There truly is something there for every palette.