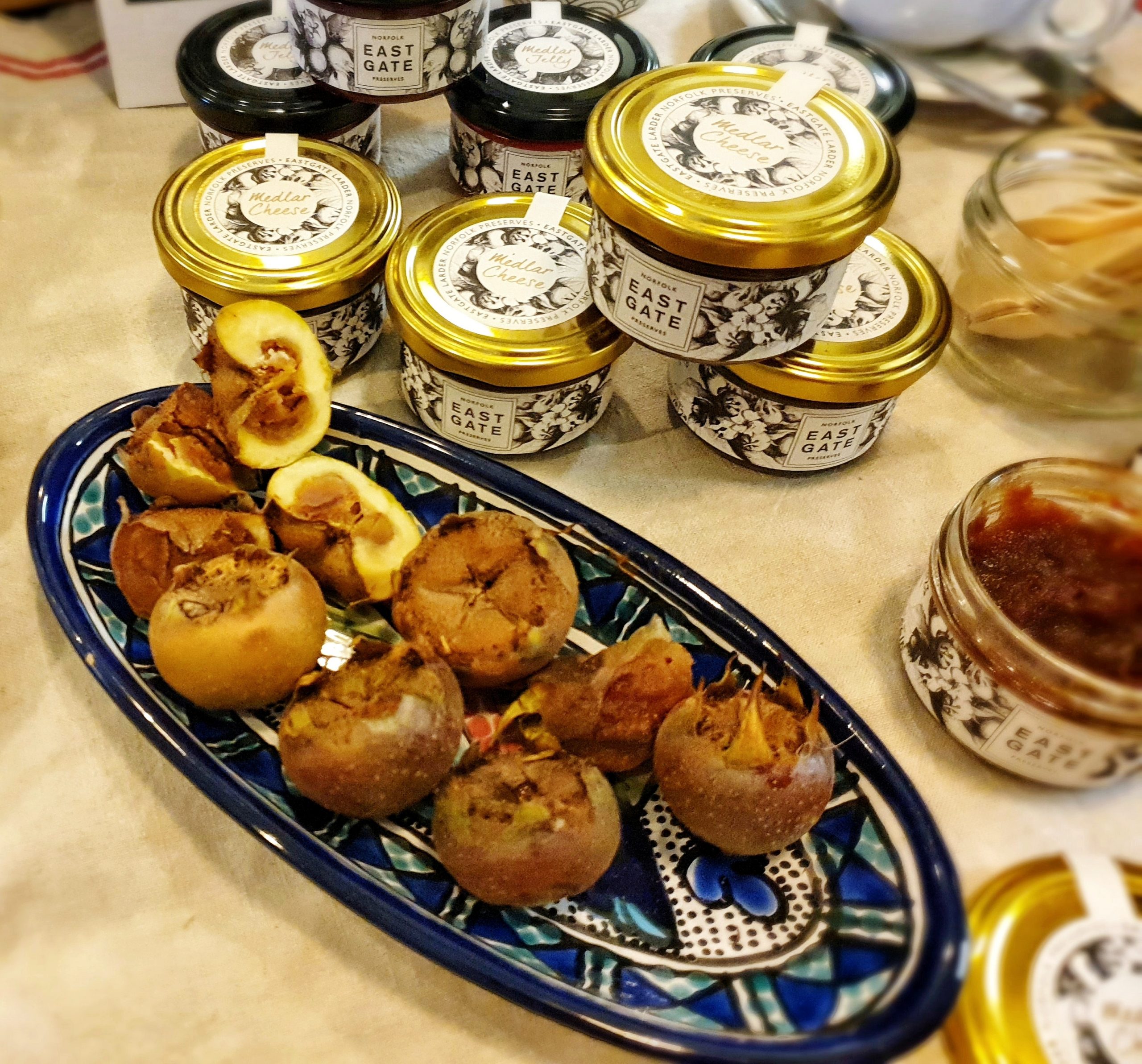 The Norfolk Foodie – Eastgate Larder
The first interview in my The Norfolk Foodie series is with Jane Steward of Eastgate Larder, producer of the fantastic Eastgate Larder medlar jelly, cheese and spicy chutney that so many of us know and love. Jane is passionate about all things Norfolk, so much so that her 'gift' to the county is having her medlar orchards awarded National Collection status by Plant Heritage. This will ensure that not only will Norfolk continue to be recognised for this iconic status, but that the medlar fruit will take its place in the forefront of peoples' minds once more.
"I owe my life to Norfolk – and that is no word of a lie," explains Jane as we talk over the phone one late May day. "I moved here with my husband, David, in 2012, and three years later the Norfolk and Norwich University Hospital Screening Programme invited me to have a screening. They picked up stage one bowel cancer and if it wasn't for living here, in this glorious county, it may well have been missed. I owe Norfolk a lot."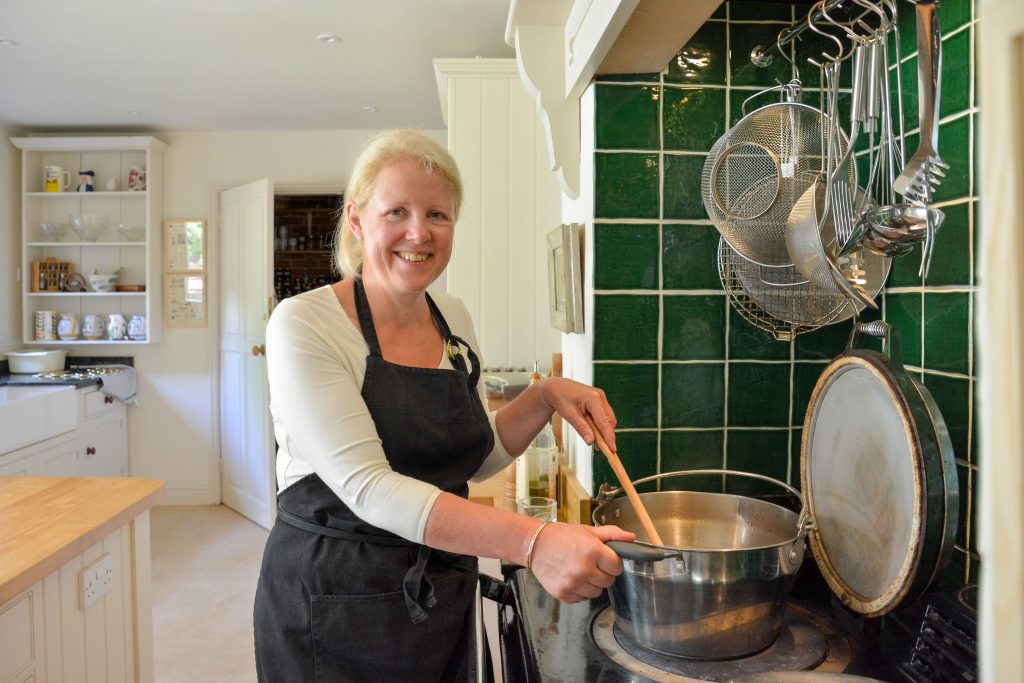 Born and bred in Paddington, Jane and her young family moved to the East End in the mid-1980s, and she had two very distinct careers before Eastgate Larder was born. Using her linguistic background – she is fluent in French and German – Jane worked as an equities broker in the City for almost 17 years, looking after European institutional investors. The early 2000s marked a difficult time for Jane – by now a single parent with three daughters – as her father passed away. She began to plot her way out of City life and the insecurity that went with it and set up a Leadership Coaching business in 2004. "I experienced the most rewarding time towards the end of this career while leading the coaching programme for UNICEF country leaders," Jane recalls. "Knowing that what we were doing was making a difference to mothers and children around the world was an amazing experience."
By then, Jane had met David, a Suffolk boy from a farming background, and they discussed where they wanted to live. "We hadn't even finished the sentence when we both said Norfolk!" Jane laughs. "We both feel really connected to Norfolk. Andrew, my first husband, and I had a weekend cottage in Kerdiston, near Reepham, where we used to bring our daughters, while David used to holiday at Wells-next-the-Sea. We chose Eastgate, a tiny hamlet near Cawston, as it is equidistant to both Norwich and the coast, as we love both."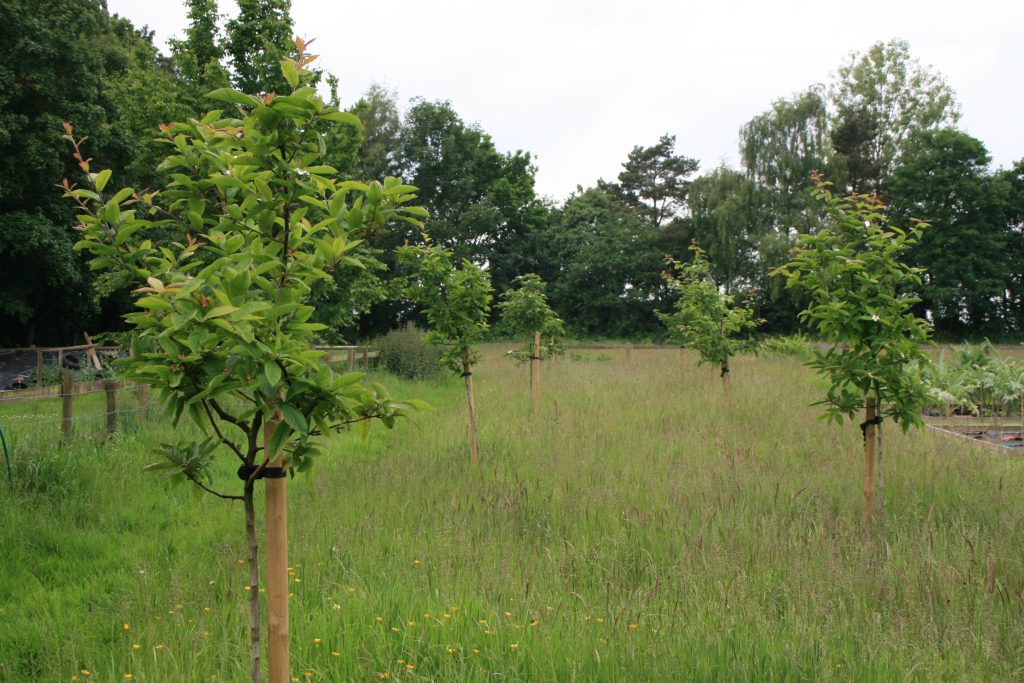 When they moved to Eastgate House, part of the Heydon Estate until the mid-1800s, they brought with them a medlar tree, given to us as a wedding present. "I had already encountered the medlar tree and its fruit in David's Cambridgeshire garden," explains Jane. "His father had given it to him in the 1990s. I vividly recall that first sighting – the autumn colour, the ugliness of the fruit and at the same time, a desire to explore its possibilities.
"Little did we know that, when we moved it to Eastgate, our 'wedding tree' would be planted in a place where there had been a fruit farm, home to around 2,000 apple and pear trees. There is something wonderful about the fact that the old fruit farm was revived here in the 21st century – although at the time we had no idea."
So what, exactly, is a medlar, and what do you do with it? "The history of the medlar fruit is fascinating," says Jane. "They are originally from the Caucasus region – the Turkey, Georgia, Balkan area. They have grown on the western shores of the Caspian Sea forever, and they can still be found there now in their wild form – not the ornamental tree that we know today, but as a thorny bush where it is almost impossible to reach the fruit within.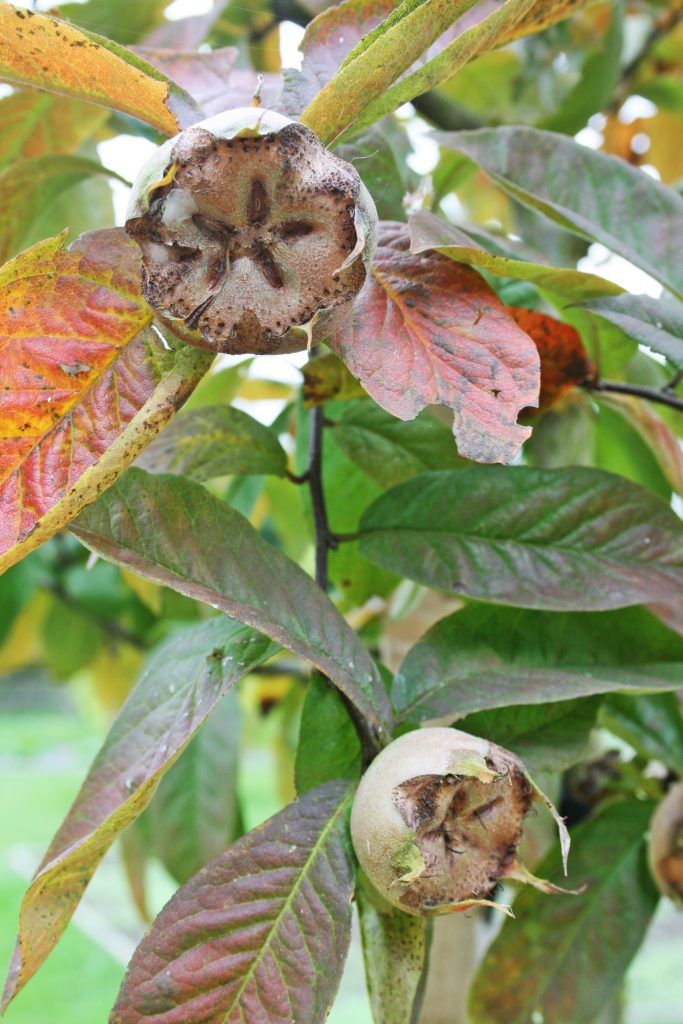 "It was the Romans who, with a taste for the medlar, brought the fruit with them to England. Seeds have been found in drains in Roman settlements on the Hampshire/Berkshire borders, but there is no evidence that the Romans actually cultivated them.
"It is not until the 13th century, after the Norman Conquest, that there is evidence of the medlar being cultivated. There is evidence that at both Wells Cathedral in Somerset and Westminster Abbey, there were medlar trees.
"The medlar fruit remained highly popular until the end of the First World War. Imports were on the rise and peoples' tastes changed. The medlar is a fruit you have to wait for – when it falls from the tree, it is not yet ready to eat, and so people used to store them away for winter. The world changed a hundred years ago, and the humble medlar gradually began to fall away from popularity."
When Jane and David moved to Eastgate, there were the last remaining dozen Bramley apple trees from the former fruit farm, and they piqued Jane's interest. In fact, during lockdown, she has been giving them extra care and attention, removing the deep network of nettle roots and instead, planting comfrey and lemon balm, both of which will be a sustainable food source for the trees. And this is very much part of the Eastgate ethos – everything has to be efficient and natural. Indeed, everything done at Eastgate is without pesticides and is as organic as it can be, without the actual label.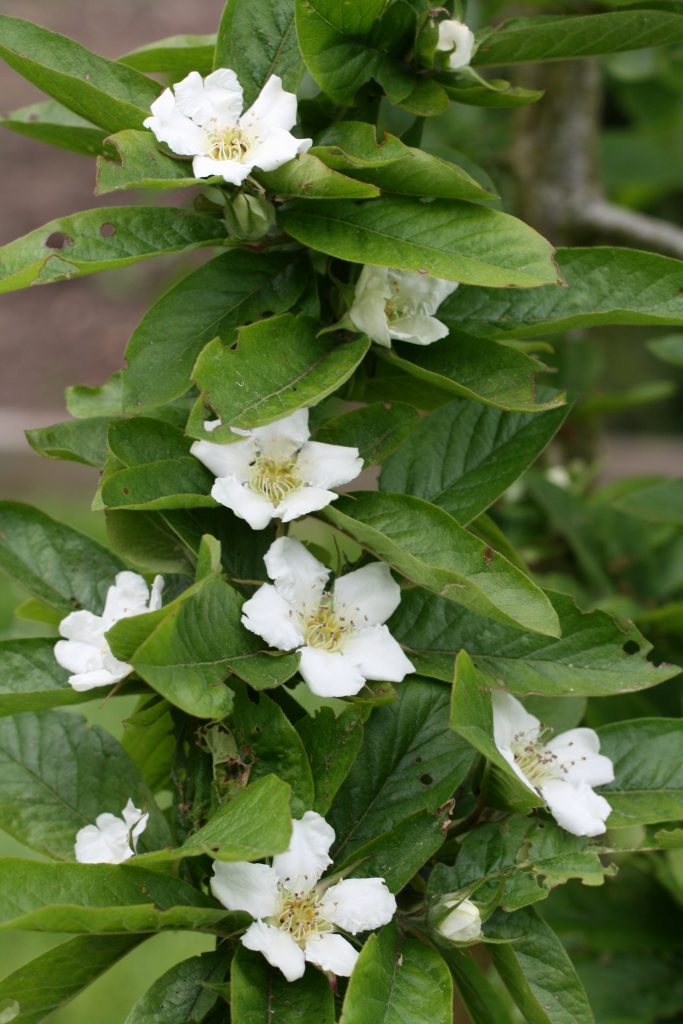 With the first medlar tree planted, several more followed, "these first ones being planted by our kids," says Jane. She describes them as an 'ornamental tree' and suggests that people could do a worse thing than buy one. "I now have 120 medlar trees, kept over five different, discrete plots," she continues. "They are easy keepers, generally not suffering from effects of frost and insects. They can get codling moth, but you simply chop the affected branch off and burn it. This is also why I keep the trees spread out over five plots – just in case!"
Once the fruit falls, it is hard and has to be allowed to 'blet'. "The Norfolk-born botanist John Lindley describes bletting as 'an exchange of sugars for tannins that occurs as a result of extreme ripening'," explains Jane. "The fruit may start falling from the trees in late October/early November, and technically it is 'ripe' as it has fallen. However, it is in its hard from, and is astringent. It needs to be kept cool, and not too dry, to allow bletting to happen. This can take place anything from a few days to a few weeks, and thus it requires time and patience. You can see the process taking place in front of you, and also smell it as the medlar softens and sweetens."
"Eastgate Larder was created out of a series of events," explains Jane. "My colleagues and I had completed the four-year UNICEF programme, and I was wondering where I could take the business from there. Then I was diagnosed with bowel cancer. I spent a year transitioning from the coaching business to producing the medlar jelly, cheese, and spicy chutney. It was David and particularly my middle daughter, Ellie, who recognised what was happening – that I wanted to spend more time in the kitchen making things or outside with the orchard. Ellie, whose graphic design company Ave Design Studio works with a few food business, did the design, and Eastgate Larder was born. They made me realise that I could make a tangible business from the medlar – and I haven't looked back. My first event with my own produce was the 2016 Aylsham Show."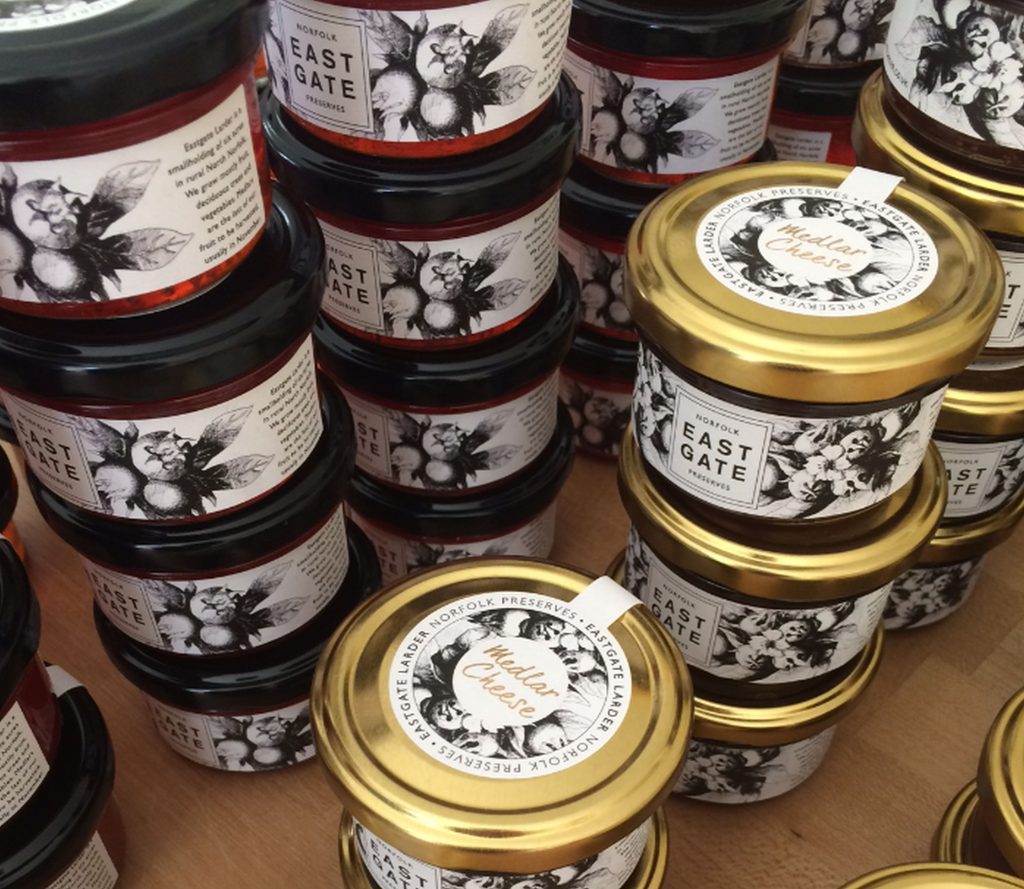 Now, Jane makes medlar jelly, medlar cheese, and spicy medlar chutney, all under the Eastgate Larder banner. "They jelly is a classic jelly; the chutney has fresh garlic, ginger and chilli, and is a limited edition each year; while the cheese – a fruit cheese – takes a lot of patience and dehydration to create, but it is worth it. I have around 60 people bringing me their medlar fruit each year to turn into these lovely preserves. They don't accept any money for them, so instead I donate to a local charity of their choice. It is a lovely way to give something back."
I ask Jane about food pairings for her three products, and the answers are wide and varied – think cheeses, game meats, charcuteries. Jane says that savoury foods can be enhanced by all three offerings, but examples include:
Medlar cheese – absolutely delicious with any blue cheese or any British territorial hard cheese, including our local Norfolk Dapple and Wells Alpine
Medlar jelly – beautiful with gooey cheeses such as St Judes, Baron Bigod, and Norfolk White Lady. Also the Brays Cottage pork pie!"
Spicy medlar chutney – so good in a cold chicken sandwich with lettuce and mayo, and also served with a curry!
Jane's medlar orchard has just been awarded National Collection Status by Plant Heritage. She explains: "In order to do so, I had to source and plant pairs of cultivars to create a horticultural collection. Effectively, this has meant increasing from 100 trees to 120, and it took two years and quite a lot of form filling to get there. I wanted to do this for Norfolk – it was so important for me to give something back. Being a National Collection holder means that the medlar orchard is a public amenity.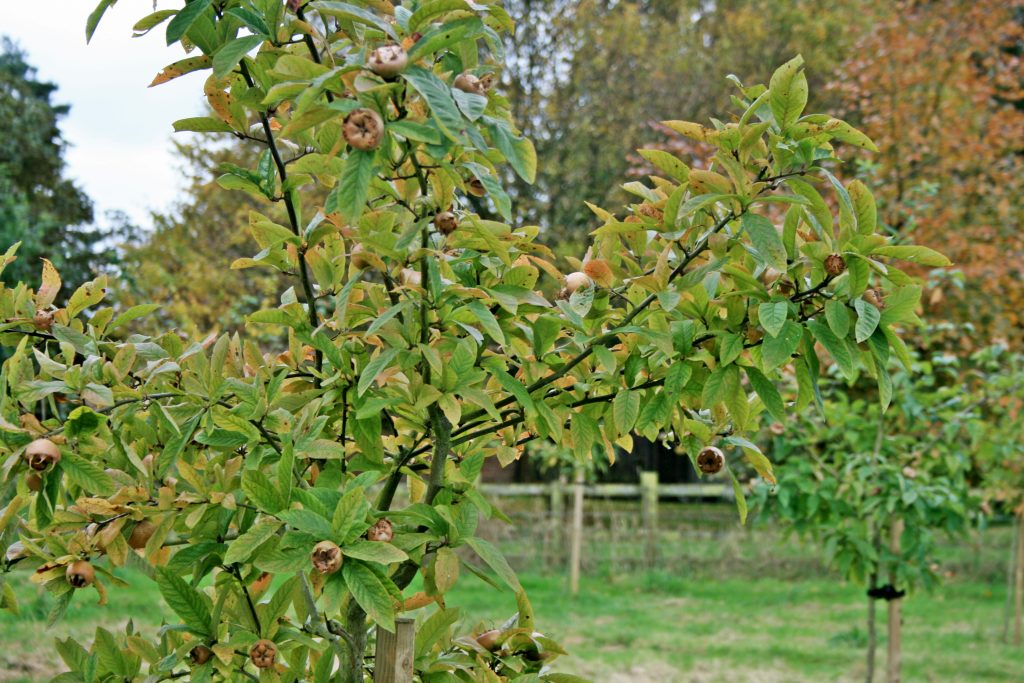 "I strongly feel that the medlar has a long history in England, and it deserves a revival. It is the only dedicated National Collection of medlars, and also Norfolk's first National Collection of trees. I must mention the Habibi family, who own Keepers Nursery in Kent. They were, and continue to be, a huge help in sourcing the additional cultivars. Their 'Iranian' medlar also happens to be my favourite to eat as a freshly bletted table fruit." You can read more about the National Collection award here.
Looking at Norfolk, Jane says that she has been made to feel so welcome and so much part of the foodie community, citing the generosity of spirit of so many people. She also has several affiliations underway with a number of businesses. "Wildcraft Beer makes a Wild Medlar beer each year with some batches of my fruit, and I also supply Flint Vineyard in Earsham with a local medlar jelly just for them, which accompanies St Jude, Baron Bigod, Marsh Pig charcuterie and Hempnall Bakery sourdough on their 15 mile lunch boards. These are just two examples of work I do with local producers and I love to do bespoke jelly for specific areas – including Holkham. But, in each batch of medlar jelly, there is always an Eastgate medlar included!"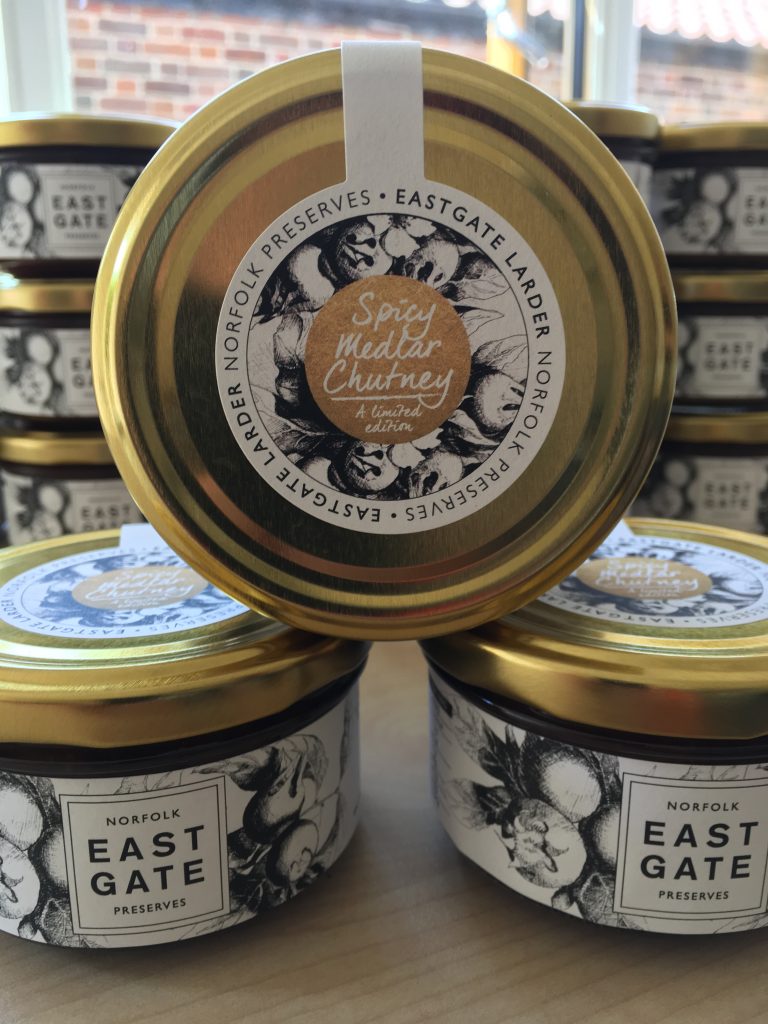 One highlight that stands out for Jane since the inception of Eastgate Larder was when good friend, Sarah Pettegree of Brays Cottage Pork Pies, gently encouraged her to enter the Speciality Food Magazine Food Awards. "We won the Best British Brand in their New Producer category," says Jane. "One of the judges was John Shepherd of Partridges in London. As a new mum in the early 1980s, I used to peer through the window of the store, hoping to one day be able to afford to go in and buy some tea. Now, because of that award, Partridges is a stockist of Eastgate Larder! It really is quite amazing."
Asking Jane on what she loves about Norfolk – she struggles to sum it up succinctly. "It is really difficult to answer!" she says. "I love everything – the capital, Norwich and its blend of truly ancient history with the very new; I adore the coastline, which is a place of real significance for myself and my family; and then there's the countryside.
"As for places I love… Restaurant has to be Benedicts, having been there consistently since they first opened; the Earle Arms at Heydon, which has happy memories from when my daughters were young and new memories are still being made; Overstrand Beach is my favourite as I love to swim in the sea; and place as to be Eastgate. It is my home; it means so much to me."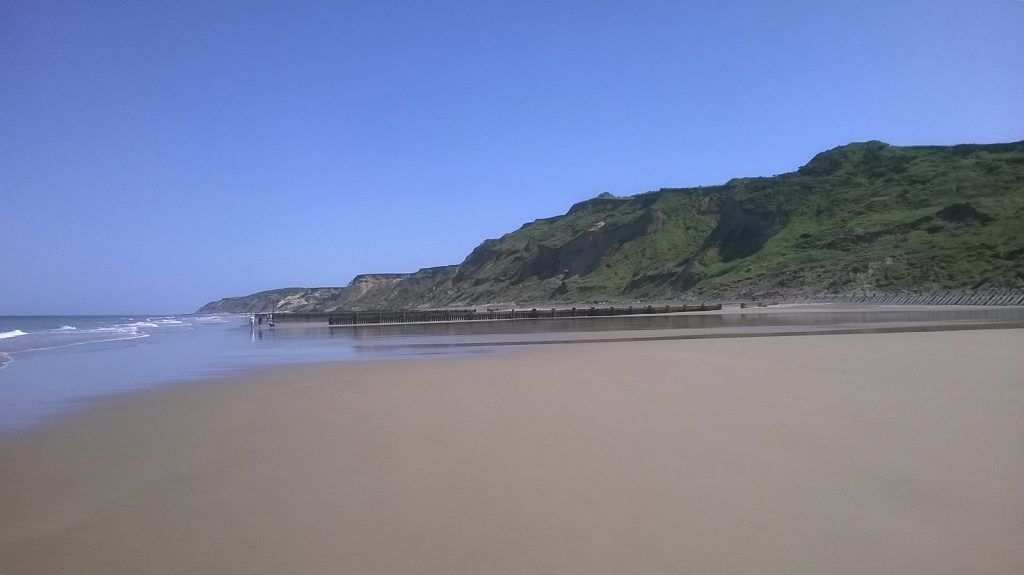 Looking ahead, Jane has a new product launching in 2021 with Jonathan and Alison Redding of Norfolk Gin. "It has been a bumpy ride because of the way medlars behave when you introduce alcohol," she explains. "But we are now full steam ahead and will be producing an annual vintage of Norfolk Medlar Gin from the National Collection at Eastgate. We will make it in early autumn and plan to launch it next year here at Eastgate when the medlars are out in flower.
"David and I also plan to write the definitive book on the medlar. I have some amazing art, painted of our original tree in each season. I want to be able to use that as well. A cycle of plant, eat the fruit, eat the products, look at the art, and read the book. This will all help with the revival of the medlar here in England, but especially in Norfolk."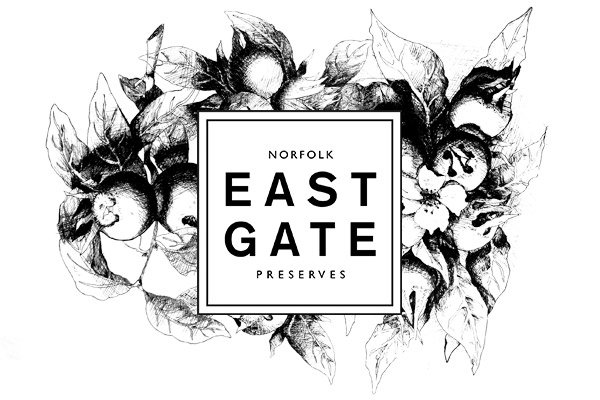 Finally, I ask Jane if she can sum up Eastgate Larder in one sentence. She pauses, for just a second, and says:
"The manifestation of the revival of the medlar fruit."
And if anyone is going to achieve that, then it will be Jane. She is so dedicated and passionate, and she also cares so much about each and everything that she does. It is fair to say that the medlar is in safe hands.
Further reading
Eastgate Larder
Plant Heritage
Keepers Nursery
Proudly Norfolk
Norfolk Gin
Ave Design Studio
Wildcraft Brewery