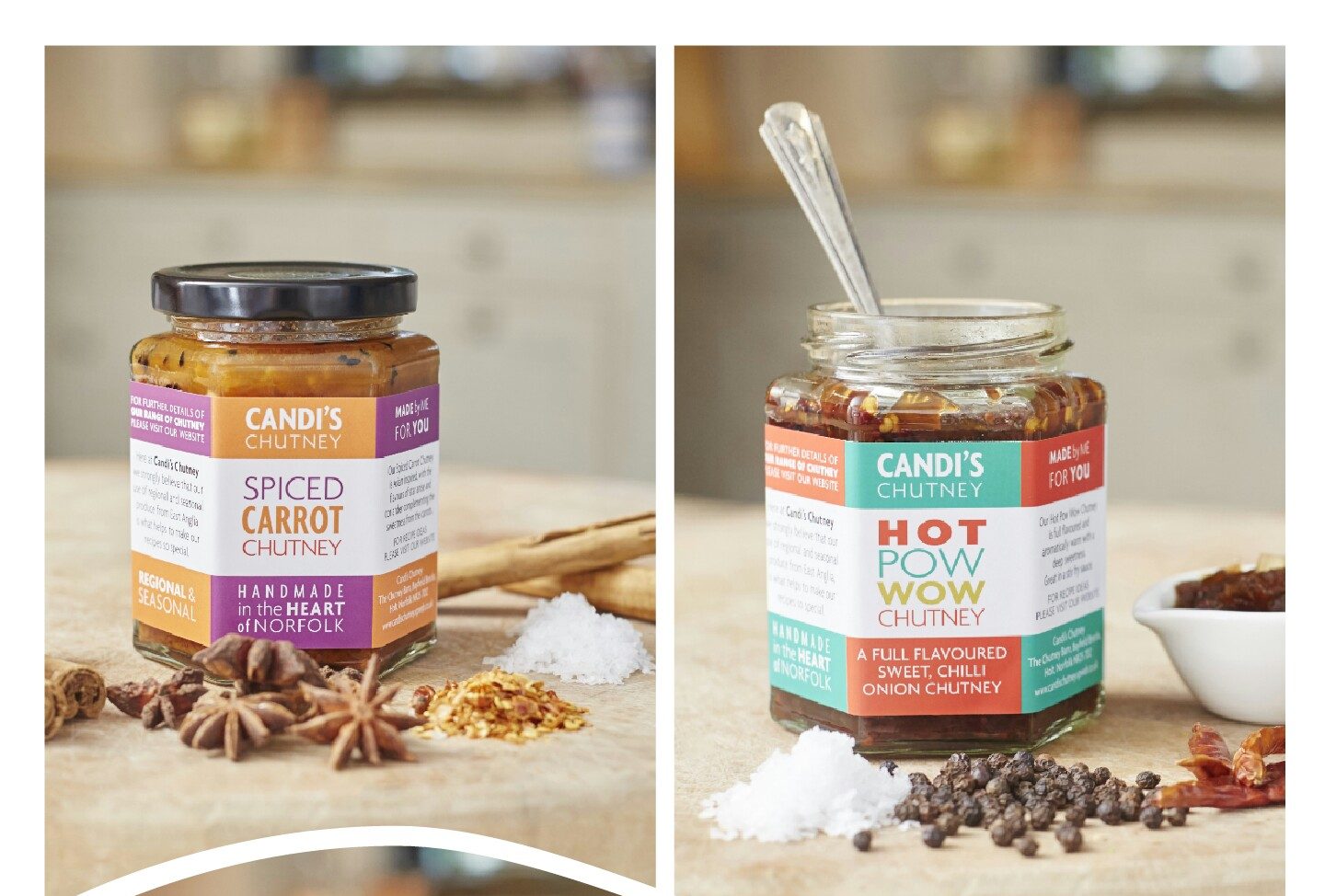 The Norfolk Foodie – Candi's Chutney
I am delighted to share my second interview in my The Norfolk Foodie series, which is with the Queen of Chutney herself, Candi Robertson of Candi's Chutney. A hugely popular figure on the Norfolk food and drink scene, Candi is known across the county and beyond for her utterly delicious and innovative chutneys – all made with fresh produce grown here in Britain. With COVID-19 impacting the number of markets producers are able to attend, Candi spares a couple of hours out of her preparation for the first Creake Abbey Market of 2020 to talk to me about her award-winning chutneys and sauces.
"If Spielberg calls, I'm off!" laughs Candi as we talk on the phone. "It doesn't matter that I stink of onions – Monday is always onion day – acting is my first love and I still would love to play a part in that world."
So speaks Candi Robertson, who turned down her RADA scholarship and instead followed the same path as her mother and grandmother into cooking. "My mum was a chef and my nan was a good cook," she explains. "I was brought up with women who were able to make something tasty out of not very much at all. It was proper food – hence the chutney. That ability to go to the allotment, pick some vegetables, add vinegar, sugar, and spices, and turn it into a chutney.
"I always loved acting and used to go to the acting classes at the Theatre Royal on a Saturday. But my dad said that if I went to RADA, I don't know where I would end up career-wise – but that people have always got to eat. So, I went to the Hotel School at City College and it all went from there."
Candi continues, explaining that while she was born in Buckinghamshire, she moved here with her family when she was five "and I've even got the Norfolk accent. That's my theatrical side for you!"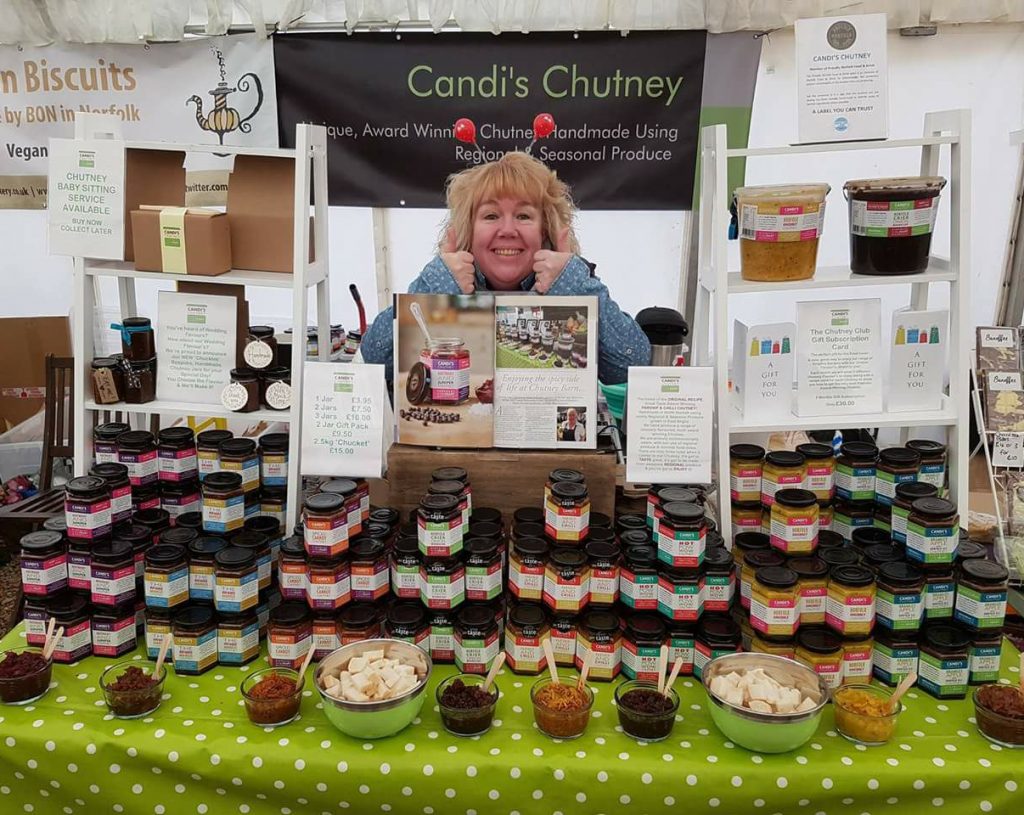 Originally living in Trunch, two miles from the coast at Mundesley, Candi's family then moved to Barnham Broom when she was 10. "I may have turned my back on acting, but I still find that I use those skills when I am at the different food events across the county," she explains. "The way you sell to each person is different, just as every person is different. I love to make people laugh, and I do think that comes across when I am on my stand. You don't just get chutney – you get an original Candi performance as well!"
After two years at City College, Candi went to work at a bakery – "I never want to smell another doughnut again," she tells me – and then from there, into cooking. She travelled the country, enjoying the single life and she spent a year in London before graduating back towards Norfolk again.
"I had a lot of fun doing that in my early 20s," recalls Candi. "I always worked in gastropubs – with fresh menus and proper food, nothing frozen. I met my husband, Iain, or Mr Chutney to many, while I was cheffing, and we got married in 1995.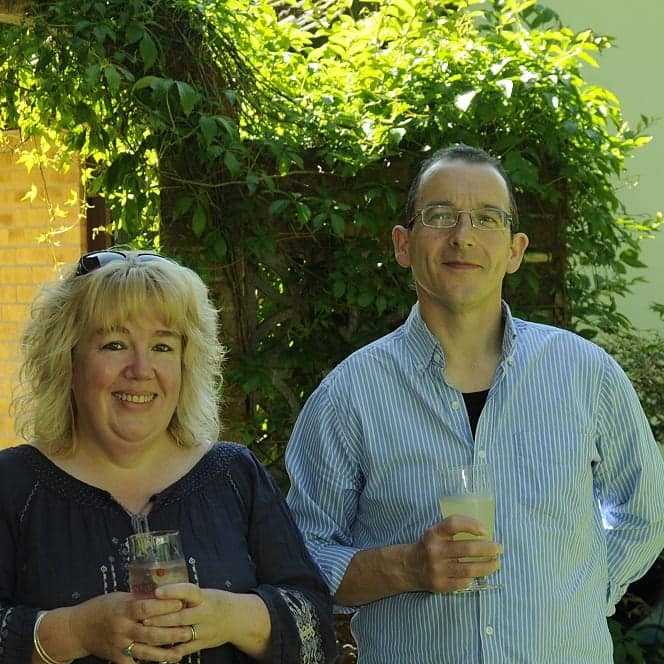 "I would have carried on doing the cheffing, but this was the era when the kitchens were so male-dominated. Being female meant that we had to do the same as they did, or we'd be out – and that included all the heavy lifting. My body was worn out and my shoulders had gone."
This all coincided with one Christmas in 2011 when Candi and Iain, now with two young sons – 15-year old Finn and nine-year old Aiden – were broke and trying to work out what to do. "We decided to make presents for our family and friends that year, and I had three key recipes that I used in my chef days, so I made those as gifts. Everyone wanted more, and it all went from there."
Those three original recipes were the parsnip and chilli chutney, the spiced carrot chutney, and the Norfolk Crier onion marmalade. Having been encouraged by family and friends, Candi and Iain spent almost their last £50 on securing at spot at the farmers market in Blakeney. "This was July 2012, and we took 20 jars with us in total," explains Candi. "We sold out on the first day, and that day ended up being the worst day of my life in many ways. As a chef, I never see people eat my food as I am always in the kitchen. But to be there on the stand, and see people eat in front of you, was horrendous! I was shaking, watching them eat what I had made. But they all loved it."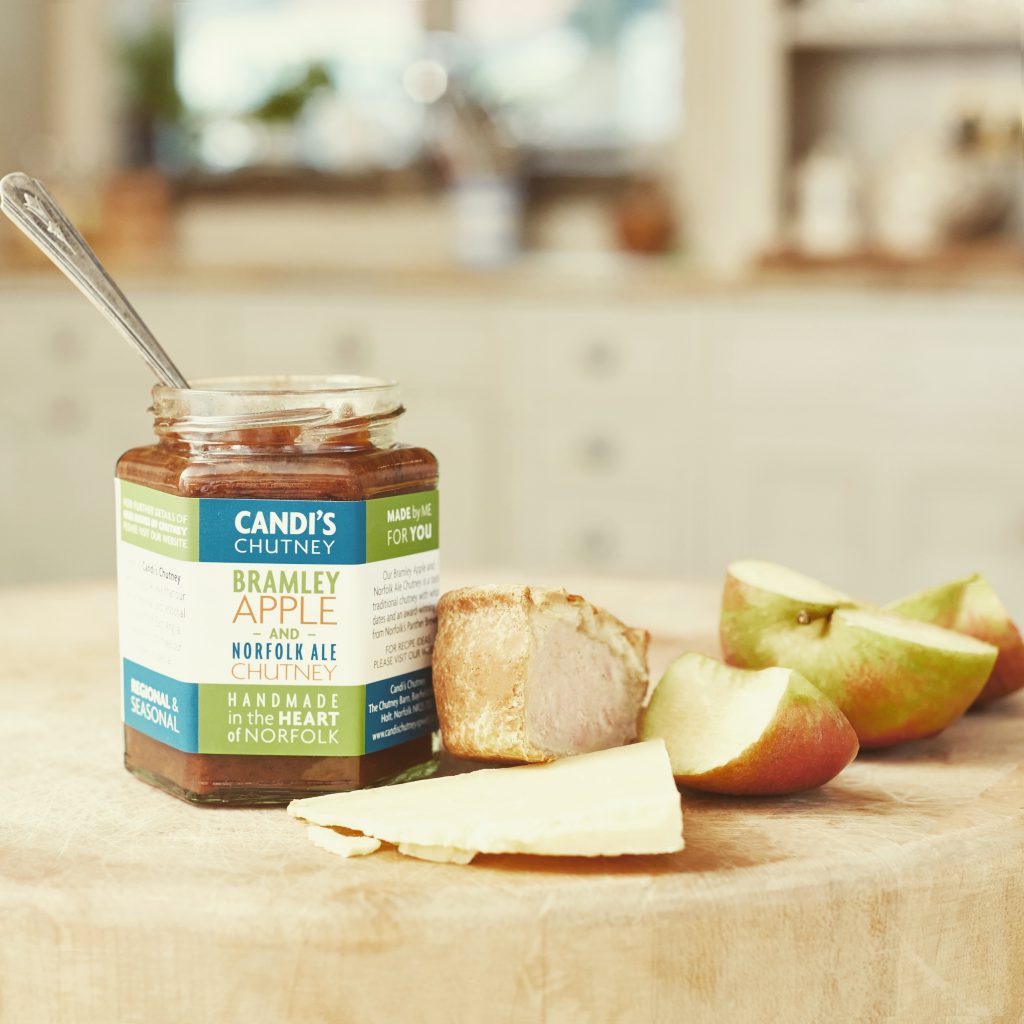 Candi admits that they got a lucky break that year as they were invited to have a stand at the North Norfolk Food Festival in Holkham. By then, the couple were determined to make a business out of Candi's Chutney, and had registered the company. "We turned up at Holkham with 40 jars of chutney, which we thought was more than enough for the two days," says Candi. "We sold out by 1pm. The next day, everyone came back again and told us how much they loved the chutneys. It was such a buzz… We always celebrate our anniversary at Holkham, and it would be eight years this year. Sadly, it is cancelled, so we will have to find some other way to celebrate instead."
It was while at Holkham in 2012 that Candi first spoke to some of the local shops and other producers. "The whole event that first year came as a real shock to me," she explains. "Selling out so quickly, and everyone loving our chutneys. Then Algy's Farm Shop and Walsingham Farm Shop placed their orders – the first to do so, and they will always have a special place in my heart because of that.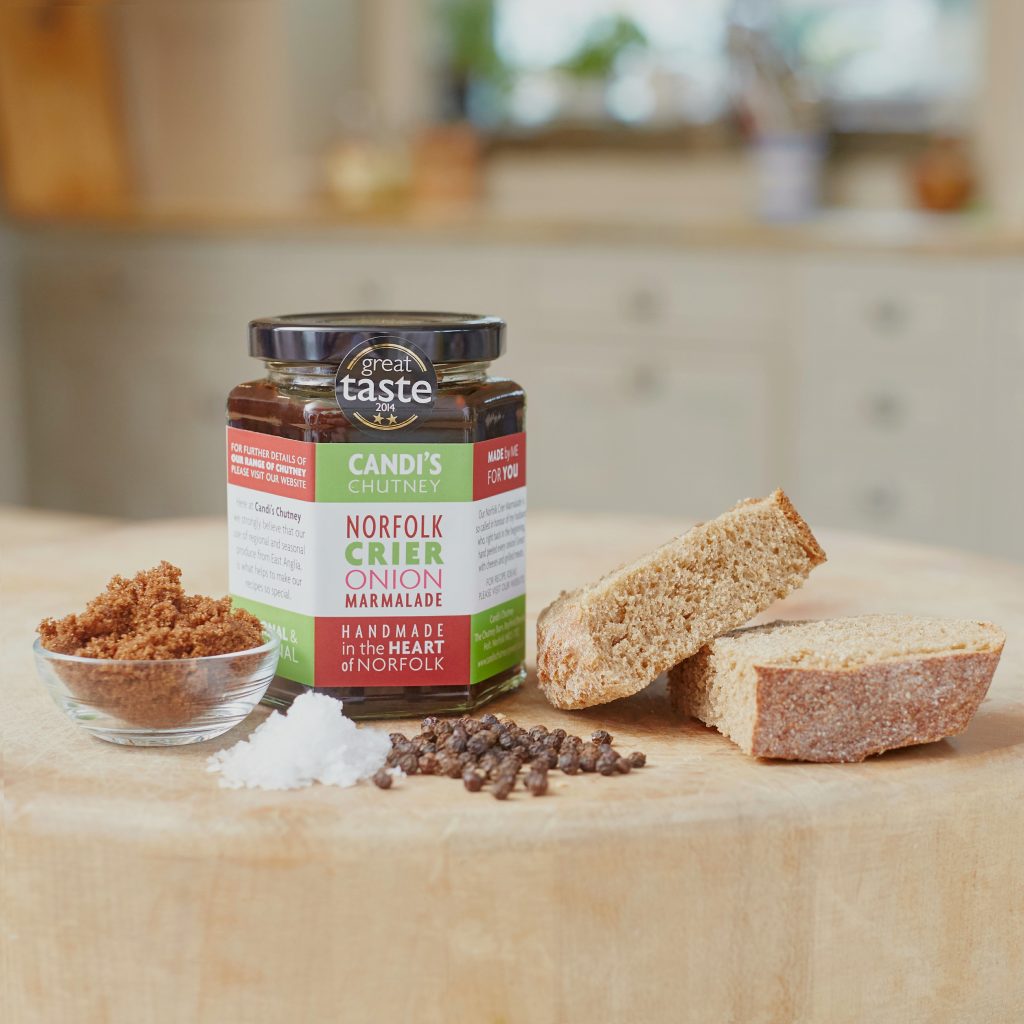 "I made some amazing connections at that market, and so many producers were so helpful to us at the beginning. They guided us, enabling us to learn. Stephen Newham of Crush Foods was especially helpful, and he gave me the best piece of advice – 'don't ever buy anything that will give you nothing back in return'. I still pass that on today to new people to the food and drink world, as it was invaluable to me.
During that first full 18 months of Candi's Chutney, Candi was still cheffing part-time to ensure that there was enough money coming in for the boys. The range also evolved during that time and over the next 18 months. It is now a core selection of eight chutneys with seven seasonal offerings. Candi is also doing 'white label' chutneys, where she makes them for a different company under their own label. She did two for Jarrold last year and has more in the pipeline.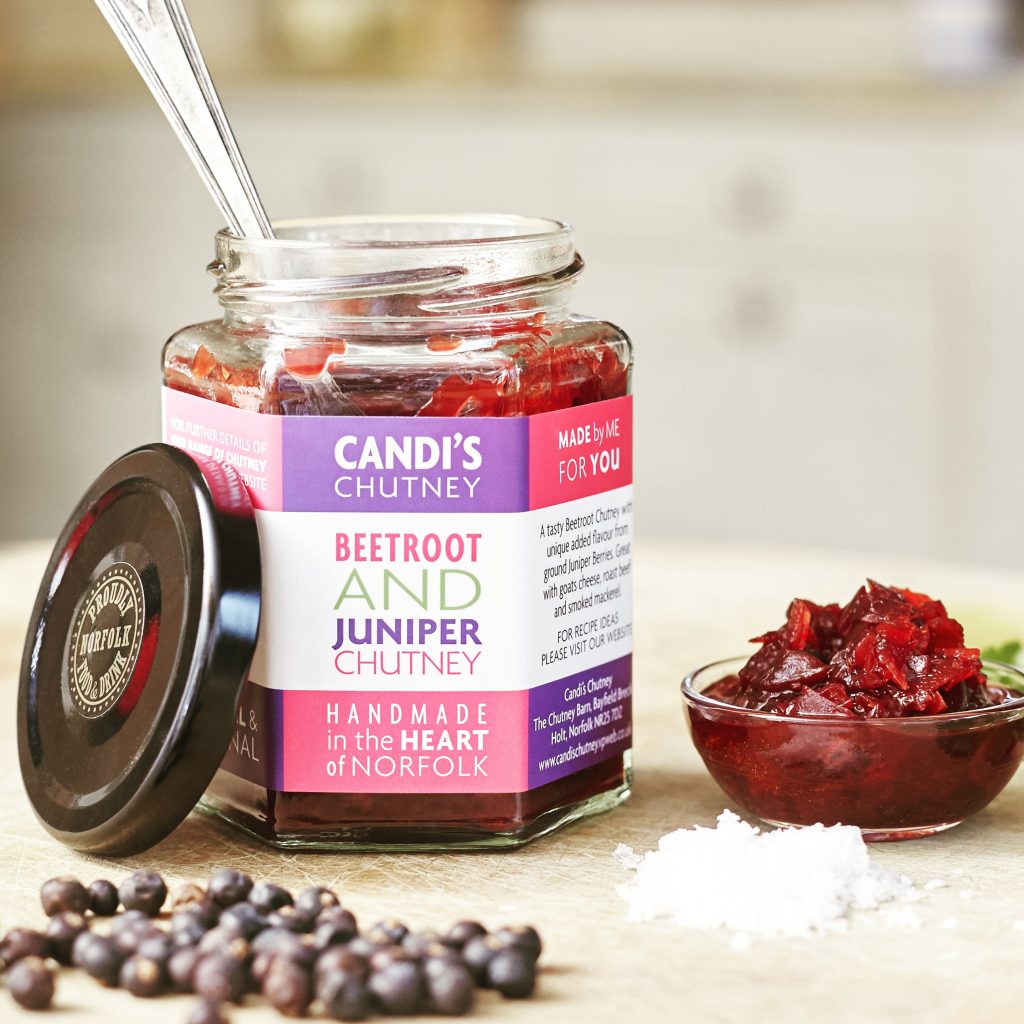 The core range: parsnip and chilli chutney; spiced carrot chutney; Norfolk Crier onion marmalade; Bramley apple and Norfolk ale; Hot Pow Wow; Norfolk Knobbly; non-mango mango; and beetroot and juniper.
The seasonal range: Norfolk asparagus; cuecumber and Norfolk Gin relish (deliberately misspelled and a play on words); rhubarb, date and gin-ger; smokey tomato and chilli; mulled pear and Norfolk perry; spiced squash and Bramley apple; and Norfolk runner.
"From the word go, I knew that I wanted to make authentic chutneys using just British produce. It used to be East Anglian only, but so many producers have now gone so I had to extend my net. There also has to be the quality and consistency in the produce, and I know where all my fruit and vegetables come from. That is what helps make the chutneys so special.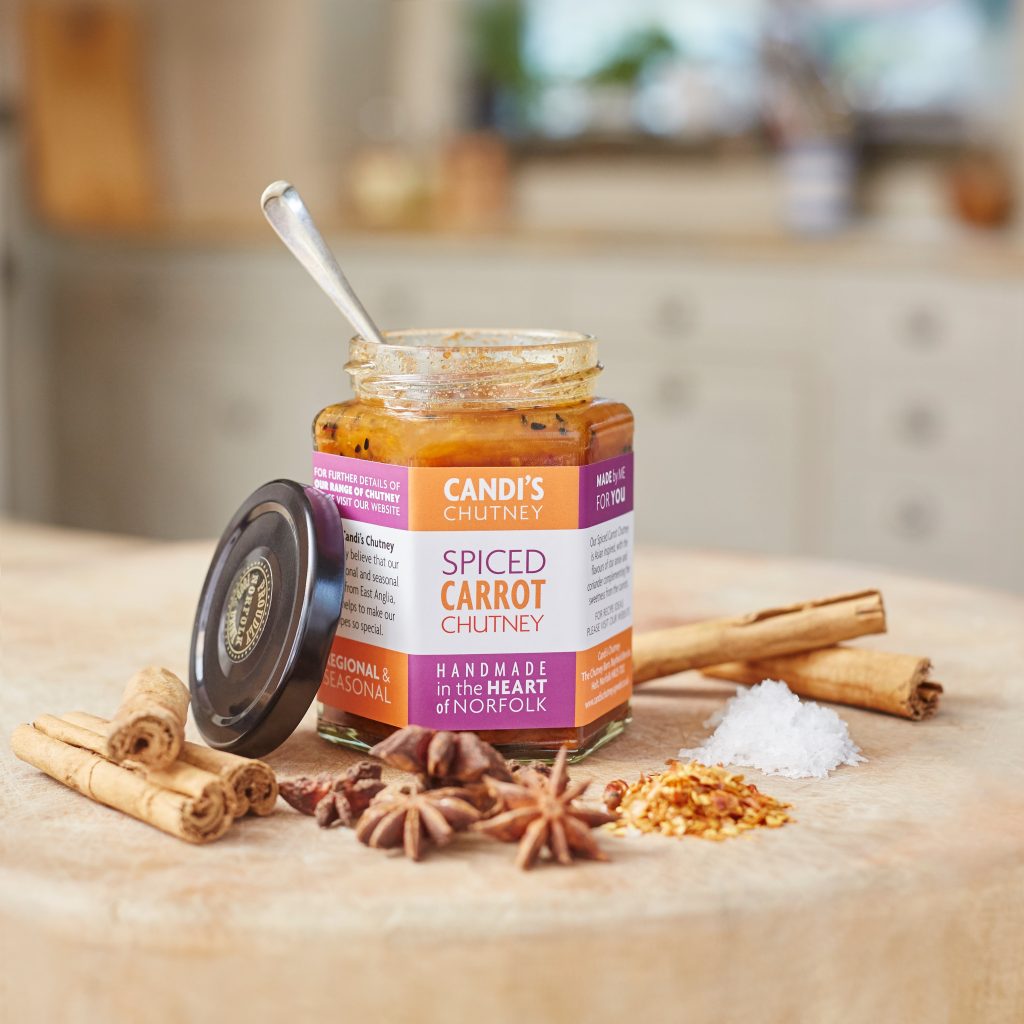 "I think that there will be challenges later this year with sourcing the produce I need. I won't be making my asparagus chutney this year, for example, and the Norfolk runner and the beetroot and juniper are also in doubt, but they will be back again in 2021, all being well. I refuse to use frozen produce or imported vegetables – that goes against my whole ethos.
"When I began, I knew that I wanted to make a chutney that wasn't just dark brown and boring, as so many are. I always look at what others are doing – and do the complete opposite! I use my chef background to come up with my flavours, and all but the apple and ale are unique to me. The non-mango was an interesting one – and trading standards loved it! So many people expect there to be a mango chutney, and my friend's grandmother is Kashmiri. She gave me her recipe, and I honed it to my tastes. Every year, she gets eight jars of the non-mango mango and she donates them to her local WI."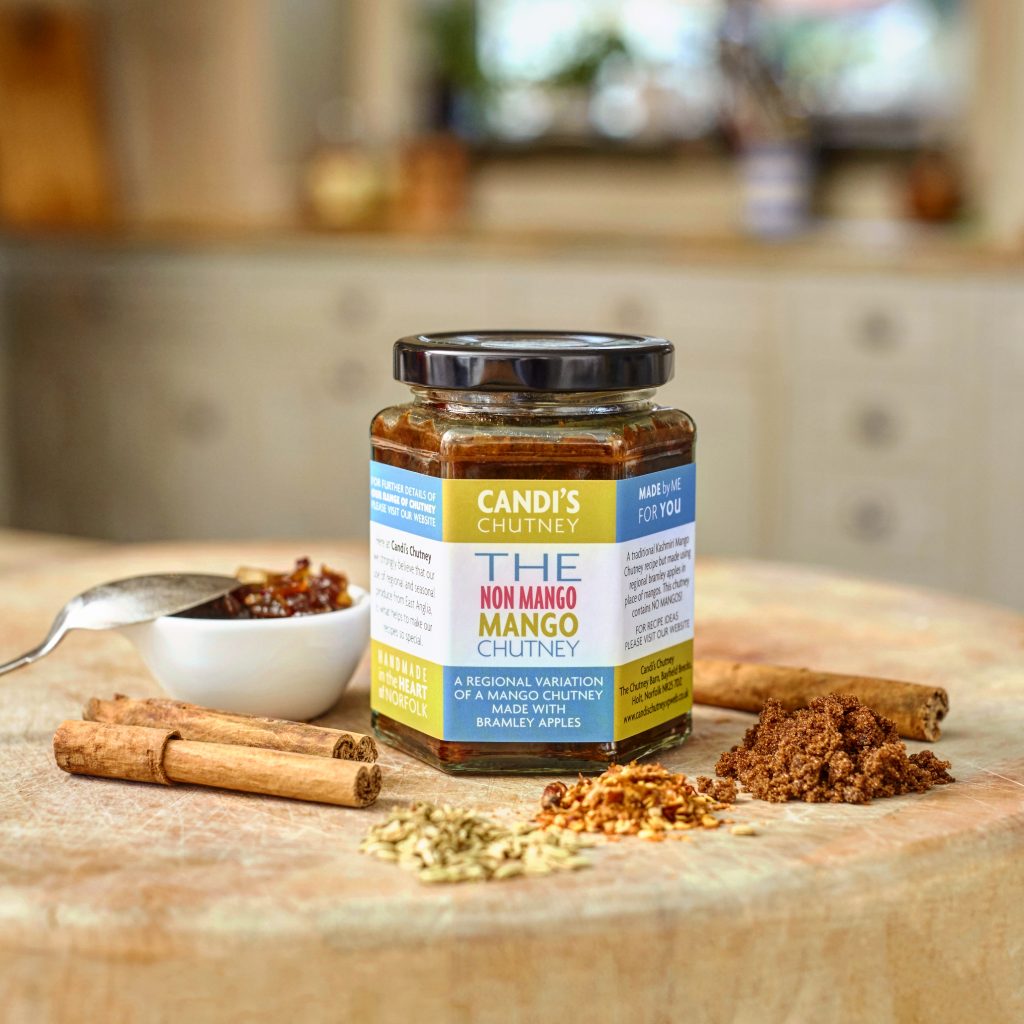 Another part of Candi's strong ethics saw her pull out of the Great Taste Awards. Her initial three chutneys all received two stars, but then Candi noticed that the awards were becoming more corporate than artisan: "Supermarket brands were receiving three stars, while artisan producers only ever seemed to get two at best."
In September last year, Candi expanded her range further into steak sauces, with three currently on the market – original, smokey, and chilli. "I had a chance to go to Gressinghall Rural Life Museum a few years ago and went through their archives," she explains. "It was there that I found the steak sauce recipe and I did further research. In the Edwardian times, there were only ever two sauces on the table – Houses of Parliament, which became HP sauce, and steak sauce. I made the recipe, realised how tasty it was, and decided to bring it back."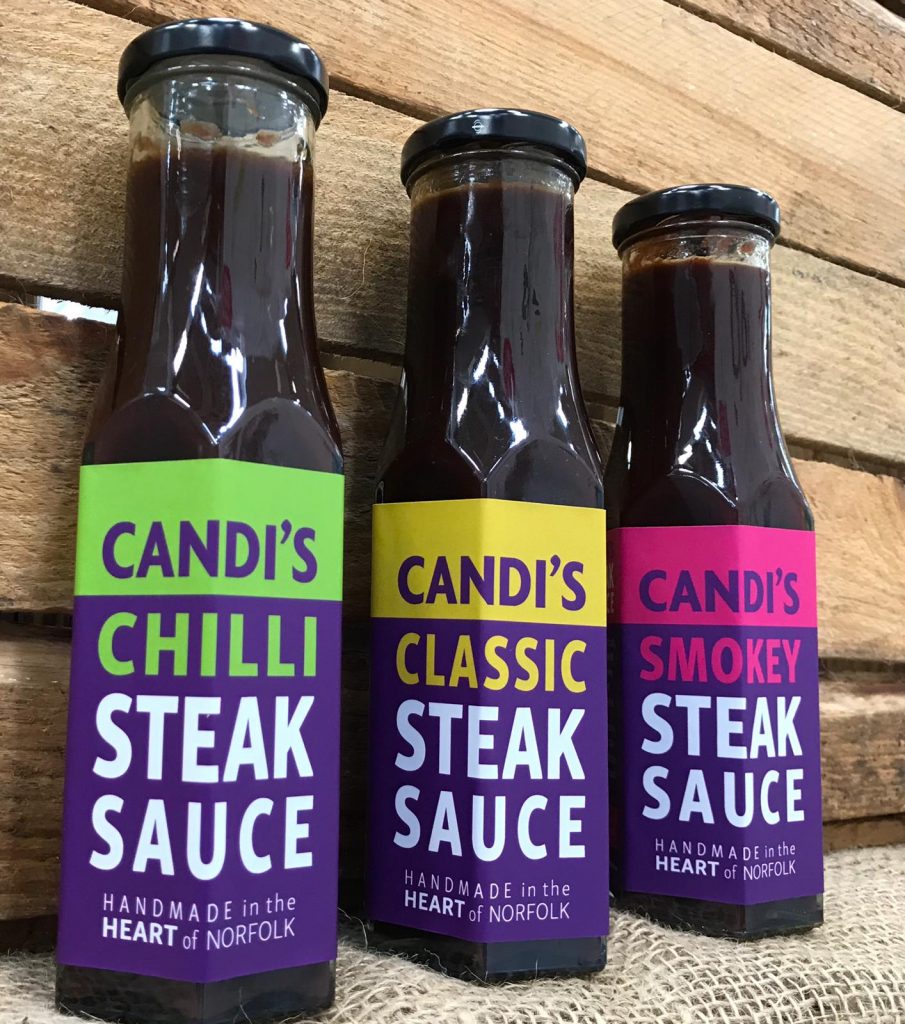 The chilli steak sauce ended up being reviewed in The Times, scoring higher than similar efforts from Tom Kerridge and Heston at Waitrose. "They said that they liked the sauce and the bit of chilli, adding 'it is not sophisticated, but it works', and that works for me!"
What makes Candi's chutney so unique is that it is a real family business. And everything is done by hand, there are no machines involved at all and that includes all the chopping, dicing, and labelling. Iain chops the onions, and her mother as well as her two sons – now 24 and 17 – all help with the labelling. Indeed, Finn is now the Sales Manager and has become a recognisable figure at the shows.
Asked about her highlights, Candi immediately recalls meeting HRH Prince Charles at the Royal Norfolk Show in 2016. "The royal entourage was moving through the food hall and there was a lady being pushed along, so I asked her if she wanted to shelter in my stand," laughs Candi. "What I didn't realise was that she was Prince Charles' personal aide! The next thing I know, Prince Charles is standing there and asking me about my chutney. I gave him a jar of the parsnip and chilli chutney, which is my best-seller, and I had a lovely letter from Clarence House, saying that he enjoyed it very much. My nan is no longer with us, but she would have been so proud of that."
Indeed, it is family that is truly at the heart of all that Candi does, and her other highlight is a bittersweet one: "I was presented with the Pride of Norfolk Award at the EAT Food and Drink Awards in 2017. It was all a blur as I truly didn't expect it, and I am so glad that my husband and sons were there. But my dad had passed away not long before, and I just wish he had been there to see it.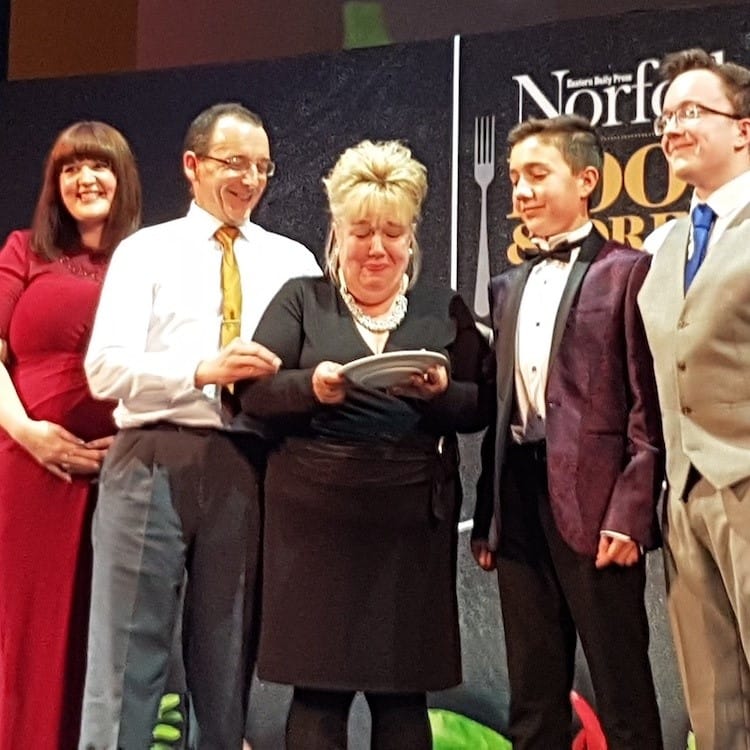 "I built Candi's Chutney out of love for what I do and a belief in the produce. I have learned which battles to fight – not everyone is in this business for the same reasons, and that can be a hard pill to swallow. I have met so many genuinely nice people along the way, and when good, genuine people work together, amazing things can happen."
Indeed, Candi has collaborations with three Norfolk producers with her chutneys, two of which use the leftover botanicals from local gin – Norfolk Gin and Archangel Gin. "To be able to essentially use their waste to create something new and fresh is amazing," she says. "I also use Panther Ale in my chutney, and the dads especially love that!"
Her relationship with Crush has also developed and the site that the oil producer is on in Salle, near Reepham, is being developed into a food hub. "The farm estate wanted to extend what they have there, so they renovated an old Norfolk long barn into an amazing workspace for me," explains Candi. "I even host chutney and bread-making workshops there, where you can learn how to make my 'evil step-mother's' soda bread. Everyone calls her that, and she loves it!"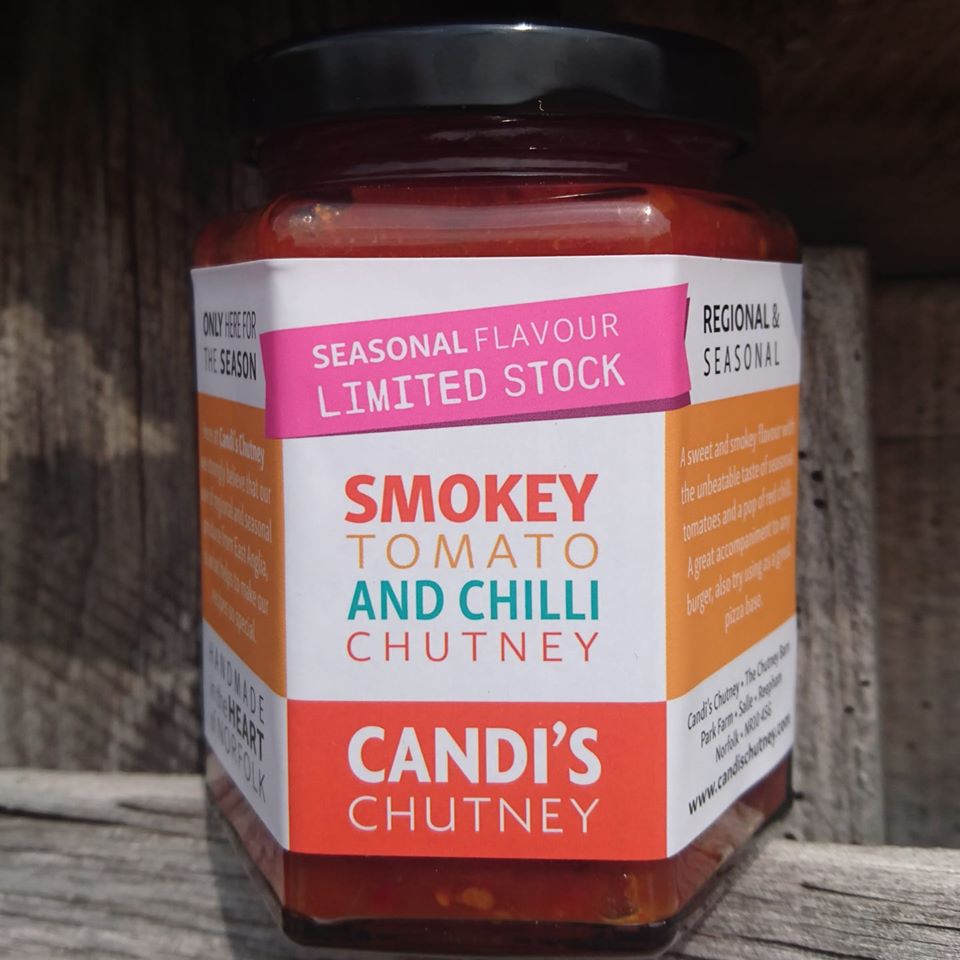 Realising that we have perhaps been talking for a little too long, I ask Candi about Norfolk itself. "I love the community we have here, the way that genuine people will bend over backwards to help out if someone has a problem," she says. "And Norfolk is a beautiful county, with everything from marshland to coastline, with agriculture and the amazing city of Norwich in between. It is an amazing place to bring up a family and to grow a business.
"As for places to visit… I love going to Holkham Hall and walking around the gardens. I love the great long, open beach at Brancaster; and for a rare night away, nothing beats going to The Crown at Wells and enjoying dinner and a drink or two there. I also enjoy going to Green Pastures when they have their special evenings, something I go along to with my evil step-mother.
"In essence, Candi's Chutney grew out of a desire to be able to afford to buy my sons decent presents the following Christmas. I never imagined that it would grow into all that it has – and for that, I will always be incredibly grateful. Every chutney comes from my heart, and to produce the white label chutneys can be emotionally challenging but I know that it gives my sons the life that they deserve. And that is all that matters. And the day that it stops making me happy, I will stop; of that I am sure.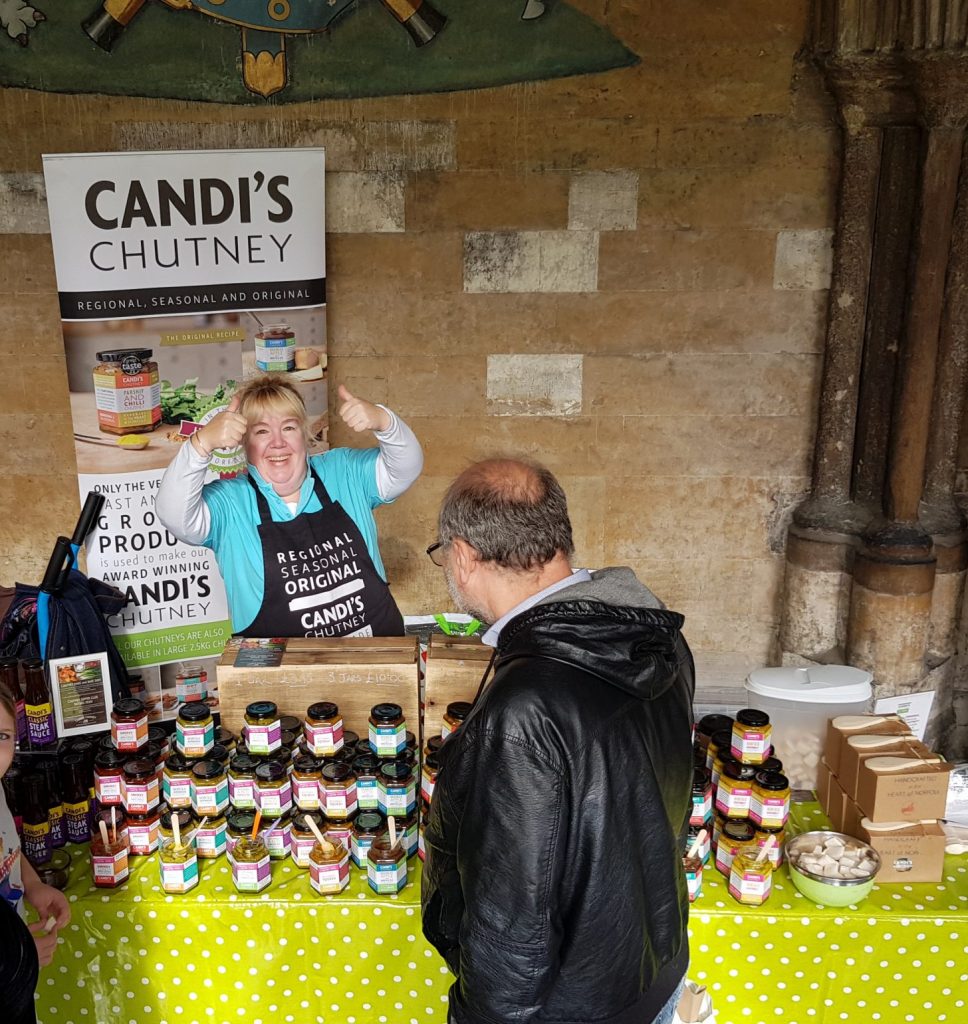 "Norfolk is just the most amazing county, and you can get everything you need here. Well, apart from caviar – and I'd rather have one of Willie Weston's whelks anyway! I love Norfolk seafood, and my idea of heaven is sitting down with a jar of my cuecumber and Norfolk Gin relish, a bottle of something lovely to drink, and a crab. Add some proper, homemade sourdough and some real butter, and then leave me alone in peace to enjoy it!"
As we draw to a close, I ask Candi to sum up Candi's Chutney for me. She replies:
"Candi's Chutney offers unique and original recipes, made with fresh British produce, with taste guaranteed – every time."
Candi is a true force of nature, and she brings so much to the local community. With new sauces in the pipeline for 2021 as well as a recipe book, she still has so much to give. So let us hope, for our sake, that Spielberg doesn't call her anytime soon.
Further reading
Candi at Crush Foods
Creake Abbey