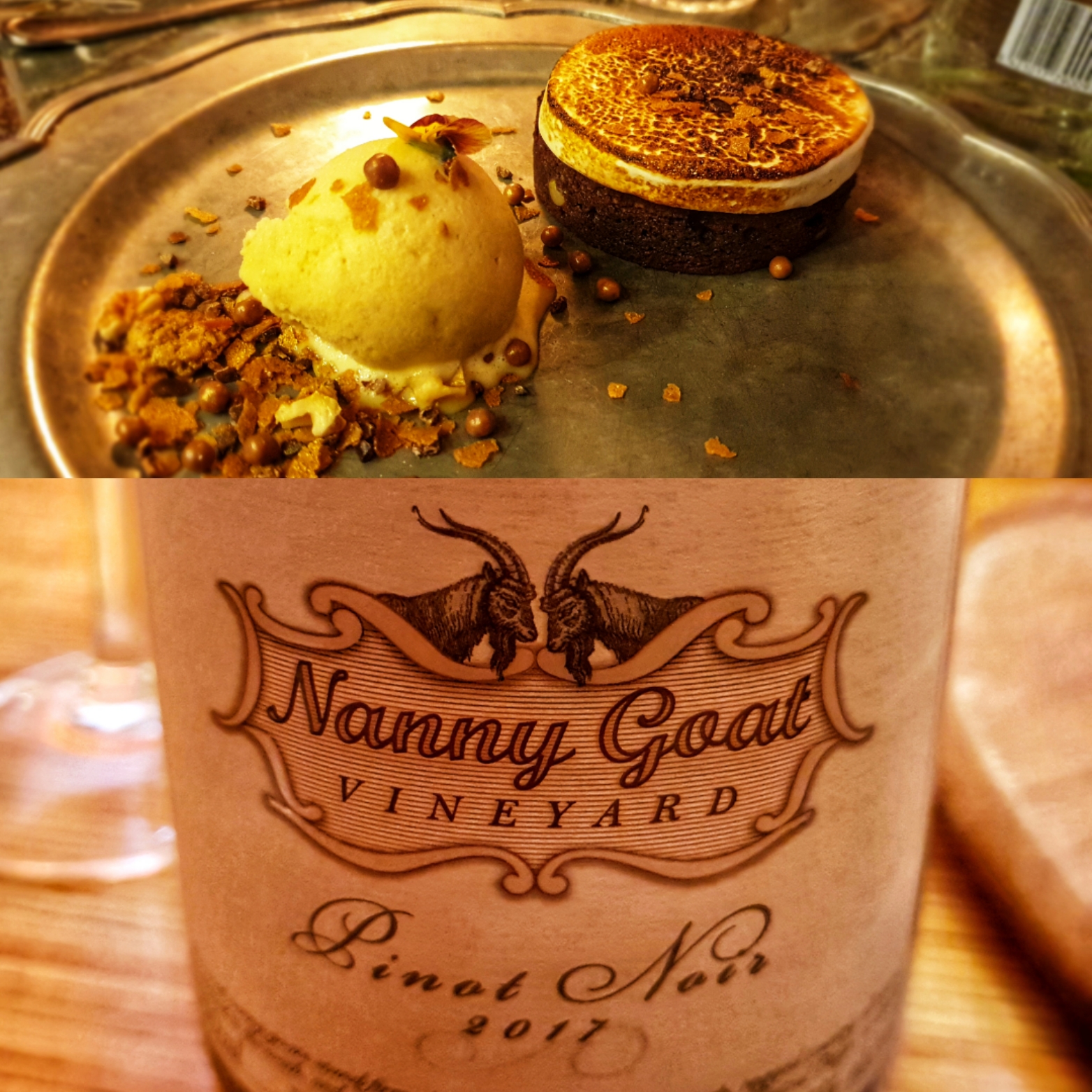 Fabulous Food & Perfect Pinots in Oceania
The month of February was spent away – over 10,000 miles away to be precise. And that was just the 'there'. Then a further 1,500 or so miles again, before agreeing that the bungee cord that calls us all home could pull and return me to peaceful Norfolk once more. There's no place like home, after all, and I didn't even need to click my ruby slippers to get me there.
The plane was red, however. Well, the logo at least. Qantas and my first experience on the Airbus A380. Yes, there is more room. Yes, it is quieter. And yes, it does help reduce jetlag, something especially notable on the return journey.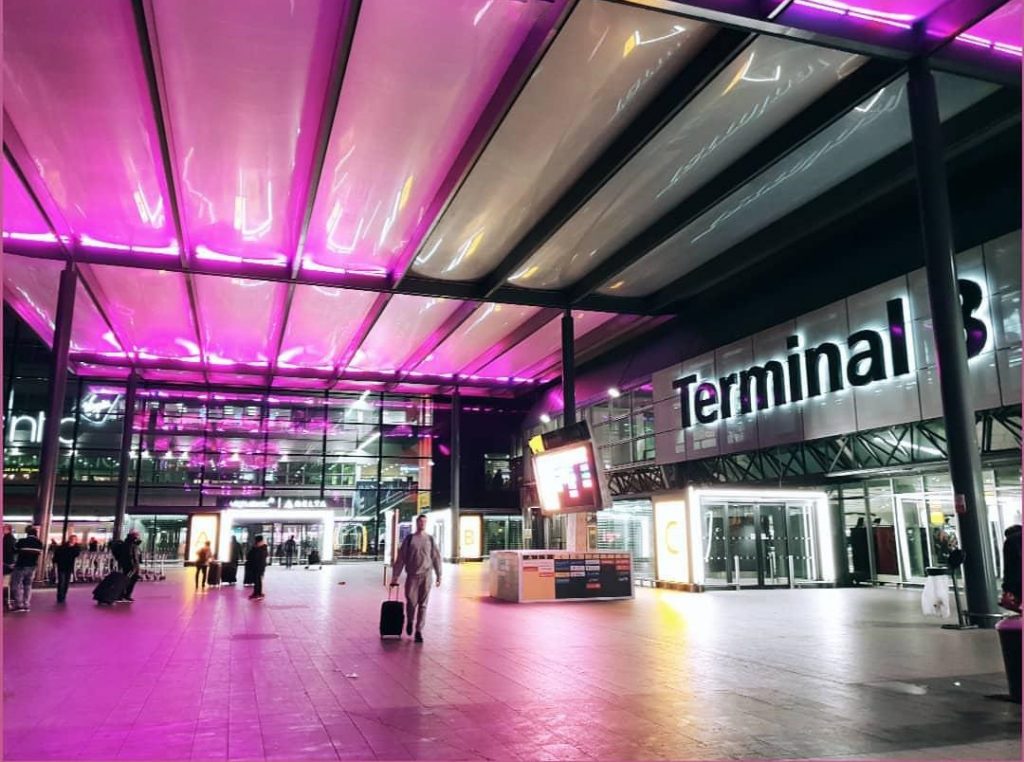 But before I continue with my return, I need to begin at the beginning. After all, no good story, good meal, or night out with friends begin with the end. Rather, it starts off as something small and innocuous that then evolves into something amazing.
For me, that small event happened when I was a young child and my mum purchased her first Arabian horse. Little did she realise that by doing so, she would set her then two-year old daughter on a path that firmly led her to a life with Arabian horses. Through them, I have been lucky enough to start my own business and, through this amazing breed, travel the world.
Hence, 29 January saw me board that Qantas Airbus to take me to Sydney. I went with my parents, our first, big family holiday, and we were set for a true adventure. Our reason for going was to the visit the World Arabian Horse Organization Conference, held bi-annually across the world. The last Conference was in Bahrain in 2017, and a magical afternoon was spent in the desert looking at the King's horses. Memories are made of gifts such as these, and that is a memory to endure a lifetime. This year's Conference was in Sydney, with post-Conference tours, for us, in Victoria and then on to New Zealand.
I love Oceania. There is something about this part of the world that is good for the soul. Diametrically opposite the UK, it is more than worth the long flight to get there – and that flight should never be a reason to put you off visiting this incredible part of the world. There is something about Australia that gets into your soul and moves you to your core. Add in New Zealand, the land of the long white cloud, and you have a continent that is irresistible.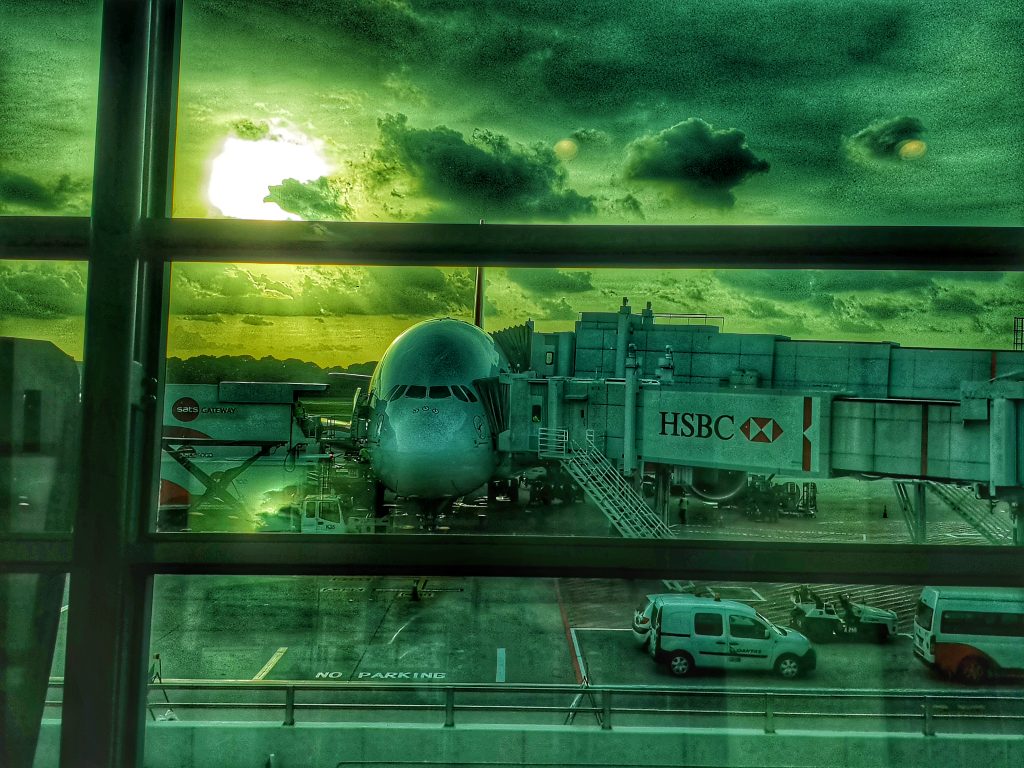 Quite simply, we had a fabulous time. Lots of work and lots of fun and interlinking it all were some fabulous plates of food and some incredible Pinot Noirs. Those who follow me on Instagram know that I often share a 'Pinot of the Day', and I had a field day Down Under trying different versions of this amazing grape. Add in some brilliant food, and it was certainly a trip to remember. These are just some of the highlights.
Birthday celebrations and Darling Harbour
The first highlight came on the very first morning, as I landed into Sydney on my birthday. The crew had already ensured that celebrations started early, going up to business class to 'borrow' a bottle of their champagne as another year on earth was acknowledged at 37,000 feet. Once on terra firma, we were met at the airport by a dear friend, Scott, who I had not seen in years, complete with a birthday present of a selection of Cherry Ripes! Again, Instagram followers will know that I love these dark chocolate, coconut and cherry bars from Australia. I just wish they sold them in England!
From the airport, we went to a place called The Grounds. This is a small independent cafe/restaurant group with branches across Sydney, and we would experience two very different styles of this company during our time there. On that sweltering Thursday morning – we landed into 40 degree heat – we went to The Grounds at Alexandria for a welcome birthday breakfast and to rehydrate from the long flight. Immediately, we were immersed in the amazing café culture that they have in this part of the world with almond milk served as standard, and a vibrant and inspiring range of juices to refresh us all. The menu was equally as inviting; Scott had already talked of an amazing almond croissant, but I was lured by the temptation of some of my favourite things – dates, pear and, intriguingly, buffalo ricotta. So, with a super-green juice of fresh green apple, cucumber, celery, kale, ginger, broccoli and lemon, I went for what was termed a hot cake. A cross between a giant pancake and banana bread – a banana and date hotcake, served hot in a skillet with smoked maple butter, roasted pear, buffalo ricotta, walnuts and pistachios. Utterly unctuous, even if the pear was a little hard, and it was beautifully presented. Like the rest of my party, it was impossible to finish, the portion size being very generous; indeed, my mum's scrambled eggs would have fed a small army!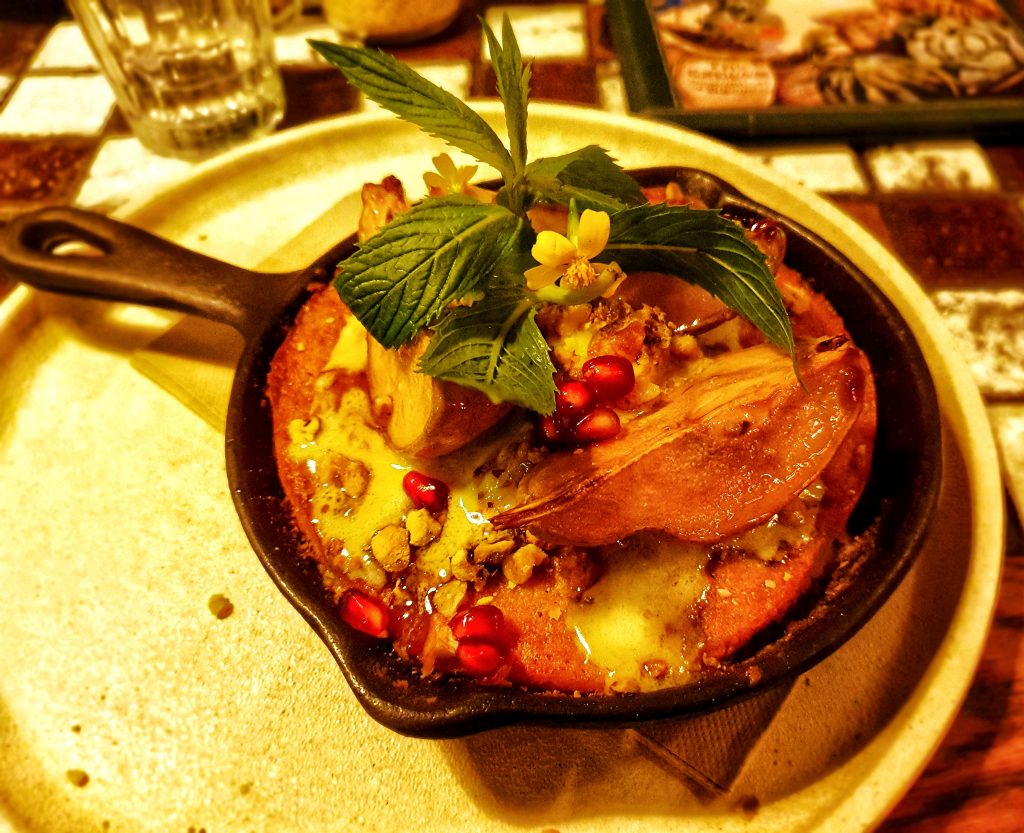 From there, it was off to the Novotel in Darling Harbour. Now, as it was my birthday, and as I am a bit of a foodie (in case you didn't realise), I spent many hours searching for the best restaurant in the area to celebrate that evening. One restaurant name kept appearing, and I kept looking at it. However, decided that we might all be rather tired and not to go too far that night, I checked the restaurant in the Novotel; it was the same one! The top rated restaurant in Darling Harbour when I visited was The Ternary, and so one of the first things we did when we checked in was book a table.
The hotel was great, and as it was my birthday, they gave me a complimentary espresso martini on them. Friends from the US joined us, and it had been my dear friend's birthday that Monday, so it was a double celebration for myself and Mary Lou. The restaurant was fantastic, and they sent us complimentary dim sum, as well as a joint pudding. but it was the main course that truly put a smile on my face: bugs. I love bugs! I first had them when up in Queensland, a bug being bigger than a langoustine but smaller than a lobster. Mary Lou and I both had Balmain bugs with garlic, parsley and lemon butter. Utterly delicious, and just as good as I remember them being!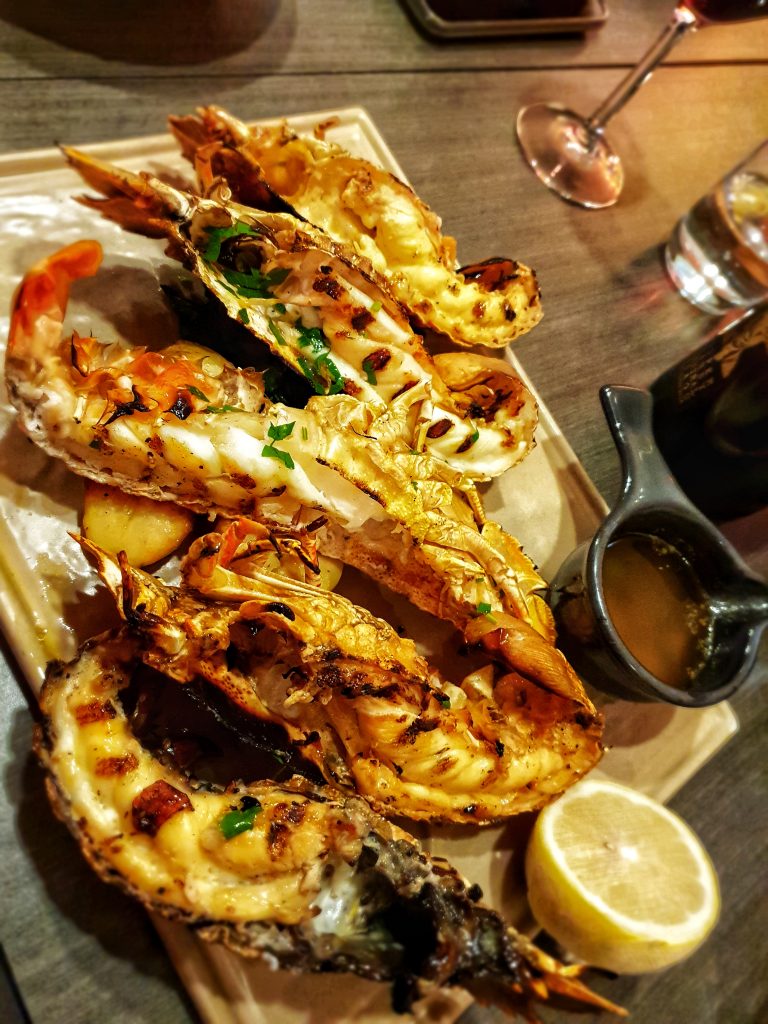 This was also the night that I discovered what has remained one of my favourite Pinots of the trip – Nanny Goat Pinot Noir from Otago, New Zealand, and its luscious big sister, Super Nanny. Goodness, I love this wine! It is striking in flavour, as so many Otago Pinots are, and both wines just melted into your palate, taking you to the happy place where all good Pinot Noirs go. The Super Nanny was my birthday treat, a full-bodied and intense Pinot Noir that just exploded upon taste. The Nanny Goat, which we all fell in love with and tended to drink most nights, was full of spice and berry flavours, and it worked so well both with food and on its own. I have, happily, been able to source the Nanny Goat in the UK, but if anyone knows how I can lay my hands on a Super Nanny, please do let me know! And yes, I know with fish, white wine should be enjoyed; but red wine helps me sleep better, and sleep was definitely needed. Besides, I was in Pinot land…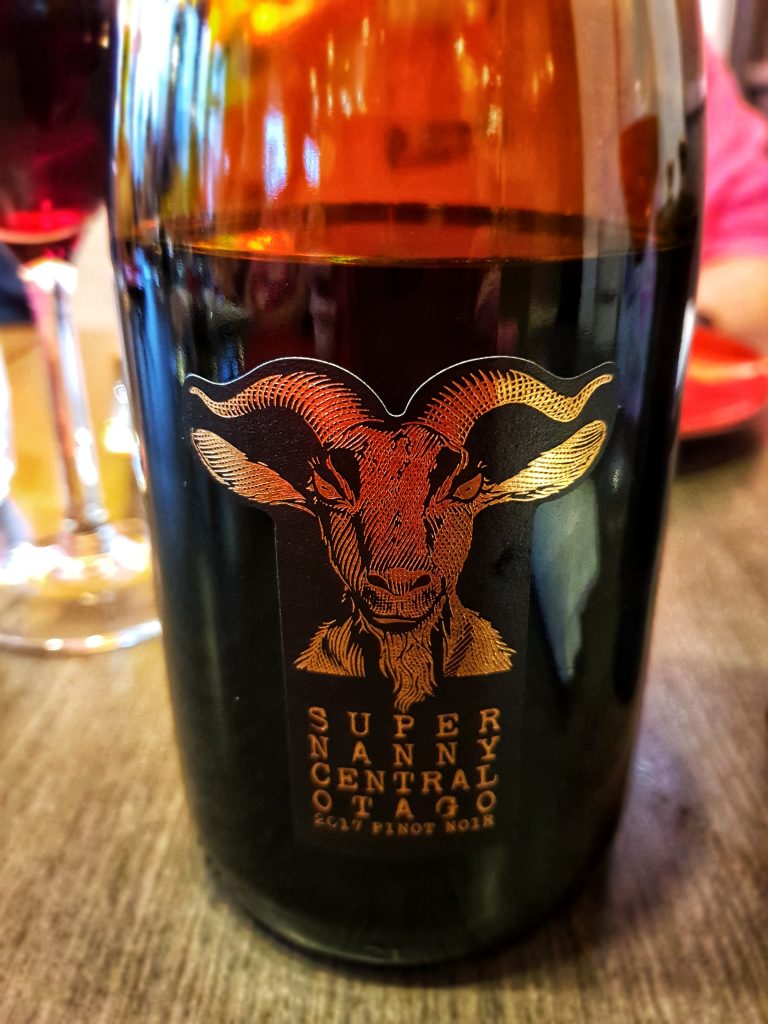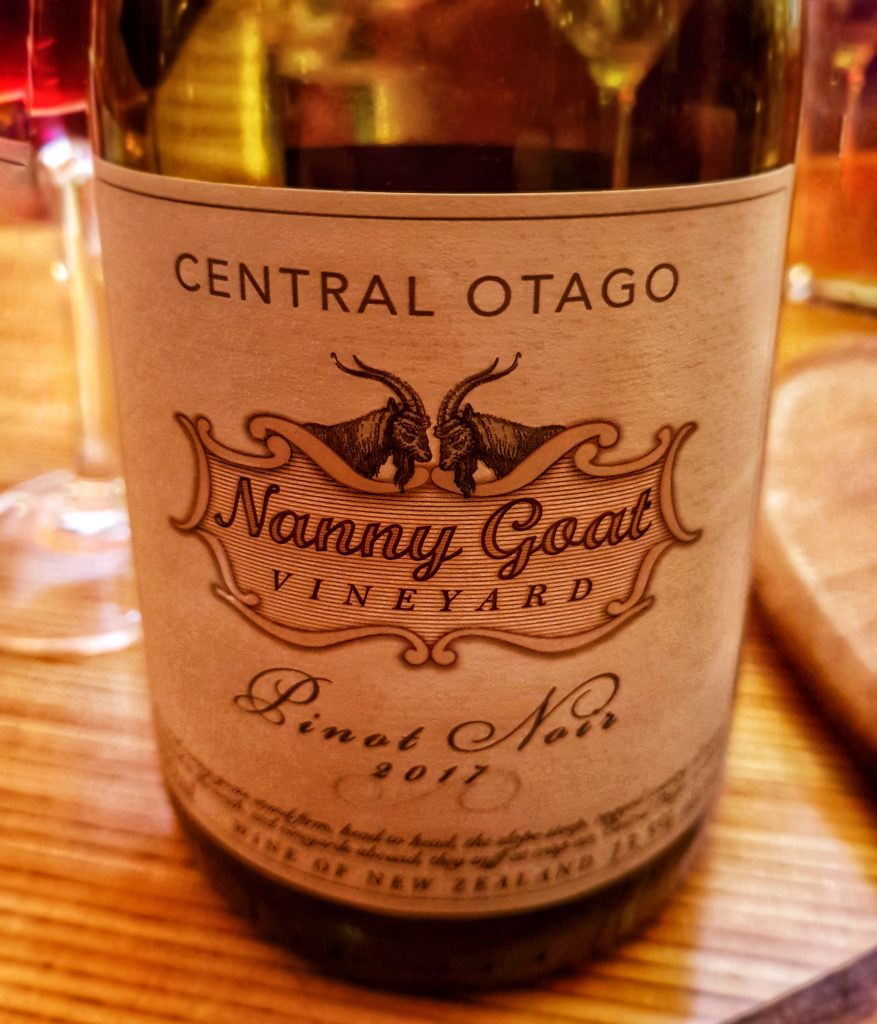 We enjoyed several more meals in The Ternary with friends from around the world, as well as breakfast every morning. The evening menu really was great, and one other dish of note was tandoor Atlantic salmon served with a spiced pea puree and grilled watermelon. The watermelon took the whole dish to another level – just delicious!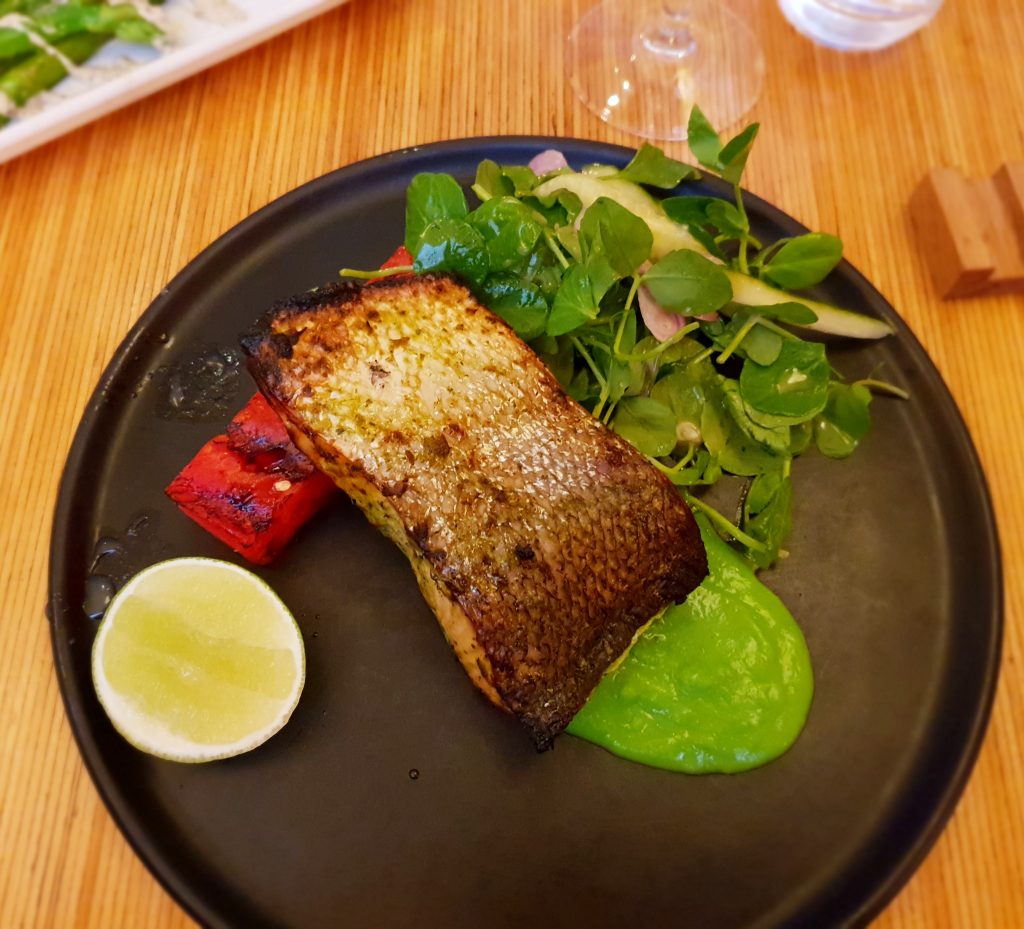 During our stay in Sydney, we went out to Manly Beach and there, my dad and I shared a delicious doughnut pretzel, coated in cinnamon sugar and served with a salted caramel dipping sauce. Enjoyed with a double espresso while watching the world go by, it was a perfect mid-morning snack, while mum enjoyed super smooth and fresh mango gelato.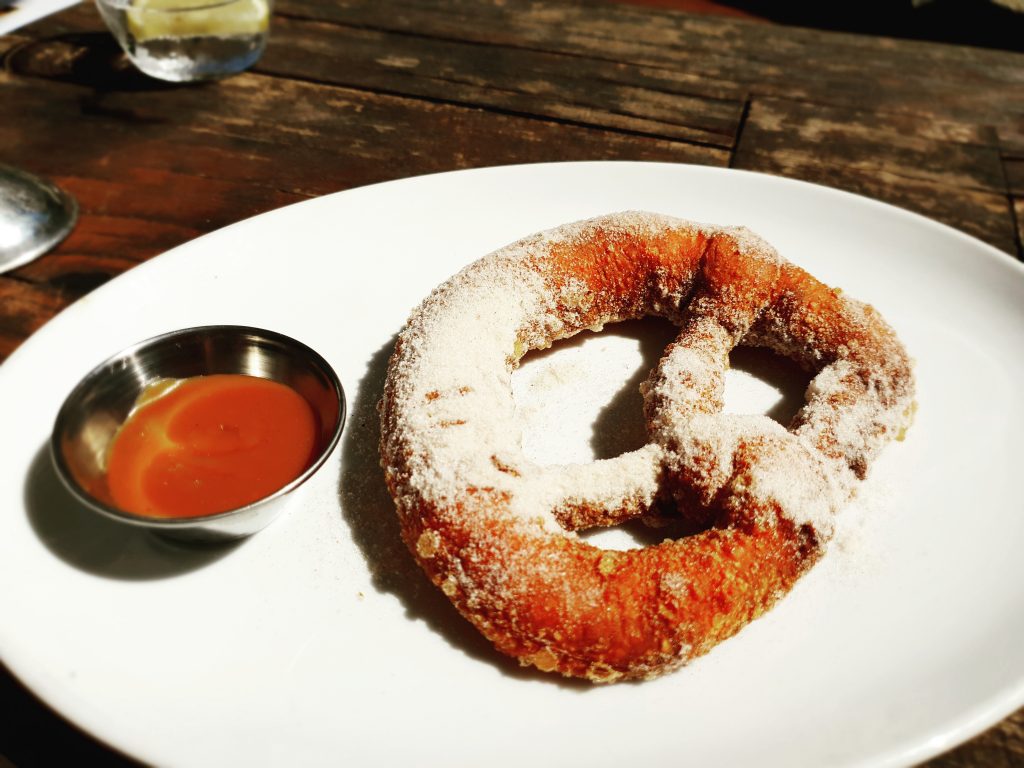 Terrigal and the Hunter Valley
From Sydney, we went north to Terrigal for the main Conference, which was great fun and very interesting. There is nothing like hearing about Arabian horses from around the world, all while sharing a common passion to do the very best that we can for said horses. That, however, is a post for my magazine and not for here.
After the Conference ended, it was off to the Hunter Valley for a tour around. There were two foodie highlights that really stood out for me. The first of these was a visit to Pukara Estate, an olive farm that produces its own oils and vinegars. We stopped there for a tasting session, and I left worrying about the weight of my suitcase as I loaded up with pepper and olive smoked salt flakes, since used to great effect in a rosemary focaccia, a caramalised balsamic vinegar, and a guava vinegar. My parents purchased some oils, too, so we are set for summer salad days for the first half of the year at least!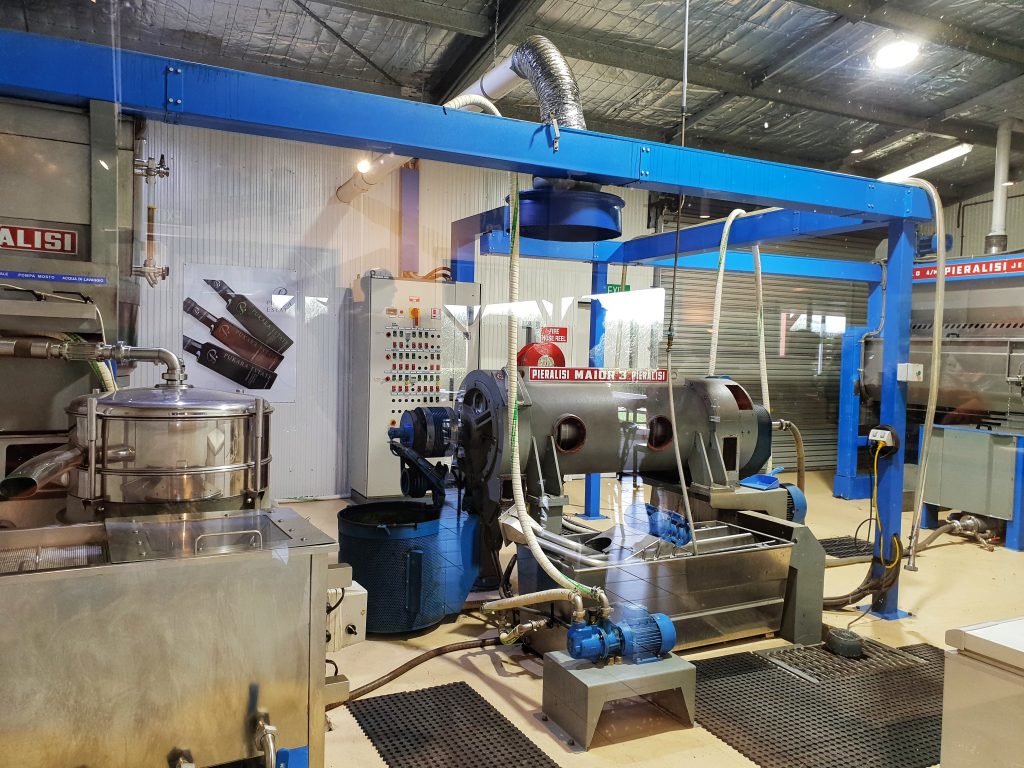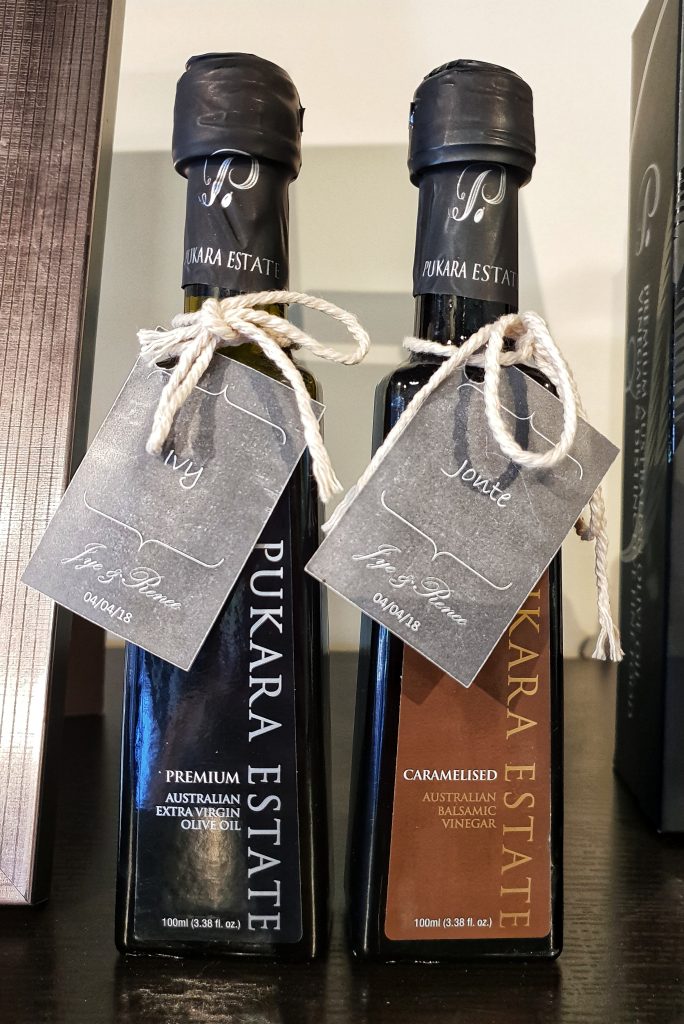 The other highlight in the Hunter Valley was visiting the Hollydene Wine Estate in the Upper Hunter. This part of Australia is famed for its wineries and we stopped here for lunch on the second day. My friend and I enjoyed a couple of glasses of sparkling Blanc de Blancs, and a set lunch of fish and chips – which are incredibly popular across Australia and New Zealand – did the job nicely. The estate really is very beautiful and peaceful indeed, and it was the perfect place to while away a few hours – had we had time!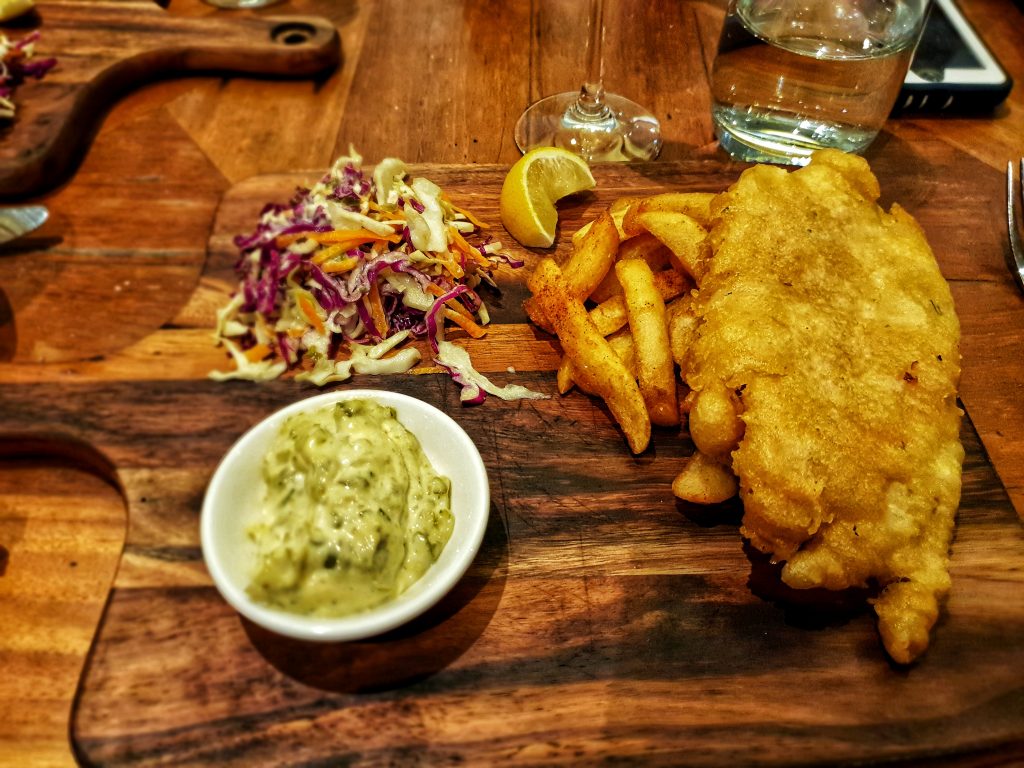 From there, it was to an airport hotel as the next day, the group dispersed; some north to Queensland, where hot sun and tropical climates are met with sea breezes and rainforest, depending where in the vast state you are; the rest of the onward travellers headed south to Victoria, the state that I always say is closest to the UK in terms of style and, definitely, weather and which like so much of the country is currently experiencing drought. Others were flying home, so that evening provided our last chance to sit and drink a glass of Pinot and share some calamari. A final goodbye, and it was on to the next step of the adventure!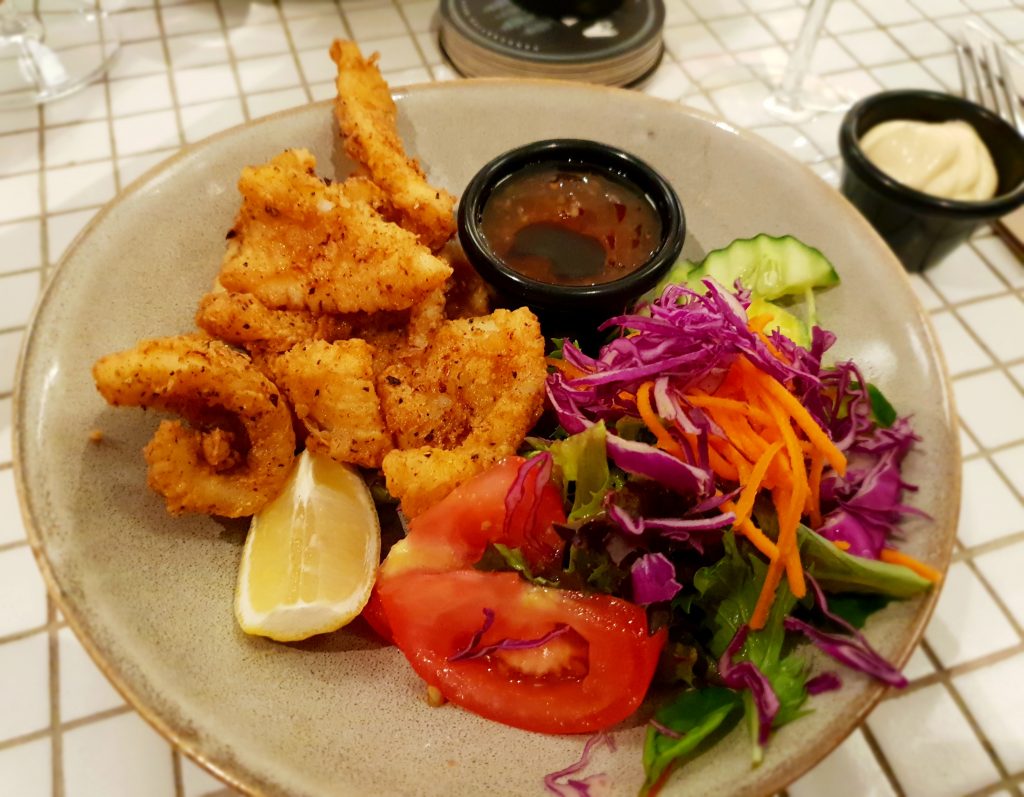 Victorian hospitality
It felt good to be back in Victoria, a state I have visited twice before, and straight aware, we were whisked to a friend's farm for lunch and a horse presentation of their amazing breeding programme at Future Farms. And wine – there is always wine at every horsey gathering. And, invariably, there is also always cheese. Cheese tends to precede many meals in this part of the world, rather than being something served at the end, and many a happy hour has been spent chatting to friends while enjoying a glass of bubbles and nibbling on cheese, grapes and crackers.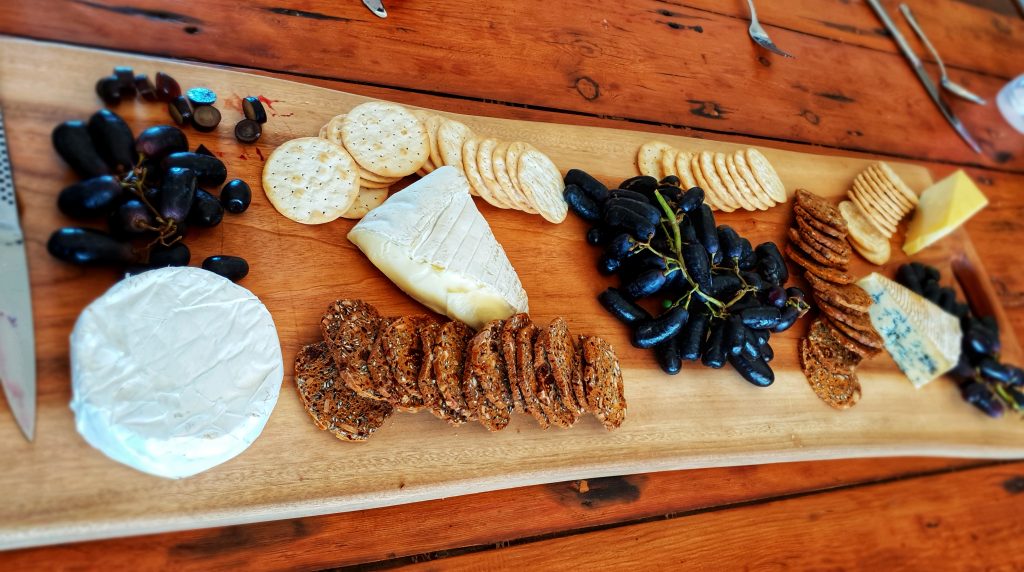 Another plus about being in Victoria was that we would be on the receiving end of home-cooked food. Having been travelling by almost two weeks at this point, the desire to eat something made with love was strong. Our Aussie friends didn't disappoint, and four home-cooked feasts awaited us over the coming days. Indeed, the day we landed we had a fantastic BBQ with a range of salads, and it was just what the doctor ordered!
One more night in a hotel awaited, however. A tapas menu enabled us to have a couple of small snacks to tide us over until breakfast. Having watched Australian MasterChef for so many years, and having seen churros served regularly during the street food challenges, I just had to try them from the tapas dessert menu. They were okay, just that. I strongly suspect that anything from a MasterChef hopeful would be better; there was little crunch, and they were lukewarm. I have definitely enjoyed far superior ones from Churros & Chorizo on Norwich Market back home in the UK.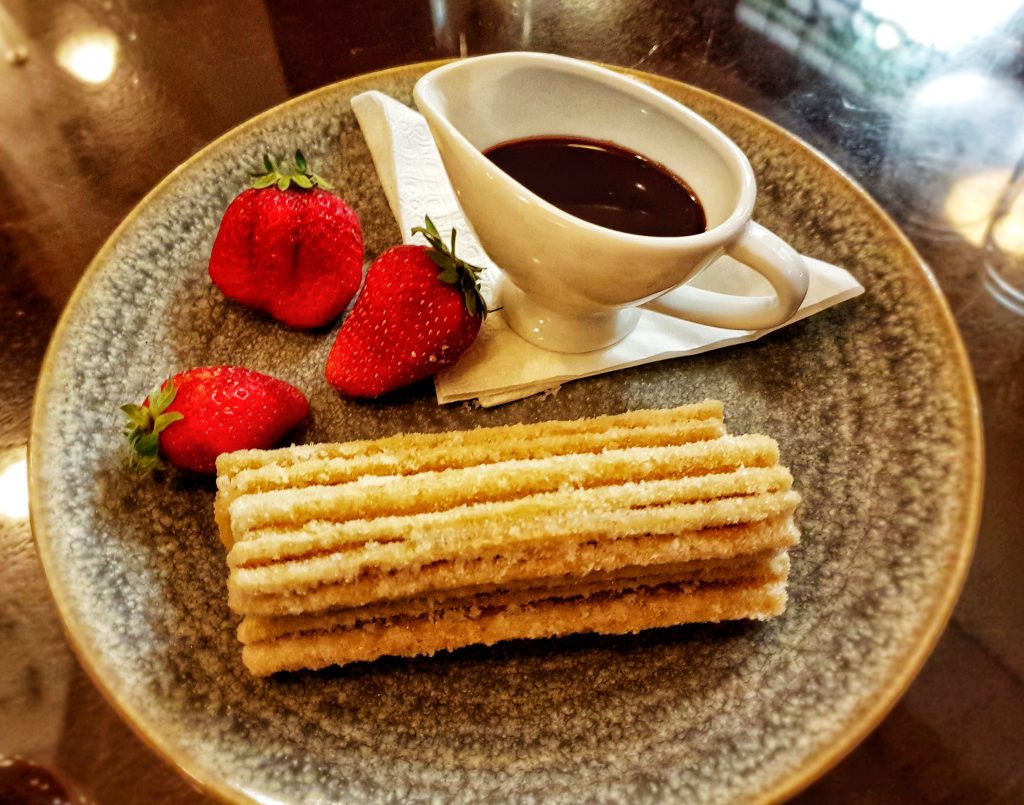 Redemption came the next morning, however, as we escaped the hotel environment to a superb little cafe next door. I have tried to find the name, and failed, but there they served another piece of Aussie food heaven – and an Australia MasterChef speciality – the jaffle! Known to us as a toasted sandwich, the jaffle, or toastie, proved to be a perfect way to start the day. Ham, egg and cheese all in one pocket of breaded goodness, washed down with an almond-milk latte, and I was in food heaven. As I always say, it doesn't need to be fine dining to make me smile – it just has to taste good, and this jaffle ticked all the boxes, with a bonus point for the cute plate!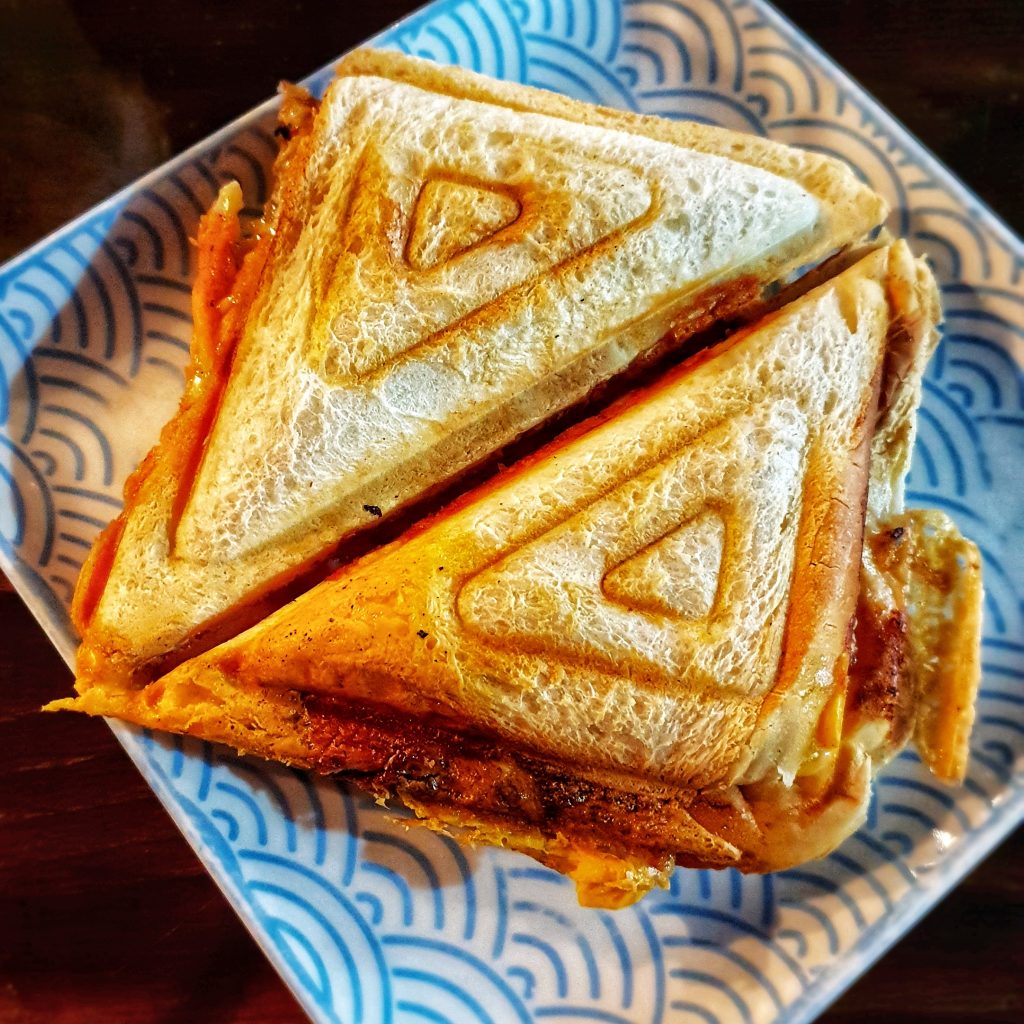 Having left Melbourne, we headed to Ripplebrook for a beautiful presentation of Arabian horses. On arrival, a glass of the local bubbles greeted us, along with platters of home-cooked food for lunch. Yes! I think everyone around the table appreciated sitting there, drinking local wine from Cannibal Creek, and enjoying light quiches, delicious sandwiches, meats, cheeses and salads, all while enjoying our shared international language – that of the Arabian horse. As well as the Aussies and we three Brits, there were also people Austria and Germany, as well as four from the United States. There are so many things in the world that bring people together, and I am lucky to have two in my life – the horses, and good food.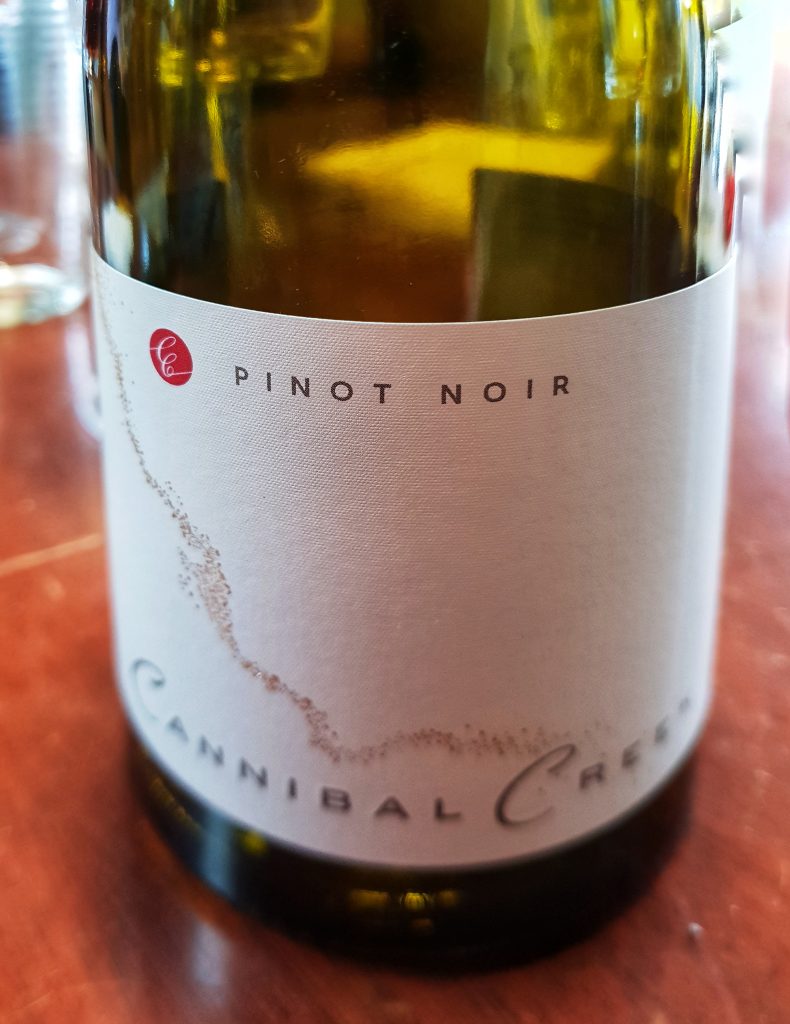 We had to leave Ripplebrook unnecessarily soon – we all wanted to linger and talk to breeders, enjoy more of the wine and cheese, and just stay a while. But our schedule pushed us on to Philip Island, so that we could watch the penguins come in from the Bass Strait and go to bed – an incredible, amazing experience but it was a shame as we didn't need to be there as early as we did. Ah well, an ice cream in the sun before wrapping up warm for the penguins kept us all entertained and would, in fact, be our dinner that night…
It was a long drive the following morning to our next stop, to South Serenity Arabians located some way north of Melbourne. With hunger in the international hearts, we stopped at a bakery, open early for business, and enjoyed a traditional Aussie pie – which came with a free doughnut! That and assorted hot drinks kept us all going until we arrived at South Serenity for an amazing champagne afternoon tea – so enjoyable, and also great fun seeing how other parts of the world interpret this incredibly British institution.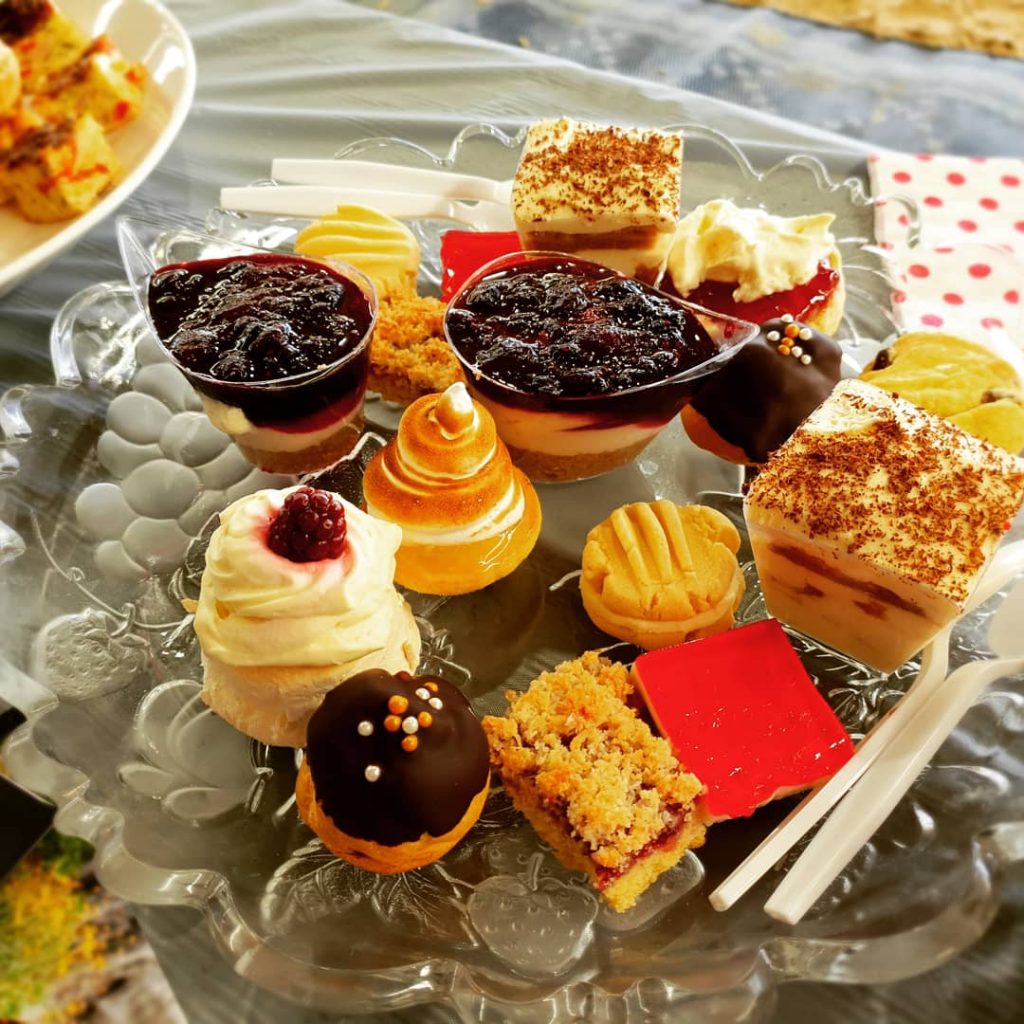 A final stop, at Krishlah Arabians, and another home-cooked meal – this time, with all my favourite flavours of the Middle East as well as beautifully cooked meat – and another lovely horse presentation, and the main tour was over. We all went to hotel airports, and as we were staying an extra night, dad found a local bottle shop and some Pinot Noirs, and that evening we enjoy the snack packs a friend had given us to keep us going!
Our final day in Victoria was spent driving back to the Geelong area, this time to visit the Enayat Partnership and enjoy an amazing home-cooked lunch! Cheese opened proceedings – the photo I shared above – and we sampled some clear-skin wine from over the valley. Victorian hospitality at its best. A race back to Melbourne and more cheese and crackers, this time with our dear friend Sean, who we haven't seen for years, and he introduced us to his new wife, Carolina. A truly special last evening.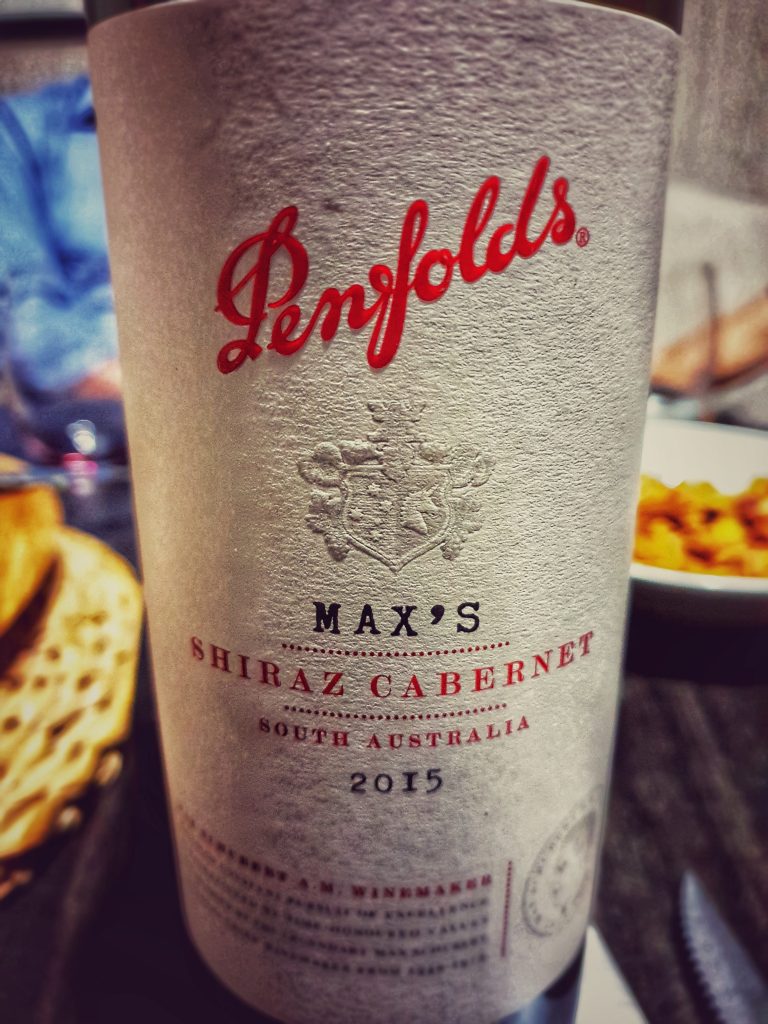 New Zealand calls
The next day, we flew to Auckland – the start of the final part of our trip. Joy of joys, the place we stayed in the first night had a kitchen! Dad and I duly headed to the local supermarket and stocked up… We had our own car for the New Zealand adventure, and it felt good to have some independence back. As well as buying a variety of Pinot Noir, I also got the ingredients needed to cook a beef stroganoff with fresh pasta. However, I wasn't banking on the facilities not quite being up to standard, and it took nearly 40 minutes just to brown the onions! Still, it gave us a chance to sit back, relax, and look forward to our visit to this always-special country.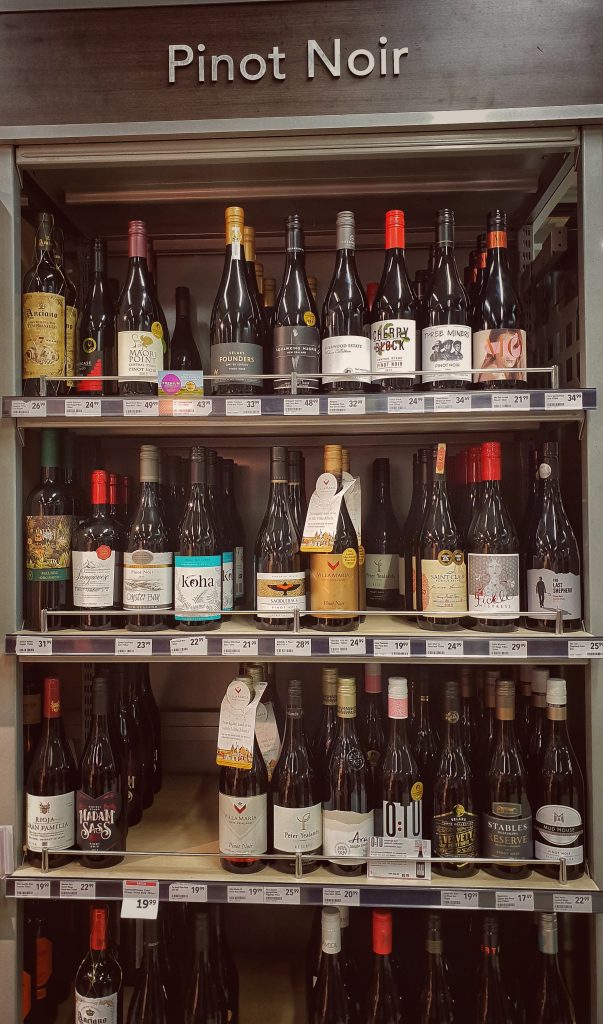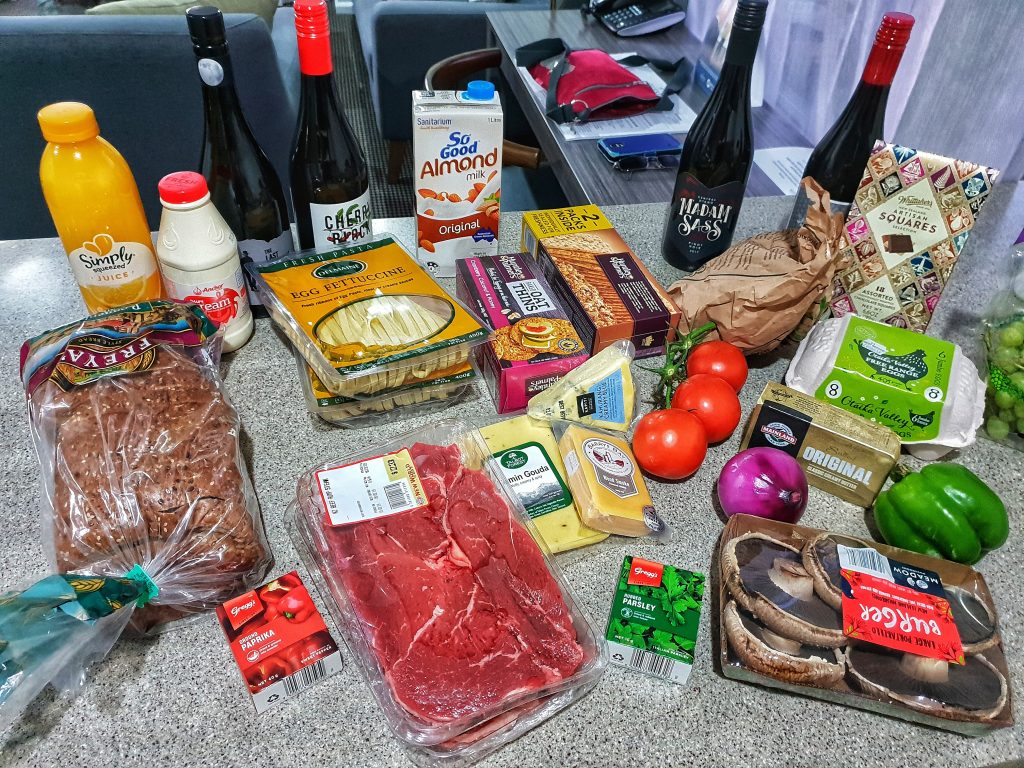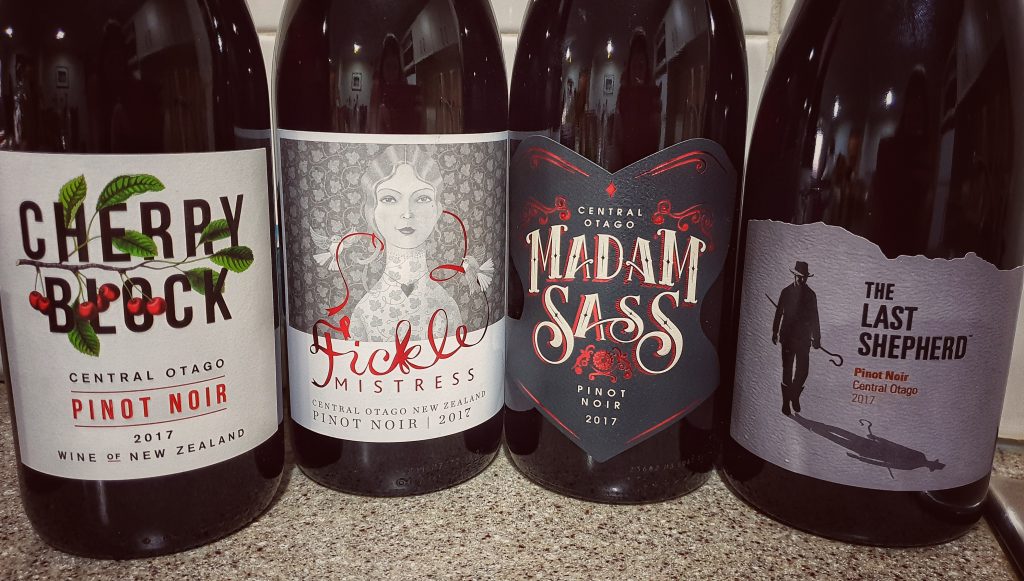 After a weekend in Bombay, staying at the amazing Heaven's Rest, it was off to Rotorua for a couple of nights. Hobbits, duck tours and the Maori all called, and were notable, but among the food highlights were the Little Paris Cafe, where a savoury galette and an almond milk latte went down a treat, and a restaurant called Urbanos. Not only was the host welcoming and full of suggestions on how to make the most of our visit there, the food was fantastic and we went back a second night to enjoy once more – and received a glass of port as a thank you! I would definitely recommend both places.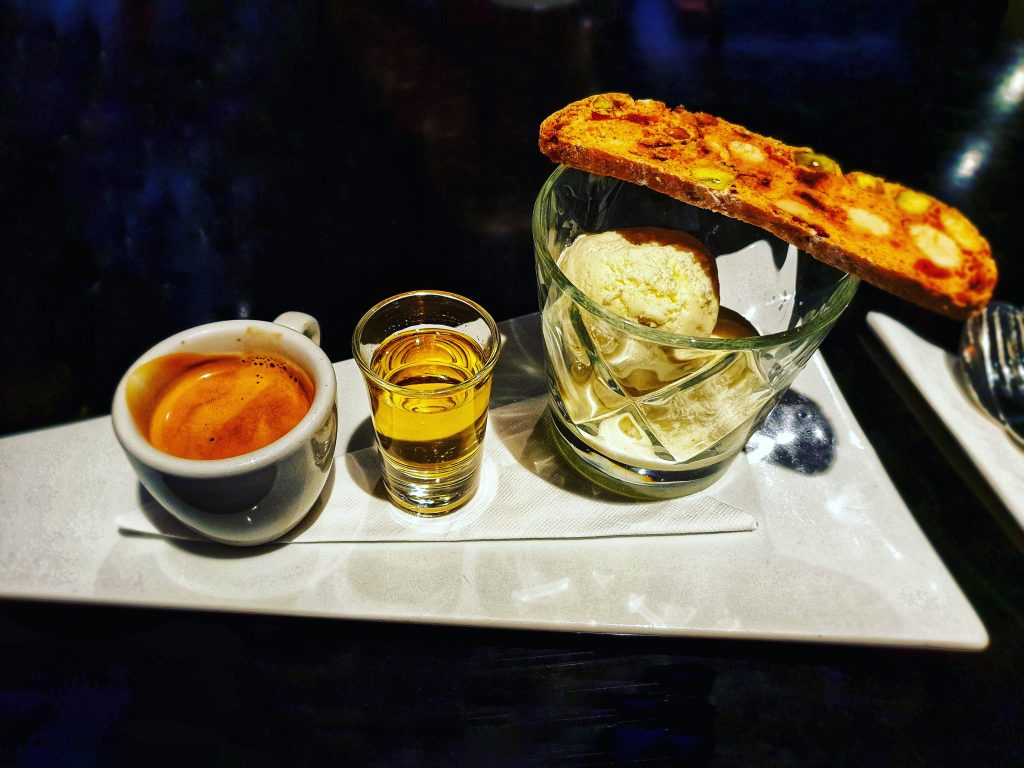 The next day, via tea and cake with friends, we went to the final stop of our trip, visiting my dear, dear friends Bev and Sue at Gerzanne Stud on the Bay of Plenty. It was lovely to be there, and this part will remain private, but my visit marked 10 years since I first stayed with them. Two very special ladies, and it was wonderful to introduce my parents to them.
Our trip to Gerzanne ended with fish and chips on the beach – I did say that they are popular out here! Cyclone Oma had just whipped past the North Island, and it made for some very dramatic photographs – most of which I am keeping under my hat at this moment in time!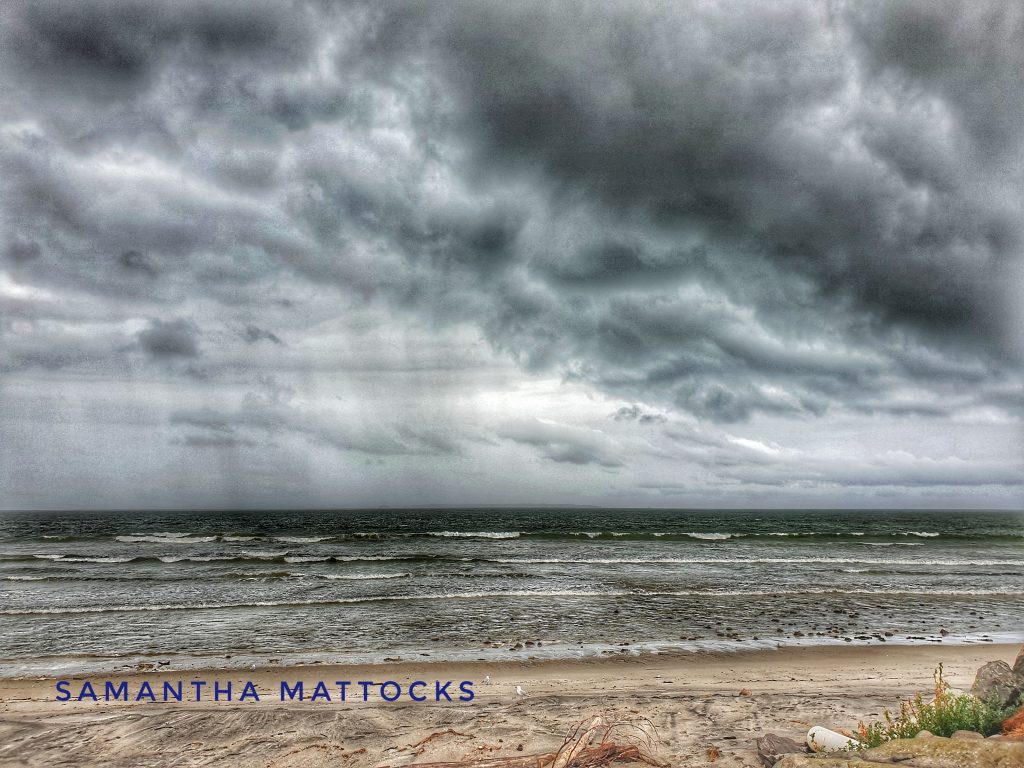 Time to click thorse ruby slippers…
After an emotional goodbye, it was time to head back to Sydney for one night before the head home back to England. In a lovely bookend to our trip, Scott met us once more, and we went to The Grounds – this time, The Grounds of the City. Very 20s in style, this was the perfect end to a great trip, and it was special to end as we began, with Scott and at The Grounds. If you are ever in the area, the cocktails are fantastic and the molten chocolate and walnut cake with a warm caramel centre and whiskey marshmallow is to die for!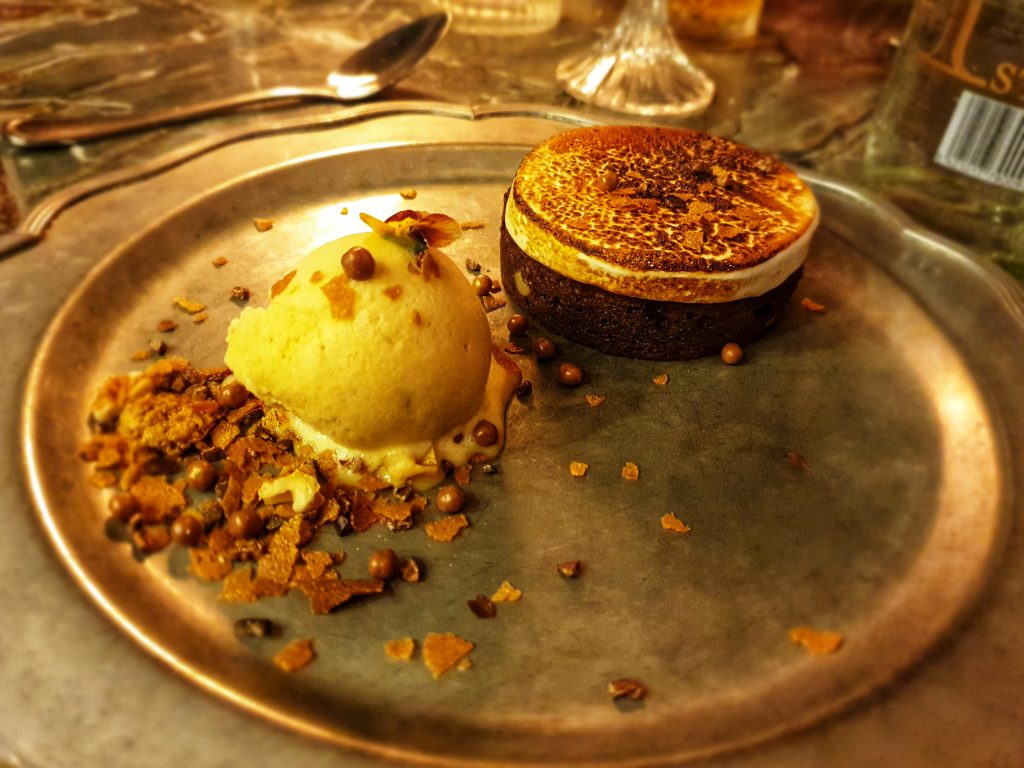 A farewell to Scott, and now we were on our own again. The following day, we would head home. And, having a late afternoon flight from Sydney, we decided to go for brunch on the Sunday morning to set us up for the journey home. One quick search and I found the Mascot Corner Cafe. The menu was wide and varied, with a Turkish theme running through it. I opted for a good Aussie choice of the asparagus stack – toasted sourdough, avocado, bacon, asparagus, tomato, poached egg and parmesan with a side of feta. It was incredibly good and full of flavour. Add an almond milk coffee and a super juice, and I was ready to think about home.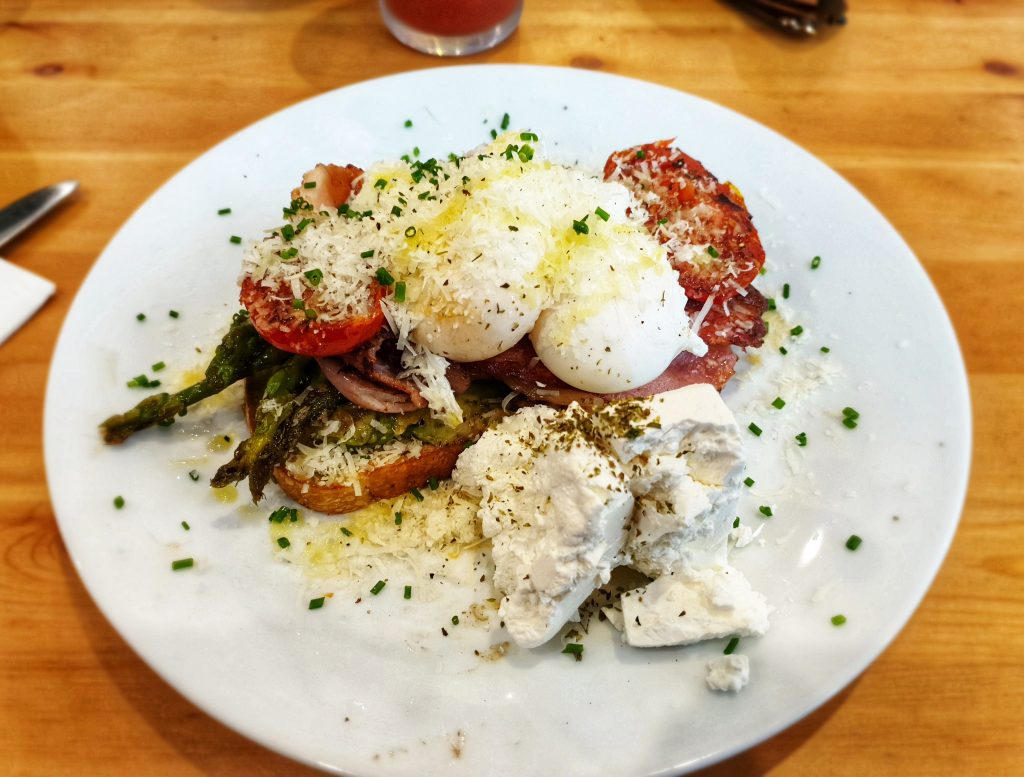 We landed into England on the last Monday of February, 3 degrees on landing and the first fingers of sunrise beginning to peak through the clouds.
My appearance on MasterChef had been announced while I was away, and so I landed to not only thoughts of returning to the kitchen, but also with my episode to air that week. Added together, this meant that I had mixed feelings upon returning home… It is always so hard to leave Oceania, and with MasterChef due to air, but it felt amazing to be back cooking the food that I love, and working with my fantastic local producers once more.
Our month Down Under was incredible. While this blog is long, it gives just a mere glimpse into what we experienced there. Over the course of the trip, I have learned that both Shiraz and Chardonnay give me migraines. That Central Otago Pinot Noirs are my absolute favourites. That almond milk is as freely available in Australasian cafes and coffee shops as regular milk, and that their café culture is amazing. I wish that we could have that in England – and maybe also the sunshine to go with it!
I also learned that I always leave a little piece of me behind whenever I leave this glorious part of the world. Thank you to all who made this amazing trip so very special.