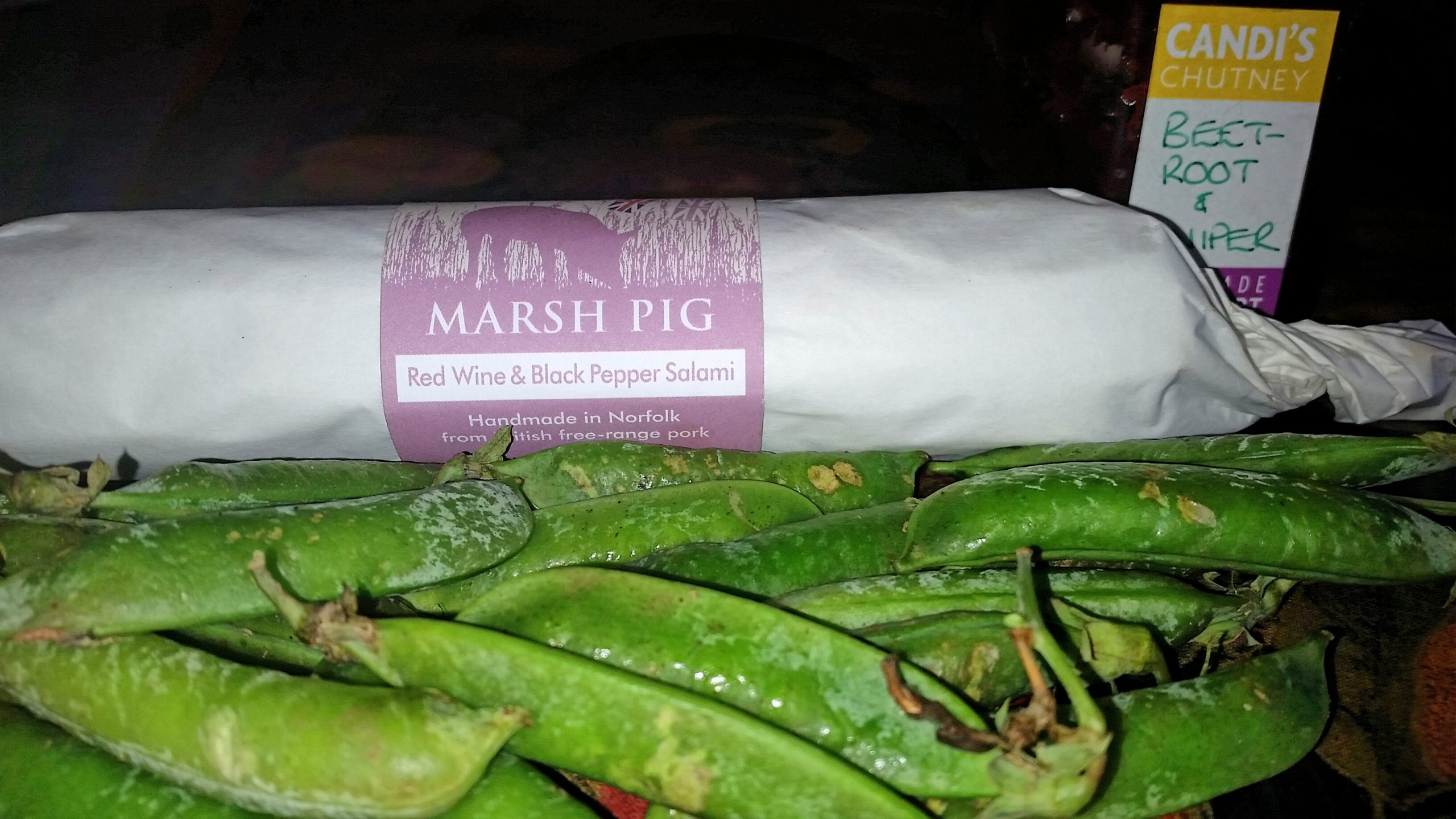 Love local – live seasonal
I am indulging in a pure, unadulterated weekend off. The magazine has gone to print, I've got yesterday's Saturday Kitchen outrage off my chest, Andy Murray won yesterday – #GoMurray – and it's a gloriously sunny Sunday.
This last week was full of international visitors, and one especially got the tour around some of my favourite local shops. Barry has been a friend for more years than I care to remember, and he works in the Middle East with Arabian horses.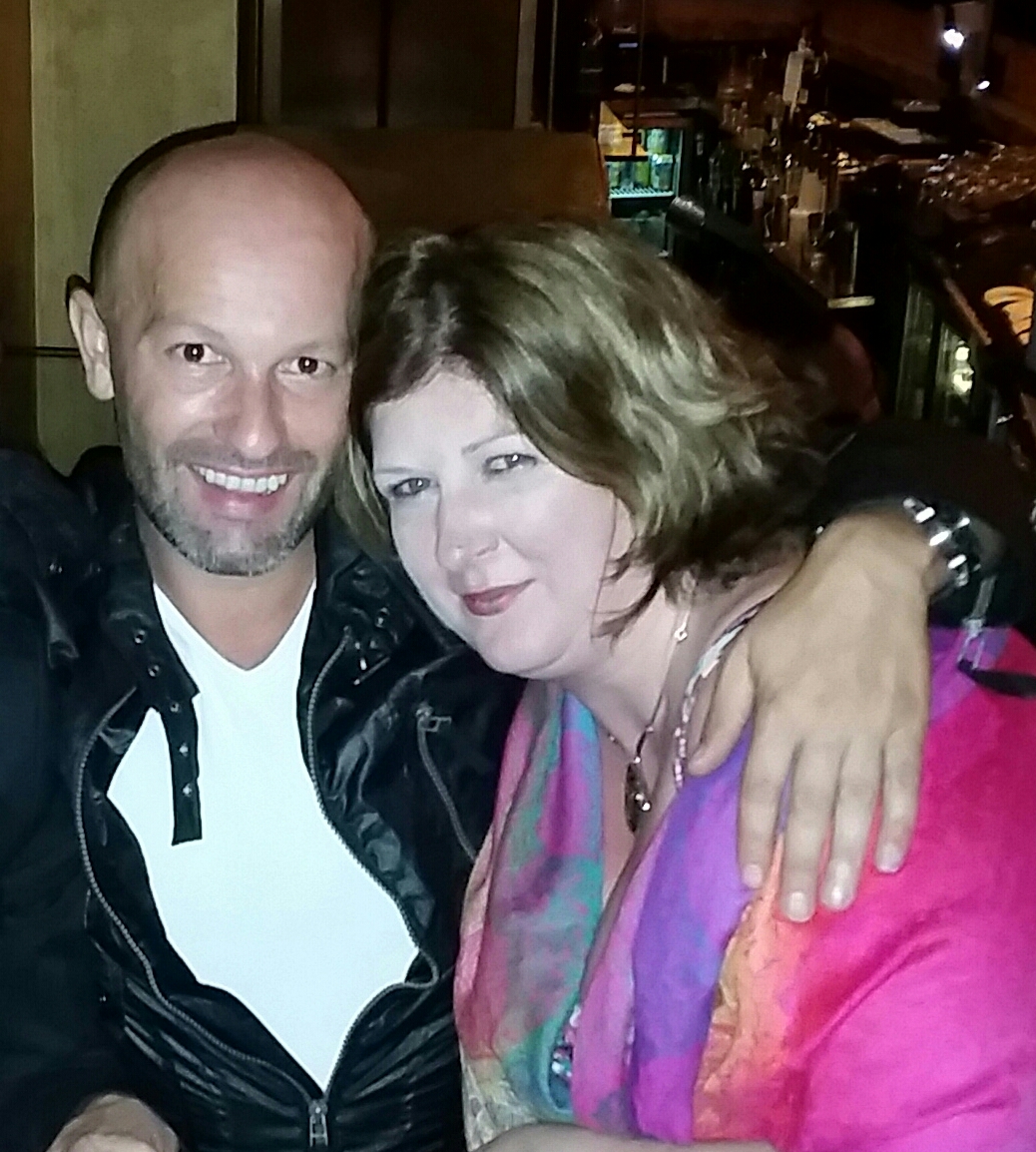 Having arrived at ours on Monday night, I took Barry to Bungay on Tuesday for my famed 'Black Dog tour' around the town, sharing the stories of the Black Dog/Black Shuck. Having exhausted – and terrified – Barry, we headed down to Earsham Street.
I have waxed lyrical about this part of Bungay before. Earsham Street Deli, Giddens & Thompson, Earsham Street Fish are highlights for me. But while they may be local, they also champion local food – the same as we see at farmers markets around the region. I am lucky, too, that many of these items are gluten-free and they become firm staples in my shopping basket.
Bungay isn't on my doorstep. It's around a 20 minute drive from where I live. The same distance to Norwich, a few minutes further than Diss. So – in essence – the same distance as to a major supermarket. I would much, much rather support my local fishmonger, deli, butcher and greengrocer than a high street chain. For one, you get a better, more personal service. Second, contrary to belief, it is not always more expensive than the supermarkets. And third, the taste and quality of what you buy is far superior – namely as such places often source items from small producers, where it is quality, not quantity, that matters.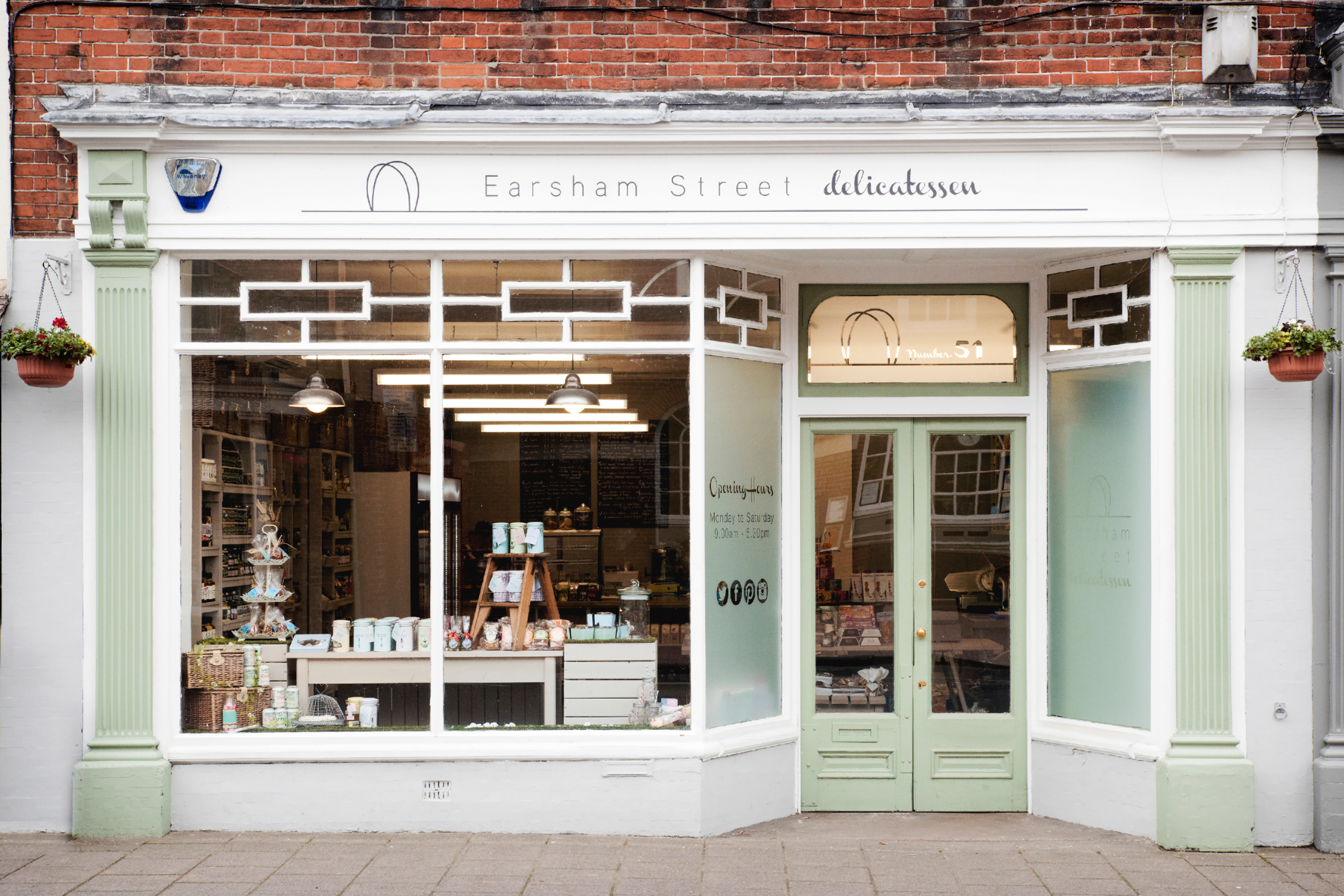 Barry fell in love with Earsham Street Deli! Having declared he must leave by 2pm, he saw the amazing array of products available there and promptly chose to stay for lunch, and he began to gather up some of the local produce available. He immediately noticed that Norfolk, and Suffolk, takes a great deal of pride in its local items and he was impressed at the vast range to choose from. So, what did we get?
Marsh Pig salamis – red wine and black pepper, and garlic and paprika. The former is a family favourite, the latter a new delight. Marsh Pig are located near Rockland St Mary and all salamis are handmade from their own free-range pigs.
Baron Bigod Brie, made with milk from the local Fen Farm Diary in Bungay – who also make the amazing raw butter, an item that always has a place in my fridge. Naturally, the brie was not for me, but Barry loved it.
Earsham Street Deli cherry and almond polenta cake – gluten and dairy free, and always a delicious fruity slice of loveliness!
Earsham Street Deli anitpasti – a selection fresh from the deli counter of balsamic onions, sun-blush tomatoes, feta-stuffed olives and other delights.
Suffolk Coffee Company coffee for Barry's dad, made in Peasenhall.
I also had at home some beetroot and juniper chutney from the brilliant Candi's Chutney in Holt, and this was a great addition to the spread.
From there, it was off to Giddens & Thompson to get local fresh ingredients for that night's dinner, with a different friend. I love this grocers, and at this of year, the shop is like an Aladdin's cave of beautiful produce. I got the last of the asparagus on Thursday – that is now done for another year – and there are cherries, amazing local mushrooms that always come into their own at this time of year, potatoes from both Bungay and Norfolk, lettuce freshly picked that morning, and eggs from Clinks Care Farm at Toft Monks. Simon, who owns the store, is always very considered in the imported vegetables and fruit that he gets, and also has a great range of organic produce. Simply, a must visit, and you will be amazed at just how much you get for your money!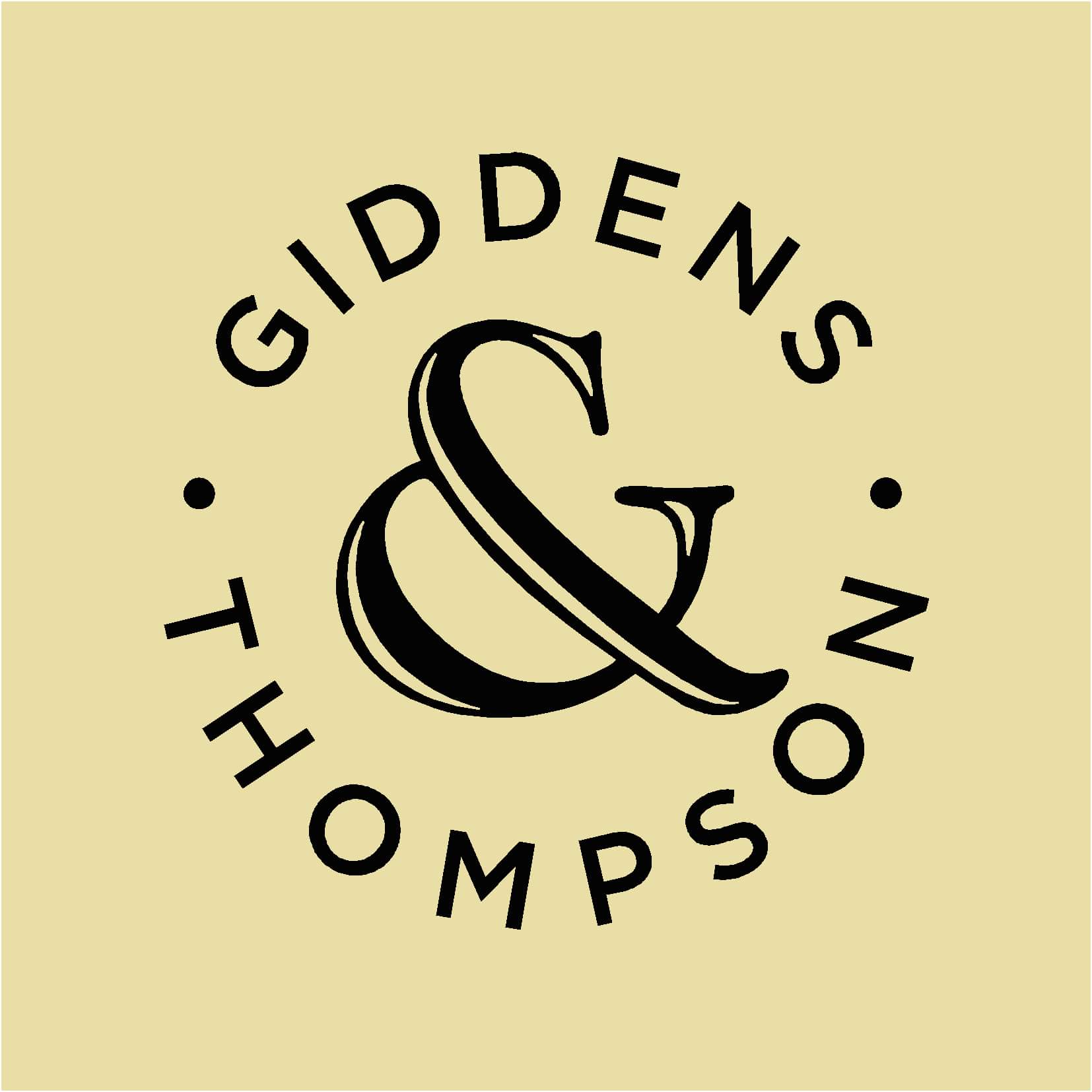 In fact, I went there yesterday in the early afternoon, to get my ingredients for tonight's repast. I have taken to putting my meat in a bag filled with freshly chopped garlic – I am lucky enough to have some fresh direct from Provence, and the aroma is incredible – fresh rosemary, black pepper and deep golden oil from the fabulous Yare Valley Oils in Surlingham. I seal the bag, massage the meat, and then chuck it in the fridge until I am ready to cook it. The flavour it imparts is incredible, and I just love it.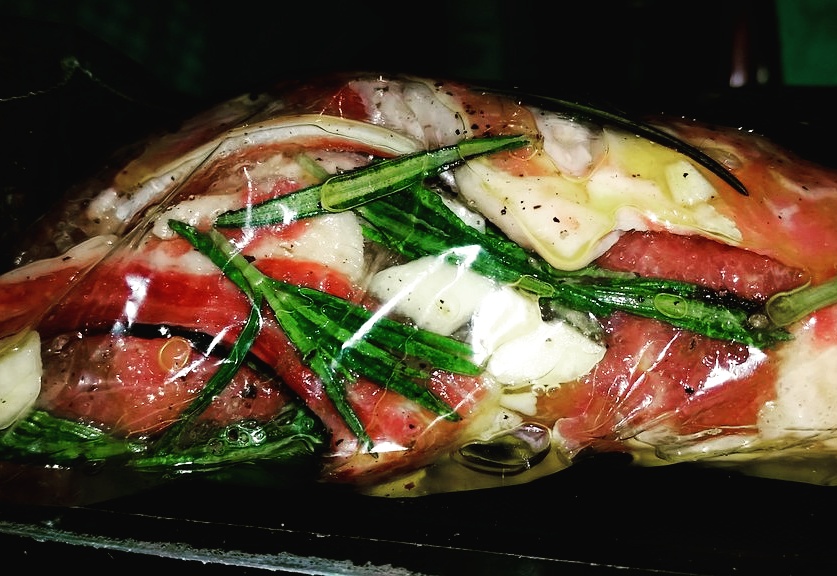 For tonight's meal, I got a rack of lamb from a local farm shop, cut into cutlets, and last night, they were bashed to a millimetre of their life and are now happily in the bag of deep-scented rosemary and garlic goodness.
But to go with this, I wanted some seasonal produce. So in Giddens & Thompson, I got some broad beans still in their pods, ready to be double de-podded later. I also got some fresh peas, the best way to eat them being straight from their smaller dwarf-like pod. Some freshly-dug beetroot, which I will roast in foil in the oven, and then some of the baby Norfolk potatoes, ready to be lightly rubbed later to get the soil off, and then boiled with fresh mint. In fact, mint will go though these part of the dish and it will all be served in a bowl, the juices from the lamb running down on to the fresh, crisp vegetables below. I cannot wait!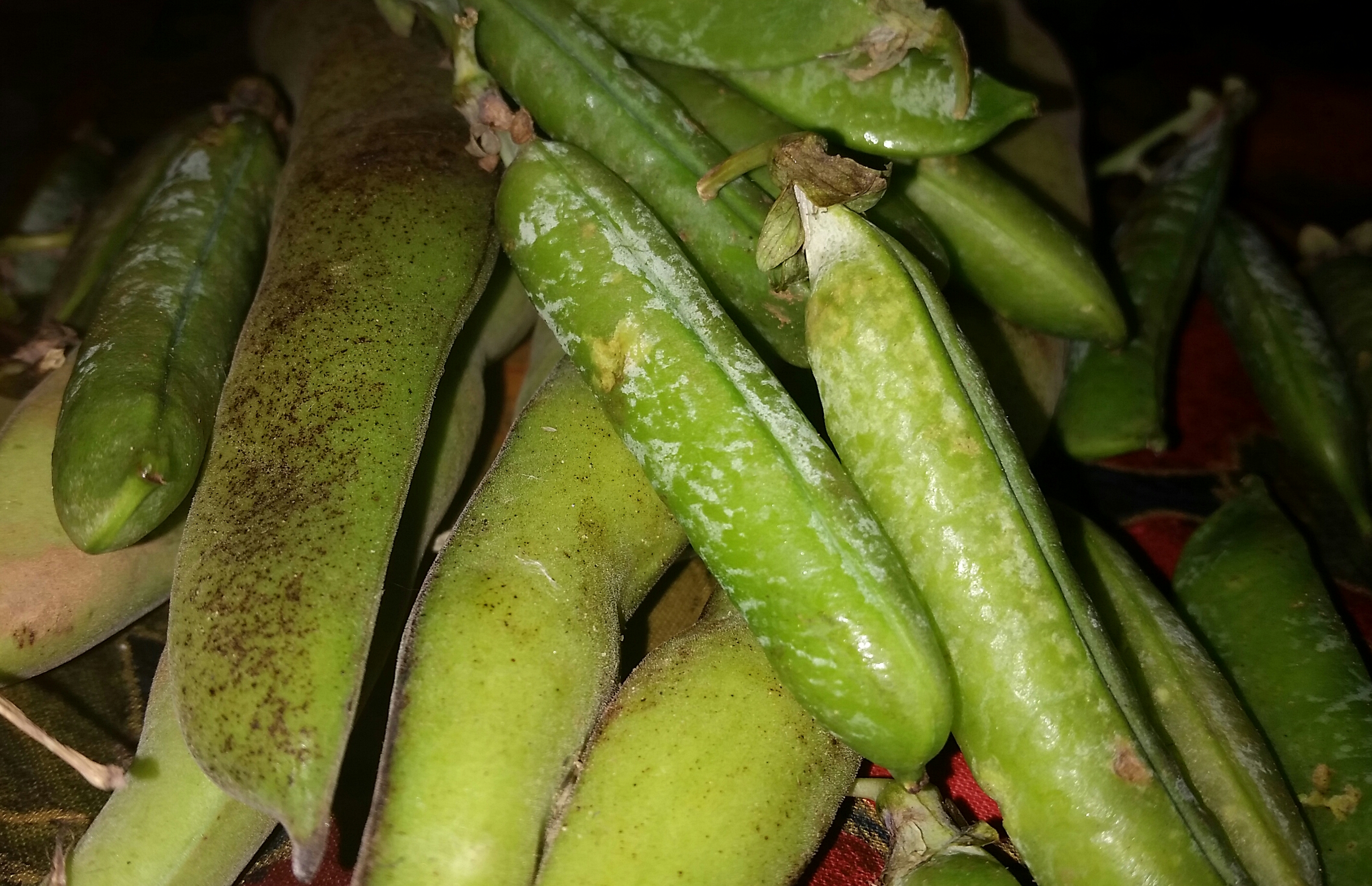 But – I digress… The short of it is – buy local. Support your local producer. Spurn the giant, soulless supermarkets and visit your market towns instead. The greengrocers, butchers, fishmongers, bakers, delis – they all need supporting. And I like to think that in this age where we are, perhaps, more aware of where our food comes from and just how far it has travelled, we are slowly returning to the more traditional way of buying food: on your own natural high street than through a high street name.
I would just like to end this blog with a thank you. Again. But then – you can never say 'thank you' too many times in my book. June was an amazing month for me, both in terms of foodie experiences, but also in reaction to this blog. My review on Benedicts Restuarant had an amazing response, as has the reaction to The Delicate Diner in general. My blog yesterday, on the Saturday Kitchen comments on dietary requirements – has been my most-read blog to date, and it is not even 24 hours old.
Here in Norfolk/Suffolk and beyond, we not only have an amazing free-from community, we have an amazing community full stop. Walking around the Adnams Food Hall at the Royal Norfolk Show on Wednesday, I saw so many familiar faces. Those I know through Your Gluten Freedom, those I met through the Norfolk Food and Drink Festival, and those I know through just cheekily being myself. We have such supportive, wonderful and energetic foodies in this part of the world, and I am honoured to be a very small part of it in my own wordy way.
Have a wonderful Sunday, Samantha xx