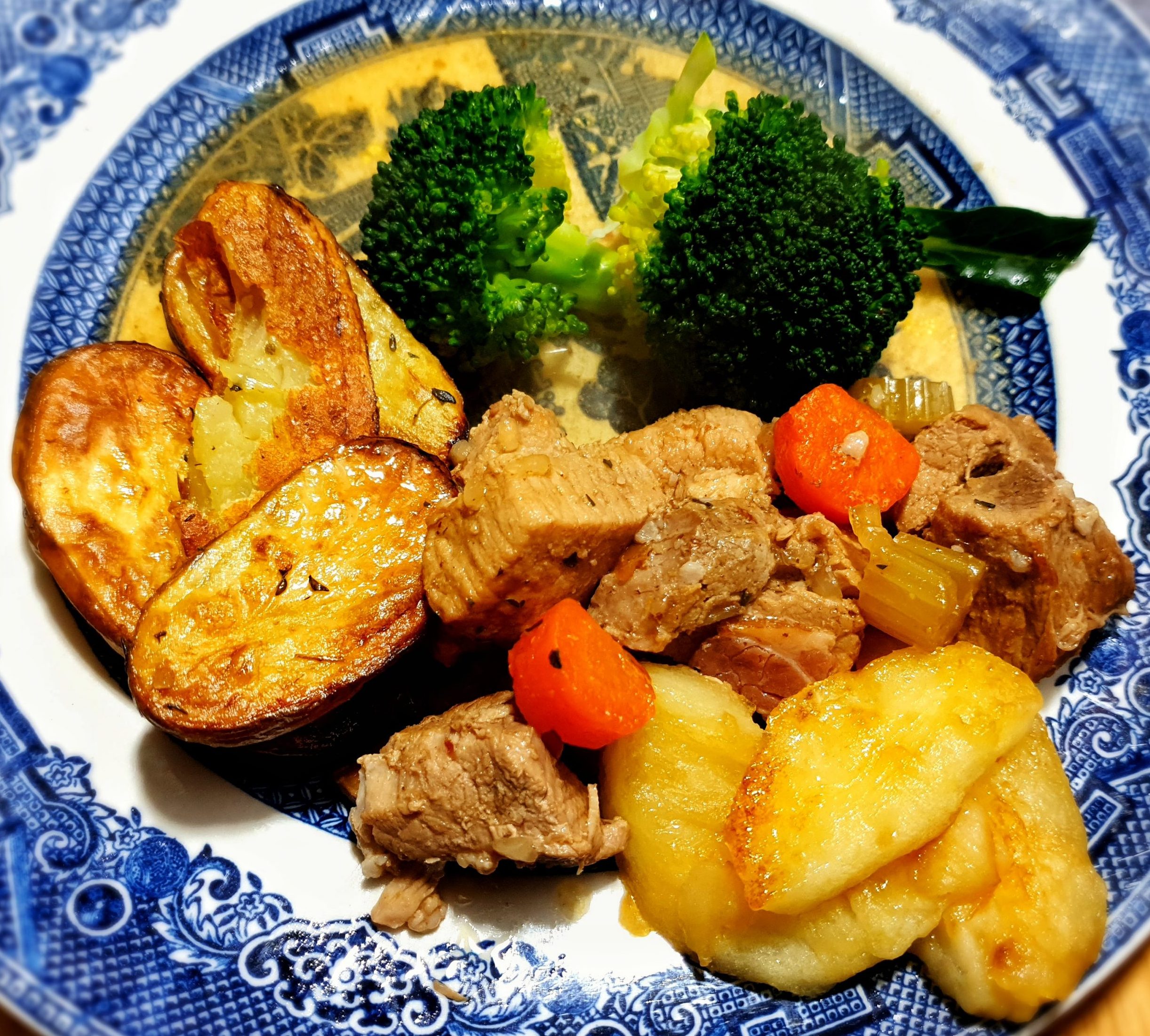 Old Hall Farm pork and cider casserole
Pork shoulder is a great cut of meat and as well as making a mean roast dinner, it also lends itself well to a casserole. Shoulder benefits from slow cooking, but this dish takes just two hours on the hob and results in a meltingly tender casserole to warm the cockles. With some cooked apple slices, green vegetables and potatoes, this makes for a tasty dish. And, as with most casseroles, it tastes even more delicious the next day!
INGREDIENTS (SERVES 4 + LEFTOVERS)
1kg Old Hall Farm pork shoulder
1 onion, sliced
2 celery sticks, chopped
2 carrots, peeled and chopped
2 bay leaves
2 sprigs thyme
150g chopped streaky bacon
500ml cider – I used Norfolk Raider
Chicken stock pot
1 teaspoon local mustard
75ml Old Hall Farm Jersey cream
Salt & pepper
Yare Valley rapeseed oil  
Put a large casserole dish over a medium-high heat on the hob and drizzle in some rapeseed oil. Add the pork in batches to brown. Don't worry about it catching, it all adds to the flavour. As each batch cooks, put aside into a bowl.
Add the onion, celery, and carrots to the dish, adding a touch more oil if needed, and cook until softened. Add the herbs and bacon and stir for a minute before deglazing the dish with the cider. Once the alcohol has cooked off, return the meat to the pan along with the resting juices. Add a good grind of black pepper and the stock pot, bring to a simmer, cover, and cook for two hours. Stir halfway through and top up with boiling water if needed – you want to keep the pork covered so that it cooks evenly and doesn't go dry.
When the casserole is nearly cooked, add the mustard and cream, and stir through. Simmer for 10 minutes, and then serve. We had this with oven-roasted new potatoes, apple slices, and broccoli one night, and with herby mashed potato and kale the next. Delicious!
Recipe by The Delicate Diner for Old Hall Farm
www.thedelicatediner.com
www.oldhallfarm.co.uk