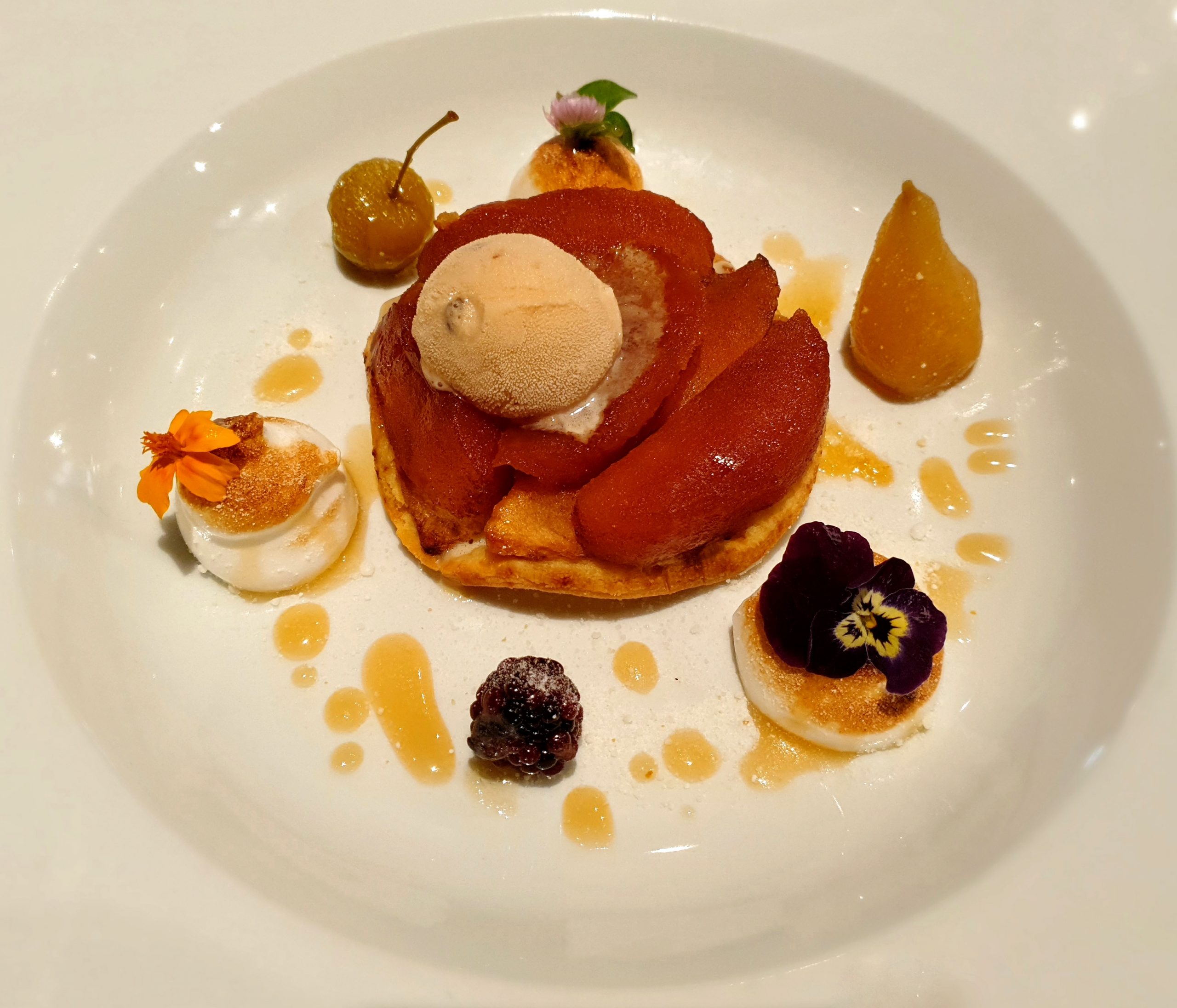 The Delicate Diner goes to… Brasted's
This year has definitely been the year of cancellations, so it was with great relief that on that ridiculously wet Friday at the end of September, I found myself returning to one of my favourite places in Norfolk, Brasted's. Known across Norfolk and beyond, Brasted's has been the backbone of the local food and drink scene for so many years. Like many, Brasted's and its events company, Complete & Utter Brasted's, has been hit hard this year, with weddings postponed, the Suffolk Show and Royal Norfolk Shows cancelled, and much more besides. Arriving at the restaurant to meet my friend, Louise, for the first time since February, we happily threw ourselves into the welcoming arms, albeit virtually, of Brasted's.
As we arrived, Ashley Bush, Brasted's Restaurant Manager, came running out through the rain carrying umbrellas to our cars, lest we get we soaked to the skin by the torrential rain cascading down on the quiet Norfolk countryside. Before arrival, we had a full and detailed e-mail listing the COVID regulations that Brasted's now has in place and I had already sent back our full track and trace details. We were shown straight to our table and as we sat down, I must admit there was a small sigh of relief that were we back here once more. After all, it was Louise who dined with me last year when I stayed at this iconic venue to review its dinner, bed and breakfast offering, and just to see familiar faces in familiar surroundings brought a level of comfort.
We had decided to meet today for lunch – priced at two courses for £23 or three courses for £28, including complimentary canapés – and my orange-free menu was duly presented to me. A rule of Brasted's is, for people with allergies or intolerances, they are given their own menu showing what they can have, rather than being told what they can't. This mindset is amazing, and it underlines why Brasted's and Complete & Utter remain at the top of their game – even when the world has turned upside down on its head.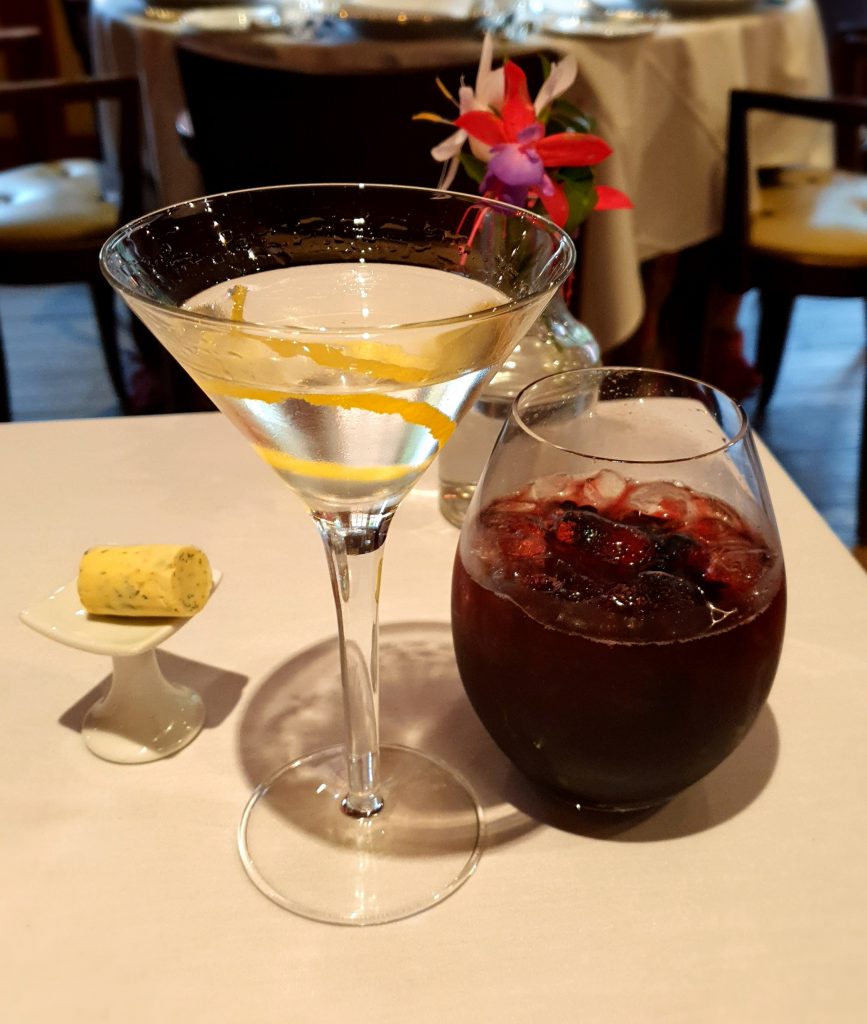 The news first – and exciting news at that. Brasted's is, from 18 October, opening for Sunday lunch. Hurrah! While Director Nick Mills has always said that Brasted's is a place to go for a special occasion, with the world as it is in 2020, seeing loved ones and friends for Sunday lunch is a special occasion. So book your place now, as these lunches are sure to be popular.
Also, from 8 October, Brasted's is opening for lunch and dinner on a Thursday as well as Friday and Saturday. This means that there is even more chance to get into this notoriously difficult place to book than ever. And, with The Lodge still open for its amazing bed and breakfast, you can even make a mini-staycation of it. And let's face it – what can be better than throwing yourself into the incredibly safe hands of all at Team Brasted's, headed up by General Manager Sian de Waal, and letting them do what they do best – looking after you, and making you feel spoiled and cossetted.
The menu
As we took in the selection of delights on offer on the lunch menu – a choice of four starters, mains, and desserts – our aperitifs arrived. Louise had opted for the Brasted's Berry Mocktail – an alcohol-free twist on their classic Brasted's Bramble. With its lovely berry freshness, the gin and Crème de Mure were not missed. I, meanwhile, had a traditional martini with a twist of lemon – shaken, not stirred – and it was delicious and warming on such a miserable day.
As we enjoyed the drinks and a much-needed face-to-face catch up, our canapés arrived – a cheddar and tomato palmier with apple gel, and ham hock with garlic and saffron mayonnaise. The ham had a lovely texture to it and was incredibly light – something you don't often associate with a piece of meat – while the palmier had a lovely crunch to it with a super zing from the apple gel.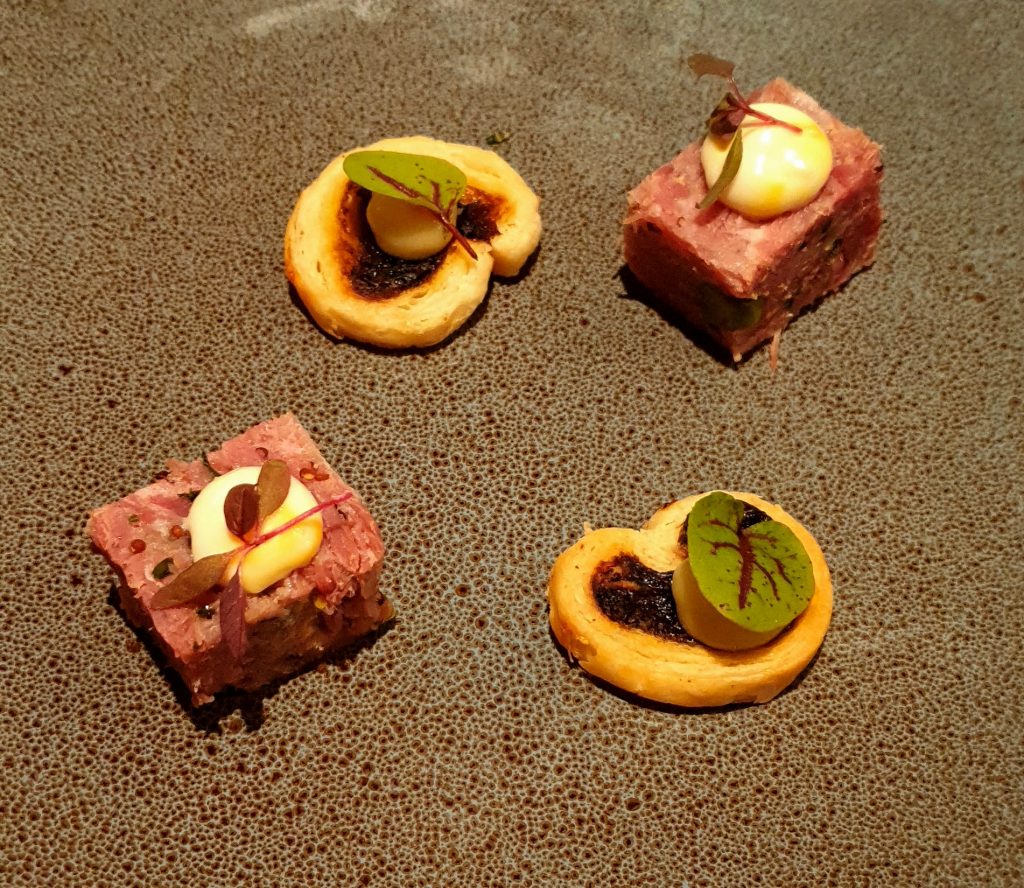 Bread also swiftly arrived, with Louise going for her favourite sun-blush tomato and garlic focaccia. I went for the Norfolk Crunch brown bread roll, which definitely lived up to its name!
With the easy part done, that of choosing which bread to have, we now had to narrow down the menu and make our lunch choices. We were both tempted by the poached local duck egg for starter, which came with a toasted brioche croute, buttered kale, and hollandaise. However, I went for the ultimate comfort food – a twice-baked Black Sticks Blue and walnut soufflé with seasoned cream and chopped chives. Louise settled upon Buzz's duck liver and Budweiser pâté, with red onion marmalade, butter croutons, and pickled vegetables. Buzz, for those who don't know, is Chris 'Buzz' Busby, Chef Patron at Brasted's, and he is another Norfolk foodie icon. Buzz is joined in the kitchen by chefs George Powles and Ryan Petch.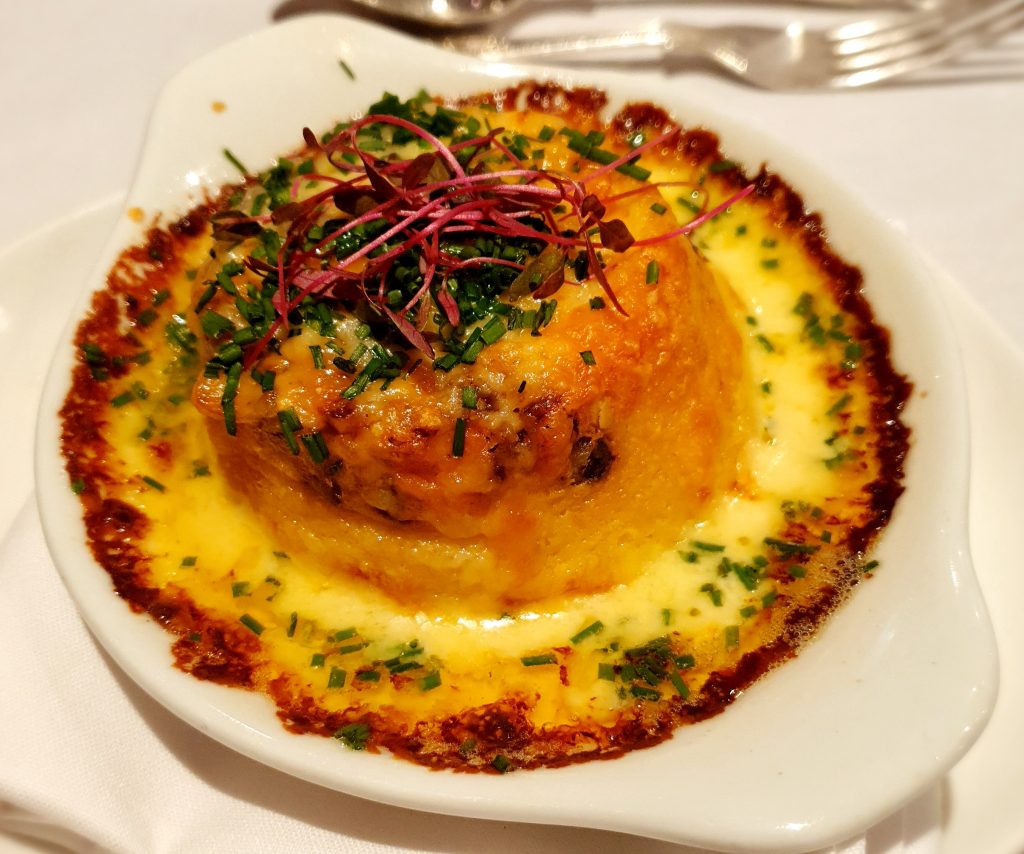 The mains were equally difficult to choose between. Had I not done ox cheek for my father's birthday a couple of weeks before, I would have been tempted by the 12-hour braised beef cheek with potato gratin, carrot ketchup, and watercress velouté. I was also drawn the vegetarian option – wild mushroom and Dijon stroganoff with rice arancini. My love of mustard is well known for regular readers of my website, and I love arancini with a passion. However, it was Friday so I opted for the butter-poached sea trout served with a chive potato cake, confit red pepper, and a lemon butter sauce. Louise stuck to her first choice of sugar pit pork belly, confit bon bon, herb stuffing rosti, champ potato, and apple gel.
Naturally, our eyes cast down to Brasted's legendary desserts, just to see what was on offer, but more of that later.
Starters
With the rain lashing down against the window outside, our starters were brought to the table, and I was very glad that I chose the soufflé. To say that it was tasty is an understatement! The blue cheese flavour was subtle – meaning that those who are not necessarily fans of this style of cheese would still enjoy the dish – and it paired so beautifully with the walnuts, that were both generous in terms of size and number. The ultimate comfort food, the soufflé was both rich and light at the same time, a true hug in a bowl, and so warming.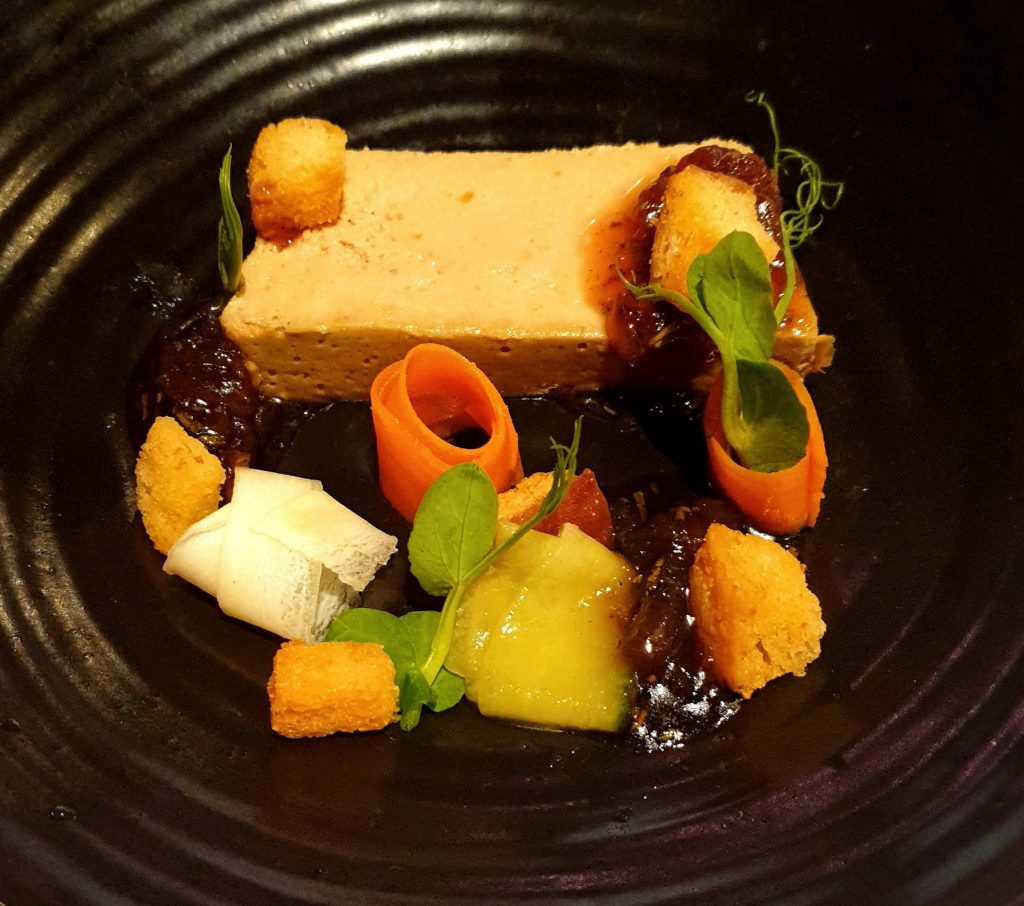 Louise found her pâté, which melted in the mouth, and red onion marmalade to be a true flavour bomb. The butter croutons were crunchy, and not at all greasy, while the pickled vegetables added an acidic element to the dish.
Both plates were cleared with relish – talk about whetting the appetite!
Main courses
The mains arrived and Louise's pork belly, slow cooked and meltingly tender, had a lovely, intense flavour as well as being subtly sweet. The bon bon went beautifully with the apple gel, while the herb stuffing rosti was the surprise of the plate, being both superb in texture and taste. The stock reduction jus brought the whole dish together perfectly.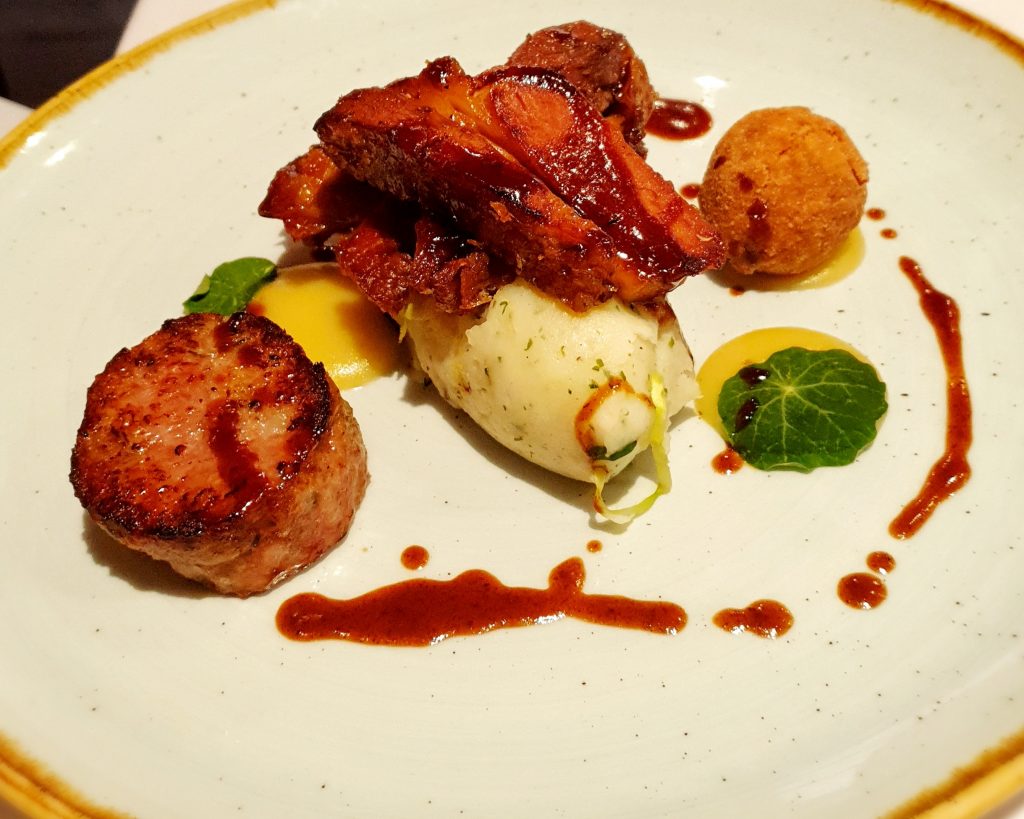 My sea trout – which was very generous in size – was also lovely. The lemon butter sauce lifted the whole dish, which was so well balanced in terms of flavour and texture. The sea trout was wonderfully meaty, and the confit red peppers added a fresh element to the dish. I did order a side of minted petit pois as well, as I do love my green vegetables, and they came cooked with butter and shallots. All in all, a perfect Friday lunchtime dish, and one that was both satisfying and fresh at the same time.
With the mains, I enjoyed a glass of Brasted's house white, a Sauvignon Blanc from New Zealand. At £7.50 for a 175ml glass, this was a great choice being crisp and fresh and complementing the sea trout perfectly.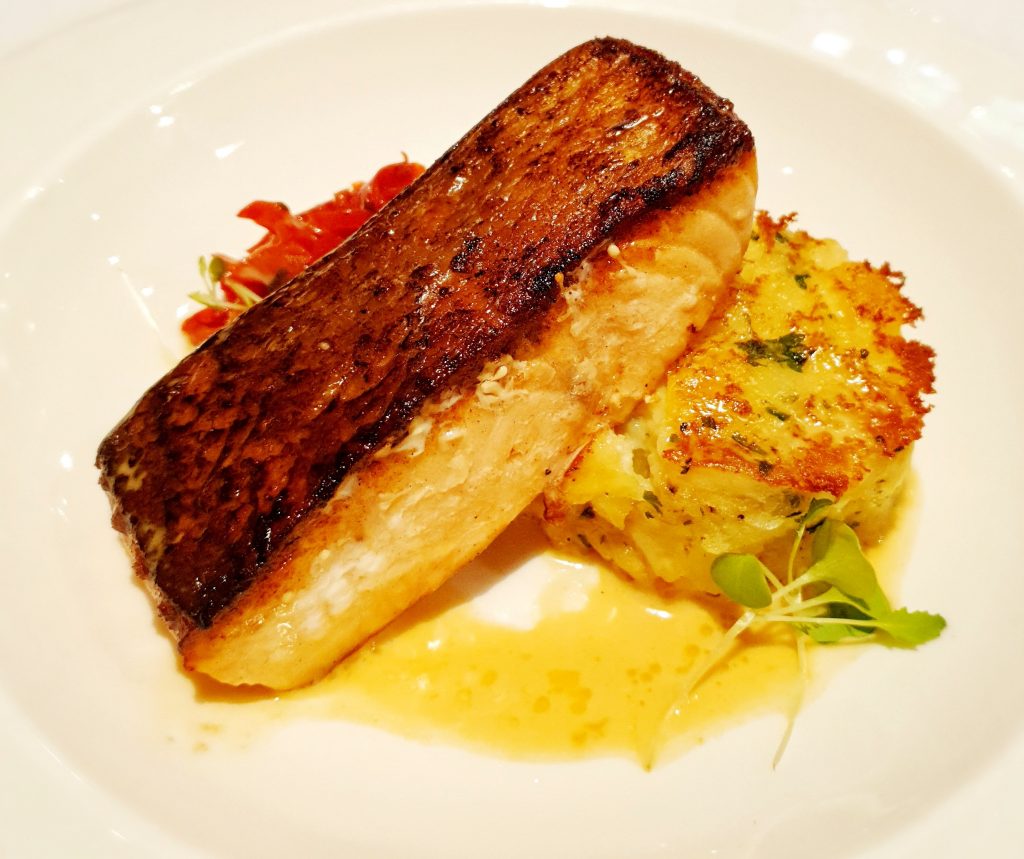 Brasted's legendary desserts
With our mains cleared, it was time to peruse the dessert menu – a choice of four desserts, for Louise at least, or cheese and biscuits. My eyes went straight to the warm apple tarte tatin. Anyone who knows me knows that a tatin is my all-time favourite dessert, and it even made the pages of my debut novel, Sandstorm. For me, there was no other option to be had. Louise decided to go chocolate – who can ever resist a chocolate nemesis? And with our orders in, we sat back and relaxed.
After a suitable pause, desserts appeared. My warm apple tarte tatin came with cider syrup and a rum and raisin iced cream. Poached fruits around the edge of the plate, including a miniature pear, completed the dish. This plate of food genuinely put a smile my face! When done well, a tatin is a true thing of happiness, and Buzz really had done this one well. It was elegant and decadent, all rolled into one, with heaps of flavour. While all that had gone before was delicious, this was the dish of the day, hands down, and I almost became emotional eating it, laced as it was with nostalgia of a pre-lockdown world.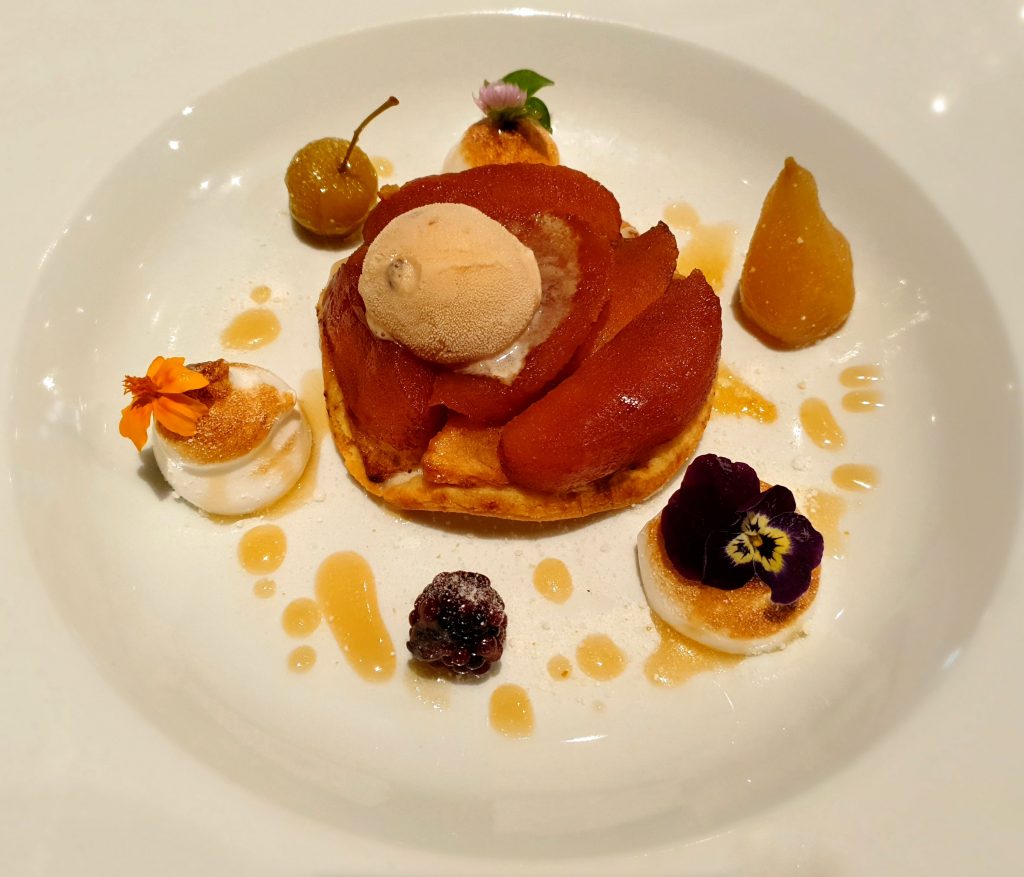 Louise's chocolate nemesis was beautifully presented with a pistachio sponge, Italian meringue, and poached fruits. The chocolate was not overpowering, and the sponge added an almost floral note to the dish. The fruits lifted any heaviness that could have been there from the rich chocolate, and it was another brilliant dessert.
To sum up, when desserts can leave you speechless, in spite of not having seen each other in over seven months, you know that you are on to a good thing. Always, always, make sure that you leave room for a Brasted's dessert.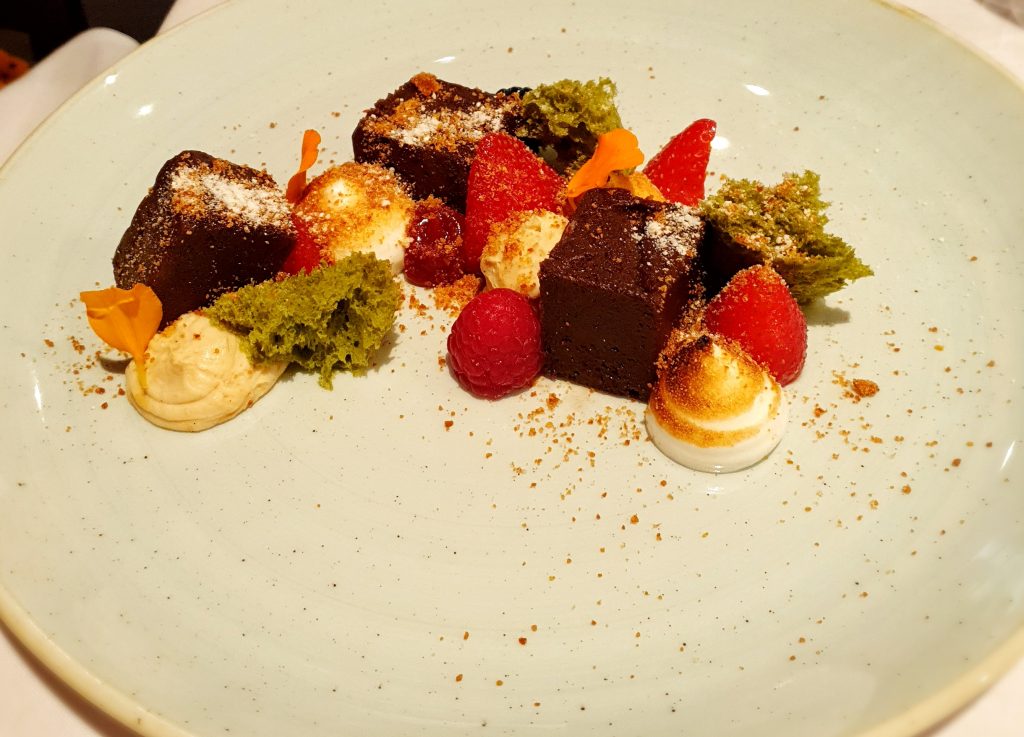 We just about had room for a double espresso each, which came with a chocolate and brandy truffle. I confess, I did have to force the truffle down as I was so full after such a meal, but I was glad that I did. It was the perfect and luxurious end to an exemplary lunch.
I did have a peek at the dinner menu, which will be doing a seasonal change soon. There was so much that stood out from quail breast and buffalo curd for starter to the vegan main of spiced legume and potato cylinder with caramelised squash. There really is something for everyone here.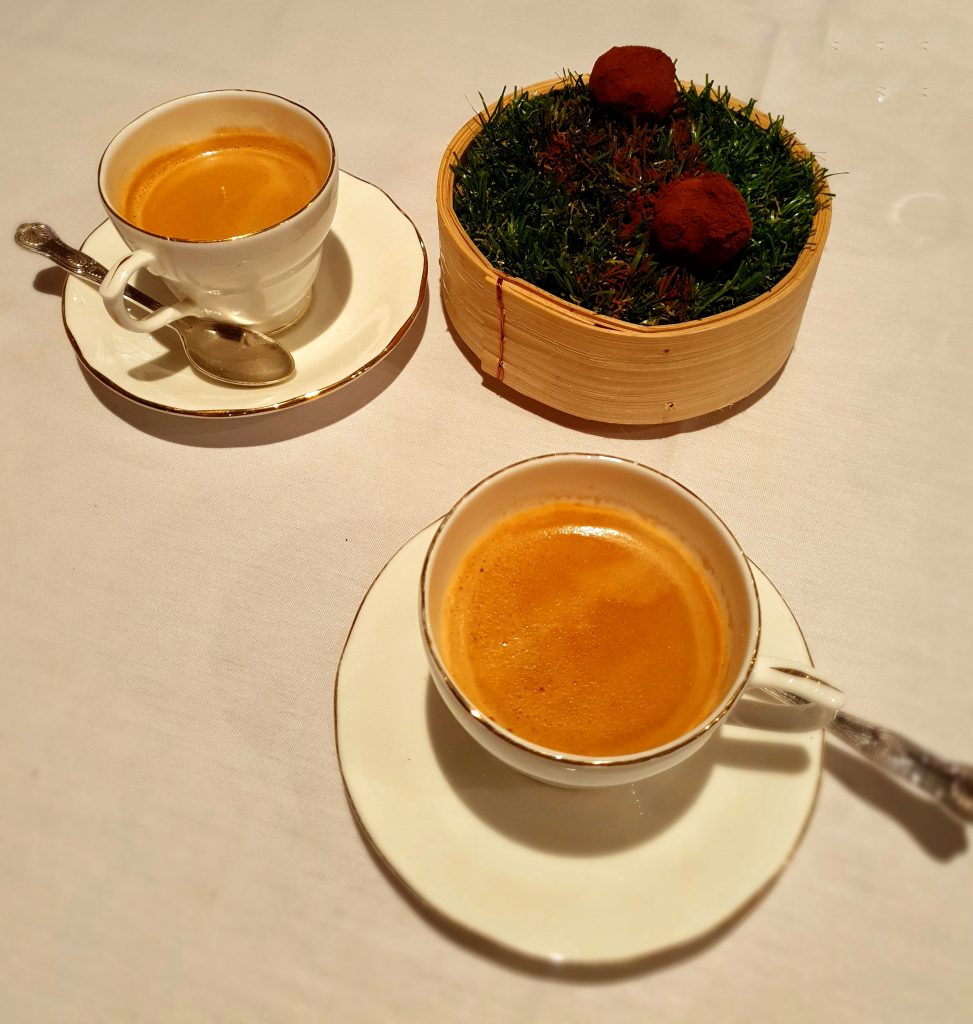 In spite of so much change everywhere, Brasted's is reassuringly familiar. The smiling, welcoming faces of the team, that exceptional level of service you receive in so few places these days, and the mouth-watering plates of food, prepared with such care and attention using locally-sourced produce, all make for a relaxing experience. And it was also a safe experience, something that so many of us want to be assured of these days when we venture out to meet family and friends who we have not seen for months.
If you want to book a special occasion, Brasted's has always been the place. And I think that now even more so, this is the place to go to see our loved ones. While the pendulum of uncertainty continues to swing over us, let's carry on troshin' through the rain and make our way to a place of relaxed fine dining, where elegance is evident from the moment you arrive, and the flavours of fabulous food linger long after you have left. And that place, for so many, is Brasted's.
The details
www.brasteds.co.uk
Thursday, Friday, Saturday – lunch and dinner
Sunday lunch (from 18 October)
Lunch £23 for two courses, £28 for three (plus canapés)
Dinner £51 for three courses, £59 for four (plus canapés, amuse bouche, pre-dessert)
All food and drinks were paid for by ourselves with the exception of our aperitifs.