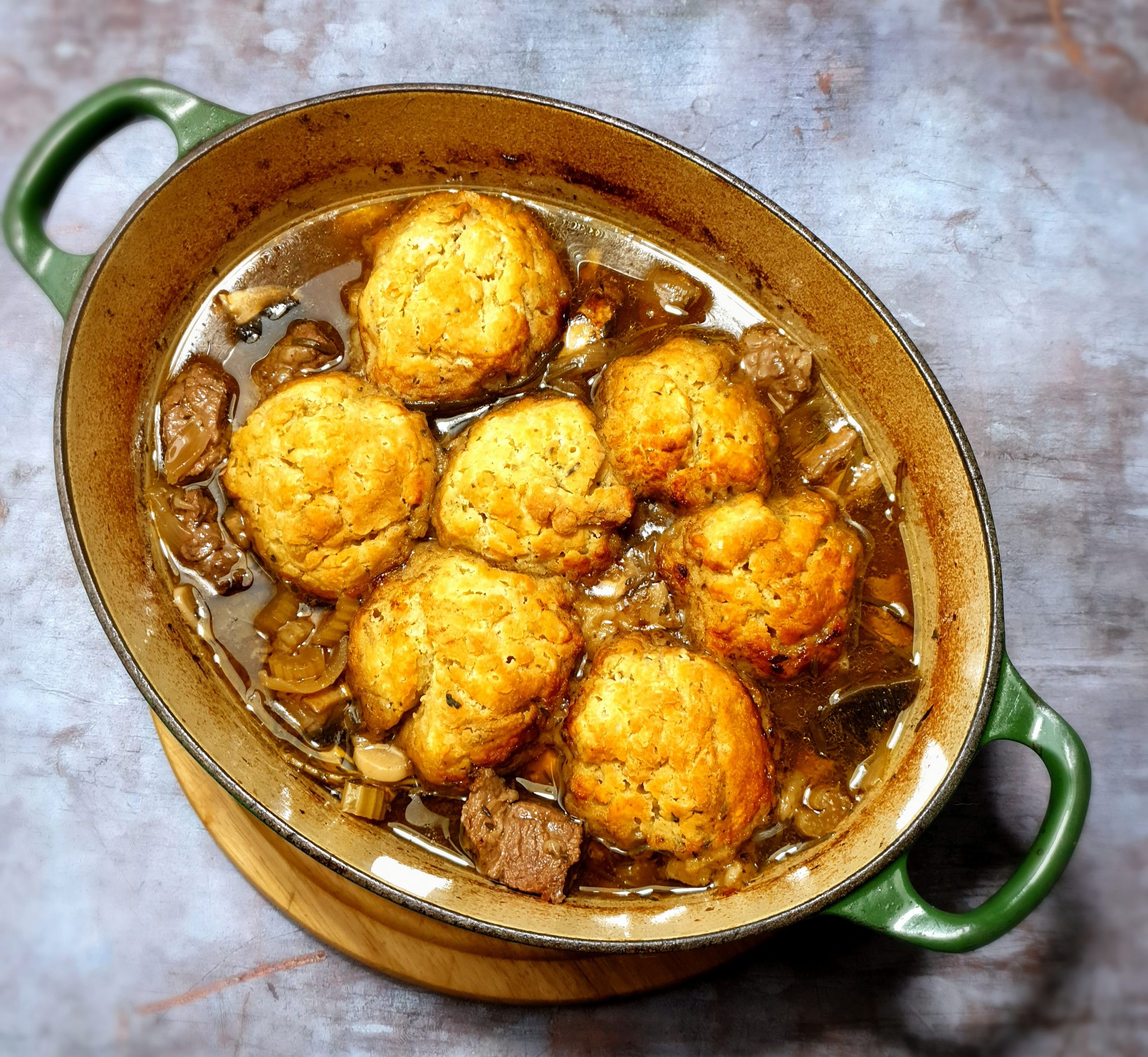 Old Hall Farm beef & mushroom casserole with dumplings
The ultimate in comfort food, this beef and mushroom casserole has the addition of dumplings, making it a perfect one-pot feast. I used Old Hall Farm's own Jersey/Angus cross beef in this recipe, and not only did the meat melt in the mouth, the flavour was incredible. Serve with savoy cabbage and greens for a healthy and delicious autumnal dinner.
INGREDIENTS
1kg Old Hall Farm braising beef
3 round shallots, sliced
1 celery stick, sliced
2 cloves of smoked garlic, finely sliced
2 bay leaves
2 sprigs rosemary
3 sprigs thyme
200ml red wine
Around 20 white peppercorns
500ml beef stock
2 large portobello mushrooms, thickly sliced
Salt & pepper
Yare Valley rapeseed oil
For the dumplings
125g suet
200g self-raising flour
A scant dessert spoon dried parsley
Salt & pepper
150ml cold water
Put a large casserole dish over a medium-high heat on the hob and drizzle in some rapeseed oil. Add the beef in batches to brown – you want it caramelised around the edges. As each batch cooks, put aside into a bowl.
Add the shallots and celery to the casserole dish, adding a touch more oil if needed, and cook until softened. Add the garlic and fresh herbs and stir for a minute before deglazing the dish with red wine. Once the alcohol has cooked off, return the meat to the pan along with the resting juices. Add the peppercorns and beef stock, and season. Bring to a simmer, cover, cook for 1 hour and then add the chopped mushrooms. Cook for another hour.
Pre-heat the oven to 180˚C/350˚F/Gas Mark 4 and make the dumplings. Add all the dry ingredients to a bowl, and add the water mixing to form a dough. Use your hands to mould into 8 dumplings and place on top of the beef casserole. Put in the oven, uncovered, for 30 minutes. Serve with fresh greens.