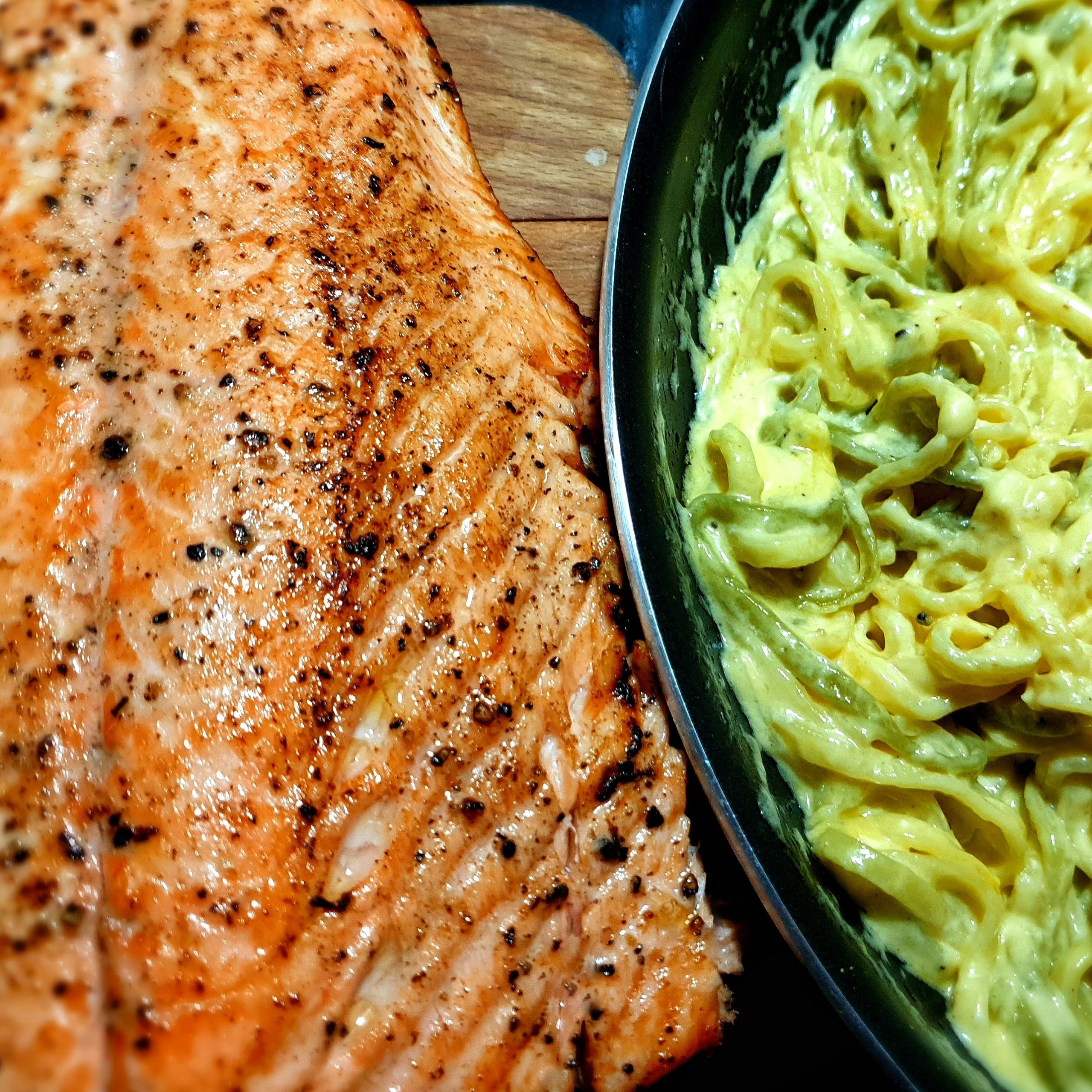 Salmon with lemon linguine pasta
This pasta dish has fast become one of my most popular recipes and the one that everyone keeps asking me for – and it is also one of the easiest! It almost feels like a cheat to share it here, but with summer days calling for al fresco dining, here it is. Just make sure that your lemons are fresh for that extra zing, and you can use crème fraiche in place of the cream as wished. This lemon linguine pasta recipe is so versatile – serve it on its own with a green salad, with chicken or with roasted vegetables.
INGREDIENTS Serves 4
1 piece salmon
1 packet linguine, fresh or dried
250ml Jersey cream
The zest of 2 unwaxed lemons plus 1½ lemons, juiced
40g freshly grated Parmigiano-Reggiano
Dried parsley
Dried oregano
Salt & black pepper
Pre-heat the oven to 170˚C / 325˚F / gas mark 3.
Put the salmon skin side down into an ovenproof dish and season with salt and pepper, as well as the dried herbs. Put into the oven for 16-18 minutes, depending on the size of your salmon, until it is cooked. Remove the salmon from the dish and set aside to rest, covering it with foil to keep it warm.
Meanwhile, cook the pasta to packet instructions.
While the pasta is cooking, put a heavy-bottomed pan over a medium heat. Add the cream until it begins to bubble and turn it down to a low simmer. Allow it to bubble for a bit to thicken the cream, then add the zest of two lemons and the juice of 1½ lemons. Stir through and then add a generous handful of the Parmigiano-Reggiano cheese. Season well, especially with the pepper and allow to gently do its own thing.
Once the pasta is cooked, put a couple of spoonfuls of the pasta water into the sauce and then add the drained pasta. Stir through gently to coat the linguine.
To serve, put the lemon linguine into a warmed bowl and top with a piece of salmon. Serve with added Parmigiano-Reggiano as wished, as well as another good grind of black pepper.
For more recipes from The Delicate Diner, click here.