The Delicate Diner's Picks: What's hot for June – the latest food and drink releases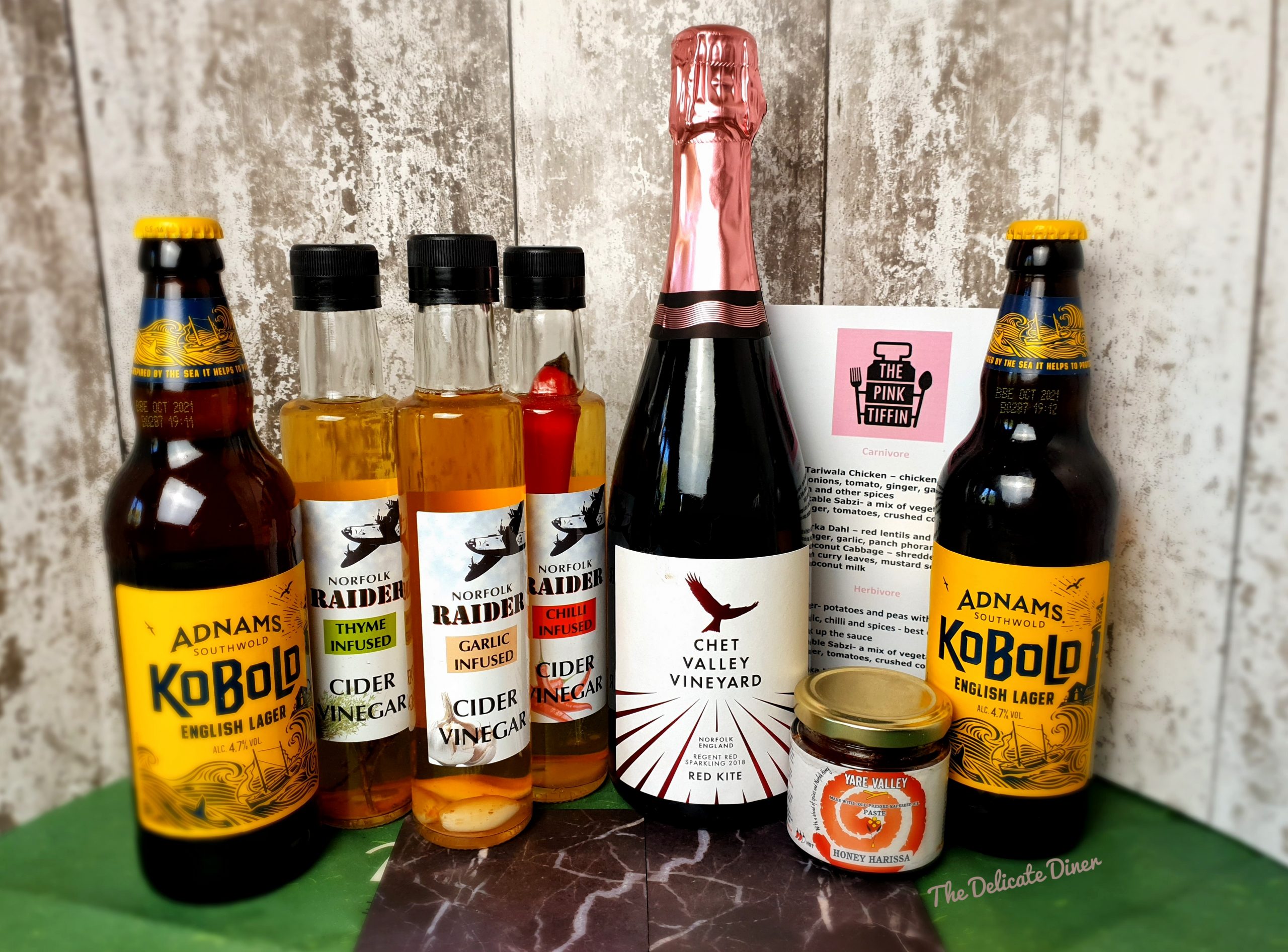 Summer has finally arrived in all her glory, so what better time to share some of the latest foodie releases from around the region and beyond? Whether you are looking for a night off cooking, something refreshing to drink in the sunshine, or new ways to pimp up your salads, then this month's offerings have something for everyone.
Some like it hot – Honey Harissa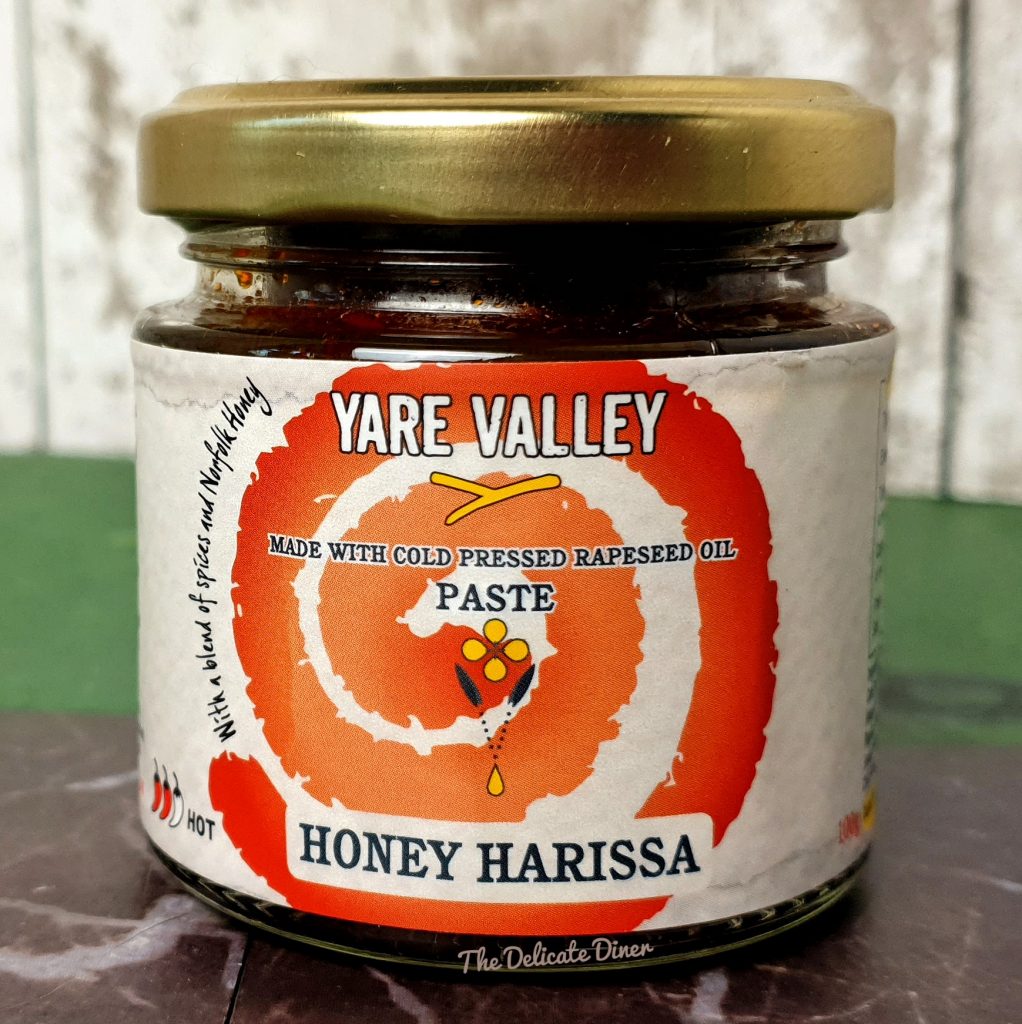 Yare Valley Oils in Surlingham are always one step ahead when it come to creating new ways for us to enjoy their cold-pressed rapeseed oil. From flavoured oils and lip balms to sauces, they always have something new to entice us in.
Released at the end of May was the latest sauce in their collection, joining their pesto made with English cheese and their vibrant horseradish – a honey harissa.
General Manager Glenn Sealey from Yare Valley says: "We blended a range of delightfully aromatic and fragrant spices with a dash of zingy lemon and a drizzle of Norfolk Honey to create this punchy Harissa paste. Be warned – a little goes a long way!"
With barbeque season now fully upon us, this vibrant honey harissa, with its sweet, savoury notes, is perfect for marinades and even swirling through yoghurt as an alternative dip while you wait for the coals to heat up.
You can buy online at www.yarevalley.com or at all good local stockists.
Delicious dressings – Cider Vinegars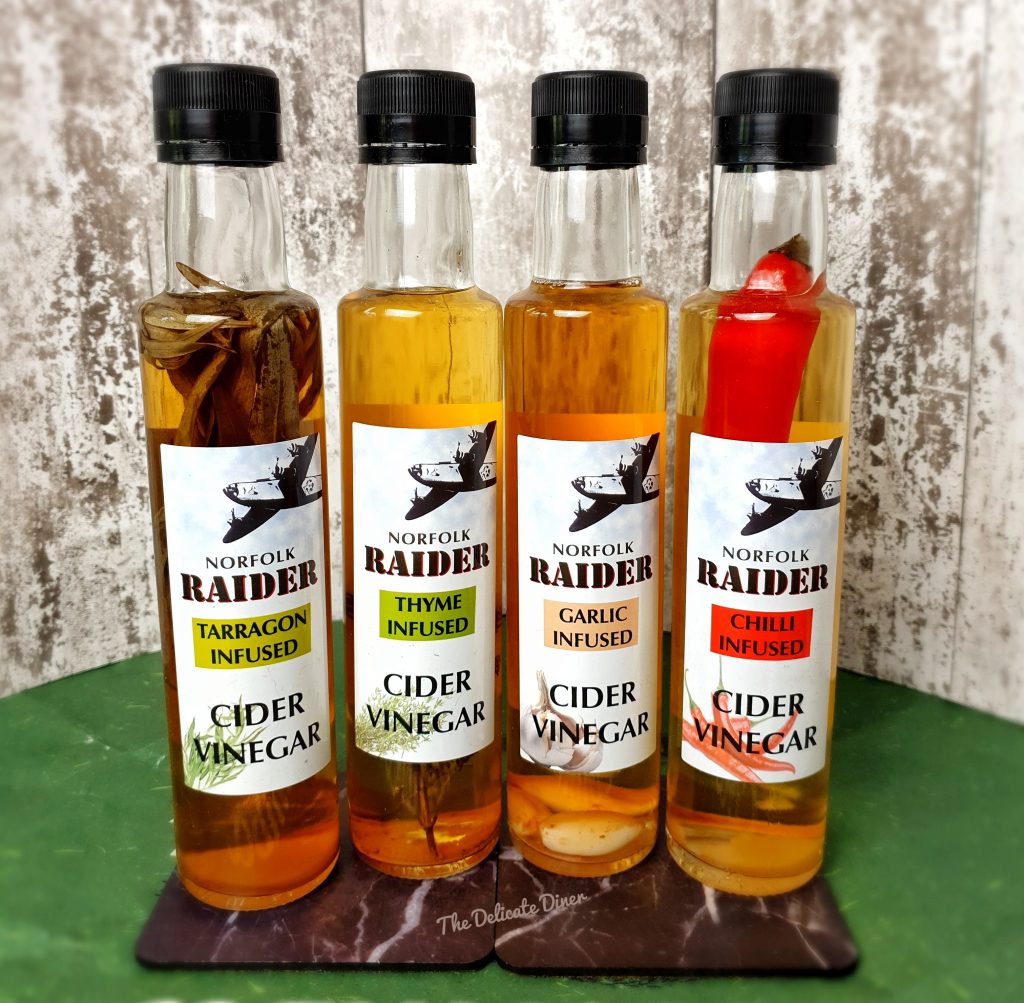 The versatile apple cider vinegar has had a revamp through the great guys at Norfolk Raider Cider in Norwich and they have launched a range of infused vinegars. These are not only perfect for salad dressings but also marinades – their garlic cider vinegar would work well with the honey harissa above. They add depth to sauces, and also add a final flourish to cooked dishes.
Paul Cork, owner of Norfolk Raider with his wife, Beth, created the vinegars as a by-product of making his traditional method cider. Made using local apples, the cider vinegars have a smooth flavour and aren't harsh on the palate like some other brands are. As well as their traditional apple cider vinegar – which is great as a daily health tonic on its own – they also offer infused cider vinegars, with tarragon, garlic, chilli, and thyme.
I already love these vinegars, and now that the barbeque has had a dusting off, I imagine I will be using them a lot more as the summer progresses.
You can buy online at www.norfolkraidercider.co.uk, along with their award-winning ciders, or at any of the local food markets this summer, including Creake Abbey, Holt, Feast at The Ffolkes and more besides.
Time for a beer – Kobold English Lager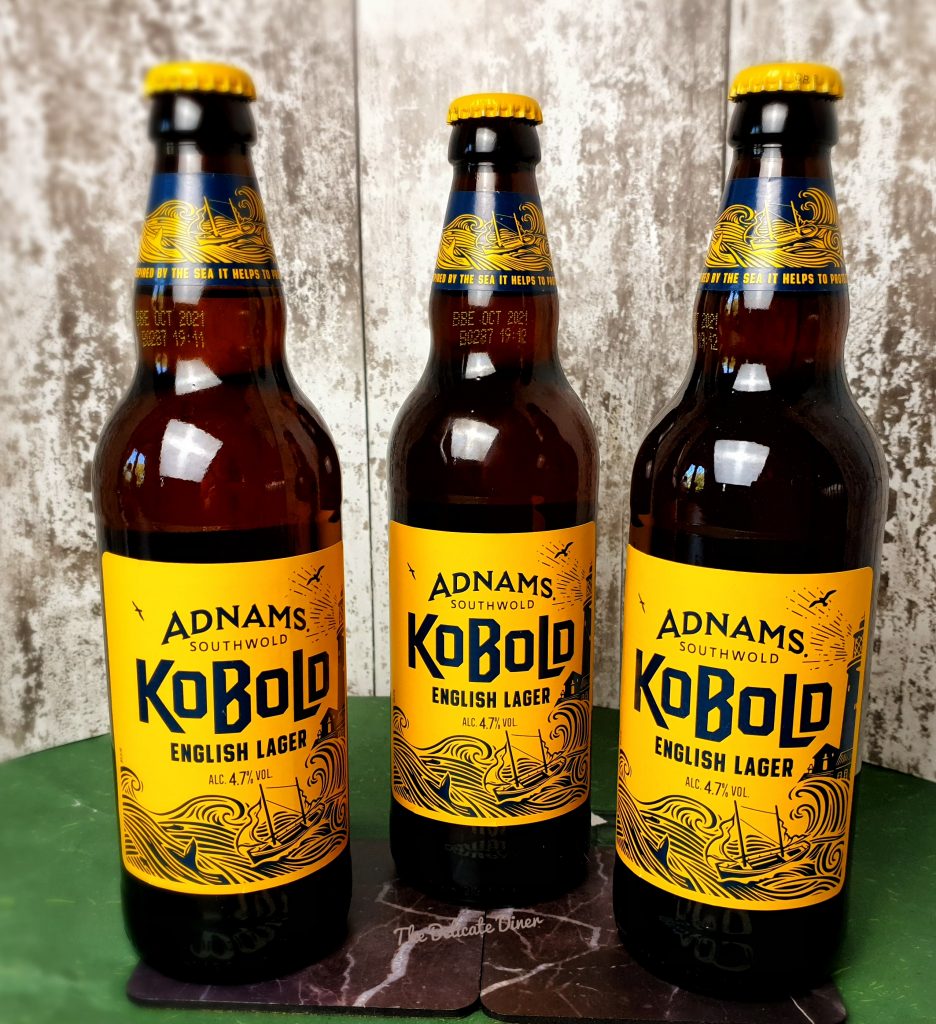 With all this talk of food, you will need something to drink, and the guys at Adnams have done it again with their crisp Kobold English Lager.
Coming in at 4.7%, this light lager has honey notes – which I love – and an almost citrus freshness to it. It also has bready notes, being made from East Anglian extra pale malted barley and wheat as well as Goldings hops from Hertfordshire and Kent.
One reason why you should reach for this beer above other options this summer is that the Kobold lager supports conversation projects through a partnership with the Blue Marine Foundation. Indeed, the larger is inspired by the sea it helps protect, and Adnams say: "By working together, we can help protect our seas, coastlines and planet for everyone to enjoy."
Kobold English Lager is perfect for summer get togethers and is the perfect drink to unwind and refresh with in the garden after a long day at work, as well one to enjoy with al fresco dining – it would work well against the honey harissa!
You can order online at www.adnams.co.uk or find instore. For more information about the Blue Marine Foundation, click here: www.adnams.co.uk/customer/pages/kobold#
Soaring high – Red Kite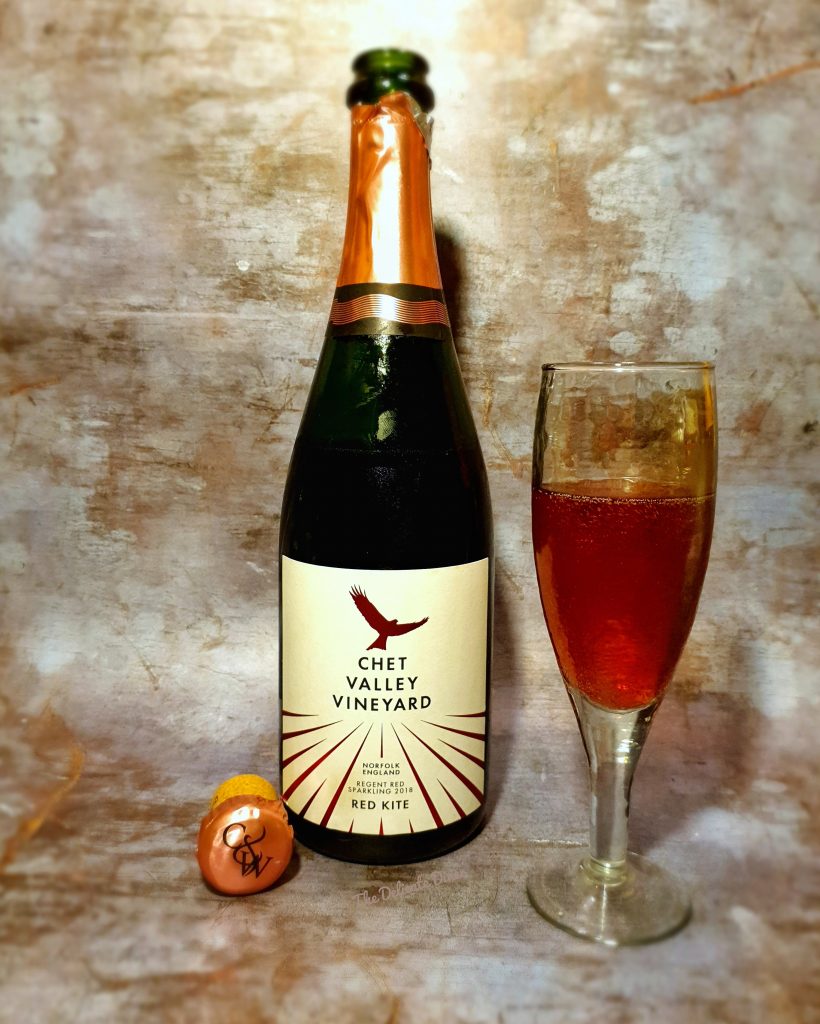 If wine is more your thing, then Chet Valley Vineyard has the perfect choice for you this summer – a sparkling red! Their award-winning Red Kite Brut Sparkling 2018 is the first sparkling red made in East Anglia, and only the second one in the UK.
With its secondary fermentation, this is a delicate, light red that bursts with cherry flavour and has a touch of sweetness to it, making it a versatile and fun. This is a sparkling wine that would be able to stand up to the strong flavours often found in barbeques, and it also is the perfect way to reunite with friends and family having not seen them for many months not.
John Hemmet, owner of Chet Valley, says: "This is a great fun filled, celebratory wine. It has an explosive bouquet, light tannins and good length that lend itself well to the aromas of cranberry and cherry. I think the Red Kite is perfect for summer."
You can buy online at www.chetvineyard.co.uk and visit their new winery or enjoy a wine tour and tasting while you are there.
Too hot to cook – The Pink Tiffin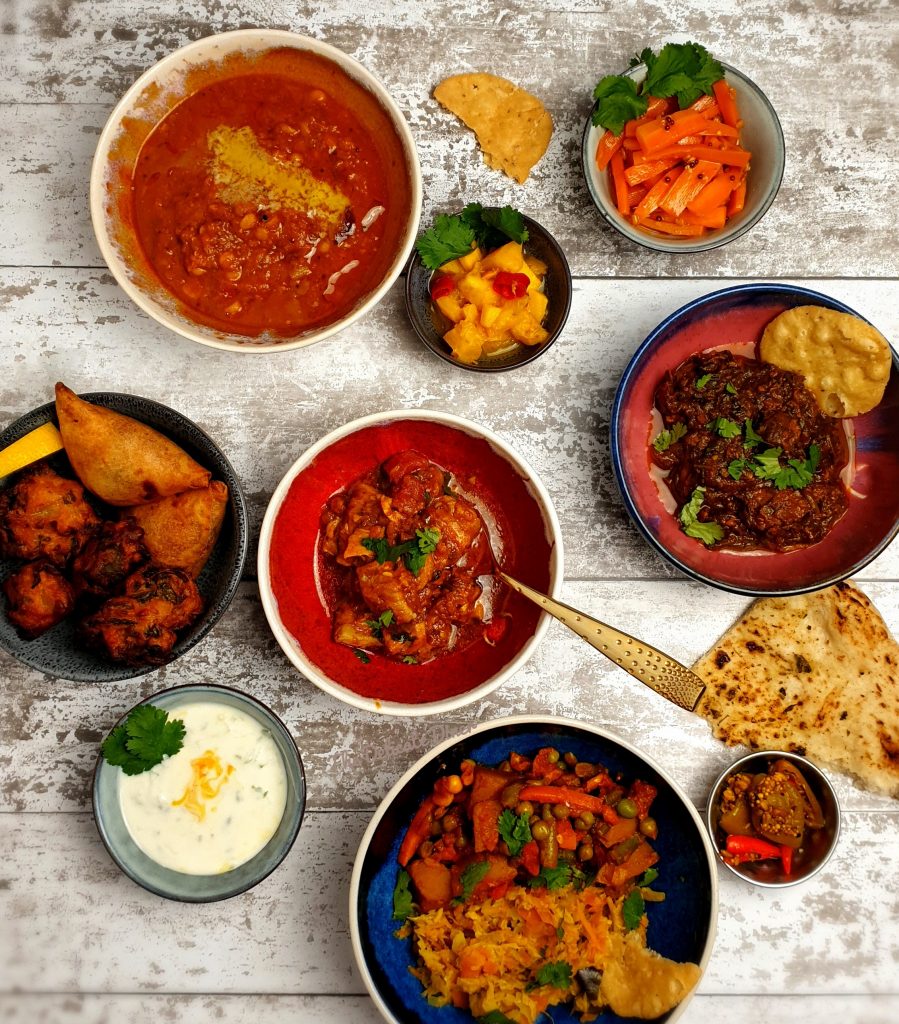 The final offering this month is all about curry and tradition with the newly launched The Pink Tiffin in Bungay.
We sampled the menu over the bank holiday weekend, and you definitely get a lot of food – plenty to feed a family of four! Each menu – one carnivore, one herbivore – consists of four dishes, and there are plenty of add-ons to choose from including the best naan you will try, pakoras and samosas, and much more besides.
Owned by Sandip Bhogal, he tells me: "The food in The Pink Tiffin is born from a passion for recreating the tastes of my childhood. The whole concept is around nourishing home-cooked Indian food that is full of flavour. The Pink Tiffin is a family affair, as my aunt and mum help with the cooking."
It is this personal touch that results in a truly delicious curry! The Punjabi tariwala chicken was so full of flavour, and the village tarka dahl fragrant. Our add ons included Sandip's favourite, a morish chilli paneer, and his mum's lemon aahaar, which was zingy, sharp and sweet all at the same time.
Sandip only delivers on a Friday and Saturday, with 16 menus available each night (12 carnivore, four herbivore). He delivers to Bungay, Beccles, Harleston, Halesworth, and Diss.
Find out more and order at www.facebook.com/The-Pink-Tiffin-548965862714098/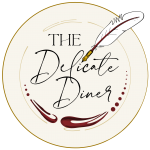 There you are – my top recommendations for June! I hope that some of these have inspired you to check out these and other local options. Check back on The Delicate Diner over the coming weeks for recipes made using some of these products, in particular the honey harissa and the cider vinegars.