The Delicate Diner goes to… The Hog Hotel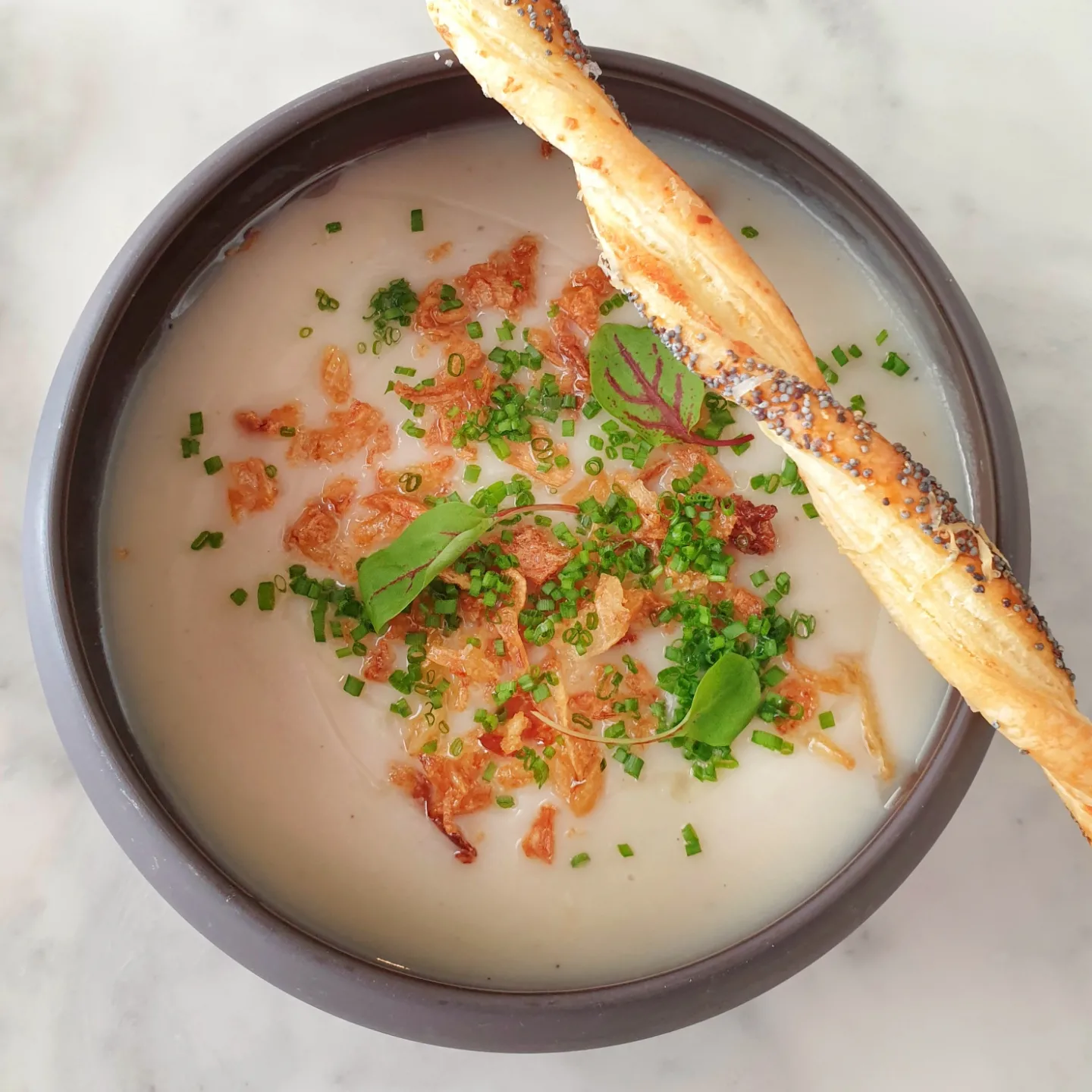 Where flavour and balance combine
The Hog Hotel in Pakefield is fast becoming one of my favourite places to go and eat. The food and the service are both exceptional and make this a true destination choice. Add in Dave the hedgehog outside the hotel to the wonderful light and airy space inside, with its art deco vibe, The Hog Hotel truly is a treat for the senses.
Nathan and Sally Jones are the people behind The Hog Hotel, having purchased it in August 2018. It was formerly The Fishers Hotel, but what you find there today is a far cry from those days. As well as boutique bedrooms, there is a restaurant and bar area, plus a conservatory and garden, something of a suntrap in summer. The Hog Hotel is the number one place to stay in the area on Trip Advisor, and Nathan and Sally have worked incredibly hard to build a solid team around them that includes Executive Head Chef Terry Balme and the very experienced management couple, John King and Agata Swidowska. This hard work and belief in their team has paid off; last weekend, The Hog Hotel was fully booked for dinner on Saturday, and it is clear this is fast becoming a destination restaurant/hotel not just for locals, but for those further afield.

Now that Christmas is but a dim and distant memory, Terry and his brigade – Kieran Robbins and Archie Thomas – have released their new winter menu and the starter list alone was enough for me to jump into my car and head off down the A146 and enjoy a very relaxed and utterly delicious lunch with my parents.
The welcome
Waiting to welcome you as you are ready to enter the building is Dave. Dave is a one-metre high wooden sculpture of a hedgehog, complete with 2,500 hand-turned wooden spikes, made by local woodworker and boatbuilder, Andy Barrett. Dave truly is the icon of The Hog Hotel and is named after Nathan's late father. Hedgehogs were Dave Jones' favourite animal, and the couple are lifelong members of the British Hedgehog Preservation Society, aiming to raise awareness about these wonderful creatures. Indeed, the garden at The Hog Hotel contains miniature Hog Hotels for local hedgehogs, naturally offering full dinner, bed and breakfast!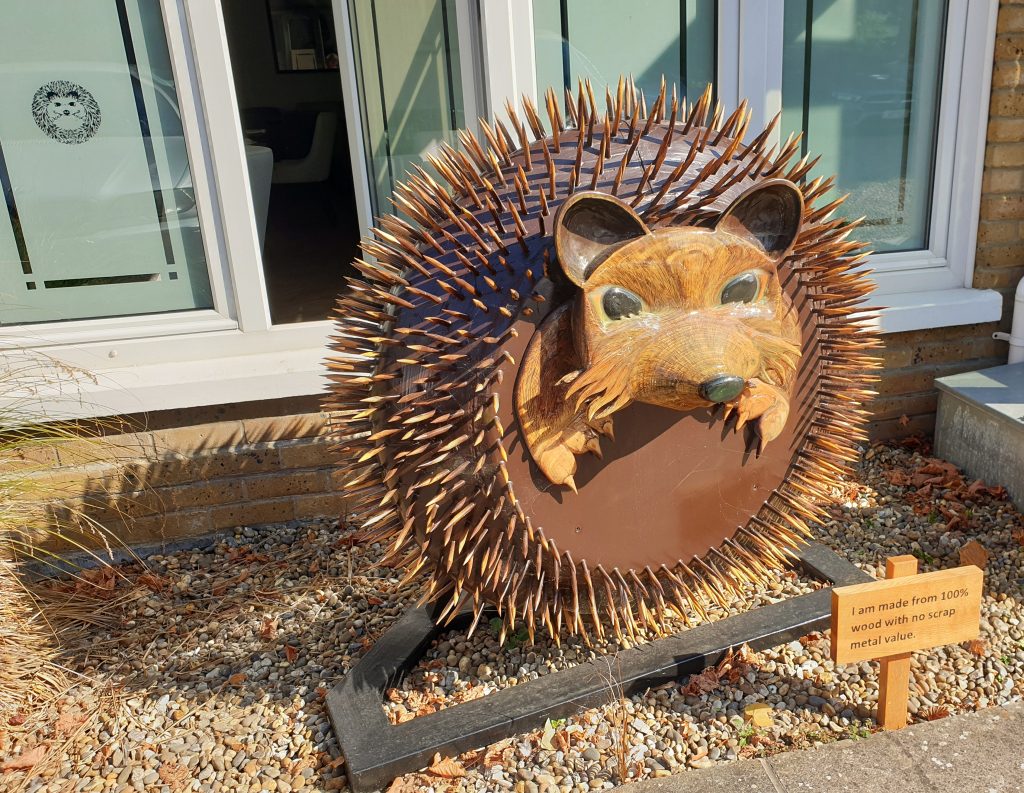 Once inside, John and Agata are there to meet us with a very warm welcome and the first of many difficult decisions comes in the form of what drinks to enjoy as a prequel to lunch. The Hog Hotel has been busy developing a new cocktail menu, so my mum chose a White Russian, dad a pint of Peroni (on draft), while I selected a virgin Mojito. The glasses make the cocktails look even more enticing, and the White Russian was so good that a second one had to be enjoyed! My virgin Mojito, meanwhile, was perfect; wonderful lime and mint notes and as I asked for it not to be too sweet, it was perfect for my taste. With dad happy with his beer, we ordered a bottle of Outnumbered Marlborough Sauvignon Blanc to go with our lunch, which was great value at £35.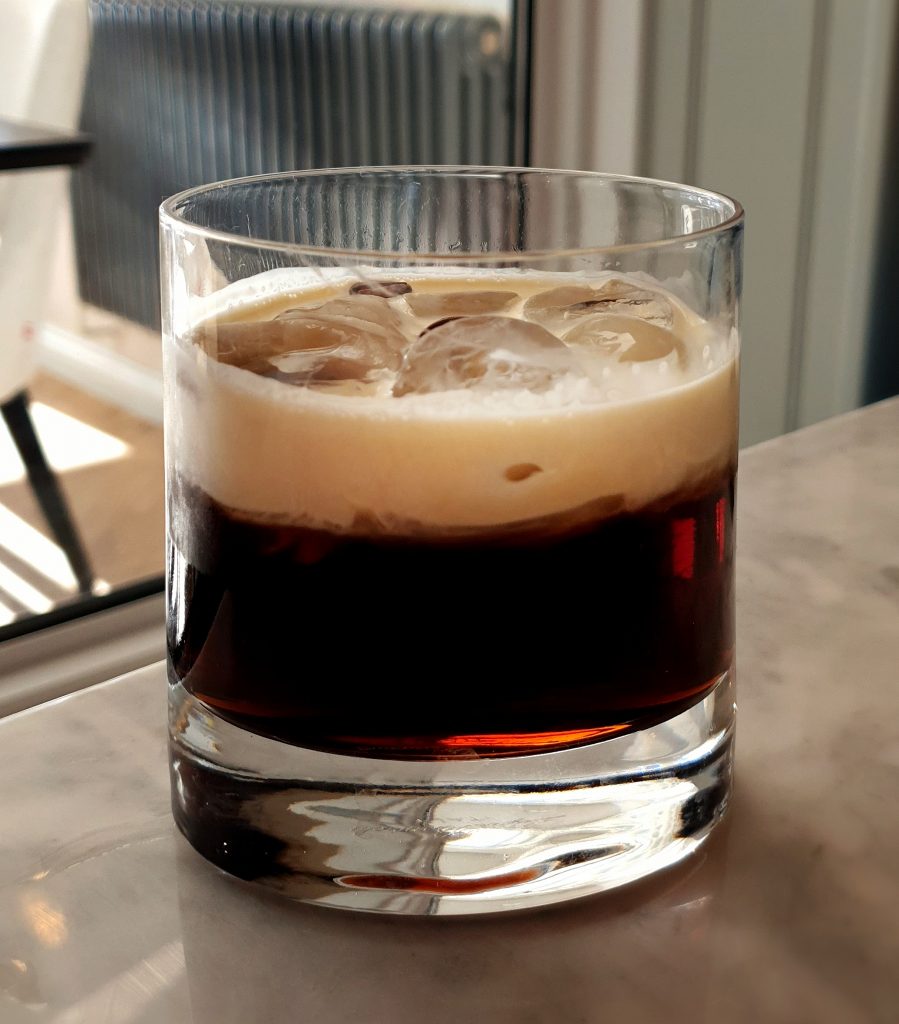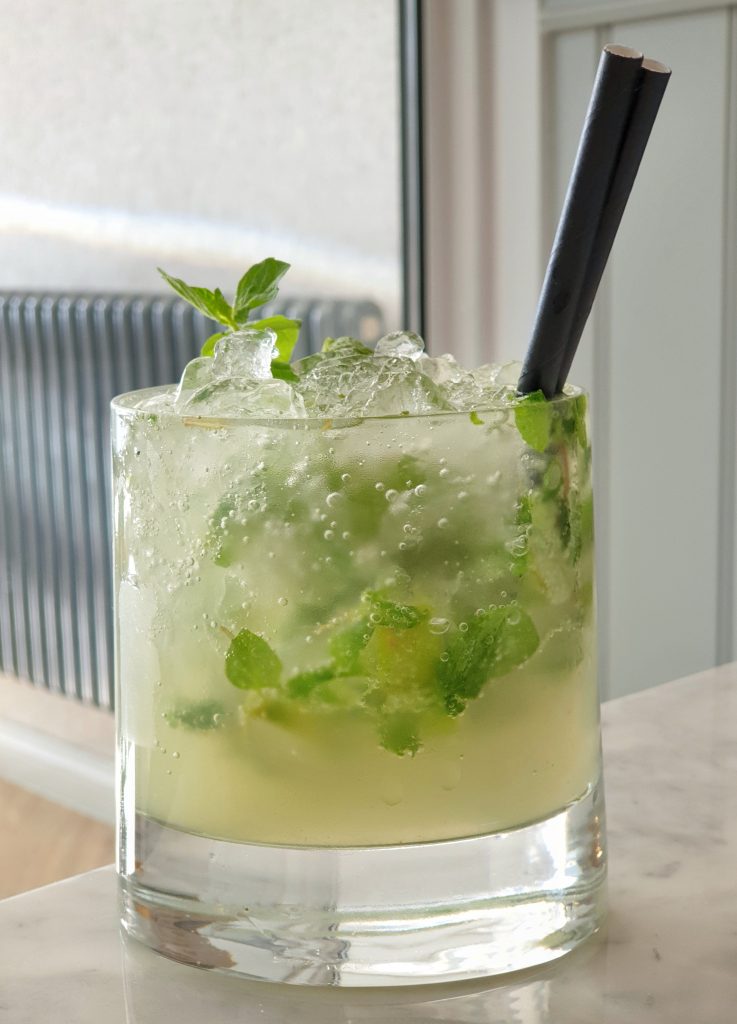 The starters
Oh, did I have a hard time choosing what to eat! The Hog Hotel menu is so tempting, and it is also extensive. There really is something for everyone, even the fussiest eater, and my favourite thing on the menu, but yet to be ordered, is 'a simple sandwich' – local eggs and tomato with salad cream and black pepper, served on white bread with a packet of local crisps on the side. What could be more perfect than that! It truly harks back to my childhood, as my nanna use to make a similar sandwich for me when I was a child. One day, I will order that and a coffee, and sit in the garden and reminisce…
However, this time around, the sandwich didn't even get a look in. The new menu currently has 10 starters and honestly, I could eat every single one of them. From seared scallops with pear purée, pear crisp, Binham Blue cheese and a savory granola (£12) to Terry's iconic salt cod Scotch egg with katsu curry dipping sauce and coriander cress (£7) or sage-roasted parsnip with parsnip purée, sautéed wild mushrooms and sage crisps (£7), there is so much to choose from.
In the end, we narrowed it down to four starters: mum went for the Siracha-spiced Mary Rose king prawn cocktail with a wholemeal tin loaf and butter (£9); dad for the braised beef croquettes with apple purée, horseradish, and chive (£9); and I went for the creamed leek and Smoked Dapple cheese tart with caramelised cauliflower purée and marinated raisins (£8). We shared an extra-generous portion of the guinea fowl, pheasant and venison terrine wrapped in Dingley Dell streaky bacon and served with toasted brioche and fig jam (£8).
While we waited for our starters, Terry kindly sent out an amuse-bouché for us to enjoy. This was a cauliflower velouté garnished with crispy onion rings, chives, and the lightest touch of truffle. It came with a warm poppy seed cheese straw and was, at the most basic level, all the flavours of cauliflower cheese, but my word, it was done in some style! The velouté was smooth, rich, and fragrant, with a gentle heat provided by white pepper. It was a nurturing dish, one that marked the sign of a great chef through its well done simplicity.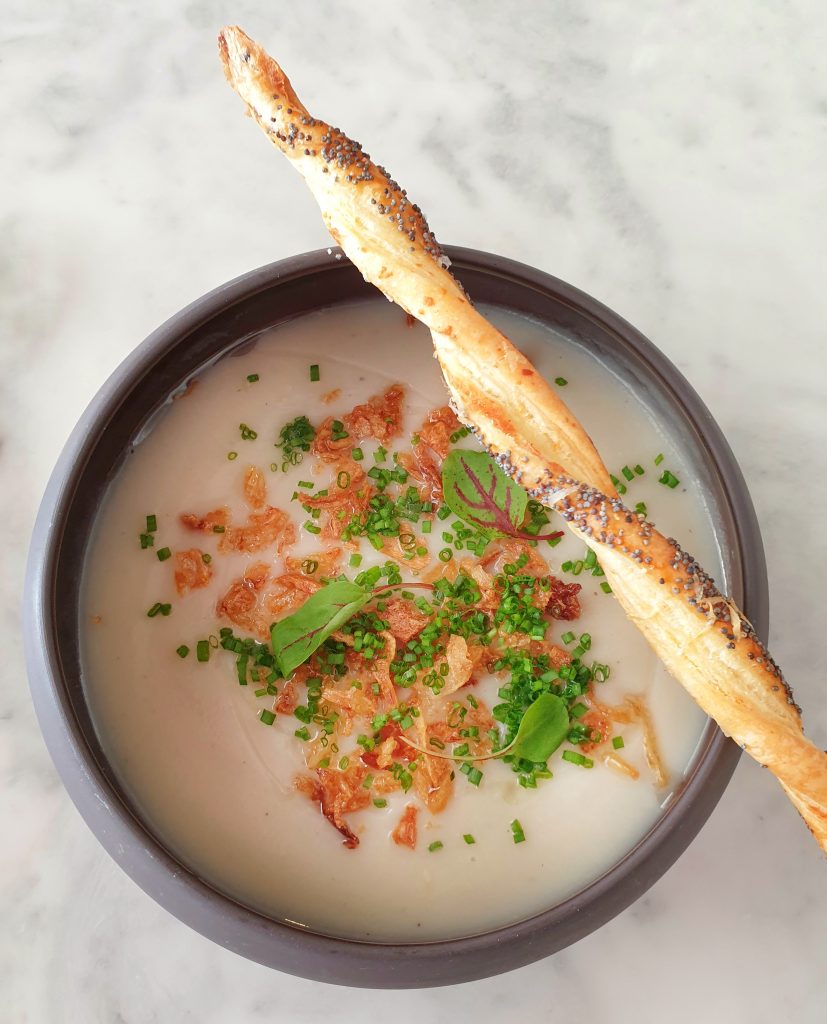 It was then time for the starters. Mum's prawn cocktail looked fantastic – you cannot beat a classic and they are classics for a reason. The heat of the Siracha was well balanced, and mum declared the prawns delicious.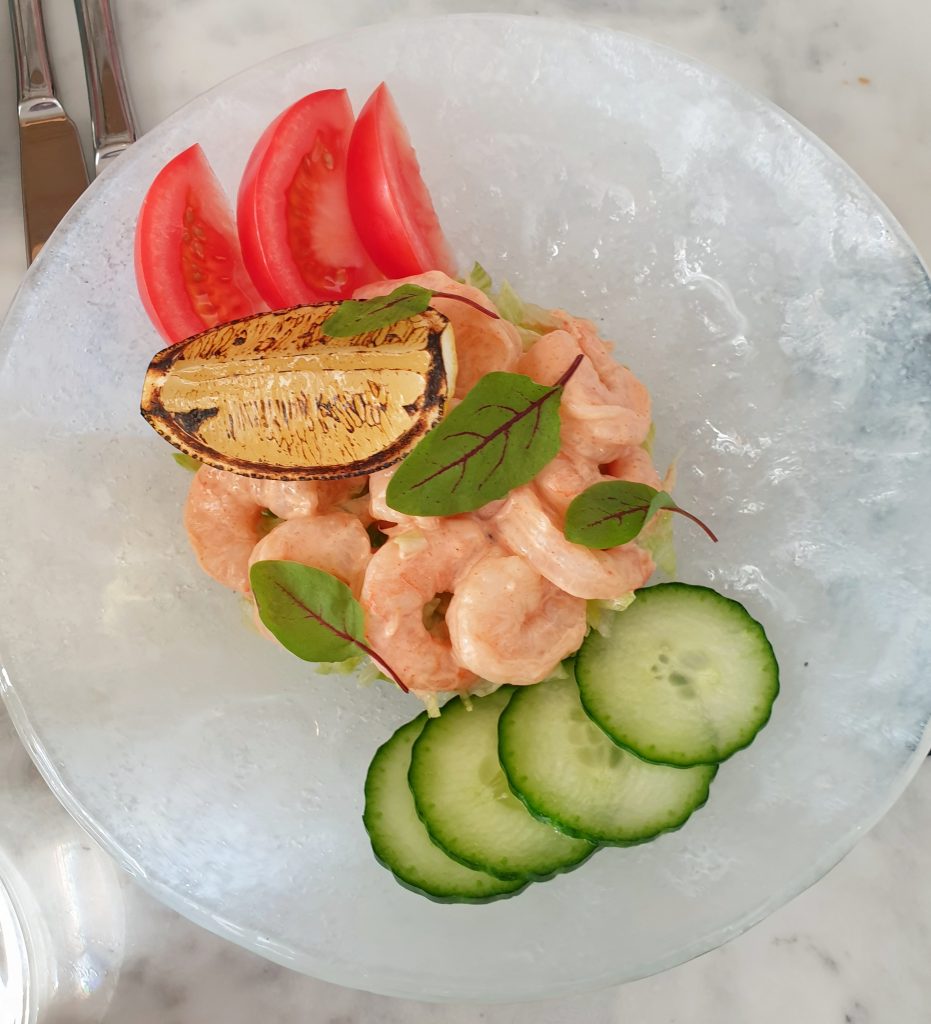 Dad's beef cheek croquettes were crispy on the outside, tender in the middle, and full of flavour. Rather disappointingly, he didn't share them with me, but they looked very good indeed and I may just have to order them next time.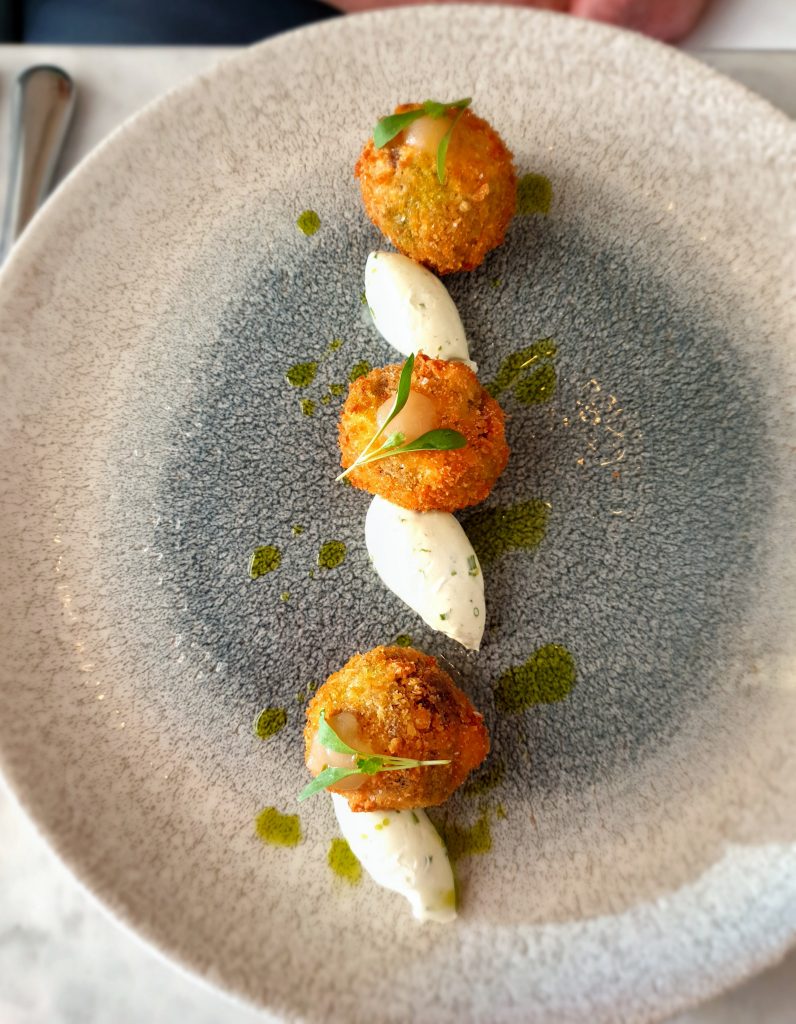 My leek and Smoked Dapple tart – again, a clever play on favourite flavours of cheese and onion – was lovely. It was surprisingly light, with a crisp pastry case and crispy leeks on top of that tart that lent a sweetness to the dish, as did the raisins.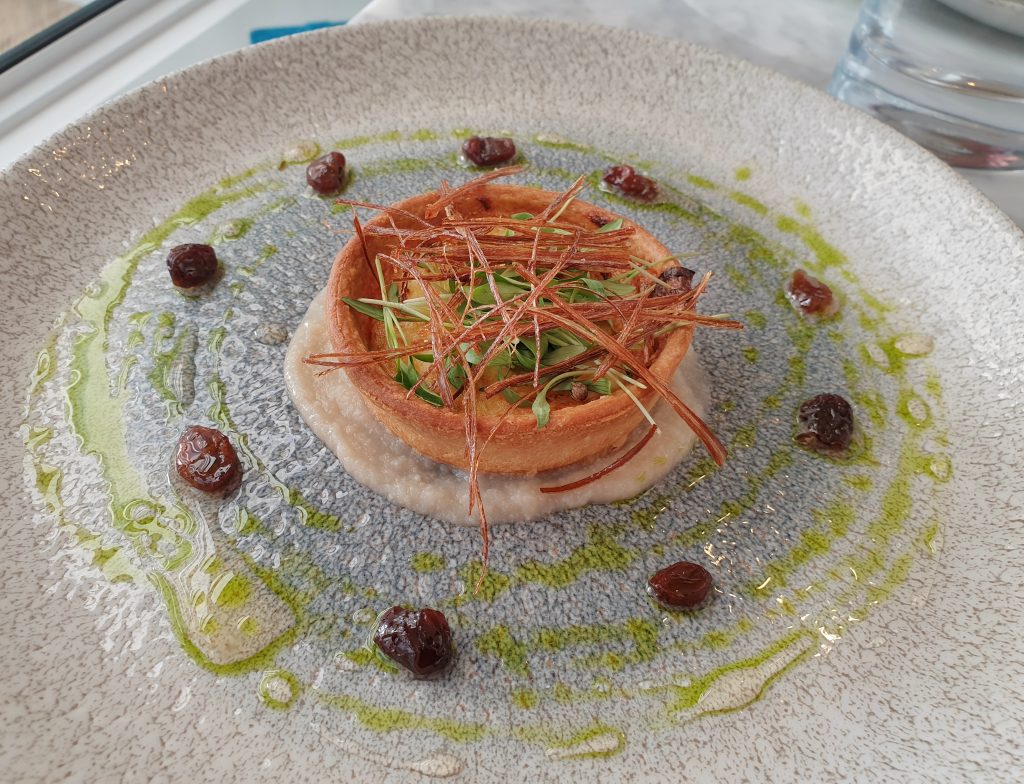 Finally, the game terrine was both a great example of seasonal food and as well as being a good way to introduce people to game, utilising milder guinea fowl and pheasant as well as venison from a Norfolk estate. The terrine had lovely flavours, with the fig jam bringing a sweet note.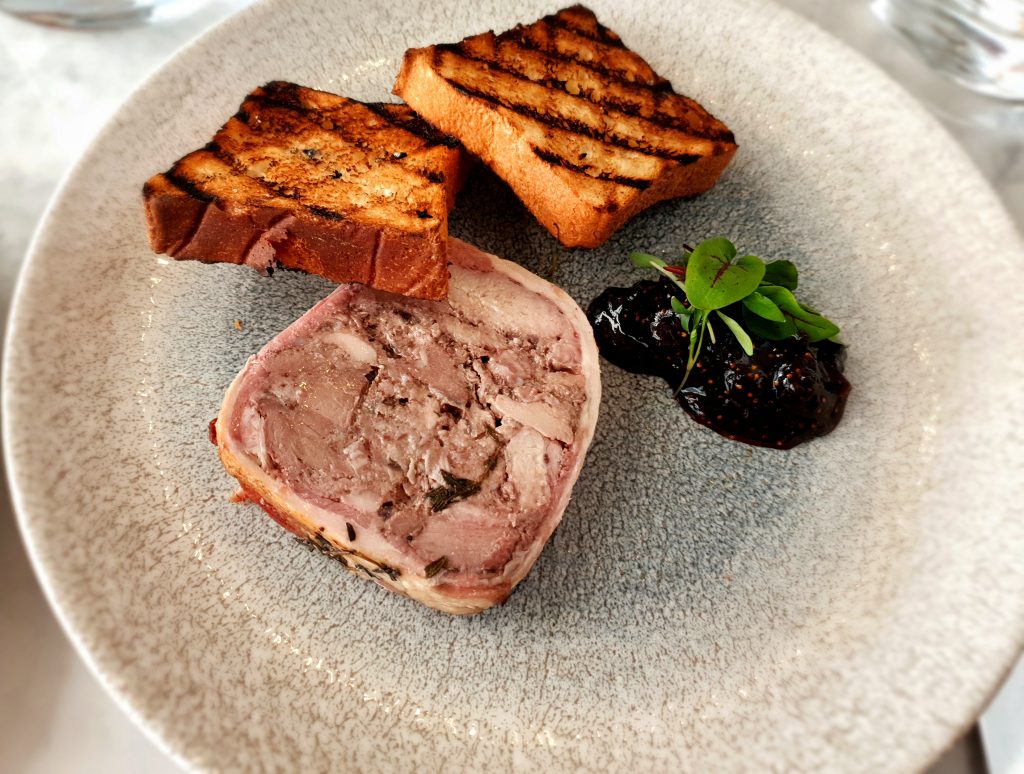 All in all, this was a superb start to our lunch and with our appetites well and truly whetted, we were ready for the main event.
The mains
Before I get into our mains, time to talk again about the menu, and there is so much choice for diners at The Hog Hotel.
With both an à la carte menu and light bites menu to choose from, as well as special winter warmers – toad in the hole in a beer batter pudding with buttery mashed potatoes, a roasted wedge of local cabbage, onion marmalade and a wholegrain mustard gravy (£13) anyone? – there is something for everyone. For the light menu, think soup, club sandwiches, burgers, and ploughman's. However, these are no ordinary sandwiches and ploughman's, with the Waveney Valley smoked bruschetta-style sandwich standing out – locally smoked salmon with avocado and pickled cucumber and a watercress salad served on toasted sourdough with French fries (£9).
While you won't find battered fish and chips on The Hog Hotel menu, a deliberate move, they do offer a pan-fried fillet of Loch Duart salmon with a crushed new potato terrine, buttered spinach, and a champagne and dill butter sauce (£17), my mum's choice for lunch that day. Dad, meanwhile, went for the pan roast loin of venison with baked Roscoff onion, dauphinoise potatoes, chargrilled cauliflower, sautéed rainbow chard, and a chocolate jus (£22); and I chose, on John's recommendation, one of the many vegetarian options – sautéed wild mushroom ballotine with a celeriac and thyme terrine, blow-torched leeks, burnt onion purée, and mushroom and tarragon dressing (£14).
It is worth mentioning that vegetarians and vegans are exceptionally well catered for with dishes including a sun-blush tomato, courgette and pistachio polenta cake, served with smoked aubergine purée, pickled beetroot, purple sprouting broccoli, crispy chickpeas, and goat cheese snow (£14), a crispy tofu katsu curry with basmati rice, picked Asian vegetables, and a mint and coriander raita (£13) on their light bites menu, and The Hog's plant-burger – a chickpea, cumin and pickled chilli falafel burger with baby gem, sliced tomato, red onion, and tomato and pear relish served with hand cut chips cooked in rapeseed oil and a mixed leaf salad (£14).
With the wine glasses topped up, our mains came out, and they were all picture perfect!
Mum's main was a classic dish and perfectly cooked, with the salmon having crispy skin – the failing of many a restaurant! The potato terrine very tasty indeed, and the creamy champagne and dill sauce was an absolute winner.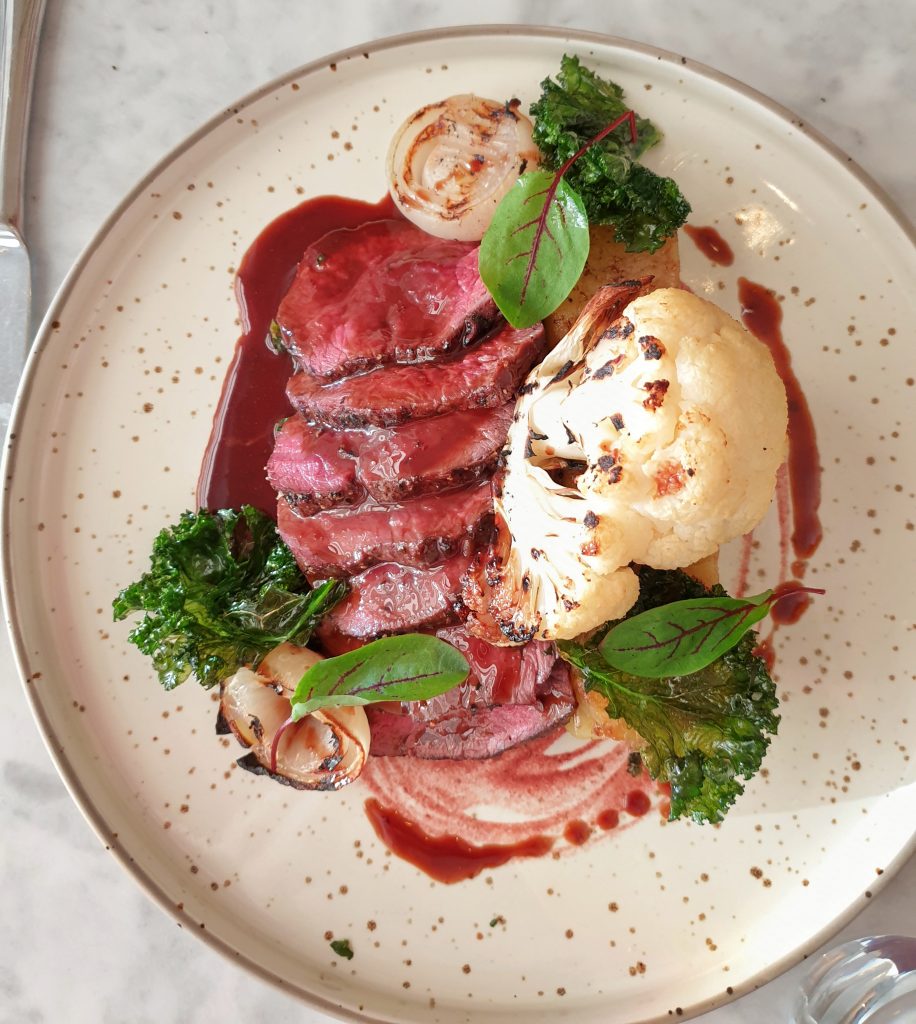 Dad's generous portion of venison was a delight, and I did have a mild moment of food envy. Again, the venison was perfectly cooked, and dad declared it one of the best that he has ever had; I did get to try a slither, and it was full of flavour and depth. Everything on the plate balanced together perfectly and the chocolate jus – something new for my dad – added the wow factor. Tasted alone, the chocolate really came through, but this was a dish of pure harmony and everything married together so well.
As for my mushroom ballotine – well! The mushroom duxelles itself was delicate, with subtle flavours, yet at the same time, it was meaty and rich. The celeriac and thyme terrine was a joy, and the leek had such a different flavour, having been blow torched. All that was needed was an element of crunch, but I suspect this dish has already been tweaked to reflect that. Altogether, this was an earthy and comforting plate of food; I have had a hug in a bowl but never a hug from a plate. Today was that time. Simply stunning.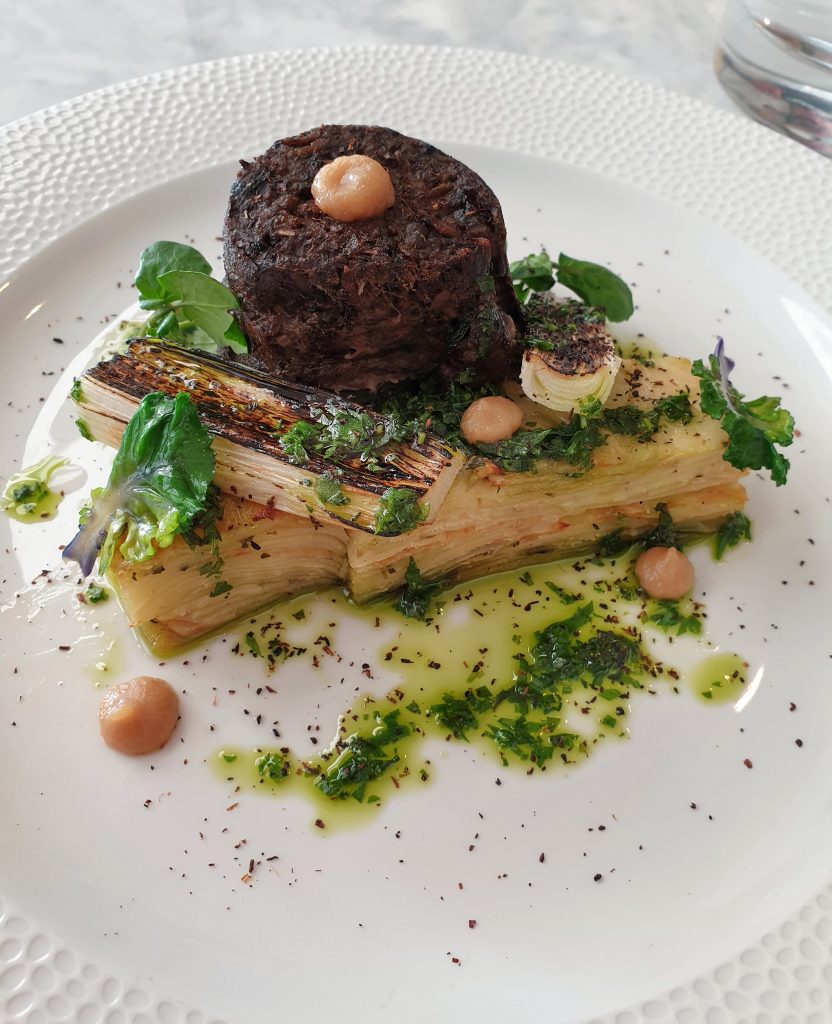 The desserts
By now, we were all feeling full, but the pudding and cheese menu appeared and it would have been rude not to have a look through it. Terry has managed to create a dessert menu that takes the traditional favourites, and then elevates them. All costing £7, the Bakewell tart is made with spiced cranberry while the brioche bread and butter pudding comes with Cointreau-infused custard and the classic Bramley apple crumble with a tonka bean custard. The cheese plate, at £9, consists of Baron Bigod, Suffolk Blue and Suffolk Gold – a cheese-lovers dream.
While we were deliberating, another plate arrived from the kitchen, a pre-dessert. This was raspberry sorbet with vanilla ice cream, passion fruit and honeycomb with a burnt white chocolate shard. Full of raspberry flavour – a joy to taste in the middle of winter – this was a wonderfully refreshing shot and if they put it on as a regular dessert, it would be my choice for sure!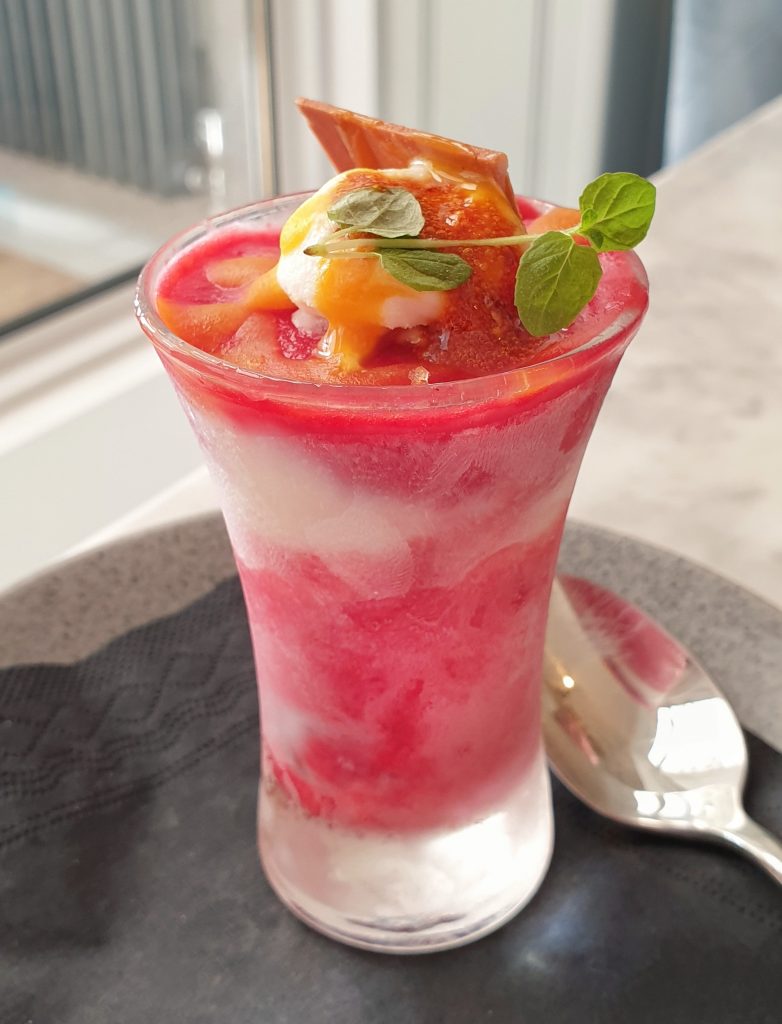 On to our choices. Dad can rarely resist chocolate, so he went for the dark chocolate marquise with honeycomb, cranberry gel, salted caramel ice cream, and chocolate soil. I tweaked a dessert, as I was feeling full but wanted something sweet, and went for toasted hazelnut shortbread with fig leaf ice cream.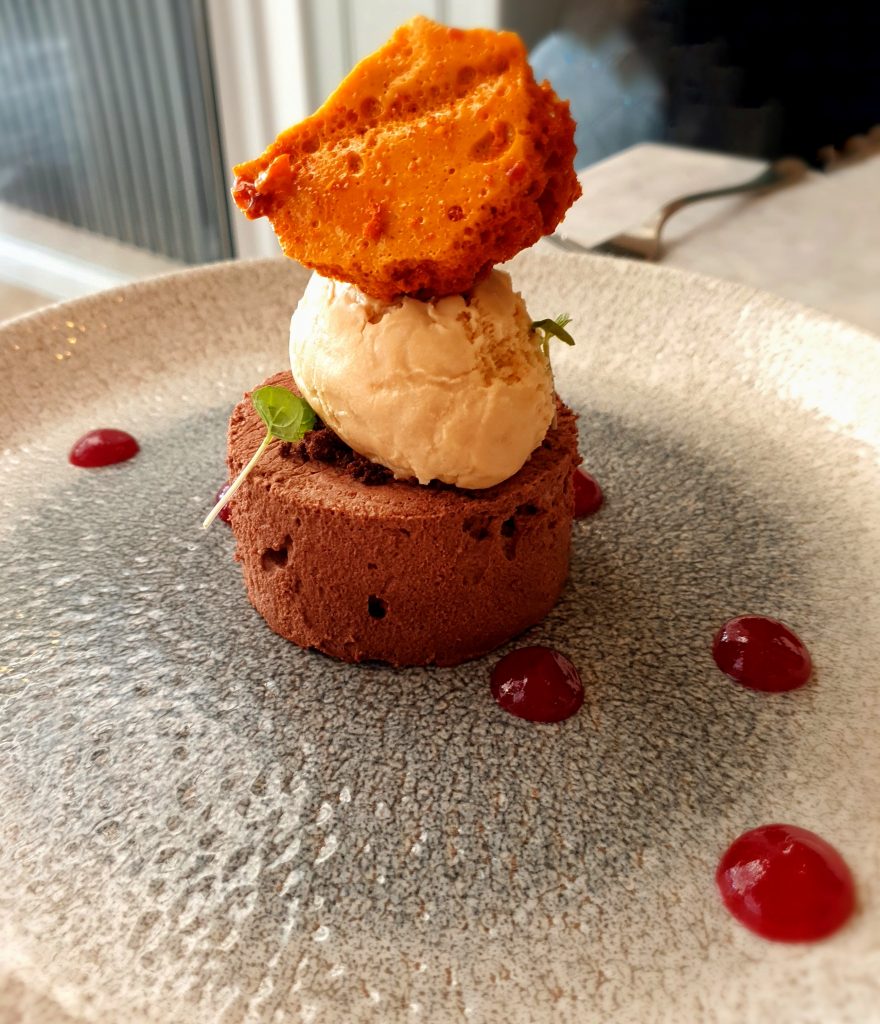 The dark chocolate marquise had a lightness to it, and dad loved the ice cream; I think it is now one of his favourites! The dish wasn't too sweet, even with the honeycomb, and again, it was well balanced.
My dessert was lovely. The ice cream had flecks of vanilla bean through it and the shortbread melted in the mouth. The flavours worked so well together, and it really was the perfect end to the perfect meal.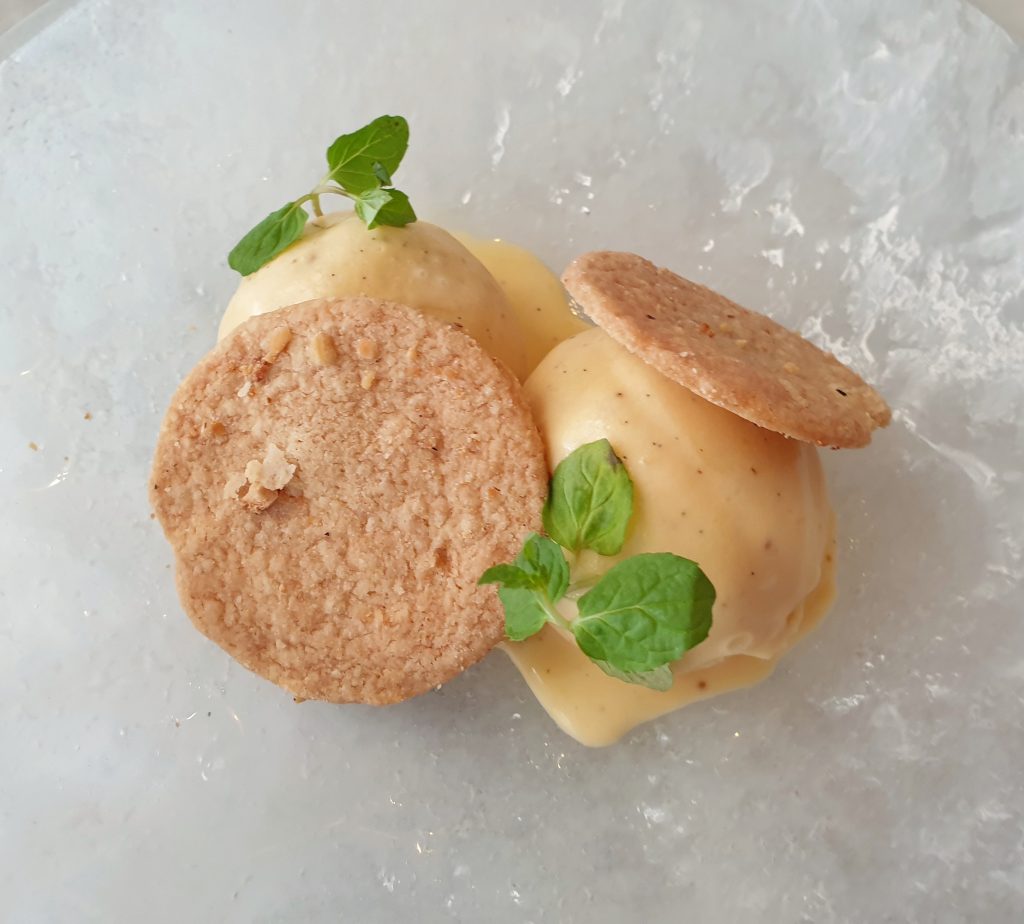 To end
This is a chef who really knows his flavours, and Terry must surely have ambitions to bring AA rosettes to The Hog Hotel's door. He has a great brigade, and they regularly go foraging for sea vegetables. With John and Agata Front of House, this is a dynamic team who make service go seamlessly, and deliciously, for the customer.
Nathan and Sally have a clear passion for their Hog Hotel, and that is evident everywhere you look and in every detail. Nathan is a local boy and having worked in the foodservice business including with his own business, Harbour & Jones, he has finally realised his long-held dream to own his own hotel and restaurant. Sally also has a strong catering background, having managed catering operations within Harrods and Selfridges before becoming Sales and Marketing Director at Harbour & Jones. The couple are captivated by the Suffolk Coast, and their desire to make The Hog Hotel into something incredibly special is fast becoming a reality.
One thing that I loved about the menu is the number of options there are for my veggie and vegan friends. My vegetarian main was not your standard veggie offering, and it was all the better for it. They also offer Sunday roasts – yet to be sampled, but they look very good from what I have seen!
If this review has piqued your interest, then I heartedly suggest booking a table now. I feel that The Hog Hotel is one place that is just going to get busier and busier, and with their social feed full of tempting dishes, word is definitely getting out that this is the place to eat.
All I need to do now to enjoy the complete Hog Hotel experience is stay the night in one of their rooms, have their breakfast, and follow that with a long walk on Pakefield Beach, which is just a stone's throw from the hotel doors. What could be more special than that? I'll see you there.
The details
The Hog Hotel
Follow The Hog Hotel on Facebook and Instagram
Follow Terry Balme on Instagram
All food and drinks were paid for by ourselves with the exception of our apéritifs. You can read more The Delicate Diner p/reviews here.