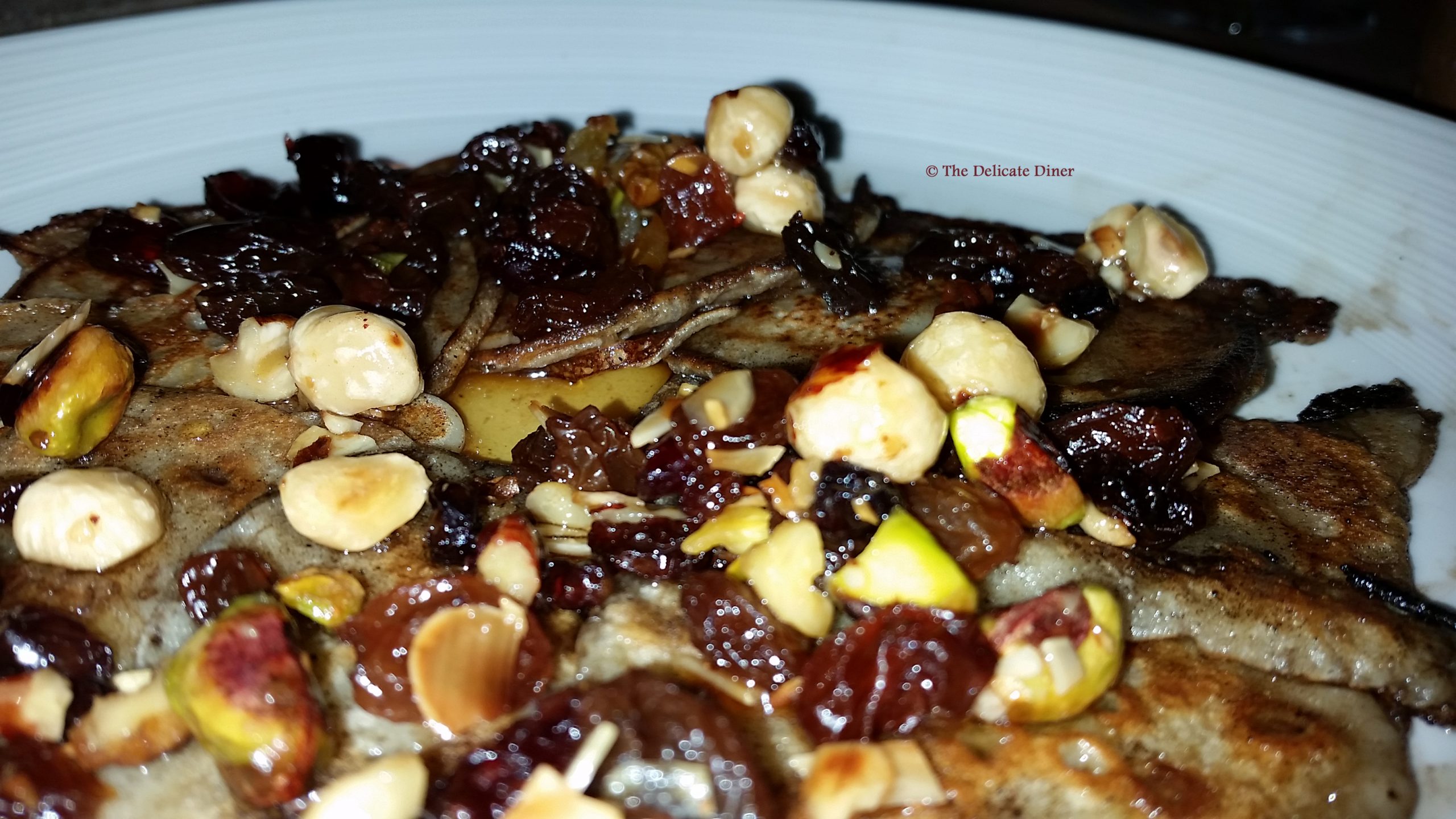 A Feast for the Senses – Fire & Feast Review
WOW.
That sums up my experience on Wednesday evening, when I went to the launch of Fire & Feast at Relish, as previewed in my blog last week. I have always been a huge fan of all that Jeremy and Rachael Parke do at Relish and on Wednesday, they opened up their fantastic Fire & Feat concept.
During course of the evening, I entered my 'happy place' – surrounded by scallop shells running with butter, a jug of the sweetest, smoothest sweet potato soup imaginable, complete with wild garlic pesto to play with and drop into your comforting Viking-esque mug, and the best version of gluten-free 'bread' I have ever had in a non-gluten-free dedicated restaurant. In fact, it was better than the offerings I have had in gluten-free dedicated restaurants!
And then, dessert. It made me cry. Almost. Yes – it was emotional, wonderful and the dream of every Delicate Diner everywhere. Anywhere. The universe over.
Yes – it really was that good. That emotional. I know that Jeremy and Rachael designed this menu to be a feast for the senses – I wonder if they realised when they did so, that it would strike a chord at an emotional level, too.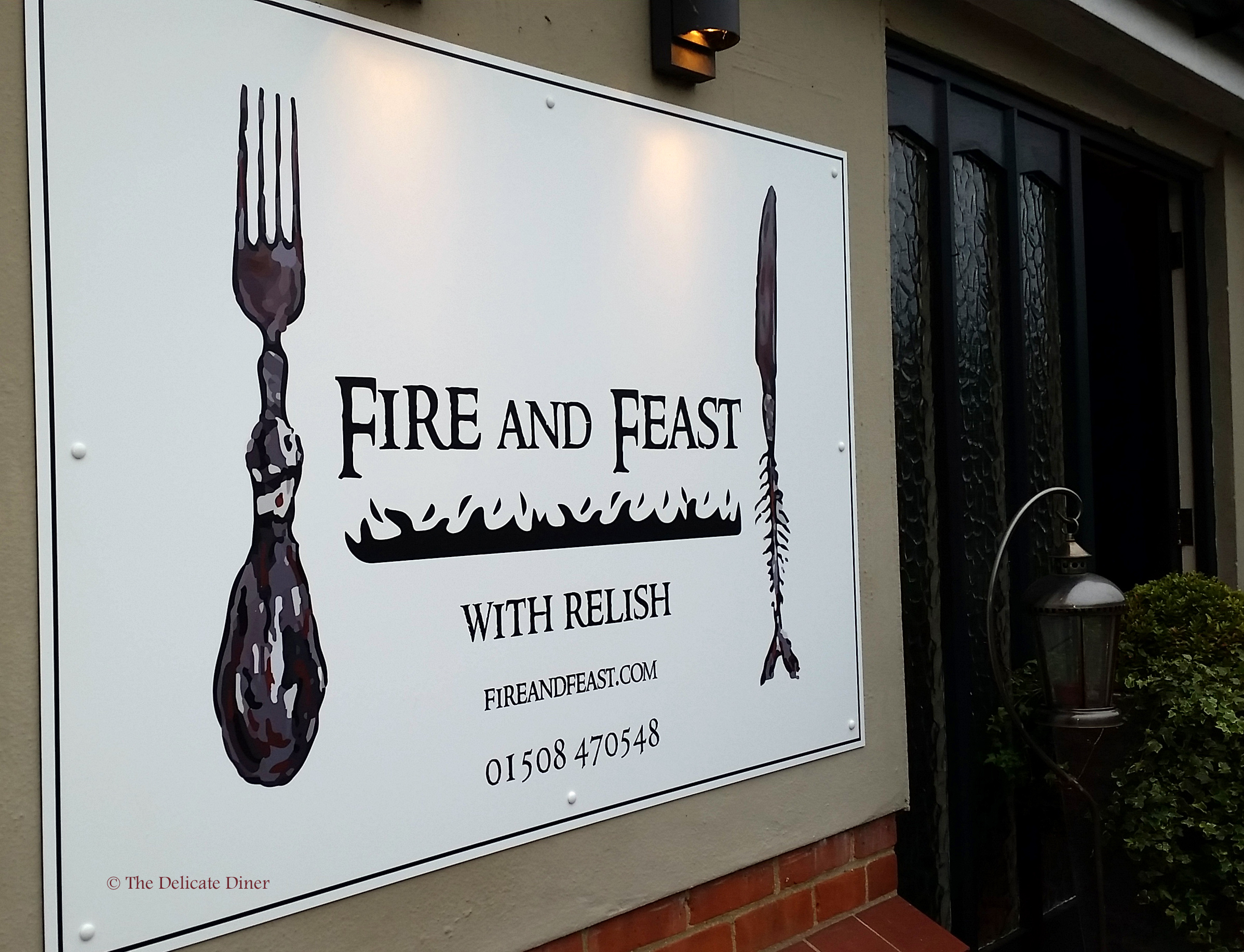 A warning, first. Do not eat before you go. A simple breakfast should suffice. For this certainly is a feast and it has all the taste and delight to go with it, too. A true feast for the senses, in every single way.
Fire & Feast at Relish is found at Newton Flotman down the A140, next to Duffields. We – my mum, dad and I – arrived just after 7pm and the moment we got out of the car, the subtle smell of smoke was lingering in the air. Mixed in with the evocative aroma of smoke was the smell of food cooking, the scent of a summer barbecue intensified as if the whole street you lived on was cooking the same dish at the same time.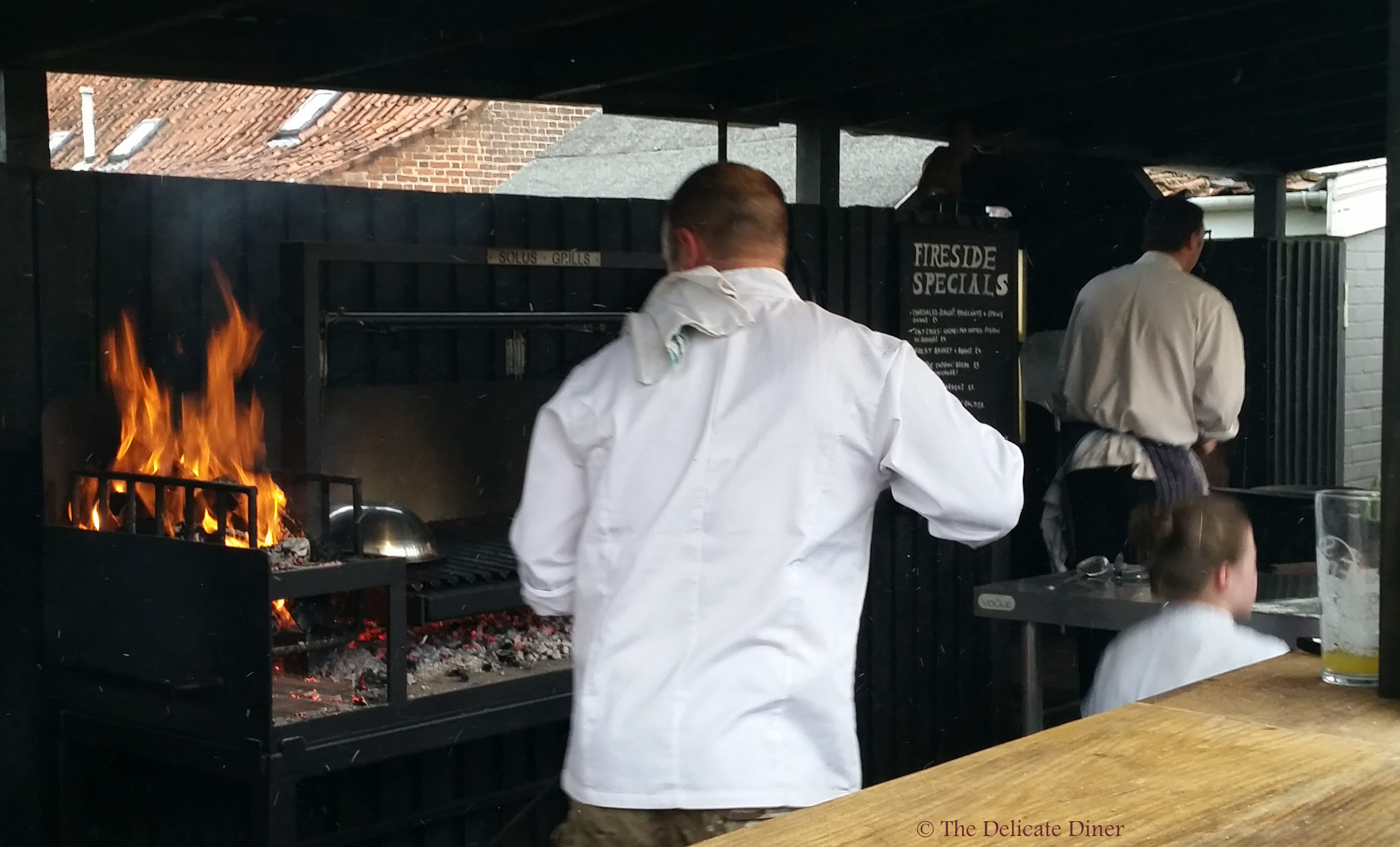 As soon as I walked into the restaurant – the changes immediately noted, such as twinkling lights above the entrance, lace tableclothes, bright flowers, and relaxed lighting – I wanted to get outside. I wanted – no, needed – to see where these scents were coming from.
Let's face it – Wednesday 1 June was not exactly summery. But outside, the Fire & Feast area was welcoming and you were naturally drawn to the cooking area, safely contained behind a solid bar where you could sit and watch them cook – maybe on a warmer day – and the Solus Grill was definitely giving off some heat.
Having had a chat with Jeremy and taken a few photographs, I returned inside to find out more about exactly how Fire & Feast works. Essentially, everything on the menu is served up to you, spread over three relaxed courses. The only decisions you have to make is what you would like to drink with your Feast menu, and when you would like to go to your table to sit down.
I was told that Jeremy had prepared some special bread for me, gluten-free breadcrumbs were ready to top the asparagus, and that lactose-free alternatives had been made for dessert. Essentially, I would miss out on nothing across the whole menu, and my dietary needs had been more than fully taken care of. We made our way to our beautifully set table, complete with the much coveted Viking mugs that are just so perfect for soup.
Out first came the starters – listed on the menu as scallops, hazelnuts, shallots, lemon & parsley; asparagus griddled with egg vinaigrette and toasted breadcrumbs; a jug of sweet potato soup with wild garlic pesto; and whoopie cushion bread.
Everything that was presented for me was gluten-free, and also naturally lactose-free, and as mentioned, I had my own special bread. It was so annoying as I could recognise the taste but I couldn't put a name to it and, after five minutes, Rachael put me out of my misery. It was grated cauliflower, ground almonds and tarragon, topped with chimichurri. "I didn't want to just make a gluten-free bread, I wanted to do something different," explained Jeremy later. And not only was it different, it was also simply delicious! I think I could have feasted on plate after plate of that alone!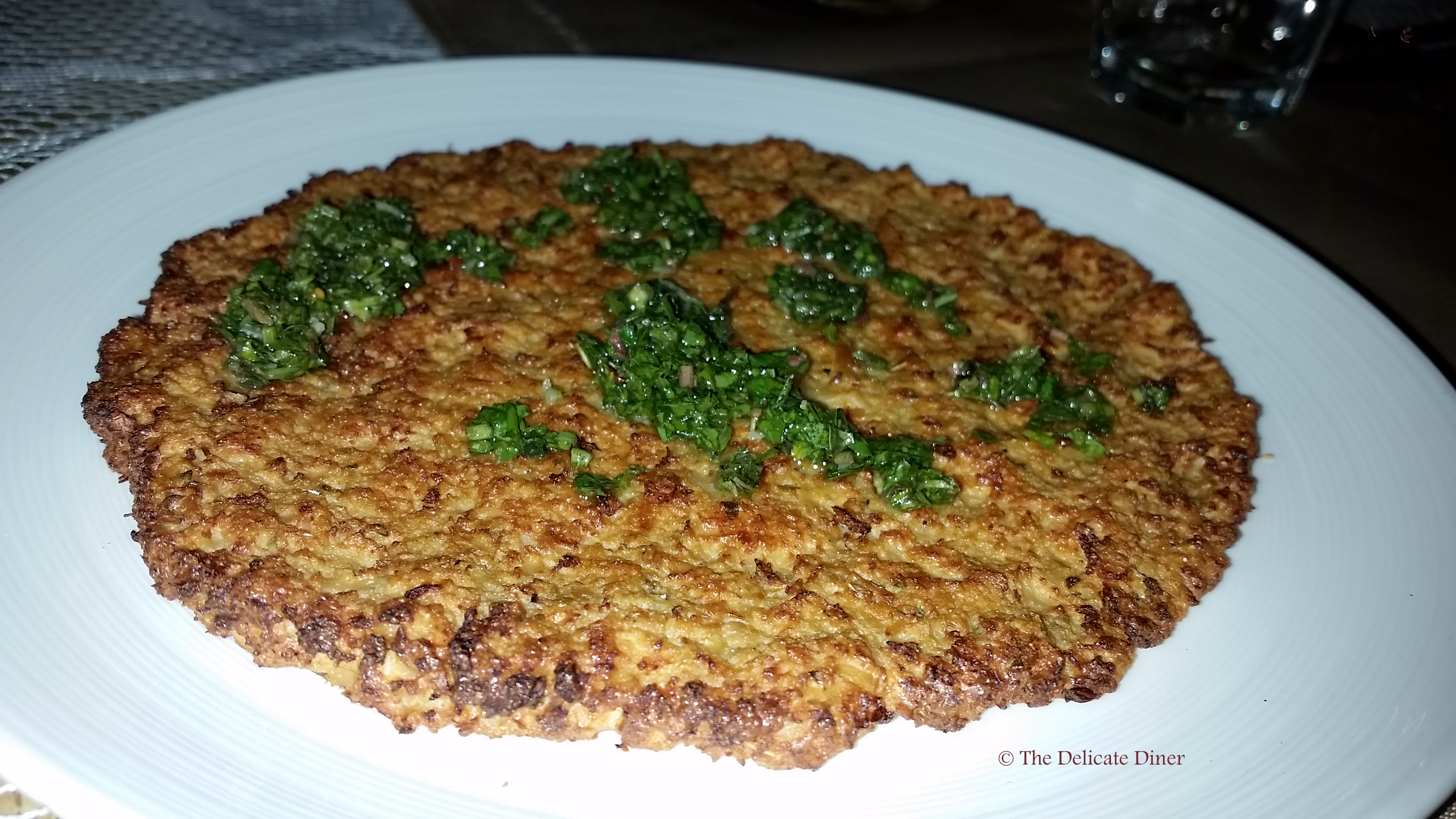 My parents had the whoopie cushion bread that, as the name suggests, blows up like a whoopie cushion on the skillet although it has levelled again by the time it is brought to the table. This very much reminded me of the Middle Eastern bread that I used to have to mop up my hummus and Lebanese-style feasts, and certainly my parents seemed to very much enjoy the bread that was also topped with chimichurri.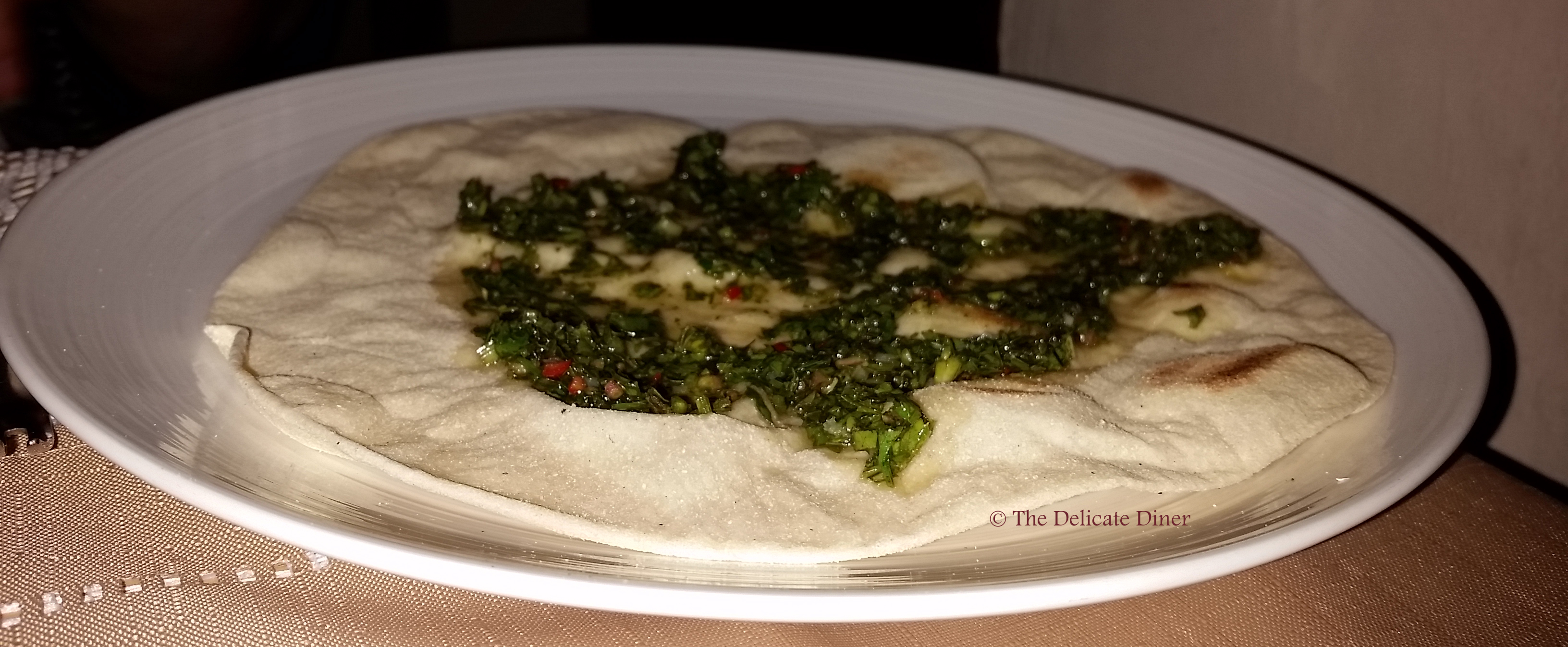 Now, Rachael put on all the publicity before opening to "eat like no one is watching". And I found myself doing just that! As I mentioned in my introduction, I was very much in my happy place during this course. Each diner has their own scallop shell, filled to the brim and glistening with melted herby, lemony butter. I ate the delicate, delicious scallops and then raised the shell to my lips and drank the liquor. A little piece of heaven, right there.. And then, my Viking mug generously filled with the super smooth sweet potato soup, and a little pot of pesto to play with and drizzle over the top of the soup. There was enough for two mugs each, with my cauliflower bread generously dunked into the fragrant soup. The last part of the starter offering was the asparagus, which was the perfect seasonal accompaniment for this time of year.
I think that my pure pleasure in this course is best summed up by Rachael's observation – that I barely touched my glass of wine during it. She had recommended an Elephant Hill Sauvignon Blanc from Hawkes Bay, and it went wonderfully well. But I was so enraptured with the pure pleasure of enjoying the food presented to me, and all the different flavours, textures and subleties, that my wine went unnoticed… Those of you that know me well will know just how unusual this is!
After a decent pause, it was time for the main course – or rather, the main feast. Rachael and Jeremy have very aptly named this course as it filled the whole table! There was so much to choose from, so many little bits to try, and as it was opening night, Jeremy himself came to carve the meat at our table. So, what was on the list?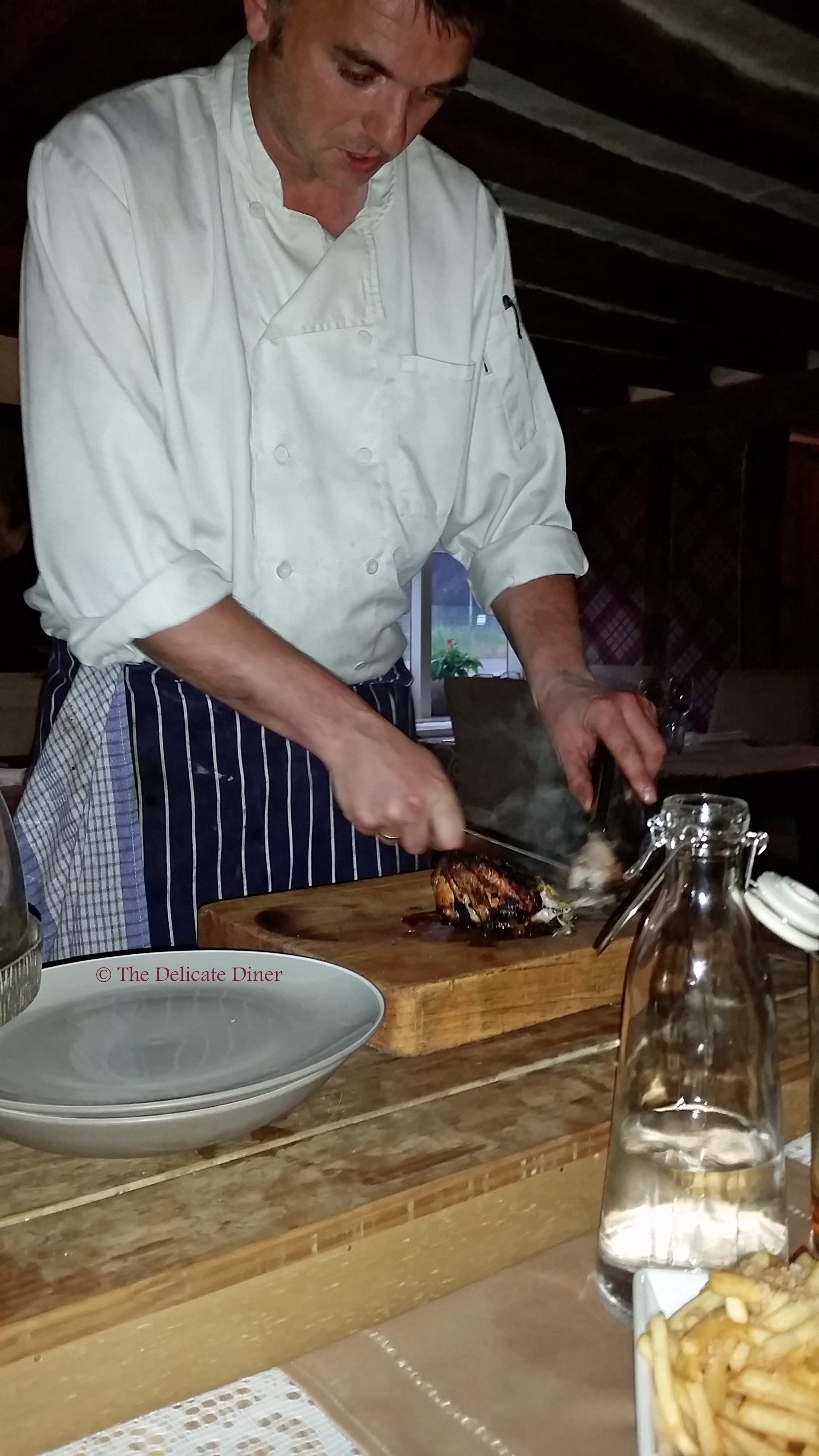 A charcoaled spatchcock chicken – carved at the table and two decent portions a piece delivered to you; a whole salt-baked seabass; fire pit brisket and beans; chips, complete with Jeremy's own chicken skin salt; caramelised onions; mixed leaf, petal & herb salad; minted peas; and ratatouille. Phew!
I was still in starter heaven at this point but the chicken made an instant impression. There is nothing better than a roast chicken in my eyes – it is always my 'just landed' food of choice for when I get home – and this was a great version. As the menu explains, the whole chicken is marinated in a homemade brine for 24 hours, before being rubbed with bay, tarragon and lemon. As it cooks on the grill, the chicken is basted with oil, lemon butter and garlic. As you can imagine from the flavour description, it tasted amazing! Think of the pre-cooked chicken you buy in the supermarket, that has been brined, and then multiply the experience a hundredfold! A serious taste explosion.
The sea bass arrived at the table, sparkling in its salt crust, and Rachael carefully peeled away the salt and skin to reveal the delicate white flesh underneath; delicious. I am not a fan of brisket and beans – I have had it many times while in the Deep South of America, and I remain unconvinced by it. However, this dish – served in a small pot with handles – was a big hit with my parents and I have to admit, the sauce did taste amazing.
Of the sides, my favourite without doubt has to be the caramelised onion! They are cooked on the solid top of the grill, and they have an incredible sweet and sticky, smokey aroma and flavour to them. I thoroughly loved these! Also the minted peas, served in a miniature milk bottle; the fun of pouring these on to your plate added another entertaining element to the evening. The chicken skin salt, found on top of the chips, was smokey, salty, tangy and different. Again, I loved it. The salad provided a lighter, fresh note and its basil dressing balanced out the whole meal.
The main course certainly is a feast – but it also does exactly what Rachael and Jeremy set out to do. The beauty of eating like this is that, naturally, we all try different elements at different times. So the conversation flows – "have you tried this yet", "what did you think of that" and, several times "you just have to try this!" It truly is how I imagine a big, Italian family dinner to be, with everyone talking over each other and reaching past each other to try the food one offer, waving their forks around in the air with excitement at the next flavour sensation experienced. But of course, being terribly British, we tend to whisper over each other instead, and then squeak in excitement!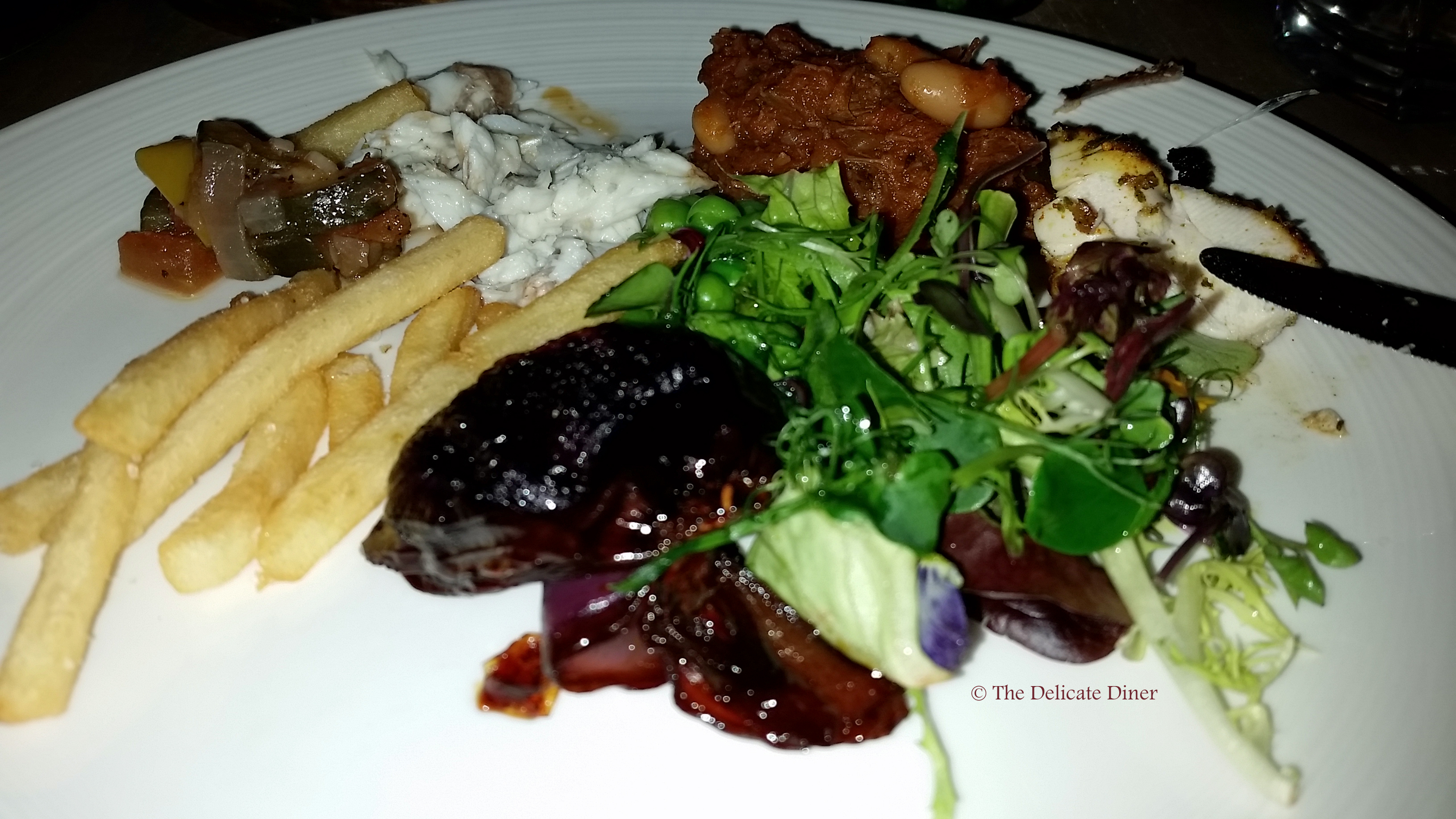 After another decent pause, desserts appeared. Vacherin Royal; Scotch pancakes; campfire bananas. Innocuous enough, you may think, but it was enough to bring tears to my eyes. I have not had a pavlova in over four years, and to be presented with this amazing tower of lactose-free, tantalising delight was almost too much. I glossed over the Scotch pancakes, and was then amazed when I was told that they, too, were gluten-free. Spoons ready, we dug in!
The Vacherin Royal is a tower of meringue. At the bottom is a layer of pistachio cream patisserie – made with soya milk and cornflour. In the heart was strawberry sorbet – normally ice cream – and fresh strawberries. Atop was a layer of goats cream whipped with vanilla, to make a Chantilly cream, and more meringue on top. This was the first time that the Parkes had used goat cream and both were impressed. Not quite as much as I was, however, and to know that I could enjoy a normally cream-filled dessert without fear of reprisals was just amazing. Thank you.
As for the Scotch pancakes… I gobbled these up and they were among my favourite dishes of the evening. So light and tasty, drizzled with golden maple syrup and adorned with dried fruit and nuts. What is not to love there!
I am afraid that I cannot stand hot bananas, but the verdict was very good, and they did look delicious. Just not for me.
And so, with very full tummies, our first experience of Fire & Feast came to a close. Doggy bags were made, so that we didn't have to feel so bad about not finishing all the food.
For £35 a head, this menu represents terrific value for money. There is so much choice that if, as me, you don't like one thing, there is plenty else for you to try and enjoy. The menu as I ate it is their gluten/lactose-free offering, and it more than ticks all the boxes. Naturally, 24 hour notice is needed to prepare for dietary requirements but then, they certainly do cater for it!
There are also the little touches that make the difference – the jugs of water on the table, the salt and pepper all ready for you to add seasoning to your own taste if needed – it wasn't – and the candles/flowers/tablecloths that all add to that homely feel.
The idea of Fire & Feast is that it is all about the senses – sight, touch, smell, taste, hearing. I also feel that they should add 'emotional' to this list, too. As so many of us know, there is an emotional connection between man and food. A flavour can transport you to any point in time – as can a scent, a smell..
Fire & Feast has the crackle of the fire, hearing; the smell of the smoke and the aromas of the food; the sight of beautifully, elegantly presented feastful food in front of you; the different tastes that dance on your tongue; and touch comes through the feel of the bread, torn with your own hands, and used to bring all of these senses together.
I wish Rachael and Jeremy the very best of luck with Fire & Feast. If the opening night is anything to go by, they are on to a winner! As well as being perfect for family and friends, I also think that Fire & Feast would make the perfect first date as it really is a great ice-breaker.
July sees them showcase Red Poll beef from Tasburgh – and I am sure that I will be back there once more, to experience this very different, and very enjoyable, way of experiencing food. Fire & Feast… It certainly fulfills its potential, and then raises it to a whole other level.
Samantha xx