Beef Brisket Chilli con Carne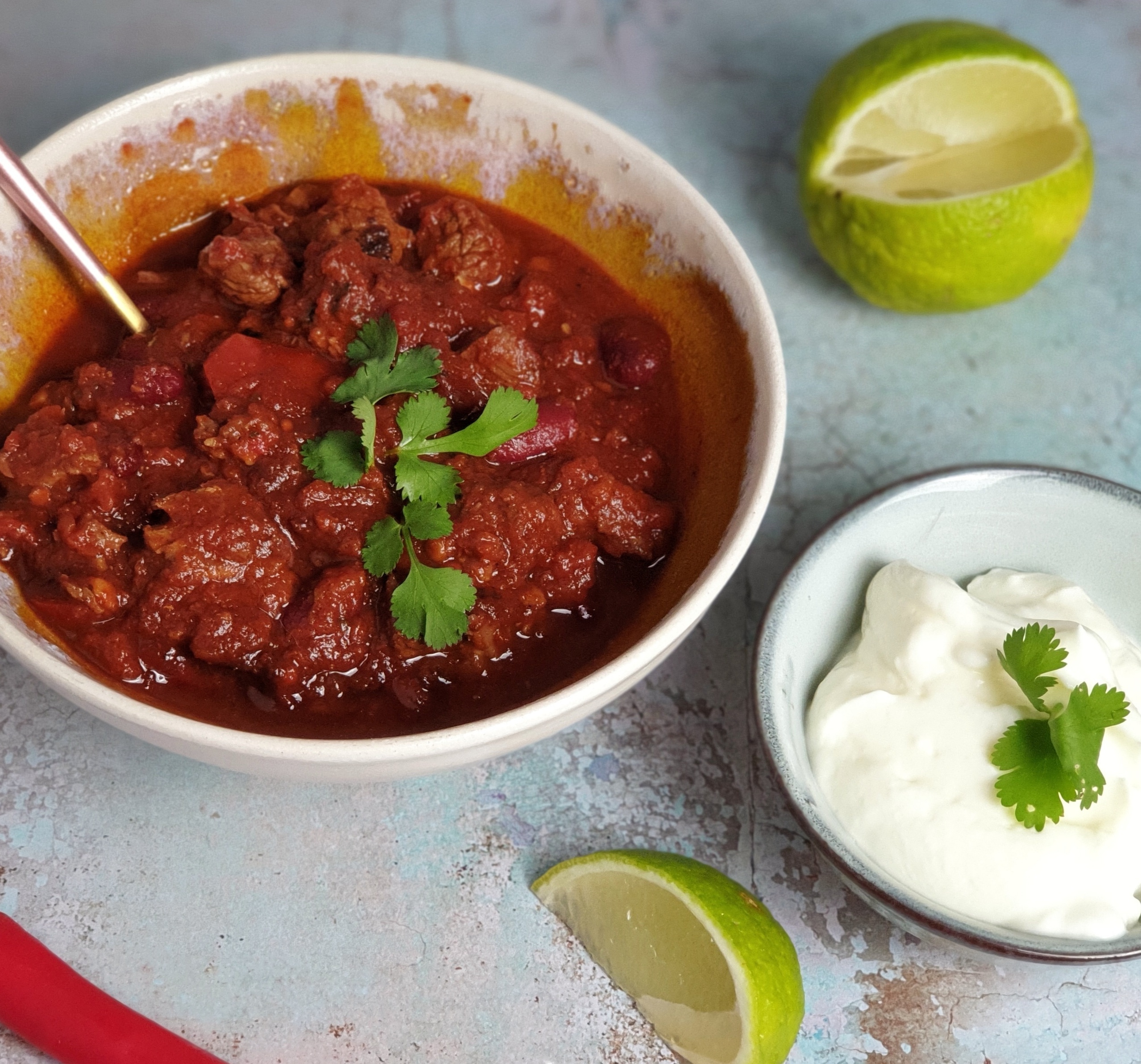 I love a slow cook and what better way to celebrate Great British Beef Week than with this scrummy chilli made with Old Hall Farm beef brisket? An economical cut, a little goes a long way and this will easily feed a family of four, especially when you add rice and sides! I went for a delicate flavour – the clue's in the name, after all! – and it was aromatic and delicious, with a gently building heat; of course, you can up the spices to suit your own heat levels!
I served the beef brisket chilli con carne with Old Hall Farm raw Jersey milk Skyr-style yoghurt, which I love and is a lovely alternative to sour cream, and fresh coriander. There may have been a touch of grated cheese as well!
The brisket itself melted in the mouth, and this is the perfect meal to make this weekend, letting the slow cooker do all the hard work while you go out and about.
Ingredients
450g Old Hall Farm brisket, cut into bite-sized pieces
1 tablespoon Yare Valley cold-pressed rapeseed oil
1 red onion, sliced
1 good pinch Staithe Smokehouse Smoked Ancho Salt
2 cloves of garlic, crushed
1 teaspoon cumin powder
1 heaped teaspoon mild chilli powder
1 teaspoon ground coriander
1 teaspoon oregano
1 dried ancho chilli
1 red pepper, diced
1 generous tablespoon tomato purée
Black pepper
500ml passata
1 beef stock pot
1 tin chopped tomatoes
1 tin kidney beans
250ml water
1/2 teaspoon sweet smoked paprika
To serve
Old Hall Farm raw Jersey Skyr-style yoghurt
Fresh lime
Fresh coriander
Grated cheese
You can also serve with – bread, nachos, rice, wraps; whatever takes your fancy!
Method
Firstly, you need to brown off and caramelise the beef.
Put the oil and red onions either into a pan or directly into your slow cooker over a high heat if you have a hob-proof slow cooker dish. Add the salt to help the onions cook more quickly.
Cook the onions and once they begin to caramelise, put the beef in. Stir regularly, but be brave! You want to go as far as you can in browning the beef to give an extra smokey layer to the dish.
Add the garlic, spices, and and ancho chilli and stir well. I add a splash of water at this point, just to ensure the spices don't burn and become bitter.
Add the diced pepper to the pan, then the tomato purée and stir well to cook it out.
Add a good amount of black pepper.
Add the passata, then the stock pot and tinned tomatoes. Stir well.
Finally, add the kidney beans and 250ml water – I use some of the water to rinse out the passata/tomato tins to ensure no waste Put the pot in the slow cooker and cook on low for six hours.
Add the paprika towards the end of cooking, and taste. At this point, you can adjust the seasoning based on your own taste.
Serve with the yoghurt, squeeze of lime, fresh coriander, and the sides of your choice.
Click here for more recipe inspiration.