Spanish Summer Pork Casserole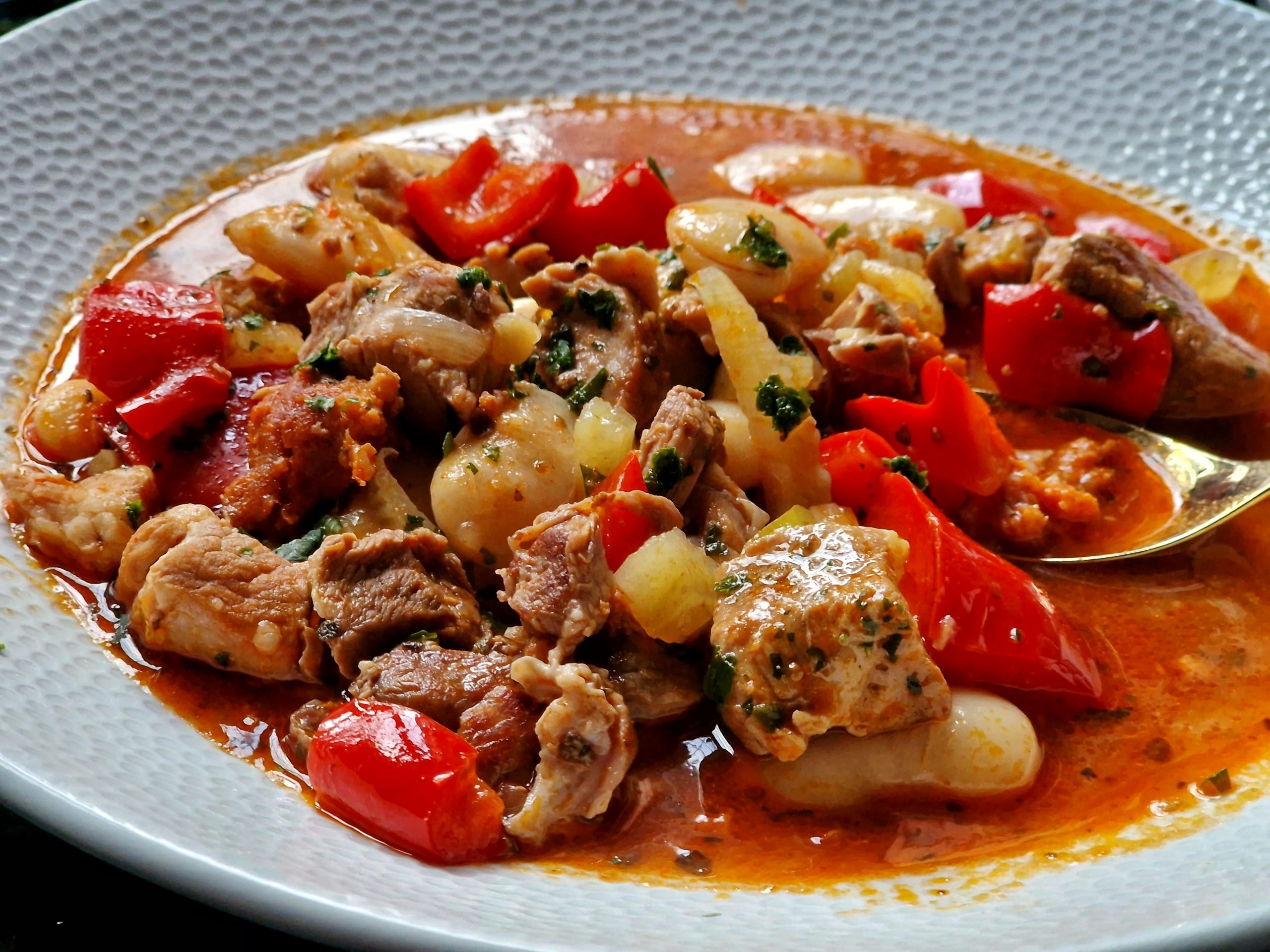 With the energy crisis well and truly upon us, now is time to make best friends with your slow cooker. Using much less electricity than a cooker, slow cooks are a great way to impart flavour and cook more economical cuts of meat until they are tender. This recipe uses local pork leg from Old Hall Farm in Woodton, from their own rare breed pigs, so seek out your local butcher and use what is local to you. With its Mediterranean flavours, this simple summer dish shows that casseroles can be enjoyed everyday, not just on the cooler ones.
INGREDIENTS Serves 4 (plus leftovers)
1 white onion, sliced
1 fennel bulb, diced
450g Old Hall Farm pork leg joint, fat removed and diced
1 tbsp tomato purée
1 tsp dried oregano
2 bay leaves
Ground white pepper
1 chorizo, diced
350ml dry white wine/water
1 chicken stock pot
1 red & 1 yellow pepper, diced
1 jar giant butterbeans/1.5 tins regular butterbeans
1 generous tsp sweet paprika
Flat-leaf parsley, chopped
Salt & pepper
Yare Valley rapeseed oil
If you have a slow cooker with a hob-safe cooking pot, use that to start your casserole. If not, do the pre-cooking in a pan and then transfer to your slow cooker.
Put your cooking pot/pan over a low to medium heat on the hob and drizzle in some rapeseed oil. Add the onion with a pinch of salt and cook slowly, stirring regularly. When just beginning to brown, add the fennel and cook until the fennel has some colour. Remove from the pan and set aside in a bowl.
Turn the heat to high, then add the pork in batches until it browns, setting aside into the bowl with the onion and fennel until done. Once the last batch is done, return the contents of the bowl to the pan and stir well. Add the tomato purée, oregano, bay leaves, and a pinch of ground white pepper and stir well. Add half the chorizo and stir, then add the white wine/water to deglaze the pan. Finally, add the chicken stock pot – I used half for this recipe – and stir well. Put the pan into the slow cooker, turn it onto high, cover and leave to cook.
After four hours, add the peppers. After another hour, add the butterbeans, the rest of the chorizo, and the paprika.
When cooked, check for seasoning and then served into warmed bowls. Sprinkle with the parsley and extra paprika, with bread on the side.
For more recipes, click here.
Recipe © The Delicate Diner for Old Hall Farm 2022.