Chocolate Bouchart Cake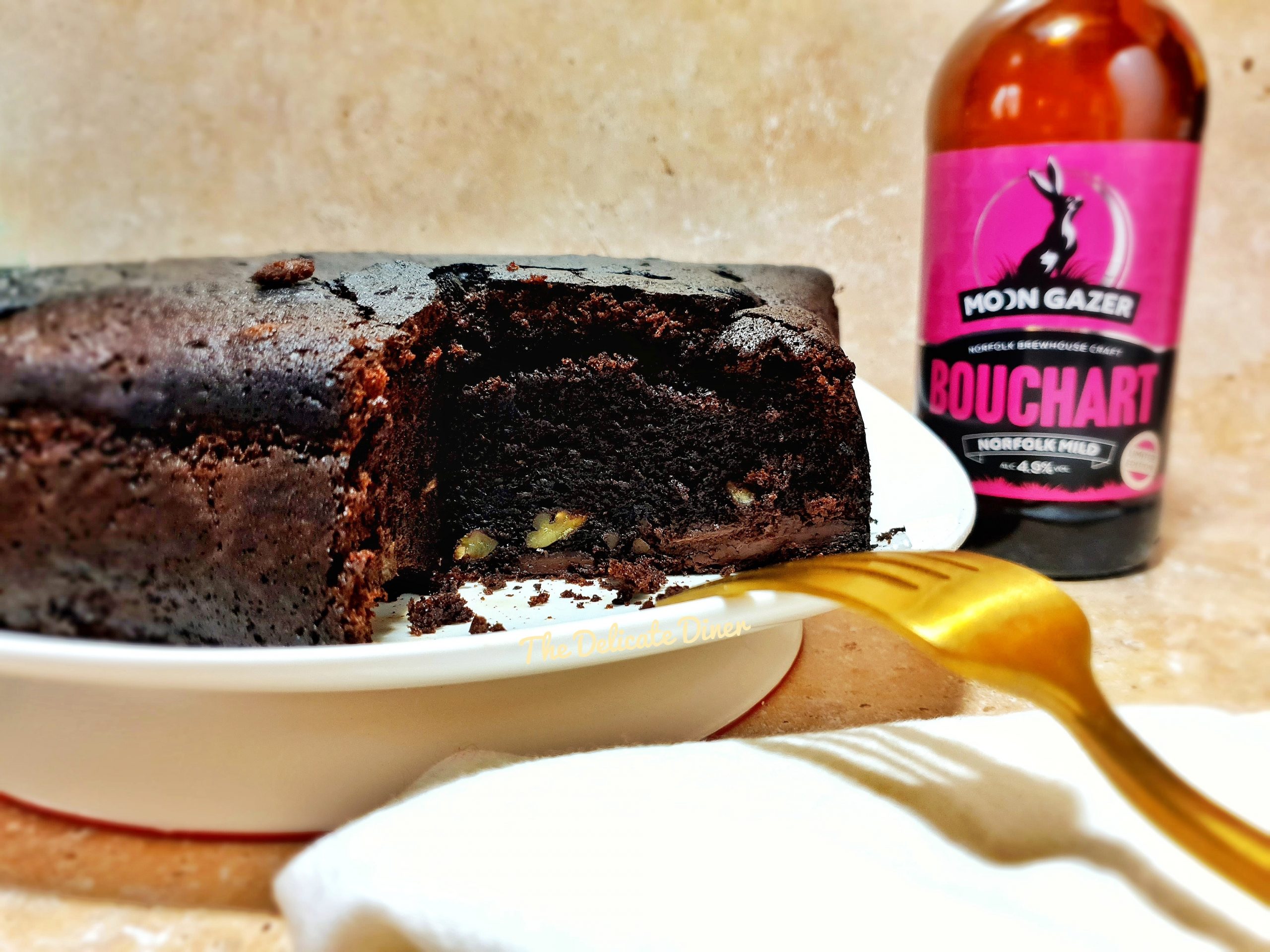 Who doesn't love a chocolate cake? For me, it is the ultimate celebration cake, a real treat for high days and holidays. And to be fair, it is the ultimate comfort food as well, so let's face it, chocolate cake is an all-rounder! Inspired by a recipe in Green & Black's Chocolate Recipes, I made this luxurious chocolate cake flavoured with Moon Gazer Ale's Bouchart Norfolk Mild beer. The result was a wonderfully moist, rich, chocolate cake that tastes wonderful on its own but would be just as enjoyable with some whipped cream. As with many cakes, my chocolate Bouchart cake tasted better the day after it was made, giving time for the flavours and moisture to spread evenly. Just a word of warning – with this cake, one slice is just not quite enough…
INGREDIENTS
225g unsalted butter, softened
350g soft dark brown sugar
4 large eggs, beaten
225g plain flour
½ tsp baking powder
2 tsp bicarbonate of soda
400ml Moon Gazer Bouchart Ale
100g cocoa powder
100g dark chocolate: half grated, half chopped
75g pecan nuts, roughly broken
Pre-heat the oven to 170˚C / 325˚F / gas mark 3. Butter & line a 23cm springform cake tin.
Cream together the butter and sugar until light and fluffy, then slowly add the beaten eggs. Stir in the flour, baking powder, and bicarbonate of soda until well mixed. Add in the beer – you want to do this bit by bit so that it incorporates fully together. Then add the cocoa powder, again mixing well. Grate in half the chocolate and add with the chopped chocolate and pecan nuts. You will have a lovely, loose cake mix – try not to eat it all at this point!
Carefully pour into the prepared baking tin and bake for 50 minutes. It is essential to check the cake then to ensure that the combination of the sugar and ale is not overdoing the top – if so, cover with greaseproof paper. Return to the oven for between 10 and 20 minutes depending on how well it is cooking. Check that the cake is cooked by inserting a skewer – if it comes out clean, then it is cooked.
Leave the cake in the tin for 10 minutes to settle, then transfer to a wire rack. Resist the urge to cut a slice for as long as you can – at first, the edges will be rather crusty but overnight, the moisture from the beer settles across the cake leaving a thoroughly delicious and moist cake with toffee-like notes. Cut a slice, pour a coffee, and sit back and enjoy.
Recipe by The Delicate Diner