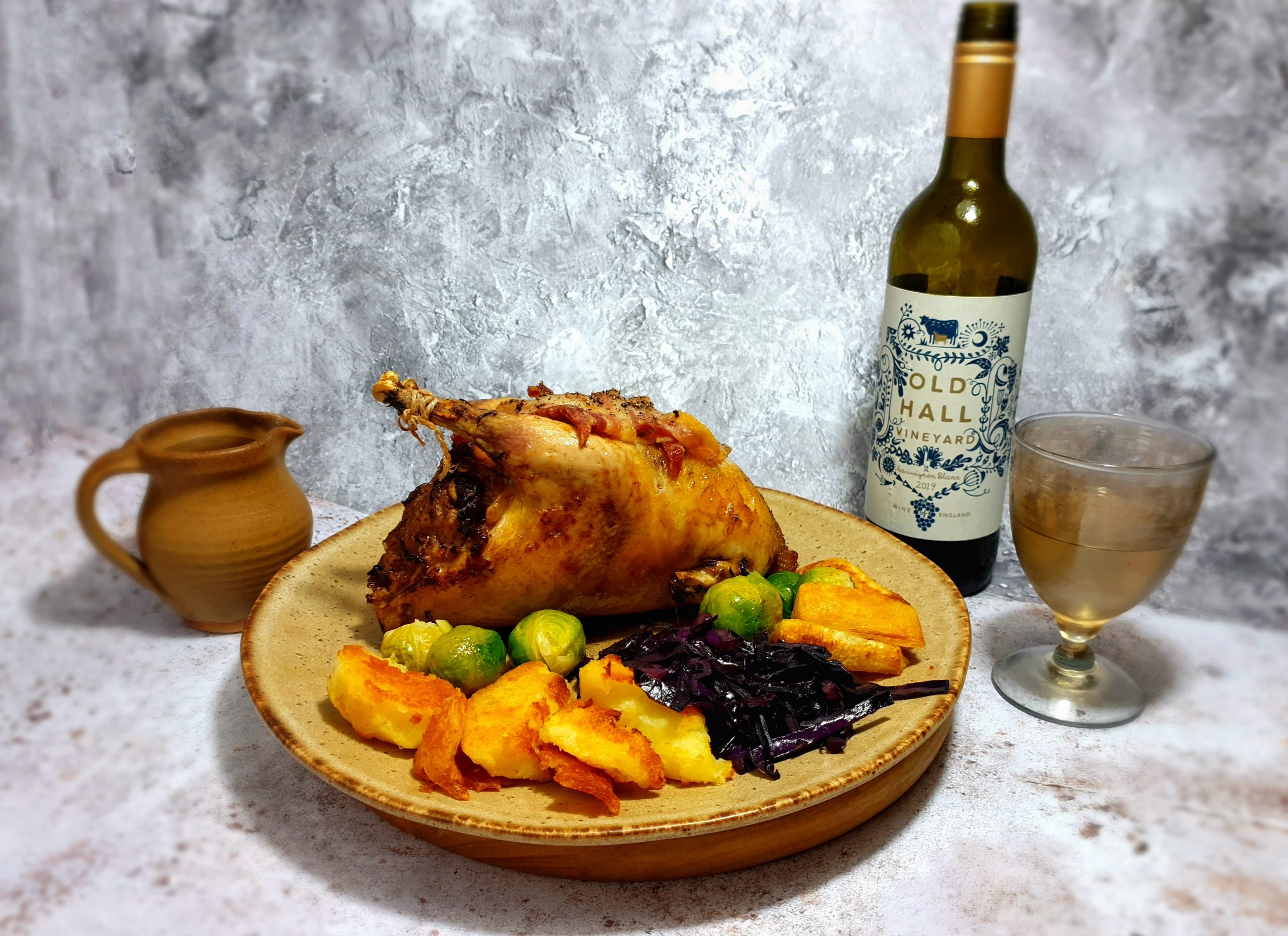 Old Hall Farm roast pheasant with spiced red cabbage and stuffing
Game is well and truly in season right now, so I thought it would be a good time to share my recipe for roast pheasant. Pheasant is high in B vitamins and potassium and is a lean meat. It makes a great alternative to turkey for Christmas dinner. I always cook a brace together – that is, a cock and a hen – and freeze the leftovers for another day.
INGREDIENTS (SERVES 4 + LEFTOVERS)
A brace of pheasants from Old Hall Farm
6 rashers Old Hall Farm unsmoked streaky bacon
Old Hall Farm rare breed pork sausage meat
1 large shallot, sliced
A handful cooked chestnuts roughly chopped
Salt & pepper
Yare Valley Oil cold-pressed rapeseed oil
Maldon sea salt
500ml chicken stock
½ red cabbage, finely sliced
Old Hall Farm raw Jersey butter
A grating of nutmeg & a pinch of mixed spice
Red wine/sherry vinegar
To serve – beef dripping potatoes and parsnips, Brussels sprouts, and gravy
Preheat the oven to 180°C/350°F/gas mark 6 and put a stove-proof casserole dish over a medium heat. Add some rapeseed oil and bring to temperature.
Wash both pheasants well, season, and put one by one into the casserole dish to brown the outsides. While they are searing, mix the sausage meat with the shallot and chestnuts, and season with salt and pepper. Once the birds are done, stuff the cavity of each bird with the stuffing and cover the top of the bird with rashers of bacon. Loosely tie the legs together and return to the dish. Add the chicken stock and put into the oven for 45 minutes to an hour. I would suggest basting halfway through. The pheasant is done when the juices run clear.
Meanwhile, add the sliced cabbage to a large non-stick frying pan with the butter and over a high heat, stir well until the cabbage is heated through and glistening with the melted butter. Reduce the heat, add the nutmeg and mixed spice and a good splash of the vinegar and leave to bubble over a gentle heat for 45 minutes. Add a spoonful of soft brown sugar towards the end to taste.
When the birds are cooked, rest them well and make your beef-dripping potatoes and parsnips. Drain the oil from the casserole dish and reduce the remaining liquor down to a gravy. You can add a splash of port if you wish, for extra flavour, and thicken with cornflour at the end. Carve, serve and enjoy!