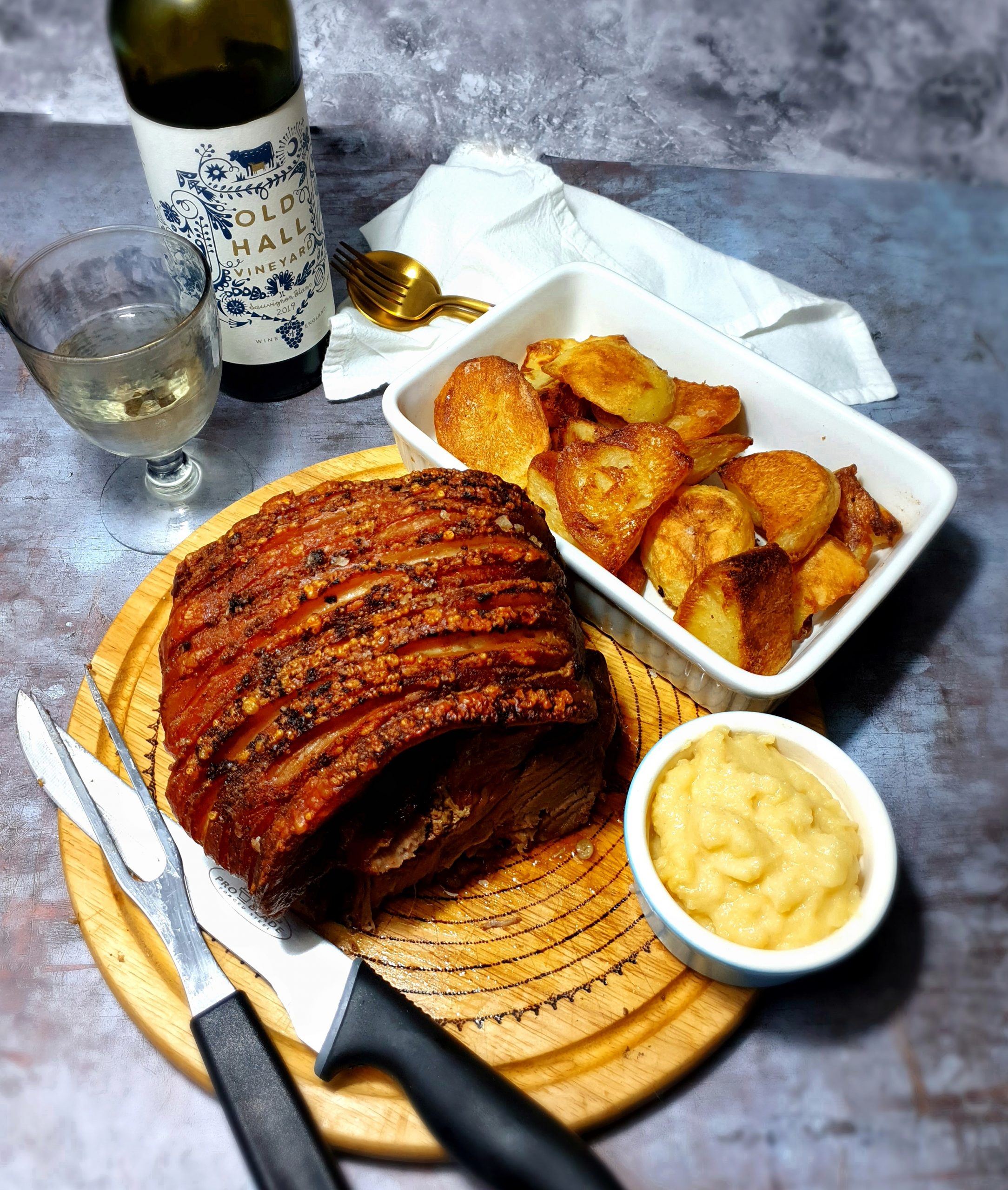 Perfect Old Hall Farm roast pork with crispy crackling and beef dripping potatoes
This is a delicious recipe in which I share my tips on how to make perfect slow roast pork using Old Hall Farm rare breed pork shoulder, with crispy mustard crackling, beef dripping potatoes, and an apple and mustard sauce.
Before I begin, I have to be honest. This was hands down the best pork joint I have ever had. The flavour from Old Hall Farm's rare breed pork was incredible, and the slow cook resulted in a beautifully tender piece of meat. I shared a photo with a British friend who lives in America; she is still crying as they cannot get pork such as this in the States.
The joint I had was around 2kg in weight. This will easily feed a family of four and allow for sandwiches as well as leftovers. I will be sharing a leftover recipe or two over the coming days. The meat also freezes well, so you can slice it and freeze for an easy lunch on a day when you really don't feel like cooking.
There is no doubt that crispy crackling is one of the greatest pleasures to be had. That combination of melting, slow-roasted pork with the crunch of crackling is a true treat. Add in roast potatoes cooked in beef dripping, and homemade apple and mustard sauce, and your Sunday roast goes up a notch. Old Hall Farm in Woodton offers the most amazing rare breed pork, and new to their shop is their own beef dripping. A true gamechanger, this takes your roast potatoes to another level!
INGREDIENTS (SERVES 4 + LEFTOVERS)
1 joint Old Hall Farm rare breed pork shoulder – make sure that the skin is well scored
Yare Valley Oil cold-pressed rapeseed oil
Maldon sea salt
Colman's mustard powder
500ml white wine/chicken stock  
1 pot beef dripping from Old Hall Farm
900g red desiree potatoes
Maldon sea salt  
2 bramley apples
Caster sugar to taste – between 10g & 25g
A scant 20g of butter
A dessertspoon of Norfolk mustard (or more) to taste  
THE PORK
The first thing to do is to set your oven as high as you can and get ready to set the crackling.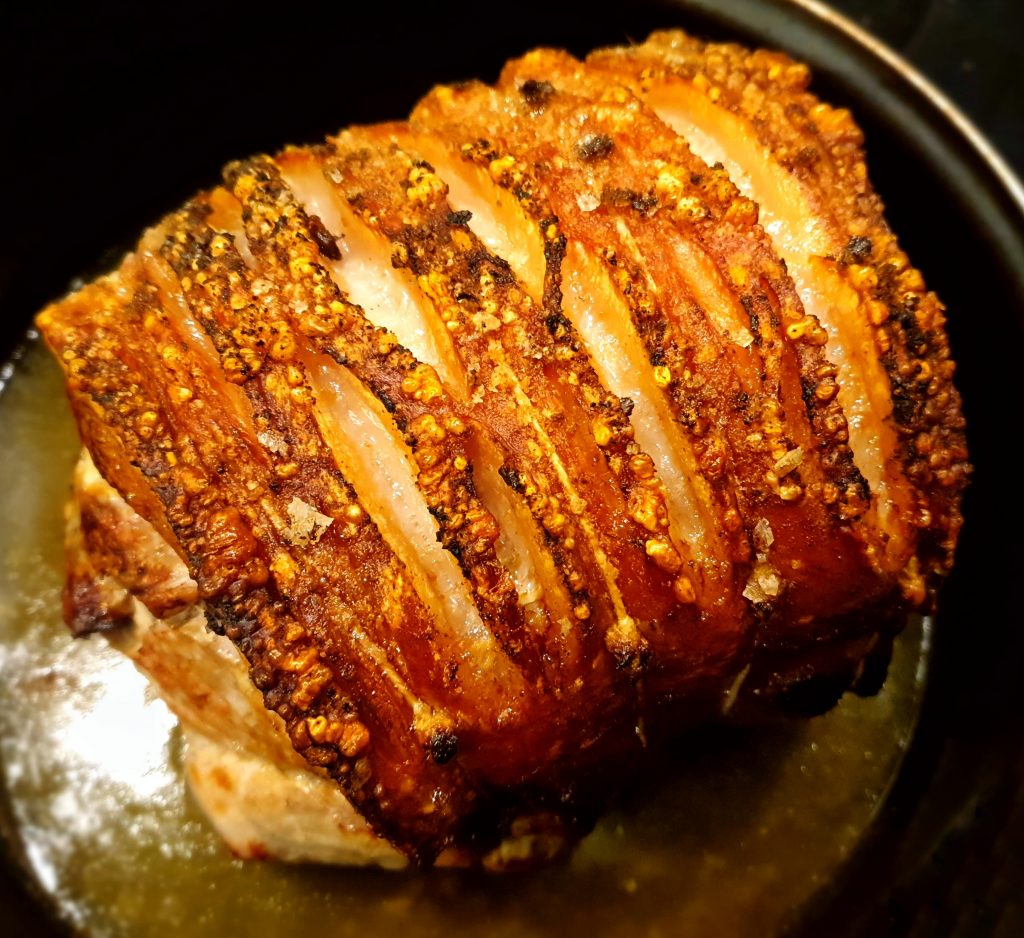 I find the best way to do this – and I have tried many different versions – is to rub the skin with rapeseed oil and then a good amount of sea salt. Also rub in some mustard powder for an extra kick. When you have done this, put it in a roasting tin and add either white wine or chicken stock – you want enough so that it comes at least a third of the way up the side of the pork. I prefer to use wine as I find that it tenderises the meat more and makes for a better flavour.
Put the pork in the oven, uncovered, and leave for 35-40 minutes. You will hear the crackling pop, always a good sign! When the time is up, remove the pork from the oven and lower the heat to 150°C/300°F/Gas Mark 2. Cover the pork loosely with foil and return to the oven for at least 3 hours if not 3½. Check the pork halfway through and top up with wine/stock as needed.
When the pork is cooked, turn the heat back up to around 200°C/400°F/Gas Mark 6, remove the foil and return it to the oven for 10 minutes. This re-sets the crackling. The crackling will look darker by this point, which is partly due to the spices. This is perfectly normal.
Remove from the oven and put on a meat resting board. Only now do you begin your vegetables – a joint of meat can rest for a long, long time without losing its heat. You can cover the joint very loosely with foil if wished.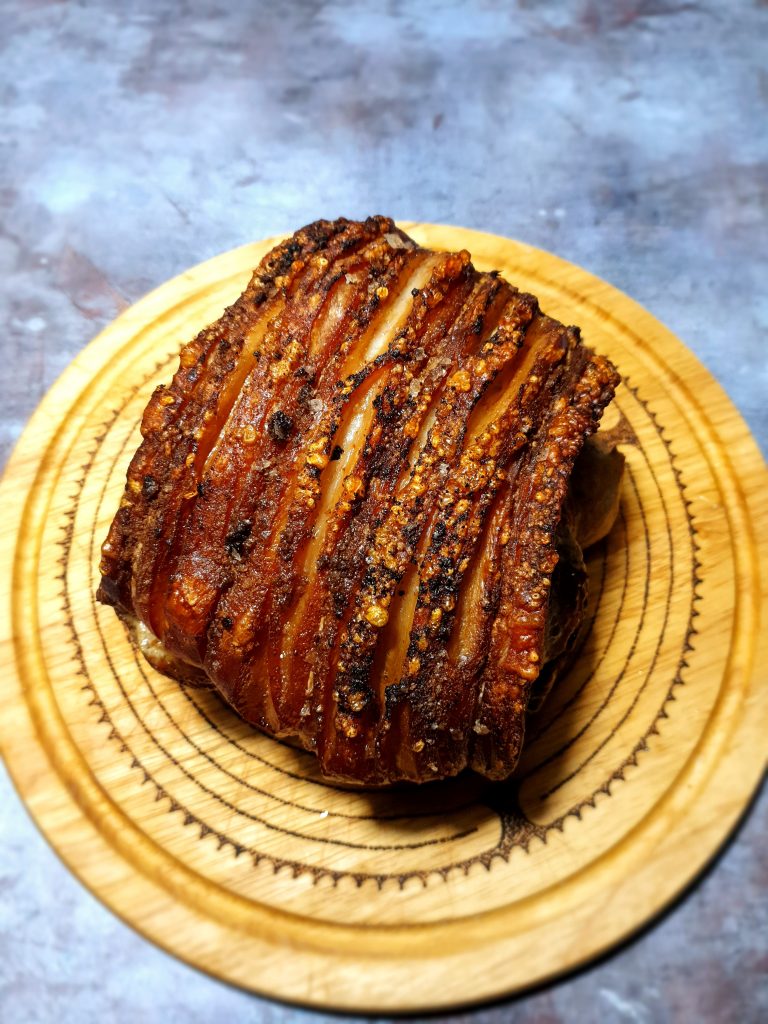 Do not pour away the remaining juices! Either skim off the fat or pour into a fat-separator jug (a great investment). Pour the liquor into a small pan, top up with water and taste. Use your intuition to see what it needs, but it shouldn't need anything. Thicken with cornflour.
THE POTATOES
First, peel your potatoes. If they are small, you can leave them whole but if not, then cut the larger ones in half. Rinse and then parboil by placing in a pot of water and bring to the boil before simmering. You do not want to cook your potatoes all the way through – you still want them to be uncooked in the middle but cooked on the outside. This takes around 10 minutes, depending on the size of your potatoes
When they are almost ready, put some Old Hall Farm beef dripping into a roasting tin. Put it into the oven for a few minutes to ore-heat (you will have left your oven on 200°C/400°F/Gas Mark 6 after you reset your crackling).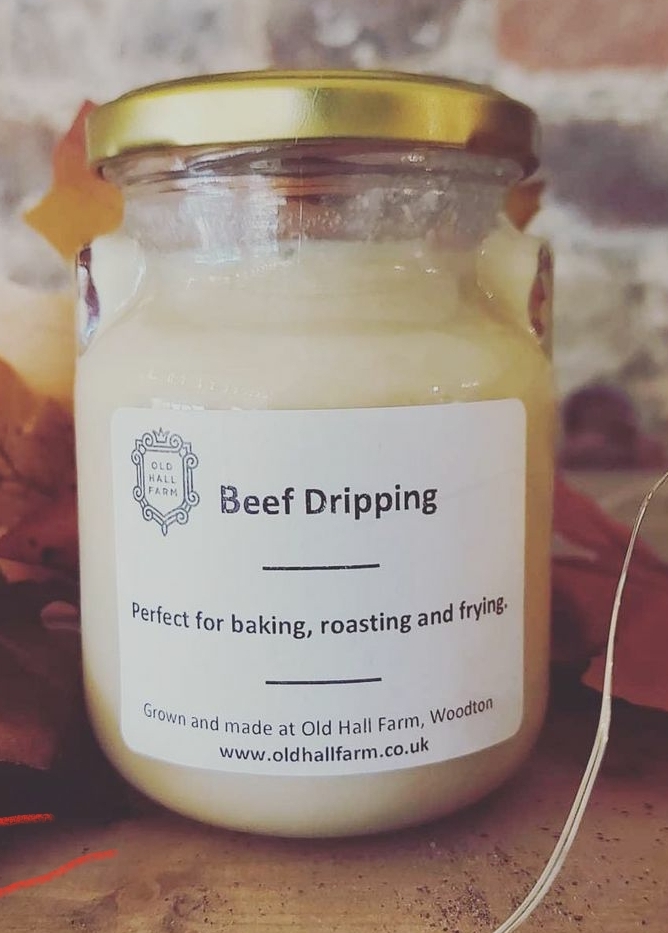 Drain your potatoes, remove the roasting tin from the oven, and add the potatoes. Stand back as they will spit! Sprinkle with sea salt, toss well in the dripping/salt mixture, bashing the edges of the potato slightly as you do, and return to the oven.
Turn halfway through and roast for approximately 20 minutes until golden and crisp. I have to say, the Old Hall Farm beef dripping is a game-changer! Definitely one for high days and holidays.
You can add parsnips, too, halfway through cooking: follow the parboiling instructions, and then cook with the potatoes for the final 10 minutes.
APPLE & MUSTARD SAUCE
The joy of homemade apple sauce is unparalleled and truly puts shop-bought versions in the shade. It is also ridiculously easy to make.
First, peel and core your bramley apples before cutting into 1cm pieces. Put into a small pan, add a sprinkle of sugar, and cook down. Add a small amount of butter and stir in. Taste it and if too sour, add some sugar. I prefer mine more on the tart side.
Once the apple is cooked down, add a dessertspoon of English mustard – I used local Norfolk mustard. You can add more to taste, which I did as I love the punchiness of mustard with pork, and it contrasts well with the sweetness of the apple.
All that is left to do is pour a glass of Old Hall Farm Sauvignon Blanc, slice the pork – making sure that you nick some extra crackling as you do so – and enjoy.
There will be enough leftovers to keep your family going during the week. My leftover recipes will follow shortly, but the easy winner is a sandwich made using the pork and apple sauce, and with hot crackling added. Just heat it up in the oven and dig in.