Lamb moussaka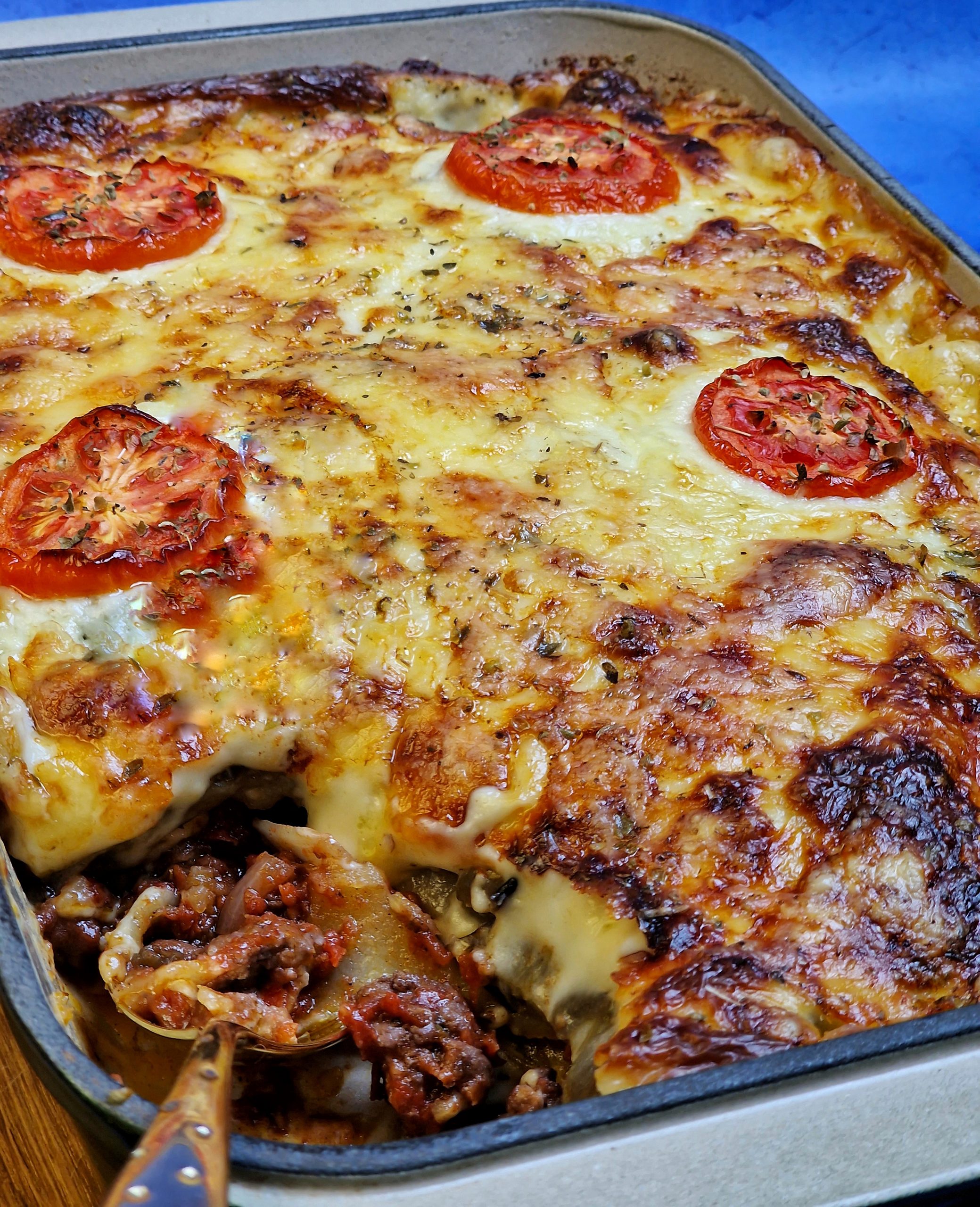 I love moussaka – that unadulterated pleasure of tomato, béchamel, potato and aubergine mixed with lamb mince is a marriage made in heaven. For me, it always has to be lamb moussaka; anything else just won't do. And yes, I know that most moussakas contain either potato or aubergine, but I have used both; don't judge me – I love the flavours of them together and couldn't choose between them. As ever, I used ingredients from Old Hall Farm in Woodton – their wonderful lamb mince and raw Jersey milk. Keeping it local, I went for Norfolk Dapple cheese on top of the moussaka as, well, why not! We all that extra bit of comfort right now. This dish takes a little longer to prepare than many of my recipes, but it is well worth it.
INGREDIENTS (SERVES 4 + LEFTOVERS)
450g potatoes, peeled
2 medium aubergines
1 medium white onion, sliced
2 cloves garlic, roughly chopped
1 tbsp extra virgin olive oil
750g Old Hall Farm lamb mince
1½ tsp tomato purée
3 small bay leaves
½ tsp ground cumin
½ tsp ground cinnamon
2 tsp dried oregano
200ml red wine
1 x 400g tin chopped tomatoes
A dash of sugar
Salt and pepper to taste
One tomato, thinly sliced
For the béchamel
1 cauliflower
1 litre whole Old Hall Farm raw Jersey milk
1 onion
1 bay leaf
Freshly ground nutmeg
100g butter
70g plain flour
150g Norfolk Dapple cheese, grated
2 tsp strong English mustard
Black pepper to taste
Pre-heat your oven to 180˚C / 355˚F / gas mark 4.
First, get the potatoes and aubergine ready. Half the peeled potatoes and add to a pan of water. Bring to the boil and simmer until almost cooked, then drain and set aside. When they are cool, cut into slices around 0.5cm thick.
While the potatoes are boiling, prepare the aubergine. Slice them into piece around 0.5cm thick and place on to a baking sheet – you may need more than one. Drizzle the aubergine with extra virgin olive oil and dried oregano, and put into the oven for 15 minutes, turning once. You want them just cooked.
Meanwhile, put a large pan over a low to medium heat on the hob and drizzle in some extra virgin olive oil. Add the onion with a pinch of salt and cook slowly, stirring regularly. When just beginning to brown, add the garlic, cook for a minute, then add the lamb mince. Let it cook for a moment before stirring to break up the meat. Cook for around 10 minutes until it begins to brown. As lamb mince can naturally be a fattier cut, you can drain off the lamb fat if you wish.
Add the tomato purée and stir well for a minute to cook it out, then add the herbs and spices and stir gently. Add the red wine and stir well before leaving to simmer before adding the tin of tomatoes and just a dash of caster sugar. Simmer for 15 minutes.
While the mince is simmer, make the béchamel sauce. Put the milk, onion, bay leaf, nutmeg, salt and pepper into a medium saucepan over a medium heat and bring to a gentle boil. In a separate pan, make the roux by melting the butter over a medium head and then stir in the flour, stirring continuously.
Remove the bay and onion from the milk, then add the roux to the milk, whisking furiously until it thickens. Add the cheese and mustard (which will also help thicken the sauce) and adjust seasoning. If not using immediately, cover the surface with clingfilm to stop a skin forming.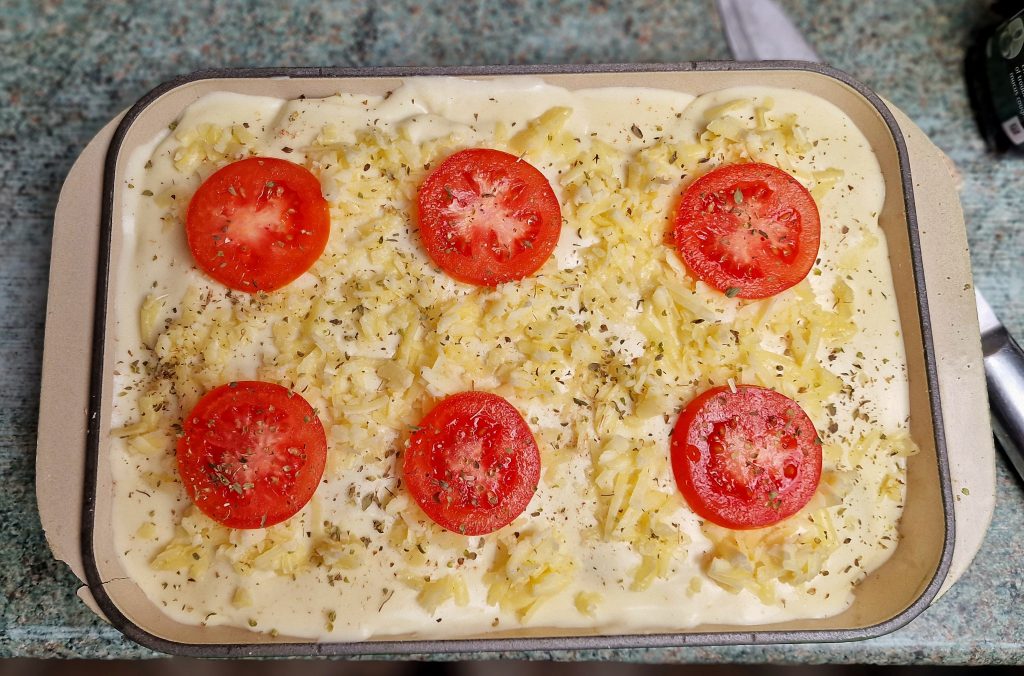 When you are ready, assemble your lamb moussaka, take a rectangular baking dish and begin layering; put half of the mince and tomato mixture on the bottom, then cover with a layer of aubergine and a layer of potato. Repeat, and then top with the béchamel, the grated cheese, and the sliced tomato. Put into the oven and cook for 45/50 minutes until golden on top.
Serve with crusty bread and a green salad.
For more recipes from The Delicate Diner, click here.