Gin-Banoffee pie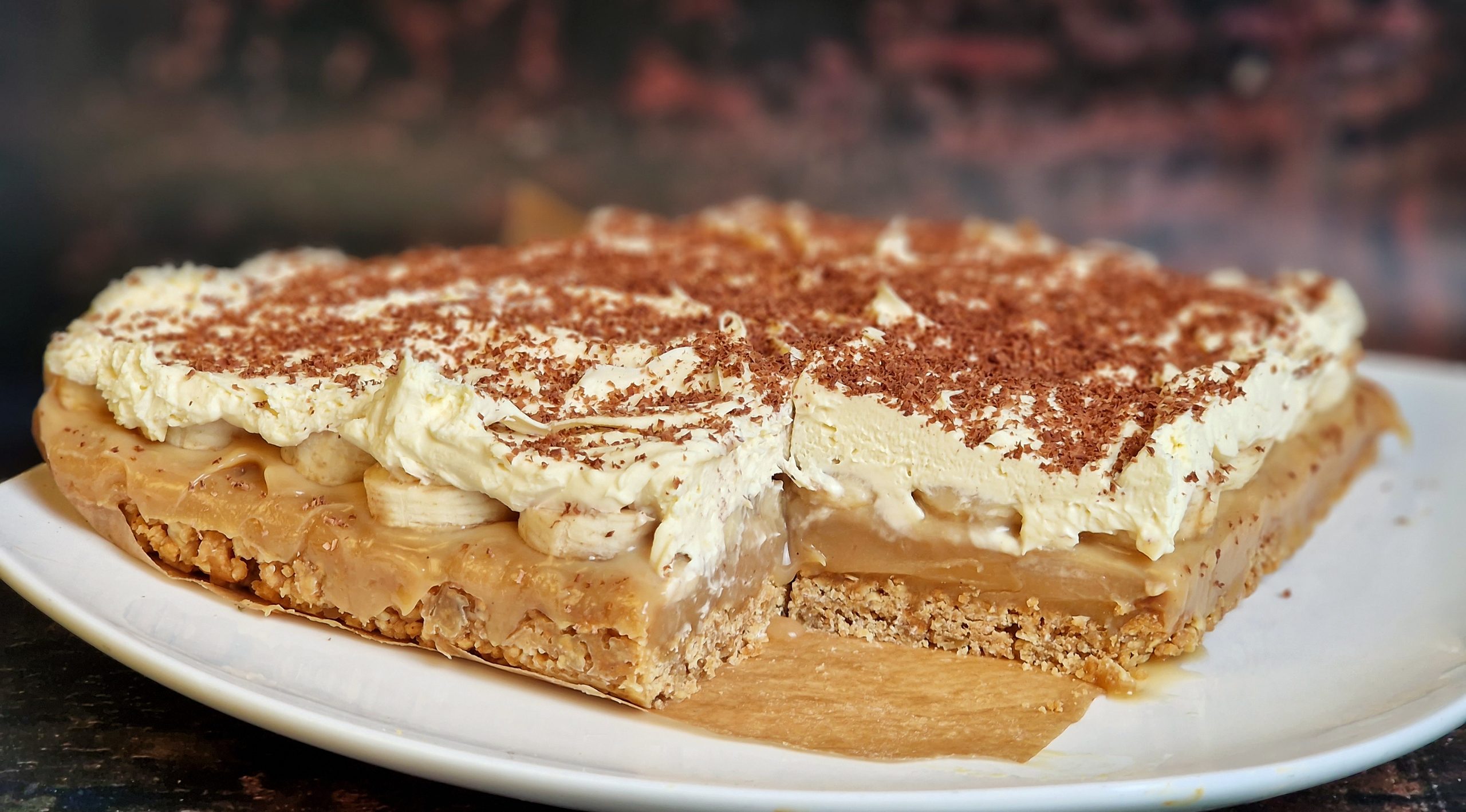 I am a January birthday girl and this year, I felt like being quiet – at home, with the cats, a roaring fire, a good film, and, of course, great company, food, and wine! I fancied making a rather wicked dessert – one I have not had in an extremely long time. But I also felt like making it my own – thus I am introducing the gin-banoffee pie! A luxurious banoffee pie, with the addition of stem ginger, ground ginger, and ginger oat biscuits. It was delicious, that delicate heat of the gingery biscuit base contrasting to the sweetness of the dulce de leche; I used ready-made dulce de leche for speed and convenience, but you can make your own from condensed milk if you prefer. I used Old Hall Farm raw Jersey double cream to make this the ultimate of puds!
INGREDIENTS (SERVES 8 + LEFTOVERS)
For the base
200g ginger oat biscuits; I used Doves Farm
100g butter
½ tsp ground ginger
2 balls of stem ginger, finely diced
For the filling
450g dulce de leche
1 tsp vanilla paste
For the topping
3 firm bananas, sliced
300ml Old Hall Farm raw Jersey double cream
A bar of your favourite dark chocolate for grating – I used Harrisons Chocolatiers dark chocolate with morello cherry.
Prepare a 20cm spring-form bake tin by lining with clingfilm, then place baking paper in the bottom.
Make the base by putting the biscuits in a freezer bag. Use a rolling pin to crush the biscuits to a fine crumb. Then melt the butter in a saucepan over a low heat, add the biscuits, ground ginger, and stem ginger and stir well. Press the buttery biscuit base into the bottom of the lined tin and spread evenly. Put this into your fridge for an hour to cool.
Empty the dulce de leche into a small saucepan and warm slowly. Add the vanilla paste and stir well, then pour over the biscuit and ginger base. Return to the fridge and chill for at least an hour.
Finally, cover the dulce de leche with the slice bananas, then whip the cream into soft peaks. If you use Old Hall Farm double cream, it won't need much whipping as it is wonderfully thick already! Spread the cream over the bananas, and chill for another hour.
Just before serving, carefully remove your gin-banoffee pie from the tin and place upon a serving plate. Grate over the chocolate and serve. I do suggest small slices as this is a sweet dish, but birthday calories don't count, do they?
PS – I know I left the baking paper on; after celebrating my birthday with some delicious fizz and wines from Flint and Burn Valley Vineyards, I thought it was best not to attempt to remove it!
For more recipes from The Delicate Diner, click here.