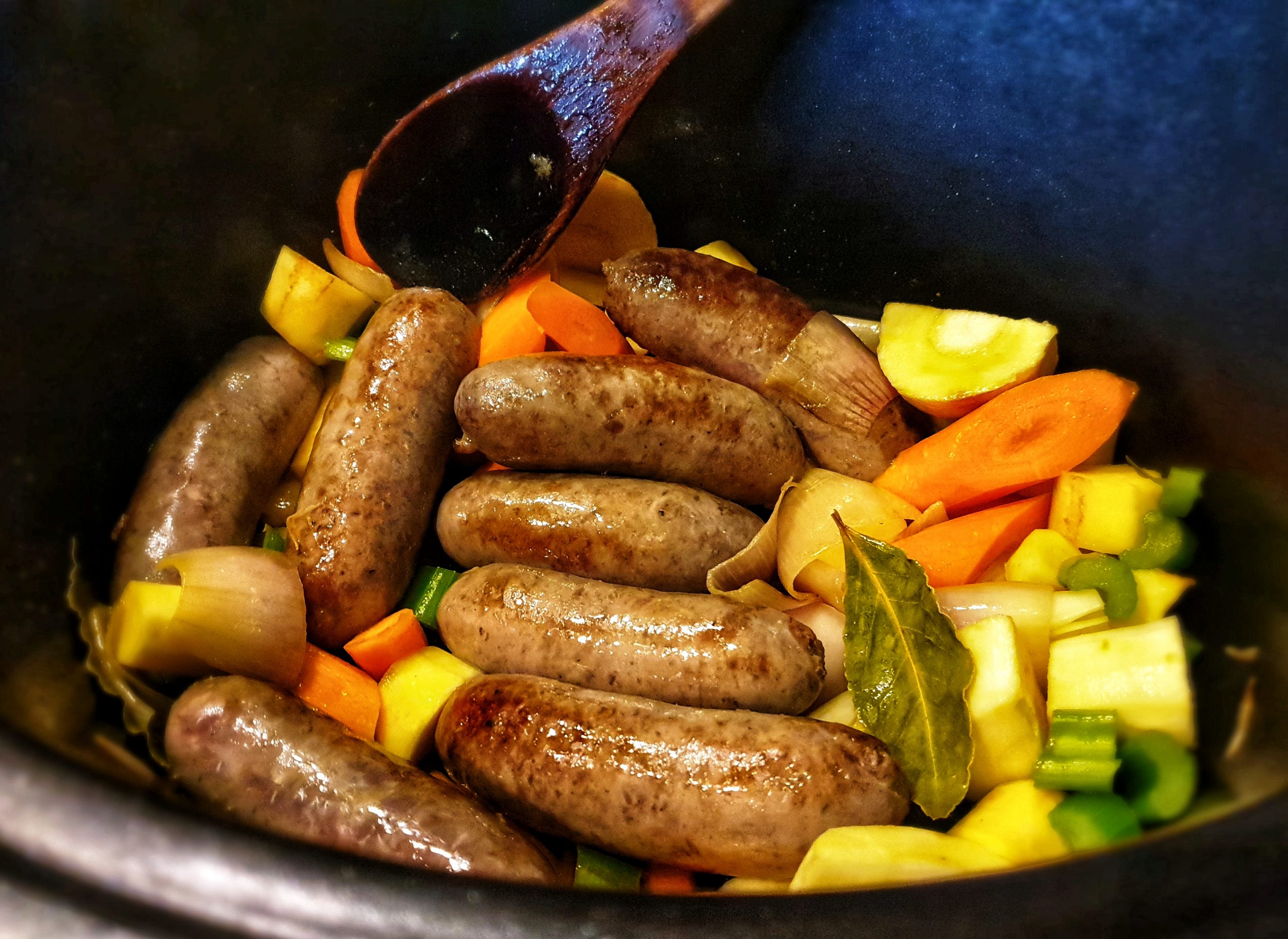 Old Hall Farm beef sausage & mushroom casserole
Old Hall Farm sausages are packed full of meat and therefore, are full of flavour. This simple recipe will feed a family of four and it is so easy to do. You can even cook in a slow cooker on low, meaning that you can get on with your day while the pot does its thing!
INGREDIENTS
8 Old Hall Farm beef sausages
Yare Valley rapeseed oil
2 small shallots, sliced
2 celery sticks, sliced
2 bay leaves
2 large carrots, sliced
2 parsnips, quartered and sliced
4 medium potatoes, cut into pieces
Dried parsley
A beef stock pot
Salt & pepper
A good handful of mushrooms, sliced
Cornflour
You need a large casserole dish or slow cooker. Pre-heat the oven to 180˚C/350˚F/Gas Mark 4.
Firstly, and most importantly, brown the sausages! There is nothing worse than a sausage casserole where the meat has not been browned. Whether you are cooking this in a large casserole dish or in a slow cooker, brown the meat first in a tablespoon or so of Yare Valley rapeseed oil.
While the sausages are browning, add the shallots, celery and bay leaves to the pot and cook out for a few minutes. If the pan starts to get a bit dry and you are worried about the sausages sticking, add a splash of water or even white wine.
Once the shallots and celery are softening and the sausages are browned, add all the remaining ingredients apart from the mushrooms. Pour over boiled water to cover the ingredients and stir. Put the lid on the pot and place in the oven for an hour before adding the mushrooms. Return to the oven with the lid off for another 10-15 minutes until cooked.
To thicken the gravy, mix some cornflour with some cold water and pour slowly into the sauce, stirring all the time.
If you are using a slow cooker, cook this on low for 3-4 hours, and add the mushrooms around 30 minutes from the end of cooking.
Serve with fresh greens. If you prefer to have this with mash, do not add potatoes to the casserole but cook them separately.
Recipe © The Delicate Diner for Old Hall Farm