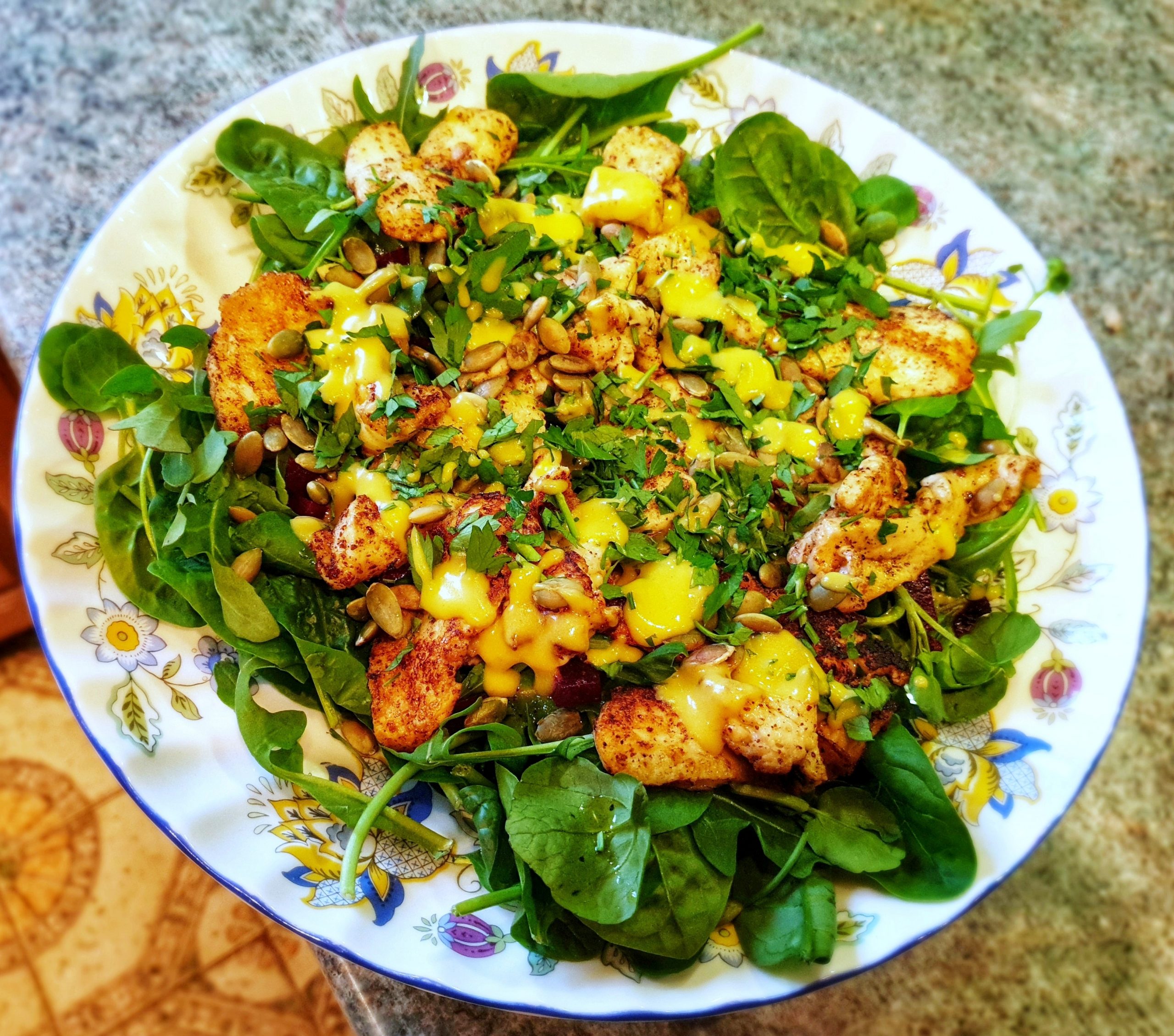 Aromatic halloumi salad
This is a really quick, easy and delicious salad that brings together the flavours of the Middle East in one lovely dish. It is perfect either as a main dish, with some fresh soda bread on the side, or as a side for a family BBQ or get together.
INGREDIENTS
1 block halloumi
A generous teaspoon each of sumac & lime powder*
A bag of mixed salad*
Pumpkin seeds, toasted*
Pine nuts
2 lemons
1 tsp Dijon mustard (or more to taste)
60ml rapeseed oil* plus extra for marinading
Flat-leaf parsley, chopped
Black pepper
METHOD
Remove the halloumi from the packaging and cut into even slices. Put into a bowl, add the sumac & lime powder, a good glug of rapeseed oil and the juice of half a lemon. Stir to cover the halloumi and set aside for at least 10 minutes.
Wash the salad and dry it either in a tea towel or salad spinner, and then put on to your serving plate.
Toast the pumpkin seeds and pine nuts and set aside.
In a small jar, put the juice of one lemon, the Dijon mustard, and 60ml of rapeseed oil. Close the lid tightly and shake vigorously to make your dressing. Taste and adjust seasoning for your own palette.
Heat a non-stock frying pan and add the halloumi slices, ensuring that they are laid flat. Cook until caramelised on each side, then put straight on to the salad. Add the juices from the pan, the nuts and seeds, and pour the lemon dressing over the top. Sprinkle with the flat-leaf parsley, and a good grind of black pepper.
I love to serve this with freshly made soda bread and enjoy! You can find my soda bread recipe in the charity book Bake for Bacon. Find out more here.
NOTES
* if you do not have sumac & lime powder, use other spices that you do have and like. Cumin and fennel would work well here.
* instead of a bag of mixed salad, you can use whatever you have in the fridge. Spinach and rocket work especially well with these flavours.
* try to find a rapeseed oil local to you. I always use Yare Valley.
* you can also use sunflower seeds or poppy seeds instead of pumpkins seeds as preferred.