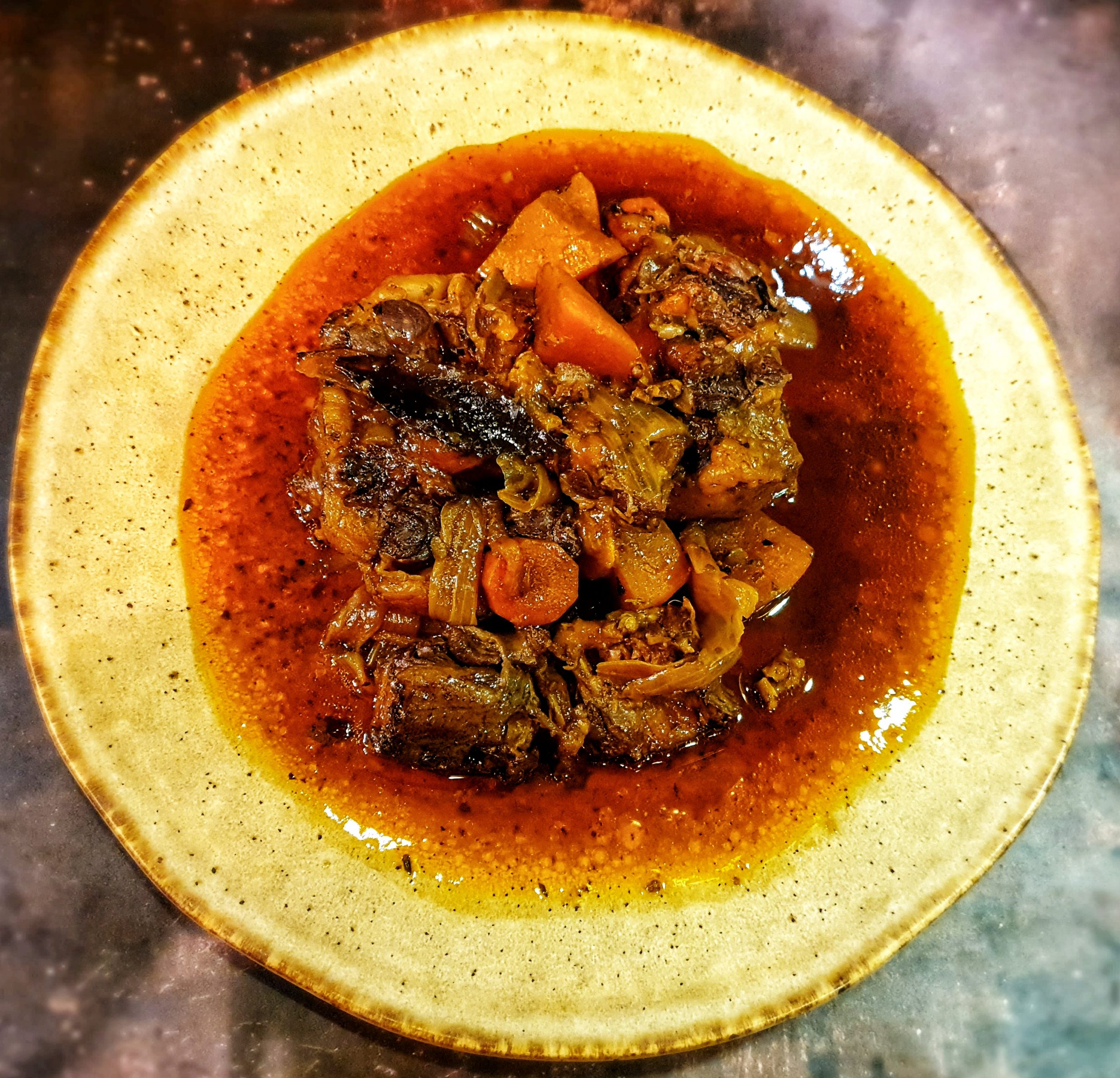 The Butcher's House oxtail & ale stew
Oxtail is an underrated cut of meat – and a far cry from the soups of our childhoods. One of the cheapest cuts, if not the cheapest, of beef, oxtail is full of flavour and benefits from slow cooking. This recipe easily feeds a family of four, with leftovers for another day.
INGREDIENTS
1 oxtail, jointed
Yare Valley rapeseed oil
2 red onions, quartered
3 or 4 bay leaves
2 celery stalks, chopped
2 large carrots, sliced
White and pink peppercorns
Half a swede, diced
Dried parsley & dried oregano
1 beef stock pot
1 bottle Broadside beer
Tomato puree
Around 5g porcini mushrooms
Cornflour
Add a splash of Yare Valley rapeseed oil to a pan and add the oxtail to brown the outside. You need to render as much as the fat as you can and ensure that both meat and fat are browned. Do not worry if it catches a little as caramelisation will all add to the flavour!
Once you are happy with the meat, add the onion, bay, celery, carrots and peppercorns and cook out for a few minutes. Add the swede, the beef stock and the beer. Top up with boiling water to cover.
Transfer to a slow cooker (the pans of some slow cookers can be used on the hob) and cook on high for eight hours.

Around halfway through, soak the porcini mushrooms in boiling water for 20 minutes. Then add the tomato puree and, having roughly chopped the porcini, the mushrooms and the liquor.
When cooked, mix the cornflour with some cold water and add to the gravy, stirring all the time, to thicken. Season with salt and pepper to taste.
Serve with wet polenta – polenta cooked with water and with parmesan and butter mixed through – and cabbage. If you prefer, serve with mash and extra gravy!
You can also cook this in a low oven at if you do not have a slow cooker.
Recipe © The Delicate Diner for The Butcher's House